December 9, 2010
I was looking forward to creating some pretty neat animal wall decals out of fabric or wallpaper for the new nursery (see the inspiration board here), but then I received the most wonderful surprise from Kevin's mom and aunt. They offered to drive all the way from Phoenix to help paint the nursery just this past weekend – in any design that we'd like!
His entire family is filled with amazing artists and his aunt is especially talented as a professional home muralist (Palette of Possibilities). Because of the short notice and the gender-neutral theme, I stuck with my original animals and asked them to paint several zoo/safari style characters around the room.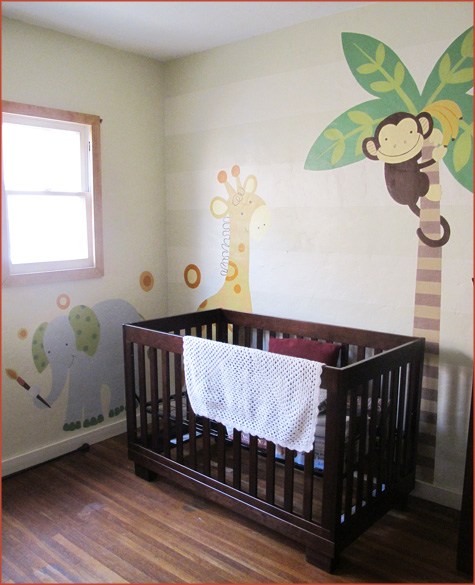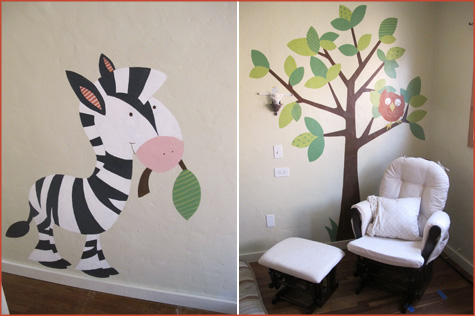 They're so talented! Here they are in progress: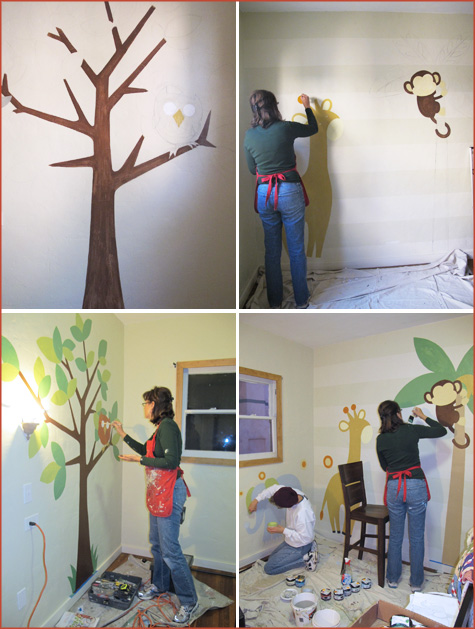 They spent an entire Saturday from dawn until well after dusk finishing the room and I was so impressed with how fast the colorful animals came together. And then, just as quickly as they had arrived, they zipped away back to Phoenix leaving us with a beautiful nursery.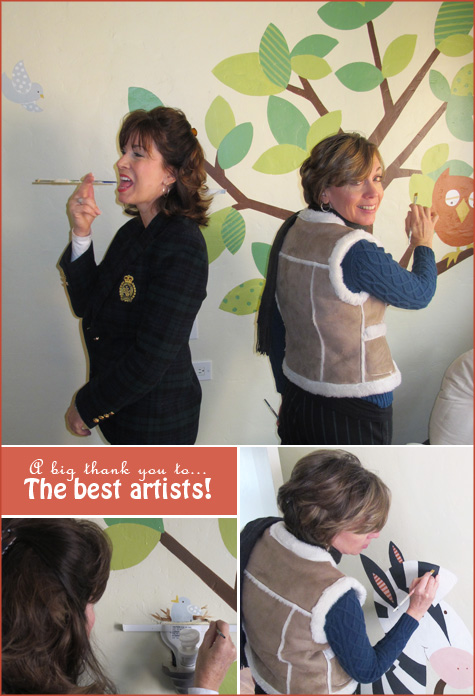 If you're on the hunt for some easy-peasy not-so-hands-on mural ideas, here are a few of the resources that I love: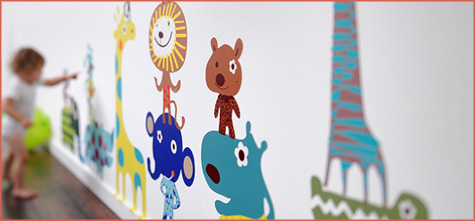 Jiving Jungle Pals fabric stickers by Pop & Lolli (completely reusable – just peel off and stick anywhere) are whimsical and adorable!

My Wonderful Walls has created a neat line up of wall stencils (such as the safari animals above) and they work with local children's hospitals to help decorate bare rooms. Beautiful art for a good cause!

The original designs that inspired an animal theme for the nursery were these beautiful patterned wallpaper decals by Inke over in the Netherlands. Shipping might be expensive but it would be well worth it!
For more Project Nursery posts, click the Home Makeover button on the right sidebar. The nursery is almost finished!
Tags:
Before & After
,
Crafty Solutions
,
Decorating
,
DIY
,
Kid's Rooms
,
Nursery
,
Paint
,
Patterns & Color
Posted in
Liv's Nursery
,
Renovating Adventures
|
13 Comments »
December 1, 2010
Project Nursery is well underway – we have four weeks (if babe decides to come on his/her due date) to button up this space and I'm all too anxious to get it finished.
The gender-neutral color palette is tan, brown and red with splashes of aqua, yellow and other bright, cheery colors. We decided to work with darker furniture since we were planning on incorporating an already owned dresser (Craigslist find) and Expedit bookshelf (Ikea). Here's a rough idea of what I envision: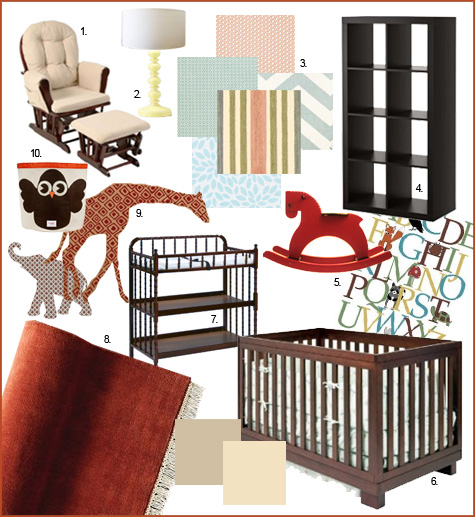 Nursery breakdown:
1. We were gifted this very comfy Stork Glider and in order to save that nearly-white fabric (as well as add pattern to the space) I'm hoping to create slip covers in an aqua print. That way I can pull the covers off for a quick wash should spit up or other fun liquids find their way onto the cushions.
2. A fun, bright lamp like this one from Cape Cod Brass would be a great addition.
3. I'm loving these soft pastel prints by Thibaut, Dandi and Serena & Lily – they would look lovely as curtains, bedding, fabric book pouches or as a valence in the room.
4. Back in May I made over an everyday Expedit bookshelf from Ikea by adding fabric to the backdrop, it has now found a new home in the nursery!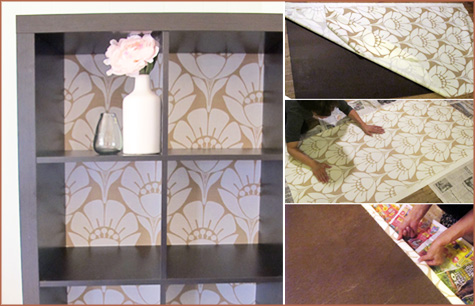 5. Vintage accessories in the form of rocking horses, wood blocks and prints are timeless and full of character – I'd love to weave them into this space.
6. With so many recalls and warnings out there we chose our crib through careful consideration and after much research. This Babyletto is a 3-in-1 (grows with baby), is environmentally sound (sustainably harvested wood) and passes all safety standards (non-toxic finish, lead & phthate safe, JPMA certified and tip proof) plus it's extra wallet-friendly (considering all of it's features)!
7. While most of the furniture has a contemporary/clean lines look, I'd like to add this Jenny Lind changing table to mix things up. Maybe with a coat of paint?
8. The biggest dilemma of designing this room? The rug, actually. I really struggled with what pattern of rug to shop for – with our new striped wall a striped rug felt a bit over the top, and without knowing baby's sex, patterned rugs screamed too feminine or too masculine. When I found this burnt orange/red rug on eBay by Pottery Barn, I fell in love. It was a solid, bright pop of color made of soft wool that was comfy enough to crawl around on and sturdy enough to last years. Then I was outbid of my budgeting range (and the rug is discontinued by PB) so I'm back to square one. Do let me know if you see something similar! We might have to find a more neutral option soon…
9. Animal decals on the walls would really liven up the space, Inke from the Netherlands has the neatest selection of vintage wallpaper options but I think this would be a fun DIY project too! (Thanks to Kelsey, a reader who emailed with the source!)

10. I love the idea of fabric storage bins to organize toys, blankets and even laundry. These animal-themed bins by 3 Sprouts over at Layla Grayce are adorable! If I can find a neat way to build my own out of canvas bags I just might take this on as a DIY project too…
And there's the space! Let the shopping/assembling/crafting begin. Here's a quick link to the other Project Nursery posts: Inspiring Rooms, Striping an Accent Wall and the Before Pictures.
PS Don't forget to enter the Tiny Prints (for adorable Holiday cards and other invites/announcements) giveaway! Ends tonight!
Tags:
Brown
,
Decorating
,
DIY
,
Fabric
,
Nursery
,
Patterns & Color
,
Red
,
Tan
Posted in
Home
,
Home Inspiration Board
,
Liv's Nursery
,
Renovating Adventures
|
5 Comments »
November 23, 2010
These last few weeks have found us in the land of 'little projects'. You know, those projects that take just a couple of hours to tackle and aren't that exciting, but make a difference just the same? Truth be told, the kitchen reno has halted a bit while we use spare weekends to tear apart the future nursery and to finish other minor updates.
But we did make a bit of progress that I'm anxious to share with you – and the goal is to have a working kitchen in just a few short days! We initially went into the makeover with the hopes of completing it – start to finish – in 30 days. Not 30 straight days – but 30 days of dedicated work. Here's a quick post line up of days 1-6, 7-12, 13-19, 20-28, plus the inspiration board and 'before' pictures.
And now for days 29 & 30: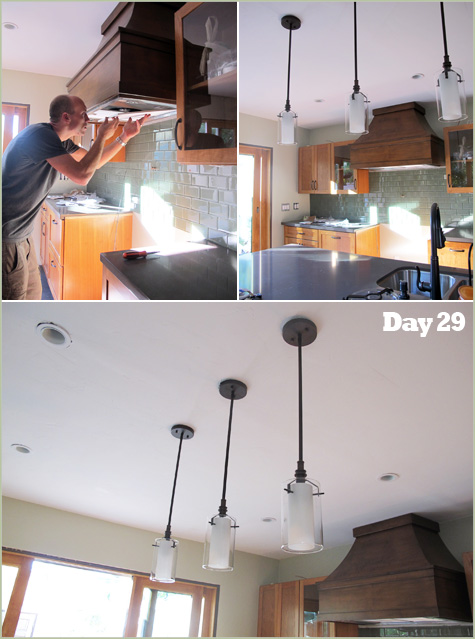 Day 29 was devoted to the light fixtures and a working hood over the range. Because the kitchen was built out of an old bedroom, we needed to cut new vents and airways for additions like a hood range (and pretty much build the rest from scratch). When it came to tracking down hanging pendants that we both loved, we found the perfect set at Lowe's (for a great price) despite much online searching. They have that Spanish feel without feeling too rustic and we love how they look with the other dark metals in the room.
By Day 30, Kevin was ready to install the molding around the doors. He placed special orders for the same stain as our cabinets from the manufacturer (Kraftsman) and the same wood (pine) as the doors and windows. Then he painted, planed and installed the flat molding around the edges – we have plans to do the same for the floor boards and cabinets.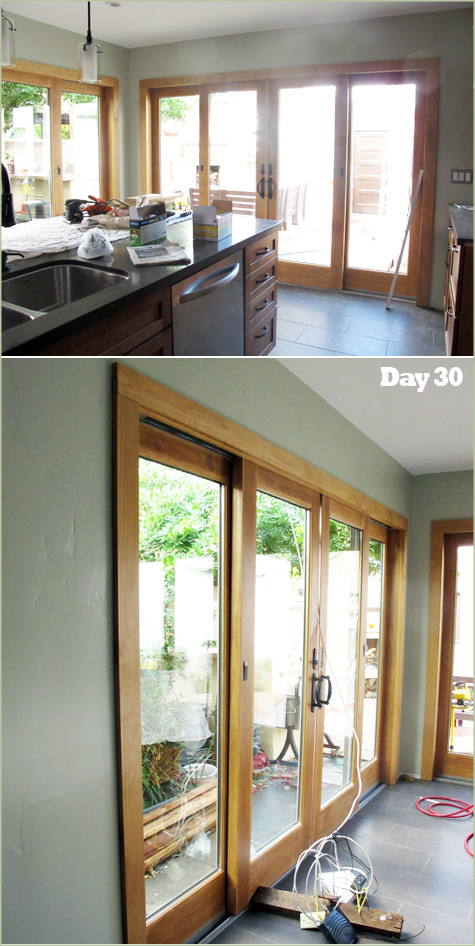 That brought us to 30 days of labor (over the course of three months) and so sadly we won't be hitting that dreamy deadline… but hopefully it won't be much more than a few extra days until we cross the finish line! Our list of little projects is growing, but the determination to get everything wrapped up is hugely motivating.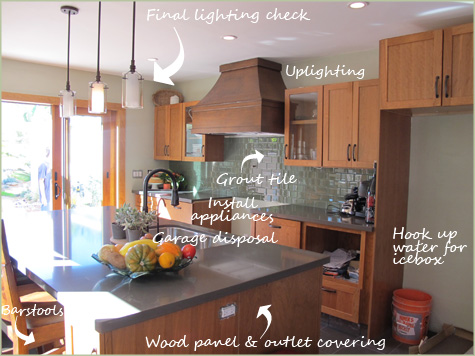 A few of those little projects include: installing appliances (as well as connecting to gas, water, etc), adding finishing cabinet touches (such as molding, uplighting and cabinet can lights) and modifying our current Craigslist barstools to fit the new counters (a couple of inches off of each leg and new cushions ought to do the trick).
We'll keep plugging along over here and hopefully after the Thanksgiving weekend we'll be able to show off a brand new space!
Tags:
Construction
,
DIY
,
Home
,
Kitchen
Posted in
Home
,
Our Kitchen Remodel
,
Renovating Adventures
|
4 Comments »