July 21, 2010
So the living room might not be completely finished (I still have one or two pictures to hang and a bit of bookshelf organizing to complete) but I can't help but get distracted by our darn bedroom.
We've made significant progress so far on a room that needed much love. As of now the walls are a serene beige, the burgundy carpet is gone to reveal 1930′s wood floors and the furniture is all but picked out and loaded with clothing. But on the decor end… there is much to be desired.
Let's start at the beginning: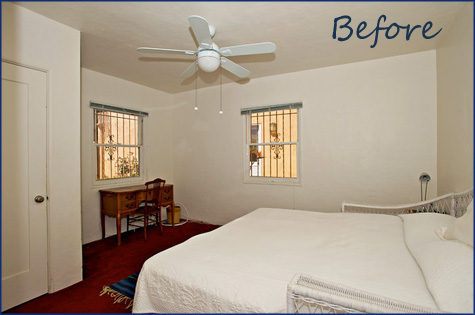 There she is right before we moved in. All of the above furniture belongs to the previous owner and we have since gotten rid of those metal grates on the windows as well as the vinyl shades.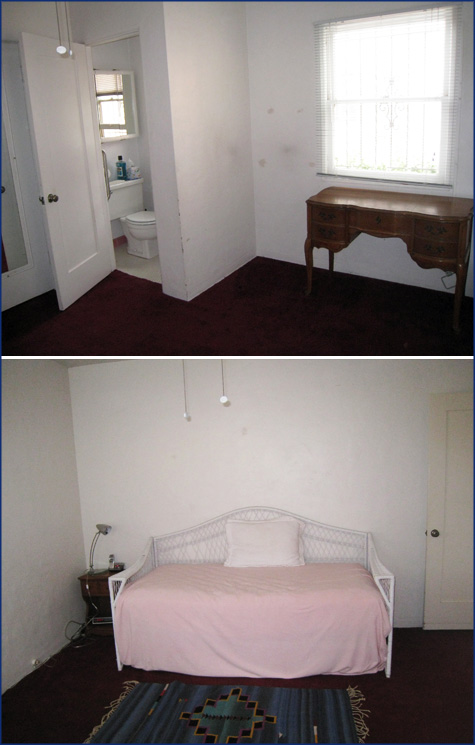 Yes, that's a bathroom in that top picture. I wouldn't call it a master bath, per se, but we're attempting to make do with what we've got (currently it's known as the 'man bath' since I hardly have the elbow room to blow dry the hair let alone spread the morning make-up all about). Here's the other full bath in the house that we recently updated. We have big plans on building another bathroom for guests and connecting the current full bath (to be remodeled…) with the master bedroom – but that's on the schedule for this fall.
Until then, let the bedroom decorating begin!
Tags:
Bedroom
,
Before & After
,
Home
Posted in
Home
,
Renovating Adventures
|
3 Comments »
July 18, 2010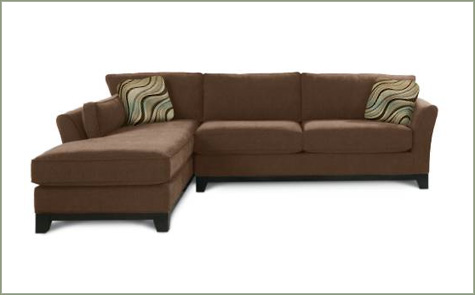 Having a big, over-stuffed couch in the living room was number one on the must-have list. We looked and looked and looked - but finding something that is both functional, long lasting, wallet-friendly and attractive is much harder than we ever anticipated.
In the end we settled on a sectional that would float in the middle of the living room. Something large enough to comfortably fit 6 or 7 bodies crowded around a board game or a few overnight guests. We found the above in chocolate (better at hiding stains?) with it's sleek wooden base and modified microfiber cushions (extra soft but easy to clean up) at a reasonable price after a family La-Z-Boy discount (we have an in-house designer Aunt in Denver that helped to make it happen). Don't worry, we've changed out the throw pillows!
BUT a few months later I stumbled upon this post by Young House Love and couldn't believe this amazing find…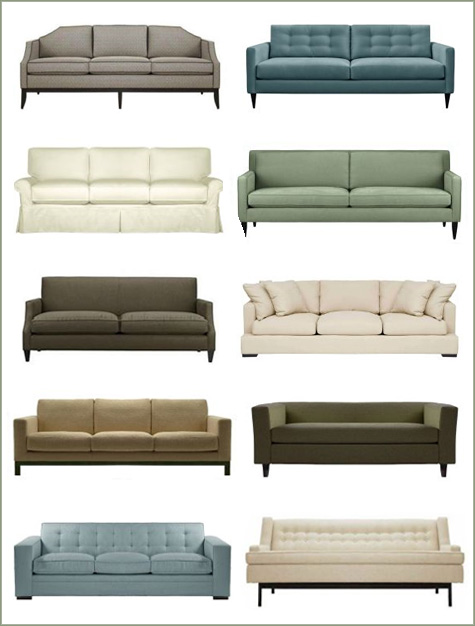 Custom Sofa Design has nearly 200 Pottery Barn, Restoration Hardware and Crate & Barrel look-a-likes, and the best part is they range from $500 to $700! Amazing, right!? I had to share this great secret… hope someone might be in the market!
Tags:
Accessories
,
Decorating
,
Home
,
Living Room
Posted in
Home
,
Renovating Adventures
|
3 Comments »
July 13, 2010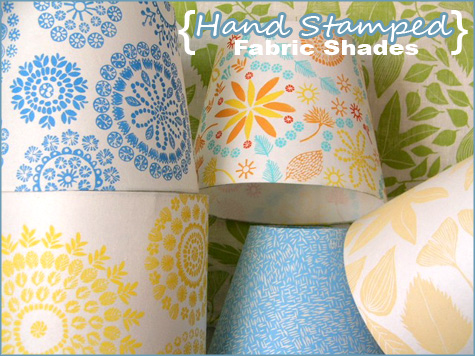 I have always loved a patterned lampshade and I've been keeping my eye out for a fabric that would work well with the new living room design. In the past I've recovered a few shades for the bedroom and else where and I thought this trick might work well for this room too.
But then I discovered Jeanne McGee, a fabulous etsy artist that hand stamps her own fabric and creates beautiful lampshades from scratch (discount at the end of the post). When I saw this basic but classy print I knew it would be the perfect addition. Not too colorful (I redid this coffee table-to-ottoman in a very colorful print for the room already), not too over powering but definitely complimentary to the feel of the space: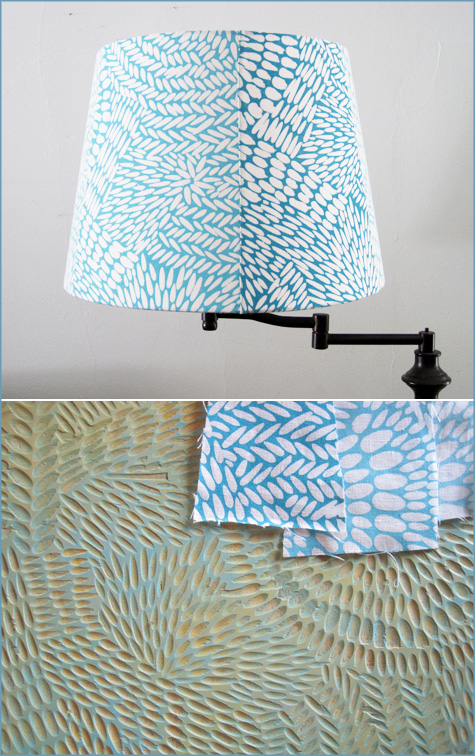 Jeanne and I worked together to find a color that would blend well with the different neutrals in the room: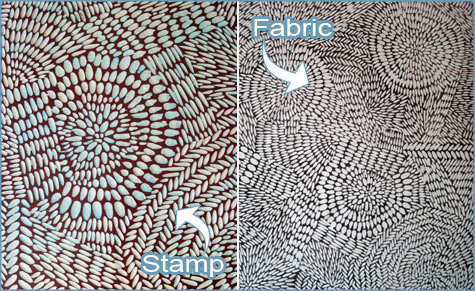 The finished fabric is beautiful! I'm so impressed with Jeanne's talent in creating her own prints.
I asked about her process and she let me in on the secret, which essentially starts with a hand carved woodblock or stamp, white or off-white linen fabric or paper, and colorful ink: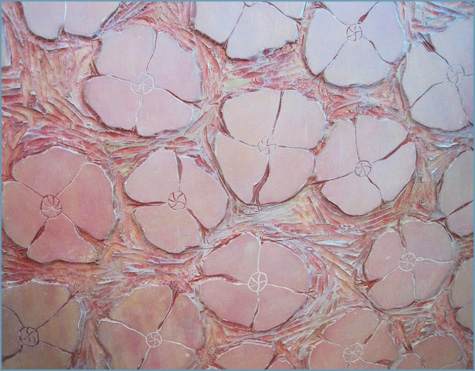 Above is the poppy stamp in it's original form. Below is an example of the ink transfer to the fabric (you can see the stamps all inked up and ready to go in the top image and the finished fabric right below):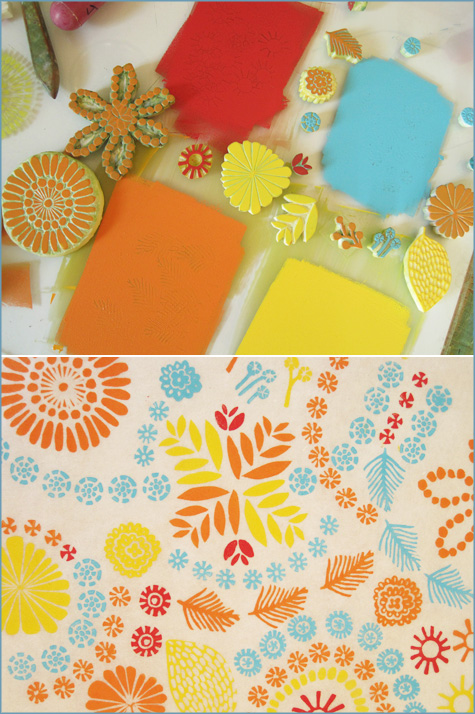 After the paper or fabric has dried, Jeanne adheres styrene to the paper or fabric and begins the process of glueing the paper to the lampshade wire frame. This is done by carefully rolling the fabric over the wire and finishing the edges.
When the lampshades are finished, they look like this!
For more shades and handmade garland, check out Jeanne's shop. I'm excited to share that Jeanne has joined on as a sponsor as well – you can jump out to her site at any time by clicking her lampshade ad to the left. Take advantage of a limited time discount for 20% off by mentioning 'PDB' in your Etsy order!
I'm adding my new shade to the living room and can't wait to share the pictures! Here's a sneak peek: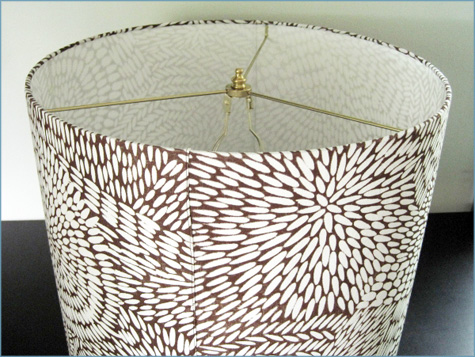 Tags:
Accessories
,
Crafty Solutions
,
Decorating
,
DIY
,
Fabric
,
Home
,
Living Room
,
Patterns & Color
Posted in
Crafty Solutions
,
Home
,
New Sponsor
,
Renovating Adventures
|
2 Comments »