October 12, 2012
Happy weekend! I'm going to make you sit through just a few more travel-related posts… I feel a little guilty because I know that reading about other people's vacations is not always the highlight of blogging, thank you for the patience as I attempt to unload and share all of the details and memories and images that are swimming through my head. They're so relevant and so fresh, I'm sure I'll lose them forever if I don't capture them in time right now! And this being the giant journal of sorts that is our family's life, I only hope I can indulge your interest with a few last posts on Spain and one giant, crazy post on Morocco. Plus, if you're ever interested in traveling to any of the three countries we visited (Ireland, Spain & Morocco), are on the search for tips on traveling with toddlers, for extended periods or on a budget, I hope that these travel posts will be of use!
Back to Spain. On day three of our time in Spain (more on days 1 & 2 here, PS that video has finally loaded!), we rented a car from the Barcelona train station (rather than straight from the airport to avoid crazy parking fees in the city) and began our road trip down the eastern coast.
Because we left Barcelona later in the day, we ended up finding an impromptu destination about two hours out of town for the night. I was thrilled to come across a 'Paradores', or restored castle (courtesy of the Spanish government) in Tortosa with lodging available!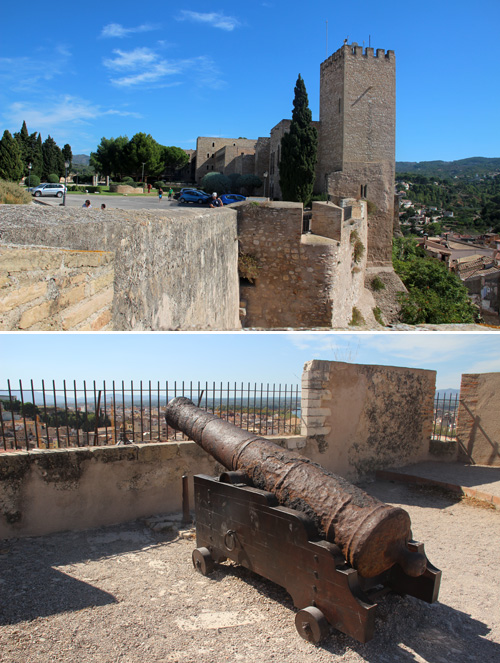 The ancient castle has been converted into a hotel and it's very neat to wander the hallways and various rooms as if you were an occupant hundreds of years ago. And check out the beautiful city!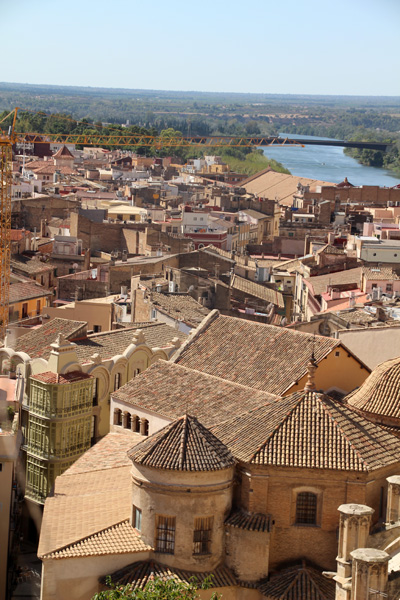 We probably wouldn't choose Tortosa as a city destination but I thought it was very cool to be lucky enough to try out a castle experience (the 'jovenes' rate to attract younger tourists didn't hurt!).
We continued our journey down to Valencia and enjoyed lunch and drinks in one of the main squares. I captured an angel in this shot.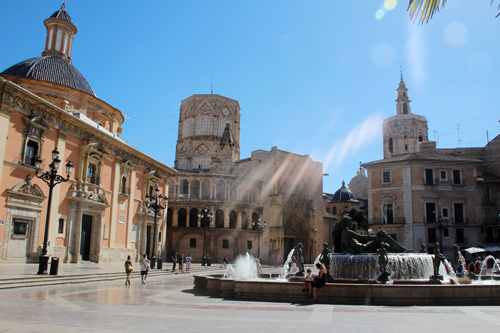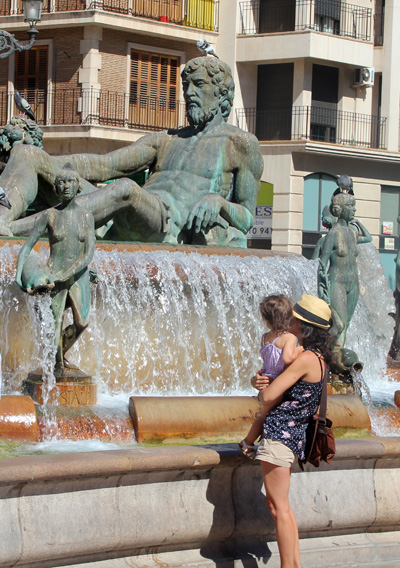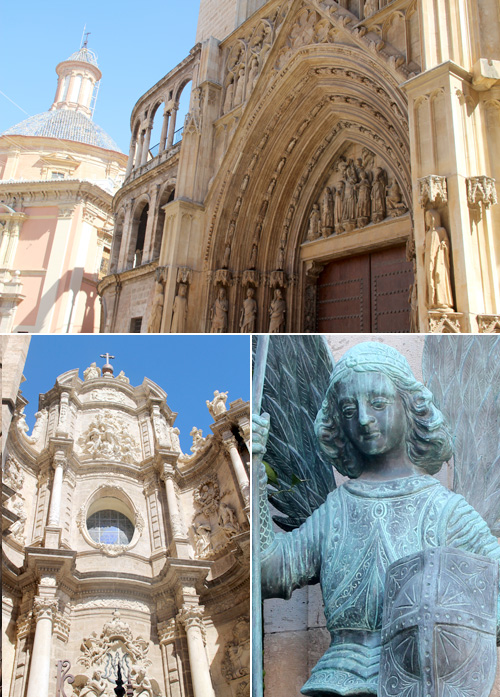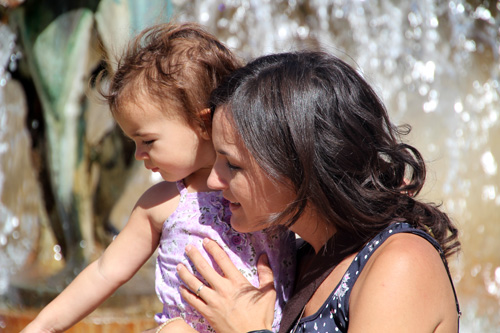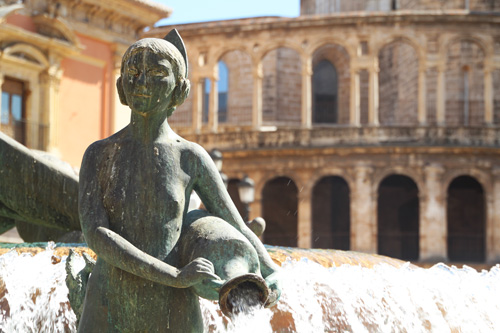 Olivia could have entertained herself in that square for hours! Running, chasing birds, visiting the fountain, saying hi to strangers.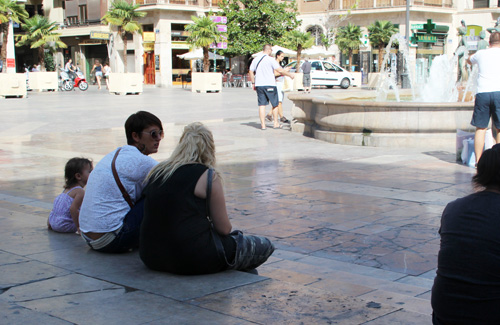 She would just sit herself down next to a group and lean in to be a part of the conversation until she was noticed. They would laugh and smile and she would smile back.
For the most part I'm happy to report that traveling with a toddler was not such a big deal, not in the ways you expect it to be, anyhow. We actually really really enjoyed being together as a family for such a consistent amount of time. But I'd be amiss if I didn't say that it had its share of toddler moments! like this one after Liv realized that the crepe was allll gone.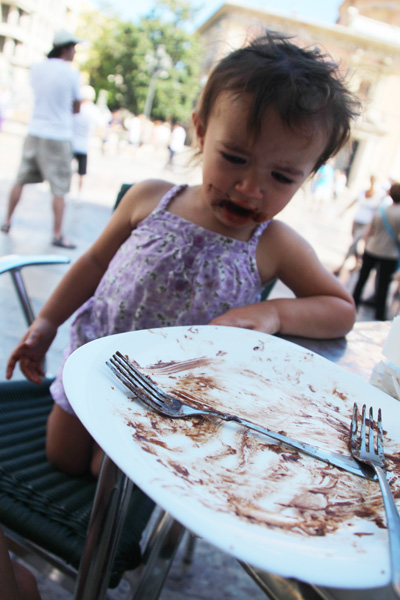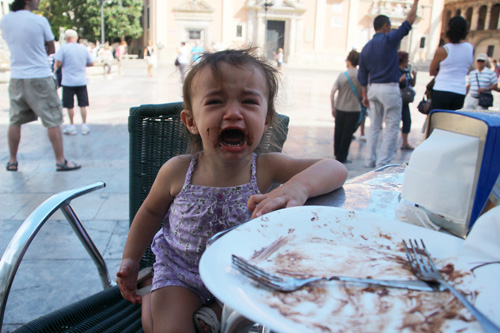 But shortly she was running with the birds in the square once again. You've just gotta roll with it.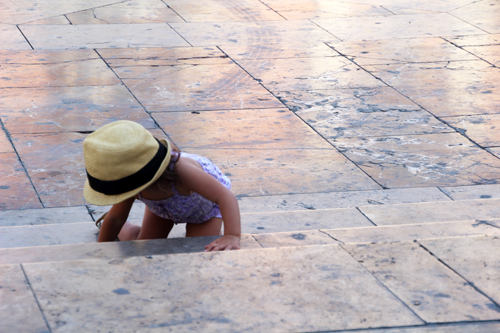 We wandered the streets, took funny pictures of our shadows (check out that Liv hair – she won't allow any rubber bands or bows or headbands, so it stays pretty crazy 99% of the time) and had a beautiful afternoon in the city!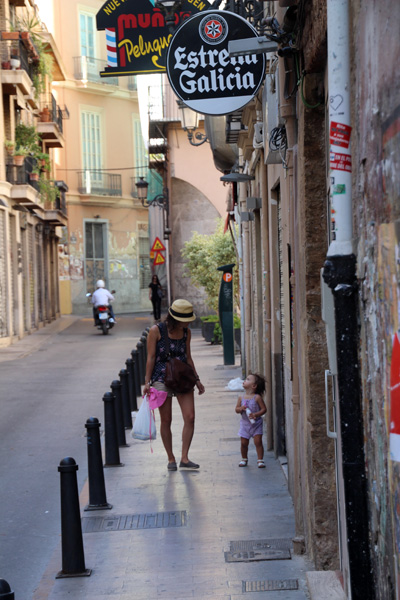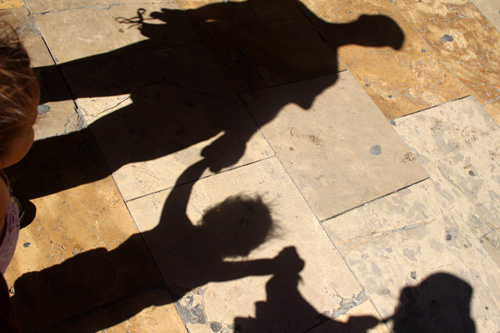 Hope you have a LOVELY weekend and see you soon! I have a new window seat project (involving and awesome fabric) to share from the kitchen… Have to take a few after shots this weekend.
More on our four week adventure starts here.
Tags:
Spain
Posted in
Family & Friends
,
Ireland + Spain + Morocco
,
Travel Adventures
|
6 Comments »
October 8, 2012
Ohhh the feeling of your own bed and pillow and shower and conditioner… it all is so wonderful. 18 hours of traveling later and we are happy to be back in our own casa.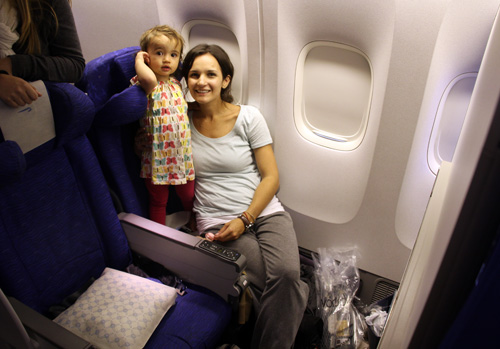 (Yay for bulkhead seats for families on British Airways!)
This is my hallway at the moment…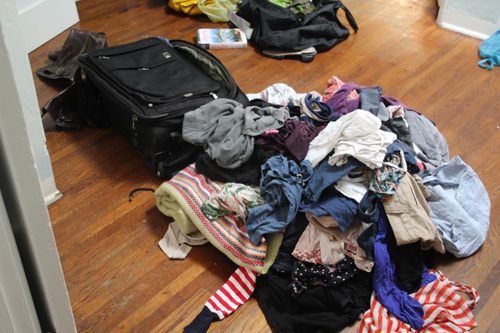 A spur of the moment picture. I don't think I spot any dirty underwear… (ps so excited to wash and dry that underwear in a real washing machine and dryer.)
And this is our dining room table. Thank you to such great friends who welcomed us back last night with peaty whiskey to celebrate Kevin's birthday! thank you to Stephanie for yummy yummy pie, to Cassie for delicious red wine and to Trish for the incredibly thoughtful detail of fresh cut flowers. sigh.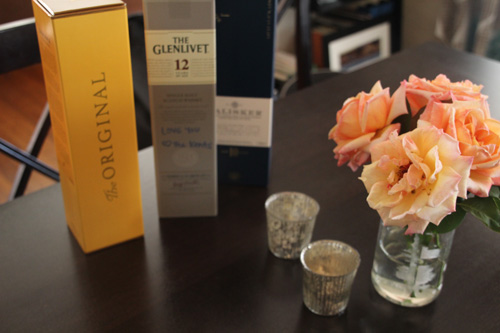 And a huge, heart-felt thank you to everyone who commented, sent a personal email or made contact with me this weekend regarding my brother-in-law's recent diagnosis. We are headed out to Tempe soon to huddle up with our family and to share the love. Will keep you updated on Michael's prognosis.
More to update on Spain and Morocco soon…
Posted in
Family & Friends
,
Ireland + Spain + Morocco
,
Travel
,
Travel Adventures
|
3 Comments »
October 3, 2012
We happened upon (part by chance – the days worked out perfectly) Barcelona in the very middle of their huge Festival La Merce, Catalonia's (of which Barcelona is a part of) annual extravaganza to honor Our Lady of Mercy. Festival La Merce involves parades, building 'human towers', concerts until the wee hours and packed streets. It was part wonderful, part totally crazy.
Much of our respite was found in the adorable apartment we rented just outside of Las Ramblas (the main street with shops and restaurants a plenty, it's also very wide and almost all-pedestrian).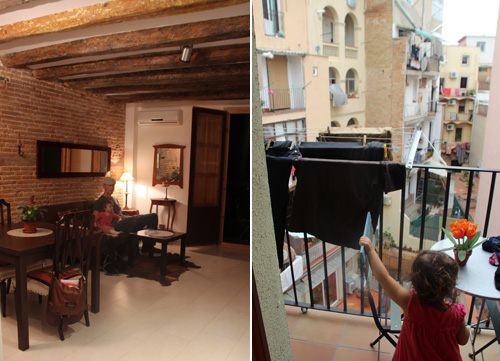 There's the cute flat (with original beamed ceilings and a wall of all brick) above – at night unfortunately, and our neighborhood on laundry day (first opportunity! a plus of renting an apartment).
Before we jump into Barcelona, check out this madness! This is a highlight of Festival La Merce, and somehow we ended up right below one of the crazy towers.
Video of the 'Castellers' – if it's not loading check back in one moment!
We also witnessed a few Gigantes in their customary parade. These giant figures dance with one another and parade in long lines through the streets.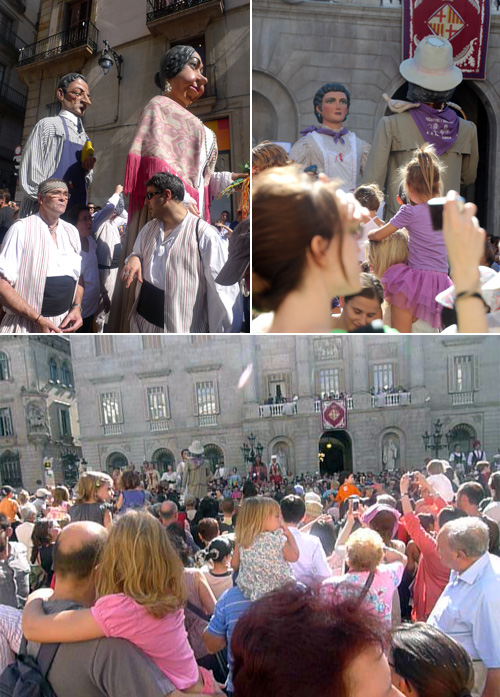 Outside of the festival, our first tourist visit was to the stunning cathedral, which was partially blocked by one of the huge La Merce stages. And these stages rocked all night long! Many a night we came out from our late dinner to hear great music, and it was still playing long long after we went to bed.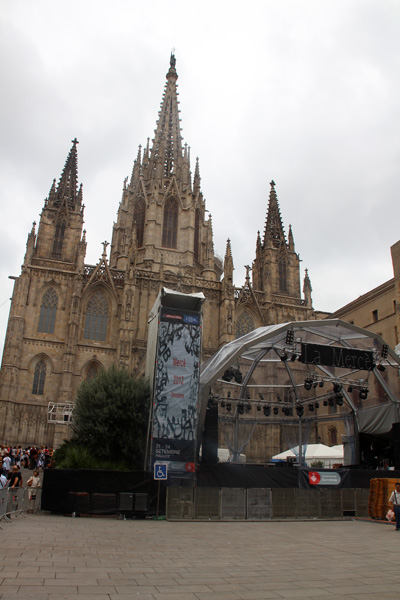 PS The schedule, speaking of late dinners, is one of our favorite parts of Spain

. A small first breakfast, a late larger breakfast closer to 11, a big lunch at 2ish followed by a long siesta, and dinner around 10pm at night. As an entire family! We loved having tapas and sangria, followed by a heartier meal, so late at night but surrounded by Spanish families doing the same, babies and all. Liv of course slept in super late in the mornings, but it was okay but us to have a lazier start on vacation.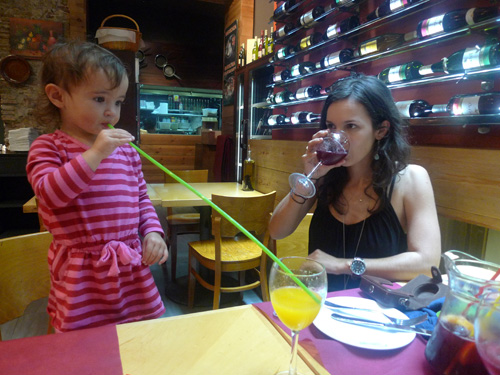 Extra long straws from the waiter to entertain the little ones (and maybe some adults)? Why not.
 Another must-see in Barcelona is the Sagrada Familia, architect Antoni Gaudi's magnificent church that he spent much of his life dedicated to (and the last 14 years for in isolation). He passed before just one tower was complete, but construction continues to this day and will until 2026. Unfortunately the holiday meant that the church was closed to the general public, but we circled and circled and took many pictures.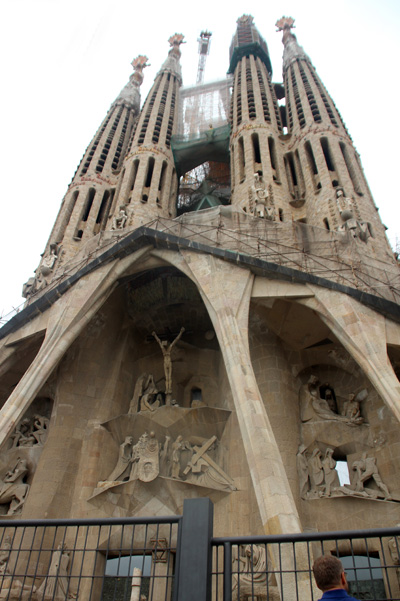 Each side (or facade) is dedicated to a momentous occasion in Christ's life. The first is the Nativity, the second the Passion (or the crucification) and the last (and yet to be complete) the Glory of Christ (or the Ascension).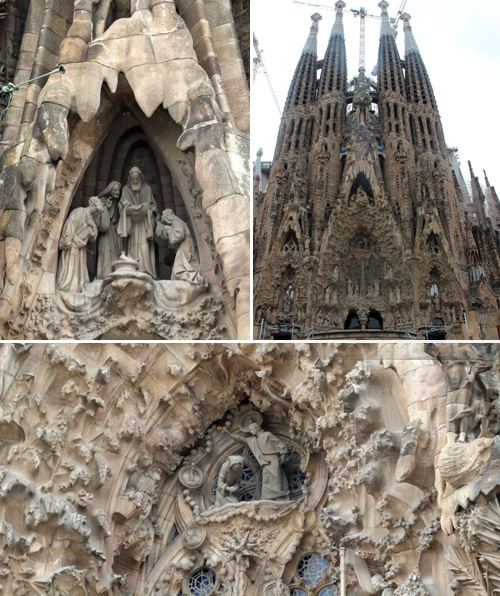 Another of Gaudi's architectural designs includes Casa Mila, or La Pedrera.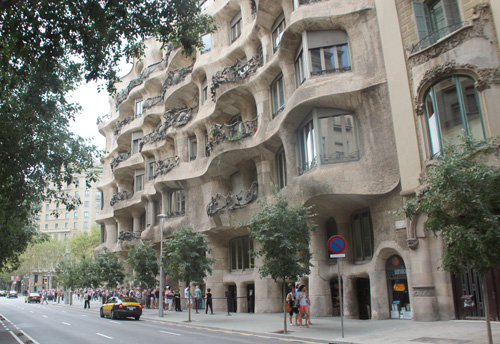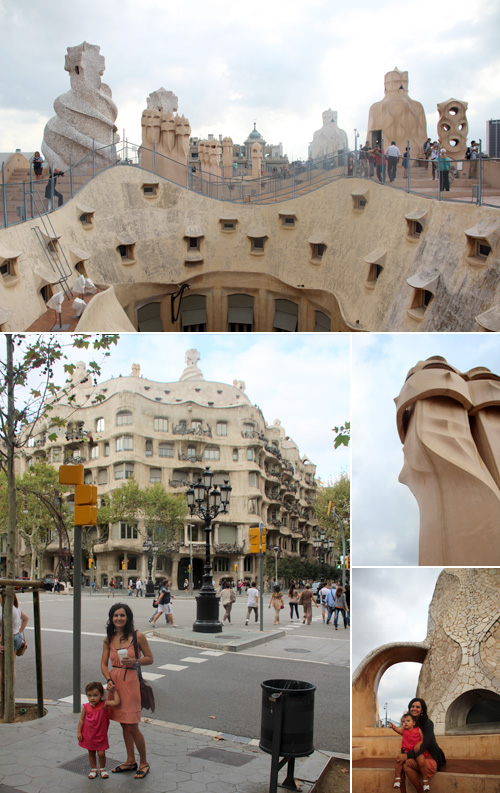 Kevin, who's studying architecture, was all about being behind the camera on this day, so I'm in a few of the pictures for a change!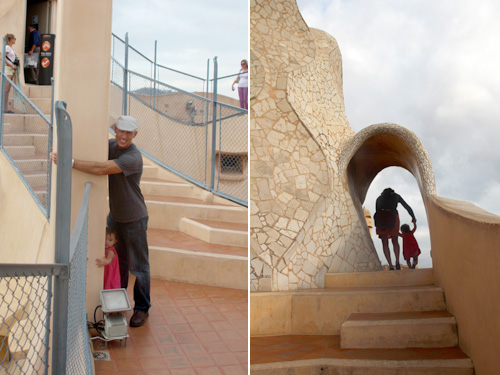 While we're at it, another amazing Gaudi moment.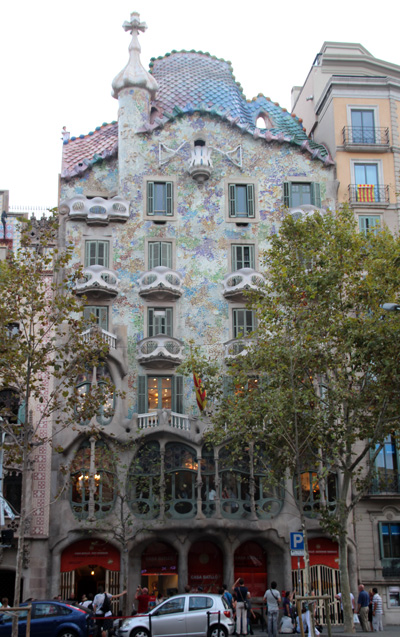 One of the treats of traveling with Liv is our frequent park exploration. We visited Park Guell (also by Gaudi – but the camera battery was dead at this point – bah!) as well as this little guy whose name I don't remember.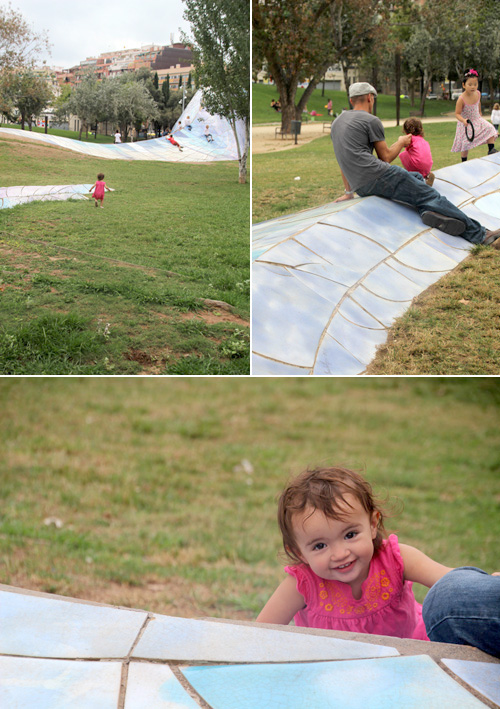 Sometimes it's the little stops that are so fun.
Speaking of travels with Liv, she LOVES the cousine of Spain! She's all about the preserved meats, cheeses and veggies that make Spanish food so yummy. It's definitely a plus (and a whole lot cheaper) when Liv can eat off our plates and we don't have to order a special meal (or even worse, seek out a special restaurant) for her little appetite.
Check out this face: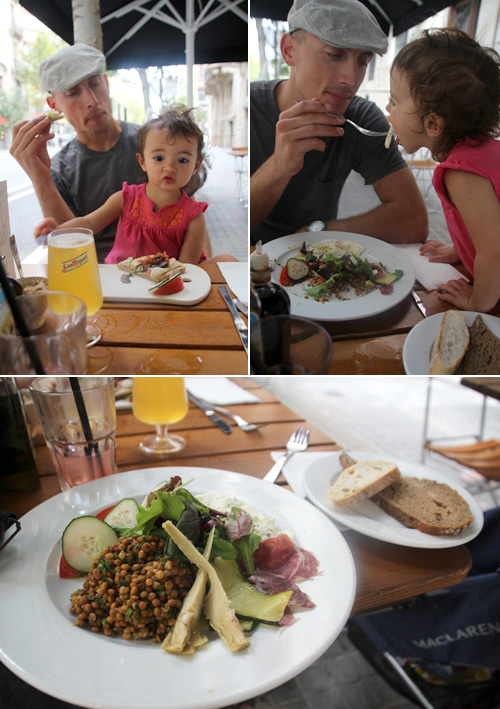 Here we are, back to strolling Barcelona. With Liv napping nonetheless. Nothing like a nice long walk to take you to dreamland.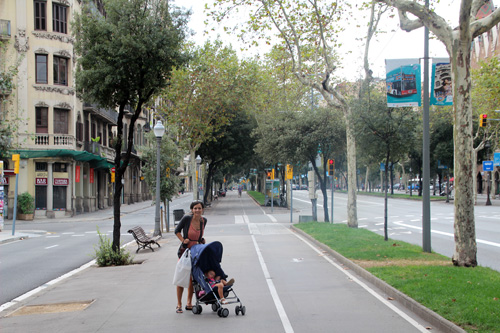 On our last night in Barcelona we enjoyed a delicious dinner of tapas underneath a brightly lit up Church (in all sorts of colors). Liv napping again at our side. But alas, none of those pictures really turned out (darn iPhone and night time photos…). Next up on our Spanish adventure – a road trip down the eastern coast.
PS our entire trip is being chronicled right here.
Tags:
Spain
Posted in
Family & Friends
,
Ireland + Spain + Morocco
,
Travel
,
Travel Adventures
|
6 Comments »