September 16, 2012
Hello from Ireland! The weather has treated us so nicely these past few days – nearly every morning the grey skies have cleared to let the soft sunshine pour through by early afternoon. We're still carrying that umbrella though because it's that unpredictable! but for the most part it has been absolutely beautiful!
Thought I'd share with you a little Ireland inspiration board:

1. Umbrellas are priceless here! I'll admit that I would probably spend about 1/10th of the price of this one, but it sure is pretty. 2. Love me a thick, warm sweater (even though some days require a thin jacket on top!). I brought my favorite oversized cardigan that is super cozy and it's been my everyday wrap (this one is similar). 3. Also brought along my favorite jeans for tucking into boots or wearing with Toms. 4. A small messenger bag has been invaluable. I still have mine from our trip to New Zealand a couple of years ago, but this is a similar size. Fits my Rebel camera, a diaper + small pack of wipes, my wallet and phone! 5. Scarves! Adds a pop of color and in a jiffy keeps the neck warm when the next breeze comes through. 6. Tees for layering and more layering. 7. Boots might not be practical for heritage sites or hiking, but they're super for exploring cities and tucking jeans into. Found mine years ago and could walk all over town, keeps those ankles nice and toasty (these guys pictured here are on my list).
Hope you are having a great start to your week and see you all soon!
Tags:
Ireland
Posted in
Family & Friends
,
Inspiration Board
,
Ireland
,
Ireland + Spain + Morocco
,
Tips & Ideas
,
Travel
,
Travel Adventures
,
Wardrobe
|
5 Comments »
August 13, 2012
and I need your help. We bit the bullet, booked those non-refundable tickets and are now making car, B&B, ferry, train and packing plans for a big Europe trip!
The good news is that we've had a little reserve stash of miles and cash set aside for a little while to make this happen (we didn't know where we'd go or what we'd do, but knew that we'd like to try for one more big family adventure before expanding our family again. The adventure we embarked on before Liv came along included Australia, New Zealand and Thailand). And we're not expecting to dip into our home renovating fund or savings accounts, so we'll plan on sharing our budget travel tips here as well.
The bad news is is that I've become engrossed in research – but we don't have much time! So if you have been to one of the three countries on our itinerary, I would love to hear your thoughts on must-dos, where to stay lists and any tips that you might have. We haven't even narrowed down which cities we'll see in each, so we are all ears!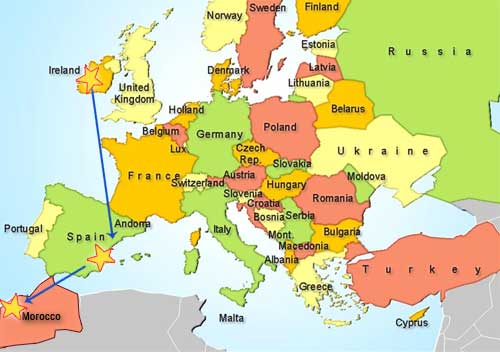 The plan is to start in Ireland, spend a week touring and driving at our own pace as we visit the countryside, the beautiful castles and the amazing coastline. Then we are off to Spain (by taking a short flight from Dublin to Barcelona) for another week of traveling via car to see the beaches, visit the local markets and mix & mingle with our new Spanish friends (fingers crossed) over tapas and wine. Finally, we'll cross over to North Africa via ferry (a 30 minute ride from the south of Spain) to tour Morocco for six days. Ah, I can't wait.
We are excited and thrilled and can't believe that this is coming together (pinching ourselves that we managed to make it happen amidst it all). We'll be moving slowly, staying at family friendly B&Bs and through apartment rentals (we plan on using this awesome site to help us) with a focus on enjoying our time with Liv and as a family, and not stressing about every museum or famous site.
But I'll admit that I'm a little stressed… we are getting a late start on the planning part of this adventure and if you have any experience with these three countries (we'd hate to find out we left a city one day before a huge festival in Madrid or missed a very cool hike in Cork…) – feel free to email or share in the comments below!
Tags:
Europe
,
Ireland
,
Morocco
,
Spain
Posted in
Family & Friends
,
Travel
,
Travel Adventures
|
17 Comments »