August 15, 2012
Hmmm something's buggy about the latest WordPress download (that's the blog software tool that I use) and I haven't been able to post. Hope to be back soon

.
Posted in
Uncategorized
|
Comment »
November 15, 2011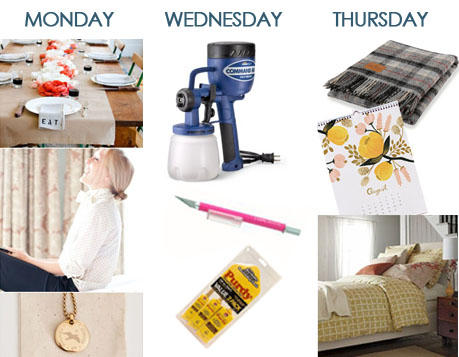 Congratulations to last week's giveaway winners! Random.org helped to select the following:
*Monday's EmersonMade giveaway: Sara Cate
*Wednesday's DIY Pack giveaway: April D.
*Thursday's Favorite Home Decor giveaway: Sheila G. (and it just happened to be her birthday that day – sweet serendipity)
Look out for an email from me. Thank you to everyone who entered and please continue to support these generous companies!
Posted in
Uncategorized
|
2 Comments »
May 3, 2011
Liv's brand new bedding is ready to share! We put it all together this week and just in time to transition to naps in the crib.
Olivia can roll over now, woohoo! and napping in odd places – like our bed, on her play mat, etc – will no longer work. Of course no bumpers while sleeping, but for the pictures (and when she's older) here's the entire handmade set: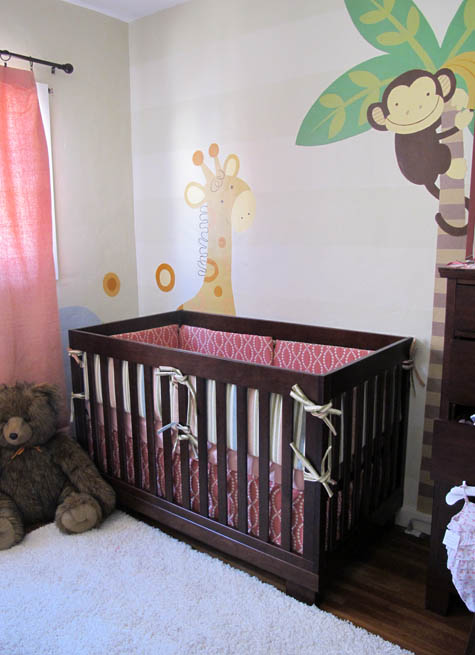 Liv's great aunt Laurie sewed the bumpers from this adorable pattern (minus the ribbon trim and piping) with this nursery fabric that ties in with the color palette of the room. The reverse side of the bumpers is this modern trellis print.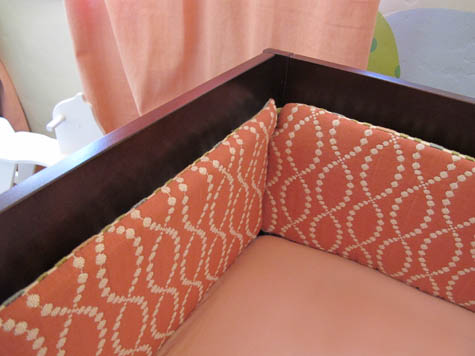 It took me a few tries but this crib sheet ended up matching the rest of the coral accents perfectly!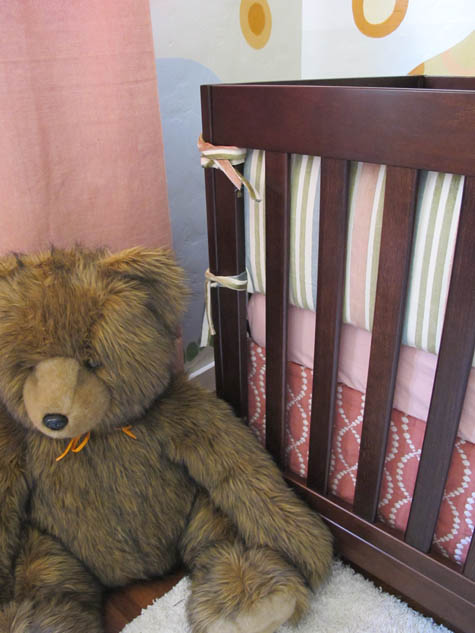 Directions for a super simple crib skirt (more like crib paneling) that will easily shorten when we drop the height of the crib tomorrow. I whipped up this guy in about an hour.
More Project Nursery posts: basket liners part 2, basket liners part 1, the great glider makeover, sewing the curtains part 1, part 2, part 3, nursery fabric board, curtain fabric selection, rocking horse find, new pendant light, new sconce lighting, vintage wall art addition, changing table makeover, nursery wall striping tutorial, painted animal project, the initial inspiration board and the before picture posts.
Tags:
Sewing
Posted in
Liv's Nursery
,
Renovating Adventures
,
Uncategorized
|
5 Comments »