November 8, 2010
The temperature is playing a silly game of betcha-still-think-it's-summer in this neck of the woods with record November highs in the 90′s, but our weather man claims that that's about to change (fall, where are you?).
Regardless, this is what I'd be eyeing if it were a tad bit chillier – and if it were MUCH chillier (as it is in some parts!) perhaps a knee-length cream or navy pea coat to top it off: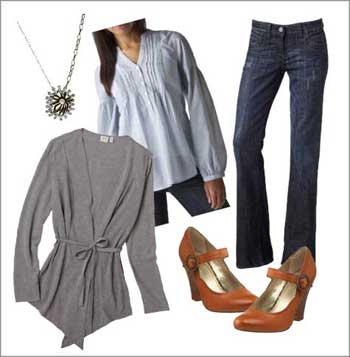 Sources and pricing info over on the Style Boards page.
Simple, clean and very chic. A basic striped blouse topped with a tie cardigan and long silver pendant for the top, and bootcut jeans with tan leather mary janes (these Seychelles have a sturdy enough heel to survive a day of working/running around on the feet) on the bottom. Rotate out the top with a plain white tee, floral tank or even another sweater and you've got yourself some easy fall looks waiting in the closet!
In honor of San Diego's semi-sweet weather, here's a mild-weather, basic inspiration board for a weekend around town: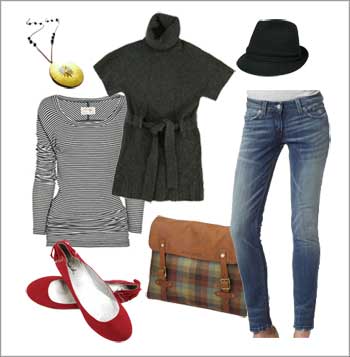 I love love exaggerated, over-sized sweaters and this black cinched waist version would look great layered over a striped long sleeve tee. Match that with skinny jeans in a light wash (I might roll these to a few inches above the ankle), bold flats (love the lace up design on the back of these), a gender-neutral messenger bag and a black fedora and you'd be ready to go. For a simple statement piece, an over-sized gold locket fits over the over-sized short sleeve sweater.
If it's a bit blizzardy where you are, swap out the flats for knee-high boots and throw on a knit scarf and a waist-length jacket for running to and from your warm, heater-filled car to the house.
This is a wonderful time of year! Scarves, layering and wool hats make fall an exciting season to look forward to. More inspiration, style boards and the sources/pricing for above boards found here.
Tags:
Fall
,
Fashion
,
Winter
Posted in
Wardrobe
|
11 Comments »
October 19, 2010
This past weekend we pulled out our warm scarves, visited a local pumpkin patch and sipped hot cider – it was the perfect fall day! It was also our first day of San Diego rain. Well, not so much rain as a heavy drizzle that lasted most of the afternoon.
But that means just one thing – fall is officially here in full swing and I'm ready for movie nights curled up by the fireplace with a cup of hot cocoa! That and the opportunity to wear wool, heavy knits and leather boots.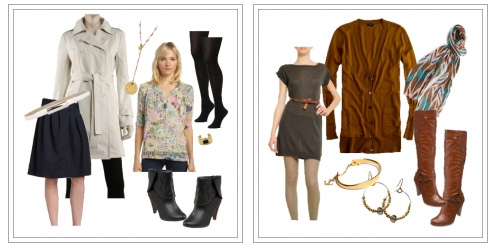 Three new looks for fall:
Board #1: It's still wavering around the mid 60′s in San Diego which means warm tights paired with a belted wool skirt and tucked in blouse (covered by a timeless trench) is ideal for the workday.
Board #2: While I love the growing belly, I think what I miss most from my closet is the opportunity to belt long cardigans, sweater dresses and lots of layers together. I love the shape of this particular sweater dress and the mix of brown, olive and grey pulled together with an ikat scarf. Add a simple gold cuff (I actually just added this staple to my collection and really love it) and hoop earrings for a soft fall look.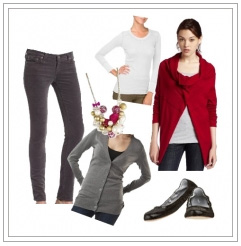 Board #3: Last but not least skinny cords, sparkly ballet flats and colorful outerwear over a few warm layers is perfect for a day of errands around town. Top with a bold necklace and enjoy.
Oh fall! So happy you're here. A full page of style boards and their sources/pricing (including the above) here.
Tags:
Fall
Posted in
Wardrobe
|
Comment »
October 6, 2010
It's been a bit drearier than usual in San Diego lately. Overnight our weather has gone from beautiful, sunny skies to cold, overcast weather with the occasional raindrops. This week's three style board additions are inspired by this slow change into fall! Check out all of the boards here.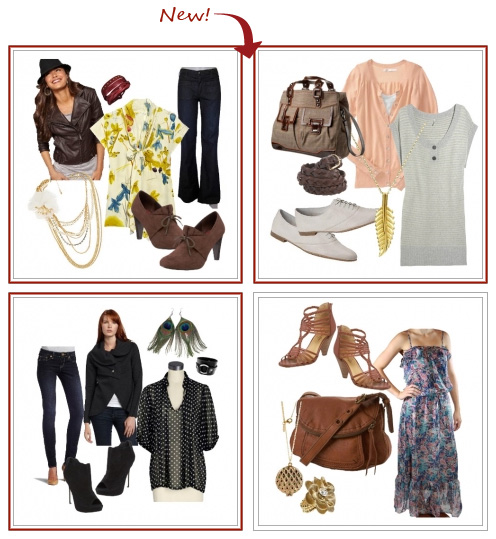 October weather is a perfect launch into cooler temperatures. We start to bring out our big chunky sweaters (though we can still get away with pairing them with leggings and flats) and begin to pack up the sundresses and shorts. As you can probably tell from above, I'm loving oxfords, silky soft blouses and lots of layers at the moment!
Just in case you missed the launch of this new addition last week, I've added a little pink "Wardrobe" button in the left sidebar for easy access to a growing number of style inspiration boards (including sources & pricing for all of the looks). The slideshow to the right links directly as well.
Hope October is treating you well, wherever you're located!
Tags:
Fall
,
Summer
Posted in
Wardrobe
|
2 Comments »