September 27, 2010
So a while back I had mentioned that I was working on a little project over here that I was over-the-top excited about. I'm nearly done with the programming of this little gidget and enlisted the help of a friend to help me work out the last loops.
And it's here! It's ready to be unveiled.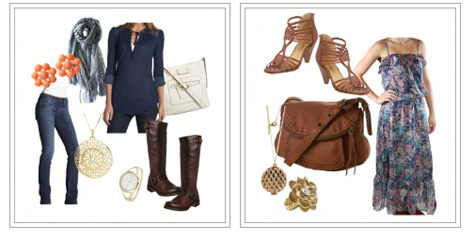 Wardrobe Style Boards has sat in the back of my imagination since launching the site – but there was always so much to share in the world of entertaining and home decor that I wasn't sure if incorporating fashion would be the right move.
My love of all things design has gotten the best of me though and I hope you enjoy the regular looks/updates as much as I enjoy pulling them together!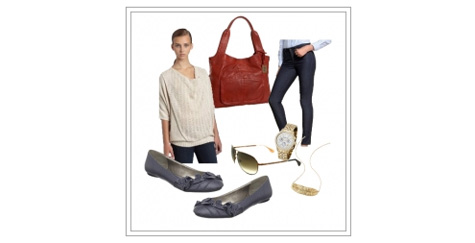 So as not to disrupt the flow of the site, I've switched out that slideshow on the right sidebar and have dedicated it to the wardrobe look-book. You can click on it at any time and hop on over to a page FULL of fun fashion finds (complete with sources & pricing). There's also a new pink navigation button over there in the left sidebar.
Whenever possible, I've linked favorite finds to Amazon since I've found that clothing & accessory links last longer (aka don't sell out as fast, become broken links, etc) than regular store sites. Amazon has a continuous flow of sellers so usually products are available regardless of which store it's shipping from.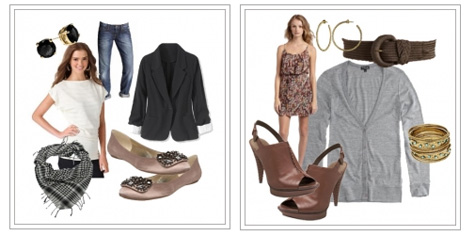 Wardrobe Style Boards is launching with 5 outfit inspirations. Whether it's fall or summer weather in your town (hope to be able to sort by weather soon!) there are a few ideas to inspire for all seasons. The feature will continue to grow with affordable finds each week and hopefully turn into a regular on the blog.
The functionality might change over the next couple of  months… but I'm excited that the Wardrobe Style Board page is finally here!! PS, if you see any glitches or bugs on your screen – or have any suggestions – do share!
Tags:
Wardrobe & Fashion
Posted in
New Features
,
Wardrobe
|
7 Comments »
September 10, 2010

Fashion-meets-design-on-a-dime with today's Guest Blog Interview. New Dress a Day shares Marisa's creative journal of 365 items of clothing on a $365 budget in 365 days. Checking in with Marisa's latest makeovers & creations has become a daily habit as she shares her designs, process and incredibly inspirational end results.

When Marisa lost her job last year she turned to a creative endeavor that would keep her occupied and pull her through a tough time.
In Marisa's own words: "I'm spending the entire year without doing an ounce of traditional clothing shopping… The thing that makes this girl happiest is scouring flea markets, vintage stores and garage sales… I love finding vintage goodies that may not fit me perfectly or translate well with the current state of fashion and then make them work on me. I get out my trusty sewing machine to change hems, cut sleeves and tweak to transform a lowbudge piece that had its' moment back in 1976 and give it another shot today, decades later.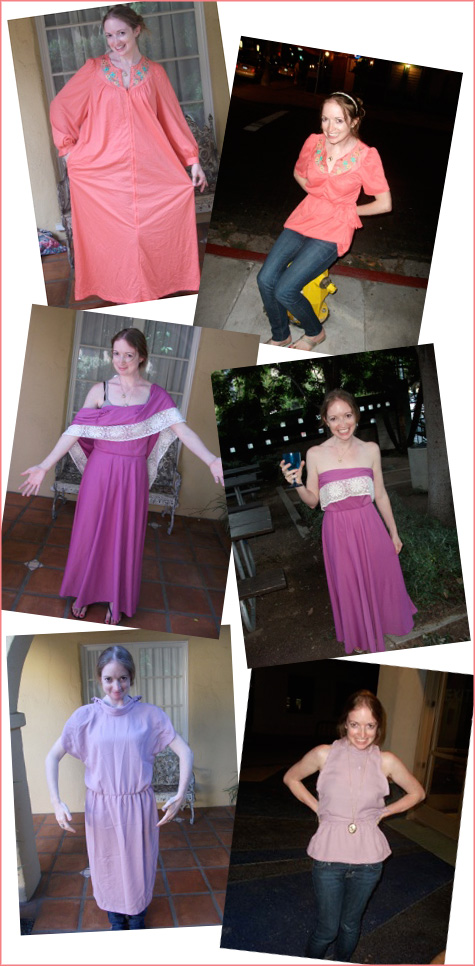 Each day for the entire year, I'm going to introduce a new piece into my existing wardrobe that I've found from these places. On top of this, I'm giving myself a budget of $1 a day. 365 days. 365 items of clothing. 365 dollars."
Neat, right? Generally, Marisa starts out with a vintage piece that is quite out there – a muumuu, an oversized pair of overalls, a frilly 80′s smock – but the end result is hip, stylish and fun. I love to incorporate unique pieces into my closet collection as well, and this has been all of the inspiration I need for a good Goodwill hunt.
Today Marisa shares a bit about her personal inspiration, favorite trends as well as a few fun suggestions for trying her project out yourself. I've added a healthy dose of my favorite 'before & afters' for even more eye candy. Read more »
Tags:
DIY
,
Fabric
,
Guest Interview
,
Sewing
Posted in
Crafty Solutions
,
Guest Blog
,
Interview
,
Wardrobe
|
11 Comments »
April 2, 2010

Many of you may remember a little giveaway I co-hosted with Alexis from Made by Lex in the fall of last year – we teamed up to share a beautiful tablescape complete with handmade napkin rings made by this oh-so talented blogger. We actually grew up in the same neck of the woods (Santa Cruz, California) and share a similar stomping ground, so I was SO surprised when I learned last year that she has a fabulous blog full of her beautiful style and delicious handmade clothing & refashions!
And while I'm not quite ready to reveal a little project I've been working on for Pepper, Made by Lex and her beautiful designs are right up my and its alley. Her original designs and tutorials are stunning – she shares tips for replicating our favorite pieces from Anthropologie and even couture designers like Valentino. Alexis shares daily wear ideas (it's so fun to see how others dress) and all of her designs are modeled by any one of her four sisters.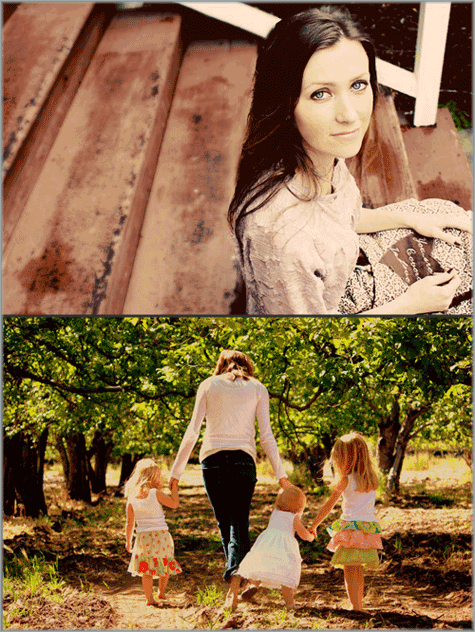 Alexis began sewing as a little girl with her Grandmother but really fell in love with the art a few years ago. Since then, she has created and sold beautiful patterns and clothing through her Etsy shop and just recently launched a line at the clothing & home goods store Stripe (an Anthropologie-style store in Santa Cruz).
Mom to three beautiful daughters, much of her inspiration began with the girls – but it has slowly grown into a stylish design collection of both refashions and originals for women, too. Her former blog, My Mama Made It, took on it's own transition earlier this year when I helped to launch her new Made by Lex identity (a great look, if I do say so myself!).
Alexis takes a moment to share her favorite inspirations and to answer PDB's four questions, after the jump! Read more »
Tags:
Guest Interview
,
Sewing
Posted in
Guest Blog
,
Interview
,
Wardrobe
|
2 Comments »