May 14, 2013
Our first San Diegan heat wave hit this past weekend! On Mother's Day, we slowly watched that temperature gauge crawl from 72 to 85 to 93! We usually don't see the likes of those types of numbers until fall, but clearly summer is on its way.
Anna Kate and I added these two new style boards to the gallery as an ode to warm weather. And when it does cool back down at night (as it still so often does in the spring), don't forget that super soft cardigan for layering.
Here's AK's board:
***************************************************************************************
It's already so hot here in AZ, y'all. I know half the country is still thawing, but we are well on our way to Summer! So, I'm dreaming of shorts and sandals during the day, and cute colorful sweaters to throw on in the slightly cooler evenings. These shorts are so fun for Spring, and despite what you might think, the stripes are really versatile. I would wear them with a neutral shoe and bag, and add pops of color with a red sweater and bright bangle.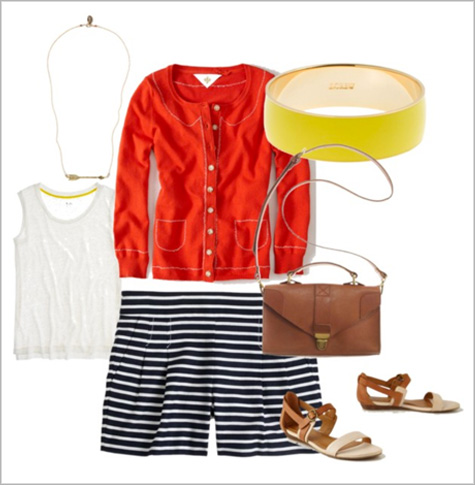 ***************************************************************************************
And as a San Diego tribute to the climate change? Dresses, leather sandals and bold jewelry. I especially adore anything that goes from day to night seamlessly, including maxis in florals and statement necklaces.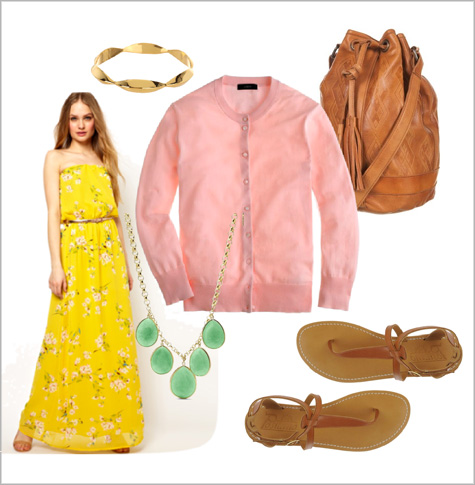 I have a maternity-dedicated line up coming soon for all of you mommas out there that are in my same boat – speaking of, today the calendar tells me I have just five weeks to go! Wow. Here's hoping that beautiful baby girl shows up before we reach 90 degrees again.
You can always find all sources, pricing and style boards in the full gallery right here. And Anna Kate can be found anytime blogging over here!
Posted in
Anna Kate's Style Boards
,
Party
,
Spring
,
Summer
,
Wardrobe
|
2 Comments »
April 15, 2013
The spring weather here in San Diego is playing games with us… one day it's hot and sunny without a cloud in that beautiful blue sky. The next is overcast and drizzly and I'm pulling my favorite boots back out of the closet. Today is one such day. I don't hate cold weather though and I'm okay with the sun hiding for a bit. Actually, with a big pregnant belly sometimes it's much more comfortable to curl up at my office desk in leggings and oversized sweaters rather than thin cotton dresses.
Anna Kate reports that it is indeed spring (even summer-ish!) in AZ these days though, the weather is climbing into the 90′s and she's leaning towards soft sweatshirt dresses to stay comfy (sounds like the best of both worlds to me), and I love the accessories that she's pairing them with.
First, I'll share a style board that combines a few of my favorite spring staples with a happy coral, mint and mustard color combination: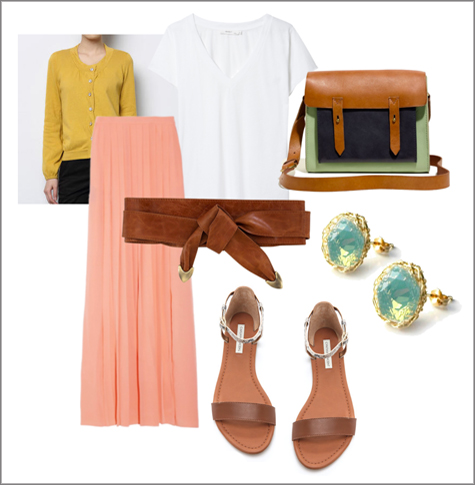 I haven't worn a belt in a while (except for here, it's a rare occasion these days) but I invested in a few wrap belts a long while back and am excited to see that they're picking up popularity. They're so easy to throw over a cardigan and jeans, a long maxi dress or as a break between a tucked in shirt and skirt. The lack of a buckle feels a bit more casual and comfy to me. The above is my take on what I'd be hankering for just about now (weather and all) if I could pull one of my favorite wrap belts out of the closet for a day and find my waist again.
I love the idea of pairing inexpensive basics with slightly more stylish favorites, and mixing in a classic white v-neck tee is a great way to do this. I'd throw a mustard cardigan over the top on a chilly day, and pair with mint green as a nod to spring (for when she decides to shine again!).
****************************************************************************
Handing the reigns over to AK now as she describes a favorite spring staple!
I've been eying this super soft sweatshirt dress for quite some time now. It's the sort of dress you can wear every day, for any occasion. I would wear it to work or to lunch with friends with flats and a jacket, or slightly dressed up for a night out. The fabric and fit are pretty casual, so I wanted to girl it up a little bit with pink wedges (aren't they amazing?!) and a sparkly earring. So cute! – AK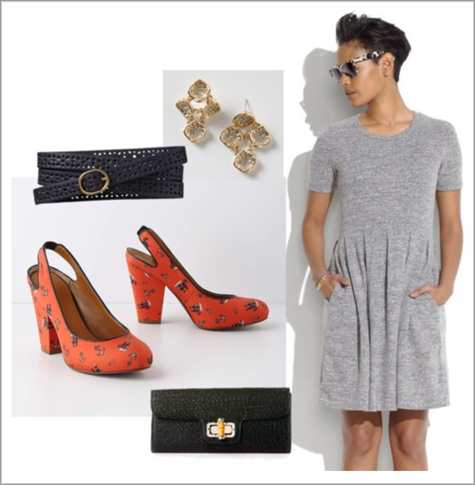 ****************************************************************************
All of the sources, links and pricing for every style board ever posted on the blog is available right here in this nifty gallery (just click on one of the images to pull up the links).
PS You can find Anna Kate anytime over here at Home Away from Home. I especially love her recent blog redesign, and her incredibly honest post on Motherhood. Anna Kate is such a beautiful, busy, awesome mom and I feel so blessed to have her as a guest blogger over here!
PPS Just spotted these beautiful botanical charts deeply discounted here today! About three times as much as the DIY version will run you, but they are stunning and in ready-to-hang form, dowels and all.
Posted in
Anna Kate's Style Boards
,
Party
,
Spring
,
Summer
,
Wardrobe
|
2 Comments »
March 13, 2013
Sending you a little sunshine love from the beautiful coast today with this soon-to-be-Spring weather! I still envy you snow birds out there. There is much to enjoy and love about year round sunshine, but a change in season isn't one of those things!
How do you feel about trends? I'm usually all for wearing what you feel most comfortable in, but you have to admit that sometimes it's fun to jump on the bandwagon of what all the latest favorites are. I have three little style boards to share with round ups of a few of my favorite classic items, plus a few favorite spring trends!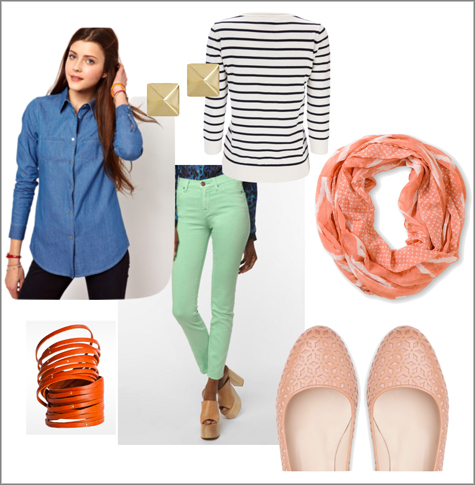 First up, an ideaboard dedicated to denim + pastel (love those two mixed together) plus a few of my fall back favorites in the form of an infinity scarf, cutout flats, stacked bracelets and a striped sweater to top it all off with. Actually, I love the look of collared shirts poking out from underneath classic crew neck sweaters these days, and it's perfect for this weather transition that we're experiencing.
Oh little shift dress! You are all the rage right now and I have a feeling you and I will be close friends this summer as my belly bump gets larger and larger, and your undefined waist looks more and more appealing. This is a total splurge, if-money-were-of-no-concern board as most of the items I picked out to accessorize this chic little $79 dress are waaaay over budget

. Couldn't help myself with those awesomely daring cut out heels and the oversized striped boyfriend cardigan (to help it all feel a bit more casual).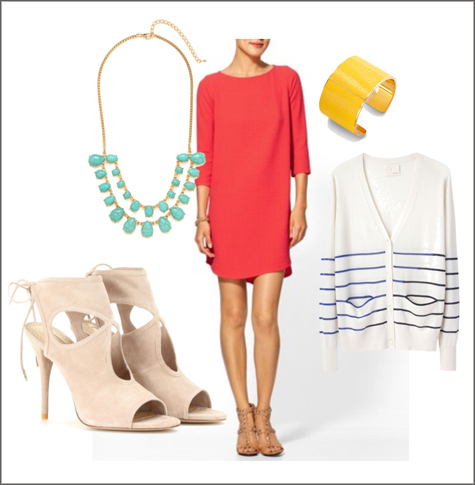 Last but not least, a maternity board that I'm actually loving on a very regular basis. So happy that Anna Kate turned me on to these Asos stretchy jeans (that are unbelievably comfortable – like sweats – and perfect for a heavy belly) and I've been pairing them lately with slouchy cardigans and shawls. The grey one below is on a magical wish list, but this is the one that I've lately been running into the ground. And those Dolce Vita suede booties! Picked them up at Macy's at 50% off and they make for a very comfy addition to wear around town. I feel a little less like a giant balloon and a little more in (comfy + cozy) style. Long tanks, you are also my saving grace.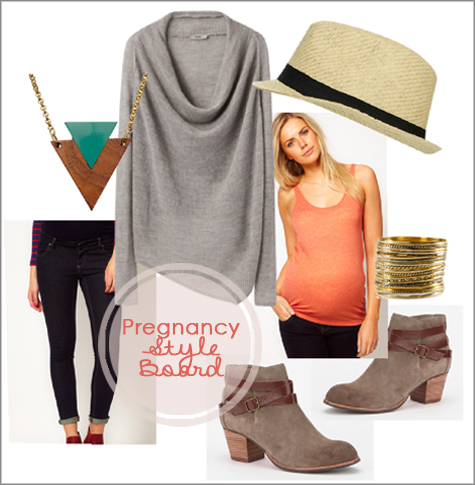 Spring, we're ready for you!!
As always, you can find all style boards plus pricing, sourcing for everything mentioned right here!
Posted in
Fall
,
Party
,
Spring
,
Summer
,
Wardrobe
,
Winter
|
2 Comments »