February 13, 2013
Thank you to everyone who left very sweet comments after yesterday's big reveal! It is hard to explain how excited I am at the news!

Ohhhh a new nursery/big girl inspiration board is in order.
Tomorrow is Valentine's Day! Kev has made dinner reservations at a secret location and I'm excited to get a little dressed up and enjoy a night on the town with just the two of us. Anna Kate and I have each put together a style board on what we might wear for such a date night…
I'll let AK go first.
************************************************************************************
For Valentine's Day, my husband and I usually try to spend a special evening at home together. We make a fancy dinner, have a nice bottle of wine, and actually eat together at the dinner table. I plan to put the t-shirt and jeans away for the night and dress up, but I still want to be comfortable and relaxed. So, I chose a soft, stretchy dress in a red stripe that doesn't scream Valentine's Day, but still feels festive. I'm a sucker for tiny heart jewelry, so these earrings and cuff from Anthropologie are calling my name! I almost never wear heels, so when I break them out for special occasions I usually go for a comfy wedge. These are the best of both worlds because they're low wedges, but the black suede and peep toe are just the right amount of sexy and sweet. 
I hope y'all have a lovely Valentine's Day!
Anna Kate  
(PS You can find Anna Kate anytime right over 

here

 at her sweet home blog)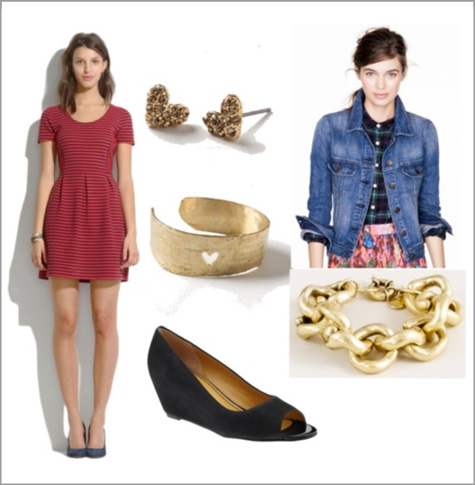 ************************************************************************************
Love Anna Kate's choice of wedges and that cuffed bracelet, how sweet is the heart?
Since I'm five months pregnant now, I thought it would be fun to throw a few style boards into the mix that fit those baby-carrying-bellies. I'm always on the look out for pregnancy style inspiration (I've started a pin board to help organize my thoughts) because it can be pretty challenging to feel put together while also feeling huge.
Favorites of mine? Dresses and tunics that have lots of action going on around the neck. It helps me to feel slightly more proportional and less belly huge.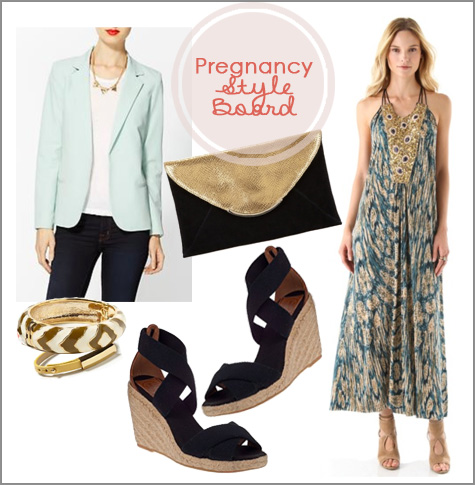 For a date night, I might sport a comfy maxi dress (love that this one hits just above the ankles so short ladies such as myself feel a bit taller) and wedges. I just recently purchased (with a 30% off coupon) the above skinny leather bracelet in orange and it has become a simple staple with my watch on my left wrist! Love jewelry that goes from day to night. This Ellie gold and black clutch is high on my eye candy list. Oh man, did I mention I love, love that dress?
************************************************************************************
As usual, all of the sources, prices and style boards can be found in the upper left hand side bar or by clicking right here and then clicking on an image. ***Update: I've just uploaded AK's style board – computer issues – sorry for the delay! And I've labeled her previous maternity boards as 'Pregnancy Style Boards' so now they're easy to find for us soon-to-be moms***
Happy soon-to-be Valentine's Day!
Posted in
Anna Kate's Style Boards
,
Fall
,
Party
,
Spring
,
Summer
,
Wardrobe
,
Winter
|
Comment »
December 29, 2012
Thank you so much for all of your comments and emails regarding the news we shared yesterday! We are over the moon excited and it's fun to finally be able to let the cat out of the bag!
We've been enjoying some quality family time but I wanted to pop in today to share another round of style boards that Anna Kate and I put together for New Year's Eve. I will probably be spending mine in comfy PJ pants and a big sweater this year, but I couldn't help but imagine up an outfit that I'd wear to that wonderful NewYear's party that I will one day throw. One day.
Anna Kate shares an equally party-worthy outfit, I'll let her explain!
*****************************************************************
For New Year's Eve, I just. can't. help it. I LOVE to wear something sparkly! But I've learned from experience that New Year's Eve always ends up being a really long night, so I always go with pants and a sparkly top over a dress. For this year, I paired what may be the perfect black jeans with a gold chevron-striped top from Anthropologie, but I really wanted to focus on accessories. I chose two gorgeous, sparkly bracelets for some drama, and aren't those shoes amazing? As you might have noticed, I've recently developed a slight obsession with animal print shoes.. But for those of you (like me) who prefer flats, those beauties from Christmas would be perfect for this outfit as well. And last, but certainly not least, I love this super cool transparent clutch, which will be such a great conversation starter at your party, and will do wonders to help you organize your purse!
Happy Holidays Everyone!
(PS you can find AK over here on a regular basis:))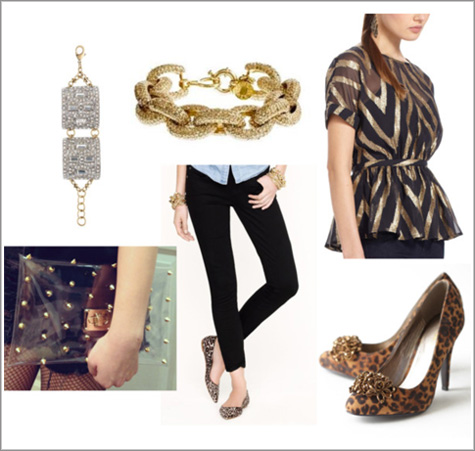 As for my dream outfit this year, I am totally on board with Anna Kate's obsession with animal print shoes and I picked out a comfy pair of flats in a cheetah print to add a little rarrr to a beautiful and flowing high-waisted skirt that's party perfect. I would tuck a shimmery gold tank into this skirt and pair with simple but fun jewelry and a vintage clutch. A little classic, a little sparkle, a lot of unexpected for such a fun holiday!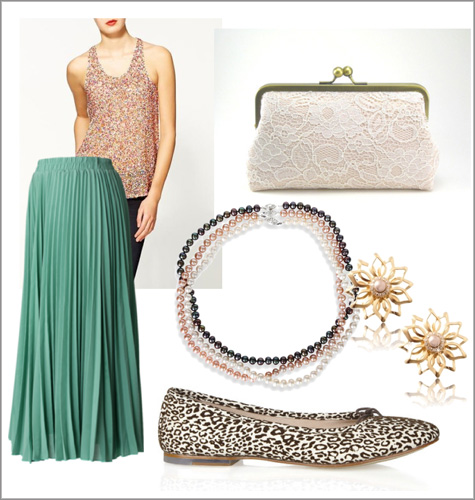 *****************************************************************
Let the count down to New Year's Eve begin! PS more party ideas can be found in our Christmas round-up here, and all sources/pricing for the above are always available in the Wardrobe Gallery.
Tags:
New Year's Eve
Posted in
Anna Kate's Style Boards
,
Fall
,
Holidays
,
Party
,
Spring
,
Summer
,
Wardrobe
,
Winter
|
3 Comments »
December 20, 2012
Wow, I am amazed that Christmas has snuck up on me again! I was online last night searching for a couple of last minute gifts for family and was about to check out when I noticed that my shipping charges, to have said gifts here by the 24th, were upwards of $17. I though, surely! not with so much time before Christmas!, but then I glanced at the calendar and laughed at myself for forgetting that the special holiday is just (literally) a few days away! What!? I'm avoiding the mall at all costs but I might not have a choice now…
Ah well, on to prettier topics! Anna Kate and I each put together a Christmas and New Year's Eve outfit to share with you all for the Wardrobe Style Boards gallery and without further ado, here's a little Christmas inspiration for you.
AK first.
*****************************************
When Morgan asked me to put together a couple of style boards for Christmas and New Year's Eve, I knew just what I wanted to do. For me, Christmas Eve is always a little bit crazy. There are gifts to wrap, church services to get to, and so much food to make (What? Not everyone has 50 people over for Christmas Eve dinner??) so I try to keep it simple when it comes to my outfit. I always have to resist the urge to wear red or green, because it's just too obvious and no one wants to be the girl in church lookin like a Christmas tree! So I usually go with a special black dress and pretty accessories. I added a scarf, tights, and a coat to this outfit because if I'm dressing up, I'm all about staying warm and cozy! And for a festive touch, I will definitely be wearing this grown-up glittery nail polish in the perfect Santa Claus red!
Happy Holidays Everyone!
AK
(PS don't forget that you can catch all of her lovely style – home and family, too! – over at her blog: Home Away From Home)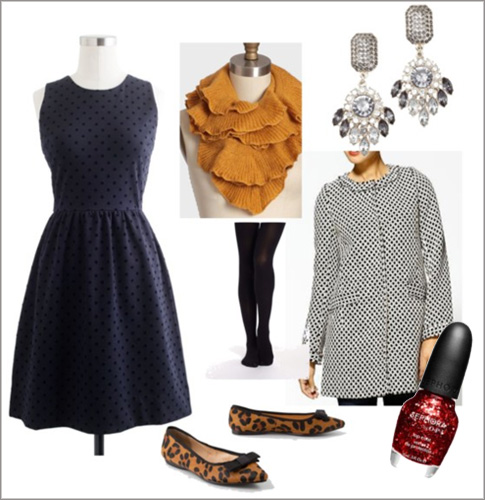 Anna Kate and I didn't share our boards prior to this post, so I was really happy to see that we each took our outfits in different directions. I love her black and mustard combo, and that jacket is amazing.
I was dreaming of a late night Christmas Eve when I imagined this board and what I would wear that could be both pretty and lounge-worthy (for the post-Church gatherings with family and friends or the early dinner that we'll enjoy together. That plus toddler-chasing. The perfect solution? A beautiful tunic top paired with comfy leggings and satin sparkle flats. Plus accessories that announce that the occasion is indeed special

. Now if only I could get the below shipped to my casa by the 24th – Amazon Prime, where are you when I need you??
Don't forget that you can catch all of the wear-to-find and price info for the above over in the actual gallery itself (just click on a board to see the details).
Happy 5-days-to-Christmas!!
Tags:
Christmas
Posted in
Anna Kate's Style Boards
,
Fall
,
Holidays
,
Party
,
Spring
,
Summer
,
Wardrobe
,
Winter
|
Comment »