March 13, 2013
Sending you a little sunshine love from the beautiful coast today with this soon-to-be-Spring weather! I still envy you snow birds out there. There is much to enjoy and love about year round sunshine, but a change in season isn't one of those things!
How do you feel about trends? I'm usually all for wearing what you feel most comfortable in, but you have to admit that sometimes it's fun to jump on the bandwagon of what all the latest favorites are. I have three little style boards to share with round ups of a few of my favorite classic items, plus a few favorite spring trends!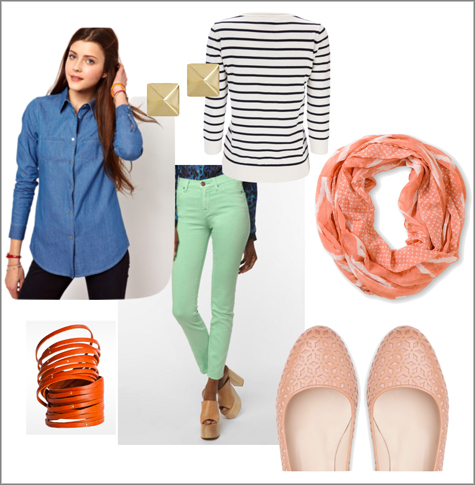 First up, an ideaboard dedicated to denim + pastel (love those two mixed together) plus a few of my fall back favorites in the form of an infinity scarf, cutout flats, stacked bracelets and a striped sweater to top it all off with. Actually, I love the look of collared shirts poking out from underneath classic crew neck sweaters these days, and it's perfect for this weather transition that we're experiencing.
Oh little shift dress! You are all the rage right now and I have a feeling you and I will be close friends this summer as my belly bump gets larger and larger, and your undefined waist looks more and more appealing. This is a total splurge, if-money-were-of-no-concern board as most of the items I picked out to accessorize this chic little $79 dress are waaaay over budget

. Couldn't help myself with those awesomely daring cut out heels and the oversized striped boyfriend cardigan (to help it all feel a bit more casual).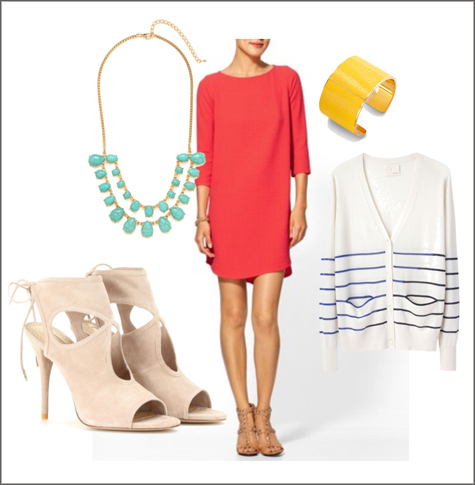 Last but not least, a maternity board that I'm actually loving on a very regular basis. So happy that Anna Kate turned me on to these Asos stretchy jeans (that are unbelievably comfortable – like sweats – and perfect for a heavy belly) and I've been pairing them lately with slouchy cardigans and shawls. The grey one below is on a magical wish list, but this is the one that I've lately been running into the ground. And those Dolce Vita suede booties! Picked them up at Macy's at 50% off and they make for a very comfy addition to wear around town. I feel a little less like a giant balloon and a little more in (comfy + cozy) style. Long tanks, you are also my saving grace.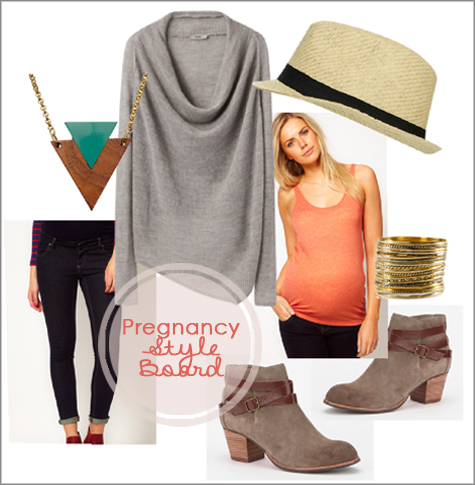 Spring, we're ready for you!!
As always, you can find all style boards plus pricing, sourcing for everything mentioned right here!
Posted in
Fall
,
Party
,
Spring
,
Summer
,
Wardrobe
,
Winter
|
2 Comments »
February 13, 2013
Thank you to everyone who left very sweet comments after yesterday's big reveal! It is hard to explain how excited I am at the news!

Ohhhh a new nursery/big girl inspiration board is in order.
Tomorrow is Valentine's Day! Kev has made dinner reservations at a secret location and I'm excited to get a little dressed up and enjoy a night on the town with just the two of us. Anna Kate and I have each put together a style board on what we might wear for such a date night…
I'll let AK go first.
************************************************************************************
For Valentine's Day, my husband and I usually try to spend a special evening at home together. We make a fancy dinner, have a nice bottle of wine, and actually eat together at the dinner table. I plan to put the t-shirt and jeans away for the night and dress up, but I still want to be comfortable and relaxed. So, I chose a soft, stretchy dress in a red stripe that doesn't scream Valentine's Day, but still feels festive. I'm a sucker for tiny heart jewelry, so these earrings and cuff from Anthropologie are calling my name! I almost never wear heels, so when I break them out for special occasions I usually go for a comfy wedge. These are the best of both worlds because they're low wedges, but the black suede and peep toe are just the right amount of sexy and sweet. 
I hope y'all have a lovely Valentine's Day!
Anna Kate  
(PS You can find Anna Kate anytime right over 

here

 at her sweet home blog)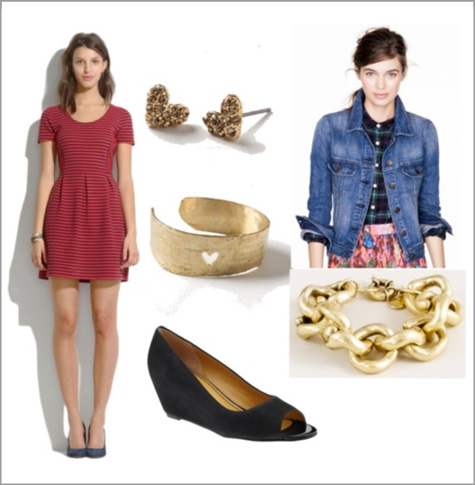 ************************************************************************************
Love Anna Kate's choice of wedges and that cuffed bracelet, how sweet is the heart?
Since I'm five months pregnant now, I thought it would be fun to throw a few style boards into the mix that fit those baby-carrying-bellies. I'm always on the look out for pregnancy style inspiration (I've started a pin board to help organize my thoughts) because it can be pretty challenging to feel put together while also feeling huge.
Favorites of mine? Dresses and tunics that have lots of action going on around the neck. It helps me to feel slightly more proportional and less belly huge.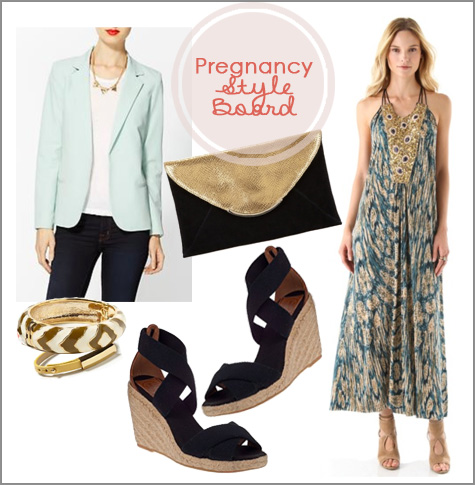 For a date night, I might sport a comfy maxi dress (love that this one hits just above the ankles so short ladies such as myself feel a bit taller) and wedges. I just recently purchased (with a 30% off coupon) the above skinny leather bracelet in orange and it has become a simple staple with my watch on my left wrist! Love jewelry that goes from day to night. This Ellie gold and black clutch is high on my eye candy list. Oh man, did I mention I love, love that dress?
************************************************************************************
As usual, all of the sources, prices and style boards can be found in the upper left hand side bar or by clicking right here and then clicking on an image. ***Update: I've just uploaded AK's style board – computer issues – sorry for the delay! And I've labeled her previous maternity boards as 'Pregnancy Style Boards' so now they're easy to find for us soon-to-be moms***
Happy soon-to-be Valentine's Day!
Posted in
Anna Kate's Style Boards
,
Fall
,
Party
,
Spring
,
Summer
,
Wardrobe
,
Winter
|
Comment »
January 10, 2013
About a month into winter each year, I begin to wonder if this throw-on-a-cozy-sweater-and-boots weather might not be one of my favorites. I hardly feel as if I'm getting dressed in the morning when my staple has become black leggings (these ones are awesome for the growing belly), a tee, grey boots and an oversized cardigan. Maybe uggs if I'm at the home office, maybe a blouse if I'm headed into corporate.
Before Christmas, I took full advantage of Norstrom's half yearly sale and scooped up three new veryyy cozy cardigan additions to add to my stash. Options are in abundance this season! I remember 3 or 4 years ago when I worked for a big consulting firm and we never knew how cold the office building was going to be that day – I used to stash a treasured giant black cardigan in one of my desk drawers just in case. But this was when it was nearly impossible to find a bulky, hip length anything sweater and I was sure I had struck gold with my office secret. I sincerely dislike office building air conditioning to this day.
A round-up of deliciously comfy, can't-wait-to-crawl-into-you cardigans for the rest of the season: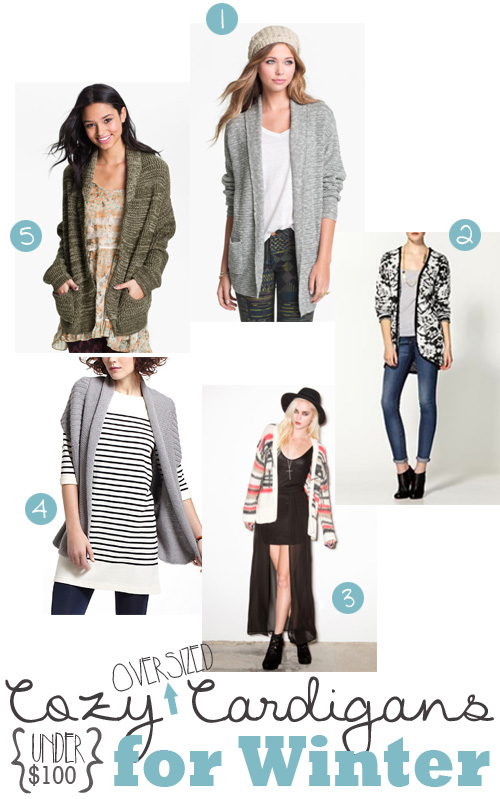 1. Cotton Emporium Marled Cardigan 2. Reflection Cardigan 3. Multi-Colored Open Front Cardigan 4. Ribbed High Low Sweater Vest 5. Cotton Emporium Oversized Cardigan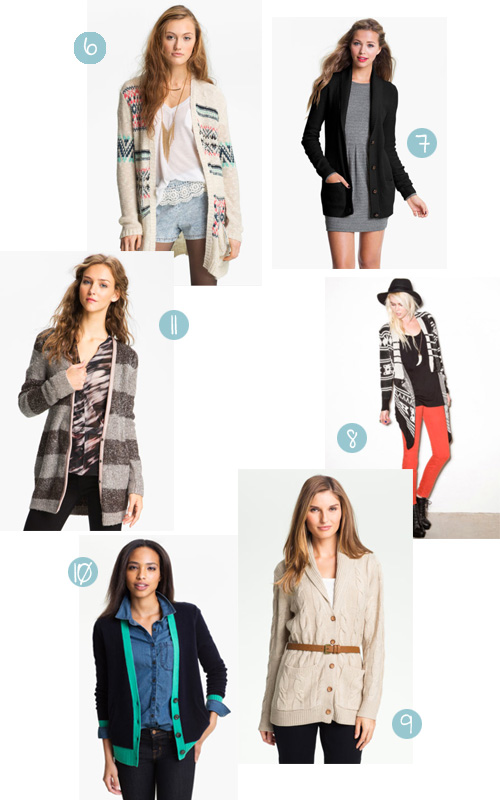 6. Rubbish Blanket Cardigan 7. BP Shawl Collar Cardigan 8. Open Front Southwestern Cardigan 9. Beatrix Ost Belted Cable Cardigan 10. Caslon Tipped V-Neck Cardigan 11. Hinge Metallic Boucle Cardigan
PS I bought 5, 7 & 10, and I'm pretty sure at least two of those are still on super sale.
Posted in
Fall
,
Inspiration Board
,
Wardrobe
,
Winter
|
Comment »