November 19, 2012
Happy Thanksgiving week! We are up to our ears in holiday events, projects, work stuff and family (always, always awesome) and I've discovered (I am a late, late comer) the most amazing tool to document all of the holiday-wonderfulness that is happening at the moment! What have I been missing out on all of these months without Instagram? Count me in as an immediate fan. Lately I've been posting on projects-in-progress, Liv-isms, travel adventure updates and sweet Sunday mornings with the family.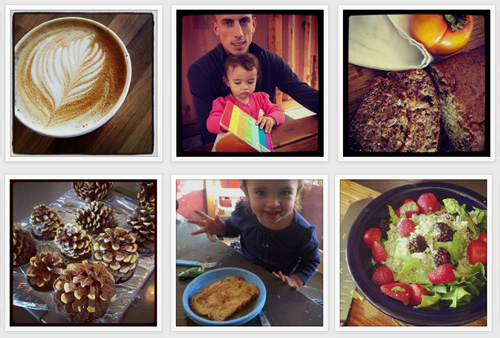 You can meet me over there by searching for 'morganspenla' (I know it's not so original when it comes to Instagram names… I'll try to be clever next time. but you'll know it's me when you find me because there's none other

). Really, there isn't. There are perhaps 20 Spenlas on the entire planet and likely you are related to us if you are one of them (don't be confused by the alternative sugar substitute, most telemarketers and grocery clerks are. But it's all good.).
The true purpose for the post today is to share the progress on our kitchen nook. The cushions are finished and are in place! And the bench functions as a real bench! It's wonderful, it's the bench that this kitchen has always needed.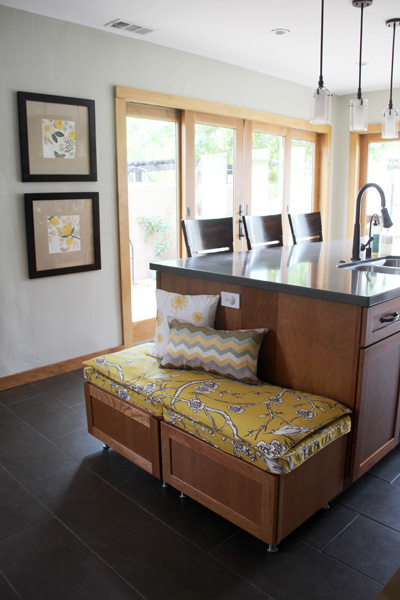 Last I left you, we had purchased over-the-fridge cabinets from Lowe's (because of their unique height and width) and had added legs to prop them up off of the ground.
I specifically chose a yellow for this space to help cheer up the empty color zone between the dark floors and the grey quartz countertops. The yellow up close is a great mustard that is not quite too bright but happy enough to make you smile when you walk into the room.
Here is the link online over at Calico Corners (who teamed up with me on this project, I'll be sharing the full, finished breakfast nook next month ish on their blog as well once the tables, chairs, etc are in place! I'm assuming it will take me a bit to hunt every little piece down…

).
I really labored over the type of fabric to use here… everything in my gut insisted on an outdoor, easily wipe-upable canvas fabric that would repel any future kid (or adult) stains. But I couldn't find anything that I loved, and I looked and looked and looked for a long while. When I came across this Vintage Blossom print I immediately fell for how it would tie in so well with the rest of the kitchen and how it would also function as a 'base' for additional patterns in the form of pillows and chair cushions. The colors are simple – mustard, brown (which is also prevalent in the bar stool cushions) and white.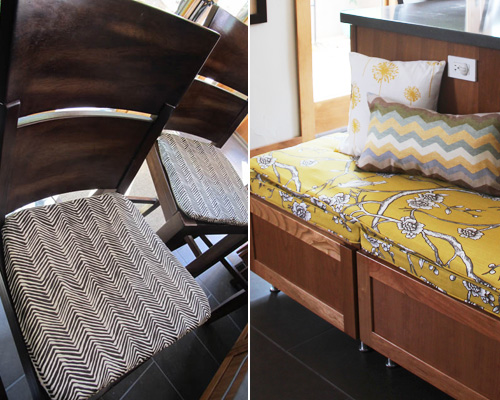 The colors also tie in nicely with the existing calendar artwork.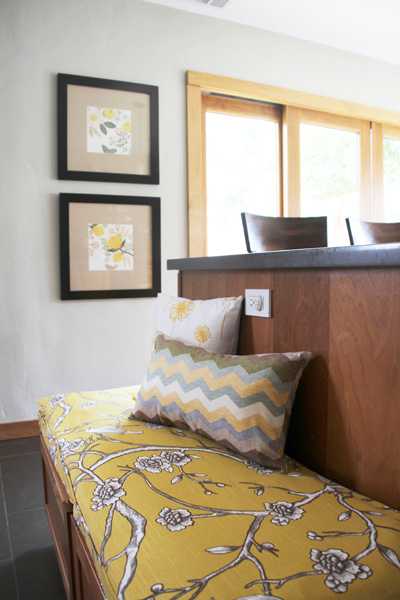 But rest assured it will get a healthy coating of a stain repellent spray like Scotchguard.
The lumbar throw pillow with the fun zig zag print is by Etsy artist PillowMio and the dandylion print by MyModernHome. I purchase most of my inserts at West Elm because of how deliciously cozy and reasonably priced they are.
The photos are one step too close to washed out, but it's hard to capture that light through the doors in contrast with the dark floors, which pulls everything down.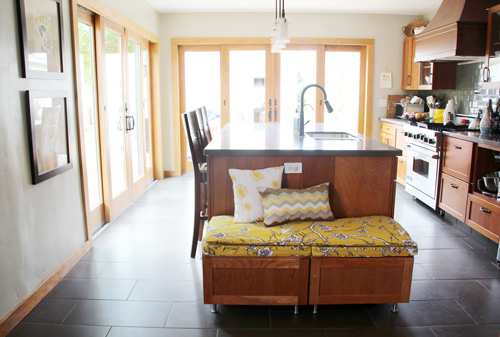 My inspiration for the style of cushion was to use a settee pattern, kind of like this one: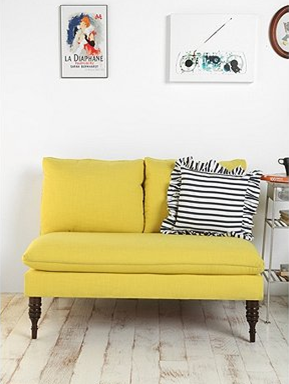 Or this one from Joss & Main (which I considered purchasing when it was up for a steal of a price before this all started, but the seat depth on a traditional settee is too overwhelming for our kitchen).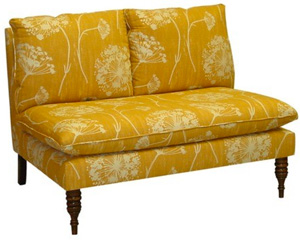 I used this pattern in reverse so that if I were to separate out the two benches, the tops would come with easily. The 'topper' is one long piece that can also be used as a bench back. Thinking out of the box here

. I need to add more padding though, now that I'm looking at all of these photos.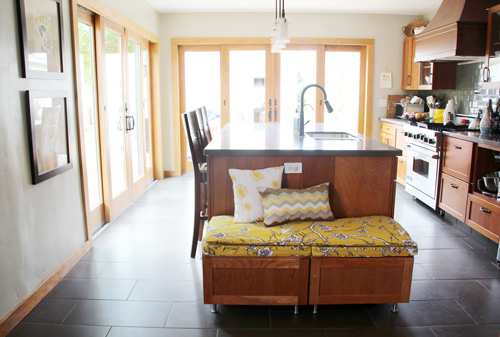 Here's a shot of what I mean about separating out those two bench pieces: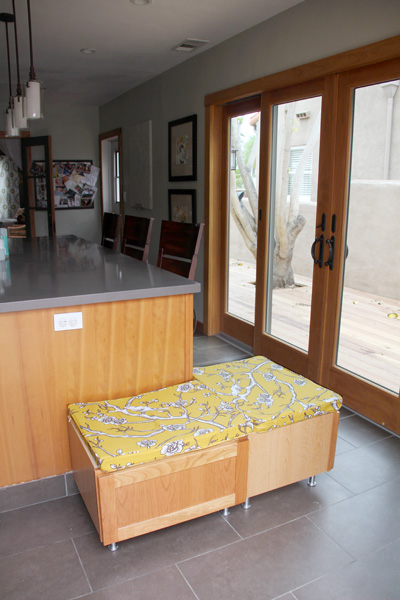 Here's the opposite end of the island, and see how these benches might be used for extra seating when we have the big french doors wide open and guests are mingling about (with a glass of wine and hor d'oeuvres?) from deck to kitchen? Ah, lovely.
In fact, I may not even keep the bench where it is now. It might find its way over to the wall to the left of the doors and kitchen where there is currently a rather large gap of space.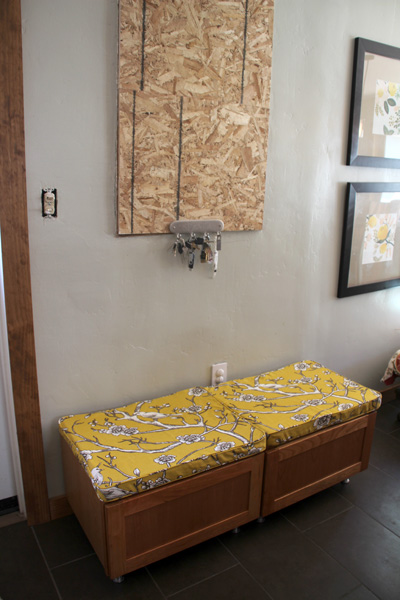 The plywood hides the remnants of an old window from the previous layout of the den. I currently hide it with canvas art or by covering it with pinned up finger paintings by Liv and what have you, but here is the eyesore in all of its glory. I suppose it does function as a key holder. There is its purpose in life.
When it came to the cushions themselves, I left it to the pros. I gave my amazing dry cleaning lady – my secret weapon – (who made these awesome slip covers for my nursery rocker) the dimensions of the cabinets and future cushions, the roll of Vintage Blossom fabric (purposefully adding enough for welting, which she added for $5 per cushion), and invisible zipper material for all. I believe the entire sewing portion ran me about $20 for each full cushion.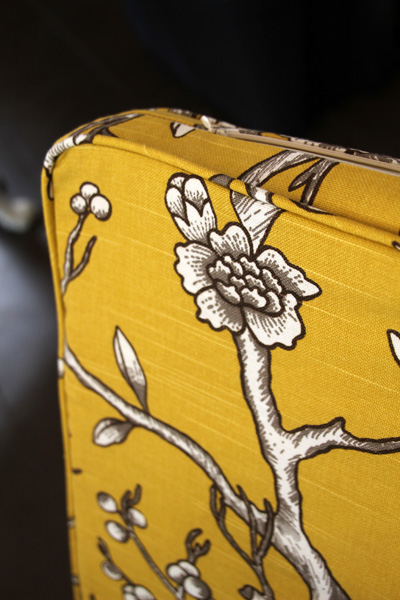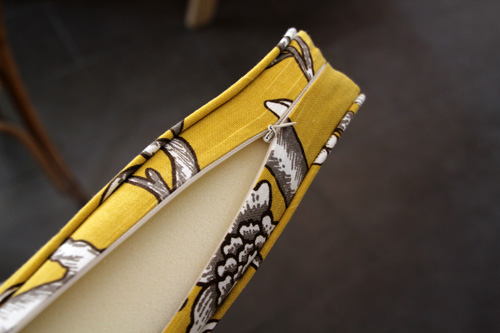 I could have attempted it but the quality and price of outsourcing this project was absolutely worth it! With that much less of a chance of me and the sewing machine getting into a fight over box cushions (perhaps I will one day learn).
We are that much closer to finishing up the entirety of this kitchen!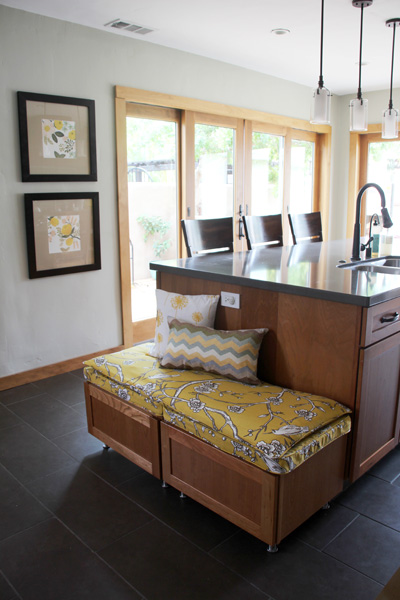 Still left? A table, chairs (bistro? bentwood?), a neat piece of art for to cover up my one-day-we'll-fix-it window, and few additional molding touch ups. Perhaps a big pendant to go over future table? Happy Monday!
PS you can catch all of the kitchen posts (which started as this den) right here.
Tags:
Accessories
,
Breakfast Nook
,
Crafty Solutions
,
Decorating
,
Fabric
,
Home
,
Kitchen
,
Yellow
Posted in
Favorite Fabric
,
Home
,
Our Kitchen Remodel
,
Renovating Adventures
|
13 Comments »
November 12, 2012
The new breakfast nook (shared about here) is on its way! I crossed my fingers, gulped twice and ordered those above-the-fridge cabinets that match the rest of our kitchen cabinetry and are perfectly sized as future bench seats for a breakfast nook. (For reference, they're cherry wood shaker-style KraftMaid cabinets from Lowe's in a honey spice finish.)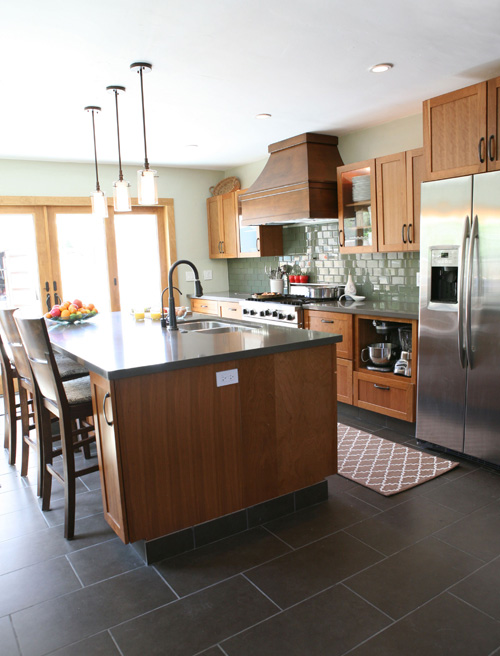 And then they arrived! And are just as perfect as had hoped. I opted for drawers rather than doors so that as I move my bench pieces around the kitchen (I'd like these guys to serve double-duty as all sorts of seating options) the contents won't come spilling out. The drawers provide a nice little stash place for tablecloths and runners and such, too.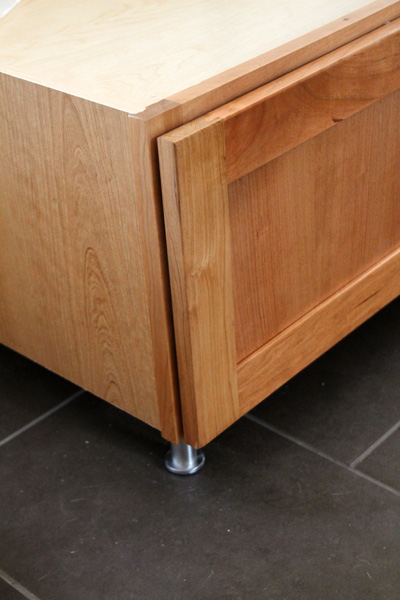 The drawers came assembled straight out of the box, but rather than add a toe kick to the bottom of the cabinets so that they aren't directly on the ground, I thought that legs might look a bit nicer and will add a little industrial detail.
Ikea came through with two varieties that I thought would work well – one a solid metal 'skinny' leg with a round foot, the other a pewter-painted 'fatter' leg with a rubber foot. The skinnier guys won based solely on ease of installation (I could drill the legs directly to the base of the cabinet without the screws interfering with drawer functionality).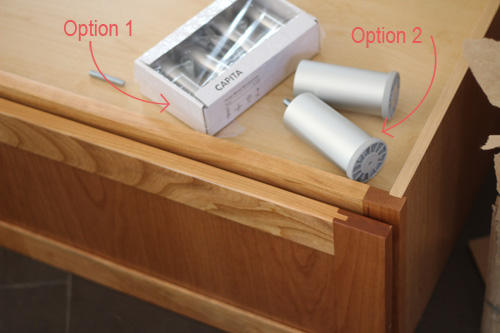 You can see that the fatter legs actually require a decently sized pre-drilled hole and something to screw the current exposed screw into (which is probably customary on the Ikea cabinets you're supposed to buy them for). See how the legs would sit into the underside of the cabinet above and not flush with the bottom (as I had imagined them showing up)? That plan was a no-go.
My skinnier legs are attached to a cabinet by securing each with four small screws, a perfect solution when a drawer must function on a track that is in the way of potential screws. The small screws were about 1/2″ long and didn't interfere with any sliding motion when drilled through the base.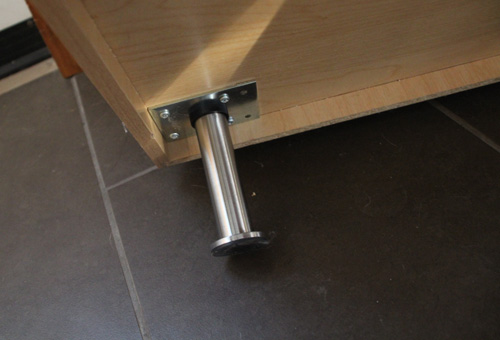 I totally dig my Ikea industrial legs. They don't look very Ikea-ish at all and are perfect for the kitchen!
Don't mind the dusty floors.
Now it's on to pretty cushions to top these rather uncomfortable drawer cabinets with, and then a table and maybe a few cool chairs. The breakfast nook is coming together!
All kitchen posts can be found right here (we built this space from scratch, at one point in its past life it was actually a den).
Tags:
Breakfast Nook
,
Construction
,
Kitchen
Posted in
Construction
,
DIY
,
Home
,
Our Kitchen Remodel
,
Renovating Adventures
|
10 Comments »
November 5, 2012
The side yard is almost finished! The entire backyard feels transformed and we are now very close to crossing it off of our list. In a couple of months it went from a space that you practically had to pull on mud boots to wade through, to a relaxing read the morning paper/play with Liv/dine under the stars snuggle spot.
Then: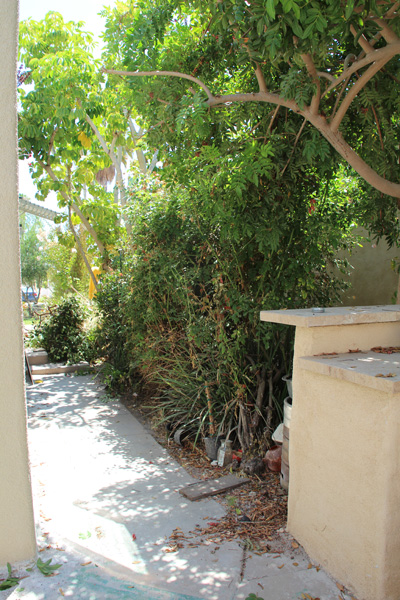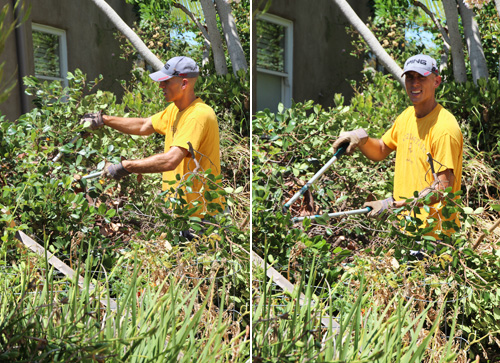 Now: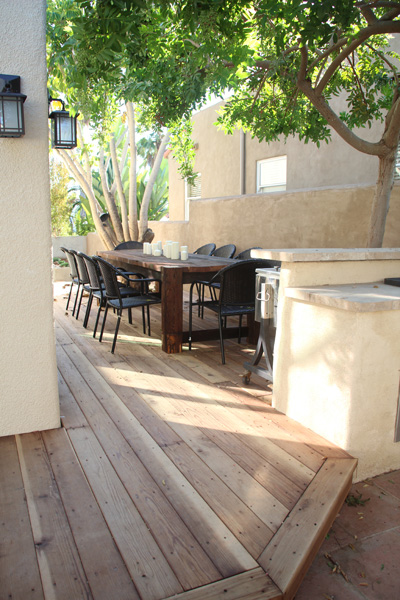 Cue the collective 'ooooo'. I can't take much credit for this space and I hand over all of the glory to Kevin.
We put it to good use on Halloween when we test drove the new dining spot with a few close friends and their families: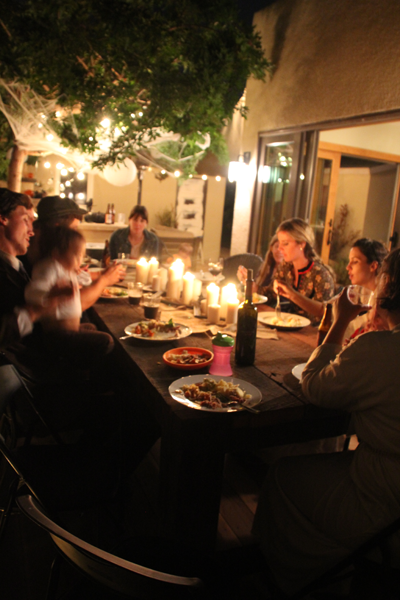 It was perfect. And thank goodness for this beautiful San Diego weather that we have through the better part of fall! I think we'll get plenty of use before it's too chilly to eat outside.
We partnered with Lowe's for pieces of this project as a part of their Curb Appeal campaign this year, and I'll be sure to point out areas where their expertise and product played a big role. You'll see more of my favorites in the final reveal when pots are in place and flowers are a bloomin'. It is a huge honor to represent our favorite home improvement store on the blog, so a big thank you to the folks over at Lowe's

– you guys are awesome.
Back to the side yard transformation… it is still amazing to me that there was SO much space hiding in those bushes! Here's a shot from the front of the side yard looking back.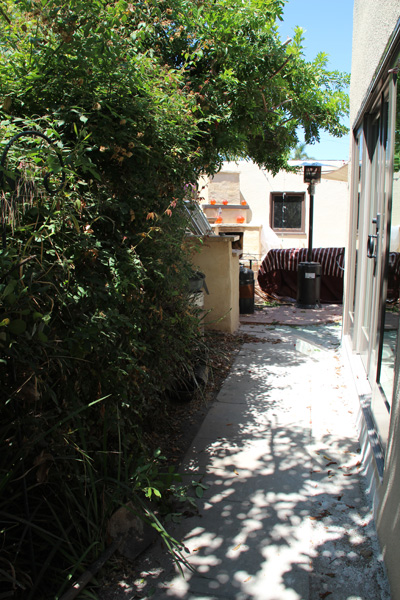 We expanded the deck all the way out to the new wall and property line between our house and our neighbor's, which essentially took a foot path that was three ish feet wide and turned it into a deck space 3 times that width.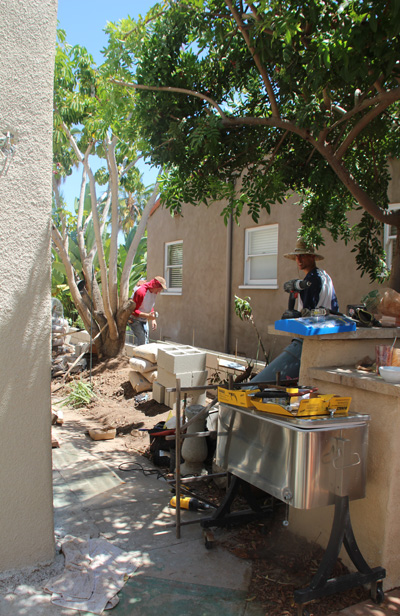 I last left you all with pictures of the wall as it was beginning its ascent. The wall was an arduous task – who knew so much cement and cement block could take so long? But as soon as the wall was finished it was time to lay the footers and frame out the future deck. These photos were from days before we left on our big trip, so we actually brought in a couple of recommended guys to help us knock it all out. Local San Diegans, hit me up for phone numbers if you need deck or flagstone contacts.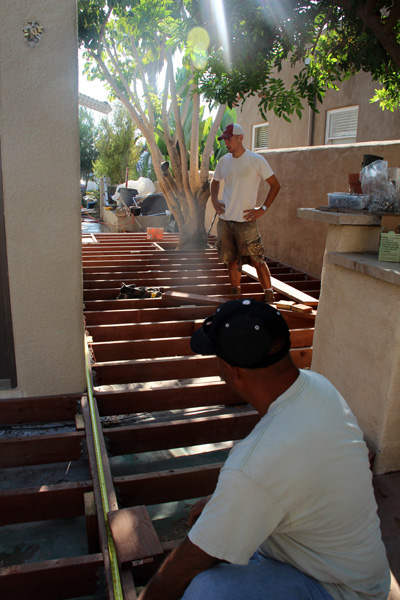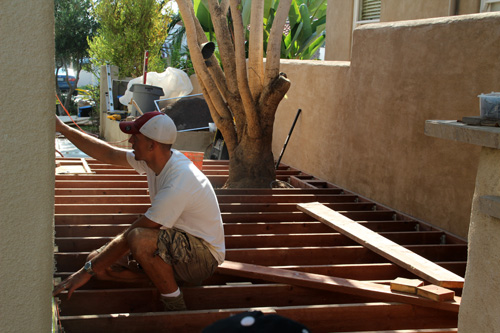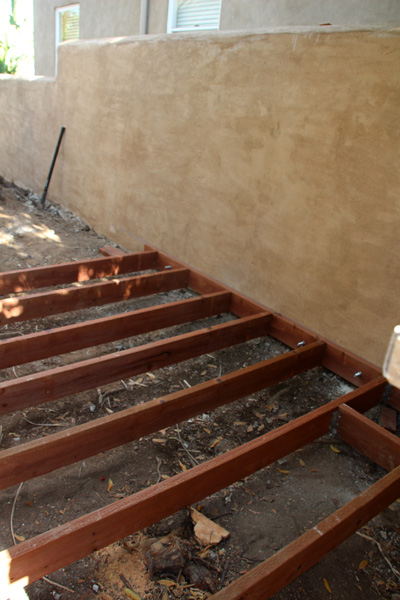 After much research and many hours spent perusing the forums of deck builders (yep, they exist), we settled on pressure treated douglas fir for the frame of the deck and redwood for the top. Choosing a synthetic vs real wood deck is very much a preference and budget choice – there are so many options out there these days and it all comes down to the look and feel that you are hoping to accomplish as well as the amount of upkeep you're willing to supply on every-few-years basis.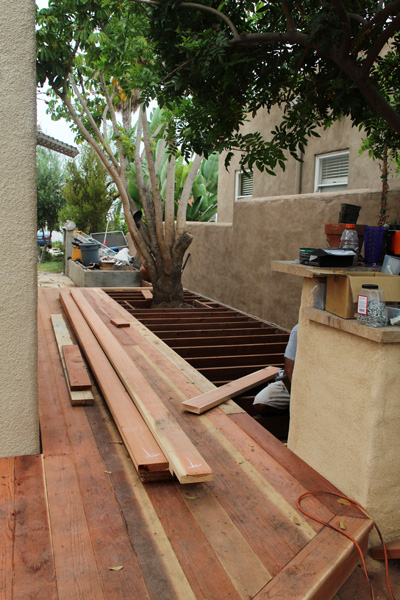 We chose natural wood for a variety of reasons, a few included: the overall look and feel of the deck (wood vs wood-like), redwood is naturally weather-resistant (though we'll seal it annually to prevent damage) so it won't bow or shrink as it retains and sluffs off water from a storm, there is little expansion/shrinking of boards over the years, it contains tannins that make it least-termite friendly and rot prone of natural woods, it's easy to work with, it's quite durable and most importantly, it fit our budget. Other materials considered: oak, cedar, tropical woods (like ipe), pressure treated wood, plastic and composite options.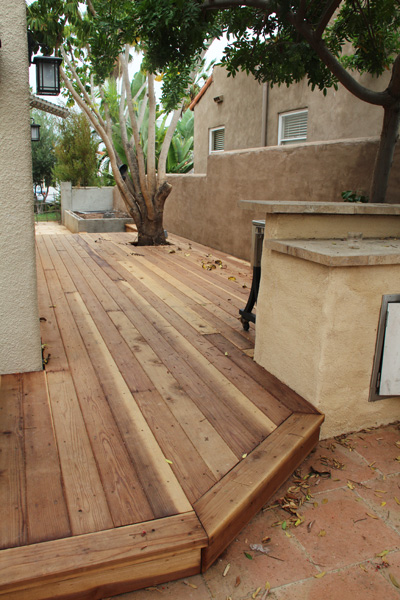 This is where we finished up before leaving for Europe. A functional deck but not yet stained or sealed (bad!). Now we'll have to pressure wash it back down (as well as possibly sand) so that we can seal the deck asap.
We have a little surprise going in at this end for Liv!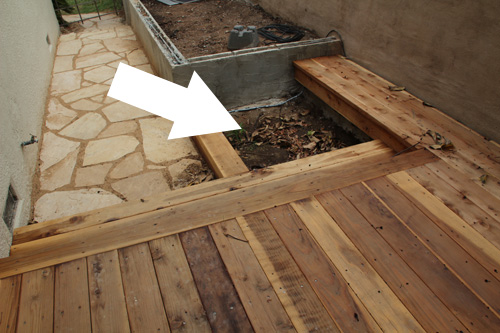 The flagstone path from the front of the house now wraps around to the back. We'll eventually replace that window above the path (the only aluminum guy in the house), the door in the forefront of the photo (with a version that matches the paneled sliding doors) and add a nice gate to the front of the side yard, too. Also on the list is texturing and painting the garden box that is still sad and grey.
Mid-deck build we asked our electrician to come out and help us install deck lighting. Kevin chose to wrap rope light all the way around the base of the deck so that a subtle uplighting would highlight the space at night.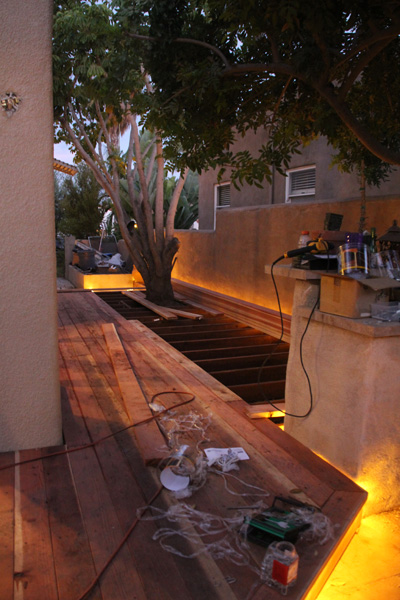 Oooo, so soft and pretty (and energy efficient). Here's a glance at the under side, the lights are held into place with U shaped nails.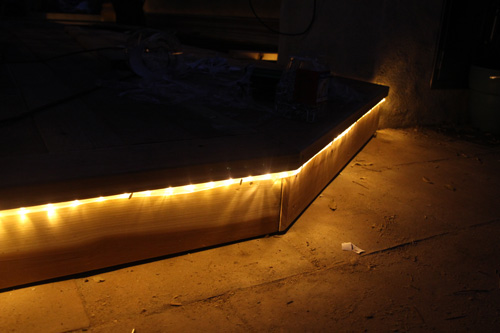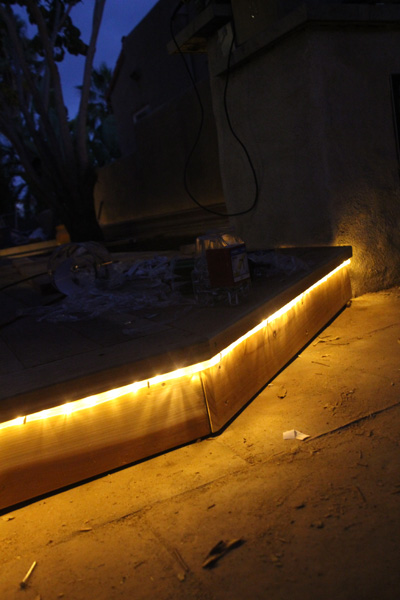 We also had electrical outlets added to the outdoor kitchen island and porch lights installed on either side of the kitchen sliding doors. These guys are great! and very cost-efficient.
Kevin and five of his strong buddies added the new table to the deck just in time for Halloween, but we'll pull the 1,000lb beast off again before we stain. Can't wait to share how that table came together so quickly!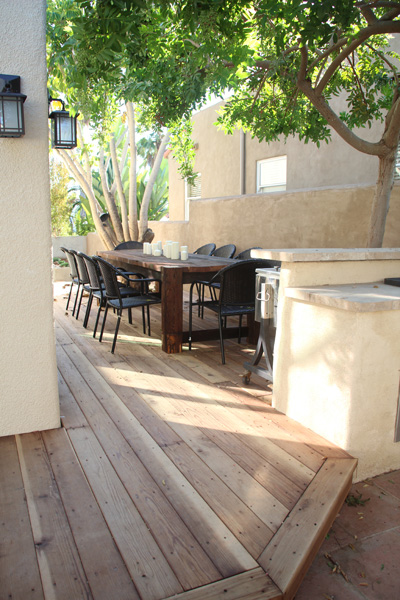 The outdoor dining area sits right off of the large four paneled sliding doors from the kitchen with the goal being that the two spaces could easily be integrated on warm summer nights.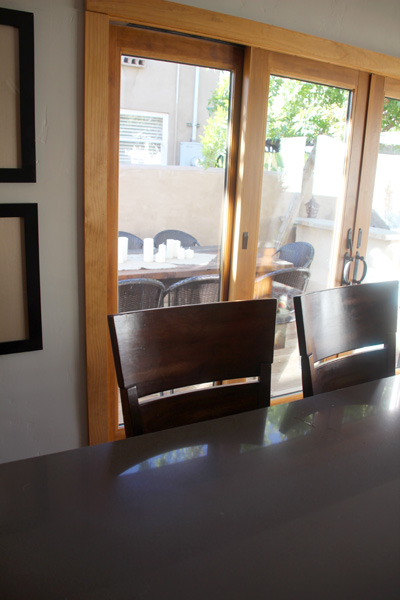 Still need to find or DIY some sort of long candle plate to hold my white pillar candles (from Ikea), so that any potential tip overs don't hit the actual wood table or deck.
Here's a view from the grilling area that we built back when we first moved in. We found the grill, doors for the various storage compartments in the island and the beverage bin on Craigslist for a steal (a landscaper had just pulled them out of someone's property for an upgrade), and then Kevin built them into a cement block cooking area that was eventually plastered a neutral sand color.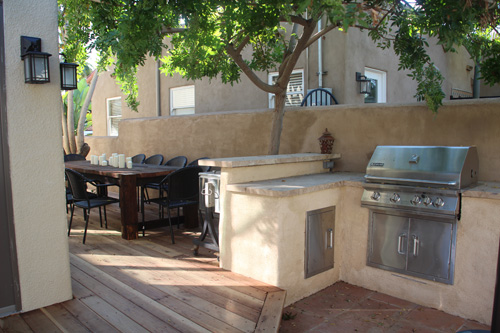 To the right of the grilling area is our outdoor fireplace (Kev also built that from scratch a couple of years ago) and the outdoor sectional that we semi-DIYed (the cushions at least

) for cozy fire-side wine nights.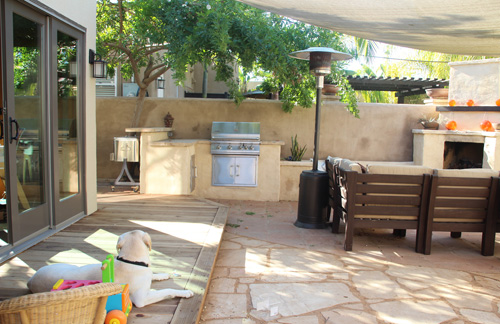 The original plan was for the deck to stop after the side yard, but Kevin came up with the idea of wrapping it around the back of the house and it was brilliant! Now the two spaces feel very entwined and connected.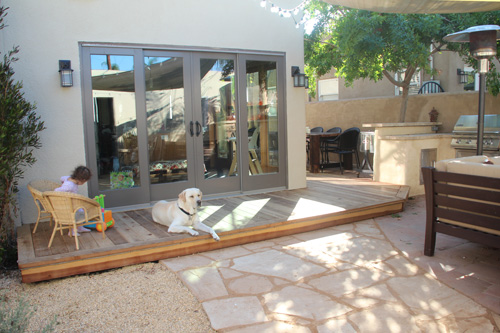 I hope to one day replace that decomposed granite that continues to crawl around the back of the house with a lawn area for Liv to run around on. But it's very pretty and neutral for now.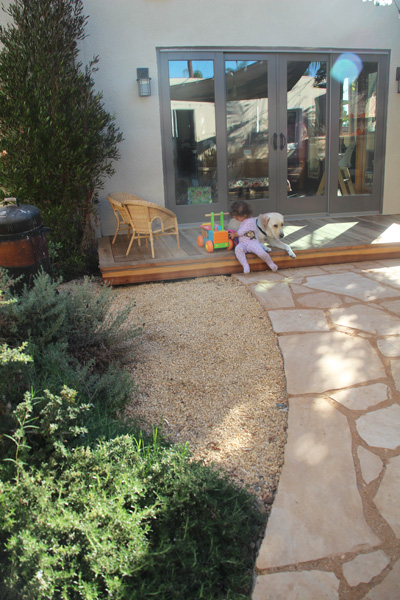 The above photo is deceiving, but that DG actually stretches another twenty feet to the left. I'll have to snap a few photos and show you all soon – perhaps when the chicken coop is a bit more photo ready!
Bodie and Liv, best friends forever.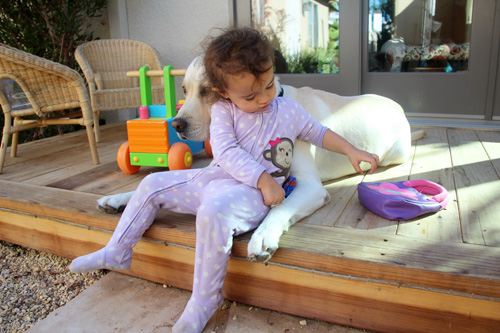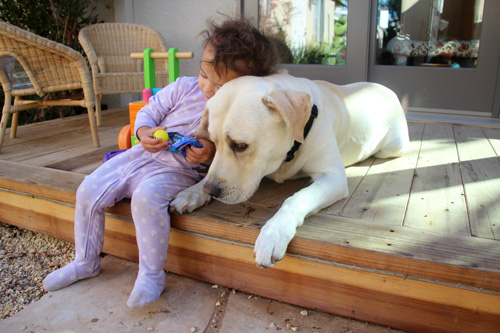 I found a cute set of wicker chairs at Ikea a while back as well. I need to treat them for outdoor use (I'm already starting to see the side affects), but Liv's a huge fan of sitting on the porch and playing or 'reading'.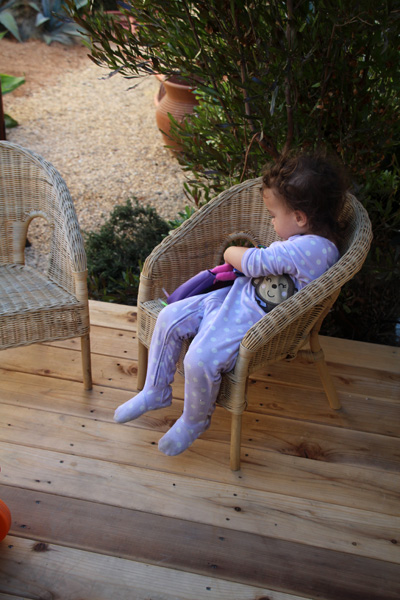 She really digs Liv-sized chairs right now.
One more post on staining and sealing (still deciding on colors – possibly just a nice clear to really show the grains in the redwood and so that it contrasts nicely with the table) and then our deck is finished! To be completed on the yard front is the flagstone path that stretches from the back of the house to the garage, a remodeled chicken coop, finish the garden bed and find a beautiful gate to seal it all up.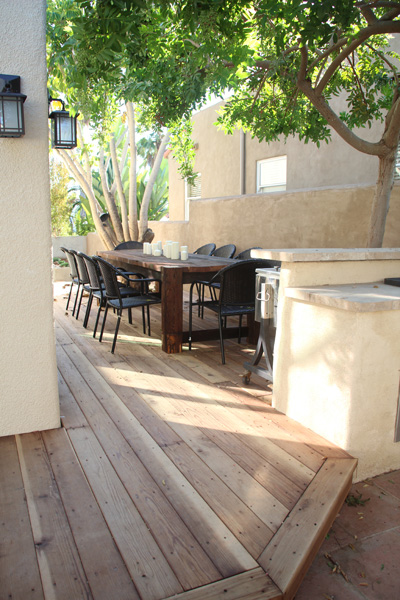 Yay for fall projects! And more Curb Appeal posts headed your way as we finally finish painting the house, continue our work on restoring the windows and add pretty winter foliage to the bare spots that still need a little love.
We are incredibly excited to have partnered with Lowe's for various parts of this project, including those great dining chairs (more on that when I share about the table), outdoor lighting and deck framing materials. All opinions are always our own and as usual we try to keep it as real as can be.
Tags:
Before & After
,
DIY
,
Home
,
Side Yard
Posted in
Construction
,
Curb Appeal
,
DIY
,
Home
,
Our Yard
,
Project Lowe's
,
Renovating Adventures
|
7 Comments »