March 14, 2013
There's something about flower pots with overflowing plants and color that just makes a deck or patio space sing! It's the icing on the cake.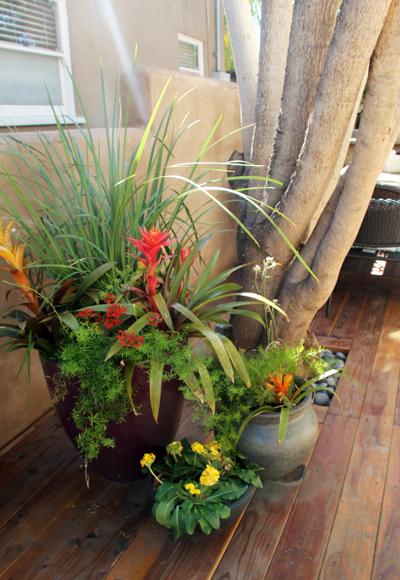 My mom has a great eye for plants and color (and even a horticulture background to boot), and so during one of her recent visits (and a super busy weekend) I sent her to Lowe's with one mission: help me choose plants that look beautiful together and won't die on me.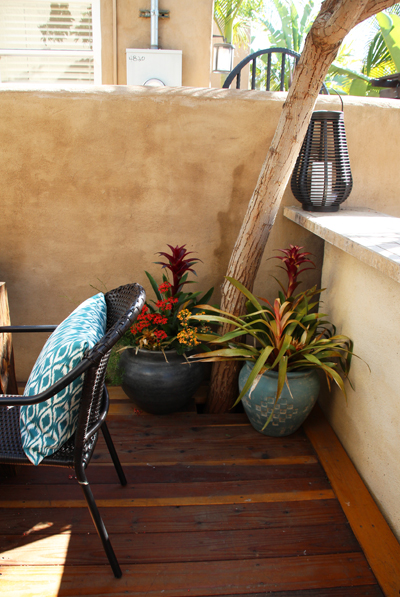 It's funny, because had I planned this all out I would have probably steered us towards a more Mediterranean look (crawling rosemary, tall purple lavender stalks, etc), but the tropical vibe that she ended up settling on definitely looks great in the space! And everything (for the most part) has survived post her trip. I'm so grateful for her help with tackling such a BIG project on the deck (see the size of some of those pots? woah).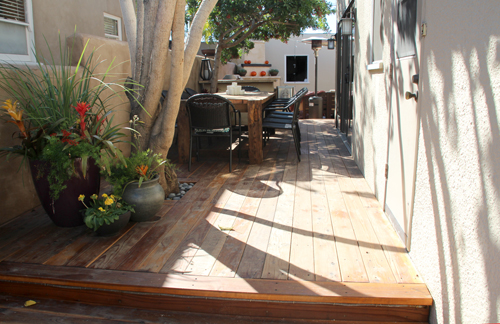 The added color in the space makes a huge difference. I love the pops of red and yellow and the bright greens that compliment the existing pepper tree there in that far left corner (above).
We finished the sandbox in the same weekend! It's such a great addition for Liv out on the deck, and since the kitchen is just through that door there on the right, she can play in the sun (yay day light savings!) while we're just inside prepping dinner or cleaning up. Bodie is a great playmate and big brother too.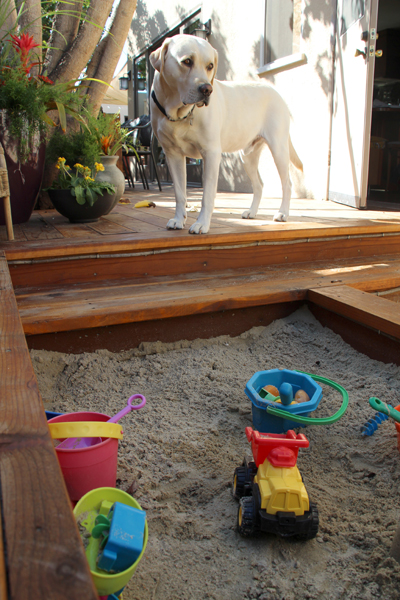 Back to those flowers… look at that beautiful red.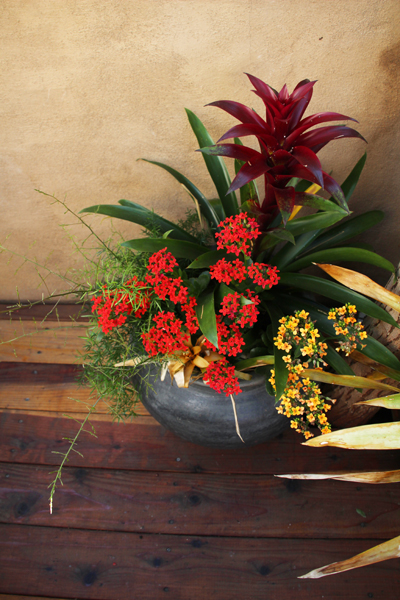 When cleaning out storage in the very back of our yard, we also found two huge bags of river rock that I had used as vase fillers for a friend's wedding (seriously the most perfect/cheapest vase fillers, straight from the home improvement store). We poured the remnants into the tree openings around the deck and it looks so much cleaner rather than the old pile of dirt and dead leaves.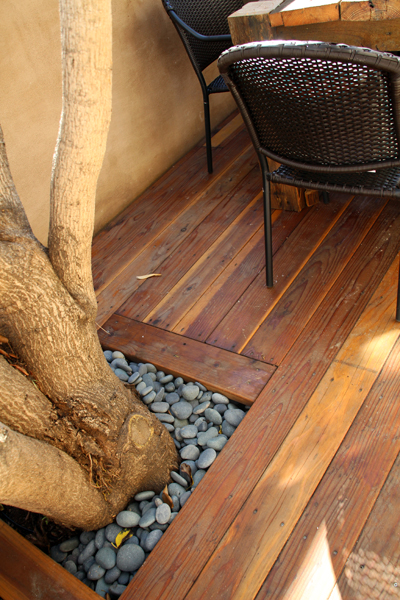 I still owe you a post on Kevin's monster project of designing and assembling this table…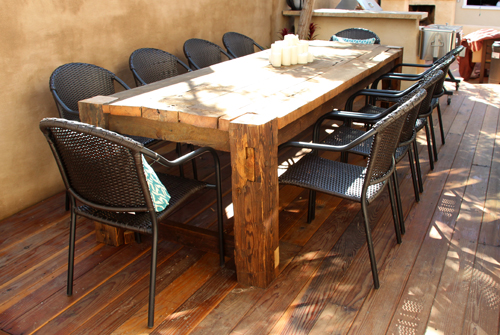 Perhaps my favorite deck addition to date! Look how rustic and perty she is…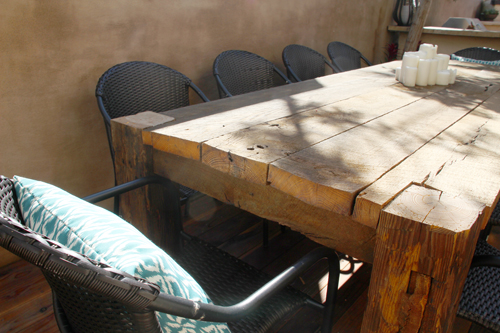 We've revealed this new side yard project in stages (a complete series for the deck, a glimpse at the new sandbox and a still-yet-to-be-complete post on the table is in order) but the flowers are officially the icing on the cake. Here's the deck pre anything green or colorful, makes a big difference, no?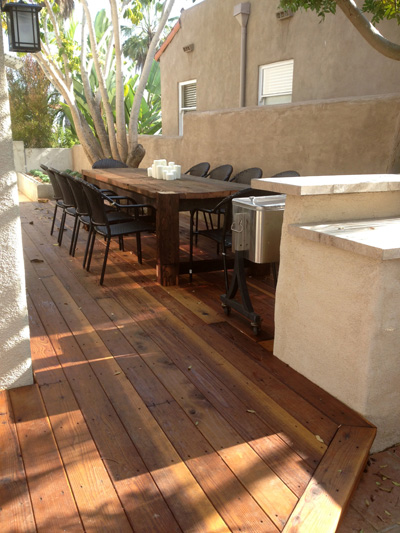 Still have to tackle plaster and paint on the garden box at the front of the side yard (we're looking from the back to the front in this photo), but then we can stamp this project as finished!
Remember when the side of our house was nothing but a crazy jungle?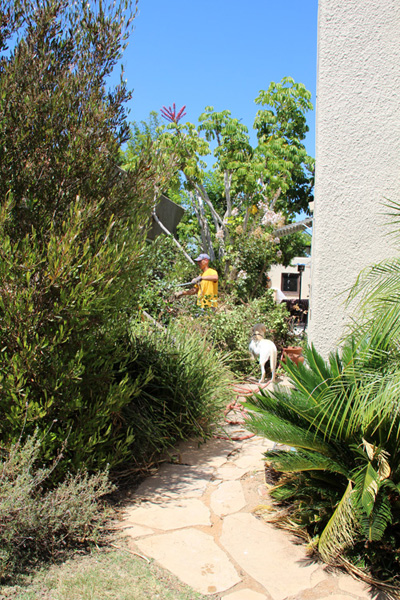 Me neither. I'm grateful that that was ages ago! And there is little that is making me happier these days than sitting out on those new stairs enjoying lunch in the sun (and a break from work in the office) with Liv while she's playing.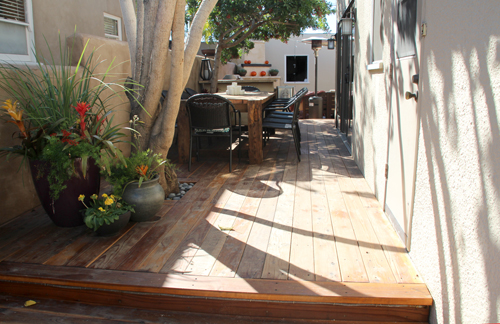 We partnered with Lowe's and their Curb Appeal campaign to include all of the new flowers and pots for this post. Our newly-green-thumbs are incredibly grateful and we are hoping to not have to take advantage of their awesome year long guarantee on all flowers. Just kidding! I'm watering every week…
PPS You can find all posts (including the building of the deck, flagstone walkway, giant cement wall, DIY sectional cushions and the rest) by sorting posts on this blog by Our Yard, or by clicking right here.
Posted in
Home
,
Our Yard
,
Project Lowe's
|
Comment »
March 13, 2013
Sending you a little sunshine love from the beautiful coast today with this soon-to-be-Spring weather! I still envy you snow birds out there. There is much to enjoy and love about year round sunshine, but a change in season isn't one of those things!
How do you feel about trends? I'm usually all for wearing what you feel most comfortable in, but you have to admit that sometimes it's fun to jump on the bandwagon of what all the latest favorites are. I have three little style boards to share with round ups of a few of my favorite classic items, plus a few favorite spring trends!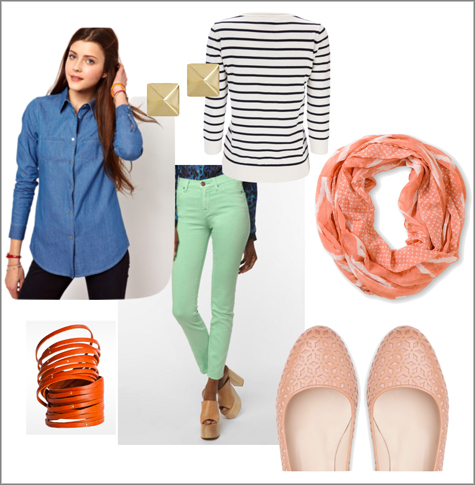 First up, an ideaboard dedicated to denim + pastel (love those two mixed together) plus a few of my fall back favorites in the form of an infinity scarf, cutout flats, stacked bracelets and a striped sweater to top it all off with. Actually, I love the look of collared shirts poking out from underneath classic crew neck sweaters these days, and it's perfect for this weather transition that we're experiencing.
Oh little shift dress! You are all the rage right now and I have a feeling you and I will be close friends this summer as my belly bump gets larger and larger, and your undefined waist looks more and more appealing. This is a total splurge, if-money-were-of-no-concern board as most of the items I picked out to accessorize this chic little $79 dress are waaaay over budget

. Couldn't help myself with those awesomely daring cut out heels and the oversized striped boyfriend cardigan (to help it all feel a bit more casual).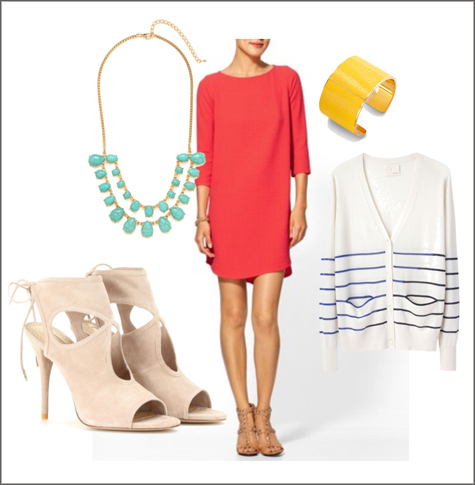 Last but not least, a maternity board that I'm actually loving on a very regular basis. So happy that Anna Kate turned me on to these Asos stretchy jeans (that are unbelievably comfortable – like sweats – and perfect for a heavy belly) and I've been pairing them lately with slouchy cardigans and shawls. The grey one below is on a magical wish list, but this is the one that I've lately been running into the ground. And those Dolce Vita suede booties! Picked them up at Macy's at 50% off and they make for a very comfy addition to wear around town. I feel a little less like a giant balloon and a little more in (comfy + cozy) style. Long tanks, you are also my saving grace.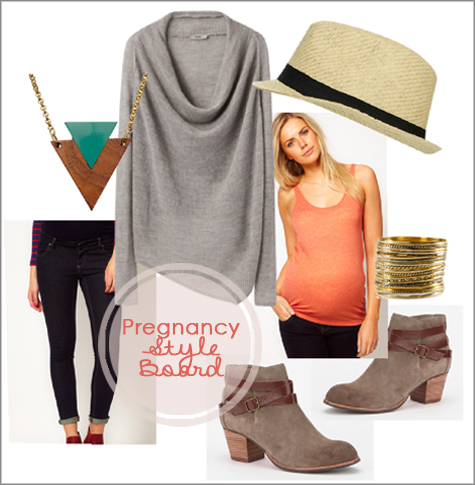 Spring, we're ready for you!!
As always, you can find all style boards plus pricing, sourcing for everything mentioned right here!
Posted in
Fall
,
Party
,
Spring
,
Summer
,
Wardrobe
,
Winter
|
2 Comments »
March 11, 2013
Congratulations to Liliana on winning the Lowe's $50 & Change giveaway! Thanks to everyone who entered!!
Here's a little nursery update that I made a month or so ago. Even though we have plans to slowly turn this room into a pink girl's space for two, I wasn't quite sure how long that transition would take and back around Liv's 2nd birthday, finally filled the blank frame that hung above her art table in her room. I'm not sure why I still call her space a nursery – she's such a big girl now! But I guess the name can stick since technically it will be one again in a few months

.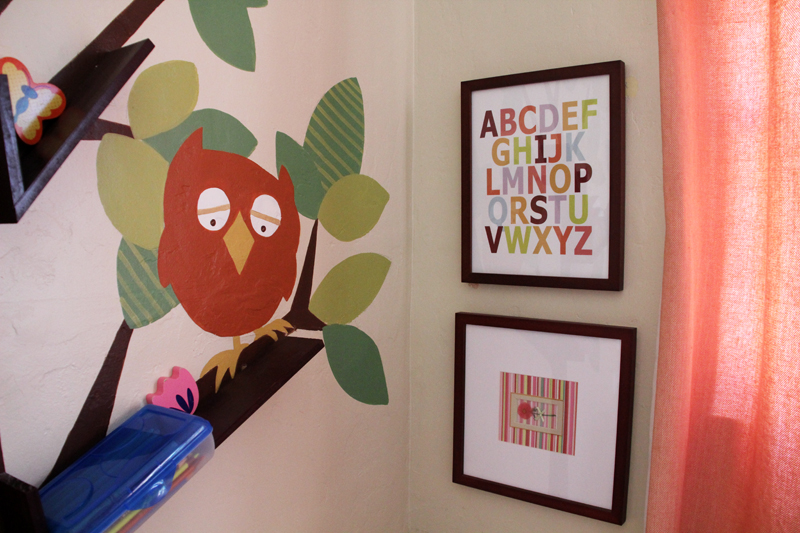 There are so many fantastic versions of this type of artwork out on Etsy, but I really just wanted to design something simple (read: cheap) and practical for her little art nook so I typed up the alphabet in photoshop, pulled colors from the space and printed them out on glossy paper on our home printer.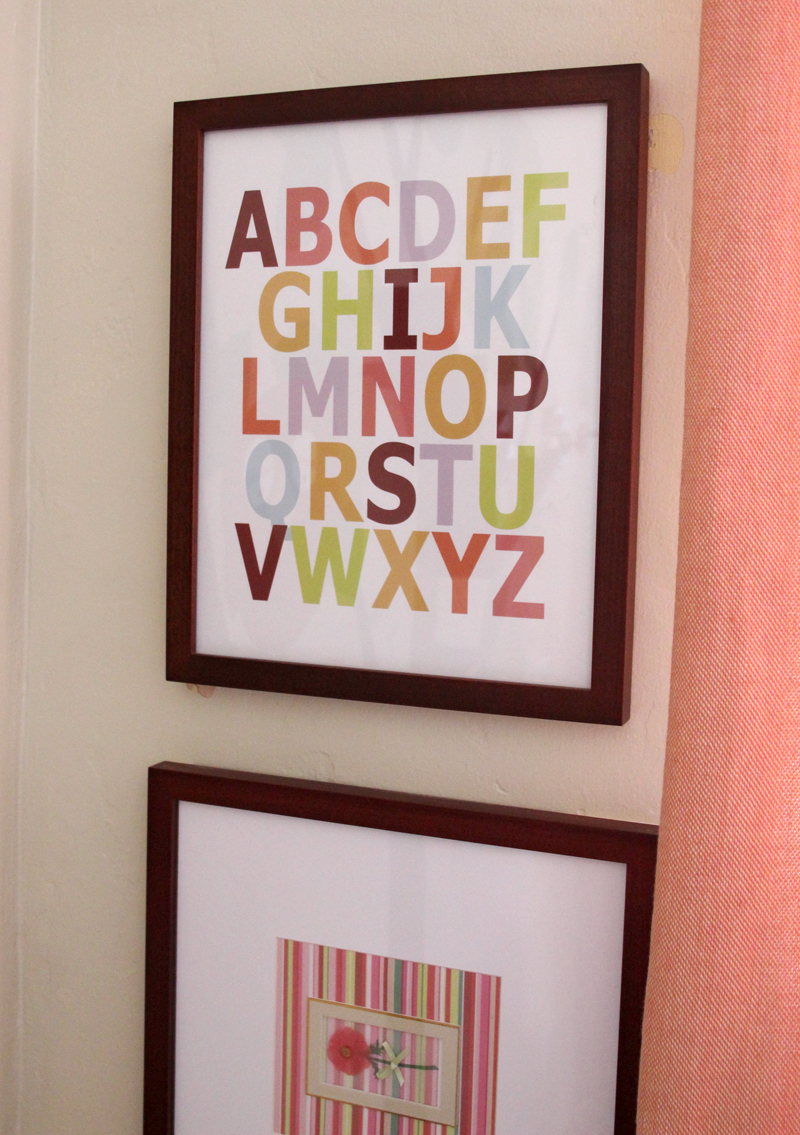 The frame just below the alphabet artwork was filled at least a year ago with an adorable card from Liv's first birthday (another piece of cute, free art!).
That top frame though had been empty for ages! Here I am hiding back when we first added the little art nook to the room: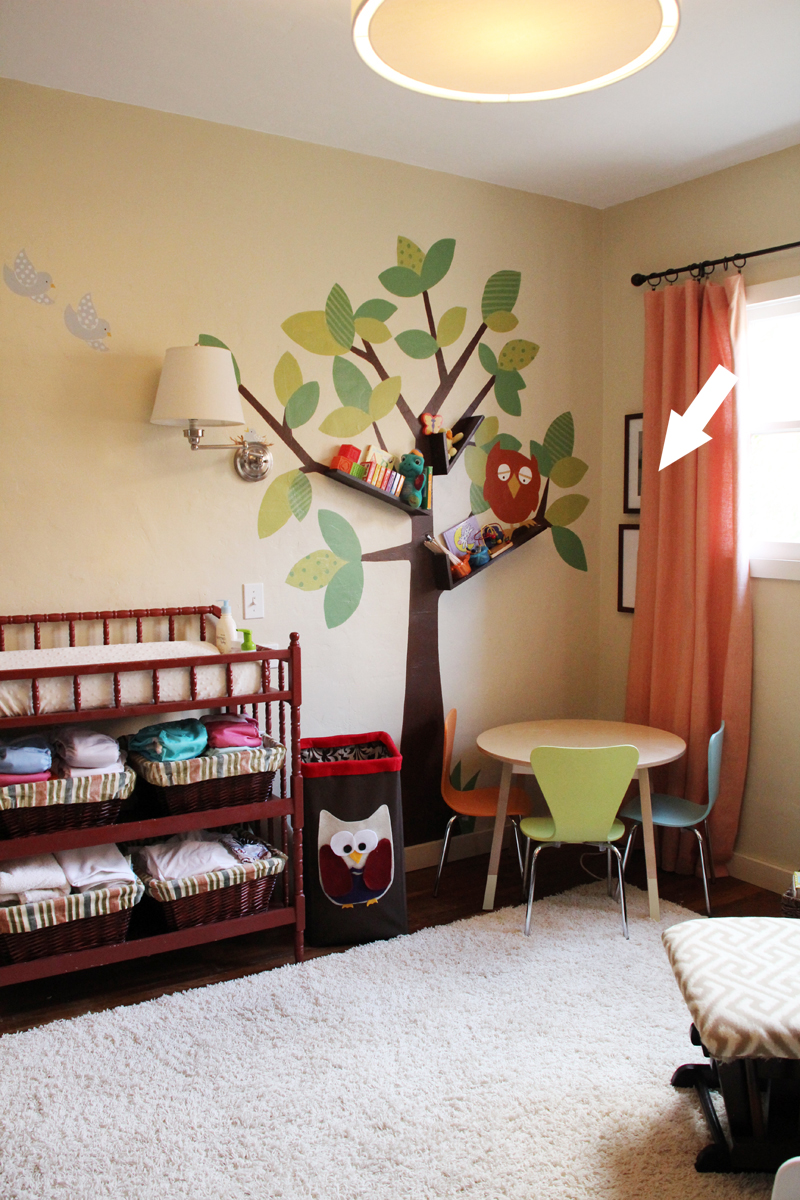 An inexpensive solution with a colorful, educational result!
Here's a downloadable version if you'd like to use the print, too (8.5×11 in size).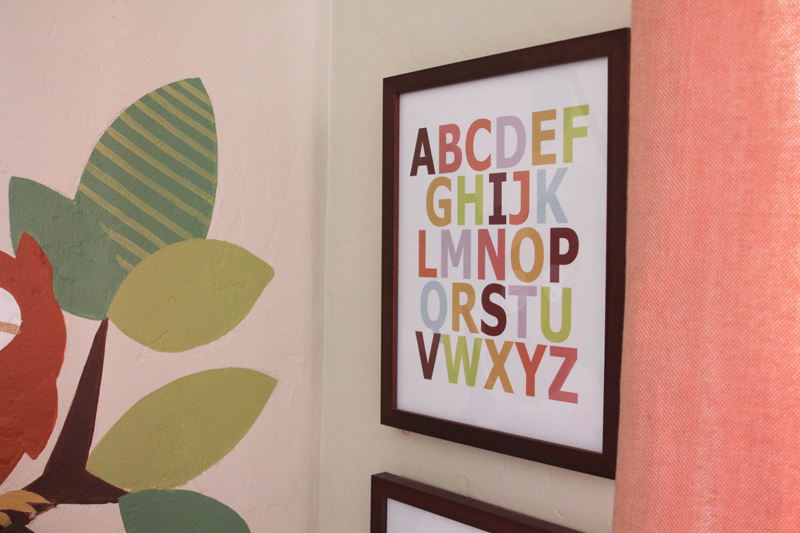 Liv putting her reading space to good use, we love this table and set of chairs! Drawing, stamping, reading… you name it.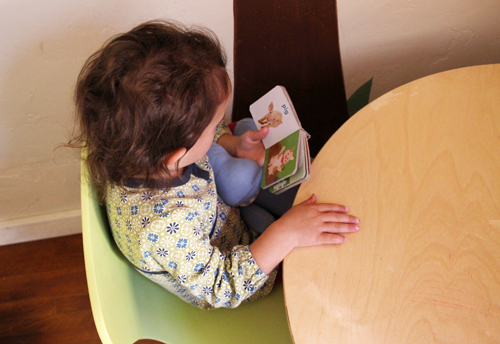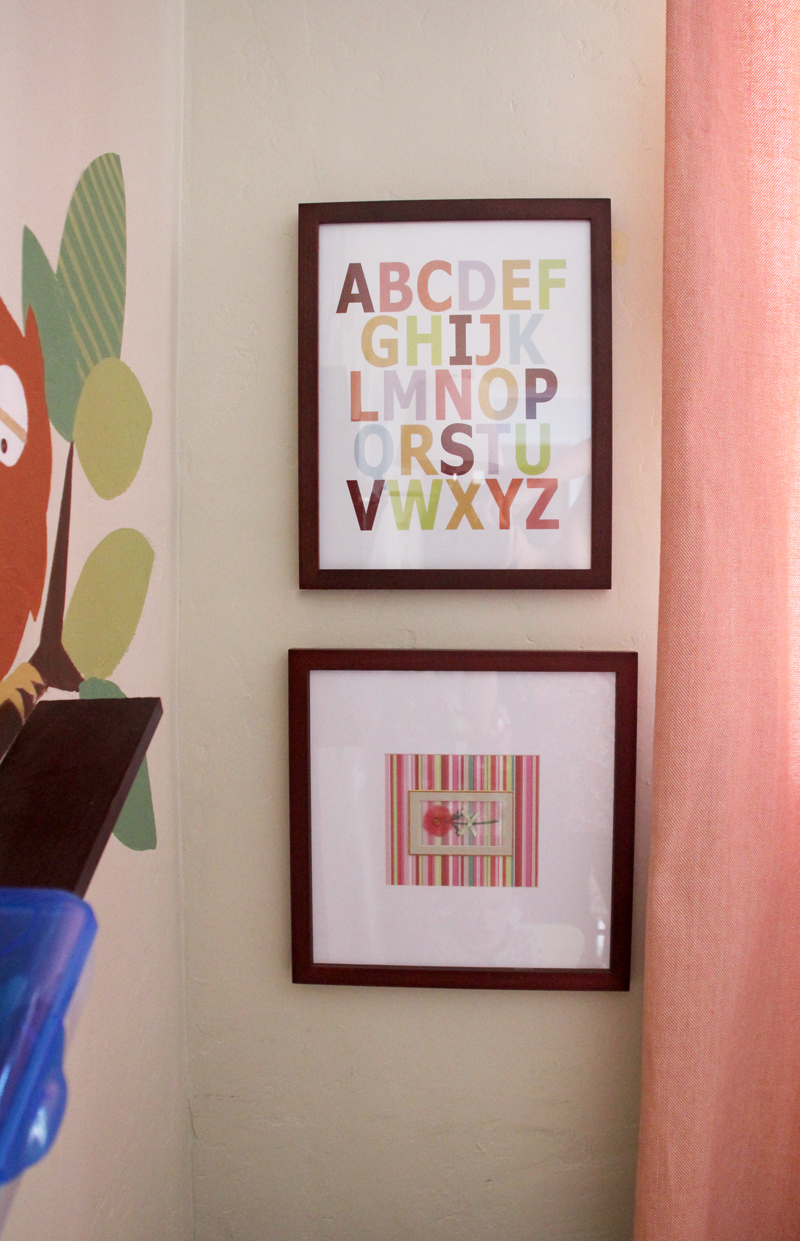 More nursery posts here. And the plans for the new 'room for two' right here! Can't wait.
Tags:
Accessories
,
Crafty Solutions
,
Decorating
,
DIY
,
Home
,
Kid's Rooms
,
Nursery
Posted in
Crafty Solutions
,
DIY
,
Downloadables
,
Home
,
Liv's Nursery
,
Renovating Adventures
|
1 Comment »