March 11, 2013
Congratulations to Liliana on winning the Lowe's $50 & Change giveaway! Thanks to everyone who entered!!
Here's a little nursery update that I made a month or so ago. Even though we have plans to slowly turn this room into a pink girl's space for two, I wasn't quite sure how long that transition would take and back around Liv's 2nd birthday, finally filled the blank frame that hung above her art table in her room. I'm not sure why I still call her space a nursery – she's such a big girl now! But I guess the name can stick since technically it will be one again in a few months

.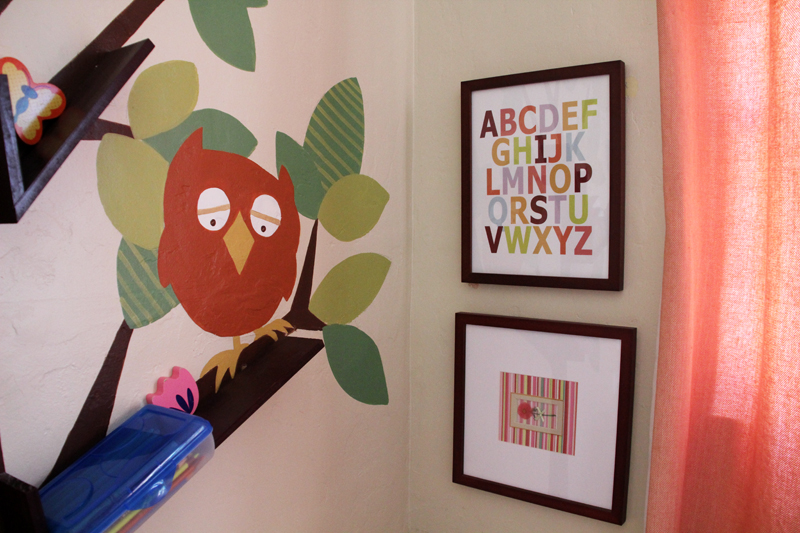 There are so many fantastic versions of this type of artwork out on Etsy, but I really just wanted to design something simple (read: cheap) and practical for her little art nook so I typed up the alphabet in photoshop, pulled colors from the space and printed them out on glossy paper on our home printer.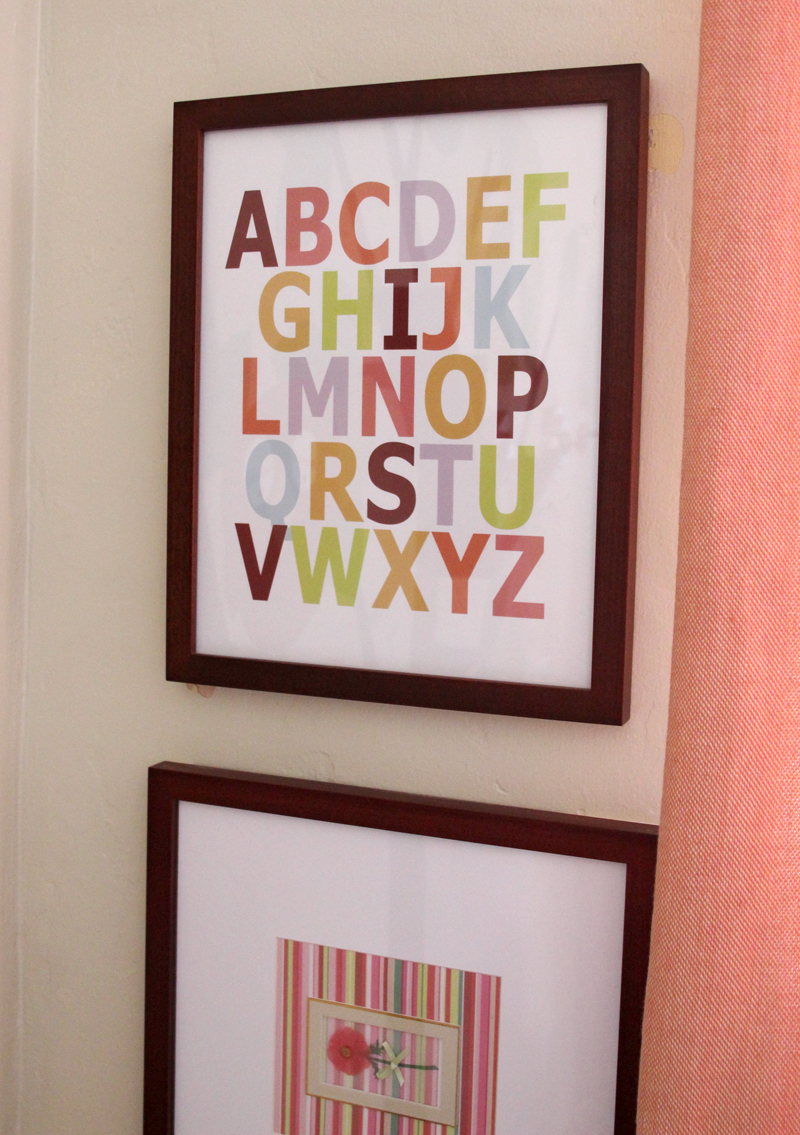 The frame just below the alphabet artwork was filled at least a year ago with an adorable card from Liv's first birthday (another piece of cute, free art!).
That top frame though had been empty for ages! Here I am hiding back when we first added the little art nook to the room: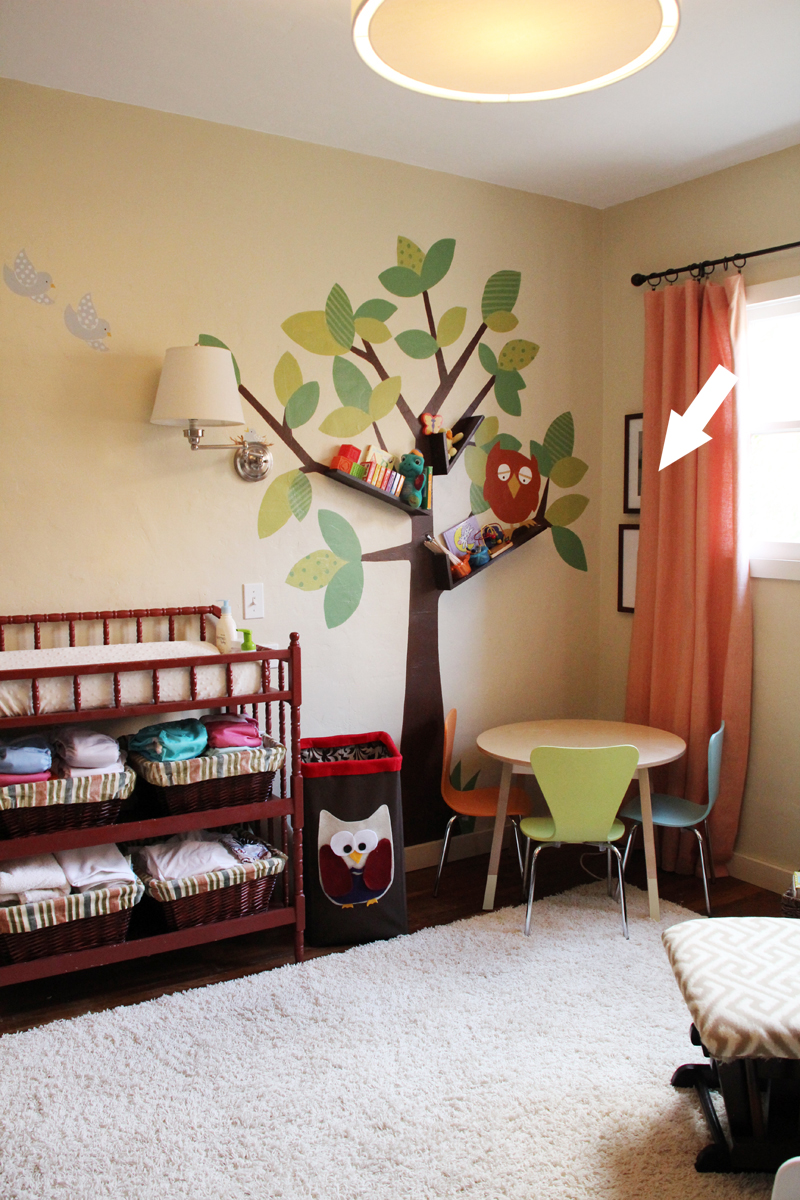 An inexpensive solution with a colorful, educational result!
Here's a downloadable version if you'd like to use the print, too (8.5×11 in size).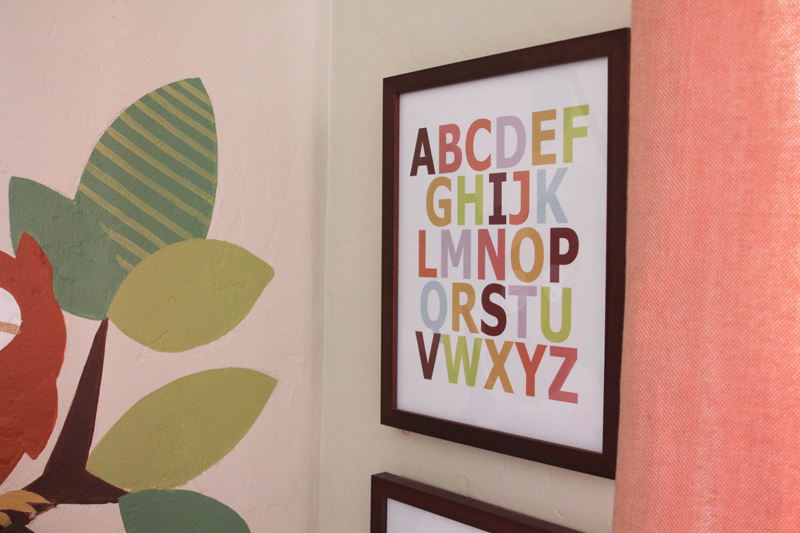 Liv putting her reading space to good use, we love this table and set of chairs! Drawing, stamping, reading… you name it.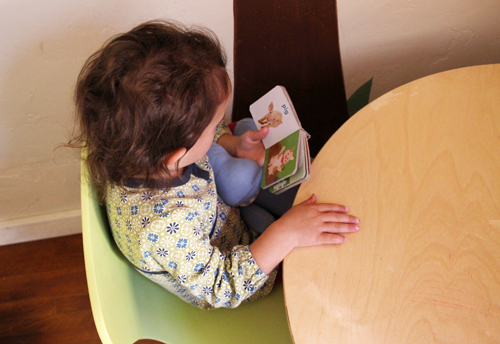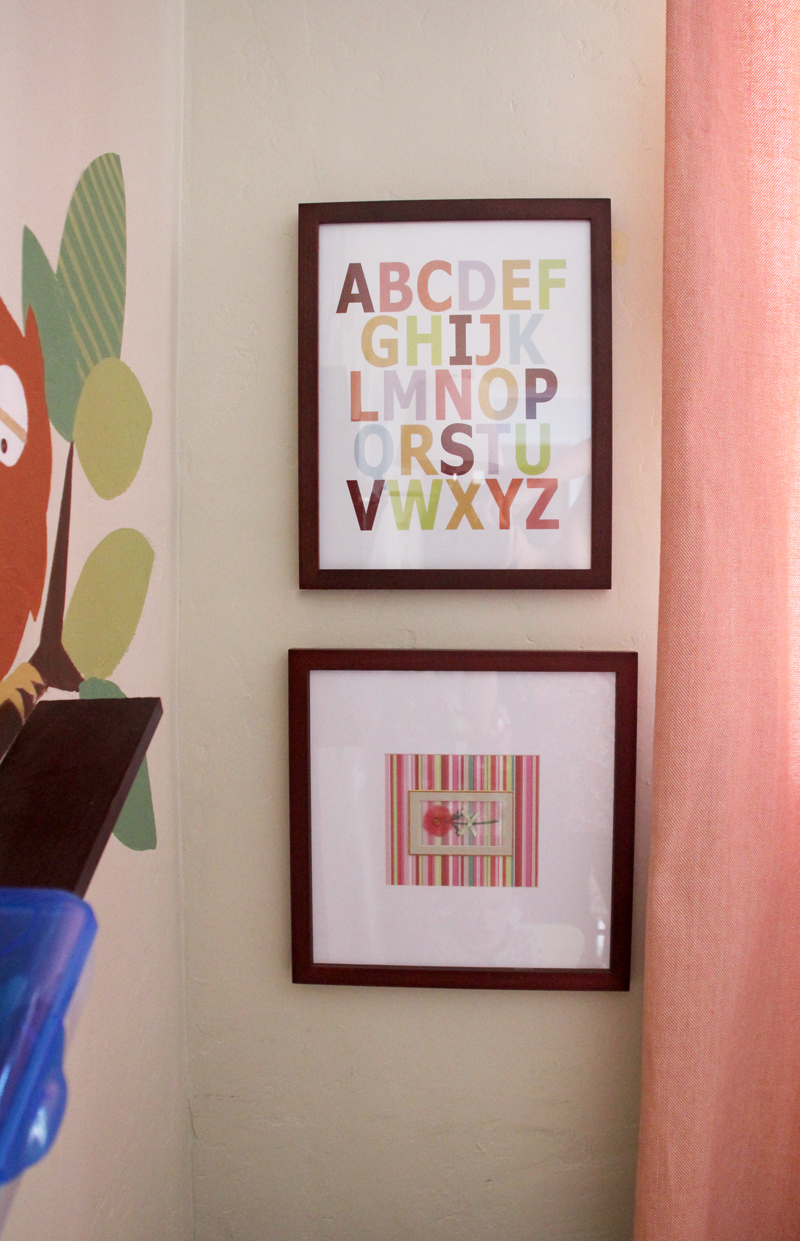 More nursery posts here. And the plans for the new 'room for two' right here! Can't wait.
Tags:
Accessories
,
Crafty Solutions
,
Decorating
,
DIY
,
Home
,
Kid's Rooms
,
Nursery
Posted in
Crafty Solutions
,
DIY
,
Downloadables
,
Home
,
Liv's Nursery
,
Renovating Adventures
|
1 Comment »
March 8, 2013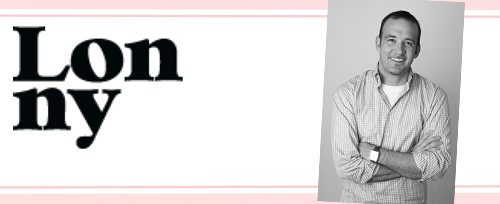 Back in December I had the luck to snag Michelle Adams (founder and editor-in-chief) of Lonny Magazine for a little guest interview. Well consider today part 2 because I'm so very honored to sit down with John Newlin who oversees the Lonny team and much more as Livingly Media's editor-in-chief (Livingly is the online publisher and larger media house behind names such as Lonny, StyleBistro.com and Zimbio.com). That is a lot of fashion, beauty, celebrity, home, lifestyle, and entertainment to manage!
Today's focus is more overtly directed towards John's passion for design and beautifully sensible functionality. He's chosen a few key images (like this one, below) that highlight his personal taste and has taken a stab at answering PDB's four usual Friday Guest Blog Interview questions.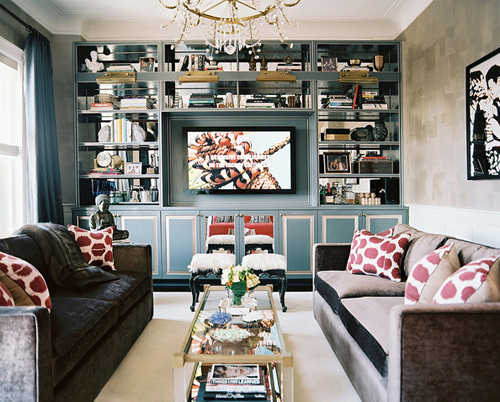 John lives in Northern California and is daddy to two. He began his career in print and digital media with the launch of a pop culture music and fashion print monthly at the early age of 22 and has penned articles for publications such as Stuff, Men's Journal and Details. You might recognize him as a regular from ABC's Good Morning America and Evening Magazine on CBS. (My favorite is that, for the purposes of a magazine article, he successfully infiltrated and appeared on Showtime as a "UFO expert"). You know he would make the best dinner party guest with all of those stories!
Check out the March 2013 edition of Lonny: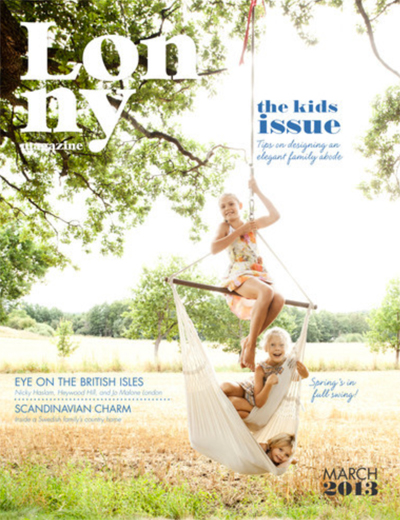 Now John oversees all things editorial for Livingly's online properties and just for today, he's sharing a look at his insight on the progression of home design and how the shift to blogging, online publications and the Internet at large has changed our perspective on how we design our homes.  Read more »
Tags:
Guest Blog
,
Guest Interview
Posted in
Guest Blog
,
Interview
|
1 Comment »
March 7, 2013
Just finished a new project for our kitchen and I love how it turned out!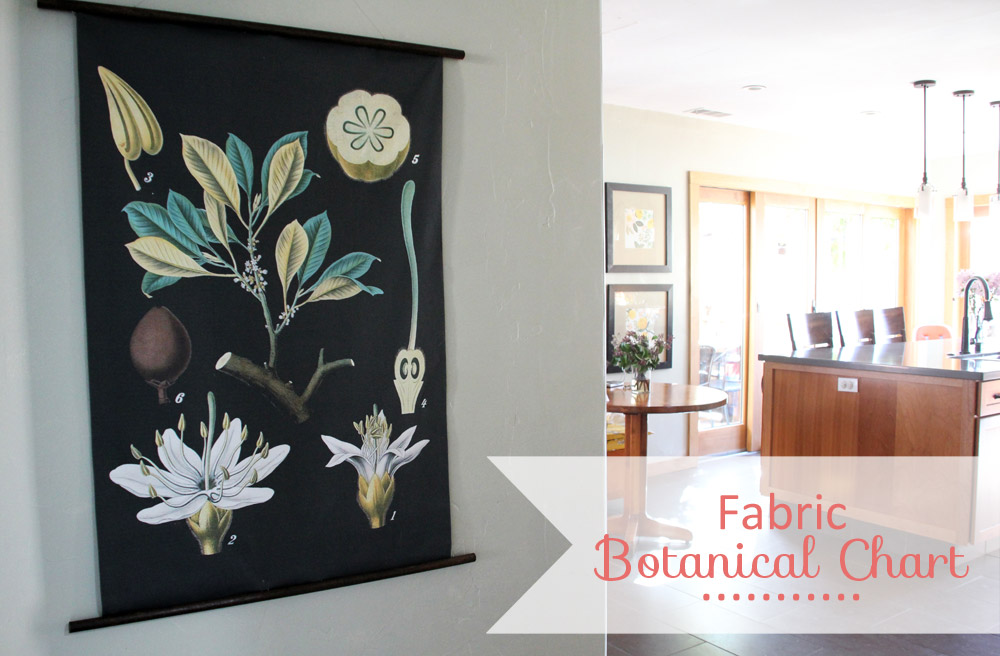 Let's start this post off with some yummy inspiration.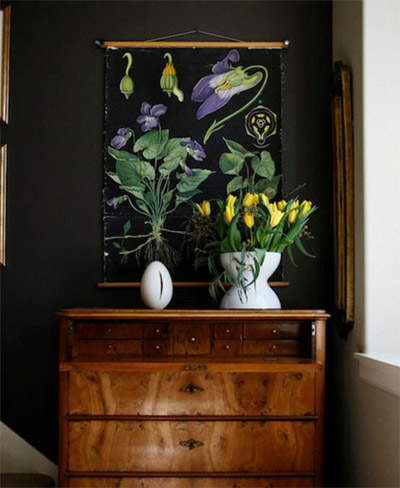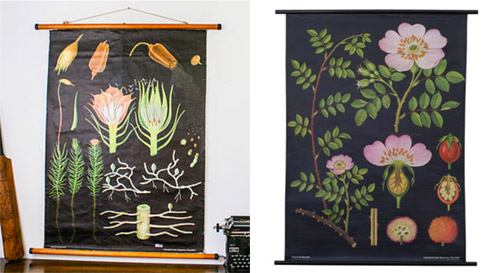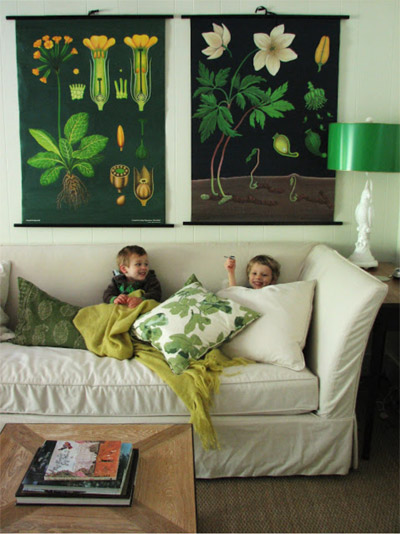 I have loved the look of vintage botanical charts for some time! They are oversized, full of contrasting color (love the black backgrounds) and the illustrations are so detailed and just stunning.
But I ran into two dilemmas before finding one for the house. The first was tracking down the right print for the right price. I was hoping to find a fabric version rather than a print that I would frame behind glass (see those beautiful dowels above? my favorite way to hang a piece of art like this) and many fabric versions are originals from quite some time ago and because of that they all seem to be pretty pricey (like in the hundreds of dollars a pop range).
The second was finding the right spot! I wanted to find a creative way to hang a new print but these guys are usually pretty big and they need a special home that's just perfect for the look of the print.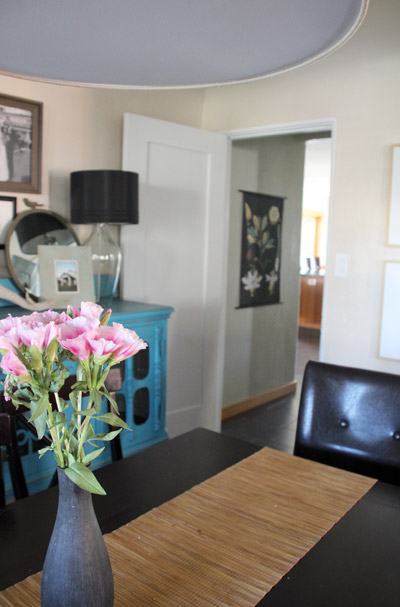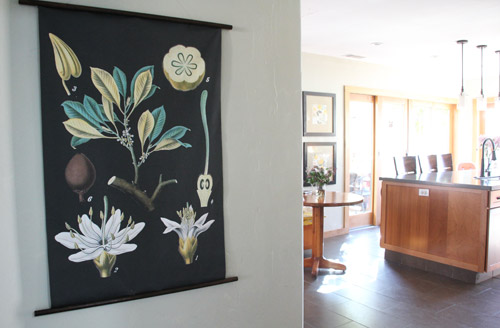 Then very recently, I found the perfect source (and added a little DIY love) and the perfect spot in our home! Our new fabric botanical chart now hangs in the hallway between our dining room and kitchen, and it fits in perfectly.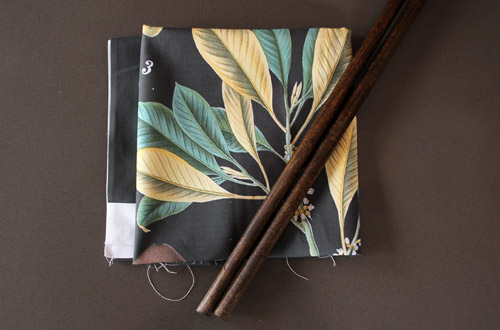 After a few months of occasionally googling and searching, I stumbled upon KSarahDesigns and her beautiful botanical print reproductions on Etsy. The store offered a gorgeous selection of paper prints, but I reached out to Kristen anyhow to ask about possibly using her artwork to print the illustrations on fabric. I was so happy and surprised when she offered to take on the project herself! Spoonflower is an awesome source for printing your own fabric and a few short weeks later I received my folded, heavy duty cotton twill fabric in the mail.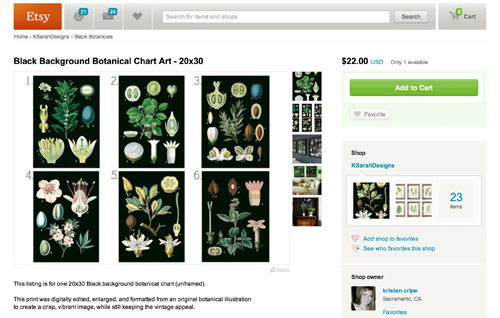 Printing black onto fabric is near impossible (we learned the hard way) but even the dark charcoal grey looks great as a chart.
Next step was to transform the fabric into a hanging piece of art. I snipped the white edges (no need for a perfect cut since my edges would either be hemmed or hiding behind a dowel) and then carefully added a very small hem to the long, horizontal sides of the chart. My first thought was to use an iron on hem tape to secure the hem, but after pre ironing my hem flat on each side I noticed that the tape wasn't necessary – the edges stayed perfectly.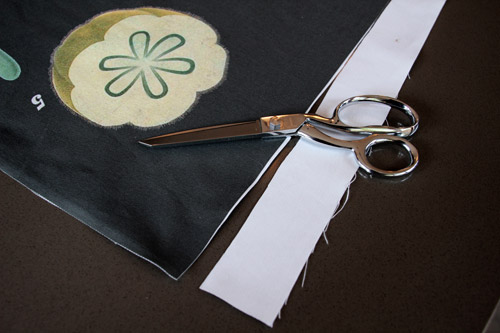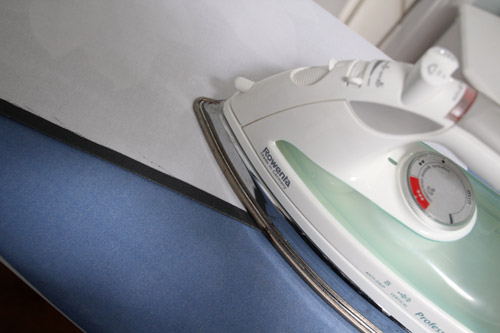 I picked up two 1/2″ dowels from Lowe's and we cut them to size. Then I stained them a warm, chestnut brown (they were originally pine) and I stapled my chart directly to the dowels to give the top and bottom of the print a clean look.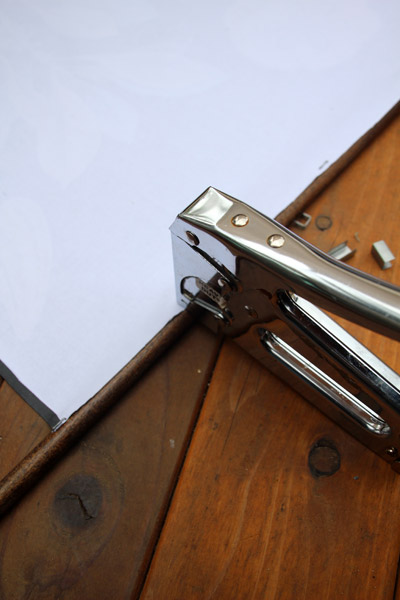 It's hard to see the string in the photos (and I may switch that out in the future) but for now the chart simply hangs from a nail. Finished!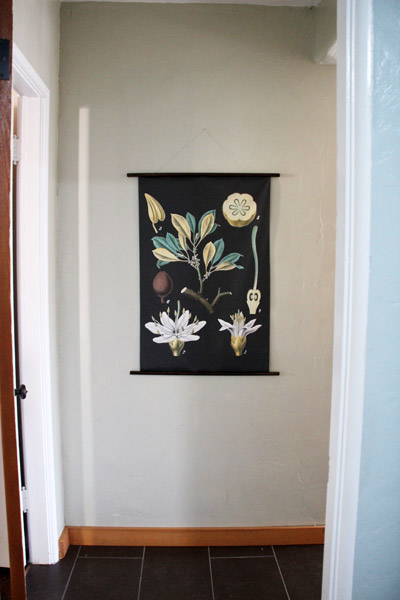 And a glance from our dining room! Love the black accents and how the lampshade, b&w photos and print compliment each other. The chart leads you into the next space.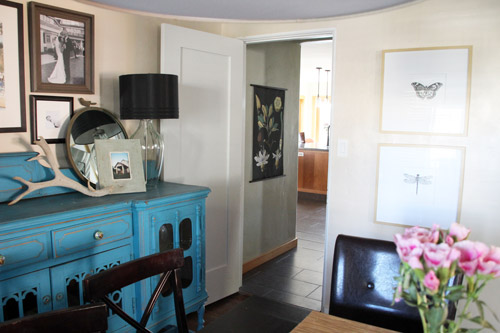 From the kitchen, the black of the fabric looks great with the new chalkboard and the black framed calendar floral art (those big prints that are sitting just to the left of the sliding doors).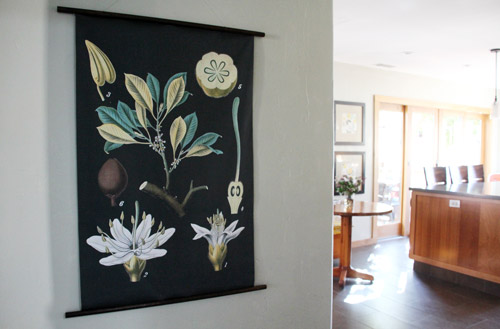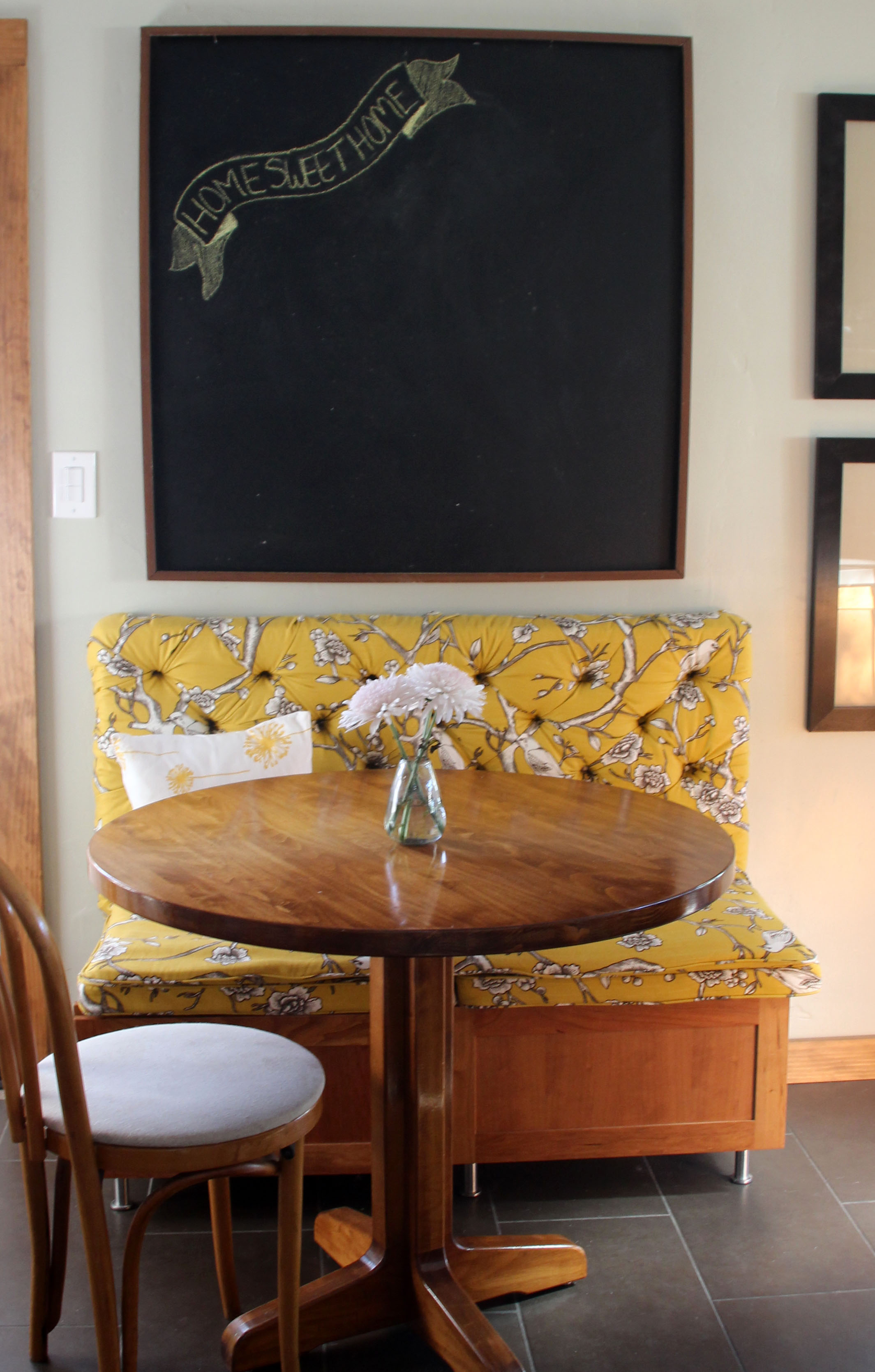 Love my new art and that the price for the finished, semi-DIY piece (which came in at under $50) is a totally affordable alternative to the originals out there.
Tags:
Accessories
,
Art
,
Black
,
Crafty Solutions
,
Decorating
,
DIY
,
Fabric
,
Home
,
Kitchen
,
Tutorial
Posted in
Crafty Solutions
,
DIY
,
Favorites
,
Home
,
Our Kitchen Remodel
,
Renovating Adventures
|
6 Comments »