February 17, 2011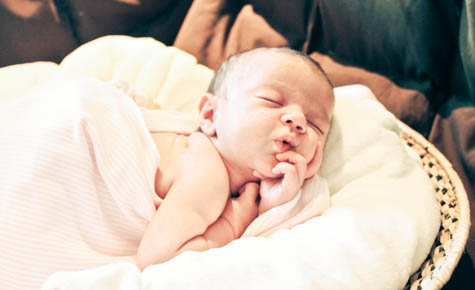 Things have been crazy busy over here at the Spenla household.
But even with returning to work (thankfully my office is at home), caring for baby girl full time, more grandparents and great grandparents in town (no complaining here – love their help), spending three days down with the flu last week (again! and I got a flu shot this year), balancing the new San Diego Magazine articles, and keeping up with all of our remodel/home projects, I had to squeeze in adorable newborn photos before Liv was no longer pint size.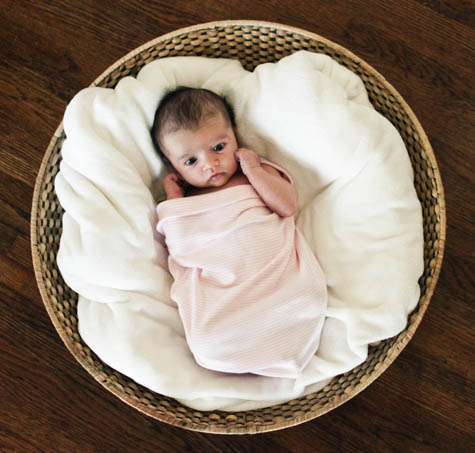 I ended up capturing these first precious moments with the help of Jennifer at Papaya Sky who caught most of Liv's awake & alert moments while I later snapped up a couple of sweet-basket-baby-moments.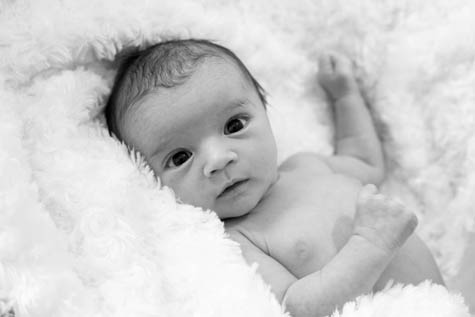 There were just too many to choose from so here's a whole bunch of goodness…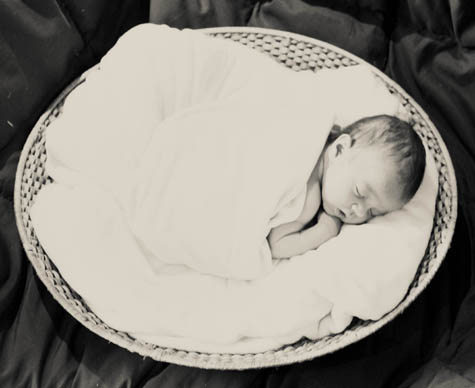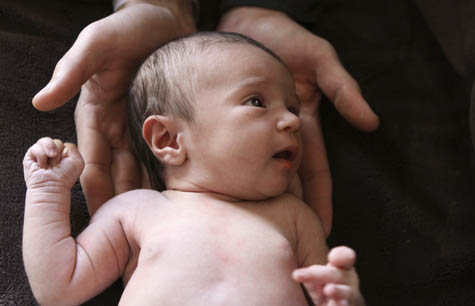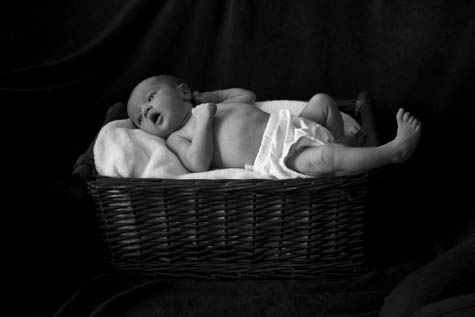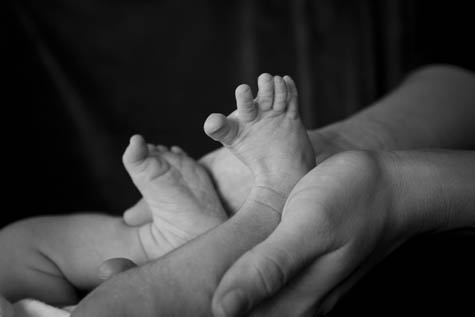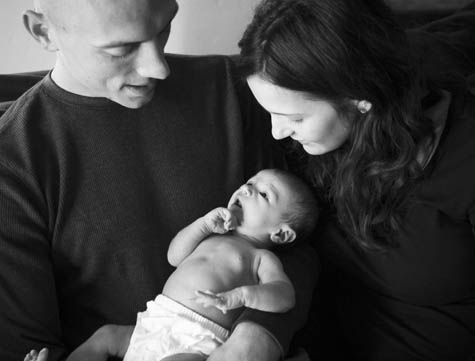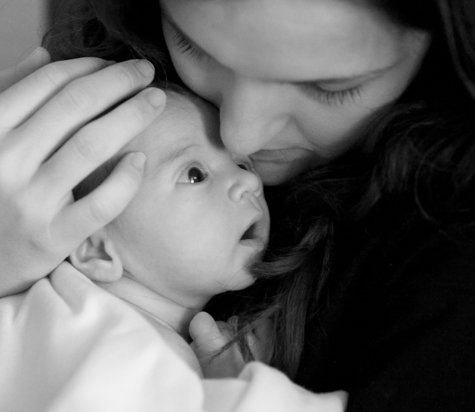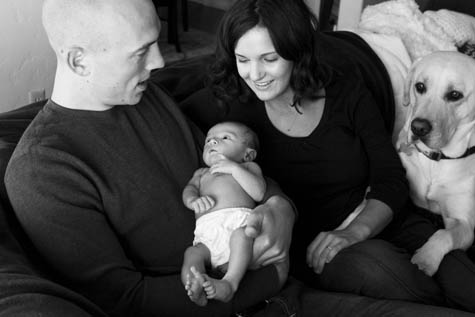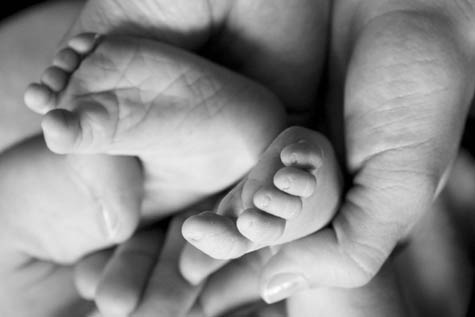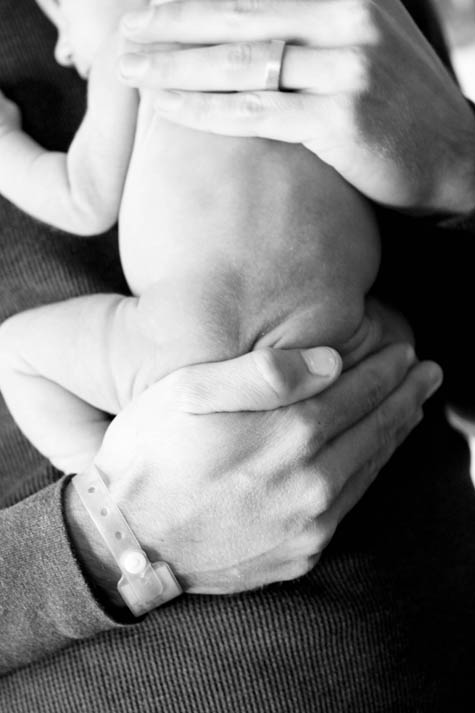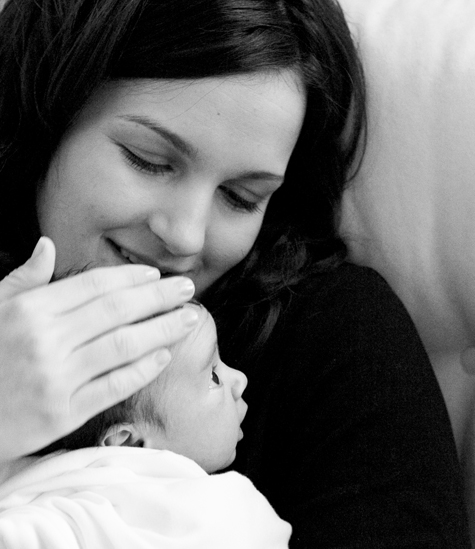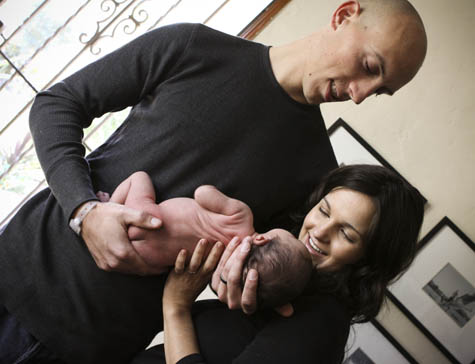 This is one of my favorite Liv poses, she does it all the time while she's sleeping or stretching: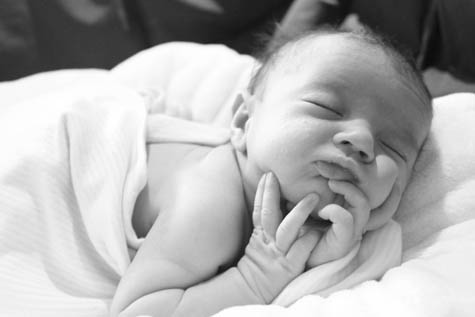 Ahhh cuteness.
Now a bit more on these nakey pillow shots, because if there's something thing trickier than getting a sleeping, naked baby atop a pillow, I'd like to know what it is. Lessons learned: #1 Babies do not like to be naked, especially while sleeping (brrrr), #2 Cool air + naked babies = more trips to the washing machine with blankets and pillows than I can count, #3 Liv doesn't curl up, she actually prefers a legs-and-arms-fully-extended position while snoozing. BUT if you're persistent (it took me three mornings of what Kev thought was pure baby torture) you can capture the moment.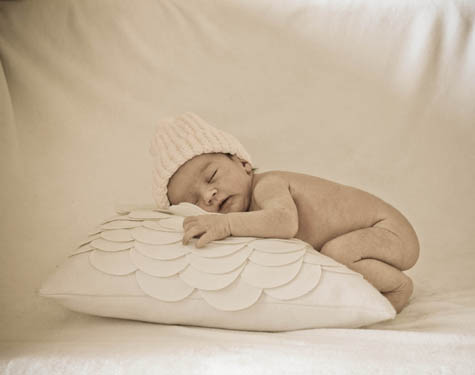 Naked sleeping baby solution: Set up camera at perfect height on tripod, get Liv in her birthday suit prior to nap, wrap (but don't pin) a cloth diaper around her bum, nurse until soundly asleep in the curled legs/lotus position, immediately transfer (while removing cloth diaper) to top of pillow and snap, snap, snap away! Totally worth it.
UPDATE: A reader suggested using a blow dryer during these shoots to help keep baby comfortable, a friend also mentioned that a space heater near the basket would have helped. Next time I'm definitely trying out both suggestions!
Of course it's perty easy to hide a diaper in a soft & cozy blanket, too (without all of the mess), and this is another favorite photo: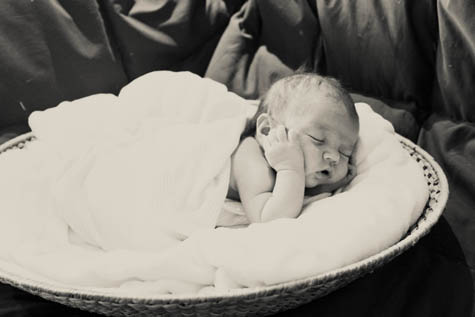 Maybe even perhaps my favorite.
We put together a collection of images for Olivia's birth announcements from Tiny Prints. I was so happy that I didn't have to choose just one picture – they have plenty of options for 5 & 6 photos.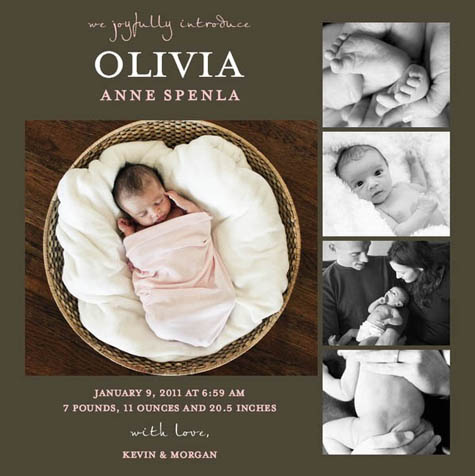 And the back of the card: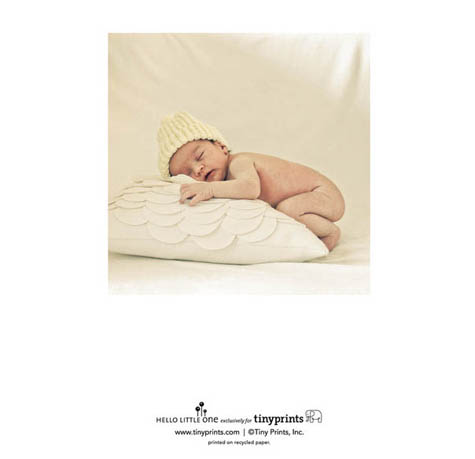 Oh sweet preciousness! I can't wait to plaster these all over the house.
Posted in
Family & Friends
|
16 Comments »
February 16, 2011
Ready for spring? Nothing announces the coming of spring like wedding invitations! I love getting a little dressed up and a wedding is the perfect occasion to pull out my favorite pumps and go shopping for a new cocktail dress.
We have a wedding next month and right now I'm leaning towards a blush/beige ensemble like this: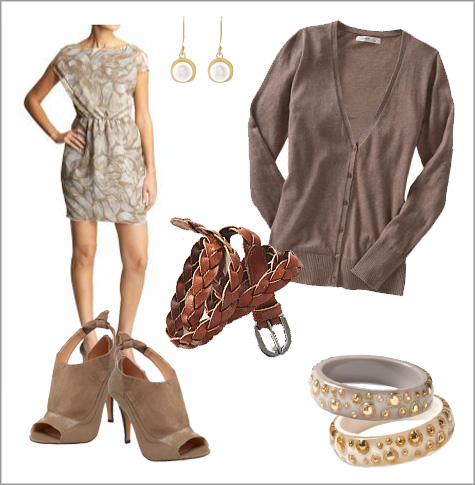 This color palette is really complimentary to olive complexions such as mine and the layers make for easy wedding indoor/outdoor transitions. Now that my waist is slowly beginning to make an appearance, I'd love a beautiful cinched-waist dress and casual-ish belt (such a this braided version) to emphasize the return of the non-pregnant stomach. Pair that with suede pumps, gold jewelry and a long cardigan and this would be my perfect outfit!
When not in wedding mode, I tend to run around town in a work-meets-play get-up of dark trouser jeans, slightly dressed-up blouses and comfortable wedges or flats. Pair that with a military-inspired jacket and another slimming belt and I can go from home office to lunch meeting to errand running mom (eek – did I just say mom?) to cocktail hour and feel appropriately dressed for all of the above.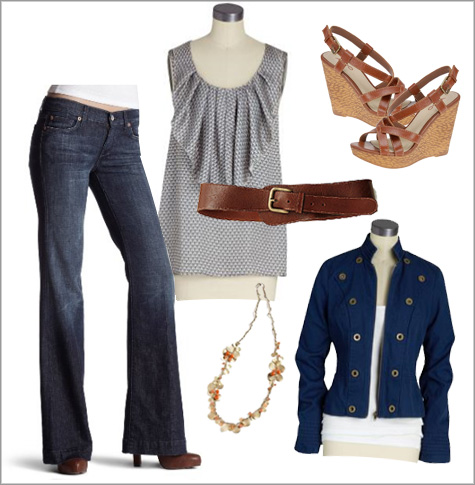 Oh I love this cascading ruffle blouse!
For source and pricing info (and more fun ideas), head on over to the Wardrobe Style Boards page. Happy Wednesday!
Tags:
Fashion
,
Party Style Boards
Posted in
Wardrobe
|
3 Comments »
February 15, 2011
The fabric for the curtains has arrived! I was so excited as I cut the shipping paper off of the thickly wrapped bolts of Baltic Stripe fabric. I had purchased the lining for the curtains last week and was ready to get started (and get this nursery finished).
And then I had the most unfortunate discovery… instead of vertical stripes running top to bottom along the length of the fabric: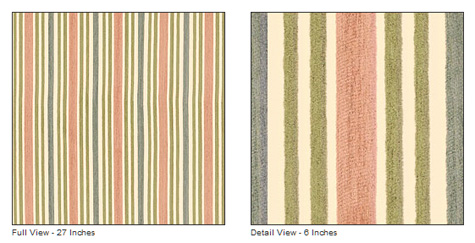 I quickly found that the beautiful, soft pastel lines actually ran horizontally across the width of the fabric: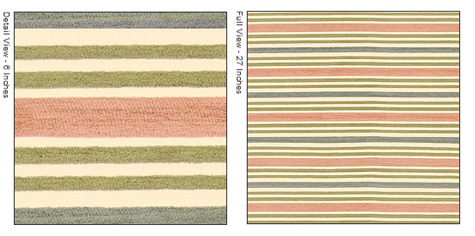 I shed a tiny tear as I realized that I wouldn't be able to create the curtains I had envisioned for the space. The horizontal lines meant that the fabric was only 54″ wide if I attempted to sew vertically lined curtains. I didn't want a seam half way through the fabric and I thought horizontally lined curtains might conflict with the horizontal wall stripes: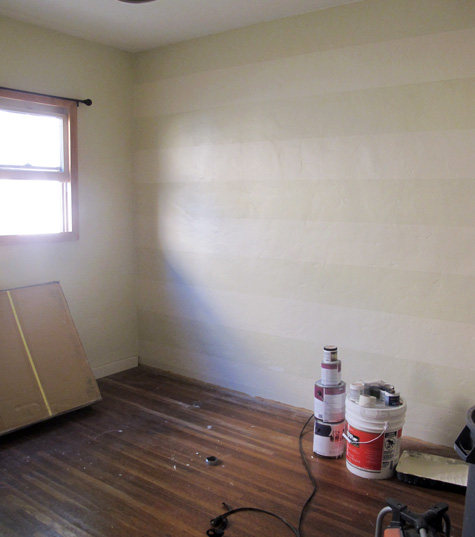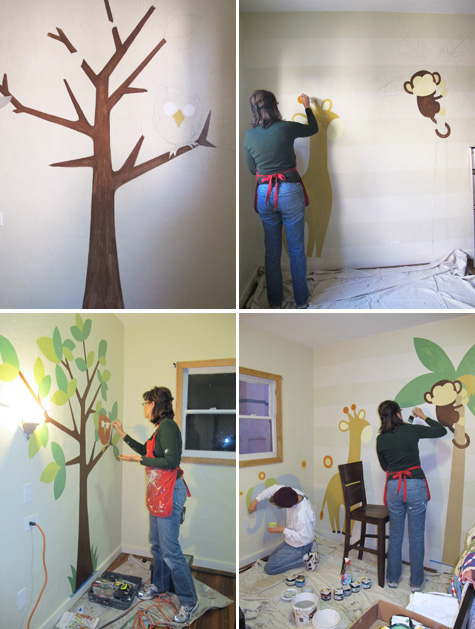 But I quickly moved on to plan b and found a solid fabric that I thought would add just the right feminine touch with its soft pink/coral color to balance out the other patterns and stronger colors (in the form of playful wall animals) in the room: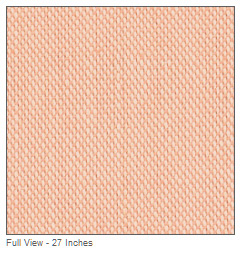 The fabric pattern is called Malibu and is from the Laguna collection at Thibaut. While the color I chose is referenced as 'peach', I ordered a sample and discovered that as I suspected, it appears much pinker in person and really compliments the rest of the room (and the fabric palette picked out here) well. As for the stripe? I have much in store for that fabric.
Other fabrics that arrived recently included the Malay Ikat that will create the perfect cushion covers for the nursery's glider: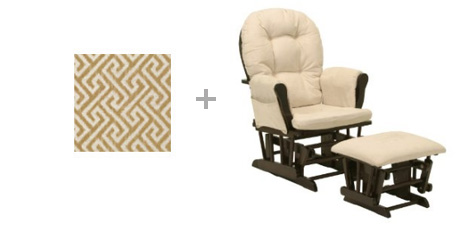 The fabric is just beautiful! I hope that there are a few extra swatches after creating the cushion covers (a must for a glider that's bound to get its fair share of spit up, etc) for throw pillows and what not.
I thought that these fabrics would look beautiful as crib bedding: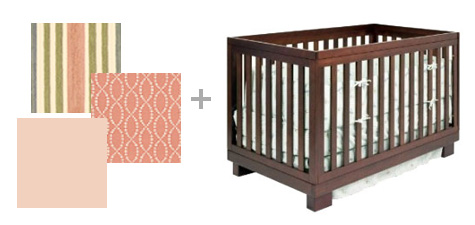 The other 'extras' that will help incorporate patterns into the nursery space might include basket liners, a pillow for the glider, a laundry bag/basket – even fabric book pouches for the walls.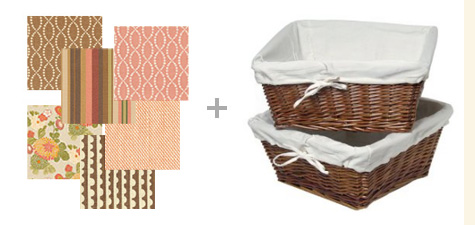 And while I won't tackle all of the sewing on my own (I have an amazingly generous aunt and an awesome local seamstress to help me out with the really tough stuff), these projects will keep me busy over the next few weeks!
If you're catching up on Project Nursery, here's a link to the fabric board, curtains part 1, rocking horse find, new pendant light, vintage wall art addition, changing table makeover, nursery wall striping tutorial, painted animal project, the initial inspiration board and the before picture posts.
Tags:
Crafty Solutions
,
Decorating
,
DIY
,
Fabric
,
Home
,
Nursery
,
Patterns & Color
,
Pink
Posted in
Home
,
Liv's Nursery
,
Renovating Adventures
|
5 Comments »