December 17, 2010
When I was working on the inspiration board for our bedroom I had my heart pretty set on simple drop cloth white curtains. What could be a cheaper material and a more classic look than basic white canvas?
Ahhh if they only sold basic white canvas drop cloths. I checked five hardware stores (which sort of takes away from the low-cost mission) and came up with tan/natural options only. I even considered a) ordering online and paying to have the canvas shipped to me or b) purchasing canvas fabric from the local discount fabric shop and hemming them myself. Both seemed too time consuming for what was supposed to be a basic project…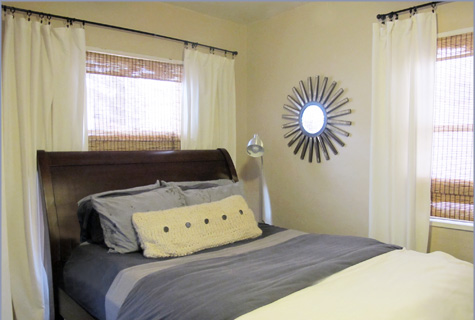 Thankfully a recent trip to Ikea revealed white panels for $14.99/pair. Perfect! Drop cloth canvases from Lowes were roughly the same price for a similar amount of material.
Drop cloth curtains would require curtain clips, so I modified my Ikea panels to create a look slightly more jazzed up look by trimming each tab off of the top of the curtains.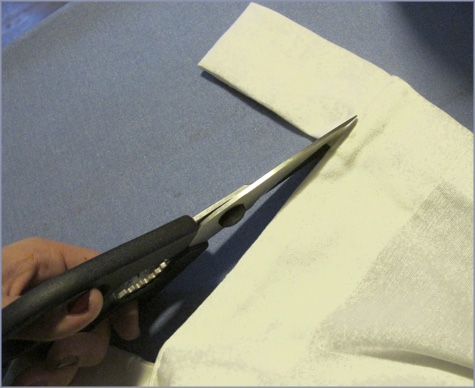 Then up went the rods and bamboo roman shades!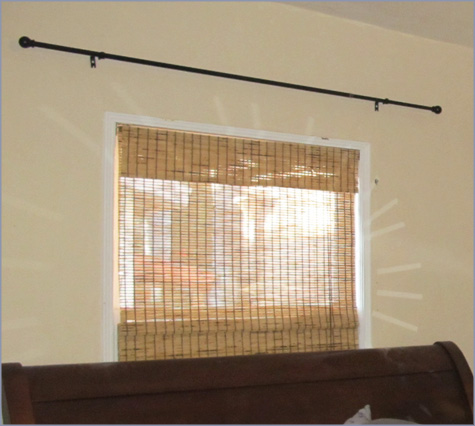 I like to hang rods slightly higher than the window frame to add a little drama.
Each curtain panel received a set of curtain clips (you can find these at your local home improvement store or home decor store) and a very thorough ironing.
I wanted the curtains to pool a bit at the bottom so I didn't bother hemming them (that's not a pretty pool job above, but you get the idea…). A quick application of iron-on hem tape would take care of raising the length if need be.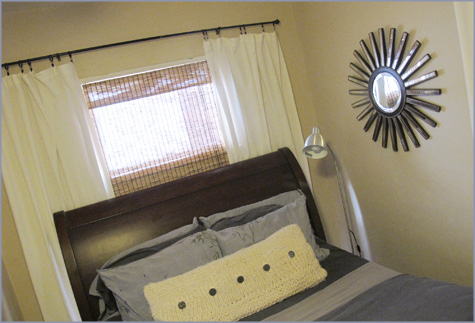 And there they are! Not much to holler about but a clean, basic, affordable solution to what were empty and boring windows. It also has always bothered me that the window behind the bedframe was so much smaller than the actual headboard, now the curtains help to balance out the proportions.
One more project for the master bedroom down!
Tags:
Bedroom
,
Before & After
,
Blue
,
Crafty Solutions
,
Decorating
,
DIY
,
Fabric
,
Home
,
Tutorial
,
white
Posted in
Home
,
Renovating Adventures
|
13 Comments »
December 15, 2010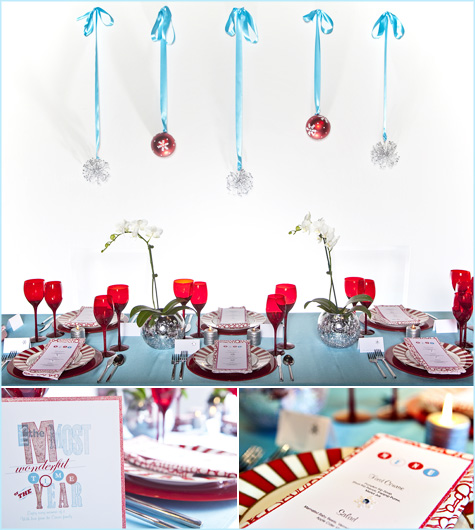 Melanie of Inspired Events sent over this darling Christmas tablescape and dessert bar – I'm loving the emerging red and aqua color scheme this year!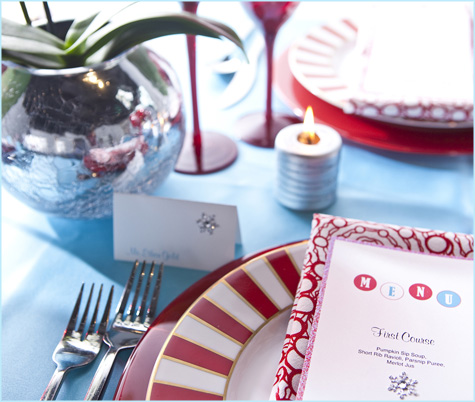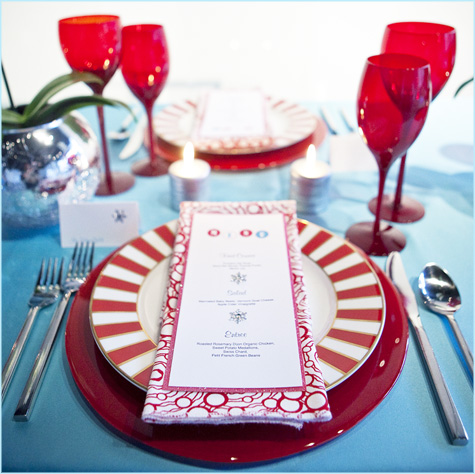 All of the litte details are beautiful. I especially love the look of hanging Christmas ornaments – be it in the window, doorway, above a table or over a mirror. Melanie decorated the dessert table with reusable apothecary jars, cake stands and glass pedestals from local home stores and filled them with delicious candies ordered from Candy Warehouse.
The candy cane martini's were made with rum, peppermint schnapps and a splash of grenadine. Oh yum!
Candy Cane Martini
Ingredients
* 3 fluid ounces rum
* 2 fluid ounces peppermint schnapps
* 1/2 fluid ounce grenadine syrup
* 1 small candy cane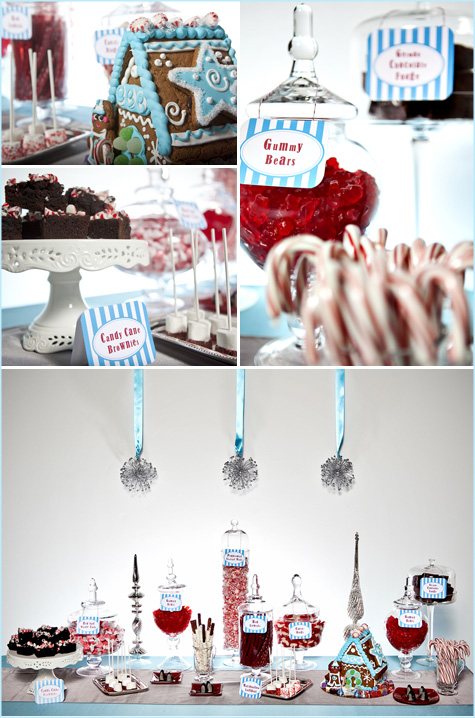 The candy cane brownies, marshmallow lollipops, white chocolate pretzels rolled in candy cane and German chocolate fudge were baked from scratch – the little holiday penguins were purchased at LA Burdick's and are made of hand-piped dark chocolate and lemon ganache (perfect to have as favors). Thank you for the wonderful inspiration, Melanie!
Vendors:
Decor and Design - Inspired Events of Boston MA
Stationary – Allure Invites
Rentals and Linens – Be Our Guest
Photography – Mike Diskin of Mike Diskin Photography (formerly of Stuff Magazine)
Venue - 5s pr space
Gingerbread House – Ginger Bettys
Tags:
Aqua
,
Blue
,
Decorating
,
Dessert Bar
,
Dinner Parties
,
Parties & Entertaining
,
Red
,
Teal
,
Turquoise
Posted in
Holidays
,
Parties & Entertaining
|
7 Comments »
December 15, 2010
Wrapping presents is always a task that I oddly look forward to each Christmas. I love beautifully wrapped packages with that added homemade love (when you can really tell the gift giver put some time into perti-fying the gift) and this year I'm attempting to find unusual odds and ends from around the house to embellish gifts for under our tree.
When Tiffany from Simply Modern Mom asked me to participate in her Wrap It Up series today, I decided to give felt, ribbon and newspaper clippings a try to make an easy project that I could replicate for all of our gifts. Check out the full post here.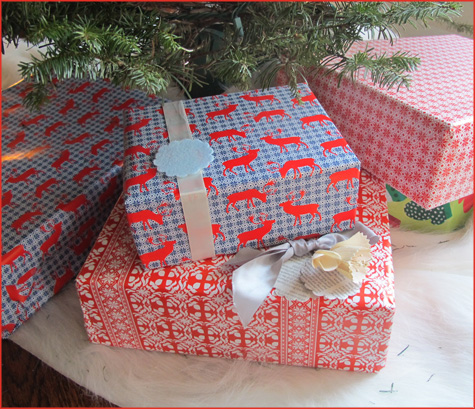 Why have I never thought of newspaper before! Same goes for old book pages – they make great little name tags and there's something a bit homemade and antique-y (and very wallet-friendly) that's so pretty about the look. For more details (and fun wrapping ideas), be sure to check out Simply Modern Mom's site!
Tags:
Blue
,
Christmas
,
Crafty Solutions
,
DIY
,
Paper Goods
,
Patterns & Color
,
Red
Posted in
Crafty Solutions
,
Holidays
|
2 Comments »