February 13, 2013
Thank you to everyone who left very sweet comments after yesterday's big reveal! It is hard to explain how excited I am at the news!

Ohhhh a new nursery/big girl inspiration board is in order.
Tomorrow is Valentine's Day! Kev has made dinner reservations at a secret location and I'm excited to get a little dressed up and enjoy a night on the town with just the two of us. Anna Kate and I have each put together a style board on what we might wear for such a date night…
I'll let AK go first.
************************************************************************************
For Valentine's Day, my husband and I usually try to spend a special evening at home together. We make a fancy dinner, have a nice bottle of wine, and actually eat together at the dinner table. I plan to put the t-shirt and jeans away for the night and dress up, but I still want to be comfortable and relaxed. So, I chose a soft, stretchy dress in a red stripe that doesn't scream Valentine's Day, but still feels festive. I'm a sucker for tiny heart jewelry, so these earrings and cuff from Anthropologie are calling my name! I almost never wear heels, so when I break them out for special occasions I usually go for a comfy wedge. These are the best of both worlds because they're low wedges, but the black suede and peep toe are just the right amount of sexy and sweet. 
I hope y'all have a lovely Valentine's Day!
Anna Kate  
(PS You can find Anna Kate anytime right over 

here

 at her sweet home blog)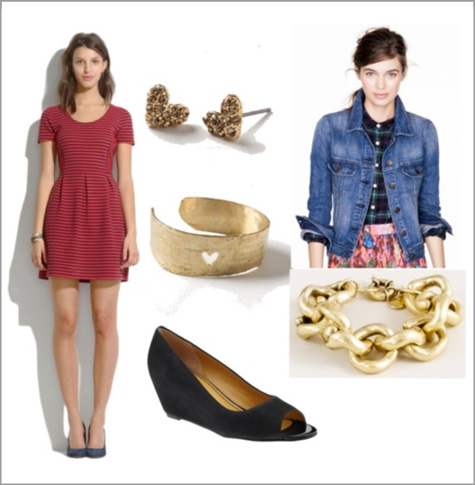 ************************************************************************************
Love Anna Kate's choice of wedges and that cuffed bracelet, how sweet is the heart?
Since I'm five months pregnant now, I thought it would be fun to throw a few style boards into the mix that fit those baby-carrying-bellies. I'm always on the look out for pregnancy style inspiration (I've started a pin board to help organize my thoughts) because it can be pretty challenging to feel put together while also feeling huge.
Favorites of mine? Dresses and tunics that have lots of action going on around the neck. It helps me to feel slightly more proportional and less belly huge.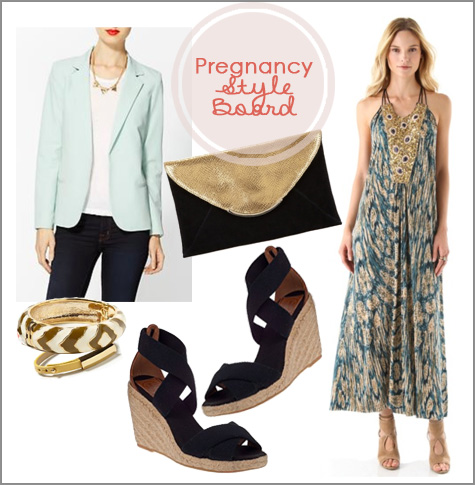 For a date night, I might sport a comfy maxi dress (love that this one hits just above the ankles so short ladies such as myself feel a bit taller) and wedges. I just recently purchased (with a 30% off coupon) the above skinny leather bracelet in orange and it has become a simple staple with my watch on my left wrist! Love jewelry that goes from day to night. This Ellie gold and black clutch is high on my eye candy list. Oh man, did I mention I love, love that dress?
************************************************************************************
As usual, all of the sources, prices and style boards can be found in the upper left hand side bar or by clicking right here and then clicking on an image. ***Update: I've just uploaded AK's style board – computer issues – sorry for the delay! And I've labeled her previous maternity boards as 'Pregnancy Style Boards' so now they're easy to find for us soon-to-be moms***
Happy soon-to-be Valentine's Day!
Posted in
Anna Kate's Style Boards
,
Fall
,
Party
,
Spring
,
Summer
,
Wardrobe
,
Winter
|
Comment »
February 12, 2013
Oh man, I've been looking forward to this past Sunday for months! We hosted a little BBQ with family and friends to 'reveal' the gender of Baby Spenla all together… and it was so much fun. Crazy, giddy fun as you'll see in the short 'revealing' video in just a second! When I found out the sex of our new little babe I did these crazy little claps while jumping up and down and laughing. I was so overjoyed and totally caught-off-guard surprised!
But let's start from the top!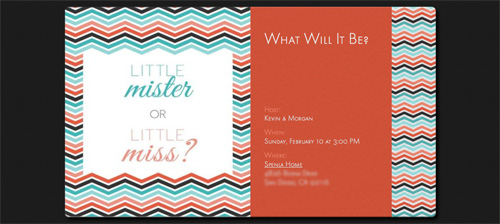 My big Christmas present from Kevin this year was his agreement to learn the sex of this new addition prior to his/her arrival. I loved waiting to find out with Liv – there's something about your first that makes it much more manageable! But I was really anxious to learn whether we'd be welcoming a boy or girl with this second pregnancy, and being the loving hubby that he is he agreed after a little arm twisting… and under one condition: we throw a Gender Reveal Party! Which I was all for.
So a few weeks ago we sent out a little evite to share the details of the Sunday afternoon party (Katrina helped to design that sweet little graphic there on the left since Evite is not privvy to Gender Reveal Parties just yet…). 'Little Mister or Little Miss' is a play on the nicknames Kevin and I have had for each other for ages (Mister & Miss) – and Liv is our first 'Little Miss'.
Then last Tuesday we went in for our 20 week ultrasound…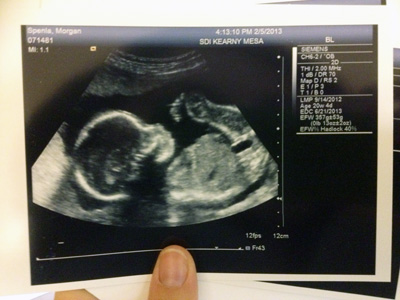 And asked the technician to seal up the gender in an envelope so that we could open it later with our family (our awesome sitter helped to keep the gender a secret so that even we would be surprised with everyone else! I delivered the sealed envelope to her and she packed the box of balloons – even surprising us with yummy gender revealing cupcakes at the party).
Liv was actually pretty fussy throughout most of the ultrasound appointment (Kevin and I brought her along thinking she might think it was neat to see the baby in mommy's belly), but at the very end we finally realized why. She just wanted a turn.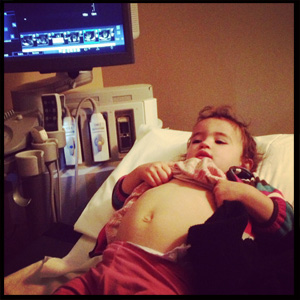 Finally Sunday arrived! It was time to BBQ and relax and enjoy a nice (chilly) San Diego afternoon.
We kept the event simple and low key with the exception of a guessing/wagering game and mandatory bows/bowties.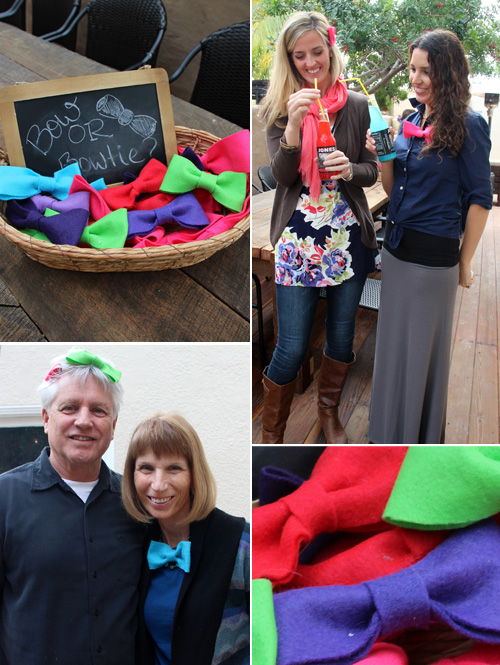 If your guess was a girl, then the clip on the back of the bow secured it to the top of your head. If a boy, then the bowtie could be clipped onto the collar of your shirt.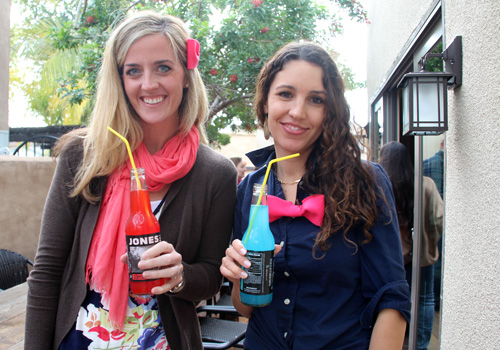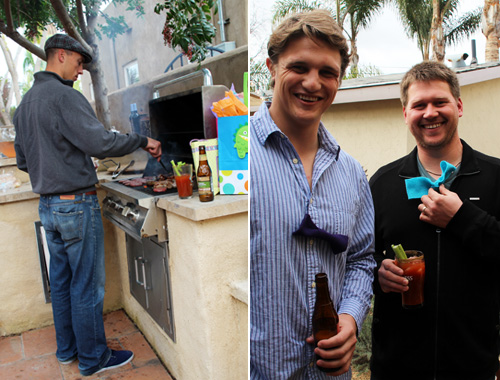 While everyone mingled and ate, I set out four jars to serve as our guessing game, and our kitchen chalkboard held Old Wives' Tale clues. Aren't some of those pretty funny?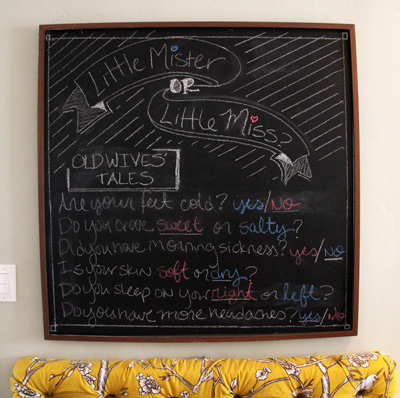 The four wagering questions included guessing: girl or boy, date of birth, weight of baby and a name! Paper clips allowed you to attach a dollar bill to your guess if you were in on the wagering. The girl/boy and name guess were announced at the party for fun, the weight and date will have to be stored away for a few months before we see who wins.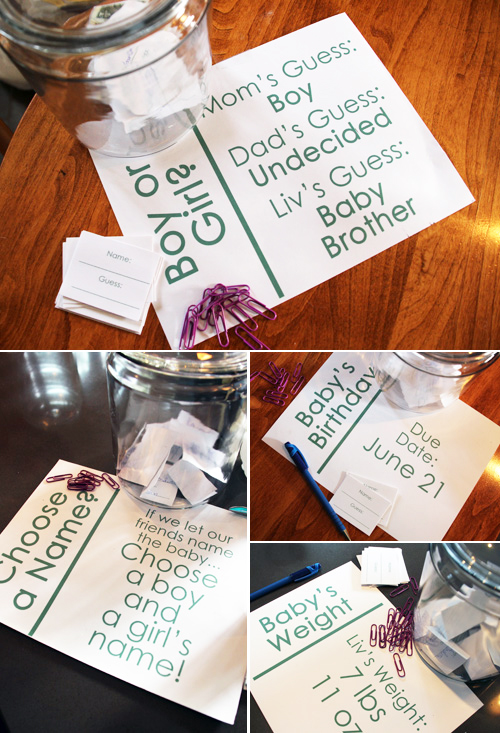 Once everyone ate it was finally time! The sun was on the verge of setting, the anticipation was building and I couldn't WAIT to tear open that box!
Here's a little video that I put together for the big reveal that you might find pretty entertaining:
The lovely music is Valentine by Kina Grannis (I was lucky enough to go to school with her and listen along in coffee shops before she made it big).
Just in case you're not in a place you can watch a video, here are some snapshots (taken from the video, so they're a little blurry) of the big reveal.
Drumroll…
it's a GIRL!!!!
I am so, SO excited for Liv to have a sister!
A few random side notes… I can't believe Kevin kept his eyes closed for the first ten seconds or so! My eyes were pealed on that box. Did you catch the little air I got with the giddy jump? Pure shock. Also, I reached that far under the wrapping paper of the box (it looks odd in the video) at the suggestion of the wrapper so that all of the balloons could be released at once.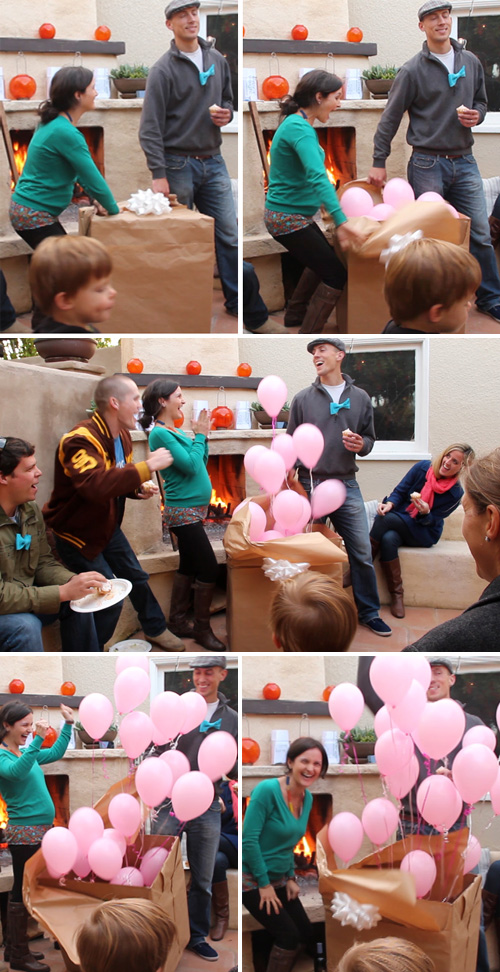 I should have had someone snap single shots as well because those are awfulllly blurry. Ah well.
The box packed full of balloons was an awesome visual for everyone to see (I've seen this idea roaming around Pinterest but I tried to keep it eco-friendly by not letting the balloons float off) and the gender revealing cupcakes were delicious! (thank you Kara)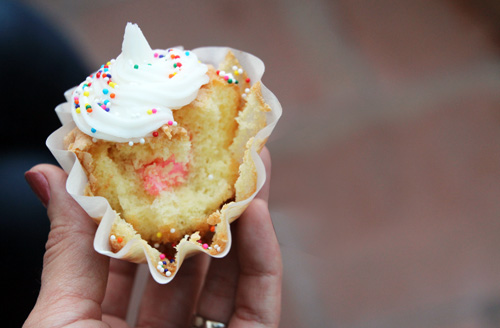 Team Pink and Team Blue. We all thought boy! I had a very strong feeling this baby was a boy so I was especially shocked!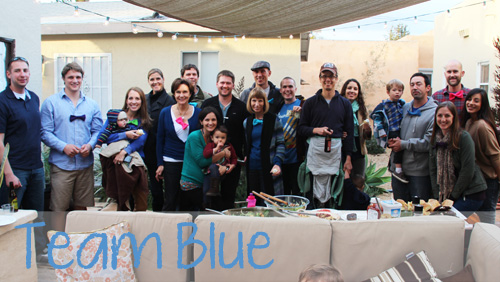 I'm over the moon ecstatic about welcoming a baby girl come June. I have always thought it would be so neat for Liv to have a little sister, and now she'll have one close in age!! And as a family we've always pictured ourselves with three ish children, so perhaps that last little bundle will be a mini Kevin. For now, I have my girls and I couldn't be happier!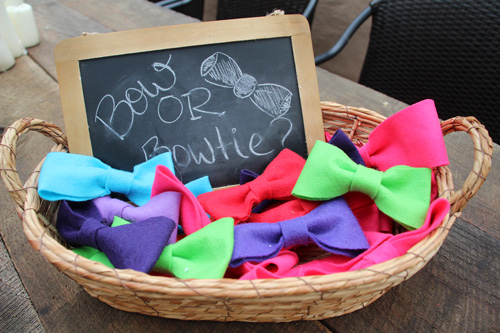 Pink nursery/big girl room, here we come! I've been dreaming about you for ages…
Posted in
Family & Friends
,
Parties & Entertaining
|
30 Comments »
February 11, 2013
***Congrats to Ashley D. on winning the $100 Minted.com giveaway!! Thank you to everyone who entered***
Liv and I made little Valentine's Day treat bags for her grandparents and great grandparents (they were inspired by this version we made last year for Mother's Day with drawings by Liv and taffy), and this time around we filled the little clear bags with Hershey's kisses to officially send 'Bags of Kisses' through the mail.
BUT, before I share this super easy and customizable candy bag, I have to share that we had our little gender reveal party yesterday and it was so much fun! So neat to experience the awesome surprise of what we're having with everyone at the same time!! Caught it on camera so I can share the surprise with you all. But you have to wait just one more day or two while I edit the video! So sorry for the suspense… let me just say I was totally caught off guard!
Okay… back to the cute little baggies

.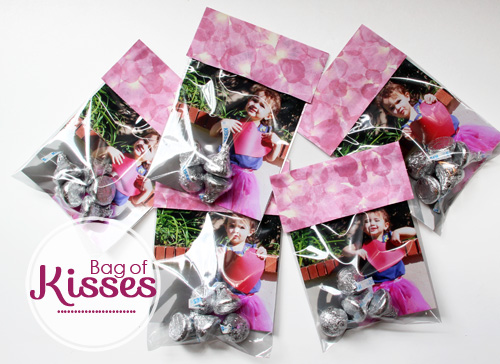 ********************************************************************************************
'Bag of Kisses' Treat Bags
m
Materials: pretty paper, clear treat bags (almost any size will work – I used 5×7 bags for this project and 4×6 bags for today's project), an optional photo or image for the bag, Hershey's kisses, paper cutter, glue/stapler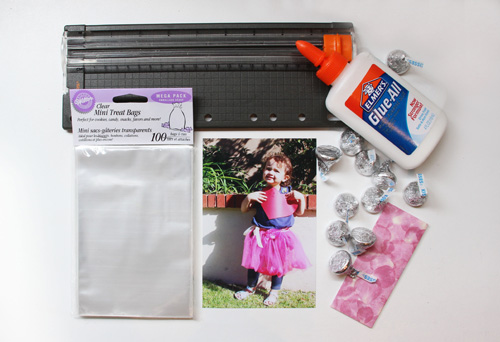 A very quick and simple project to assemble.
First up was Liv's Valentine's Day photo shoot! I actually caught Liv on a day that she was wearing her little tutu (as a 'ballerina' – which rarely happens) and handed her a construction paper heart to play with (I made two which turned out to be the smartest plan because the first was crinkled and torn before I had even pulled out my camera).
Then we shot away!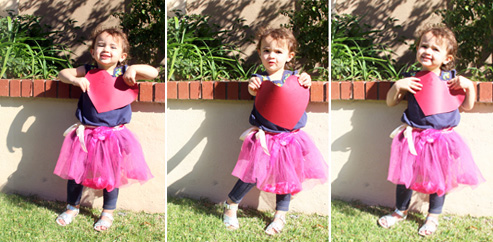 500 pictures later (in about 45 seconds) and Liv was smiling and standing and carrying the heart in the same photo. I love that middle shot – I always have to take a ton, but it's always worth it.
Actually this might be my favorite: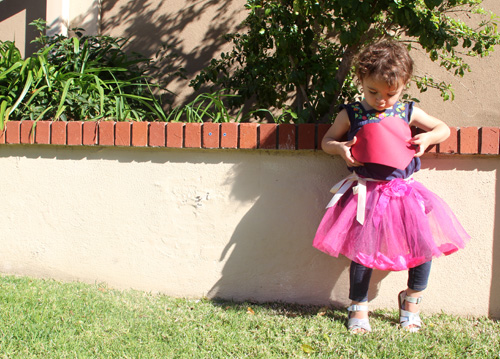 We turned it into the little card that we'd send out with the bags: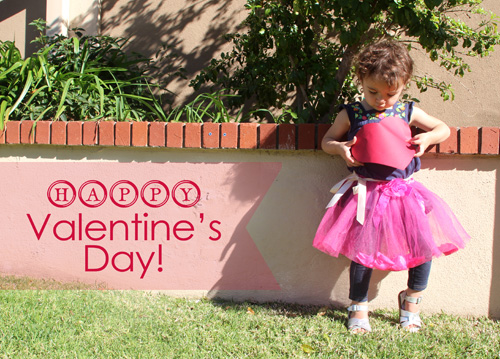 Ahhh and here's Liv last Valentine's Day! One year makes a huge difference.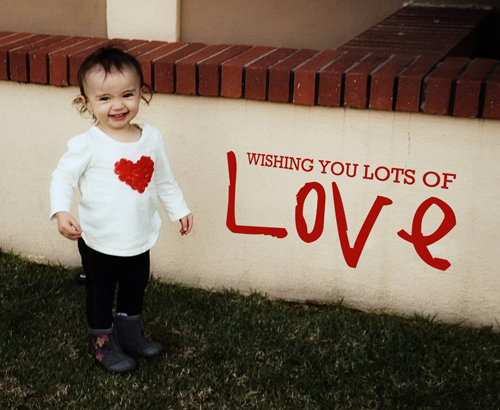 After processing the photos, I ended up cropping both the bag and photo to make the finished bags just a little smaller.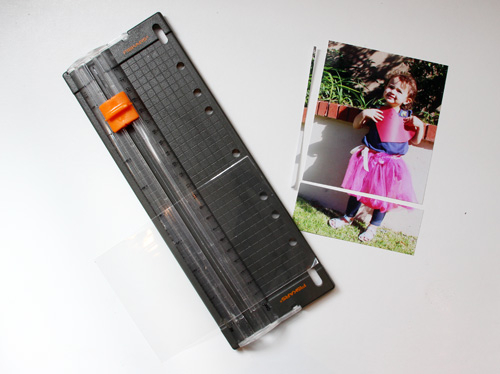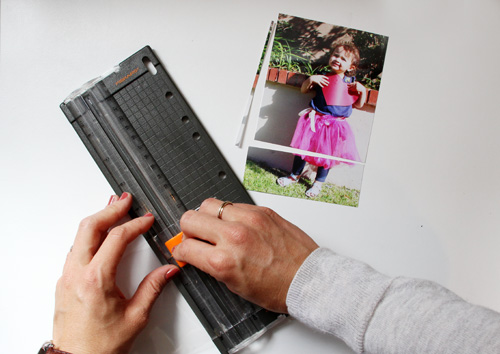 Then into the bag went a handful of kisses and on the top of the bag a cut rectangle of a pretty paper (from the scrapbooking aisle) that was folded in half. You could easily staple the top directly onto the clear bag as well, but I tried something new for a seamless look this time around with glue.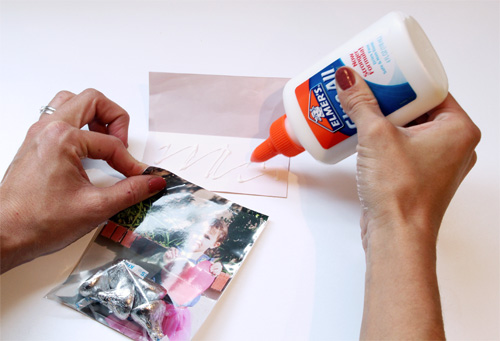 Finished!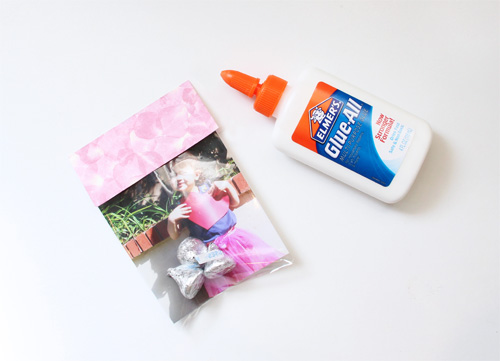 I couldn't decide on which pose I loved best, so I made several of each: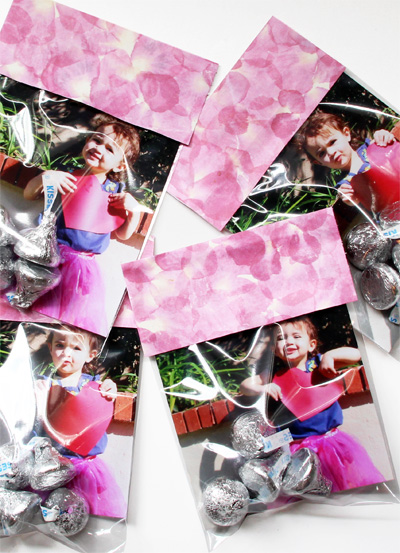 Here's the entire project in one quick collage: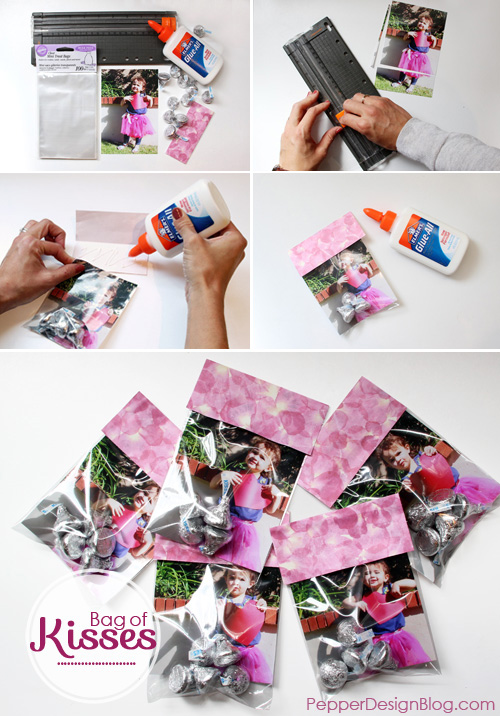 ********************************************************************************************
This is a favorite and easy project in our house, we've made them for Mother's Day (which I referenced above here) but you could use them for parties (they make great favor 'thank you' bags) or as treats for school. You could really add any image (be it a favorite photo, paper, fabric square, etc) as the backdrop or even leave it blank as a clear bag. Use a solid piece of paper at the top to include a little message, too! And we've also filled these with miscellaneous goodies such as confetti or glitter just for added fun.
Valentine's Day is just around the corner! Here's a quick link to search by all heart-day related posts.
Tags:
Crafty Solutions
,
Parties & Entertaining
,
Party Favors
,
Pink
,
Red
,
Tutorial
,
Valentine's Day
Posted in
Crafty Solutions
,
DIY
,
Family & Friends
,
Favorites
,
Handmade Gifts
,
Holidays
,
Olivia
,
Parties & Entertaining
|
6 Comments »