April 24, 2013
Happy midweek! This is the time of the week that I just love because I'm starting to plan out my weekend projects and anticipate my time away from work with the fam, but am still not so rushed to finish my desk deadlines that I'm biting my fingernails. Midweek is a great time of the week.
A quick update to share regarding the trending colors that are making a friendly splash in this casa. That is to say that gold might be the new pink in this house. Or maybe they're tied at this point (as evidenced here, here, here, here and here), but I'm noticing that I've been drawn to gold-hued home decor for a while now and that it has begun to pop up with sparkly and brushed gusto over the past couple of months.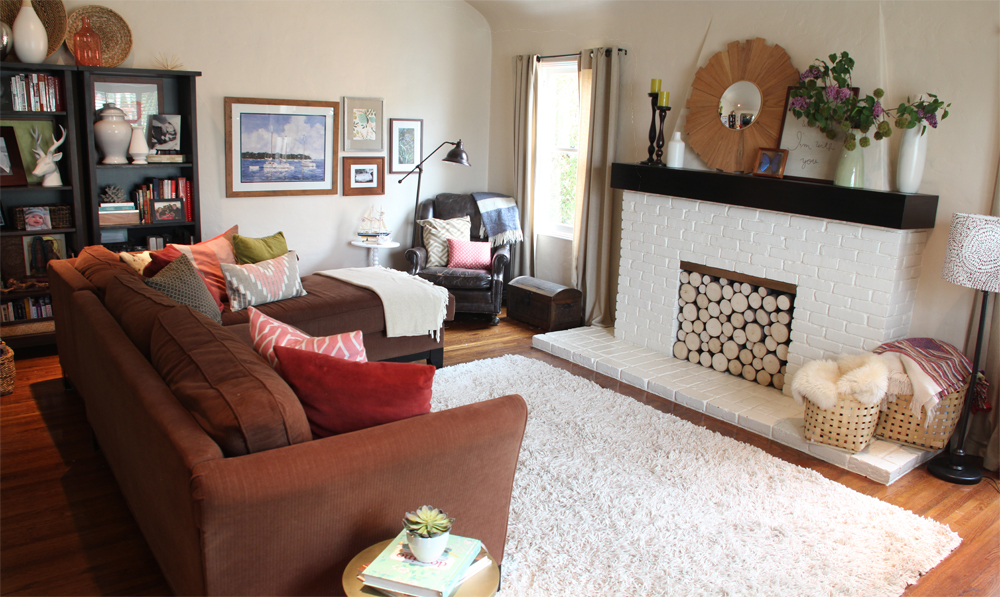 Lots of pops of pink. Something so soothing and warm and inviting, no? Perhaps teal or navy should make an entrance…
I feel like I jumped on the gold-lovin' band wagon early and began to embrace its shiny patina back when Kev and I first married almost six years ago. I'm pretty sure gold was still very not cool back then (remember the grimace you made when visiting Grandma's perfectly brass-covered bathroom?) and I recall bringing a dainty gold chain necklace in for repair to my local jeweler and having him inspect it oddly, telling me 'no one wears gold, no one'. I still wear that simple gold chain with a little pendant from Kevin every day.
Okay, side stories aside, here's a new gold addition that I'm especially enamored with: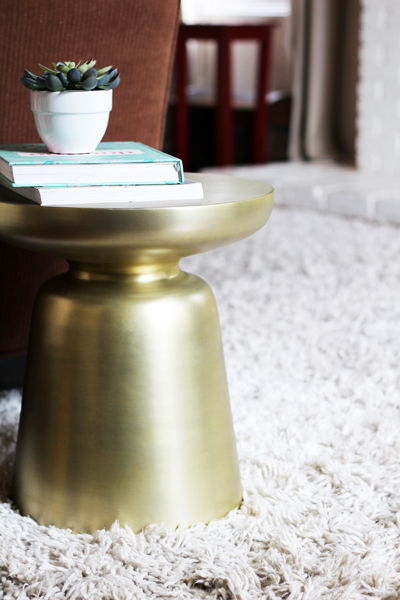 And it's brass, too! Without a coffee table we have been in need of a convenient table solution for drinks and whatnot, especially with friends over. I have a little wooden tray that I usually keep on the couch that houses all things reading material, remote controls, etc but with a bouncing toddler and snuggly dog it never felt quite sturdy enough to hold mugs of tea or glasses of water.
So it's been a side/coffee table search.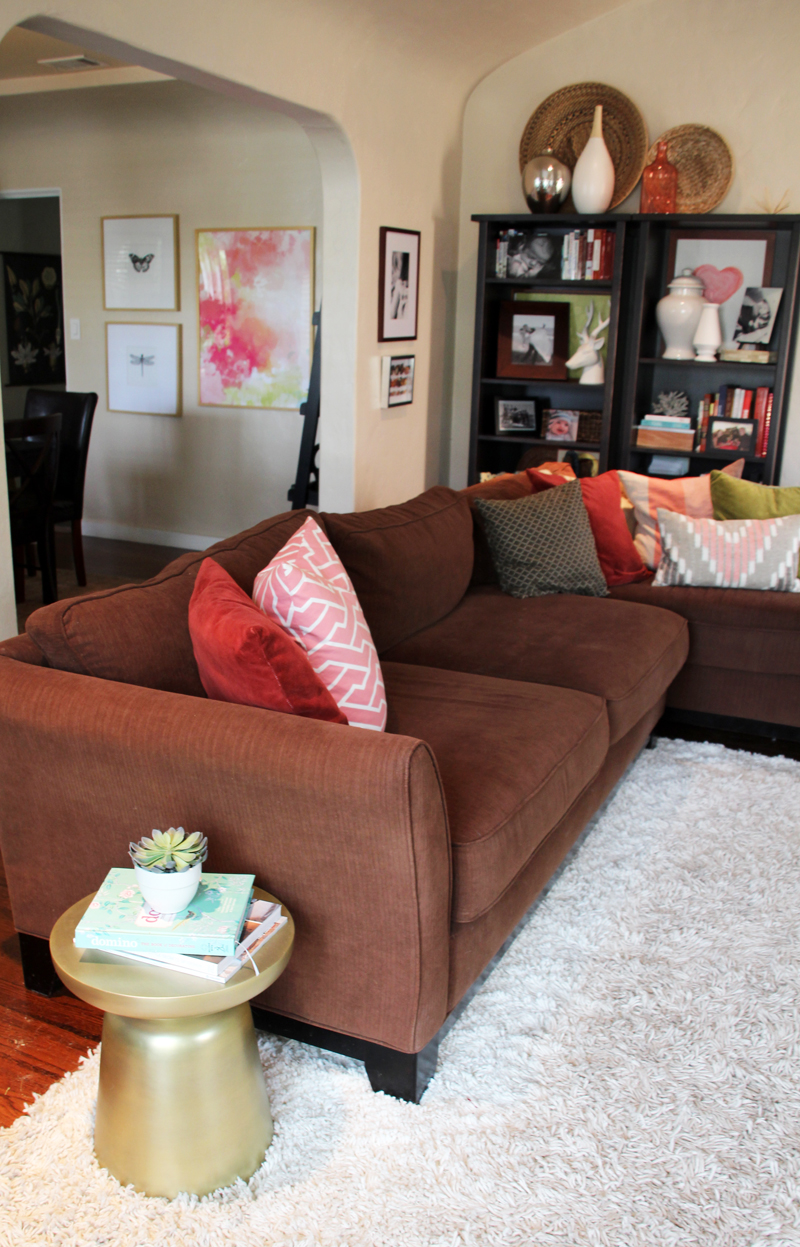 I tried out a couple of variations here and there over the past year (loooong search) but quickly found that this end-of-the-couch location called for something low profile and sturdy (anything with legs was easily tipped during the Liv and Bodie trial – one has inquisitive fingers, the other a very strong tail).
This antique brass West Elm drum table passed the test with flying colors.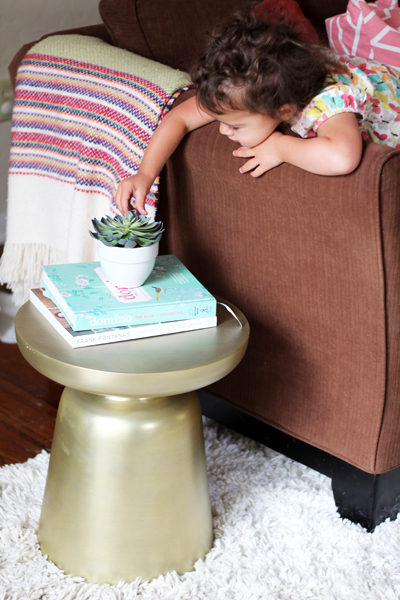 It is still tail height and it is still visited by inquisitive hands, but now the table is far from tipping when anyone runs by it at a fast speed. It's also fairly  light weight so we move it to the center of the sofa when it's needed for wine and water glasses.
I've had too much fun at West Elm over the past few months. It's rare that I'm toddler free outside of work and one of my favorite little stops when running errands is to swing by our local West Elm store and browse the sale section (which happens mayyybbeee once every three months). Other recent West Elm additions? There are a few now that I can spot.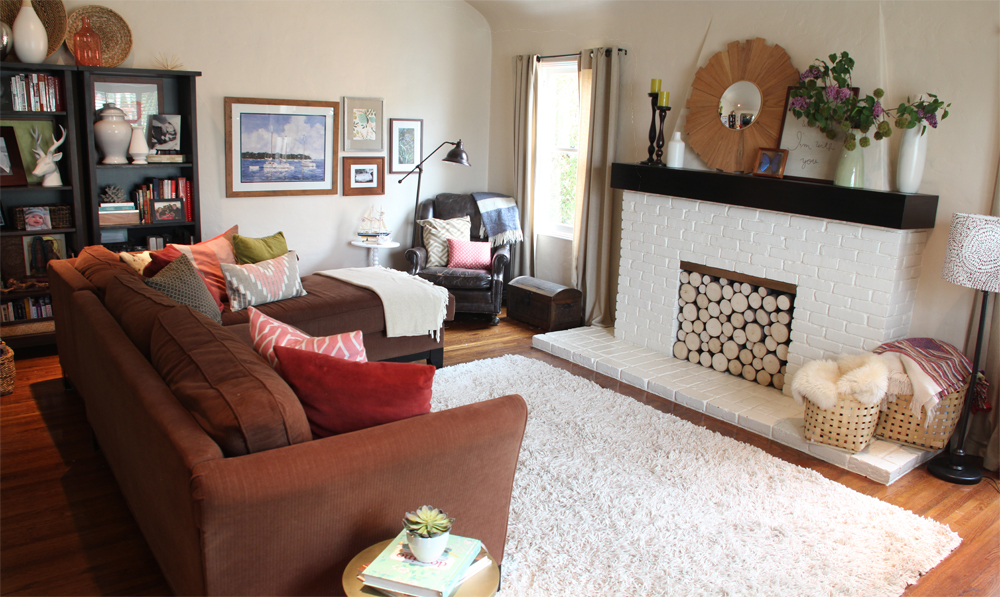 This pink/coral vase that sits atop the bookshelves is a clearance find. (Kevin didn't love my gold 'home' art project that used to also sit here and he ended up winning – I decided the letters might be best elsewhere after a couple of weeks).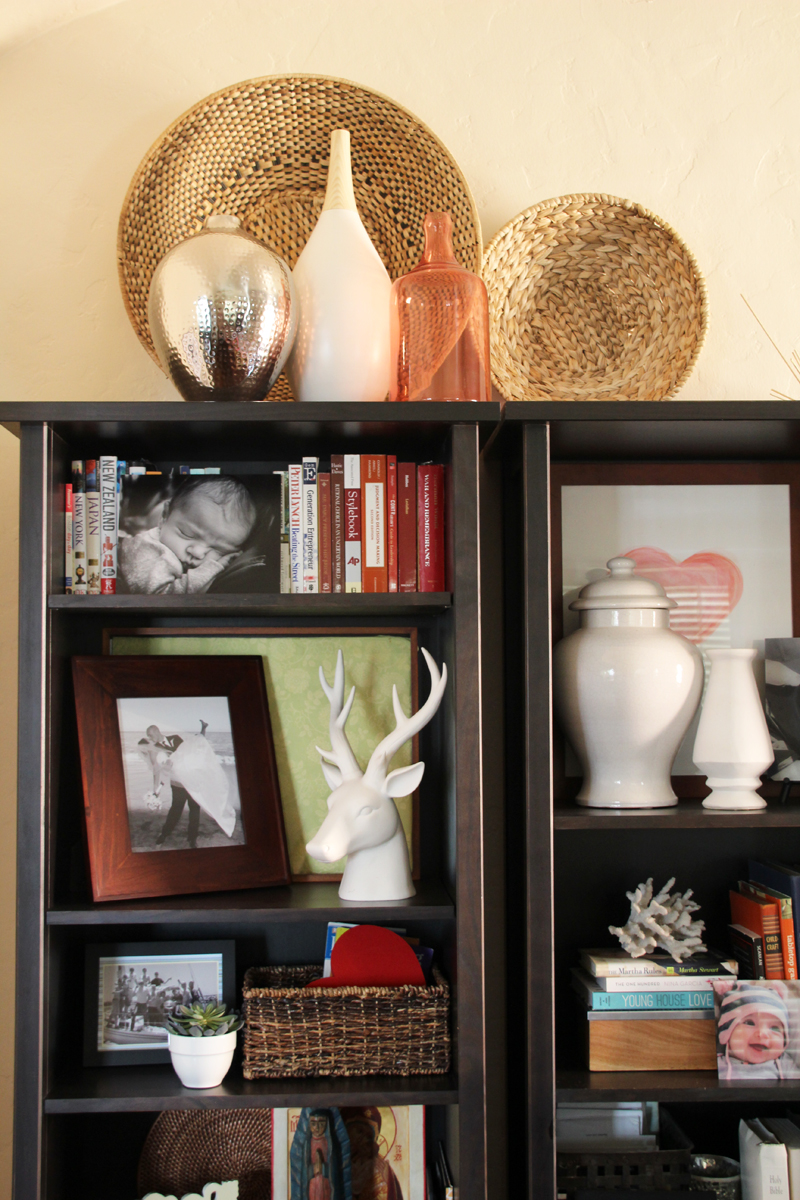 As well as a couple of new pillows. How great is that pink and taupe tribal print? Or the striped coral and brown guy that pulls the entire couch ensemble together?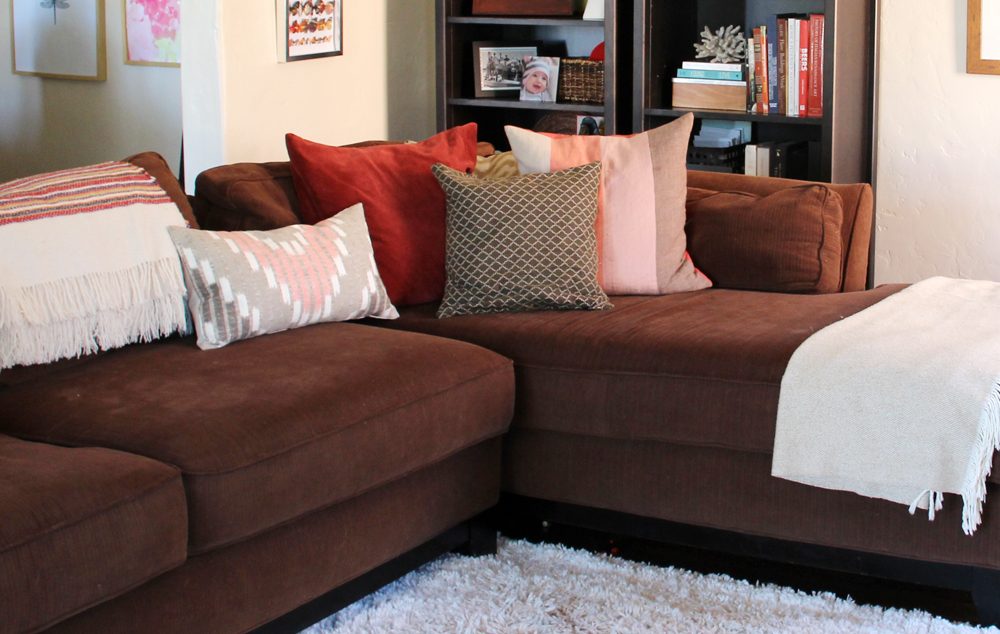 This one also now sits on our old leather corner chair.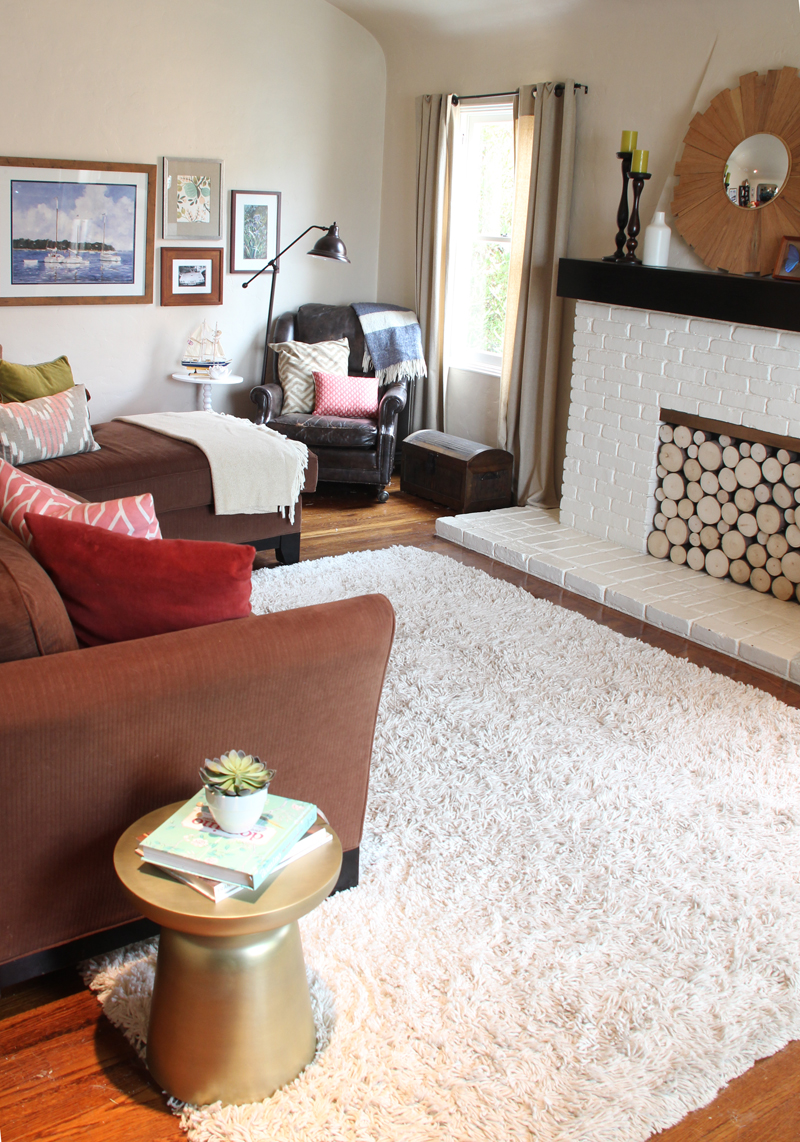 On the more pink front, I believe I've finally settled the score on deciding on new wallpaper for the new nursery! And my gold Land of Nod desk lamp and pillow for the office have recently arrived. Talk about sparkly

.
Happy soon-to-be weekend.
 All living room posts are sorted by tag right here for easy searching.
Tags:
Accessories
,
Decorating
,
Gold
,
Home
,
Living Room
,
Patterns & Color
,
Pink
Posted in
Home
,
Our Living Room
,
Renovating Adventures
|
1 Comment »
April 18, 2013
We've had some spring-awesomeness reveal itself over here and, being my first bulb planting attempt, I had to share it with you.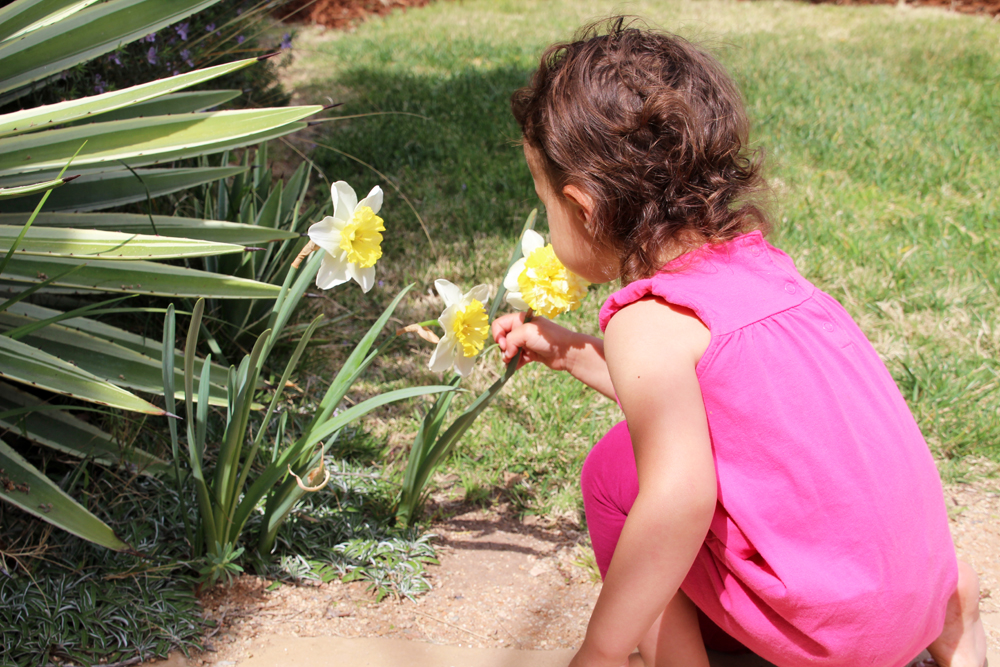 I took a chance last fall (despite not having a green thumb… yet) and planted two dozen or so daffodil and allium bulbs in our front yard. It was my first go, my first foray into bulb planting, so I kept it small and manageable. Just in case project bulb failed.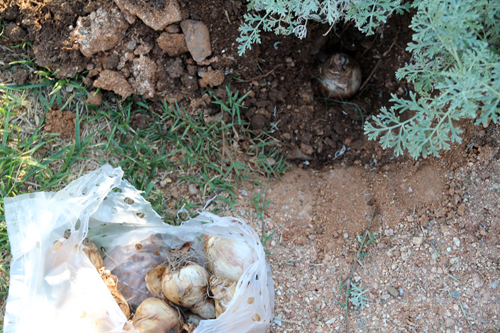 I actually remember watching my mom plant daffodil bulbs by the wheelbarrow full while growing up on the slightly more fertile, rain-loving northern coast of California. She would literally trowel out holes the size of graves and fill the ground with hundreds of bulbs at varying depths. Come spring, those bulbs would slowly break through and line all pathways leading up our driveway in a brilliant yellow! It was beautiful. It marked the arrival of the season.
My planting is slightly more diminutive.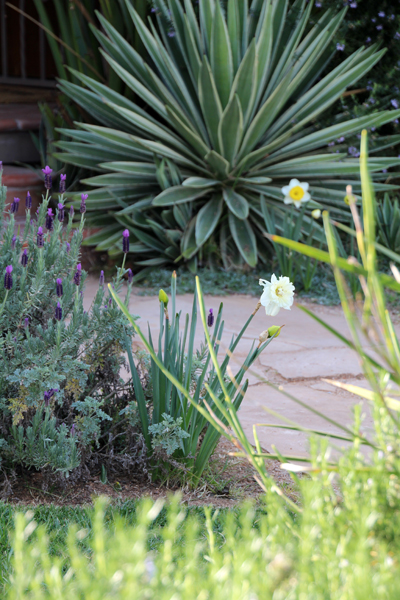 I was actually pretty sure that come spring (5 months post-planting), little would show for my efforts. So imagine my surprise when these beautiful little stalks began to poke up through that gravel-rich, ultra-dry soil that is our desert front yard.
Oh hello spring!! (in my best Carrie Bradshaw voice) you have arrived!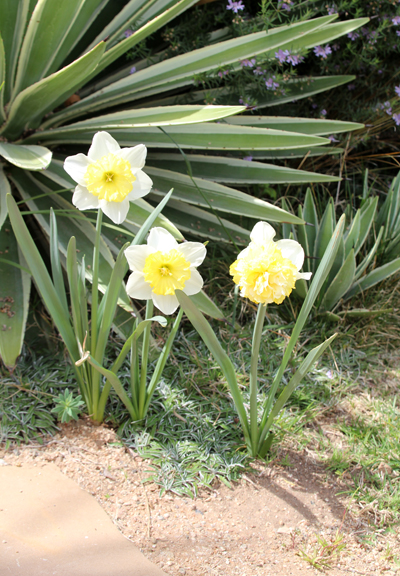 The allium has yet to make an appearance… but I'm keeping my fingers crossed that just as planting daffodils at different depths will yield different blooming periods, these guys will suddenly pop through and surprise us! Because… maybe they take longer to germinate? At least the packaging promises 'late' spring blooming while my daffodils boast of 'mid' spring blooming.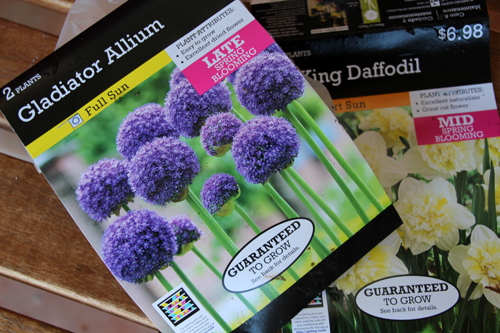 Oh please pop through you pretty little puffs.
As for actually planting these guys, last fall I chose four or five special little spots in the yard and nestled 3 or 4 bulbs in each. I hadn't started the bulbs in water outside of the ground nor have they received special attention since (except for the occasional watering). I planted them about 5″ or so below the soil, but that includes the decomposed granite and mulch that is the ground covering for most of our desert-friendly front yard.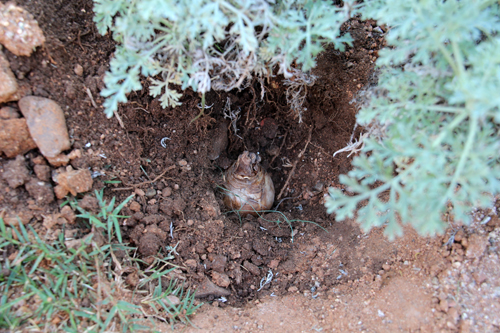 Your average visitor would have no idea my delight in the garden at the moment. But I spot that little yellow welcome sign every day!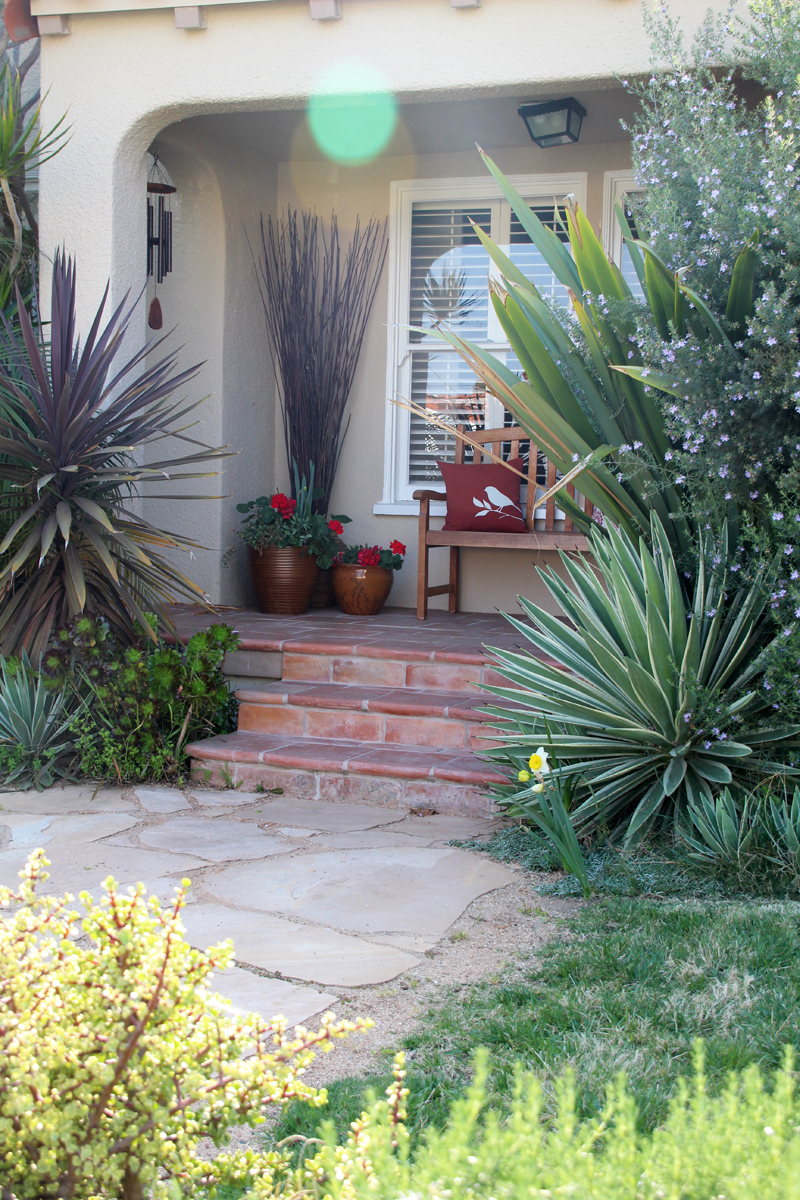 Actually, I'm a little surprised that they are already starting to wilt and shrivel up. So much work and anticipation for just a week's worth of bloom. Is this odd? Perhaps next year (now that I know that I can do it!) I'll plant layers of bulbs so that just as my mom did so that as one set begins to die down the next will begin to bloom. Kinda sounds like a pricey solution to a month's worth of blooms though?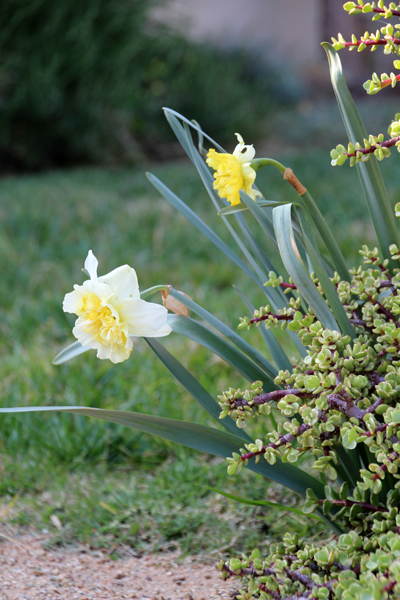 In other spring bloom news, remember when the flower pots on the porch were finally planted and alive with color? Well there was one plant that I was a little nervous about…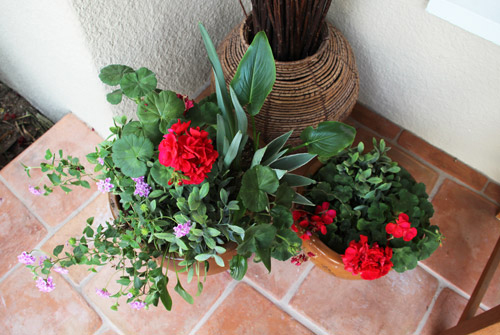 This one.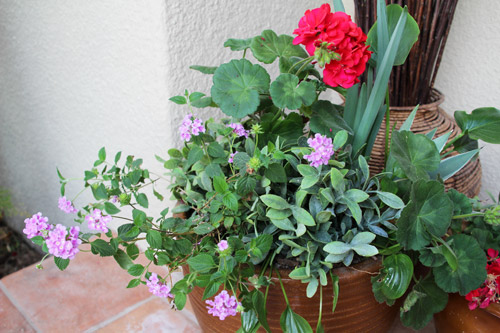 The tag from the original half gallon container mentions that verbena is of the half sun/half shade variety, and sure enough after a few weeks of zero sun (well, no direct sun) she looks a little bit more like this these days: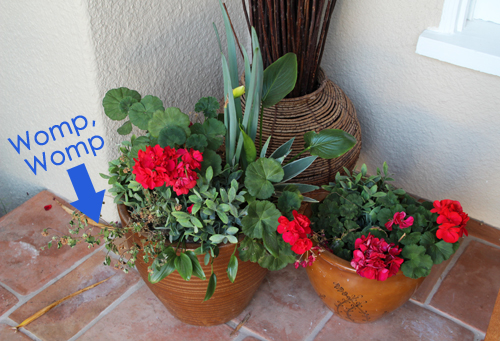 Can you spot the faux plants above? Love that they still look so pretty and green

.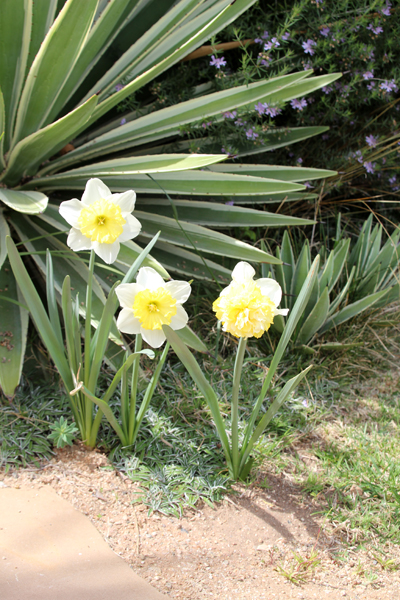 Sometimes it's the small bright spots in our life that cause us to stop and reflect. Thinking of all of those affected by the Boston and Waco tragedies today and offering up prayers of support for the courageous actions of all of those involved.
PS More curb appeal projects found right here.
PPS Talk about unusual art! This artist recently sent over this neat quack-inspired video.
Posted in
Curb Appeal
,
DIY
,
Gardening
,
Home
,
Our Yard
,
Renovating Adventures
|
Comment »
April 17, 2013
Well sort of. The wallpaper samples for the nursery remodel have arrived. I've been staring at them for a couple of days now and am trying to imagine how each might look covering an entire 10×15′ ish wall – and I have to be honest – I love them all. I'm pretty sure that any one of these designs would be so perfect in here. Which oh which to choose?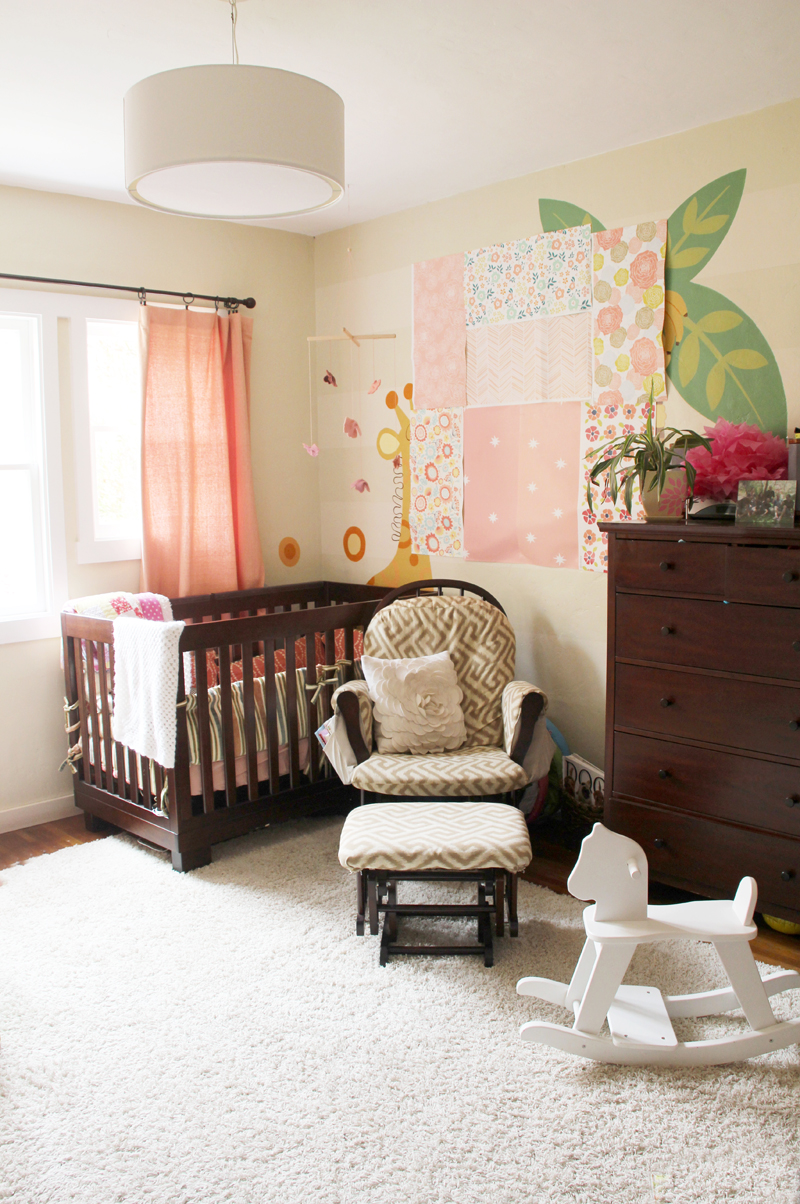 Here they all are up close if it's hard to see the above at an angle.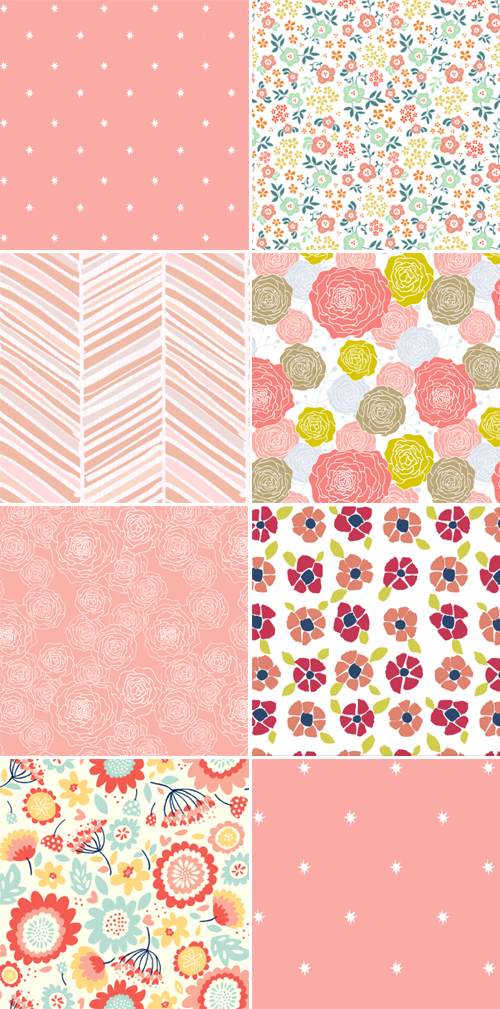 Most of these I shared here when I was debating on what direction to take my solo statement wall. Clearly I'm still debating, even when I was sure that ordering my favorites and hanging them up would help settle that nursery quandary!
All of these wallpaper samples are from Spoonflower, an awesome site that lets you design and print your own fabric and wallpaper (oh search thousands of predesigned options by different artists, sort of like Etsy). I've used them a ton and they are reasonably priced compared to purchasing something manufactured (though boy does it take a long time to process and ship your order… I have too little patience these days).
I designed the two starry prints (top left, bottom right) which were inspired by this Osborne & Little wallpaper. I spotted the pretty night sky in House Beautiful a while ago and the image sits in the back of my mind. Not happy with any of the colors offered through Osborne & Little, I recreated from scratch and used both a peach (top left) and light pink (bottom right) as the background, while also softening up the stars and playing with the frequency in pattern. The rest of the prints are handmade on Spoonflower by various artists. Clockwise you can find the links here: 1, 2, 3, 4, 5, 6, 7 & 8.
The pinks are not exact, the fabric examples are still undecided (and will depend largely on the wallpaper) and this is in general a pretty crude photoshop markup, but here's how I think the bookshelves will work with the space once they're installed: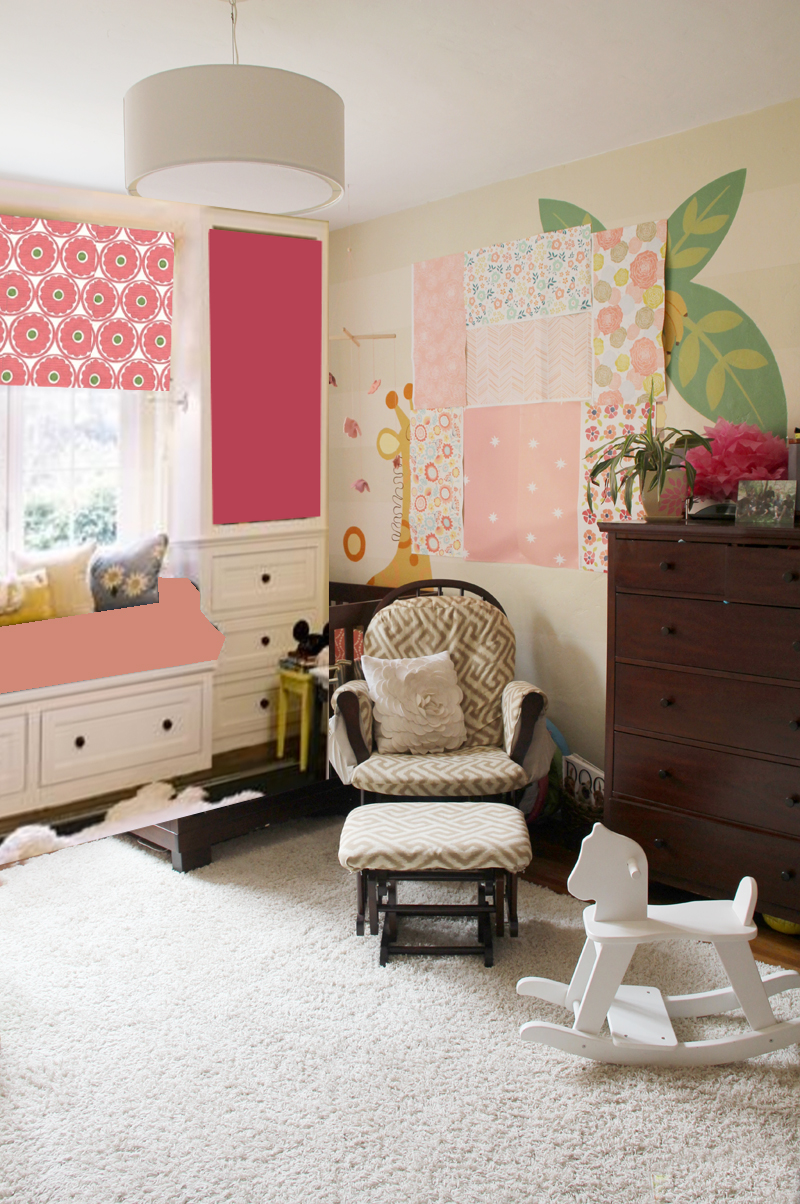 Amazing for storage, right? Oh man I can't wait.
Update: Fabric Warehouse Direct is offering that beautiful Kravet window covering fabric that I photoshopped into the above pic at a steal of a rate right now. 
Ignore the random throw pillows and the other pieces of photo I didn't get a chance to photoshop out. I'm imagining a dark pink painted backing in those top shelves, hence the awkward block of color at the moment. If you squint you can begin to see it all come together…
Ahhh, it's all becoming so real!
Tags:
Bedroom
,
Decorating
,
DIY
,
Home
,
Nursery
,
Patterns & Color
,
Pink
,
wallpaper
Posted in
Girls' Room
,
Home
,
Liv's Nursery
,
Renovating Adventures
|
8 Comments »