October 18, 2009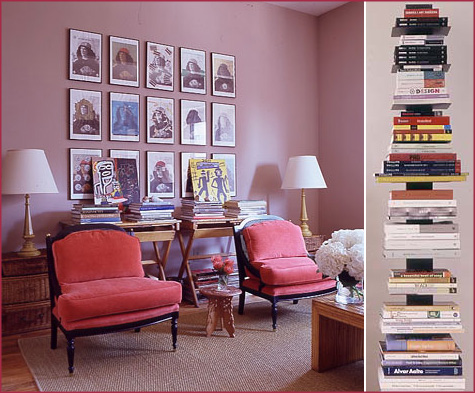 One of my favorite new trends is a unique way to display your favorite books: stacking one on top of the other. It's a simple way to mix up your current bookshelf or create new displays around the house.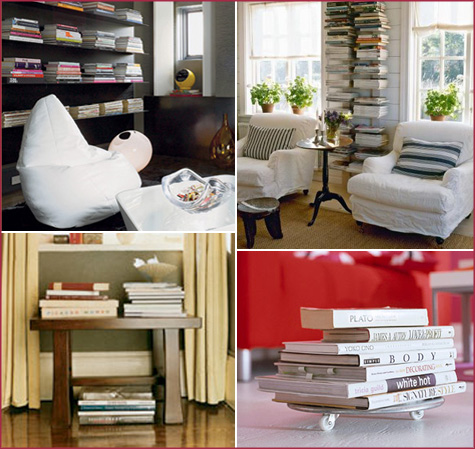 I love the way stacked books look on ledges, like the above left photo, or the way the 'invisible bookcases' (shown below) work seamlessly into the above right room.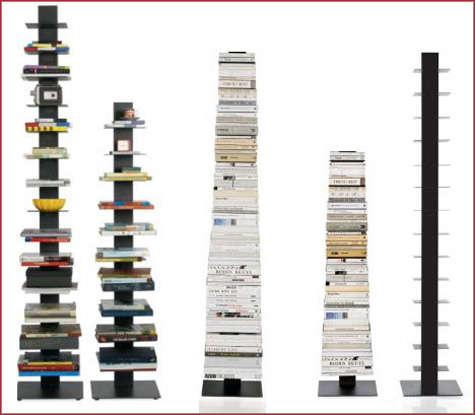 Follow the jump for more great ideas and where to find the shelving units displayed! Read more »
Tags:
Accessories
,
Decorating
,
Furniture
,
Home
,
Living Room
,
Office
,
Organizing
Posted in
Home
,
Organizing
|
5 Comments »
October 17, 2009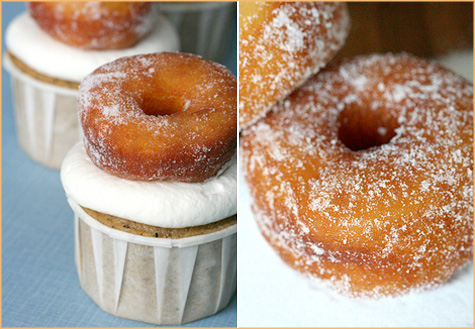 Oh no they didn't… yes they did! Cupcake Bakeshop combines the best of both worlds in this made-in-heaven combination: Doughnuts + Coffee Cupcakes, for a mouth-watering spin on the morning coffee and a doughnut treat. Oh YUM!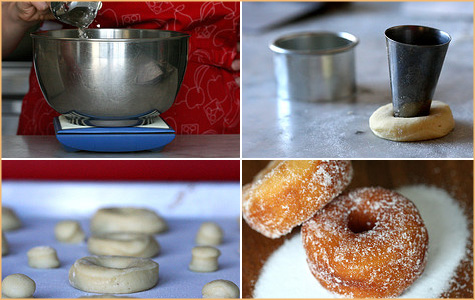 And The Noshery shares a very similar take using a coffee frosting and rainbow sprinkles: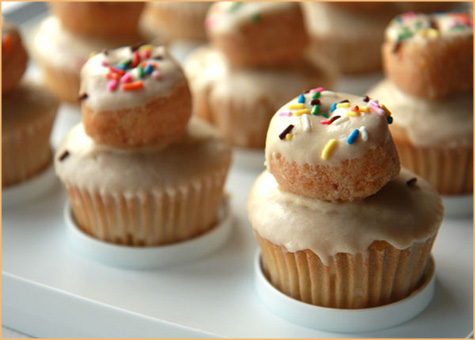 I found these beauties over at Just Jenn Recipes: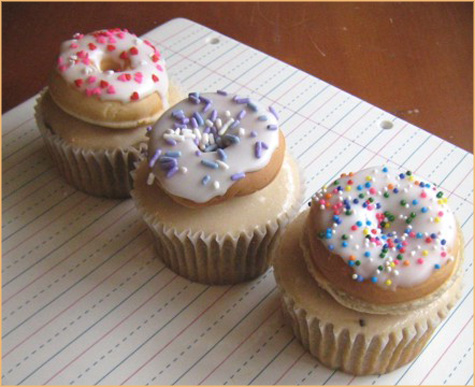 For the complete recipe and How-To, follow the jump! Your co-workers would be oh-so-happy if you brought these in for a Monday morning treat… or Sunday brunch, anyone? Read more »
Tags:
Birthday
,
Cake
,
Desserts
,
Kids Party
,
Parties & Entertaining
,
Recipes
Posted in
Parties & Entertaining
,
Recipes
|
5 Comments »
October 16, 2009

After several weeks of hosting Friday Guest Blogs of some very brilliant party/entertaining designers — you have to admit, these women are so brilliant — I thought it would be fun to mix it up with a few of my favorite home decorating blogs. Sharalee, from A Life More Fabulous, graciously agreed to answer PDB's four interview questions first!
Having grown up in Zimbabwe, and later living in an assortment of inspiring places such as Toronto, London, and Colorado, Sharalee brings an eclectically influenced beauty to her design style that is unusual and captivating. She also has a self-proclaimed 'life long obsession with interior design and beautiful houses' and an 'unhealthy collection of interior design magazines and tear sheets', all of which have slowly transformed into a fantastic blog that launched in April of this year.
'I've started A Life More Fabulous to fuel my passion for all things design and to chronicle and share some of my finds.'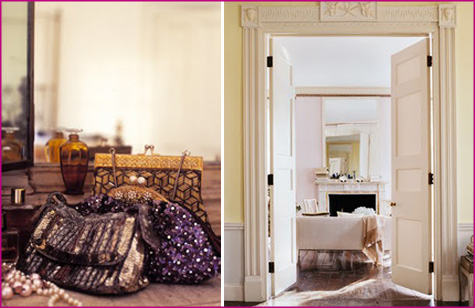 I started following A Life More Fabulous on my RSS feed just a couple of months ago, and I go back again and again to get bits of inspiration for here and there. My reader (don't have one? you should really consider) has become like that of my favorite decorating magazines — I pour my morning cup of coffee, sit back at my desk and read through the latest postings of those blogs which I love most. It's like flipping through a well-worn Elle Decor — you may actually never do those grand room ideas you find, but the daily design impact will nevertheless leave an impression on you.
My decorating style is forever pulled and twisted into this direction and that with the regular reading of my favorite design blogs… and so without further ado — I present my interview with A Life More Fabulous! Read more »
Tags:
By Color
,
Decorating
,
Guest Blog
,
Guest Interview
,
Home
Posted in
Guest Blog
,
Home
,
Interview
|
Comment »