I'm letting you all in on one of the best kept design secrets on the web today… a blog completely dedicated to finding style for less, and showcasing daily designer finds and their near comparison at a great discount!
Reichel of Copy Cat Chic is one of my favorite daily reads (I recommend subscribing ;)) and I always look forward to the latest steals. I've searched the archives more than once to seek out a rug or chair for a room, and it's a happy day when that House Beautiful desk you spotted can be found for a 1/3 of the price!
A few examples of daily posts: expensive version on the left, equally stylish but much more wallet-friendly option on the right.
In addition, she's a new mommy to adorable Arden who's just a few months behind Liv (love the weekly photos she posts of her little one in her latest outfits) and Reichel creates beautiful style boards for complete rooms that are full of inspiration (an example after the jump).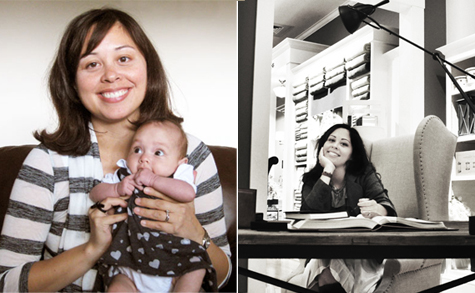 I was delighted Reichel wanted to share a few of her own design secrets and tips today, and I think you'll like the well-thought out interview answers that follow.
…