If you've been around for a bit you know that we built a kitchen out of a dated den in the back of the house (which actually used to be a master bedroom). Kevin spent much of his summer/fall last year tearing up walls, installing cabinets, tiling backsplashes and plastering/painting – and we LOVE our new space! Scouring sales, taking full advantage of promotional codes and becoming Craigslist addicts helped to make it all possible (that and a whole lotta sweat equity).
The kitchen has sat for over six months at 90% complete – it's functional, it's beautiful and there's little motivation to get that last 10% done. But this past week we're about 5% closer!
One of the new updates is new cushions for the barstools (a Craigslist find – I think the stools may have originally been from World Market):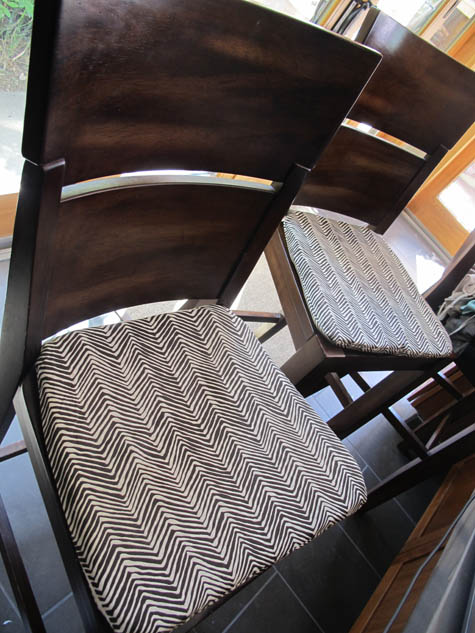 A decorative element missing from the space included a few complimentary and contemporary patterns.
A year or so ago I came across a pattern that I dogeared in magazine after magazine… and when I found inspiration filled with it again earlier this year the images popped back into my mind.
You know when you just can't shake something? This was one of those things.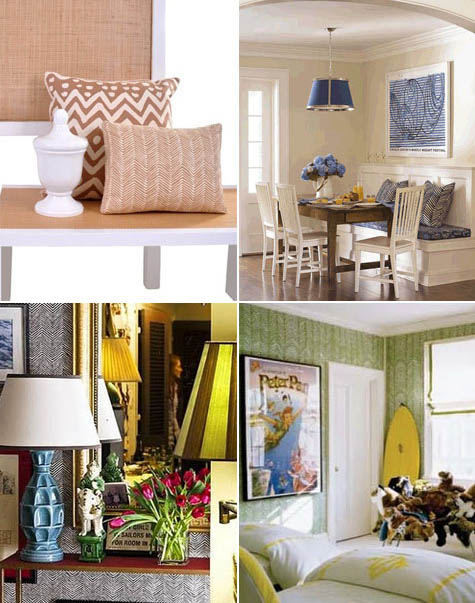 What's similar between all of these rooms?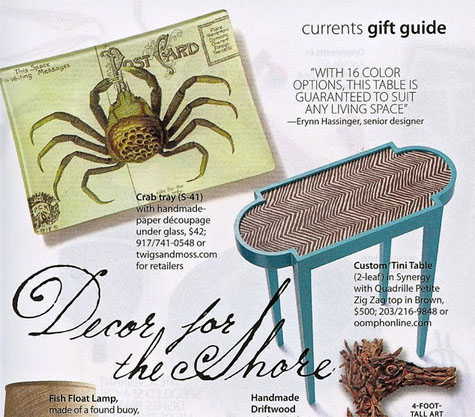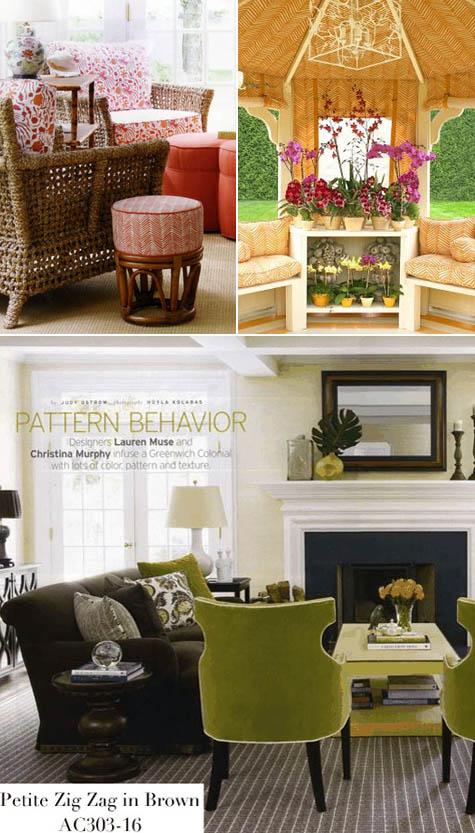 A classic zig zag print! I love the simplicity of the basic but modern zig zag pattern. Premade cushions weren't an option (the stools are an awkard size) and so I began sketching out cushion shapes (box vs knife edge vs french) that would fit evenly on a one yard piece of fabric (all three cushions) and finally took the plunge and ordered just one yard of Petite Zig Zag by Alan Campbell for Quadrille from Pacific Design Center (great resource for traditionally to-the-trade fabrics). Knife edge ended up winning out because it required a simple sandwich-style seam (like a pillow) as opposed to welting, edging, etc. and three could be sewn with one simple yard.
It arrived and it's beautiful! A few invisible zippers (more to come + a tutorial) and several seams later and the bar stools have a brand new look.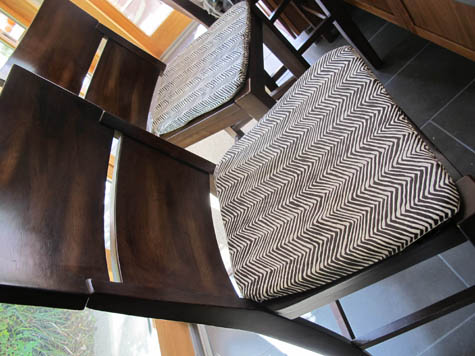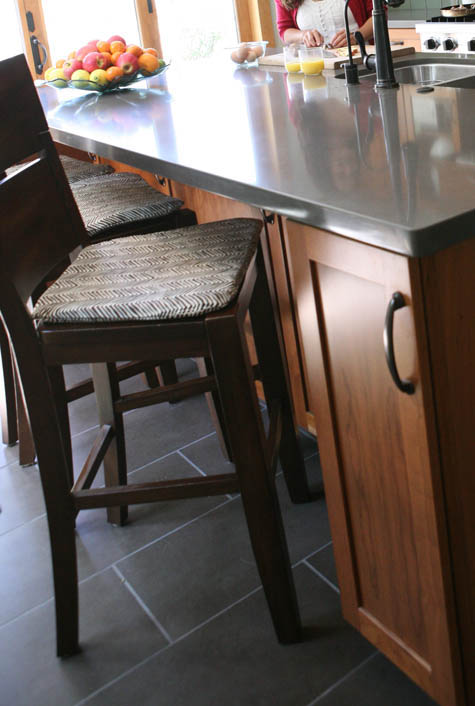 I've always been a fan of adding bits and pieces of modern and contemporary (maybe even trendy?) pieces to a room in the right quantity. A remnant or fabric sample is a great way to achieve that at a fraction of the price. To make projects like this even cheaper, purchase the foam insert from a discount fabric shop (I chose a thin foam because our bar stools are high – choose a thick, sturdy foam if going for a box-style of cushion) and sew the pieces together yourself (OR find a reasonably priced seamstress such as at a dry cleaning shop).
The cushions add a new something to the space – love that.
More den to kitchen posts here: days 1-6, 7-12, 13-19, 20-28, 29-30, plus the inspiration board and 'before' pictures.