Ready for spring? Nothing announces the coming of spring like wedding invitations! I love getting a little dressed up and a wedding is the perfect occasion to pull out my favorite pumps and go shopping for a new cocktail dress.
We have a wedding next month and right now I'm leaning towards a blush/beige ensemble like this: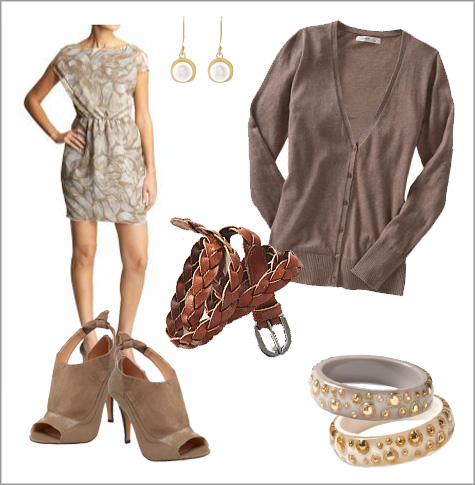 This color palette is really complimentary to olive complexions such as mine and the layers make for easy wedding indoor/outdoor transitions. Now that my waist is slowly beginning to make an appearance, I'd love a beautiful cinched-waist dress and casual-ish belt (such a this braided version) to emphasize the return of the non-pregnant stomach. Pair that with suede pumps, gold jewelry and a long cardigan and this would be my perfect outfit!
When not in wedding mode, I tend to run around town in a work-meets-play get-up of dark trouser jeans, slightly dressed-up blouses and comfortable wedges or flats. Pair that with a military-inspired jacket and another slimming belt and I can go from home office to lunch meeting to errand running mom (eek – did I just say mom?) to cocktail hour and feel appropriately dressed for all of the above.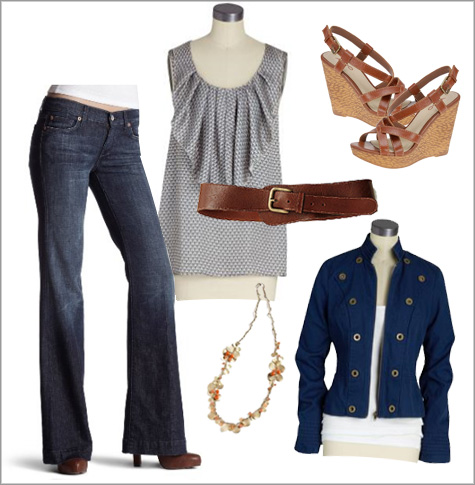 Oh I love this cascading ruffle blouse!
For source and pricing info (and more fun ideas), head on over to the Wardrobe Style Boards page. Happy Wednesday!