My usual decorating process goes something like this:
1. Collect inspiring images into a folder on my desktop (over days or months)
2. Identify and pull from those images what resonates with me from each room (maybe a beautiful chair or wallpaper pattern)
3. Compile an inspiration board of furniture & general aesthetic from the images
4. Use the inspiration board to inspire colors and patterns
5. And finally DIY and search out components of the board until the room is complete, tweaking to incorporate great finds and changing tastes
Try as I might, I've gotten as far as step 2 for the new nursery over the past 8 months (yes, 8 months!). That darn room has changed so many times in my mind that as soon as I'm ready to commit I change my mind again.
But here's a look at step 2. Here are the images that have resonated with me over the past year for this reason or that: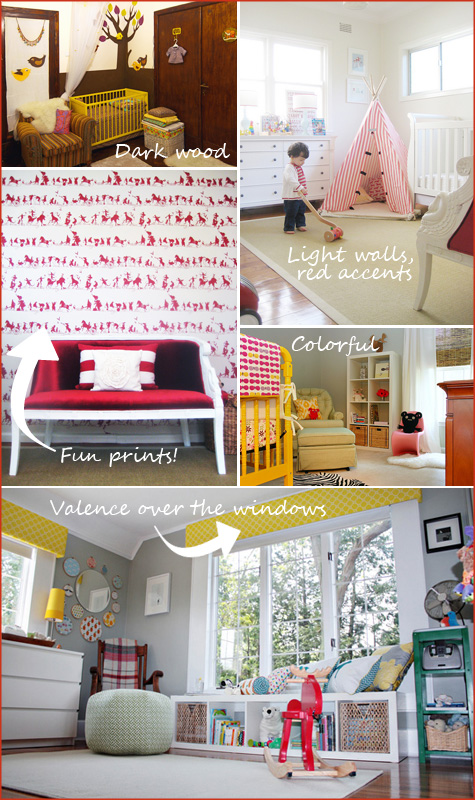 It only adds to the conundrum that the room has to stay fairly gender neutral until baby comes. We're both excited to wait for 'the big surprise' but it's difficult to build a design concept that doesn't inch too much towards masculine or feminine.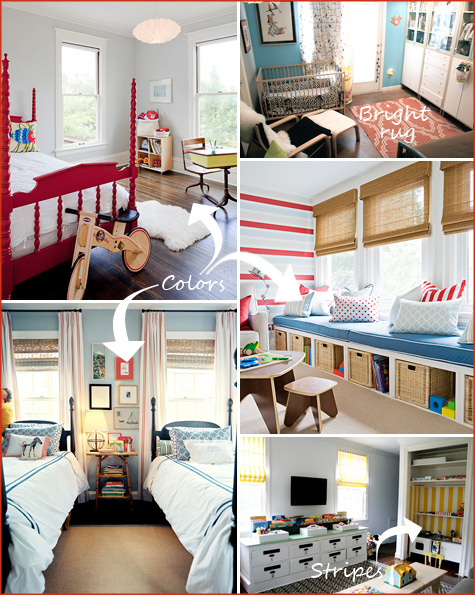 I'm pretty certain the basic colors will stay in the neutrals (white, tans, browns) with splashes of red accents. From there, baby blues and yellows can build up a more colorful backdrop and I'm excited to use a decent amount of playful patterns in various fabrics for crib bedding, window valences (to corral those three awkward windows), curtains, pillows, fabric decals and the like.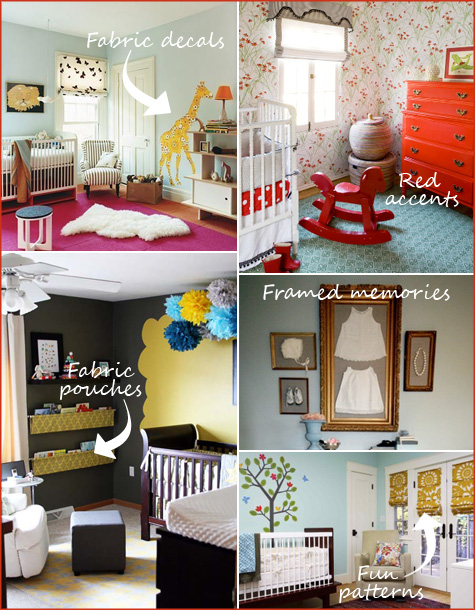 Here I go, back to the drawing board. If I don't have a pretty descriptive inspiration board to help guide my choices I end up doubting and returning more than I'd care to admit! Laying out pattern and color choices in advance makes for a fun design process – and pulling all of the pieces together is always my favorite part.
Stay tuned!
Inspirational rooms from above: Ohdeedoh, Samantha Pynn, 6th Street Design School, Ish & Chi, Isabella & Max and others from months and months ago…