December 17, 2010
When I was working on the inspiration board for our bedroom I had my heart pretty set on simple drop cloth white curtains. What could be a cheaper material and a more classic look than basic white canvas?
Ahhh if they only sold basic white canvas drop cloths. I checked five hardware stores (which sort of takes away from the low-cost mission) and came up with tan/natural options only. I even considered a) ordering online and paying to have the canvas shipped to me or b) purchasing canvas fabric from the local discount fabric shop and hemming them myself. Both seemed too time consuming for what was supposed to be a basic project…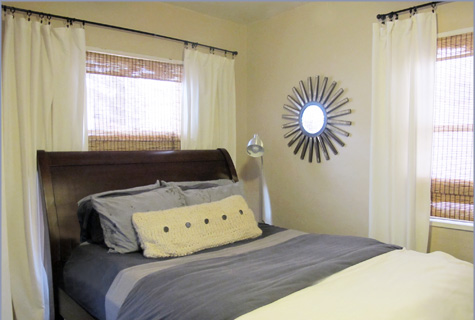 Thankfully a recent trip to Ikea revealed white panels for $14.99/pair. Perfect! Drop cloth canvases from Lowes were roughly the same price for a similar amount of material.
Drop cloth curtains would require curtain clips, so I modified my Ikea panels to create a look slightly more jazzed up look by trimming each tab off of the top of the curtains.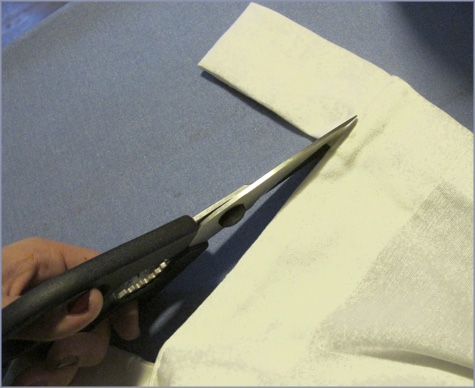 Then up went the rods and bamboo roman shades!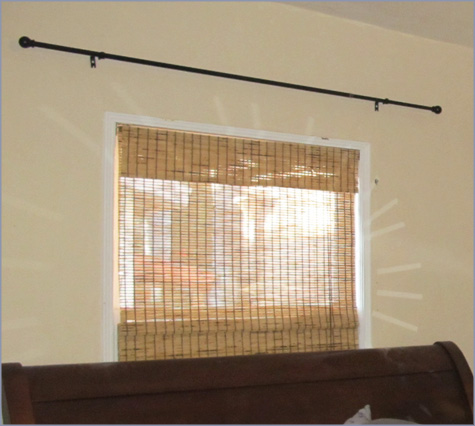 I like to hang rods slightly higher than the window frame to add a little drama.
Each curtain panel received a set of curtain clips (you can find these at your local home improvement store or home decor store) and a very thorough ironing.
I wanted the curtains to pool a bit at the bottom so I didn't bother hemming them (that's not a pretty pool job above, but you get the idea…). A quick application of iron-on hem tape would take care of raising the length if need be.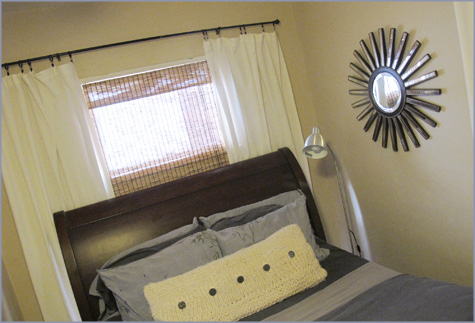 And there they are! Not much to holler about but a clean, basic, affordable solution to what were empty and boring windows. It also has always bothered me that the window behind the bedframe was so much smaller than the actual headboard, now the curtains help to balance out the proportions.
One more project for the master bedroom down!
Tags:
Bedroom
,
Before & After
,
Blue
,
Crafty Solutions
,
Decorating
,
DIY
,
Fabric
,
Home
,
Tutorial
,
white
Posted in
Home
,
Renovating Adventures
|
13 Comments »
December 13, 2010
I'm bringing it waaaaay back today with a follow-up to a forgotten room makeover project posted here on the blog a long time ago.
With the craziness surrounding the full kitchen remodel (DIY style) and the new nursery the bedroom redesign was sort of pushed aside. And by sort of, I mean completely put on hold and forgotten about for a good three months.
Here's a reminder of the before-we-moved-in status: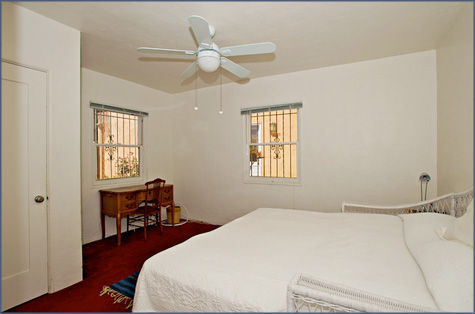 There's no longer carpeting in the room (why, why, why red?), nor are there bars on the windows and we painted the walls my favorite neutral tan. Then after agreeing on an espresso-colored bed and dresser off of Craigslist, Kev and I lived in a semi-complete room for a good bit of time. It never bothered me as we didn't put the room on display when guests came over, just quietly closed the door and let our clothes remain stacked on the hamper and our bed sometimes unmade.
A few months ago I decided it was time to tackle the space and I used these rooms to build this inspiration board: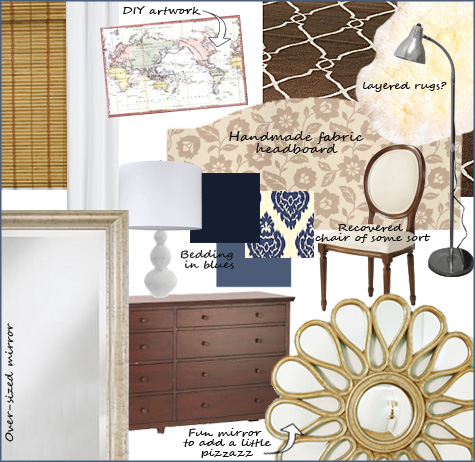 And so began the hunt for some of the key pieces/room additions.
Here's a post on the DIY fabric headboard I made for the space and here's the post on my hunt for a rug for the room (scored a great one at Overstock.com). Try as I might, I still couldn't find that perfect mirror that I had envisioned for the space… I even wrote a post on my favorite contenders here.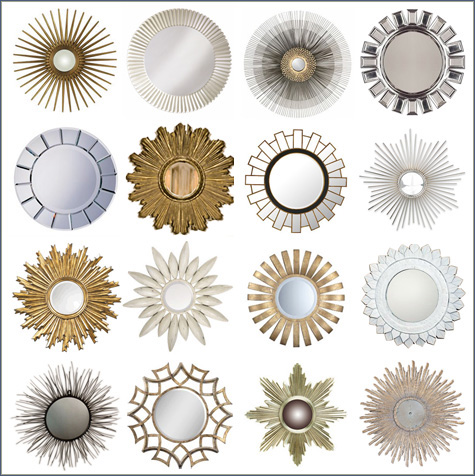 And then the skies opened (cue the angels singing) and the perfect mirror appeared during one of my Michaels Craft Store visits. Best part of the whole deal? I picked it up for less than $50 with a 40% off coupon.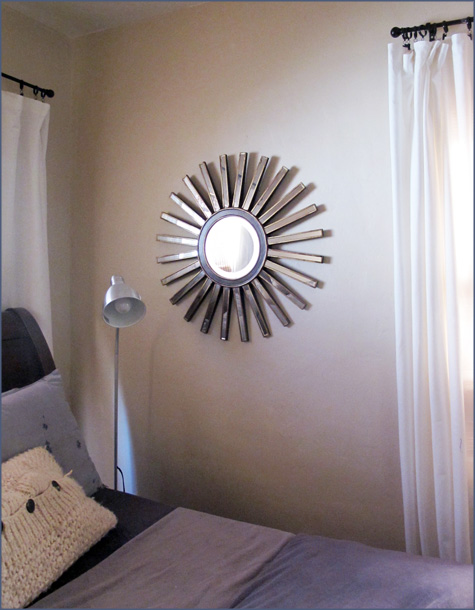 I think she's perty. And it's a perfect size for this corner wall space between windows (more on tackling those curtains to come).
Maybe it's my nesting hormones or maybe I'm just tired of a dull space – but master bedroom, you're finally getting the love you deserve!
Tags:
Accessories
,
Bedroom
,
Decorating
,
DIY
,
Home
,
Mirror
Posted in
Home
,
Renovating Adventures
|
5 Comments »
December 9, 2010
I was looking forward to creating some pretty neat animal wall decals out of fabric or wallpaper for the new nursery (see the inspiration board here), but then I received the most wonderful surprise from Kevin's mom and aunt. They offered to drive all the way from Phoenix to help paint the nursery just this past weekend – in any design that we'd like!
His entire family is filled with amazing artists and his aunt is especially talented as a professional home muralist (Palette of Possibilities). Because of the short notice and the gender-neutral theme, I stuck with my original animals and asked them to paint several zoo/safari style characters around the room.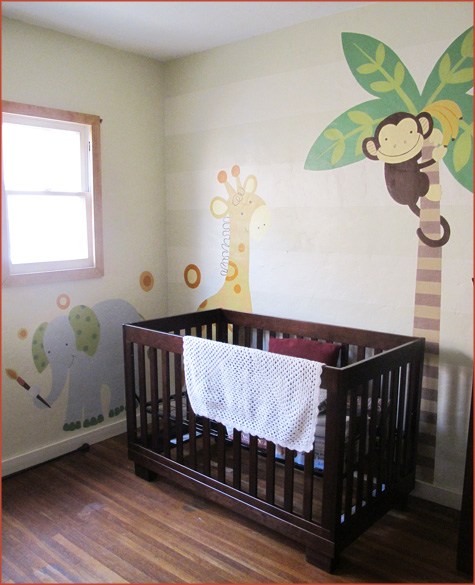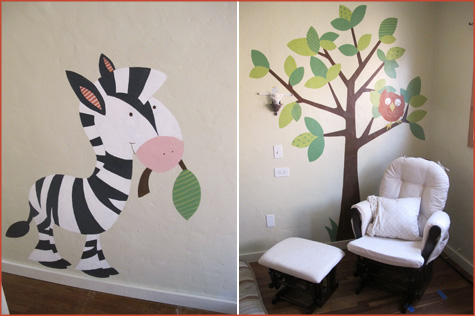 They're so talented! Here they are in progress: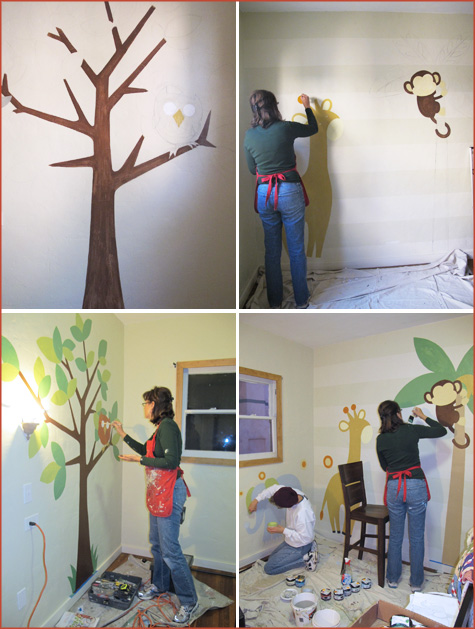 They spent an entire Saturday from dawn until well after dusk finishing the room and I was so impressed with how fast the colorful animals came together. And then, just as quickly as they had arrived, they zipped away back to Phoenix leaving us with a beautiful nursery.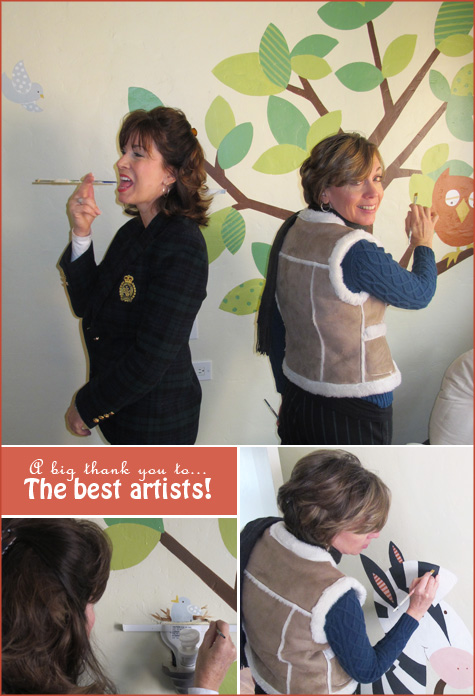 If you're on the hunt for some easy-peasy not-so-hands-on mural ideas, here are a few of the resources that I love: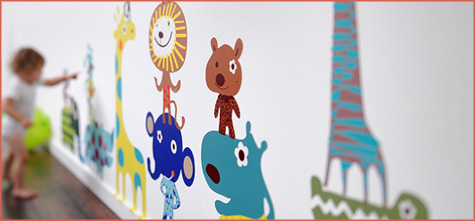 Jiving Jungle Pals fabric stickers by Pop & Lolli (completely reusable – just peel off and stick anywhere) are whimsical and adorable!

My Wonderful Walls has created a neat line up of wall stencils (such as the safari animals above) and they work with local children's hospitals to help decorate bare rooms. Beautiful art for a good cause!

The original designs that inspired an animal theme for the nursery were these beautiful patterned wallpaper decals by Inke over in the Netherlands. Shipping might be expensive but it would be well worth it!
For more Project Nursery posts, click the Home Makeover button on the right sidebar. The nursery is almost finished!
Tags:
Before & After
,
Crafty Solutions
,
Decorating
,
DIY
,
Kid's Rooms
,
Nursery
,
Paint
,
Patterns & Color
Posted in
Liv's Nursery
,
Renovating Adventures
|
13 Comments »