December 5, 2011
In the week of blogiversary giveaways, I posted that recently I had turned my favorite calendar into new wall art for the kitchen.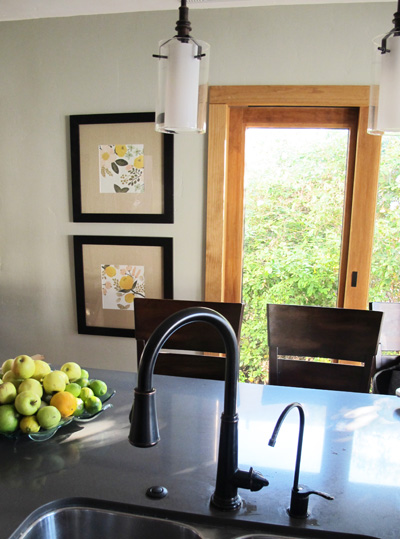 Previously, the gap on the wall looked like this: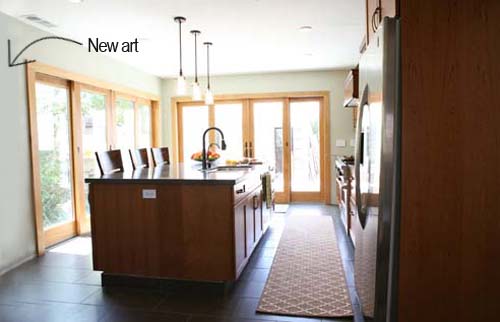 Sorely in need of something large and in charge to both soften the room and fill up blank space.
I'm pretty picky about art, especially something so prominently placed that's going to be seen day in and day out, so I had a hard time (a really, really hard time) coming up with a solution for the space. I had one large Ikea square frame in my little frame collection and realized that this area of the kitchen might just be the place for it. After testing out on the wall I determined that two stacked would be better and picked up one more. Progress was made! Now I needed to find art.
When I came across this calendar on the Rifle website by chance, I fell in love with the style of the illustrations! There were several months in the calendar that I thought would especially work well and in one of those crazy moments where the stars collide and you make up your mind on the spot, I bought the calendar online.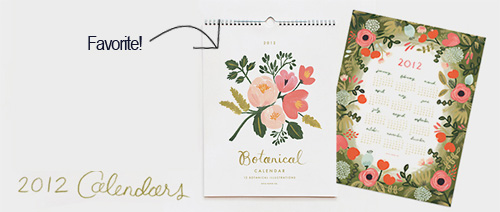 While I waited for the calendar to arrive I set out to find mattes for the frames since I knew that the calendar pages were 11×11″ and not my 22″ frame size. I usually err on the side of white but the linen mattes from the office wall collage were some of my favorites, and a similarly textured matte would look great in the kitchen against the natural woods and jute rugs. After much price comparison I went with Michaels where they cut the mattes for me for ~$20 each (I usually buy my all white mattes on eBay where they can be custom cut and are the cheapest).
But then the calendar arrived and oh no! Not only were the beautiful illustrations visible in the frame but the title of each month was too: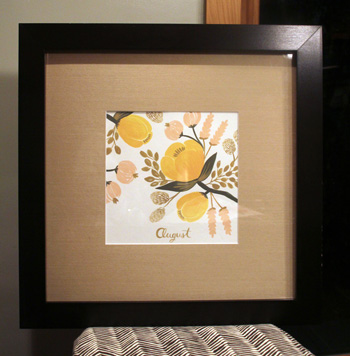 Why hadn't I thought about that? Not what I was hoping for.
After a little creative brainstorming I ended up cutting apart other pages of the calendar with similar foliage and tried to camouflage the lettering by covering it up.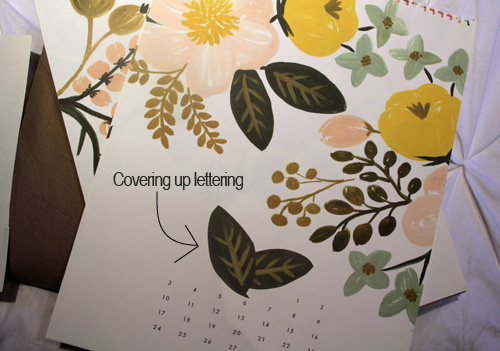 In tutorial form (because I am all about visuals), here goes:
**************************************************************************
DIY Art with Creative Cover-Ups
mfra
Materials: frame, matte, art to frame, photocopy of art to frame OR similar art (for the purpose of camouflaging whatever it is you're trying to hide), scissors, glue stick
Cut, position and glue!
Cut as closely as you can to your copied art (via photocopying, scanning and printing, or purchasing a duplicate of the same piece) and hide your lettering (or whatever it is you're hoping to make go away).
And here they are hanging!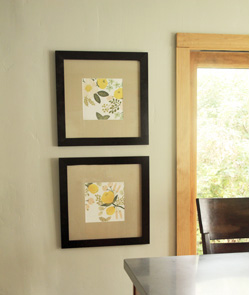 **************************************************************************
Love the look of the linen matte (which has a slight texture) against the illustrations and love the dark frames that compliment our oil rubbed bronze kitchen faucet and pendants.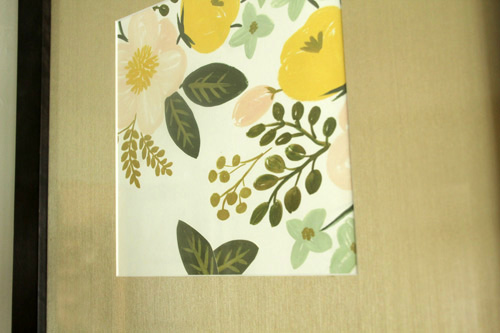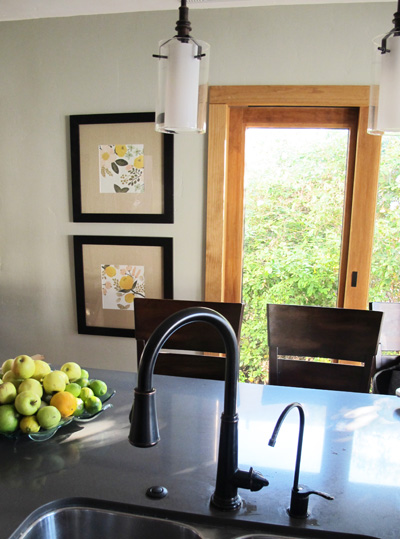 It's all about bringing in different elements in different places. The dark wood barstools compliment the dark wood range hood, the lighter walnut cabinets are similar to the doors, the dark slate tiles have the same leathery grey as the counter tops and now the oil rubbed bronze is evident in both the faucet, pendants, cabinet pulls and art.
The left side of those frames is a window under construction (boarded up) waiting to be turned into the top of a built-in bar (potentially in many many years

). But as of now, the new art compliments the room really well! And I'm glad I found a fix for art that I really do love.
All kitchen makeover posts can be found right here.
Tags:
Accessories
,
Crafty Solutions
,
Decorating
,
DIY
,
Home
,
Kitchen
,
Tutorial
Posted in
Crafty Solutions
,
DIY
,
Home
,
Our Kitchen Remodel
,
Renovating Adventures
|
5 Comments »
December 2, 2011
It's been a while since I've had the chance to add a post to my Going Green series, so I thought I'd take a moment to mention a little research I did just about this time last year. We're doing our best to live as sustainably and low-impact as possible (more on that here) and purchasing green furniture when affordable is something we considered for Liv's nursery.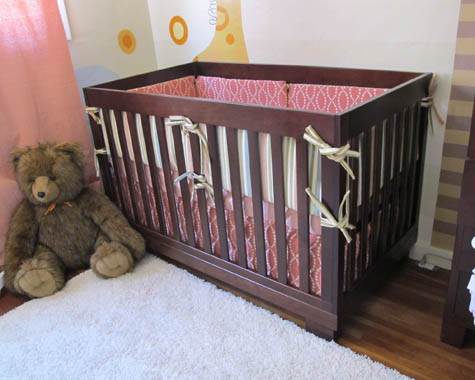 To me there are several ways to purchase 'green' furniture: upcycling (bringing new life to thrift and old finds), recycling (reusing what you have) and purchasing new with eco-friendly in mind. Admittedly, we do lots of the first two and very little of the last, mostly because it's just too pricey.
A few examples of Craigslist, thrift store or upcycled finds that have found a new home with us: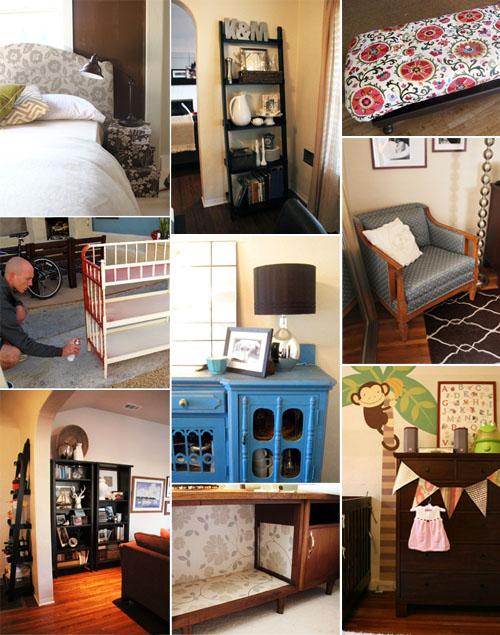 But when it came to Liv's crib I decided to buy new, namely because I was a brand new mommy and I wanted something that I knew had passed all recent safety tests and also because I knew it wasn't uncommon for little ones to gnaw on the wood in their cribs (and if I found a cool hand-me-down I couldn't be certain the paint was non-toxic).
Side note: did you know that babies spend somewhere around 4,200 hours (or 175 days) in their crib during their first year?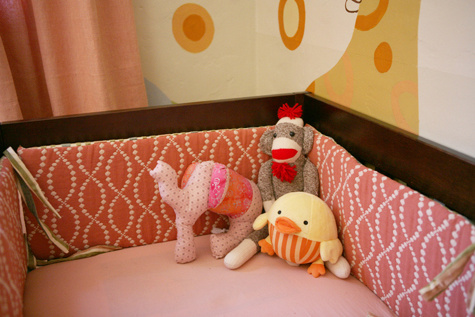 Here are a few guidelines that I tried to follow closely when searching for the right crib (though I suppose you could go by this list when searching out any green furniture):
*Sustainably harvested wood (even better if it's a fast growing, fire and decay resistant hardwood such as Paulownia wood)
*or formaldehyde-free MDF (bonus if it's recycled)
*Water based paint (no lead, oil, phthlates or VOCs)
*Glue-free (aka formaldehyde-free)
*JPMA certified (for cribs)
*Tip proof (also for cribs)
But price! Oh my goodness, the price of eco-friendly cribs is in the $600-2500 range (yes really, $2500! Check out this cool but crazy expensive one) and we definitely couldn't do that.
After much research I came across the Babyletto Modo 3-in-1 crib (listed here at babycribstation.com) and after further research discovered it was built from solid New Zealand Pine from sustainable forests, had a non-toxic finish (no glue, no paint emissions) and is JPMA certified. Plus being a 3-in-1, if we choose to have Liv use it as a toddler and big kid bed it will last even longer (though we'll hopefully have baby #2 by the time she's ready for a big kid bed AND I'd love to design a cute, mini upholstered bed for her). I love the modern, clean lines of the crib and while I'm not necessarily a matchy-matchy person when it comes to furniture, it fits in pretty well with our existing dresser and bookshelf.
It's a bed that I anticipate using for 10+ years and that will see (hopefully) many babies (both ours and whoever we pass it down to – granted it still passes all safety guidelines), so at $379 I thought it was a steal!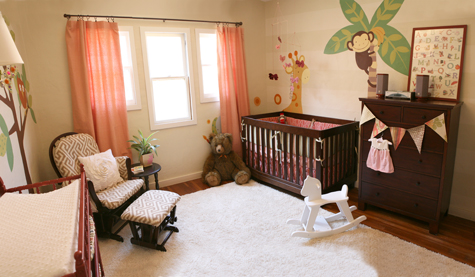 As far as the rest of the furniture in our house? We rarely buy new. Our bed, dresser, the armchair in our room, Liv's dresser, Liv's changing table, our living room bookshelves, big leather chair, office desk, office credenza, guest bedroom headboard, dining room bookshelves and dining room buffet table were all Craigslist and thrift store finds or passed down from a family member. But we occasionally buy new when we find a steal or save up for something we love, like our couch (which was the very first piece of furniture we saved up for together), dining table (that expands to seat 12 and collapses to seat 6 – a feature I was really looking for), Liv's Ikea bookshelf, office West Elm bedframe (to match my DIY headboard), office World Market bookshelves and WM side table.
We try to eat healthy (we participate in CSA, make our own baby food, have a mini garden and even have two city chickens), avoid creating too much trash (by recycling, composting and even cloth diapering) and when remodeling, reuse and repurpose materials (like for our kitchen). We're not super strict about it but I figure every little bit counts, and if we all make small steps today we can make big impacts for future generations!
Tags:
Accessories
,
Decorating
,
Home
Posted in
Going Green
,
Renovating Adventures
|
10 Comments »
November 30, 2011
It's been a while since I've made any decor updates to our current full bathroom (which we plan to turn into the master bath once our new guest bath is finished – I owe an update on that) so when I was out and about looking for capiz shells for this pendant project I also picked up a few sand dollars and white starfish to add to my current collection.
I thought it would be kind of cool to frame the shells for the bathroom since it doesn't really have any art going on. We haven't put much effort into it (other than painting it, DIYing a striped shower curtain and buying a few accessories – more about the $100 makeover here) because we know it will be demoed and gone in the next year.
But I'm off track… okay, back to the shadow boxes! Shadow boxes are an easy way to frame goodies and treasures to create instant art. It's easy to get carried away, but if you stick with one object (or multiples of the same object or same colored objects) it can look modern and fun.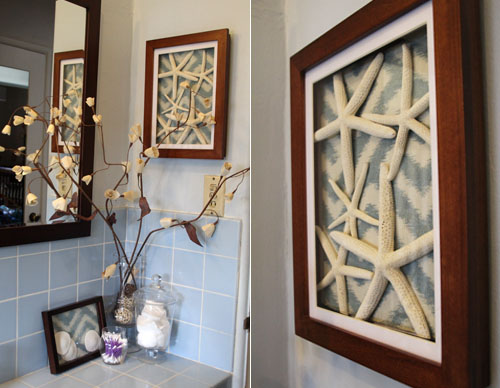 This bathroom is currently the house's only full bath (there's a little half bath in our room but it's about the size of a 4×4′ box so it's rarely used). Ignore the yellowing switch plate! It's little updates like these that we haven't put any time into because it always feels like we're oh-so-close to redoing the whole space. Plus, I searched and searched for a two-switch-plus-an-outlet light cover and these are definitely not to code any more. So no new outlet cover for us.

**************************************************************************
Fabric Shadow Boxes
mfra
Materials: shadow box, treasures to frame, fabric remnant, spray adhesive, velcro (depending on how well your box stays closed when hung)
To make the fabric lined shadow boxes I picked up a shadow box (in the kid's section!) of Aaron Brothers with my 40% off coupon and a smaller one from Michaels with their 40% off coupon. Gotta love those.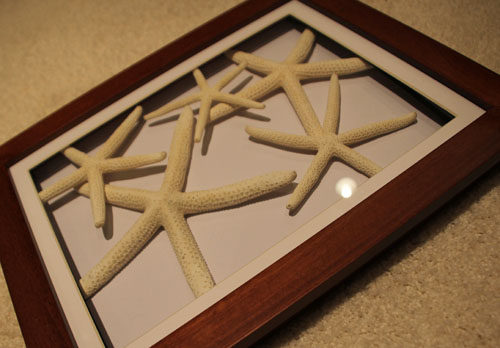 I played around a bit with the layout until I found a design that I liked. Liv oversaw production.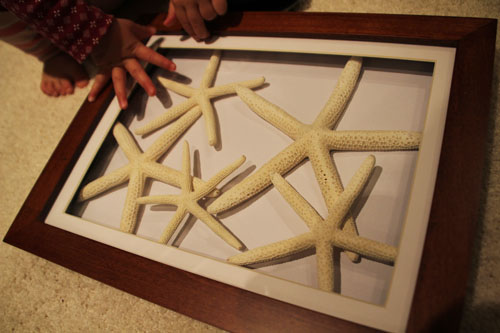 I bought my first batch of these starfish on eBay for a shower years ago just in case you don't have a shell shop near you. Is that just us with shops like that?

I cut up a remnant from my fabric box for the back of the shadow boxes that I thought worked well with the shells and added a little modern pop of pattern.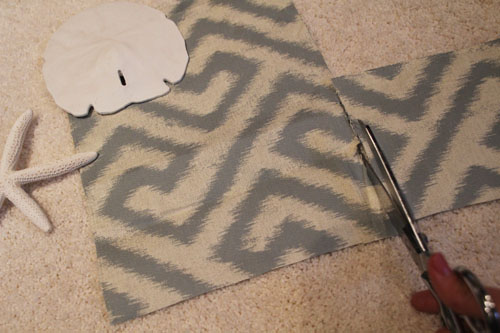 I used a little spray adhesive to attach the fabric to the inside of the boxes: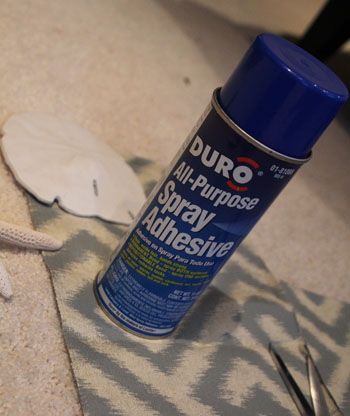 and applied a bit of super glue to the back of each shell before positioning them into the frame on top of the fabric.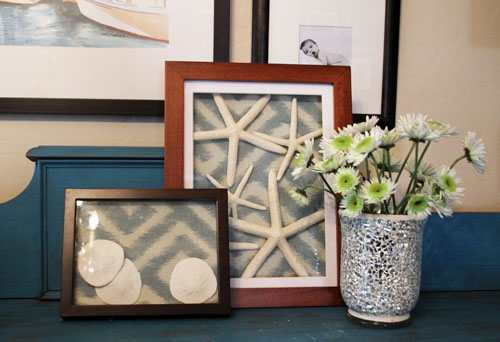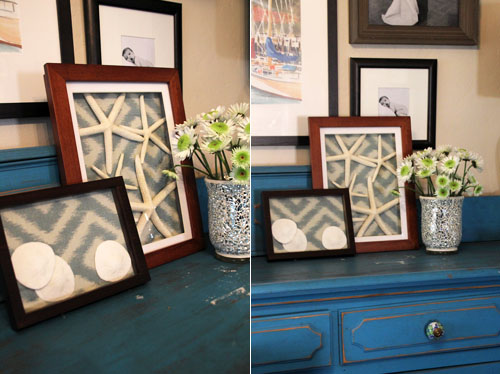 The would look great on top of the vintage buffet in the dining room but their real destination was the bathroom: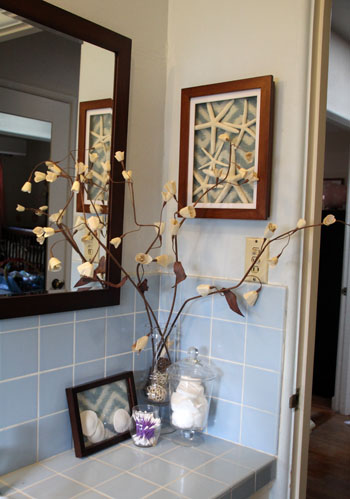 The little frame might stay there or it might move over to the shelves above the toilet. To be determined.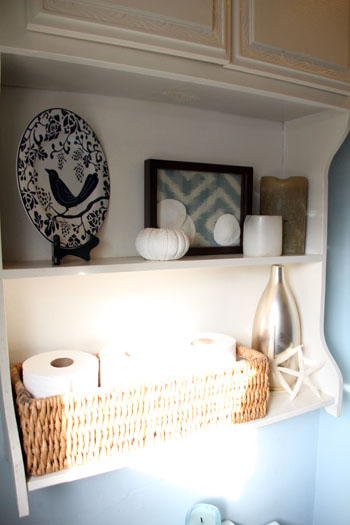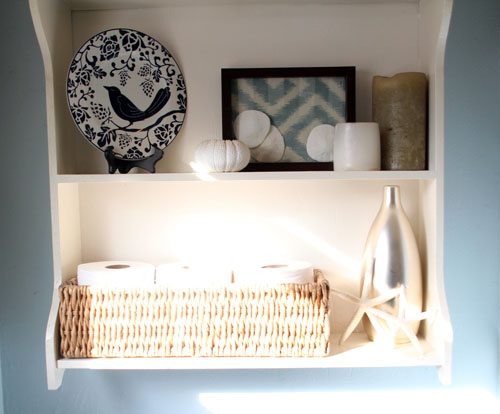 One of the shadow boxes continued to open up on me so I added a little piece of circular stick on velcro to each side of the frame to keep everything from sliding around.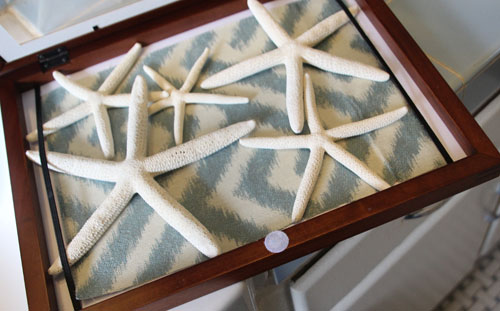 **************************************************************************
And there's my quick update for a space that needed a little bit of art! I loved how the shadow boxes turned out.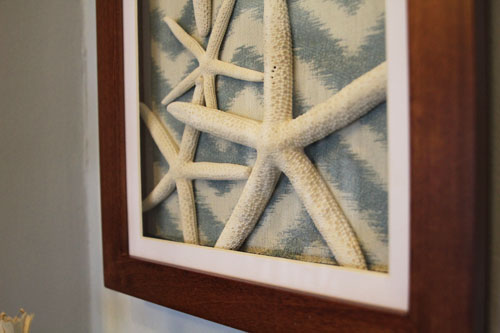 Tags:
Accessories
,
Blue
,
Crafty Solutions
,
Decorating
,
DIY
,
Fabric
,
Home
,
Our Bathroom
,
Patterns & Color
,
Tutorial
Posted in
Construction
,
DIY
,
Home
,
Our Bathroom
,
Renovating Adventures
|
10 Comments »