March 22, 2010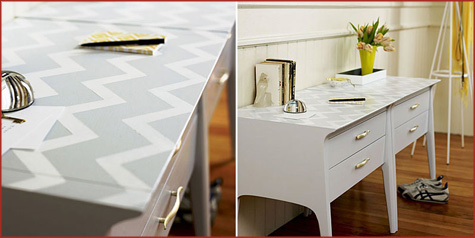 I can't help but share a recent trend (that I know is all to familiar with everyone) that I've been loving, and when I found these easy DIY ideas, they had to be shared! There's something so simple and classic about a zigzag (or chevron) design - it compliments nearly every style from shabby chic (in light greys and whites) to ultra-modern (in bold, complimentary colors).
I love how subtle the chevron design on top of this dresser is, it's a sweet surprise on an unassuming piece of furniture. Sunset Magazine shares the detailed instructions here.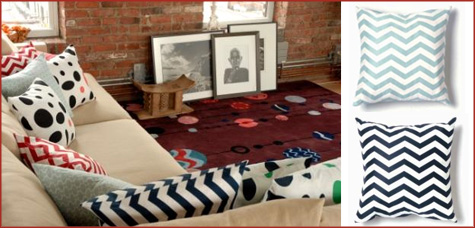 And how wonderful are these pillows stacked casually across this Twinkle Living couch? While you can purchase them here, you might try your hand at sewing or painting the zigzag pattern from directions here.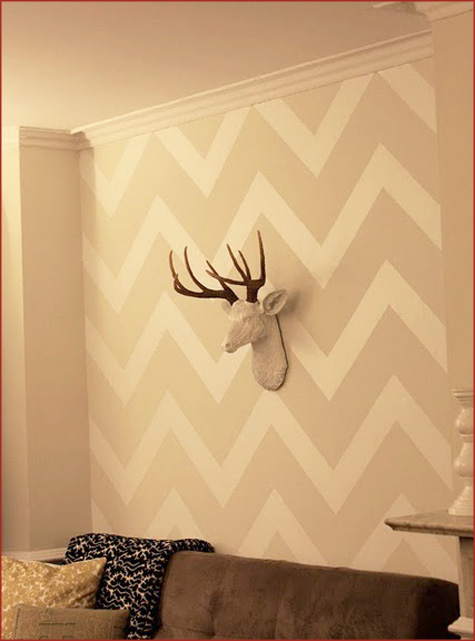 Oh and I love this wall. Stephanie over at Sabbe created an entire accent wall out of contact paper and a very accurate measuring system. Wow!
And finally, designer Nick Olsen gave new life to an old rug by painting it chevron style.
And that's my zigzag wrap up – I hope you all enjoyed and happy Tuesday!
Tags:
Accessories
,
Crafty Solutions
,
Decorating
,
Fabric
,
Favorite Trends
,
Furniture
,
Patterns & Color
Posted in
Crafty Solutions
,
Home
|
4 Comments »
March 17, 2010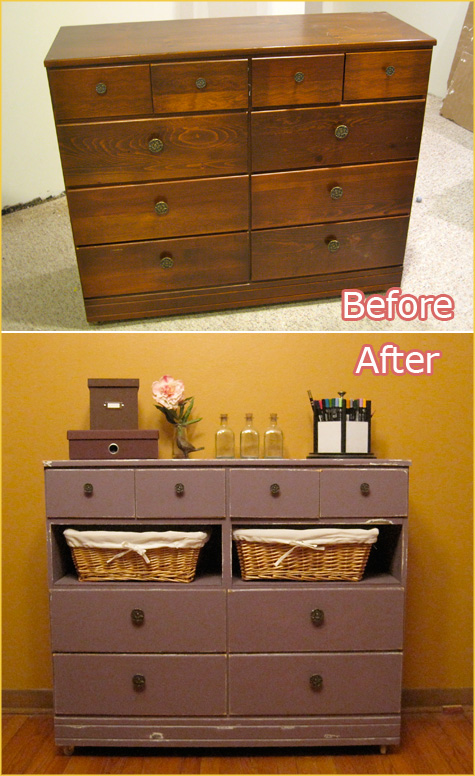 When Breeanna, of Simply Elegance, sent over these amazing pictures of her recent dresser & nightstand project, I couldn't wait to share them with you!
The first is an antique piece turned art room ready with a new shabby chic purple paint job, the addition of baskets where there used to be drawers (brilliant! this was accomplished by adding a thin sheet of plywood where the old drawers used to slide in), and by adding a few art supply organizers on top. For step-by-step directions in the form of pictures, jump out to the full post here.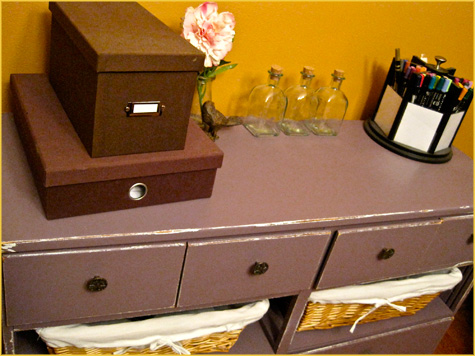 Breeanna's second project for the craft room was a nightstand makeover (she found this one for only $2!). Didn't she do a great job?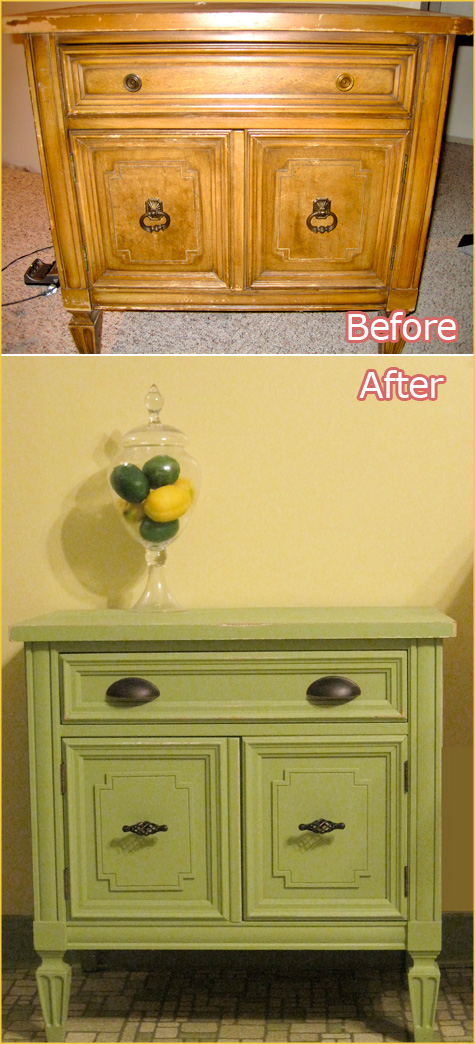 For step-by-step directions, here is a link to the full post.
AND Simply Elegance is hosting a lovely Emersonmade. giveaway (if you've never heard of the store, I highly suggest a look-see – it's lovely!), so be sure to check it out!
Tags:
Accessories
,
Bedroom
,
Before & After
,
By Color
,
Crafty Solutions
,
Decorating
,
DIY
,
Furniture
,
Green
,
Paint
,
Purple. Tutorial
Posted in
Crafty Solutions
,
Home
|
2 Comments »
February 24, 2010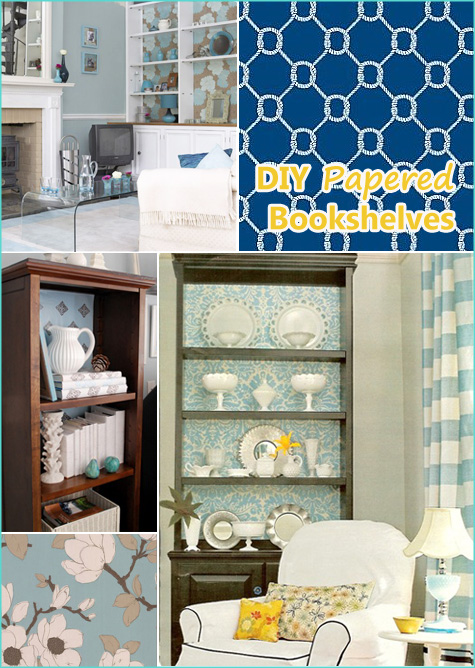 I've been mulling over my living room bookshelves recently… and am suddenly inspired to add a modern Jonathan Adler-esq wallpaper print to cover the back of the shelves. Here is some inspiration that might inspire you to take on a weekend project as well!
Canadian House & Home stripped kitchen cabinets to reveal neatly stacked dishes and a vintage print (via Centsational Girl).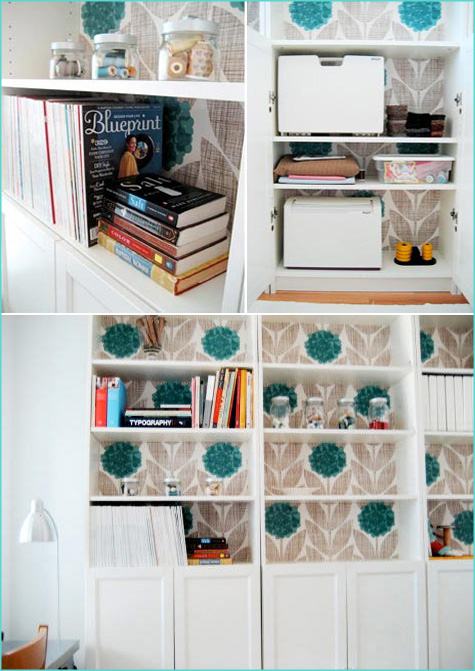 These white bookshelves with Orla Kiley wallpaper from design*sponge is one of my favorite examples a bookshelf backdrop (above).
Whole Latta Lovely and All About You features various color combinations in the same or similar floral prints for a fun variation (below).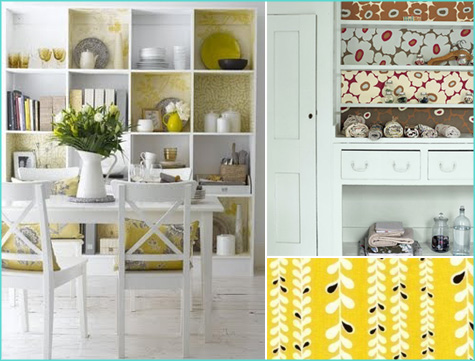 What about fabric? There are so many options to choose from… cutting templates (out of foam core, balsa wood or mdf) to fit the back of your shelf and 'upholstering' the board is a great option that can be replaced as often as you'd like. For a more direct application, fold fabric edges in (for a makeshift hem) and use colorful pushpins to pin fabric to each corner. I love this Taxi Leaf Stripe in Yellow print from Timeless Treasures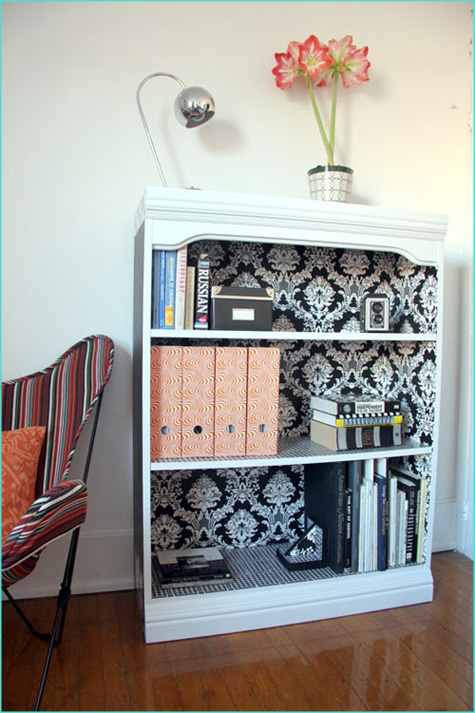 For a smaller commitment (isn't this perfect for the office or guest room?) Apartment Therapy shares a tutorial for lining a bookshelf in this black and white paisley print.
Four more ideas plus a quick How-To after the jump! Read more »
Tags:
Accessories
,
Before & After
,
Blue
,
Crafty Solutions
,
Decorating
,
DIY
,
Fabric
,
Home
,
Patterns & Color
,
Tutorial
,
wallpaper
Posted in
Crafty Solutions
,
Home
|
8 Comments »