February 22, 2010
Update: I finally made my own ottoman out of a coffee table and you can read all about it over here, feel free to check it out for even more tips and tricks.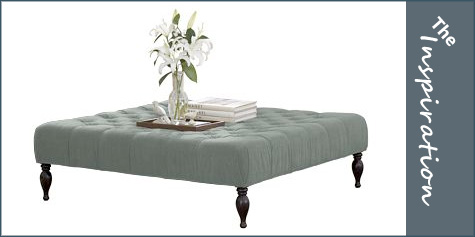 Here's a little project from Little Green Notebook that I've been so anxious to try. Jenny has transformed an everyday, unexciting coffee table into a beautifully cushioned ottoman!
After falling in love with the above Restoration Hardware design (that came with a hefty $1200 price tag), Jenny refashioned a Craigslist find into the perfect replication (for $60!):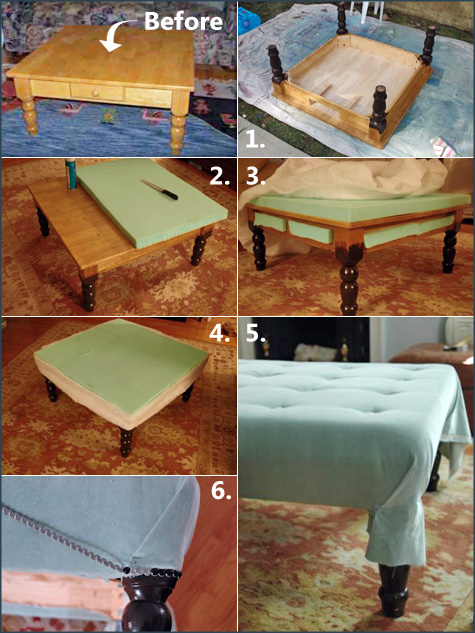 In a very simple wrap-up, Jenny (1) painted the legs, drilled holes for her tufted buttons, (2) added foam padding to the top and sides, (3&4) covered the table in batting and then her light blue fabric, used a button kit from JoAnns for the buttons (attaching to table through drilled holes with an upholstery needle and thread), (5) folded the fabric under the table and tacked around corners, and (6) finished off the edges with upholstery nails. Whew!
For the entire scoop (with great suggestions for tackling on your own), check out the full post here.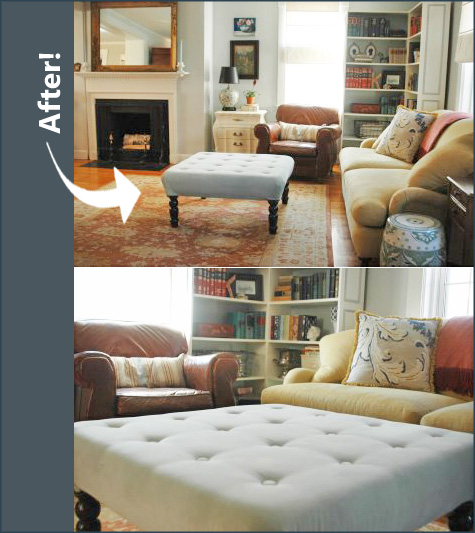 I'm amazed and completely inspired to take on my own coffee table refashion for an ottoman in the living room, or perhaps by the foot of the bed, or maybe in the dining room for extra bench seating? Too many options.
Tags:
Accessories
,
Before & After
,
Blue
,
Crafty Solutions
,
Decorating
,
DIY
,
Furniture
,
Home
,
Tutorial
Posted in
Crafty Solutions
,
Home
|
22 Comments »
January 11, 2010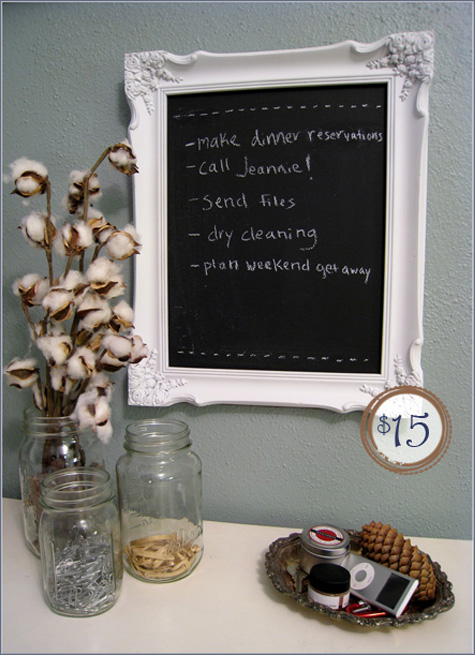 This is an oh-so-clever idea from the very crafty b*spoke that I just love! How simple and how sweet. I'm thinking this little board would look just perfect in my kitchen, and that I might have an ideal frame lying around from a recent garage sale find…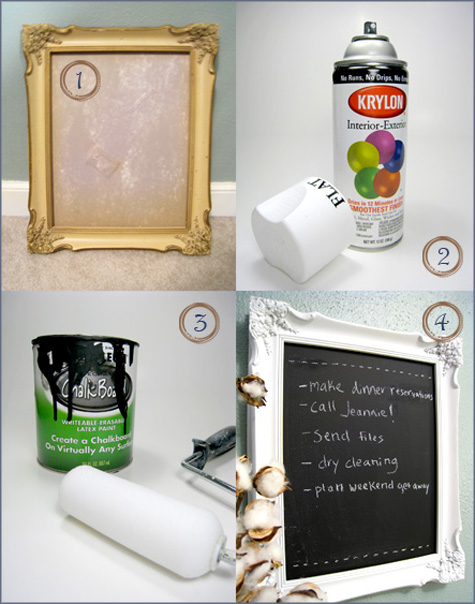 The quick and dirty directions:

(1) Paint your frame your favorite color
(3) Use chalkboard paint to thoroughly cover inner glass
(4) Hang and admire
Jump on over to the FULL DIY instructions here! Check in on her great tips and tricks for making this project as easy as possible. Bethany is incredibly talented and b*spoke is scheduled to be featured in an upcoming Friday Guest Blog post… stay tuned!
Tags:
Accessories
,
Before & After
,
Crafty Solutions
,
Decorating
,
DIY
,
Home
,
Kitchen
,
Paint
,
Tutorial
Posted in
Crafty Solutions
,
Home
|
7 Comments »
January 3, 2010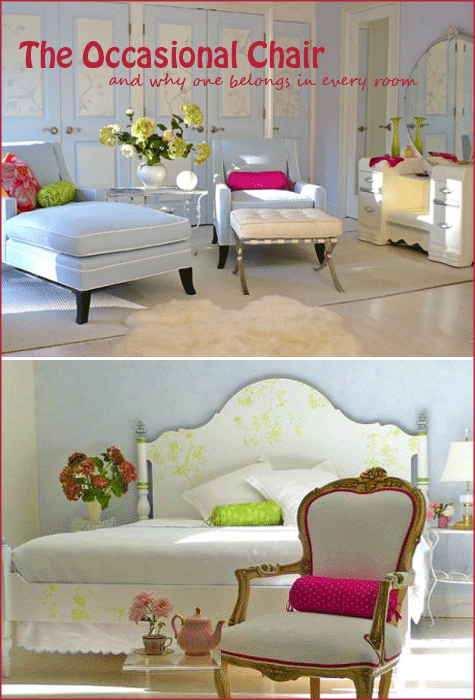 I love occasional chairs for so many reasons… but mostly because they function as a versatile piece of furniture for extra seating, can be as pretty as you'd like and break up the structure of traditional rooms.
Apartment Therapy featured Catherine's cozy blue home and occasional chairs above.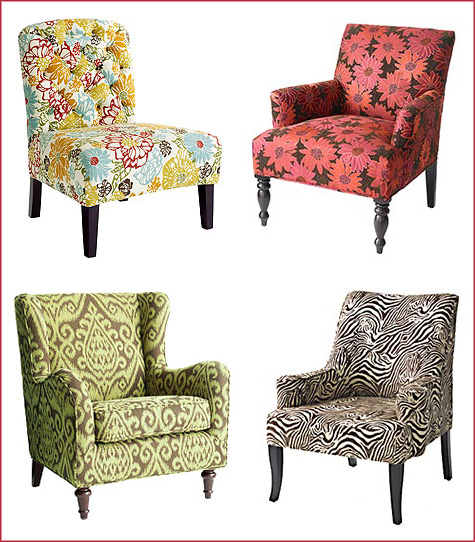 Whether you reupholster your own find from a local thrift store or splurge on a designer look (get that look for less at Pier 1, which features all four chairs above) incorporating a beautifully upholstered chair into a living, dining or bedroom makes a perfect addition.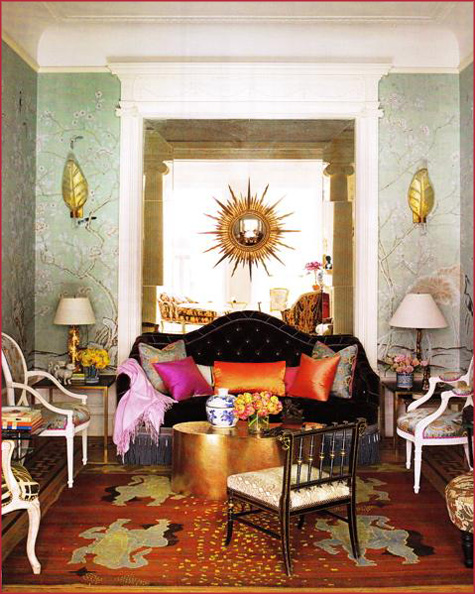 How great are these beautiful French provincial chairs featured at Decor Pad? The old-fashioned formality of traditional sitting chairs takes on a brand new meaning when mixed into an eclectic space.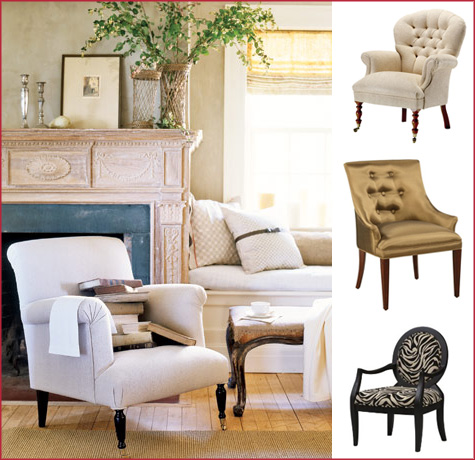 Country Living gets cozy with a linen occasional chair — featured to the right includes the Coniston chair, Chairs 1000 satin chair, and a french beauvoir chair )that's definitely within budget) from Target.
So lovely! More great looks on every budget to follow. Read more »
Tags:
Accessories
,
Decorating
,
Dining Room
,
Fabric
,
Furniture
,
Home
,
Living Room
,
Patterns & Color
Posted in
Home
|
Comment »