March 4, 2010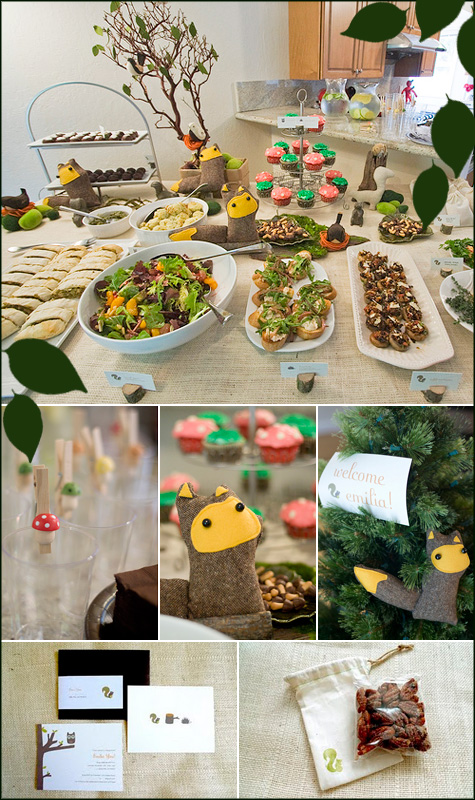 Wendy, from the blog Dozi Design, created this enchanting Woodland Critters baby shower for a friend.
Each piece of the celebration was made by hand – from the beautifully designed invites to the chopped up backyard branches that became place card holders.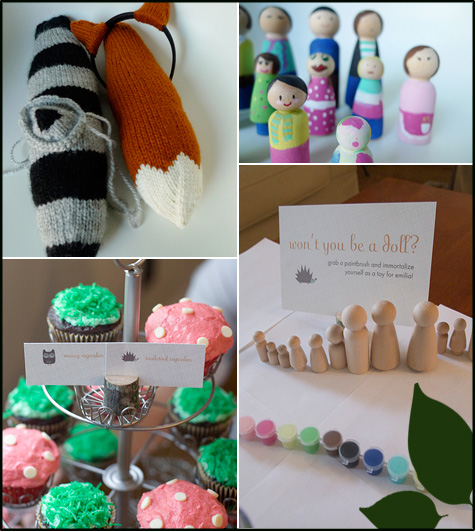 Guests were asked to paint themselves on small wooden dolls as future toys for baby Emilia – she'll forever have close friends to play with!
For the main centerpiece, Wendy decorated a manzanita branch with felt leaves in various shades of green. She and her other party hostesses sewed small birds and foxes, as well as knitted clever fox and raccoon props for the photobooth!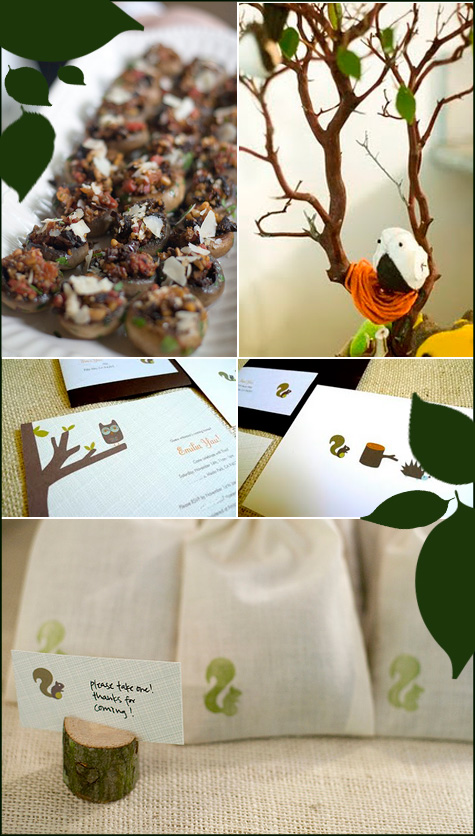 Small muslin drawstring pouches were hand sewn and filled with homemade candied pecans for favors – each received a little squirrel stamp Wendy carved out of an eraser. I'm so impressed with every detail of this shower!
For more delicious photos, including the clever woodland-themed meal, follow the jump! Read more »
Tags:
Baby Shower
,
Birthday
,
Crafty Solutions
,
Decorating
,
DIY
,
Green
,
Kids Party
,
Parties & Entertaining
Posted in
Parties & Entertaining
|
9 Comments »
March 2, 2010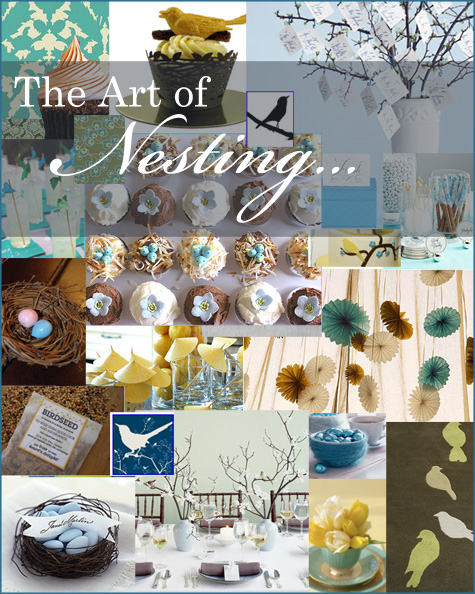 I've been working on a special shower for a dear friend… and have some delicious ideas up my sleeve. Here's a little sneak peek at the inspiration for the celebration.
As I watch all of these mama's-to-be feather their nests with the anticipation of a little one, I couldn't help but be inspired to turn the theme into a shower that reflects the age old art of nesting. Whimsical blues, teals and yellows… milk glass cake stands and thrift store goblets… perhaps a few branches and paper accordion rosettes? So fun to plan.
We're not following the traditional Saturday afternoon etiquette either. I jump at every opportunity to where one of my favorite tea party dresses, but instead we'll host this shower mid-week for a dessert and latte bar celebration for a twist on the everyday baby shower. Plus, it means that most of our guests will likely be in town (no weekend plans to stand in the way) and our budget is a bit more friendly without the cost of a meal.
Lauren Lee of L&Co., one of my co-hosters, created these beautiful invites that are in the mail! Can't wait to share the details of the day soon.
Tags:
Baby Shower
,
Blue
,
Bridal Shower
,
Decorating
,
Parties & Entertaining
,
Yellow
Posted in
Parties & Entertaining
|
5 Comments »
February 23, 2010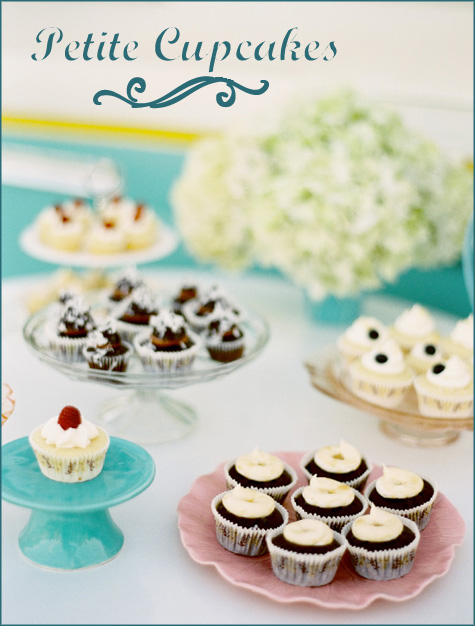 I've been so inspired by mini cupcake designs lately. They're the sweet, petite version of their popular counterpart and are perfect for birthdays, showers & weddings. When Amber Vandervliet and her mobile cupcakery (aka Enjoy Cupcakes) was featured on Style Me Pretty, I just about found a little slice of heaven.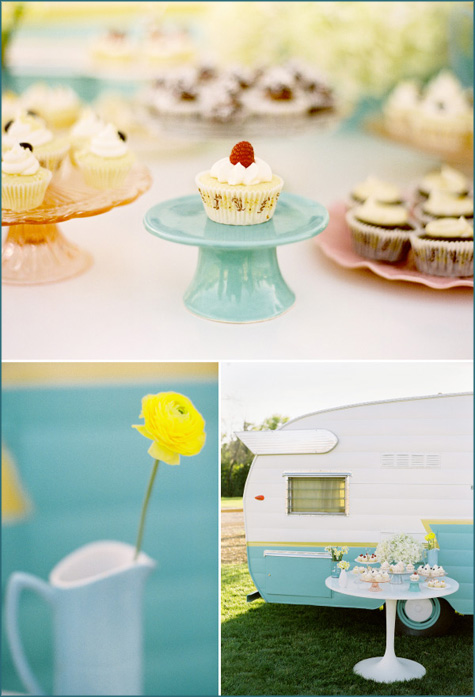 And what gorgeous eye candy? Simple cake stands stacked with assorted yummy bites have never looked so pretty or so darn easy to replicate.
Amber runs her business out of an adorable RV and is based in Southern California. Jose Villa captured this little photoshoot and his pictures are divine!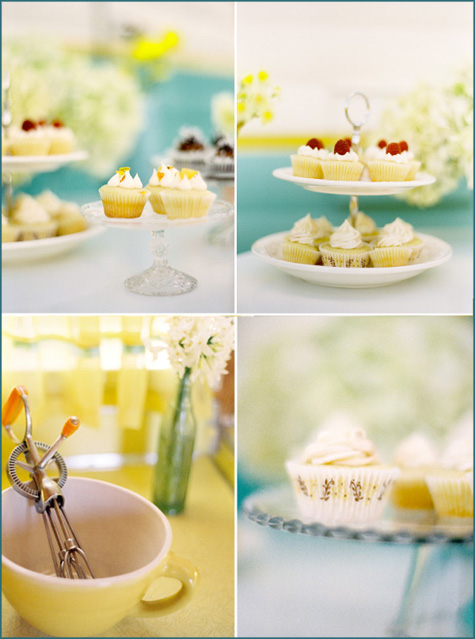 Can't wait to include in a baby shower some time in the near the future! More delicious designs (in more ways than one…) and one of Amber's recipes after the jump! Read more »
Tags:
Baby Shower
,
Blue
,
Bridal Shower
,
Cake
,
Cupcakes
,
Decorating
,
Desserts
,
DIY
,
Kids Party
,
Parties & Entertaining
,
Wedding
,
Yellow
Posted in
Parties & Entertaining
,
Recipes
|
6 Comments »