April 2, 2012
Easter is just a week away! It is a favorite holiday of mine for so many reasons… one of those being the significance of new life, the passage of winter to bright, fresh spring. It's also a holiday that we celebrate with extended family. This year my aunt is pulling my Dad's side together to spend time with my Grandma who is turning 85 and I'm really looking forward to it.
Speaking of fresh, spring colors, these tablescape ideas are right up my Easter brunch alley. Perhaps I'll see if I can't call dibs on hosting the egg hunt next year.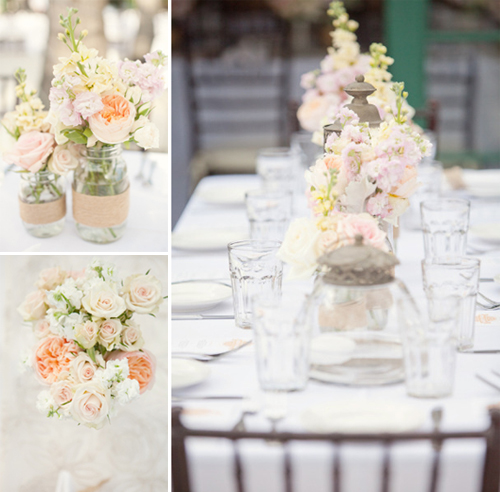 I love the muted coral, pinks and whites of this traditional table setting, and the sweet burlap, vintage jar and striped straw accents add thoughtful detail, as do the handwritten food labels.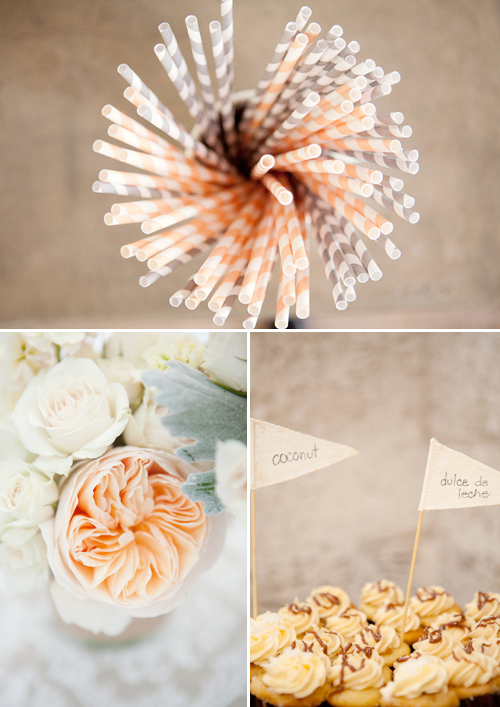 An alternative and brighter Easter palette to play with includes pops of fuchsia, burgundy and pink. Love the hanging floral spheres below (craft your own inexpensively from foam balls covered in hot glued plastic hydrangea flowers and hung from thick ribbon – we used white for our wedding five years ago and the floral spheres were hung high enough that guests were none the wiser of the faux decor).
A tablescape featuring a long fabric runner in a solid color and a hodge podge of silver vases full of wild flowers is the perfect centerpiece – pull brightly colored accents (such as throw pillows, a mirror or candles) into an outdoor space to tie the theme together.

Both parties found right here at Style Me Pretty.
Here's a nifty idea from Decor8′s contributing writer Leslie for incorporating pastel ribbons into an Easter tablescape. She suggests rummaging through your current supply to find unique ways to show off bits and pieces left over from other projects, including tying around vase stems or rolled napkins for breakfast.
And a grown-up Easter basket idea?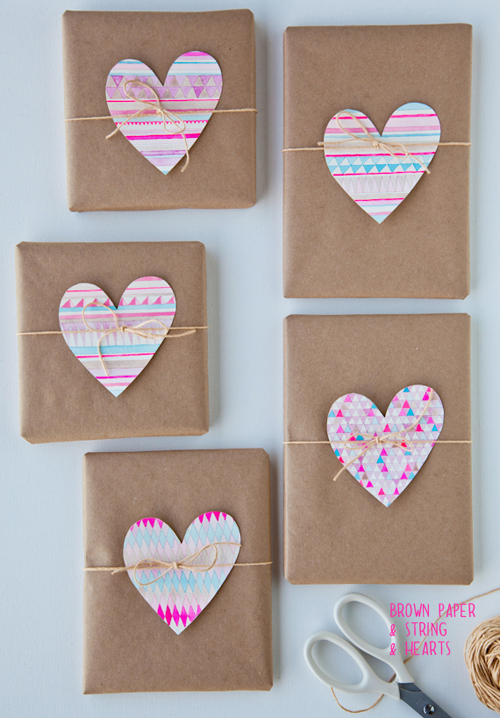 A box of trinkets, a favorite book or a boxed chocolate rabbit wrapped up in butcher block paper and tied in twine.
Happy Monday, and happy Easter preparations!
Tags:
Baby Shower
,
Bridal Shower
,
Decorating
,
Dinner Parties
,
Easter
,
Parties & Entertaining
,
Pink
,
Red
,
Wedding
,
white
Posted in
Crafty Solutions
,
Parties & Entertaining
|
7 Comments »
March 6, 2012
I've been meaning to try these out for a while and I'm happy to report back that they were possibly one of the easiest desserts I've made… and one of the yummiest!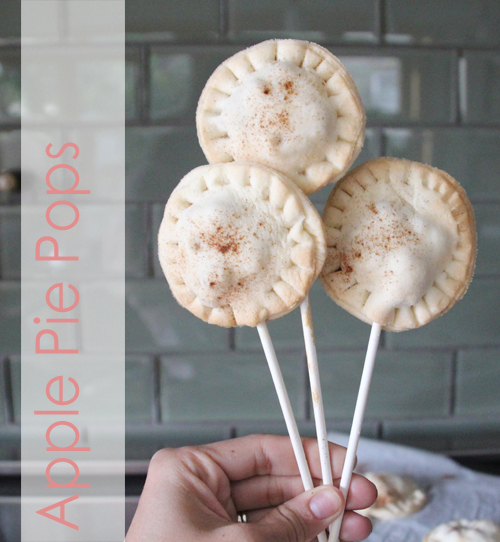 I am a pie fan. I love a good slice of homemade American apple pie (my mom's especially) over most desserts and I was really excited to give these a go after seeing them over here.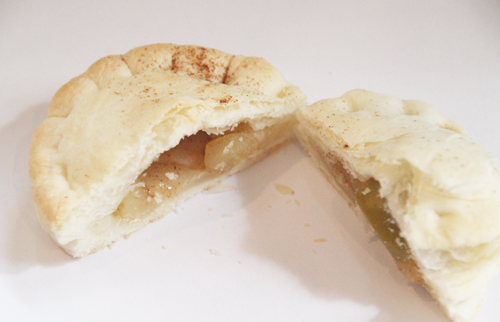 No, I didn't make a homemade crust (which is usually the golden pie rule) but that's also what made these so easy. And when in little turnover batches like these pie bites, the pre-made, rolled out crust sold in the frozen food section of the grocery store is quite tasty. Mmmm that bite above was delicious. 100% as good as it looks!
This is a must try – they're cute, tasty and unique. The girls at the baby shower I brought them to loved them!
******************************************************************************
Apple Pie Bites
a
Ingredients: Pre-made pie dough, 1 apple (I used a granny smith), 1/4 tsp cinnamon, 1/8 tsp nutmeg, 1 T brown or white sugar, water, flour for rolling dough, 8 lollipop sticks (found at Michaels or a craft/baking store), glass or cookie cutter, parchment paper

Makes 8 pops (the average pre-made dough round makes 16 rounds – or 8 pops total – so double or triple as necessary.) Preheat oven to 375.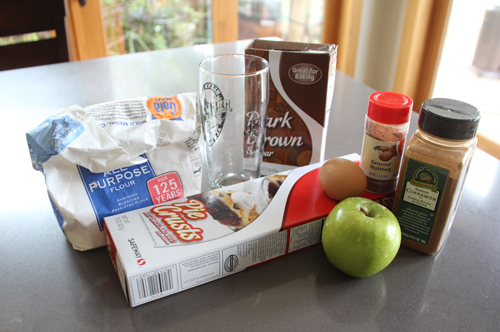 1. Peel and core your apple(s), chop up into small 1/2″ pieces and mix with cinnamon, nutmeg and sugar. (There's no science to the amounts I chose here, season to taste or even use an apple pie spice. I like to bake in 'pinches' and 'dashes' measurements myself).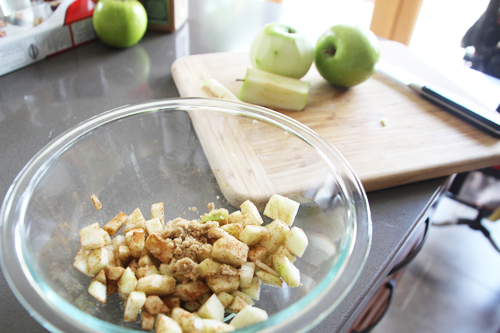 2. Cook over low heat until the apples are slightly soft, but remember they'll finish cooking in the oven. Add 2-3 T of water to your raw apples as you're cooking to help the apples break down.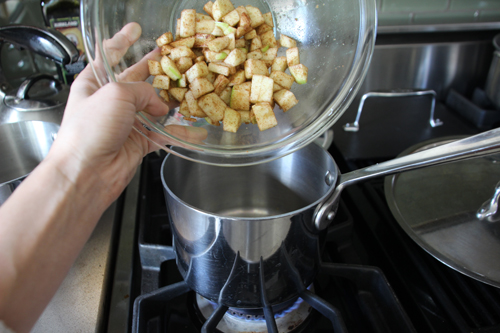 3. While the apples simmer, unwrap your dough and place on a lightly floured surface. Add a small amount of flour to the top to keep your rolling pin from sticking.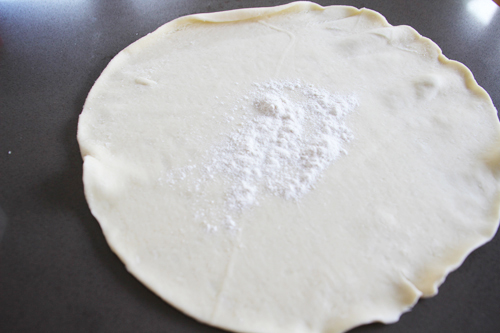 4. The dough is a bit thick right out of the box so I recommend a good roll, flip, roll to get your full 16 circles for 8 pops. Super thick crust is more likely to split at the seams while baking, too.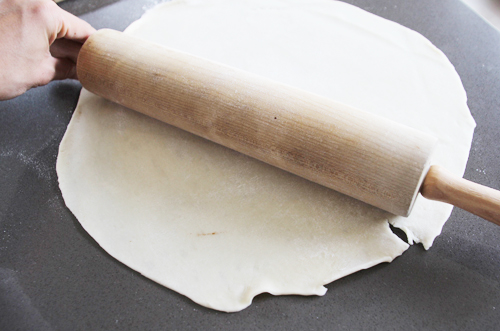 5. I found the perfect size circle in a beer glass that we have from a favorite local pub, but a round cookie cutter or water glass would have worked swimmingly.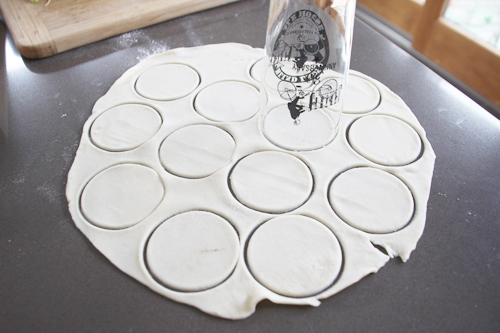 Gather up your scraps and kneed another flat layer out one last time to get a full 16 circles (plus scraps for covering in sugar and baking).
6. Parchment paper is really useful here and I generally just dig how easy it makes baking and clean up. I staggered my circles in windows so that there was plenty of room for the long lollipop sticks.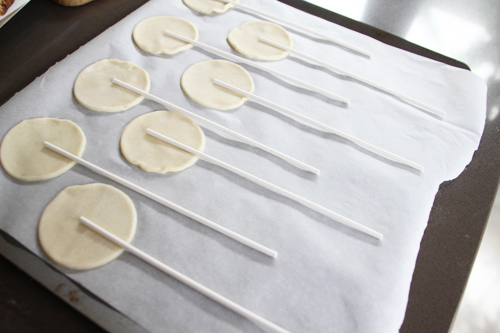 Be sure to press those sticks over half way up through the circle for maximum post-baking support.
7. Now it's time to add just a bit of filling to each circle. The pie bites that stayed together best were those with just a tablespoon or so of that yummy apple goodness. Of course you could add berries, cherries or even a square of chocolate here for an entirely different flavor.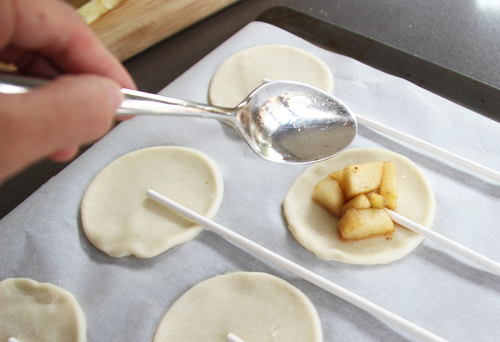 8. Place your second round on top of the circle and gently press together the edges to seal up those seams.
9. Using the end of a lollipop stick, create a little ribbed design in the edges (further sealing that seam):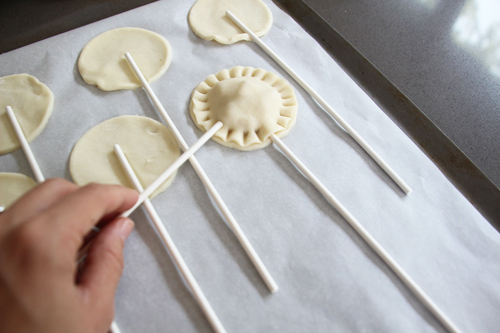 Voila! One down.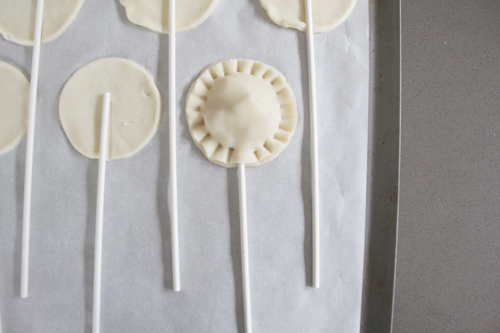 Looking so delicious already! What a fun little packet of yumminess.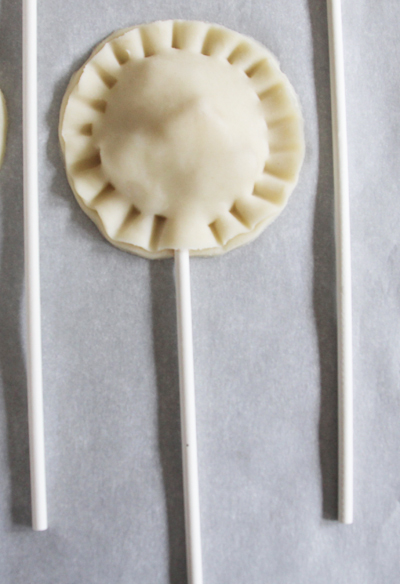 10. Add a dash of cinnamon and sugar just before putting in the oven. (Optional: brush on a glaze of whipped egg whites for a more crackled pie crust look. I completely forgot this step but they ended up still looking tasty). Bake for 10-15 minutes.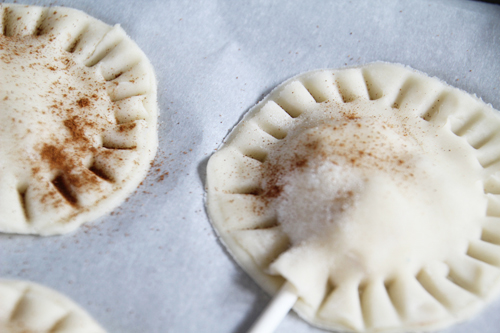 You really must try these, I insist. Between rolling out the dough, assembly and cooking, these guys could not have taken me more than 30 minutes (that's including baking).
Here they are straight out of the oven. Give them a little time to cool and then enjoy!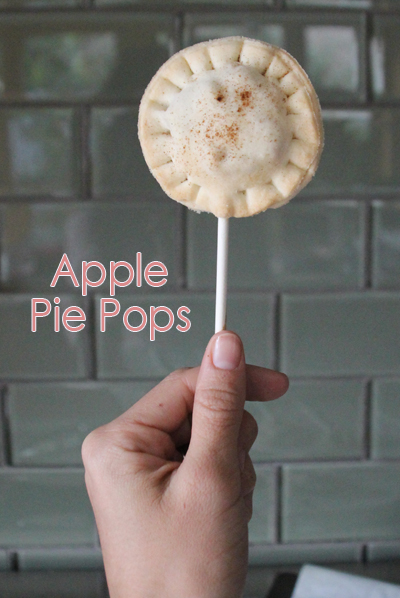 **********************************************************************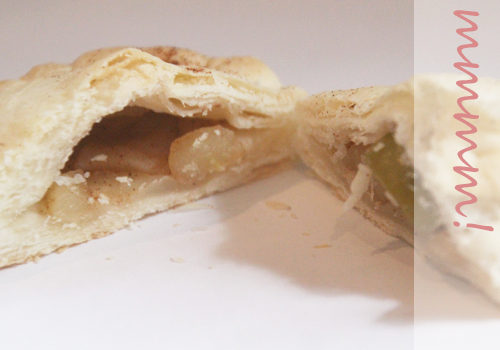 Speaking of the shower that I brought these pie pops to, here are some fun ideas that the hostess thought up: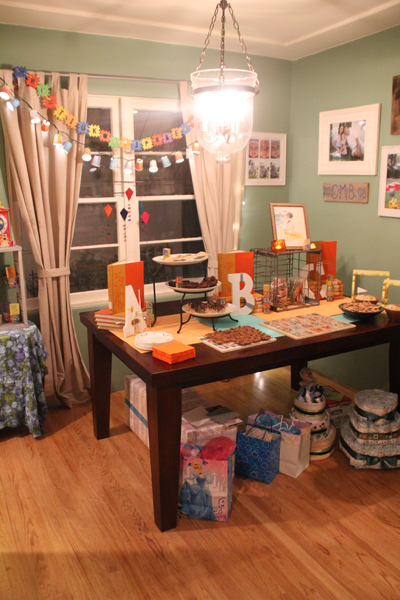 The table with its jars of candy, alphabet letters and vintage books was adorable. A simple piece of plexiglass over wooden puzzles turned them into the perfect trays (love that idea):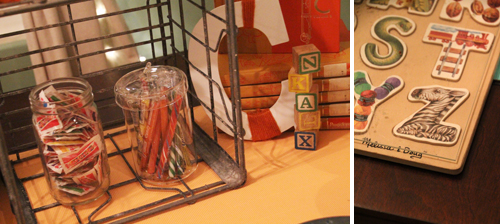 A little foam puzzle was strung up to create unique bunting, likewise with paper dixie cups over Christmas lights: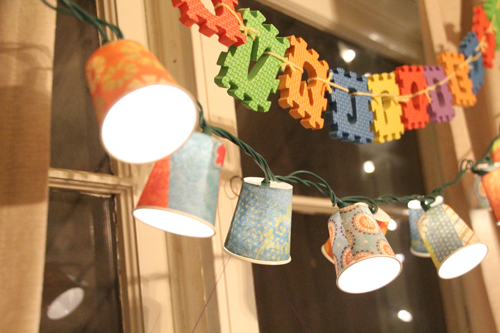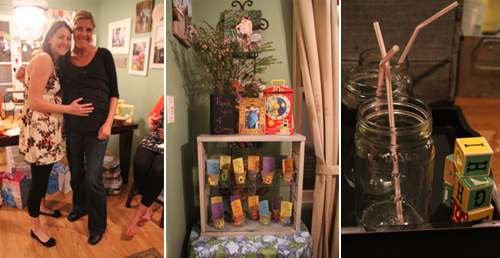 The craft for the evening was handmade alphabet blocks using modge podge and cute cut outs on wooden blocks, it was so creative and such a neat gift for the mom-to-be, Sarah. Great job, Cassie!
Tags:
Baby Shower
,
Desserts
,
Parties & Entertaining
,
Recipes
Posted in
Parties & Entertaining
,
Recipes
|
6 Comments »
February 6, 2012
I have two more posts to share with you from the Bedtime Stories baby shower (part 1 & part 2) that I threw for our friend Diana back in November (ps, Baby Noah is here! And as adorable as can be).
When putting together the dessert buffet that was sort of the focal point of the dining room, I wanted to create a few tiered cake stands that would add a little height and variety. In the past I've covered boxes or stacks of books with fabric so that certain platters would be higher than others, but this time around I came up with a temporary adhesive solution so that I could turn a few of my favorite plates, vases and candle holders into cake stands without any permanent damage (I've also gone the super glue route with thrift store finds).
This is a trick I will use time and again! It's so easy.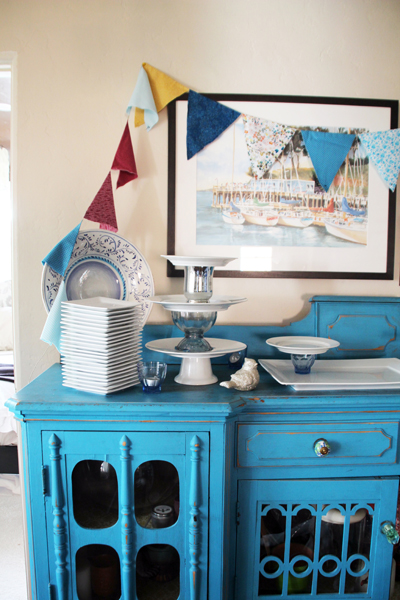 **************************************************************************************
Temporary Cake Stands
a
Materials: any sort of glassware, platter, plate, dish or vase, adhesive putty
My trick to getting a fairly good stick with stacking dishware is by using an adhesive putty like this one. It's available at nearly all craft and home improvement stores and the brand isn't important, but you want to look for a product that claims a strong but removable stick.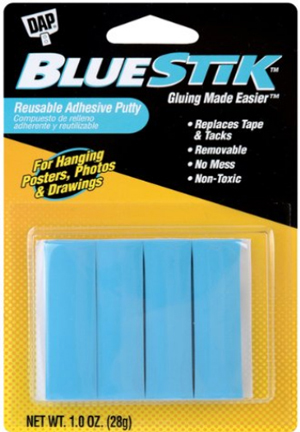 The process of assembling is pretty simple. I applied a layer of the adhesive to the edge of the glassware and plates making sure to cover as much surface space as possible.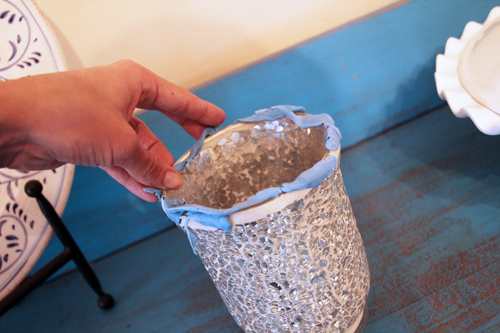 Since I was covering an area of the vases/plates that wouldn't be seen, I applied a thick layer: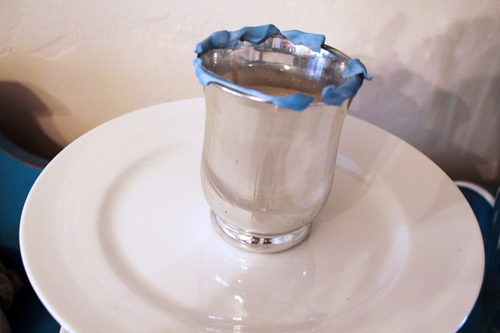 Then I turned the vase/candlestick/dish over and pressed it into the center of my plate or platter for at least 30 seconds. You could use a utility knife to clean up any edges if you wanted a cleaner look.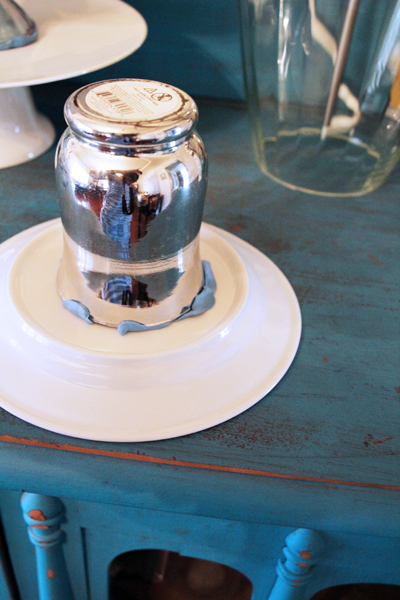 Using this technique a made a few different tiered stands for our selection of desserts.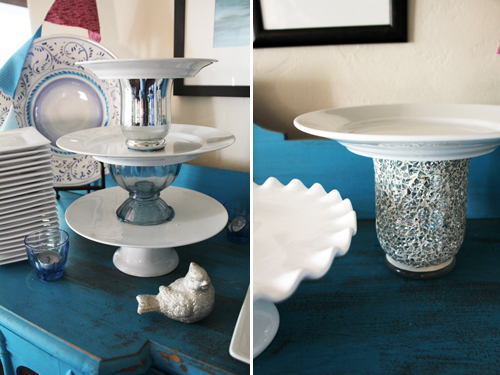 At the end of the shower I simply pulled off all of the putty and washed each dish. No harm done!
**************************************************************************************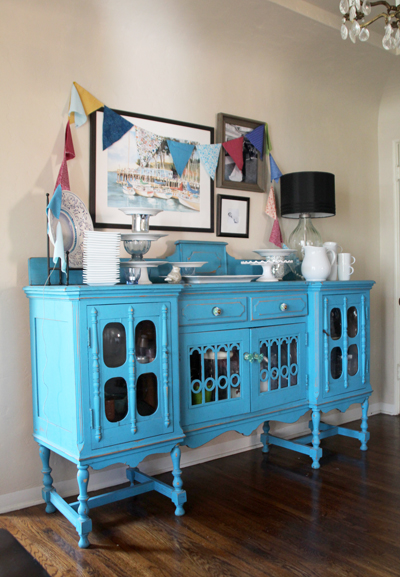 Tags:
Baby Shower
,
Birthday
,
Blue
,
Crafty Solutions
,
Decorating
,
DIY
,
Kids Party
,
Parties & Entertaining
,
Tutorial
,
Wedding
Posted in
Crafty Solutions
,
DIY
,
Parties & Entertaining
|
7 Comments »