February 20, 2010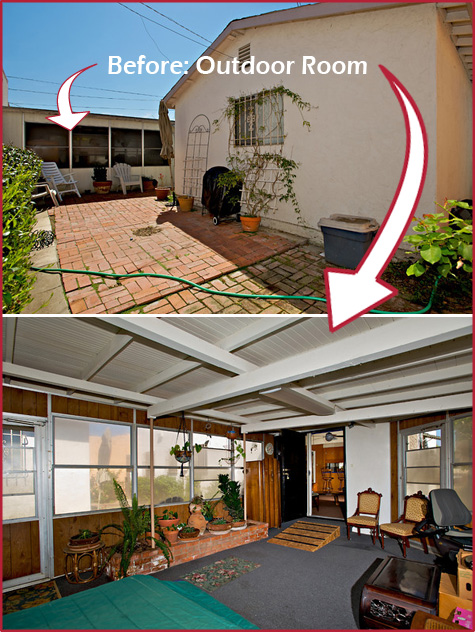 If you remember way back to when I first introduced our little ole' outdoor room (aka backyard) to everyone earlier this year, you might recall how much work we had to do to get to this: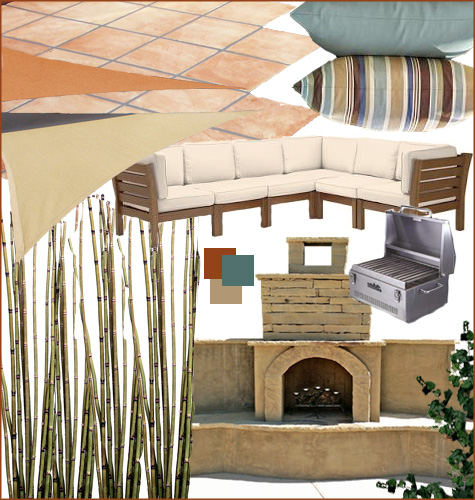 Here's a quick link to Part 1 & Part 2.
Our *dream* backyard included an outdoor grilling area, fireplace and big comfy sectional. Evenings of smores & stargazing, afternoons of hamburgers & cold beer – who could ask for anything more?
Here's the backyard mid-project: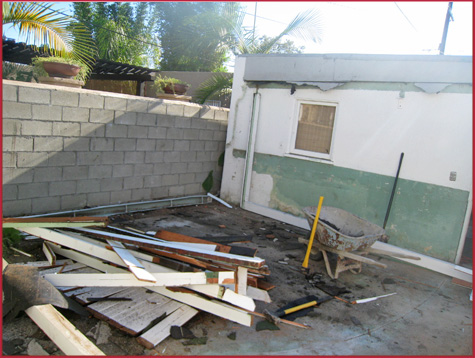 I couldn't be more proud of my handy husband who I'm pretty sure knows how to fix anything and everything known to man. So… weekends of pulling up brick, tearing down walls and much MUCH cement, stucco, and tile later… here she is!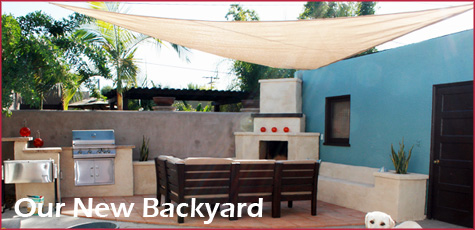 This DIY project was a monster – but isn't it beautiful! We opted for a shade sail for added coverage (a throw back to our love of sailing) and it was an economical option when we found one on ebay for less than $50. The grill and ice bin were Craiglist finds, and the sectional was my hybrid Pottery Barn & DIY project (follow the jump for more on that).
Can you believe this used to be a carpeted, walled-in room?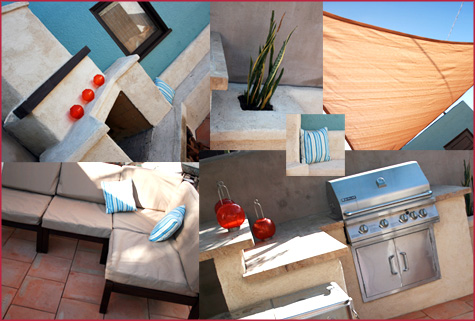 To keep the outdoor kitchen within budget, we used our favorite site Craigslist and Home Depot coupons for everything from cement block to grout to our counter top tile.
While Kevin took on the bulk of the redesign, my big project was the future seating area. I fell in love with a Pottery Barn sectional (see above inspiration board) and thought that surely I could replicate the find on a local, more inexpensive level. After searching every store here in the area (including the plethora of online options!) I came up with a hybrid solution that involved sewing, stuffing and Sunbrella galore.
For the cushion DIY project, Read more »
Tags:
Backyard
,
Before & After
,
Crafty Solutions
,
DIY
,
Outdoor Spaces
Posted in
Renovating Adventures
|
7 Comments »
January 21, 2010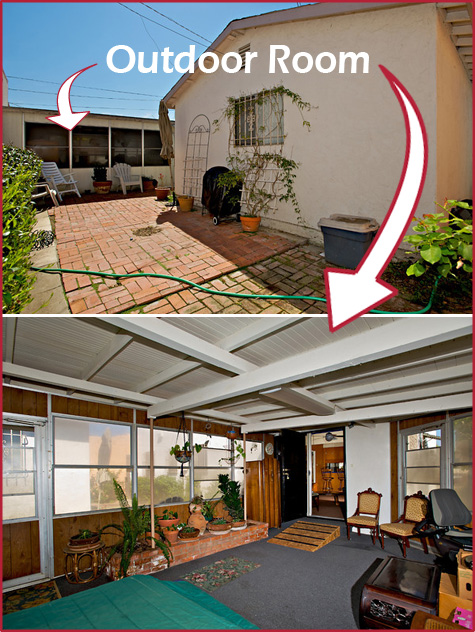 Once upon a time… there existed a makeshift home addition known affectionately as the "Outdoor Room". This little room had four wood paneled walls, plenty of windows and, um, well-used blue berber rug.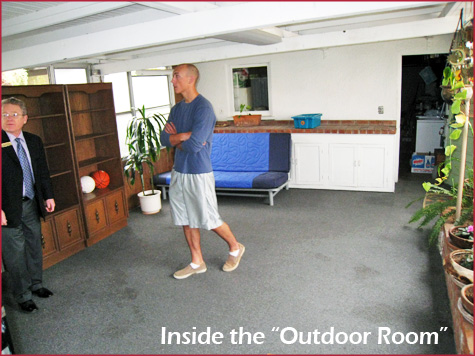 Upon purchasing our casita we knew our outdoor room needed to be at the top of the Honey-Do list. There was so very much to do though that it eventually fell somewhere between fix plumbing, re-wire knob & tube electrical and replace bathroom. Whew! Our list was starting to get long… But then one sweet summer day (pre all of the above list items), we decided to get moving on our new outdoor space… and visions of bbqing, sipping red wine and laughing with friends around a sweet outdoor fireplace began dancing through our minds.
I can't think of a better way to spend a summer evening… and so the project was on.
Before we could design the perfect space, however, some major sweat was involved in tearing down the entire room (this is where the sledge hammer comes in), ripping up hundreds of bricks & slabs of cement, and clearing much backyard space. BUT… this is sort of what we had in mind when it would be finished: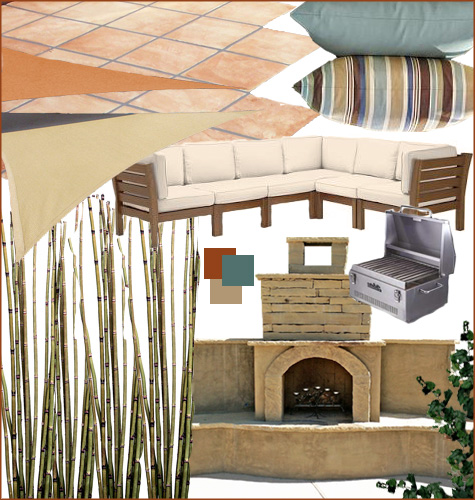 Stay tuned! And if you really love home makeover projects, wait until tomorrow's Friday Guest Blog by Young House Love – a neat play-by-play of a terrific home renovation by two crafty twenty-something-year-olds. I found this awesome blog while searching for like-minded posts to learn from… and it's been an invaluable resource!
Tags:
Backyard
,
Before & After
,
DIY
,
Outdoor Spaces
,
Renovating Adventures
Posted in
Renovating Adventures
|
1 Comment »