April 28, 2013
Liv is collecting little art supplies and toys by the bucket full. The big bins that we initially added to her bookcase are great for storing bigger toys, but little cars, wooden blocks, doll clothing and so on is quickly swallowed up – and finding complete toy sets (like Liv's wooden train) is impossible these days! So we're working on adding small container storage to the room little by little.
One of the first organizing projects I tackled included Liv's art supplies in her little reading nook.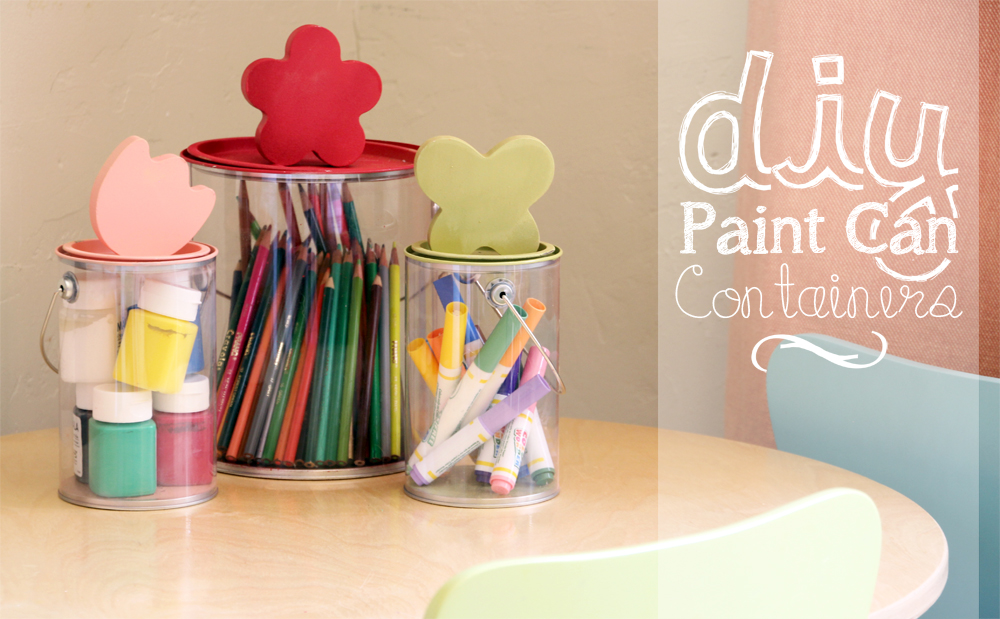 Rather than collect colored pencils, markers and paint into one central storage location (as we had previously done for a while), separating out supplies makes it easier to focus on one specific art activity, put that craft away, and then move on to the next. I first attempted this with open buckets but soon everything was mixed together and crazy again. What is it about organized spaces with a home for each little item that is so darn appealing? It makes my world feel right.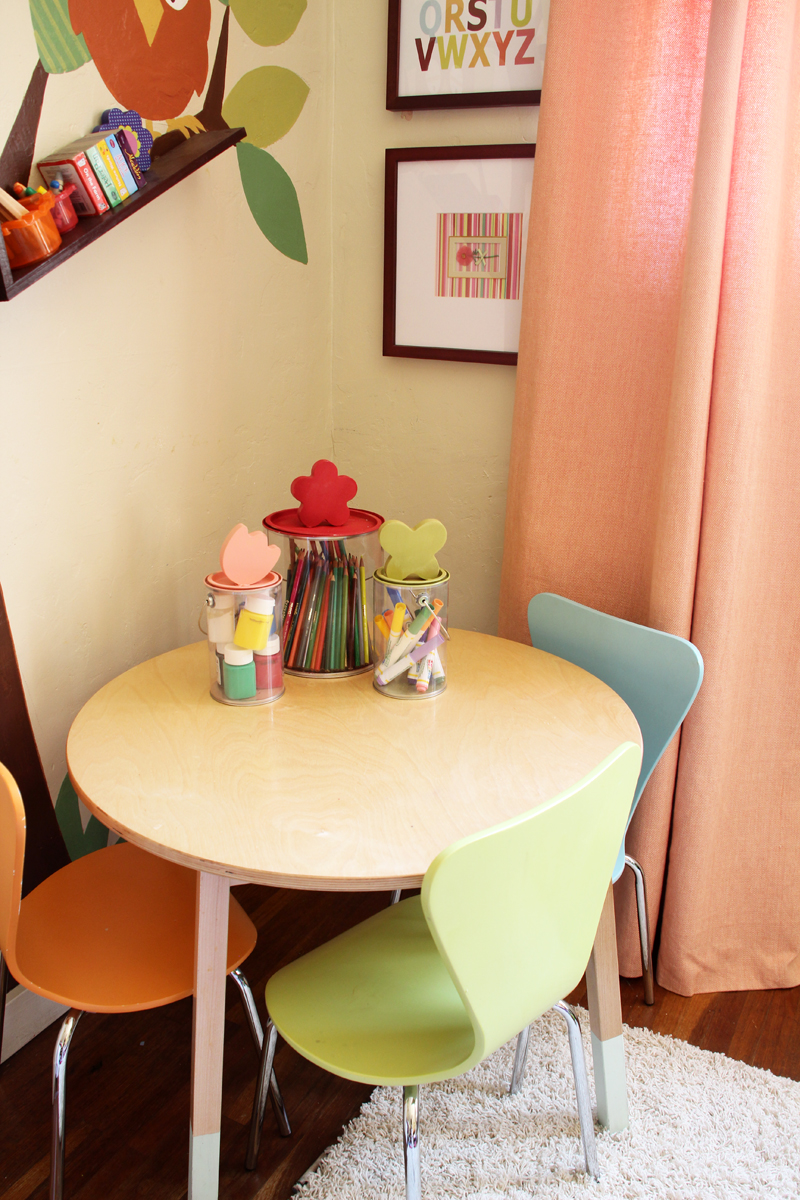 When I spotted these clear containers at Michaels I thought that they might work well just for Liv's art supplies. I love that they're plastic paint cans

.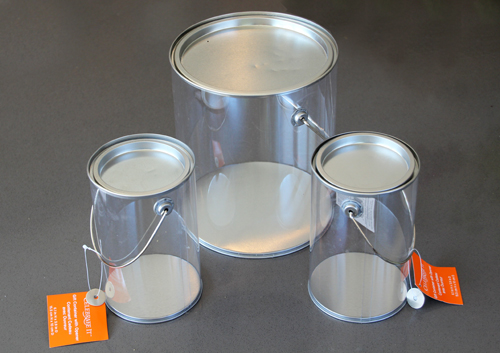 After bringing them home I discovered that cheap was too good to be true – the tops are impossible to pop off! Just like a real paint can, to open and retrieve anything inside requires some prying from a really strong object (like a screwdriver) which is not ideal for kids. Poor design.
I thought it would be fun to come up with a DIY handle that would help Liv open up the cans whenever she wants to play, and I kind of like that I can press the lids in extra tightly for art supplies that I don't want her to have easy access to (like real tubes of paint) so that even with a makeshift handle the lid sticks really well.
I thought about gluing little plastic animals or some other little toy to the top of the paint cans and then remembered that we have a very cute wooden Melissa & Doug flower puzzle that has received quite a bit of wear and tear since Liv began assembling and disassembling two years ago.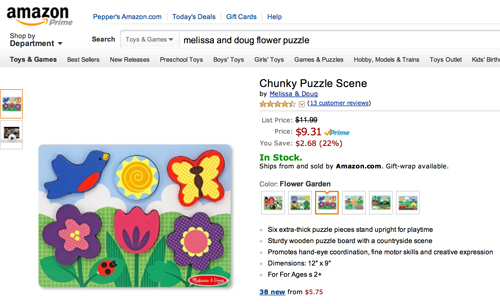 I love the shapes and use them all of the time as decoration for her floating tree bookshelves so the entire puzzle really doesn't stay assembled nor is it really used anymore.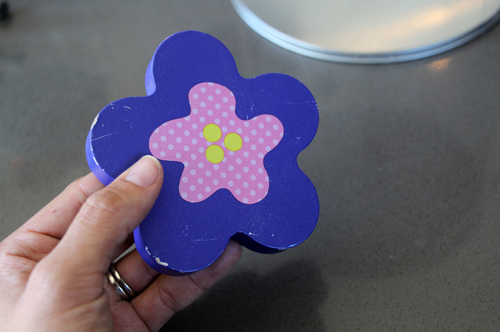 I picked out three of the shapes and hot glued them to the top of each of the paint cans.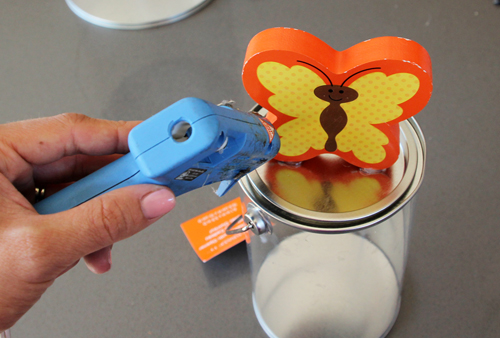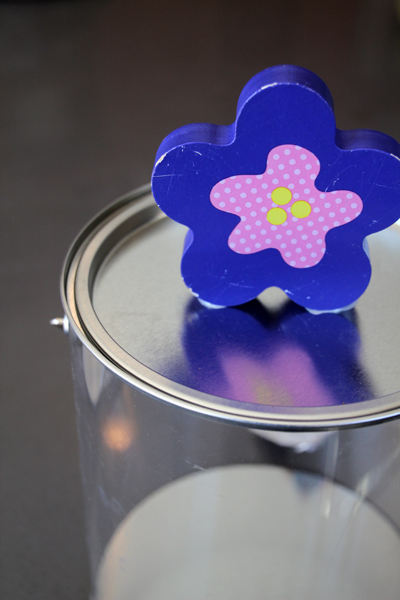 But after a night of drying quickly found out that even with strong hot glue the wooden shapes popped right off of the lids if the lids were really well planted onto the container. Boo.
Thankfully the puzzle pieces were wooden and not plastic, so plan b was to drive a little tack nail or two into each shape through the bottom of the lid (with my favorite floral desk hammer – perfect size to keep inside). Now the wooden pieces are stuck stuck.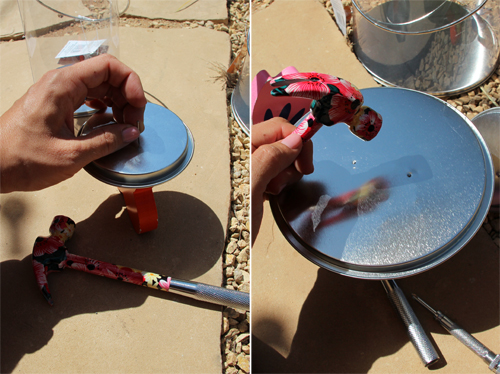 I used three paint spray colors that I thought worked well in Liv's nursery today, and would also match her new nursery for two.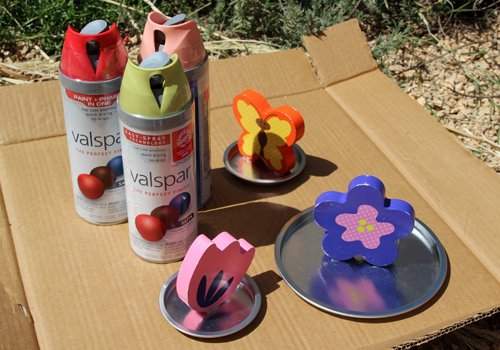 The colors turned out a bit chalky rather than pretty and polished, I'm actually really disappointed in the consistency of these particular primer + paint in one Valspar paint cans. I picked up a glossy varnish to cover all with at some point in the future that I'm hoping will fix that.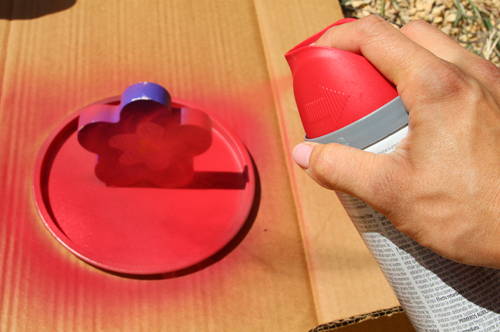 For the paint can itself I wanted just the edge painted out so I carefully taped off all exposed clear areas inside and out. Learned that lesson the hard way with a slightly careless first round of taping. Thanks goodness for Goo Gone.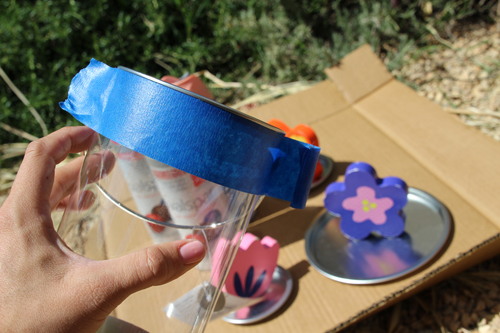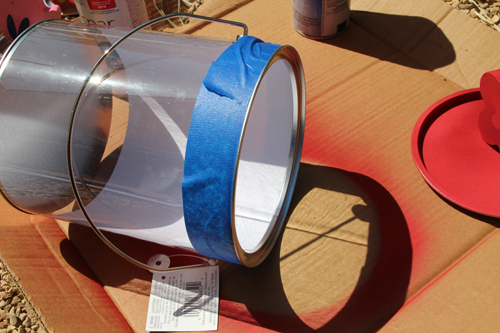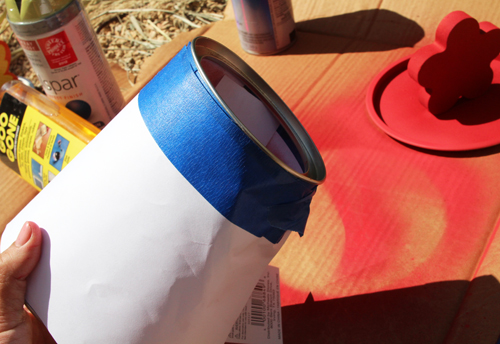 If spray paint still makes it through onto the clear plastic, Goo Gone to the rescue.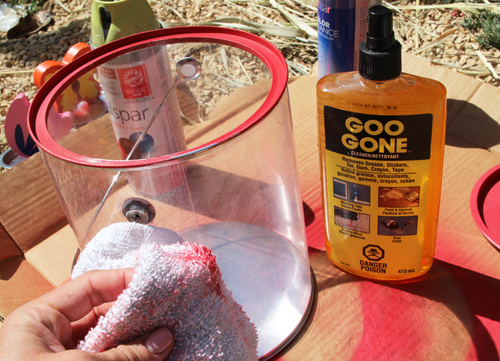 Finished! You can see the chalky consistency if you look closely…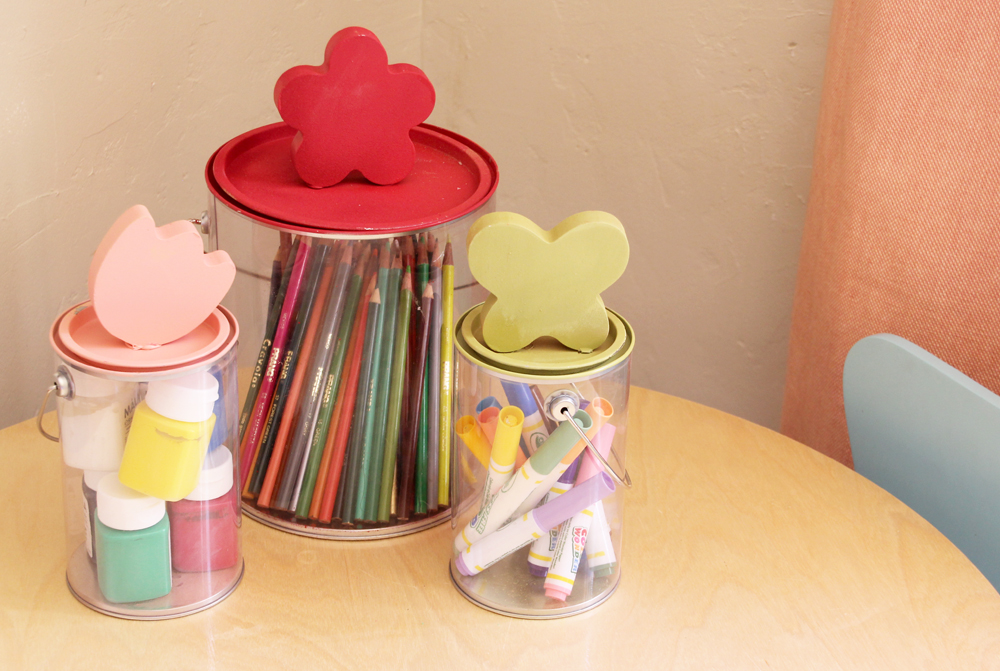 But for now they're a cute new addition to the nursery.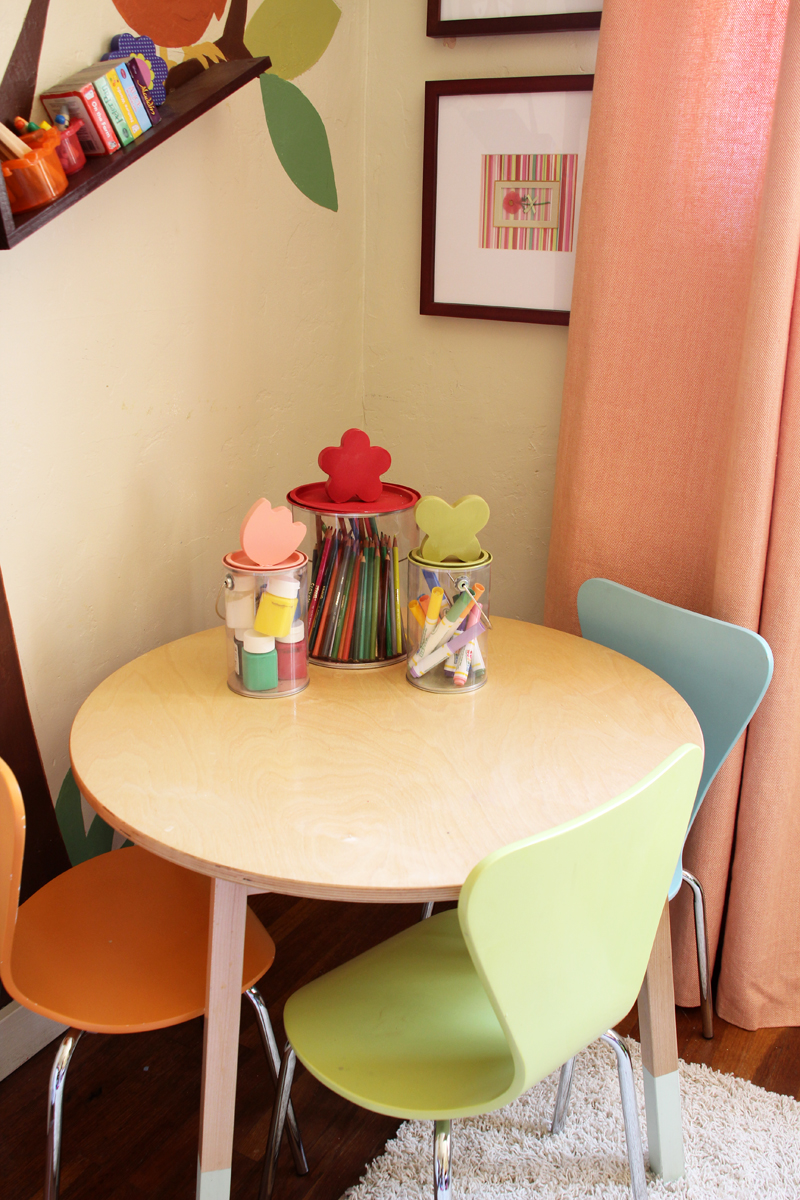 Love that the colors work well with the artwork hanging above the little table and chairs and with the painted tree and owl on the wall.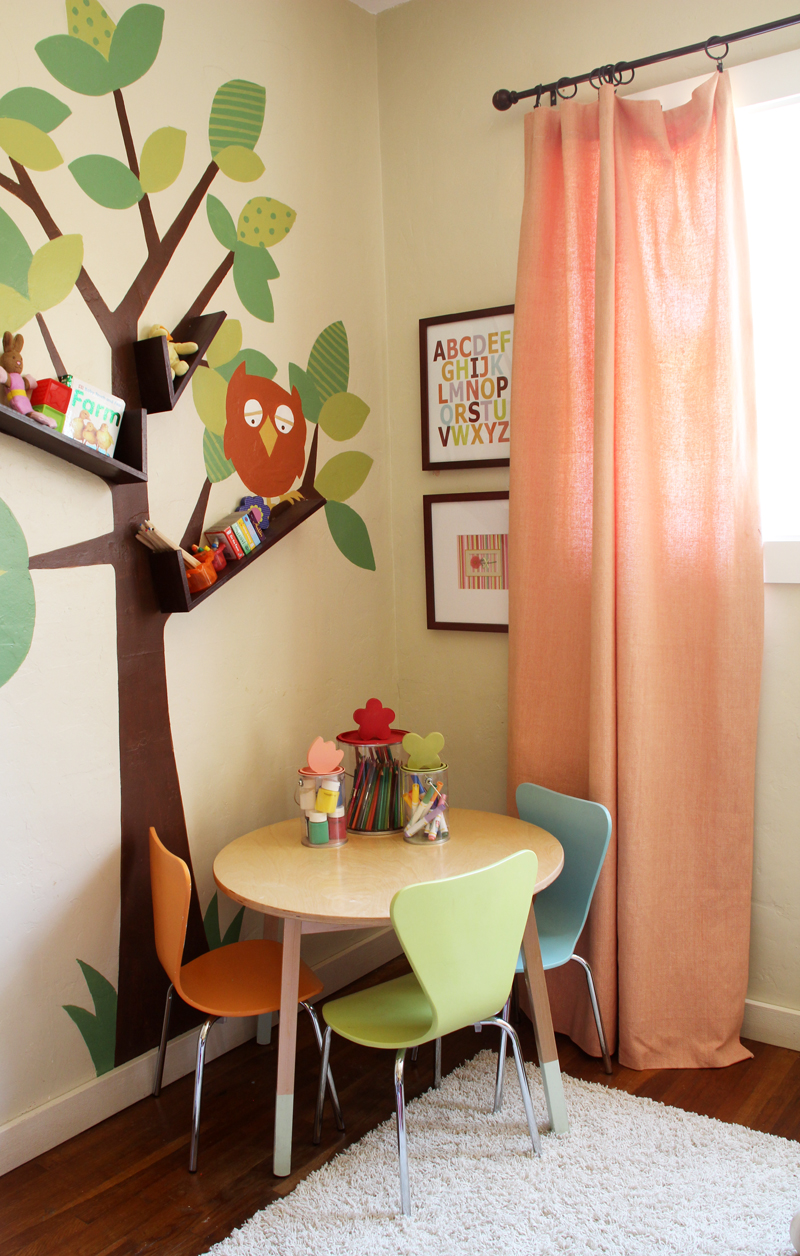 Now onto all of the other little toys (like bubble wands and figurines and musical instruments…) that are filling up Liv's room! Time for a spring cleaning.
PS all Project Nursery posts are sorted right here.
Tags:
Accessories
,
Bedroom
,
Before & After
,
Crafty Solutions
,
Decorating
,
DIY
,
Green
,
Home
,
Nursery
,
Patterns & Color
,
Pink
,
Red
,
Tutorial
Posted in
Crafty Solutions
,
DIY
,
Home
,
Liv's Nursery
,
Organizing
,
Renovating Adventures
|
4 Comments »
April 17, 2013
Well sort of. The wallpaper samples for the nursery remodel have arrived. I've been staring at them for a couple of days now and am trying to imagine how each might look covering an entire 10×15′ ish wall – and I have to be honest – I love them all. I'm pretty sure that any one of these designs would be so perfect in here. Which oh which to choose?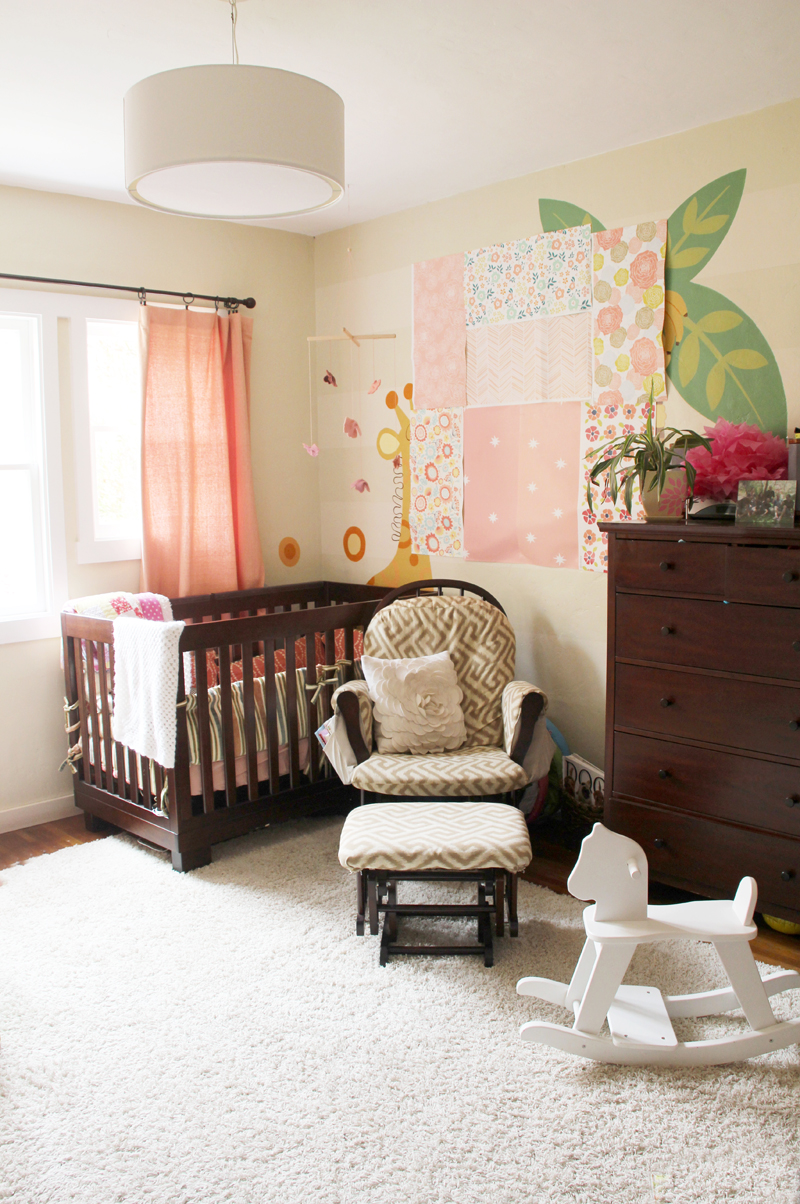 Here they all are up close if it's hard to see the above at an angle.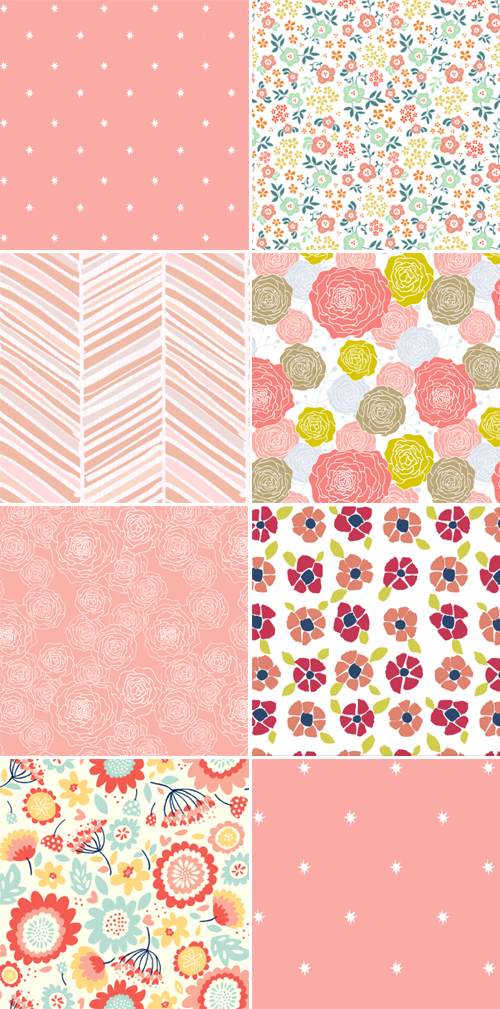 Most of these I shared here when I was debating on what direction to take my solo statement wall. Clearly I'm still debating, even when I was sure that ordering my favorites and hanging them up would help settle that nursery quandary!
All of these wallpaper samples are from Spoonflower, an awesome site that lets you design and print your own fabric and wallpaper (oh search thousands of predesigned options by different artists, sort of like Etsy). I've used them a ton and they are reasonably priced compared to purchasing something manufactured (though boy does it take a long time to process and ship your order… I have too little patience these days).
I designed the two starry prints (top left, bottom right) which were inspired by this Osborne & Little wallpaper. I spotted the pretty night sky in House Beautiful a while ago and the image sits in the back of my mind. Not happy with any of the colors offered through Osborne & Little, I recreated from scratch and used both a peach (top left) and light pink (bottom right) as the background, while also softening up the stars and playing with the frequency in pattern. The rest of the prints are handmade on Spoonflower by various artists. Clockwise you can find the links here: 1, 2, 3, 4, 5, 6, 7 & 8.
The pinks are not exact, the fabric examples are still undecided (and will depend largely on the wallpaper) and this is in general a pretty crude photoshop markup, but here's how I think the bookshelves will work with the space once they're installed: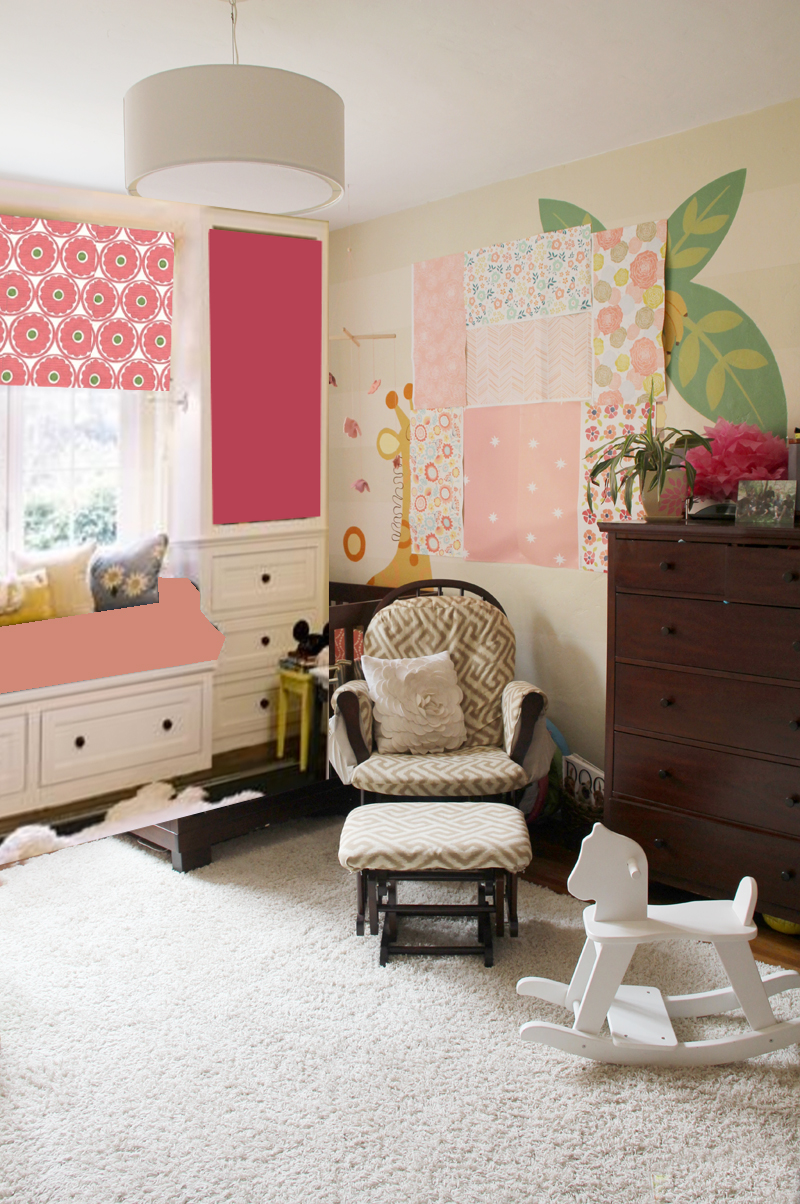 Amazing for storage, right? Oh man I can't wait.
Update: Fabric Warehouse Direct is offering that beautiful Kravet window covering fabric that I photoshopped into the above pic at a steal of a rate right now. 
Ignore the random throw pillows and the other pieces of photo I didn't get a chance to photoshop out. I'm imagining a dark pink painted backing in those top shelves, hence the awkward block of color at the moment. If you squint you can begin to see it all come together…
Ahhh, it's all becoming so real!
Tags:
Bedroom
,
Decorating
,
DIY
,
Home
,
Nursery
,
Patterns & Color
,
Pink
,
wallpaper
Posted in
Girls' Room
,
Home
,
Liv's Nursery
,
Renovating Adventures
|
8 Comments »
August 9, 2012
I went to bed last night thinking that the morning would bring a brand new Friday. But alas, that's how long this week has felt

(poor Liv had a 103 degree fever all through the night and day Tuesday and work has lately been getting the best of me). Instead though, it is a beautiful Thursday and one that I'm more than happy to embrace. Especially considering that tomorrow is Friday!
Before I share my latest room update, a BIG thank you to Kate for featuring me in her Best of the Blogosphere round-up at Centsational Girl! Her every-other-Friday posts are among my favorites because they share some serious talent and new bloggers to explore and follow. I near fell out of my chair when she linked a recent project of mine up, check it out here.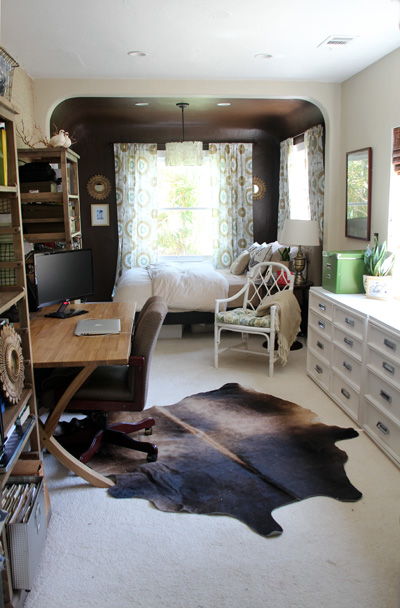 I have a little room progress to update you all on today! This room has admittedly become the hardest and most challenging room to get right in our house. And being that it's my woman-cave, I've been working extra hard to make sure that it feels right, that it feels like a space that I would happily spend most of my day in (my company is up in Northern California, so I really do spend most of my day at that desk and on those computers).
The office was on a serious roll back in 2011 when we knocked down the old kitchen (rebuilt it on the other side of the house) and turned that space into my work zone. But then half way through the new office design process, my ideas and inspiration fell apart and the room came to a halt. For quite a long time. (I've never been a fan of finishing a space just to get it done, I figure that new inspiration will eventually come and I'll be all the happier with a result that is right on.)
But I have made a few changes along the way! And I'm really happy again with how everything is coming together.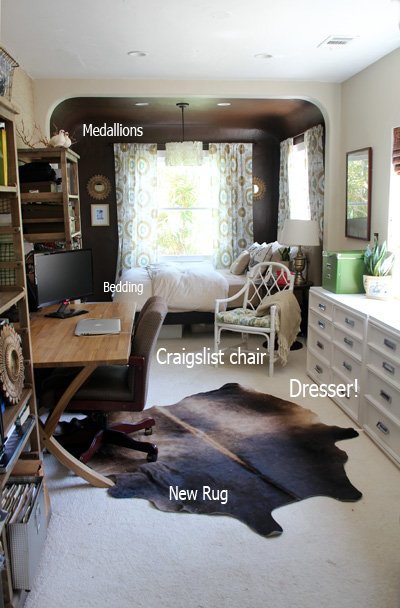 Among the new changes, a new bedding set from Target in a neutral, cozy tan, an awesome bamboo Craigslist chair find, amazing bookshelves (same Craigslist sale) with the most wonderful, original campaign-style handles ($100 for two huge bookcases!), moving my favorite Ballard Design gold medallions to either side of the window (plus one on the bookshelf in the above pic), and finally stealing a rug from the dining room and swapping out the below trellis version in the office (an all jute rug is the way to go in there – and doesn't the organic shape in the above photo look much better than the rectangular one below?).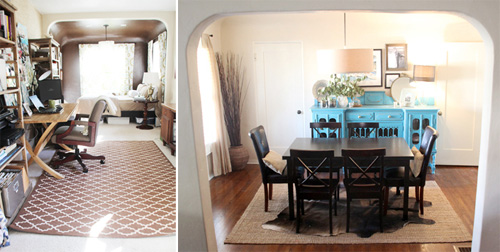 Often shopping is not necessary. A space can easily be refreshed with a bit of shopping the house! Amazing how moving one bright vase to a new room or exchanging accent chairs with another bedroom will give those accessories a new life.
The new white dressers are making a huge difference in the room as well. Previously, I had found a neat mid-century modern wood credenza that fit in the space, but I quickly out grew it storage-wise and have been on the lookout for something fun in a bright color. When these dressers popped up on Craigslist I went to check them out and knew they were immediately right.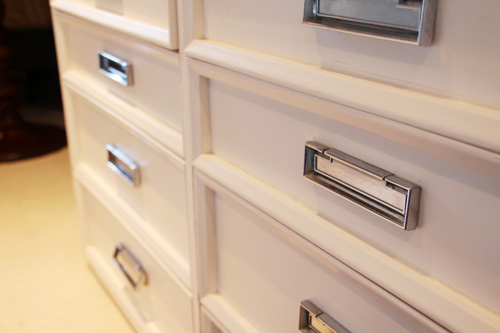 That crisp white look makes all of the difference! And the original handles and pristine shape these vintage guys are in is perfect for this home.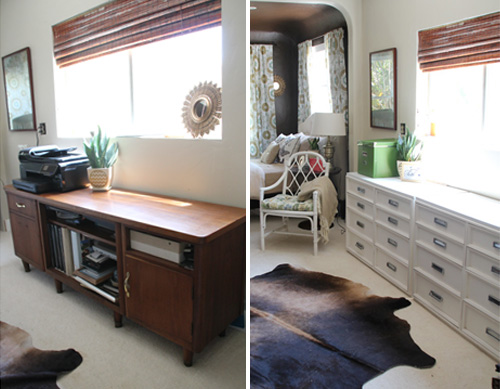 All of that storage! It's wonderful.
My desk (which is actually an old dining room table) is usually covered in notebooks and computer screens and glasses of water… but occasionally I put away all of the clutter and find this: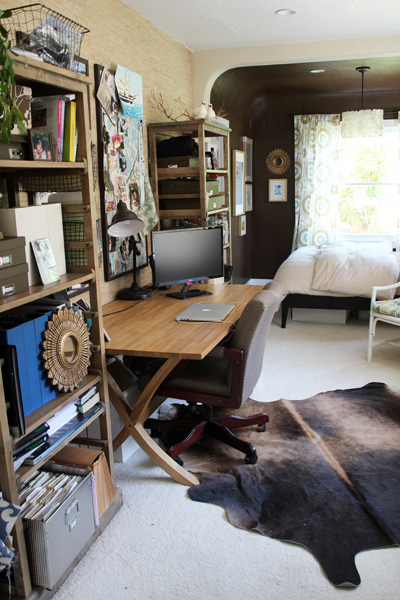 I'm still on the search for the perfect velvet to recover my chair in – perhaps a navy blue? and the rest of the wood could use a new coat of stain (in a non-cherry color). It's worth noting that I love to be organized but am not a sparse person – I really, truly enjoy staring up at those tall bulletin boards (made back here) and finding dozens of pictures of Olivia, our family, my favorite tear sheets, work docs and a few quotes and prayers that help to focus me. Even if it means that above my desk might feel a bit crowded. A well-organized file bin is helpful, a stack of unsorted papers on top of that is usually the regular.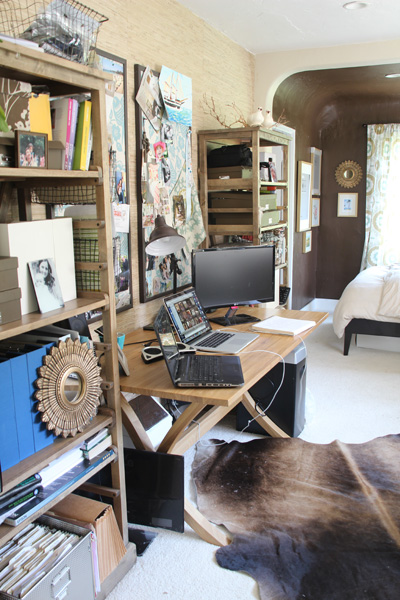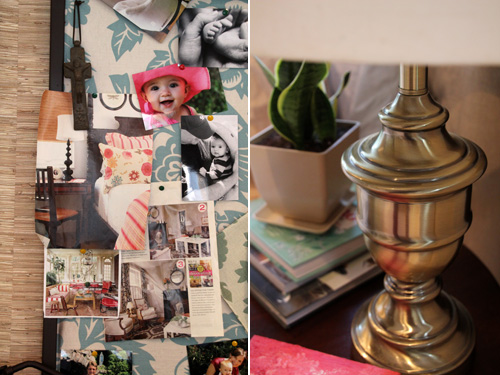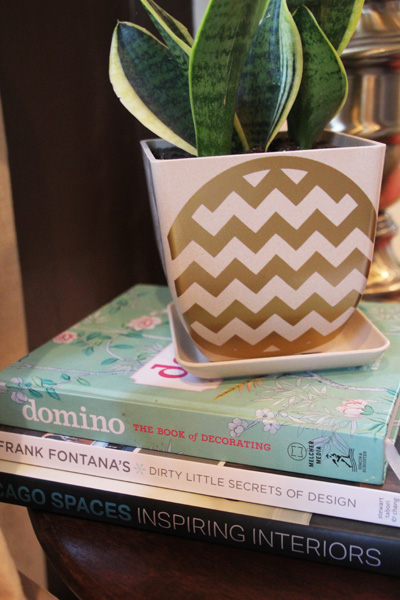 The room is slowly embracing my initial color palette as well, now it's time to add a few pops of coral and pink (I'm thinking in the form of a bit of DIY art, a new lamp? and a few new pillows):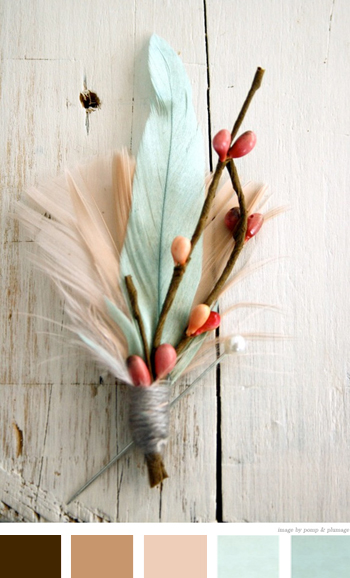 (Just for comparison's sake, here's what I first identified as these particular color plans in the room back in February):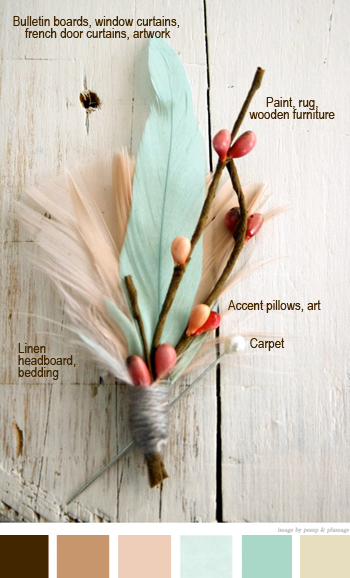 Pretty close, right? I would have bet that my ideas would have changed quite a bit in the last six months, and while they did – they didn't travel too far from the original.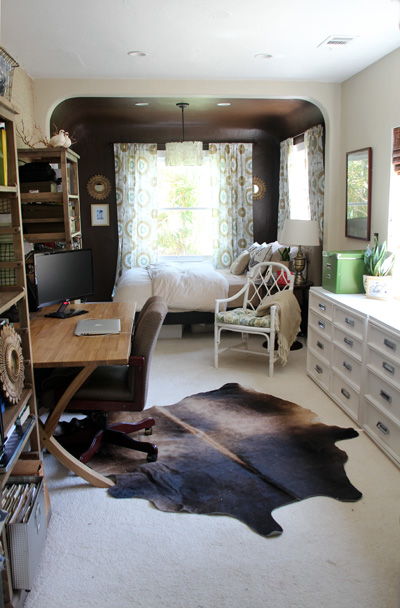 Next up, art for these walls, a bright coral or pink pillow for that chair (might recover the cushion? Did I mention I scored it for $25?), a new fabric roman shade for the big window over the dressers and a reupholstered office chair. Maybe more? Time will tell.
For more Office Makeover posts, check out: a new tufted headboard for the guest bed, our floor plan, color inspiration, a new trellis print rug, stuck in a rut, designing and sewing the curtains, diy fabric bulletin board panels, handmade capiz pendant light, organizing the bookshelves, wall collage part 1, part 2, fabric bulletin board inspiration, (new) inspiration board, new lamps, wallpapering open shelves, finding the perfect credenza, new trim, dining table-to-desk, a new desk & bookshelves, installing remnant carpeting, grasscloth wallpaper, painting the office nook, finding carpet for the office, chocolate brown wall ideas, plastering progress, inspiration for a diy desk, back in action!, desking hunting for under $300, bookcases under $300,inspirational rooms, room layout options, demo part 1 & demo part 2.
Tags:
Bedroom
,
Decorating
,
Green
,
Home
,
Office
,
Teal
,
Turquoise
Posted in
Featured DIY Project
,
Featured In
,
Guest Post
,
Home
,
Our Guestroom/Office
,
Renovating Adventures
|
5 Comments »