June 25, 2010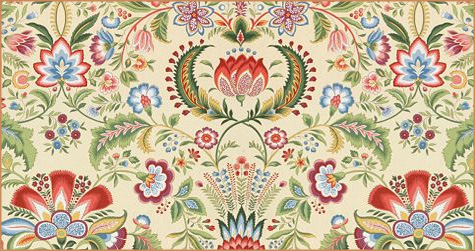 This is one of the beautiful fabric remnants that I recently received from Calico Corners for the San Diego Design Expo. I wanted to find a fun use for it and came up with this basic night light fashioned from a Target fabric lantern.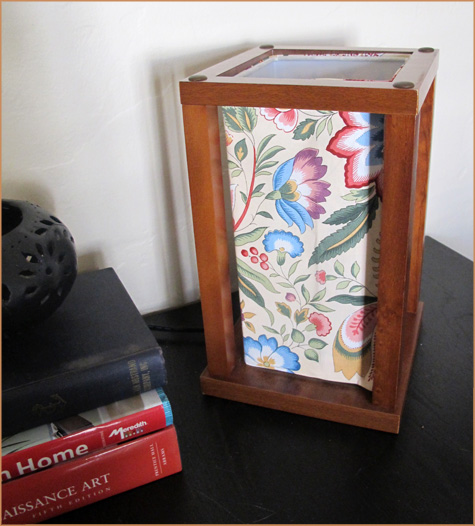 The inner sleeve of the lantern slides easily out to reveal the light bulb inside, by simply recovering the sleeve you have a brand new look.
To create: cut fabric to size of lantern + 2″ in length and height, flip fabric over and use spray glue to create a 1″ hem around entire remnant (a ruler is a helpful tool to flatten out edges). You could also use the spray glue to adhere the fabric to your new lantern shade, but I used a simple pin to hold it in place so that I could easily change it out in the future!
It's easy to update with new fabrics as rooms and tastes change.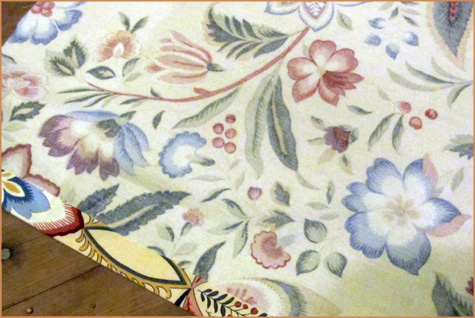 This would make a great addition to a kid's room or guest room – with the fabric's intricate pattern the new lantern creates a soft, muted glow that I love. I even tried it with a red light bulb and it created a fun effect!
Tags:
Accessories
,
Bedroom
,
Crafty Solutions
,
Decorating
,
DIY
,
Fabric
,
Home
,
Patterns & Color
Posted in
Crafty Solutions
,
Home
|
Comment »
May 17, 2010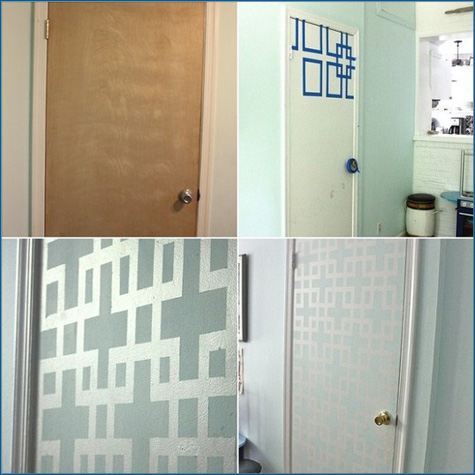 Before: your average ho-hum plain wooden door. After: a modern, spruced-up entryway with a subtle touch of glam.
Inspired by this amazing wardrobe makeover, Leah Moss of Apartment Therapy created her own diy trellis door with a bit of painters tape and a quart of paint.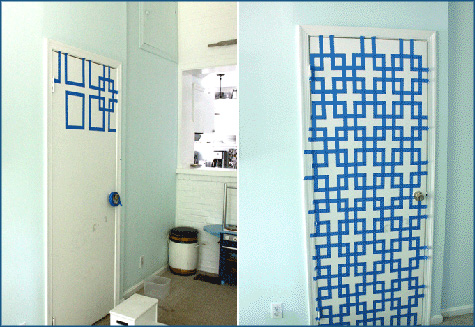 She used 3/4 inch painters tape to create the overlapping trellis pattern (which is a series of squares stacked on their corners) and then painted the door in Benjamin Moore's Barely Teal mixed with their self-priming Aura line.
If you're interested in contrasting colors, try painting the entire door prior to taping with another color/priming blend.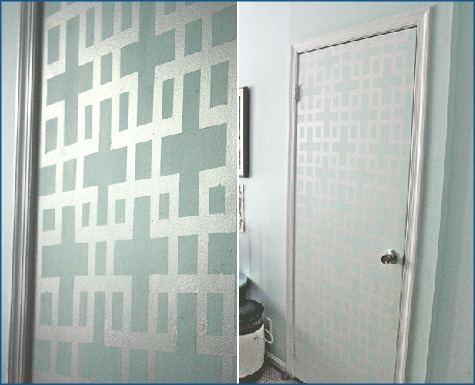 Cool idea, right? Here are three more, starting with two closet makeovers and one front door that's sure to grab a bit of attention. All images from Apartment Therapy.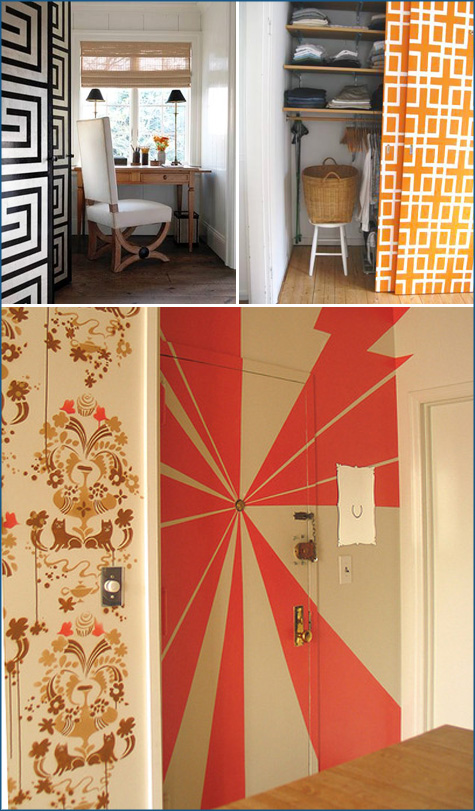 I especially love the idea of taking lackluster sliding closet doors and giving them a quick update. Painting isn't the only option, what about wallpapering or covering in corkboard squares?
Tags:
Accessories
,
Bedroom
,
Before & After
,
Blue
,
Crafty Solutions
,
Decorating
,
DIY
,
Home
,
Paint
,
Patterns & Color
,
Tutorial
Posted in
Crafty Solutions
,
Home
|
5 Comments »
May 11, 2010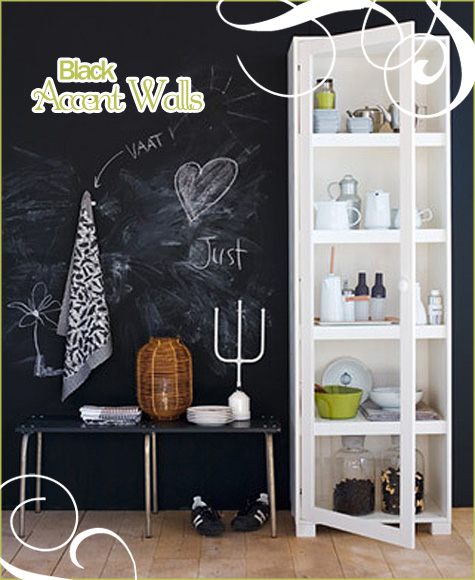 What are your thoughts on black walls? I think they're kinda cool. An accent wall here or there in a strong color can really make a room pop, and an entirely black room can give the illusion of a larger, open space (it doesn't really make a room smaller as most people assume) while still exuding that intimate atmosphere.
My favorite technique is painting your accent wall with chalkboard paint for instant creativity! Now the grocery list, kid's artwork and favorite quotes can be displayed for all to see (and erased as quickly as it went up).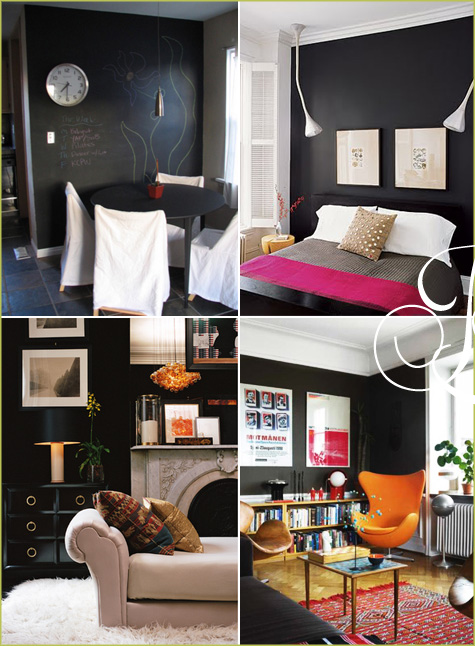 What do you think? Would you ever paint a wall or room black?
A black wall helps artwork and wall collages to prominently stand out: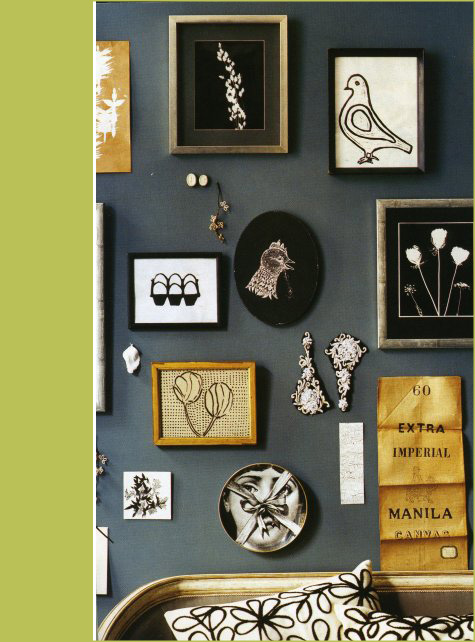 And can bring a sophisticated coziness to a small den: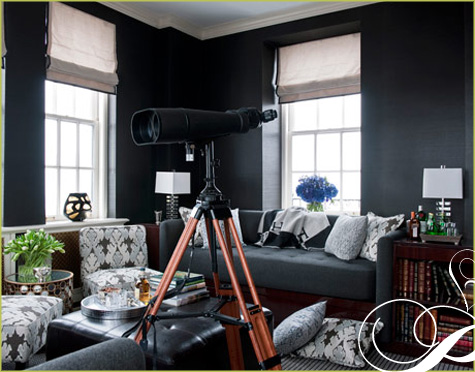 Chalkboard walls are my favorite in the kitchen and bedroom. Choosing a pop of color (like turquoise) helps balance the darker background.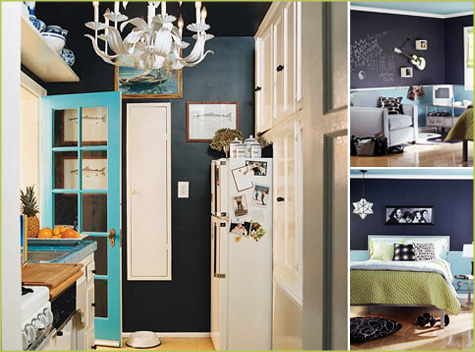 Keep in mind there are many different types of black so before you grab the nearest pitch black gallon of paint, determine if your room would benefit from a blue-black, deep midnight color or dark gray. You're best bet is a matte – avoid the glossies.
If you're not a black-wall-type-of-person, not to worry – but if you are, there are four more delicious examples after the jump! Plus credits for all of the images. Read more »
Tags:
Bedroom
,
Black
,
By Color
,
Chalkboard Walls
,
Decorating
,
DIY
,
Favorite Trends
,
Home
,
Living Room
,
Paint
Posted in
Home
|
14 Comments »