January 19, 2010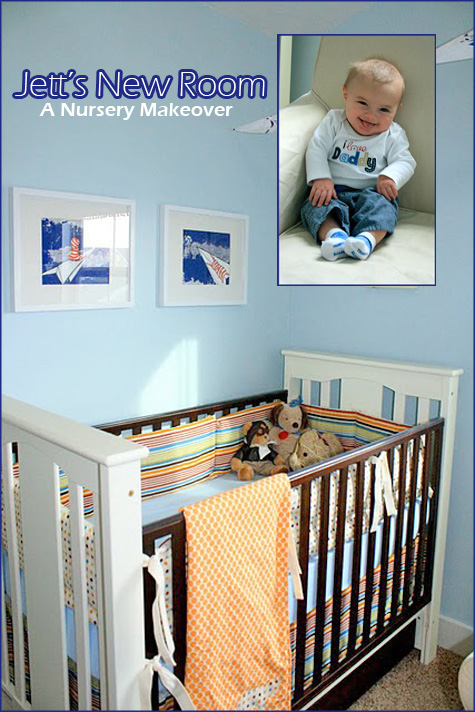 Kirsten, over at 6th Street Design School blog, just finished the cutest makeover for her son, Jett. Her son's name, and husband's full time job as a pilot, gave way to the perfect aviation theme for the space; from the wall decals, model airplanes, clustered globes and paper plane garland strung across the ceiling, all of the details are adorable.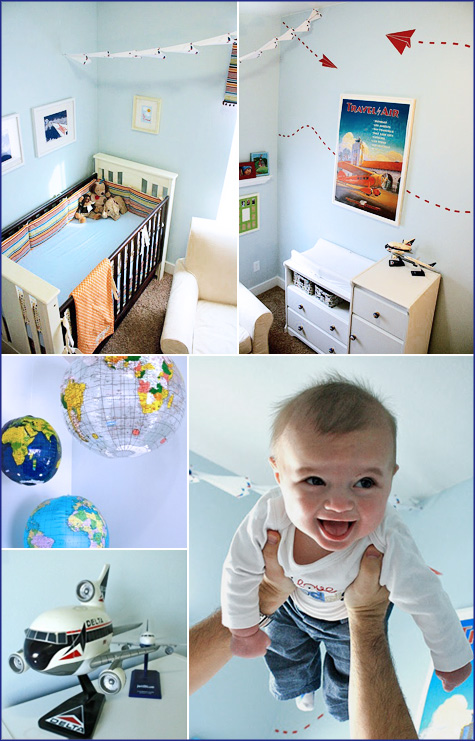 But Kirsten confides that she didn't start out with a jet theme in mind: "In designing his nursery I wanted to steer clear of the obvious airplane theme.  But guess what? I just couldn't do it.  The airplanes kept calling to me.  But in the end I really like how it turned out. If I would have to describe this room in 3 words they would be Adventure, Colorful and Sentimental. It is full of mementos from my husband's childhood and even has a few items from our travels. The room is the tiniest room on the planet earth so I tried to make sure each item in it meaningful."
To see the 'before' as well as many more room details, follow the jump! Read more »
Tags:
Bedroom
,
Blue
,
Boy's Room
,
Crafty Solutions
,
Decorating
,
DIY
,
Home
,
Nursery
Posted in
Crafty Solutions
,
Guest Blog
,
Home
|
7 Comments »
December 28, 2009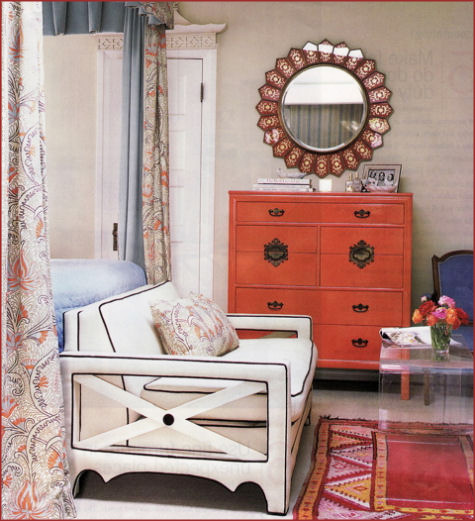 I am inspired this New Years to find beauty in the old — to embrace the well-worn as well-done and honor the original craftsmanship of 'outdated pieces' by providing them a new lease on life. Perhaps it's a need to downsize, or maybe it's that I'm not ready to throw in the decorating hat even though I have accumulated more than enough furniture to fill the house.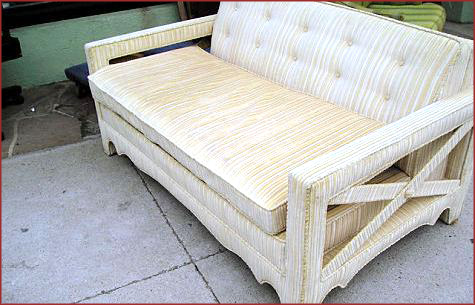 Refurbishing is clearly the answer! With the unfortunate lack of space to add more 'stuff' — I continue my decorating adventures without having to give up previous 'stuff'.
Ruthie Sommers (spotlighted in December) is an excellent example of a very posh interior designer who regularly scrounges through the thrift store circuit to come up with THESE incredible projects! The room at top (how perfect is that room?) is filled with this sofa (above) and this dresser (below).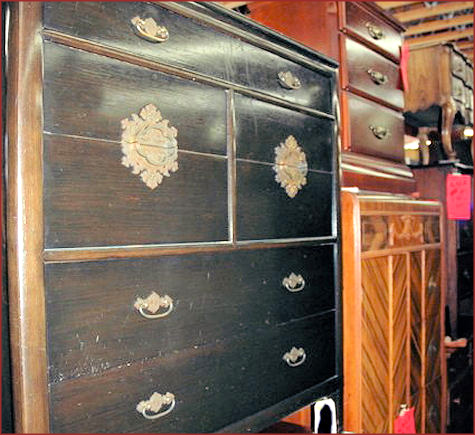 Wow! is all I have to say to that. Follow the jump for three more refashions by Sommers. Read more »
Tags:
Accessories
,
Bedroom
,
Before & After
,
Crafty Solutions
,
Decorating
,
DIY
,
Fabric
,
Furniture
,
Home
,
Patterns & Color
Posted in
Crafty Solutions
,
Favorite Interior Designers
,
Home
|
Comment »
December 18, 2009

This week my guest blog interview is inspired by everything handmade… and it's wonderful! Take a journey with me to visit Disney of Ruffles and Stuff and her beautiful DIY world.
As we approach the holidays and our wallets become a bit barer (and our New Year's resolutions a bit stronger!) I thought it would be the perfect opportunity to introduce you to a very lovely lady that embodies all things crafty and (most importantly!) pretty. A personal resolution of mine is to cut back on the 'purchasing' and up the 'repurposing' for home decor — and Ruffles and Stuff is the PERFECT blog to meet such requirements.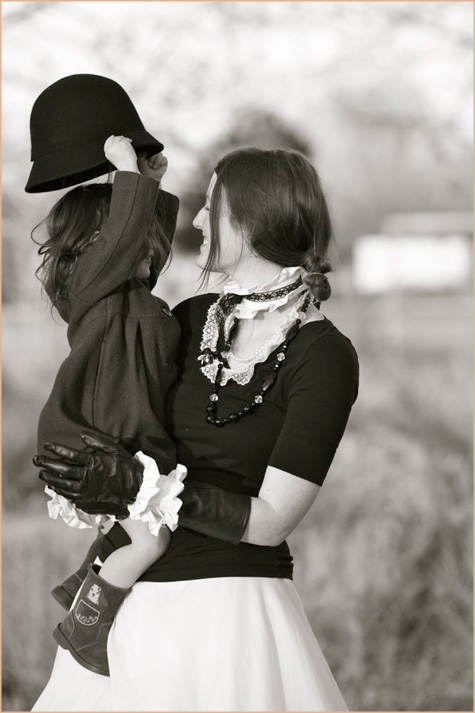 What's most exciting is that all images in today's interview are projects handmade by Disney herself! She covers the gamut of delicate slippers (see below) to framed flowers and ruffled lampshades (after the jump). Disney also designs and creates beautiful clothing (see Chanel-inspired cuffs above) for herself and her two year-old-daughter.
Disney shares that her two greatest joys in life are rain and coffee (she's a Washington native) and that "other than reading Dr. Seuss and scraping play-dough off of the floor, my favorite thing to do in my spare time is craft!"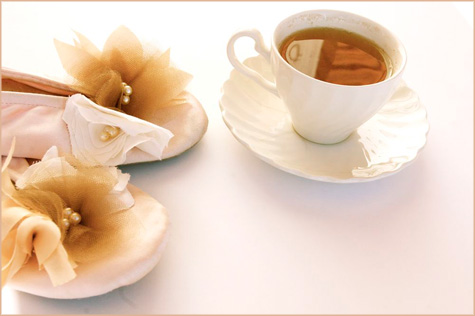 I love that her living room walls are black and that she offers step-by-step directions on making your own bib necklace… and you must read her answers to the four PDB questions (and check out pictures of her home makeover and projects) after the jump! Read more »
Tags:
Bedroom
,
Crafty Solutions
,
Decorating
,
Dining Room
,
DIY
,
Fabric
,
Guest Blog
,
Guest Interview
,
Home
,
Living Room
,
Paint
Posted in
Crafty Solutions
,
Guest Blog
,
Home
,
Interview
|
7 Comments »