October 21, 2009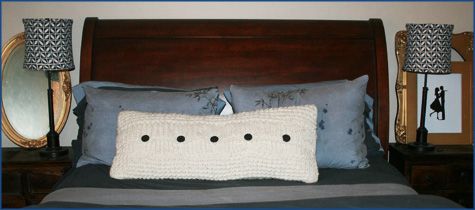 I really love the unique and customizable look of fabric lampshades and after posting several of my favorites last month, as well as a how-to by All Things Lovely, I decided to give the project a spin myself.
I ordered this great hand stamped block print fabric from HomeSweet on Etsy and found two replacement lampshades at a local lighting store. All I can say is easy, easy, easy! I was so impressed with how quickly I whipped both of these out, and I really love the blue with my bedroom.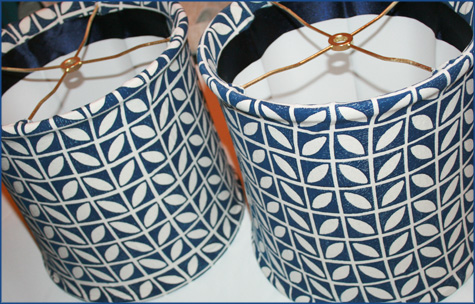 To see my custom creation journey and follow step-by-step, follow the jump!
Tags:
Accessories
,
Bedroom
,
Before & After
,
Blue
,
By Color
,
Crafty Solutions
,
Decorating
,
DIY
,
Fabric
,
Home
,
Lighting
,
Patterns & Color
,
Tutorial
Posted in
Crafty Solutions
,
Home
|
5 Comments »
October 8, 2009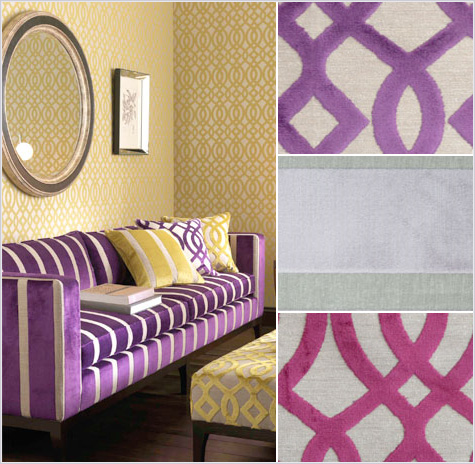 So I've changed the name of my favorite fabric show-and-tell postings to "Fabric of the Week", which more aptly explains the purpose of sharing my favorite prints that I get so darn giddy over (old name: Fabric of the Day, despite the fact that I kept just one beautiful design posted all week!).
This week's fabric, a rich velvet by Du Barry, is a gorgeous print that has caught my eye with it's vibrant colors and bold texture. You want to reach out and pet the walls thats how great the fabric/wallpaper combo looks. Du Barry Velvets is part of the Spring 2009 collection over at Osborne & Little (a treasure trove of great fabrics and wallpapers to check out). I'd LOVE to reupholster a bench or settee for the end of my bed in this bright purple or fuscia — I wonder if the husband would concede.
Tags:
Accessories
,
Bedroom
,
Decorating
,
Fabric
,
Home
,
Living Room
,
Patterns & Color
,
Pink
,
Purple
,
wallpaper
,
Yellow
Posted in
Crafty Solutions
,
Favorite Fabric
,
Home
|
1 Comment »
October 1, 2009
Update: I'm realizing that this post is getting to be quite popular over at Pinterest and while I still love the directions offered here for creating your own DIY tufted headboard, I more recently did create my own (below are directions from Apartment Therapy) and you can read all about it (especially for tips and suggestions for trying this out) here.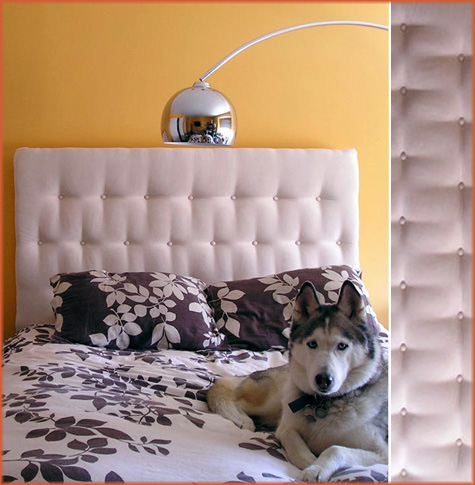 Tufted headboards are chic and lovely, and would look great in any bedroom. They are that perfect balance: soft and comfy but equally classy and modern; somewhere between masculine and feminine without leaning this way or that;  you can go bold with your color choice or keep it sleek and simple in a bright white and it remains perfectly appealing.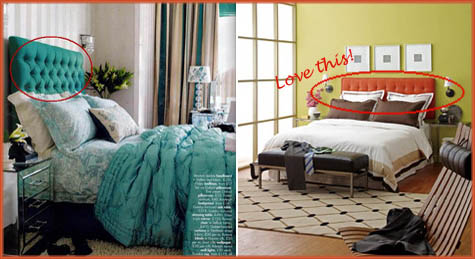 I would love even more to make one of these by hand –  and after reading this great tutorial at Apartment Therapy on homemade headboards, I'm considering that even my basic sewing skills might be up to par. Follow the link for more great tufted headboard inspiration and the complete How-To. Read more »
Tags:
Accessories
,
Bedroom
,
Crafty Solutions
,
Decorating
,
DIY
,
Fabric
,
Home
,
Patterns & Color
Posted in
Crafty Solutions
,
Home
|
37 Comments »