May 17, 2013
It's perfect weather for an outdoor picnic, no? Hopefully you're experiencing this beautiful sunshine wherever you are, too! Eating outdoors is the best (especially on a big grassy lawn at some fun park) and now that the Outdoor Eating season is approaching here in Southern California, I think more picnics need to happen in our house. Or, outside our house. Maybe on the new outdoor table.
Liv and I were experimenting with painting (her new very favorite-ist thing to do in the whole wide world), and while Liv took to the bright colors, I played around with updating simple rattan chargers from Ikea with white paint.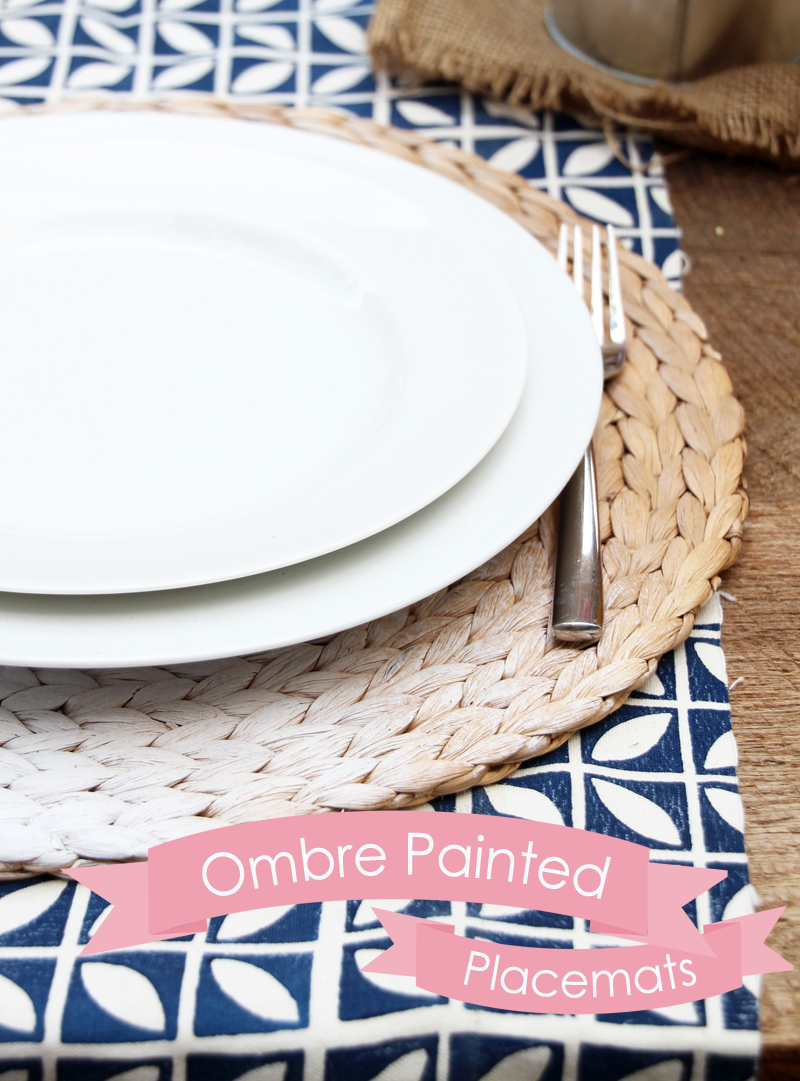 Turned out pretty cool! I really dig the look with that blend of the soft rattan and the stark white finish. Actually, this is just dawning on me – they kind of remind me of these.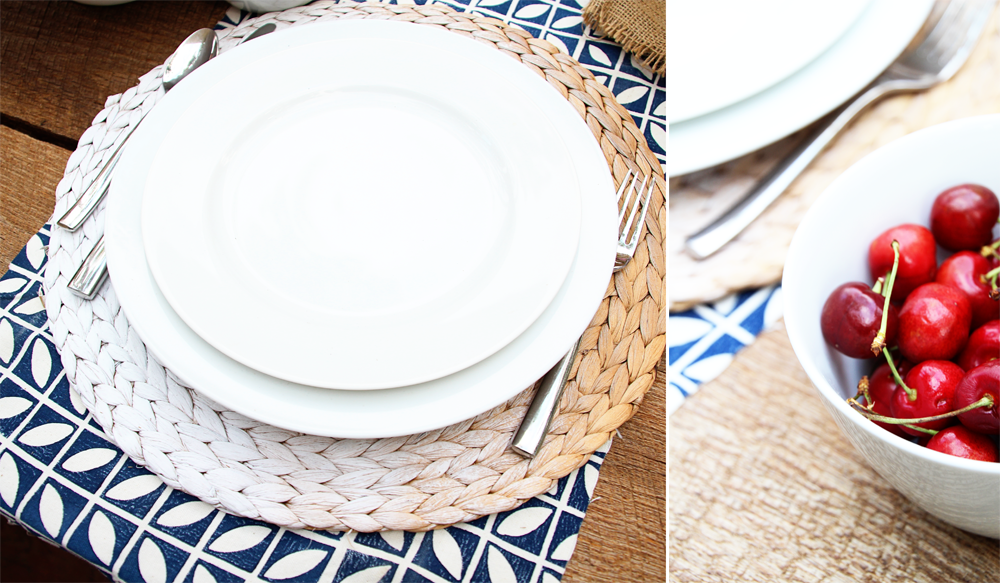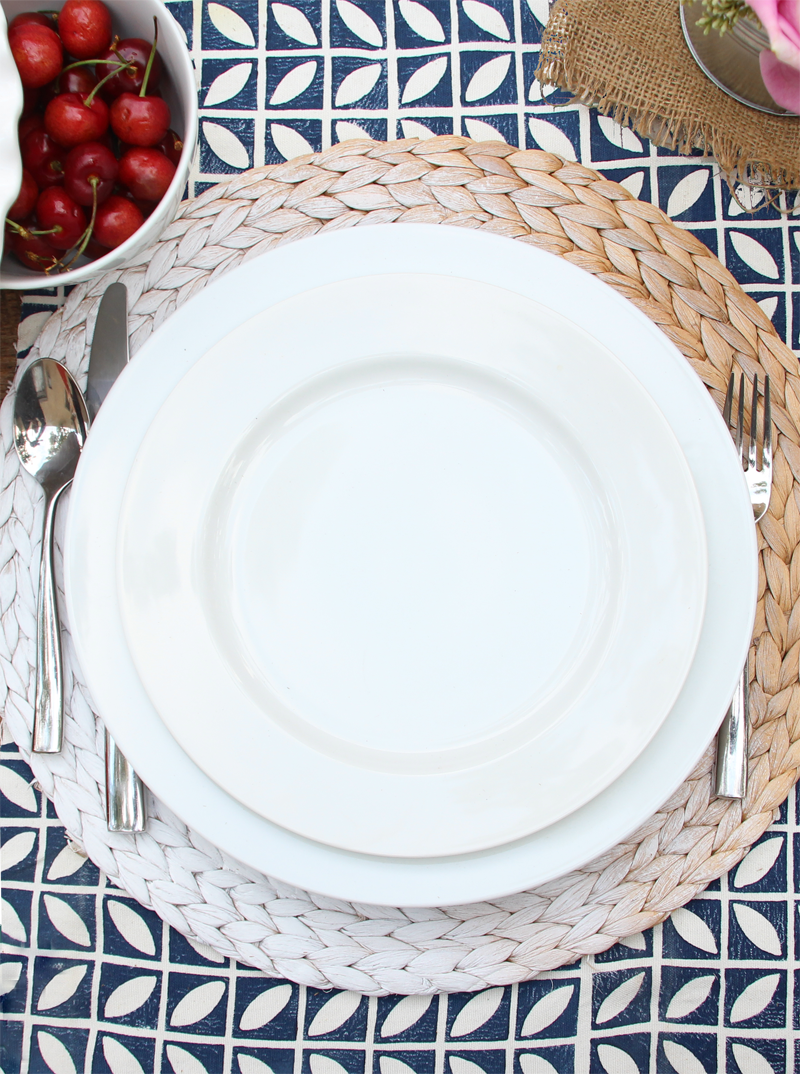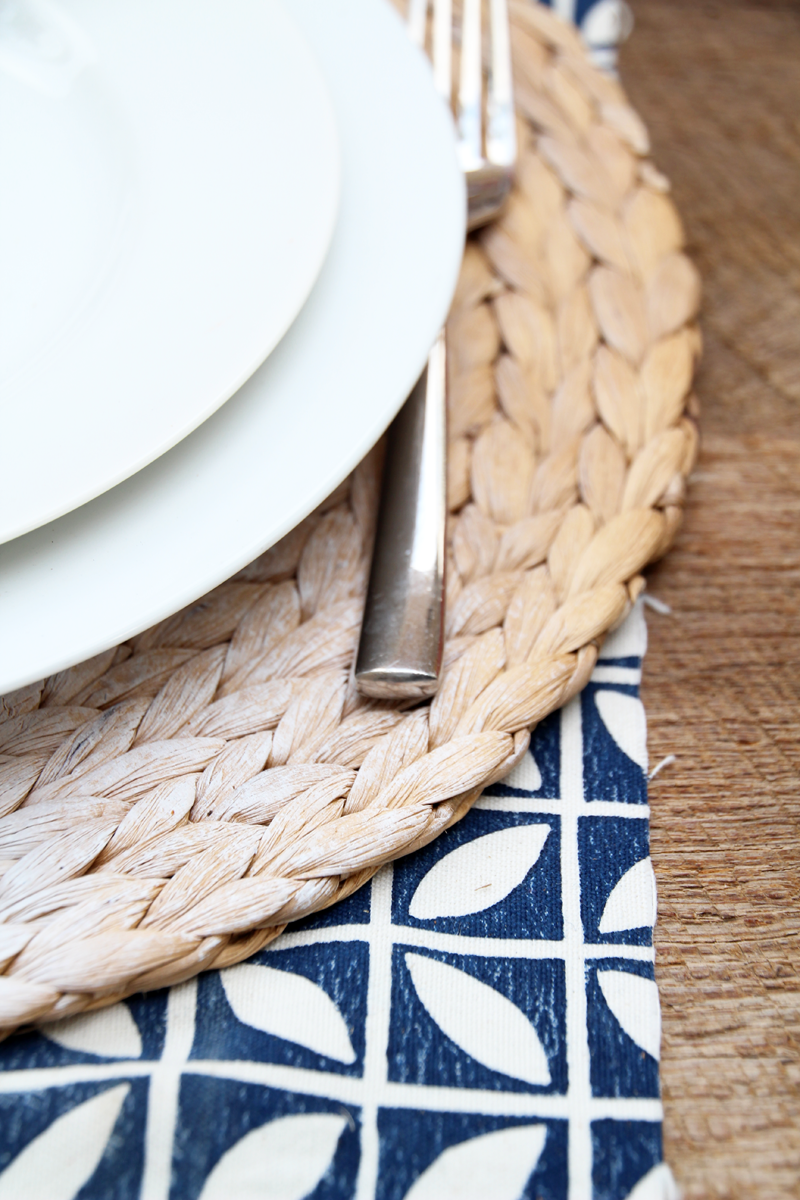 The application process was more than basic. I actually tried spray paint first thinking that that might be fast and easy, but couldn't achieve that gradiated effect I was picturing, so went over the work with acrylic and a paint brush.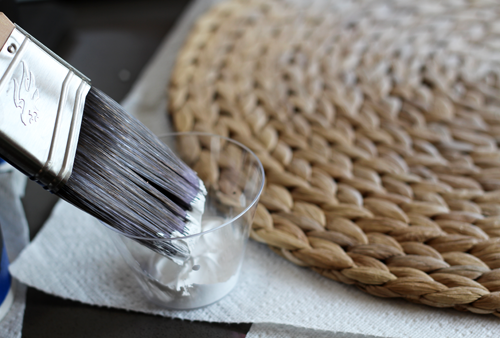 Brush, brush, blot, blot…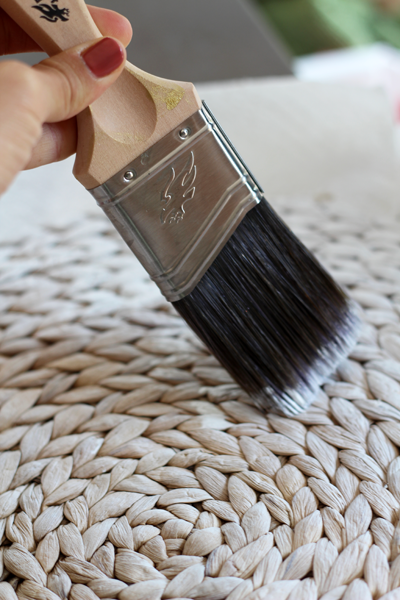 Lots of blotting later…
And finished!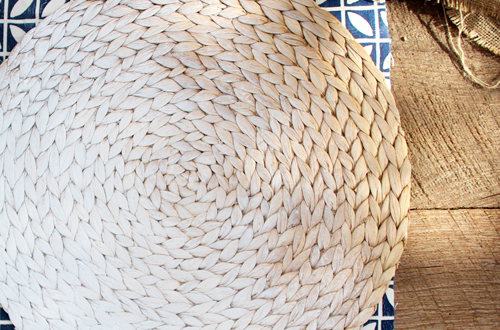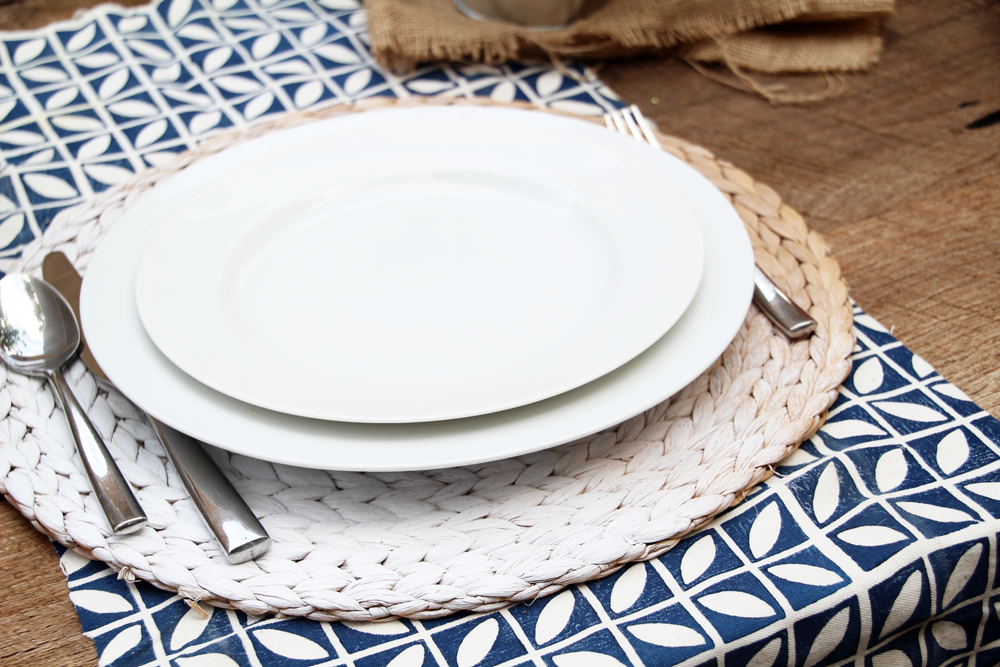 Navy and maroon might be a new favorite color combination – kind of perfect for July 4th, no?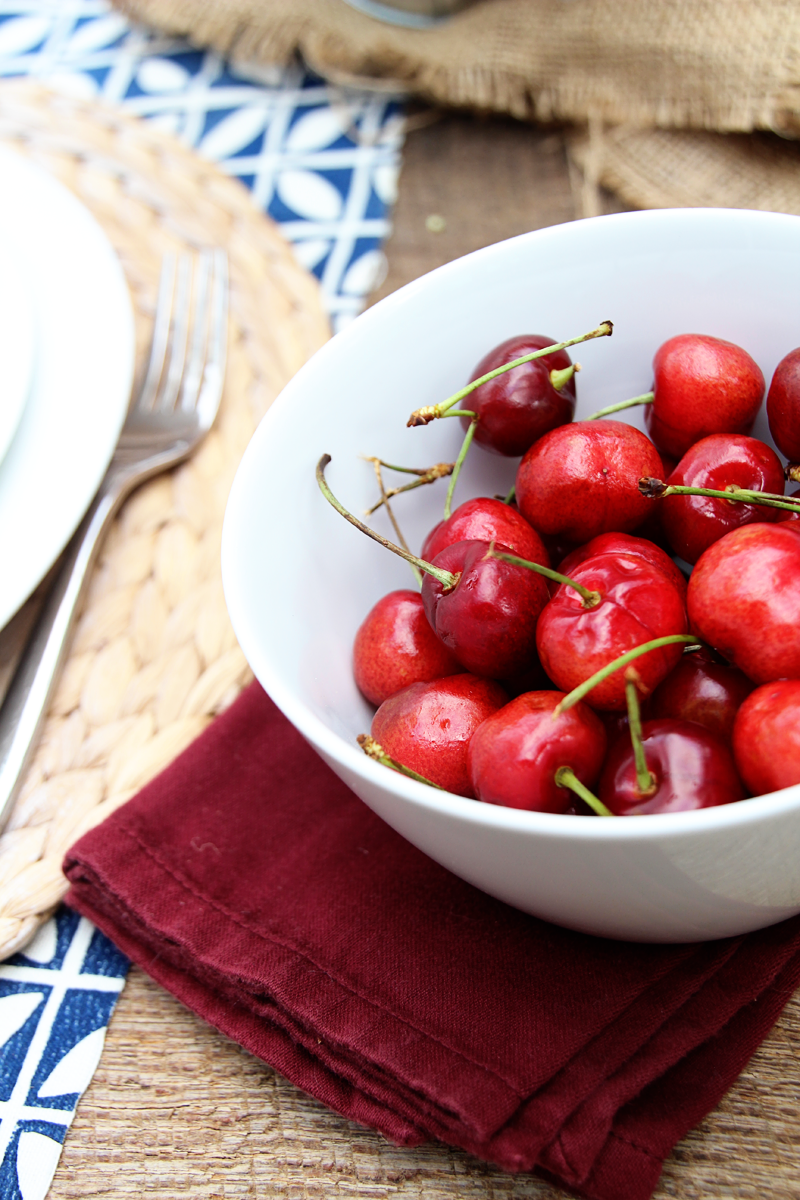 These placemats were so simple to create and at a couple of bucks a pop, a great housewarming gift idea as a pack of four or six, or perhaps as something special for a special lady/friend/mother in your life? Or even better, package up in a picnic basket with a fun outdoor blanket and a bottle of wine as a wedding gift (it's that season, too).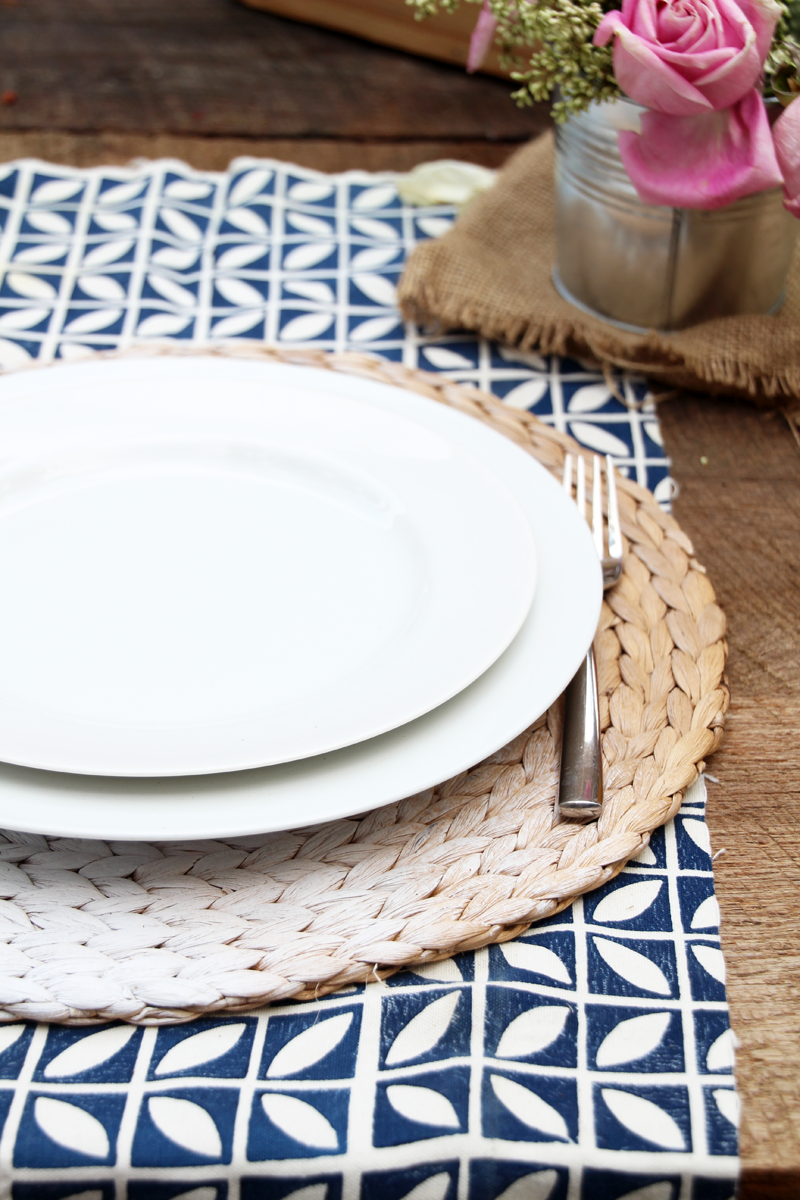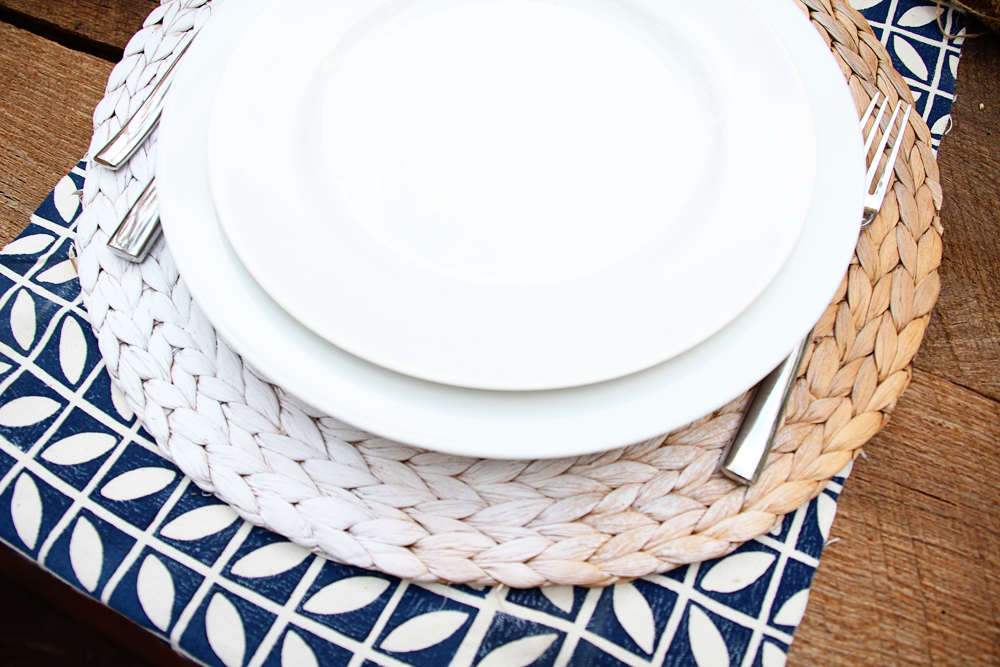 Sorry, enough photos. The lighting was perfect and I went a leeetle overboard.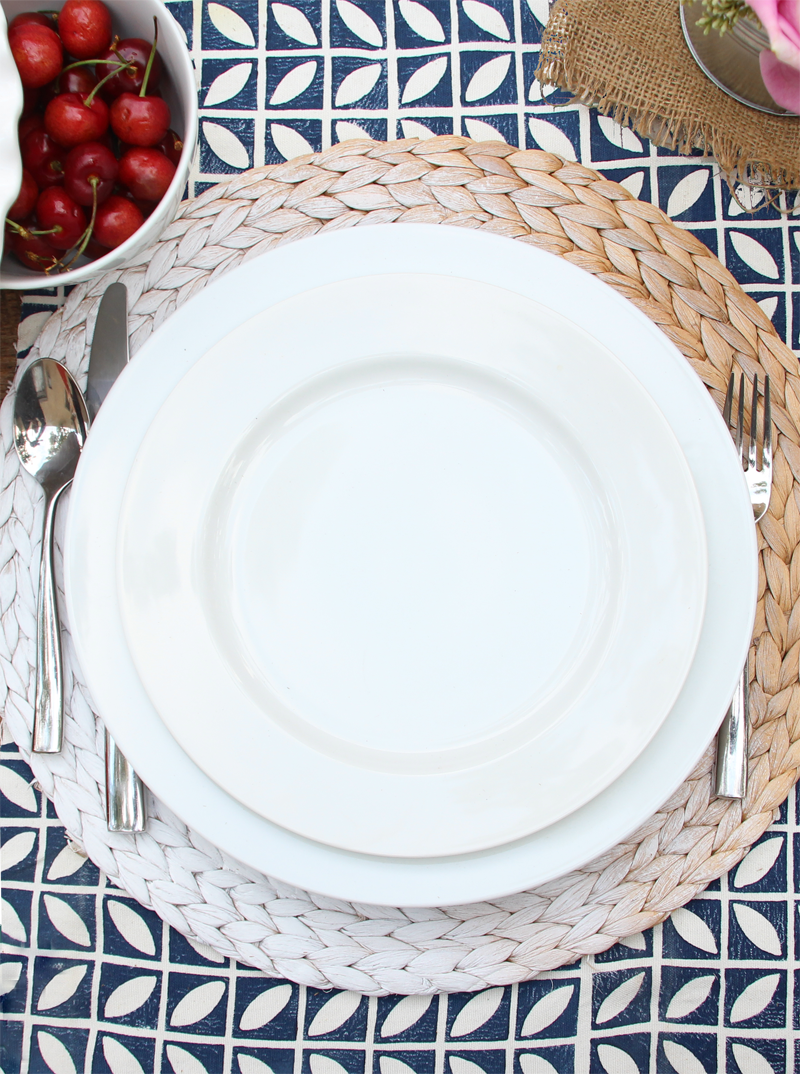 More handmade gift ideas found right here.
Tags:
Accessories
,
Before & After
,
Crafty Solutions
,
Decorating
,
DIY
,
Home
,
Parties & Entertaining
,
Tutorial
,
white
Posted in
Crafty Solutions
,
DIY
,
Handmade Gifts
,
Home
,
Parties & Entertaining
|
3 Comments »
April 28, 2013
Liv is collecting little art supplies and toys by the bucket full. The big bins that we initially added to her bookcase are great for storing bigger toys, but little cars, wooden blocks, doll clothing and so on is quickly swallowed up – and finding complete toy sets (like Liv's wooden train) is impossible these days! So we're working on adding small container storage to the room little by little.
One of the first organizing projects I tackled included Liv's art supplies in her little reading nook.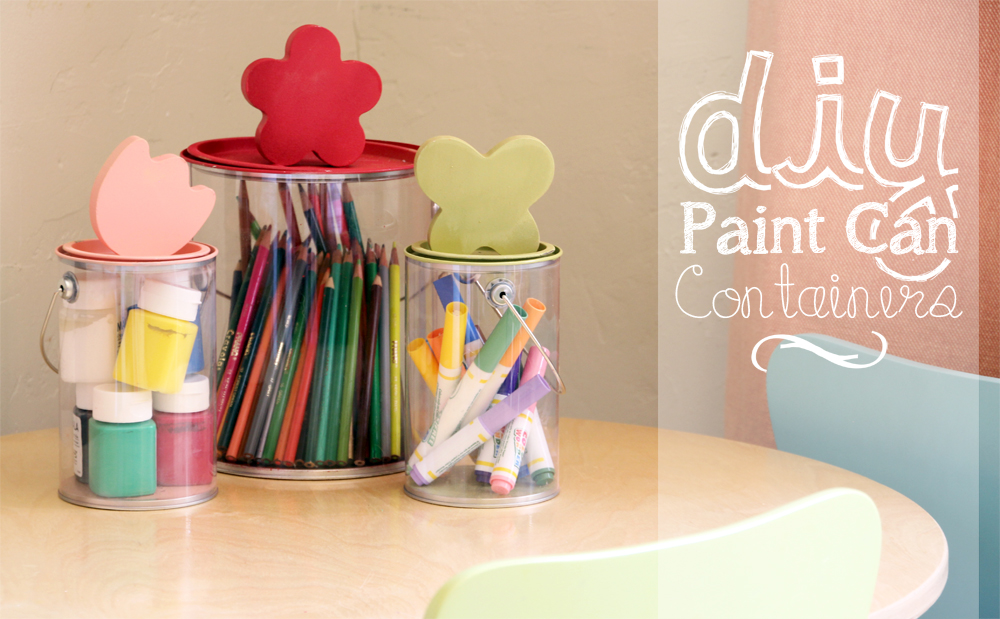 Rather than collect colored pencils, markers and paint into one central storage location (as we had previously done for a while), separating out supplies makes it easier to focus on one specific art activity, put that craft away, and then move on to the next. I first attempted this with open buckets but soon everything was mixed together and crazy again. What is it about organized spaces with a home for each little item that is so darn appealing? It makes my world feel right.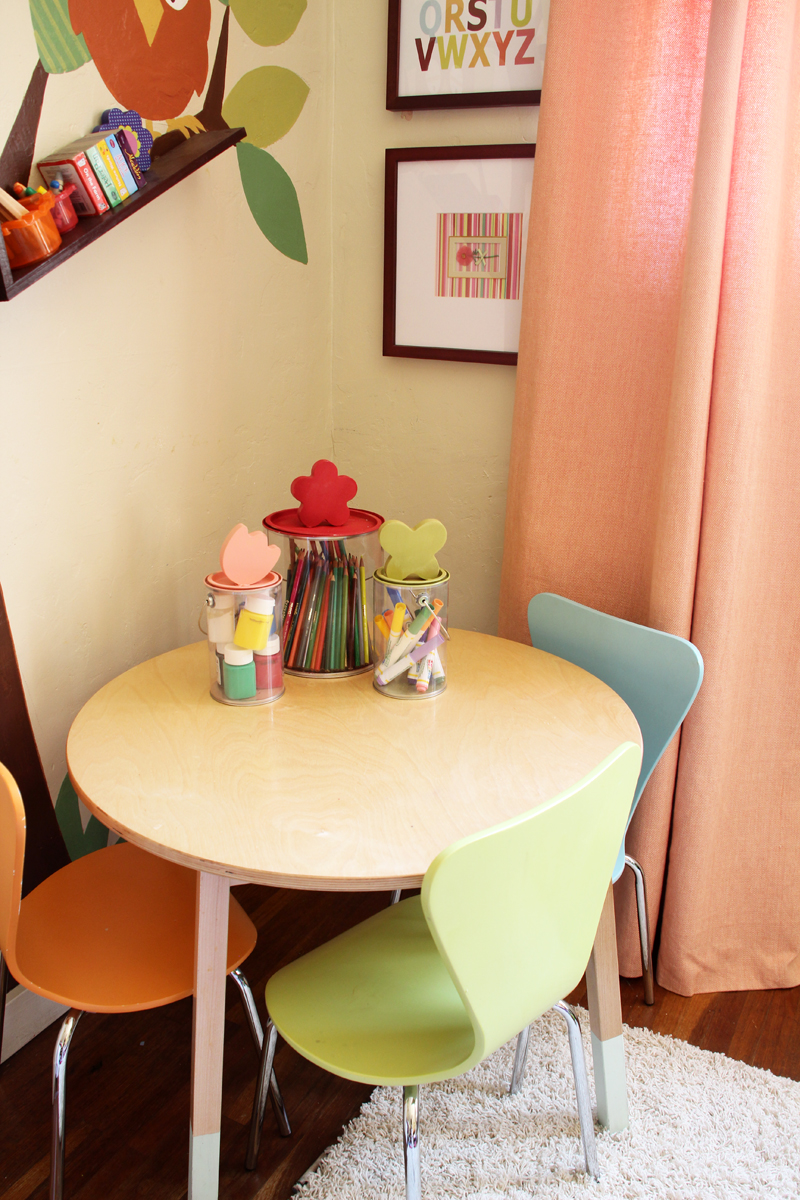 When I spotted these clear containers at Michaels I thought that they might work well just for Liv's art supplies. I love that they're plastic paint cans

.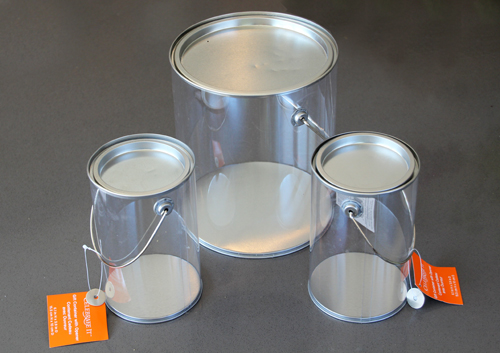 After bringing them home I discovered that cheap was too good to be true – the tops are impossible to pop off! Just like a real paint can, to open and retrieve anything inside requires some prying from a really strong object (like a screwdriver) which is not ideal for kids. Poor design.
I thought it would be fun to come up with a DIY handle that would help Liv open up the cans whenever she wants to play, and I kind of like that I can press the lids in extra tightly for art supplies that I don't want her to have easy access to (like real tubes of paint) so that even with a makeshift handle the lid sticks really well.
I thought about gluing little plastic animals or some other little toy to the top of the paint cans and then remembered that we have a very cute wooden Melissa & Doug flower puzzle that has received quite a bit of wear and tear since Liv began assembling and disassembling two years ago.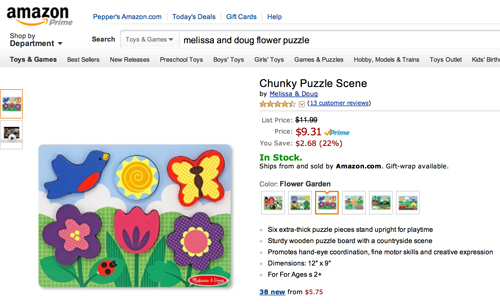 I love the shapes and use them all of the time as decoration for her floating tree bookshelves so the entire puzzle really doesn't stay assembled nor is it really used anymore.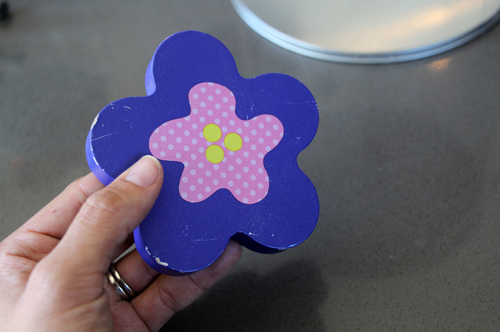 I picked out three of the shapes and hot glued them to the top of each of the paint cans.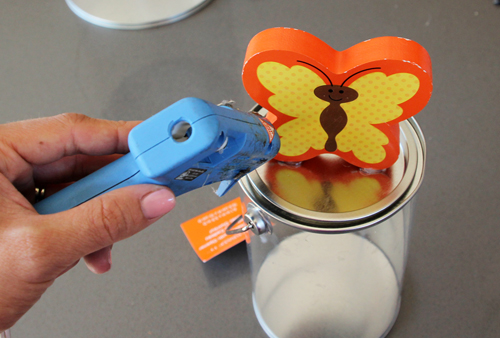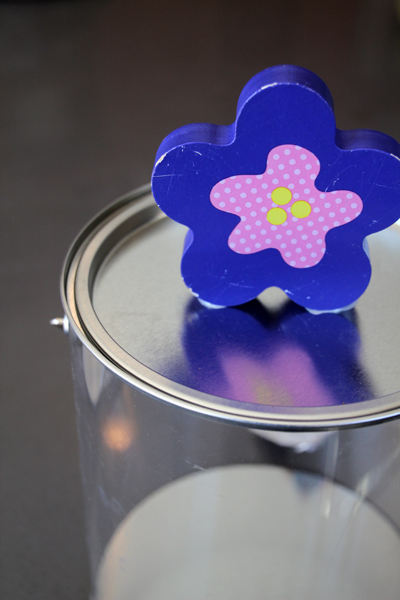 But after a night of drying quickly found out that even with strong hot glue the wooden shapes popped right off of the lids if the lids were really well planted onto the container. Boo.
Thankfully the puzzle pieces were wooden and not plastic, so plan b was to drive a little tack nail or two into each shape through the bottom of the lid (with my favorite floral desk hammer – perfect size to keep inside). Now the wooden pieces are stuck stuck.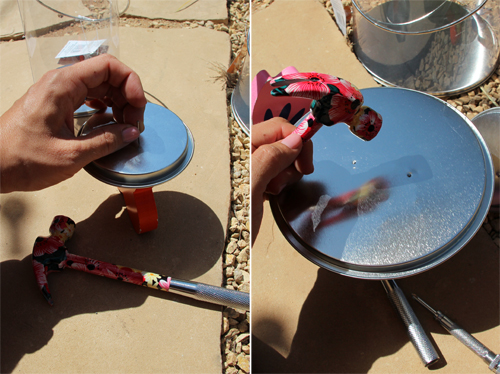 I used three paint spray colors that I thought worked well in Liv's nursery today, and would also match her new nursery for two.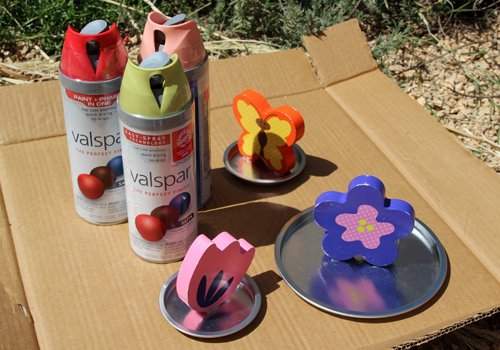 The colors turned out a bit chalky rather than pretty and polished, I'm actually really disappointed in the consistency of these particular primer + paint in one Valspar paint cans. I picked up a glossy varnish to cover all with at some point in the future that I'm hoping will fix that.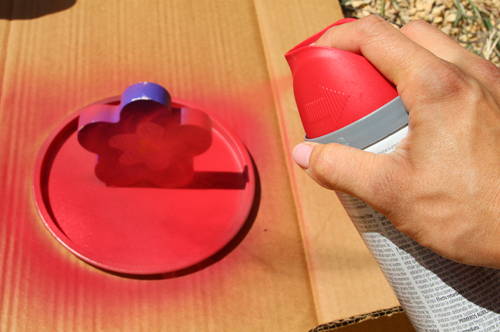 For the paint can itself I wanted just the edge painted out so I carefully taped off all exposed clear areas inside and out. Learned that lesson the hard way with a slightly careless first round of taping. Thanks goodness for Goo Gone.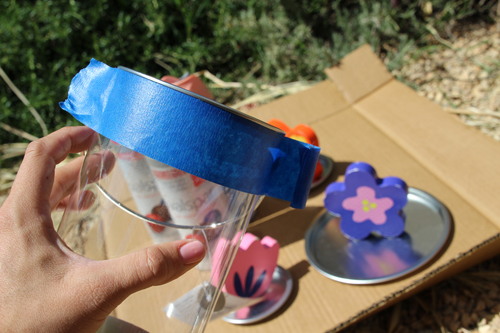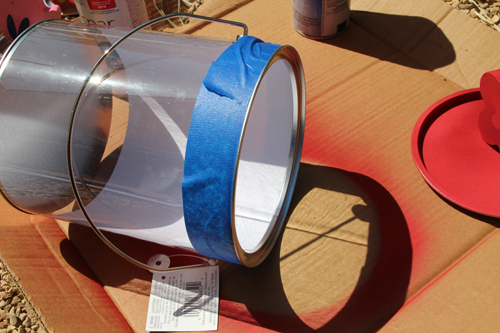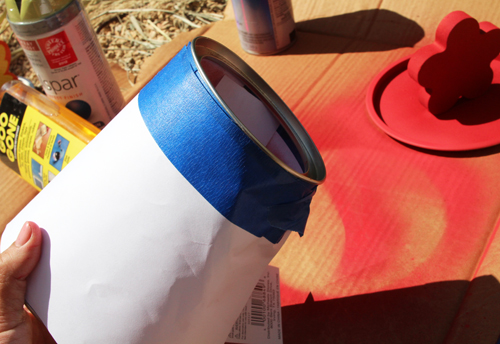 If spray paint still makes it through onto the clear plastic, Goo Gone to the rescue.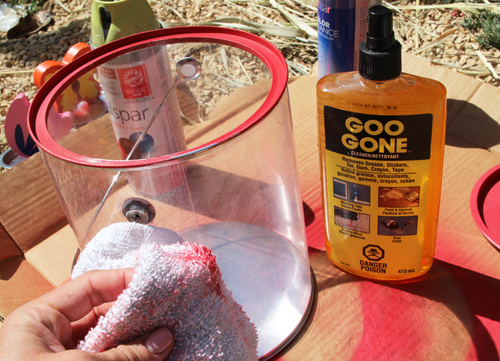 Finished! You can see the chalky consistency if you look closely…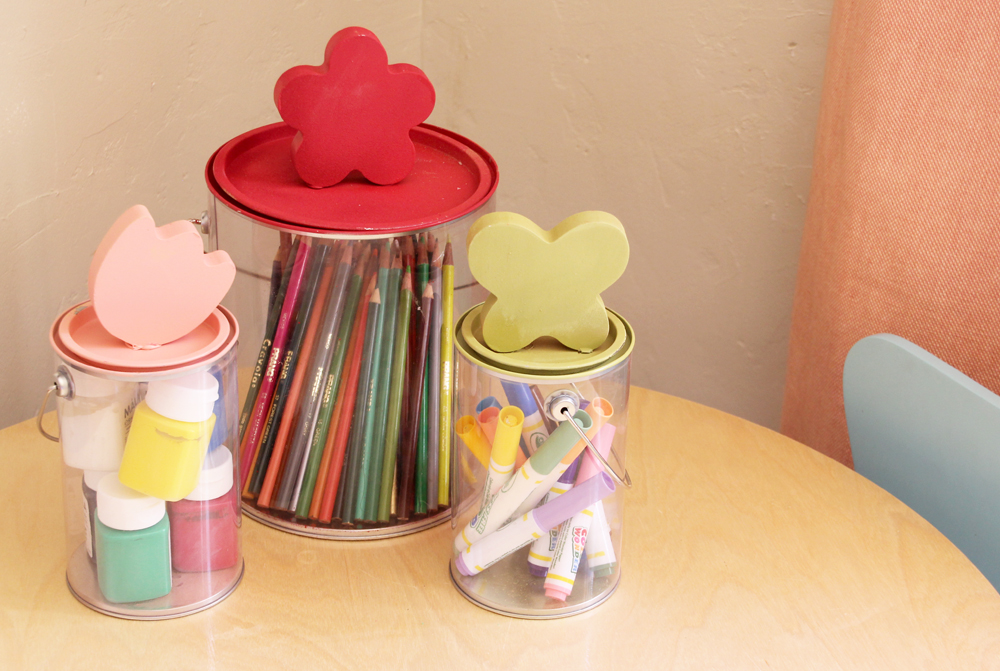 But for now they're a cute new addition to the nursery.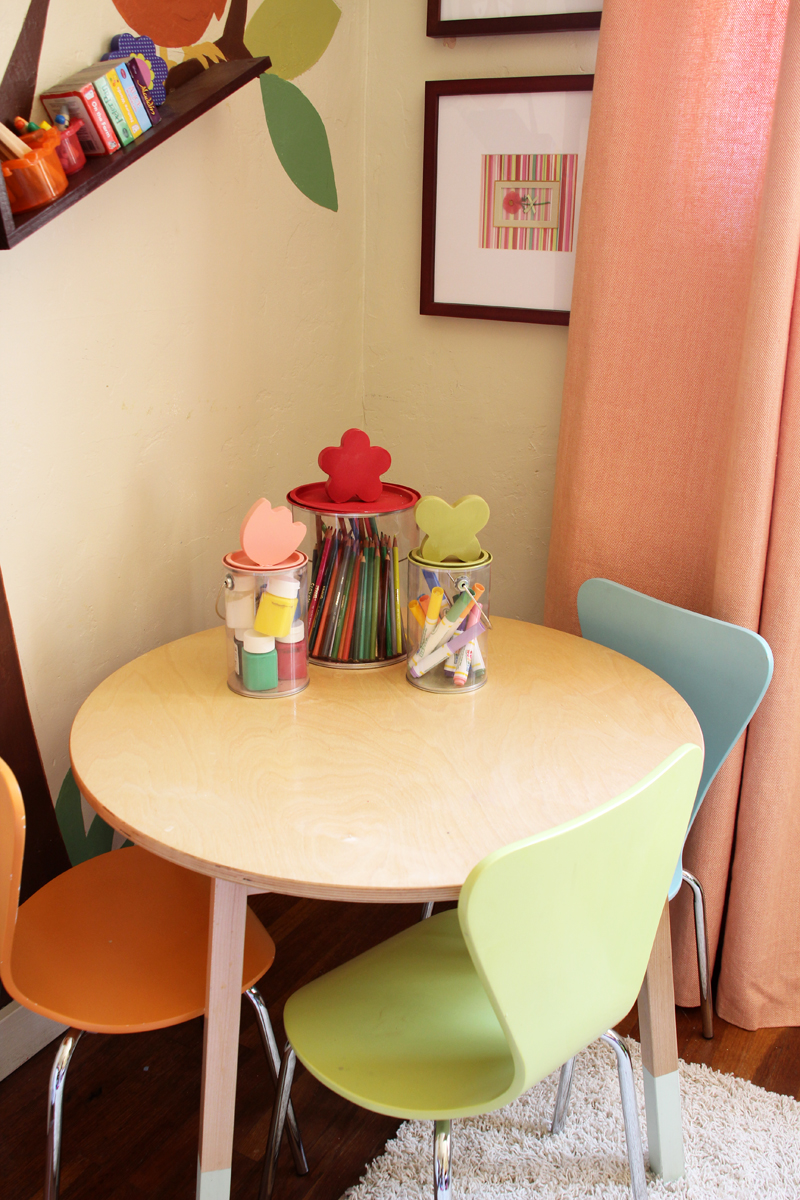 Love that the colors work well with the artwork hanging above the little table and chairs and with the painted tree and owl on the wall.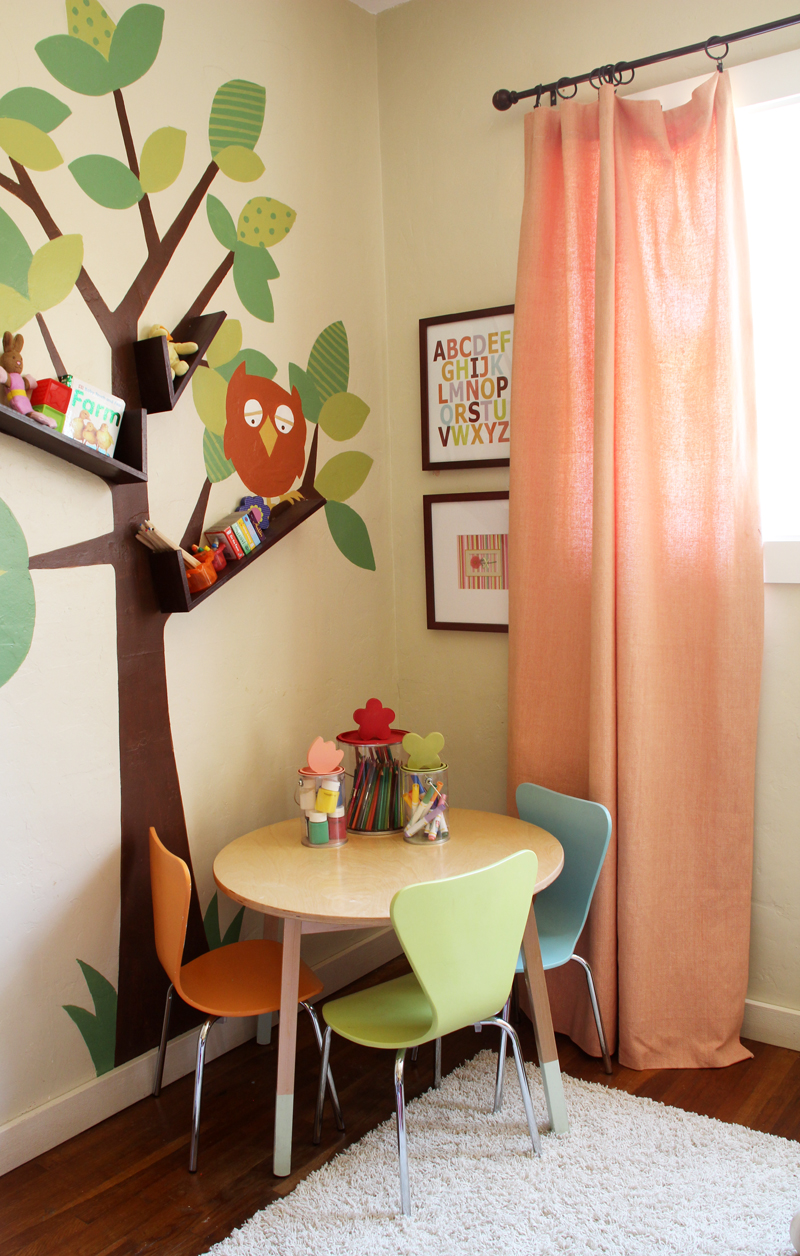 Now onto all of the other little toys (like bubble wands and figurines and musical instruments…) that are filling up Liv's room! Time for a spring cleaning.
PS all Project Nursery posts are sorted right here.
Tags:
Accessories
,
Bedroom
,
Before & After
,
Crafty Solutions
,
Decorating
,
DIY
,
Green
,
Home
,
Nursery
,
Patterns & Color
,
Pink
,
Red
,
Tutorial
Posted in
Crafty Solutions
,
DIY
,
Home
,
Liv's Nursery
,
Organizing
,
Renovating Adventures
|
4 Comments »
March 29, 2013
It's not, I can count on two hands the projects in progress for this big guy, but these last two updates that I'm sharing today make the kitchen feel so very (almost) finished!
First up, we added molding to the end cabinets of our kitchen island and boxed in fridge, and I have to say that it makes all of the difference in the world.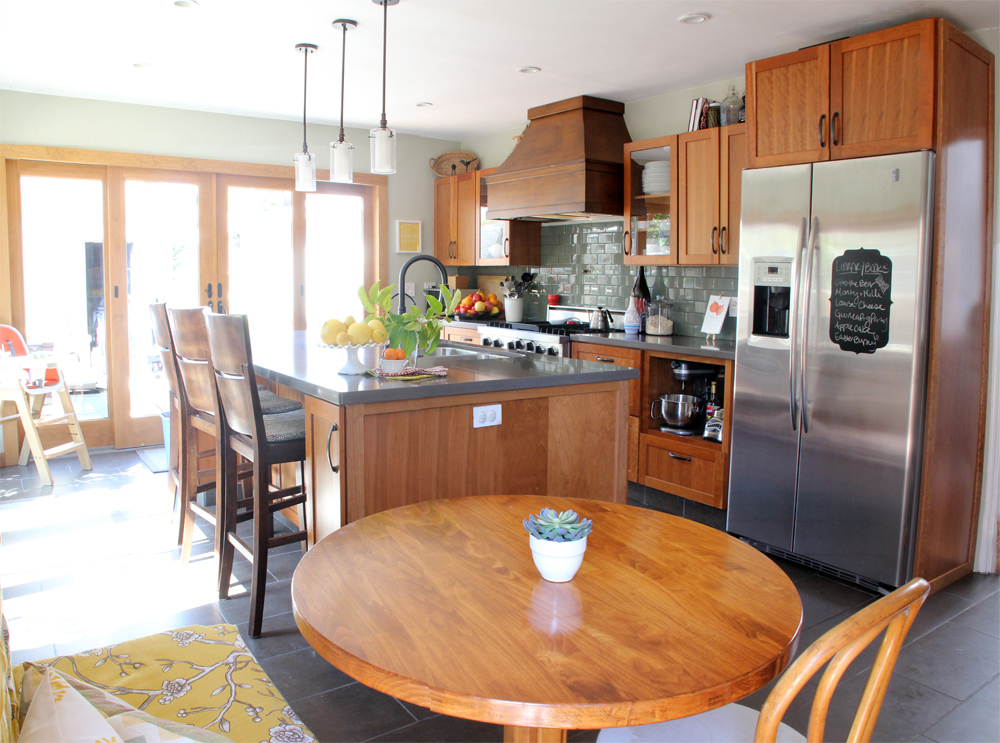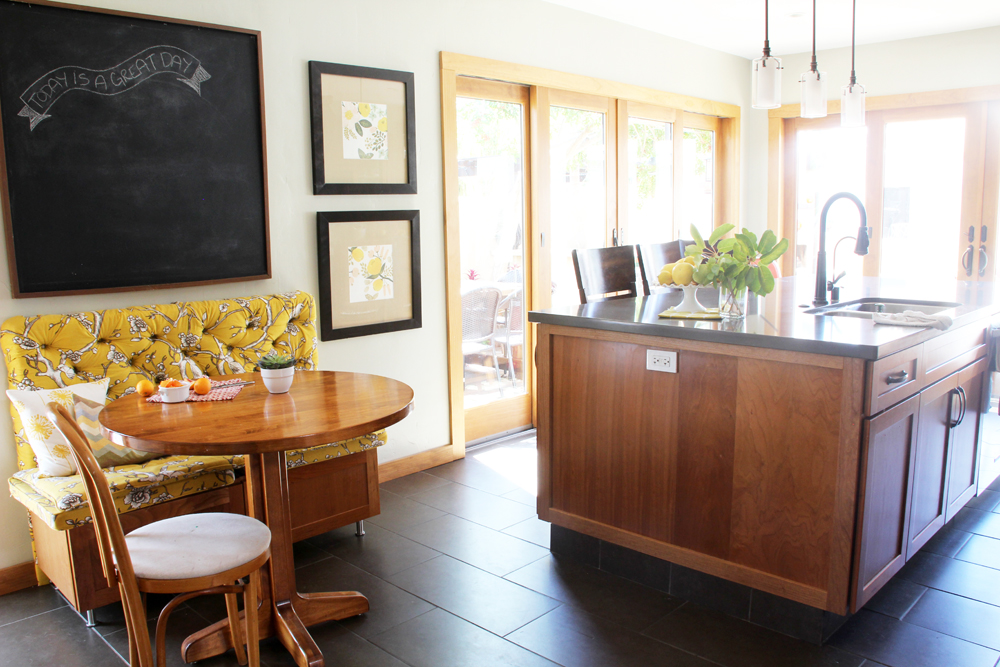 See how the end of the island is boxed in shaker-style now, just like the cabinets? Maybe it's just me… but now I walk into the room and it feels so… finished! Sometimes it's the little details like trim work (that very last 10% that you put off for years and years) that make all of the difference.
Here's a reminder of the before: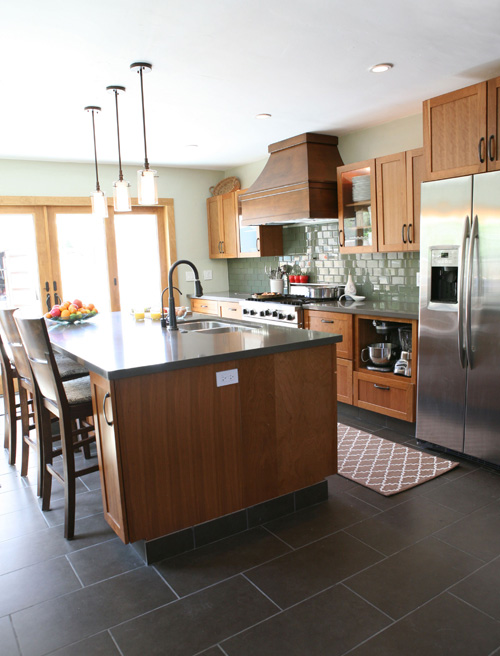 Naked, naked island. The raw piece of wood there on the end of the island always stood out like a sore thumb to me… and the tile toe kick had a groutless rough top edge that needed to be covered up.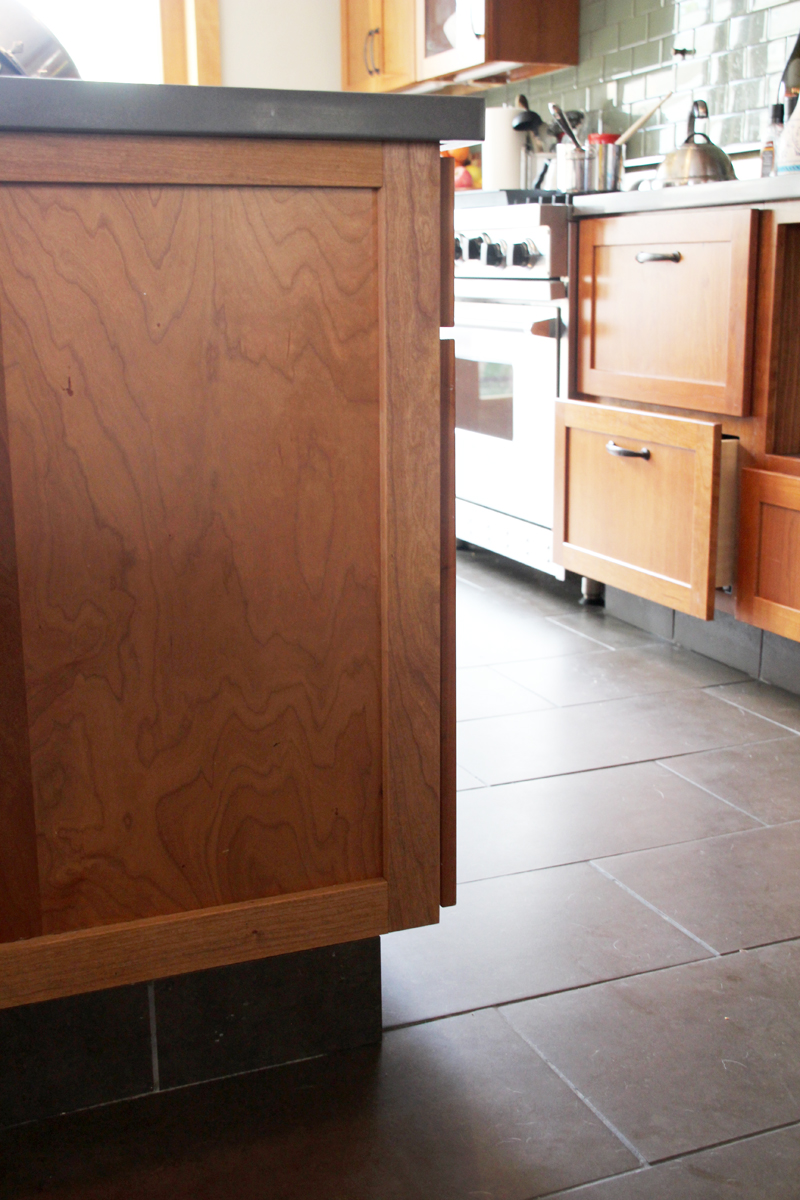 Oh so much better! We designed the island to be really, really oversized, so we couldn't order a cabinet door (sans handles of course) to cap the island with when we purchased the rest of the cabinets (which is sort of standard in kitchen finish work). They just don't make doors that big. We could have ordered two separate doors and bumped them up against each other (so that they had a long seam down the middle), but I always imagined that with a little creativity we could come up with a cleaner solution.
Two and a half years later and it finally happened. It's just one of those projects that you put off and off because it's definitely more visual than practical

.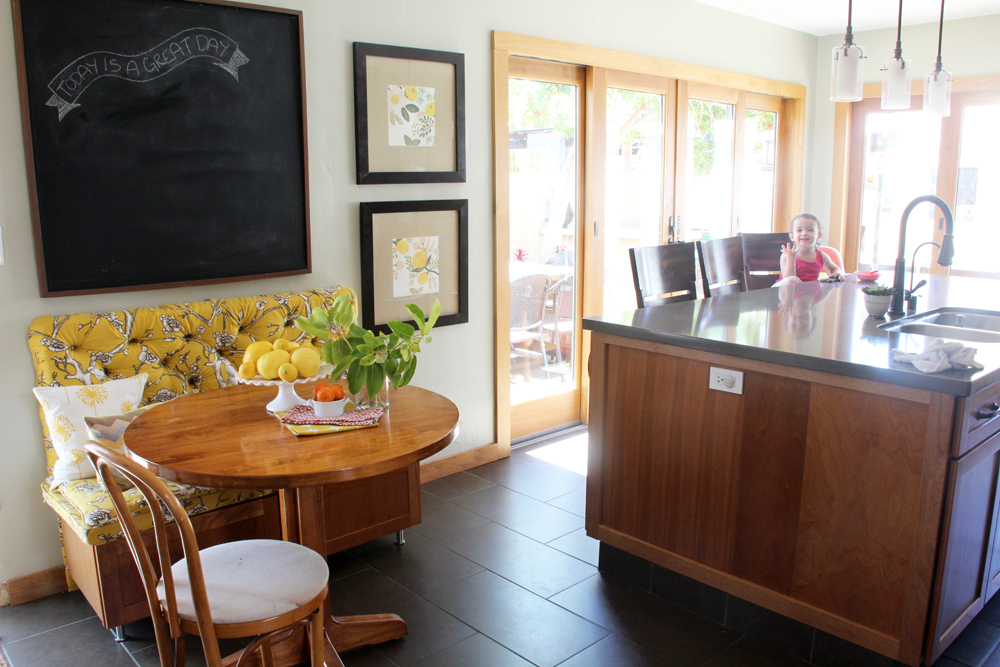 And the fridge? She received a trim covered update, too.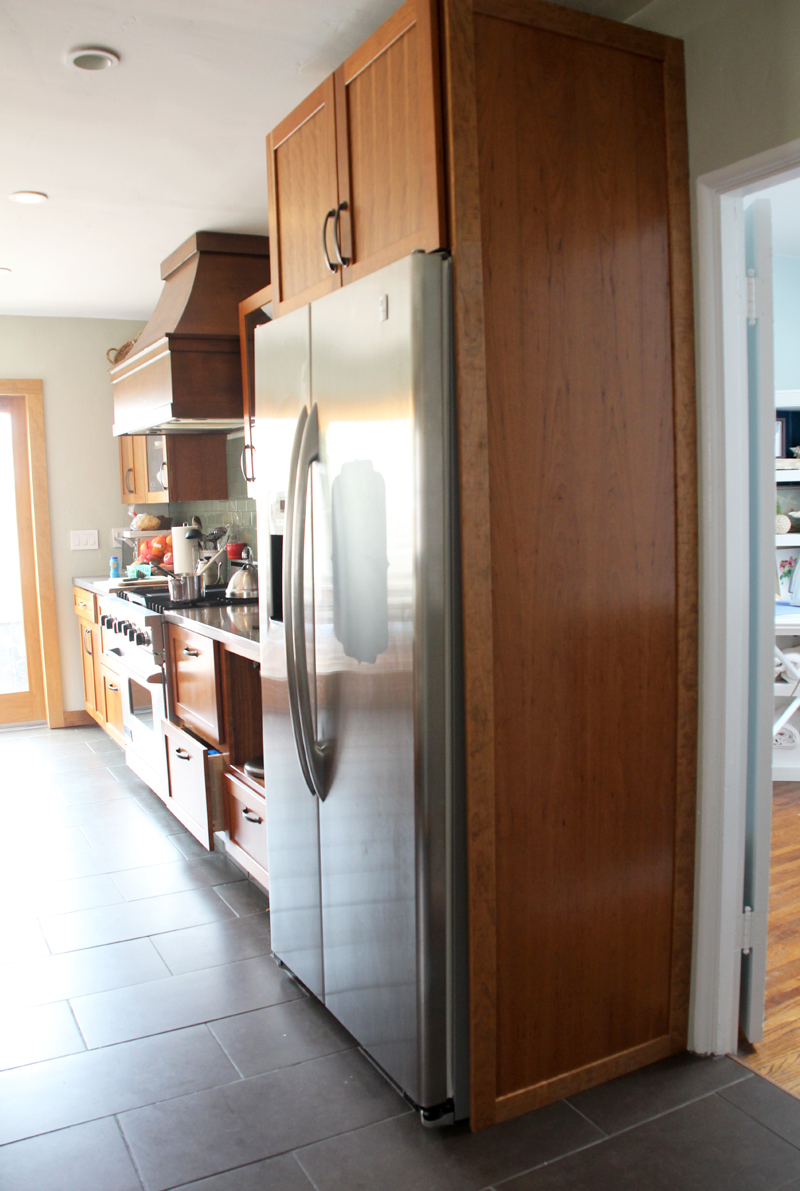 That was before Grandma's art was added there on the end wall, I do love that bright, happy pop of yellow.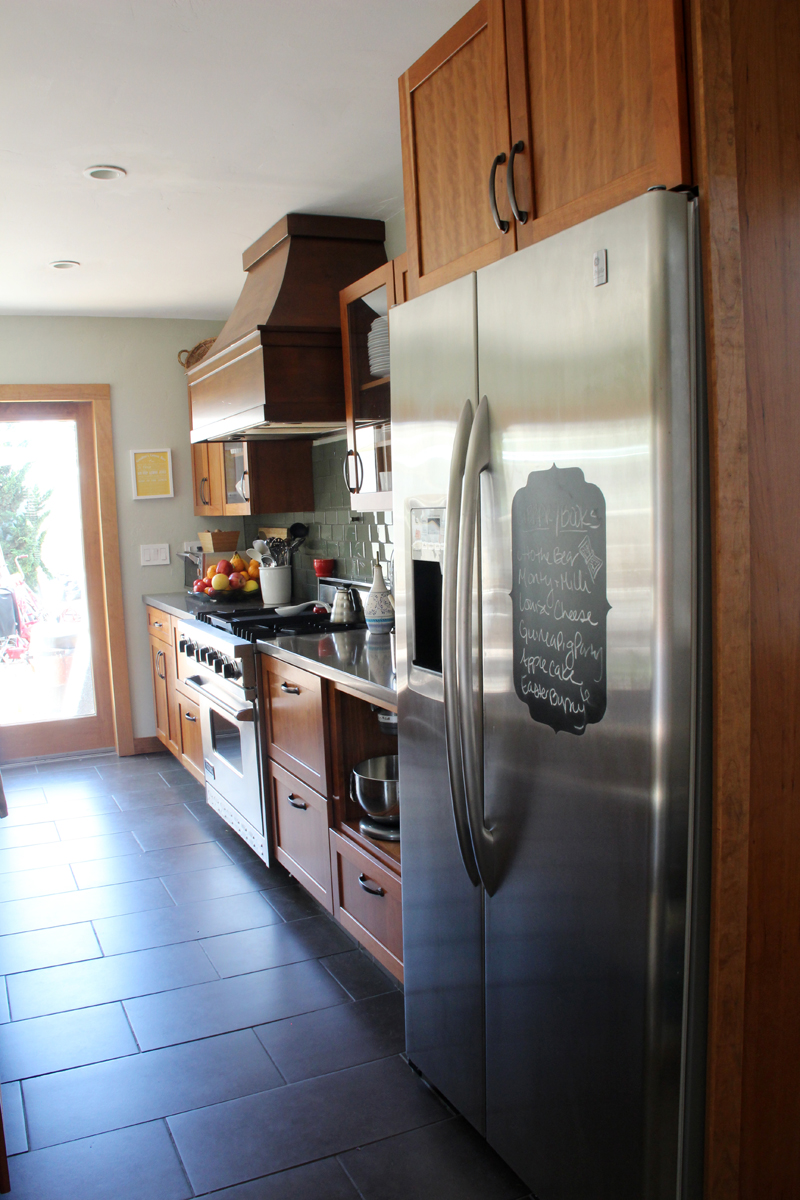 Sadly, my trellis print runner had to go. A rug right underneath a hot stove and in the main thoroughfare of our house was not practical… it either caught and held on to Bodie hair like nobody's business or had grease stains on a very regular basis. I do miss the look of that pattern though… (see trimless kitchen pic above).
I spilled the beans a bit when I posted on the semi-diy botanical chart art (you can see the trim peeking out in the back there), but it's all completely finished now!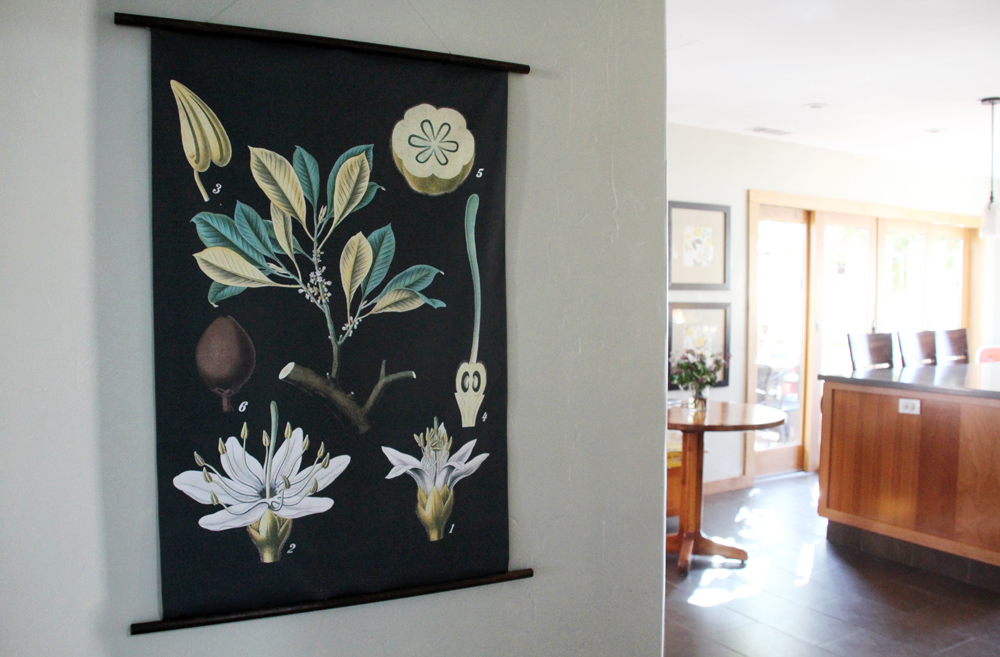 The second major update? We finally had the ceiling fixed between the new kitchen and what was (at one time prior to us in the house) a separate room.
See that miss match of plaster up there? Attic entries have been covered up and moved… central air was added two years ago… a wall (where that giant lip is) taken down at some point…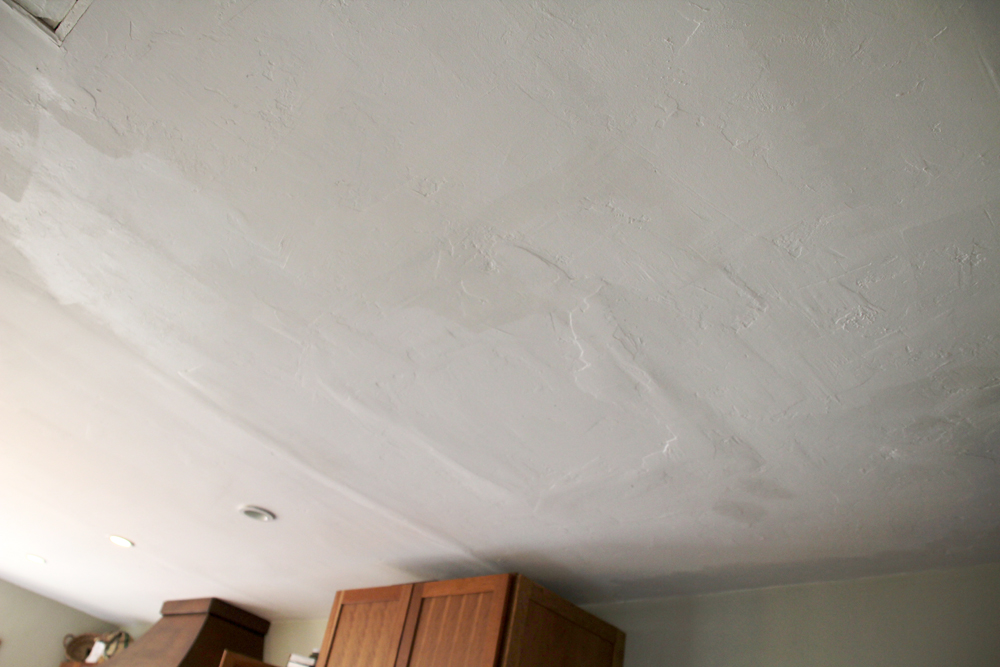 After a week or so of this: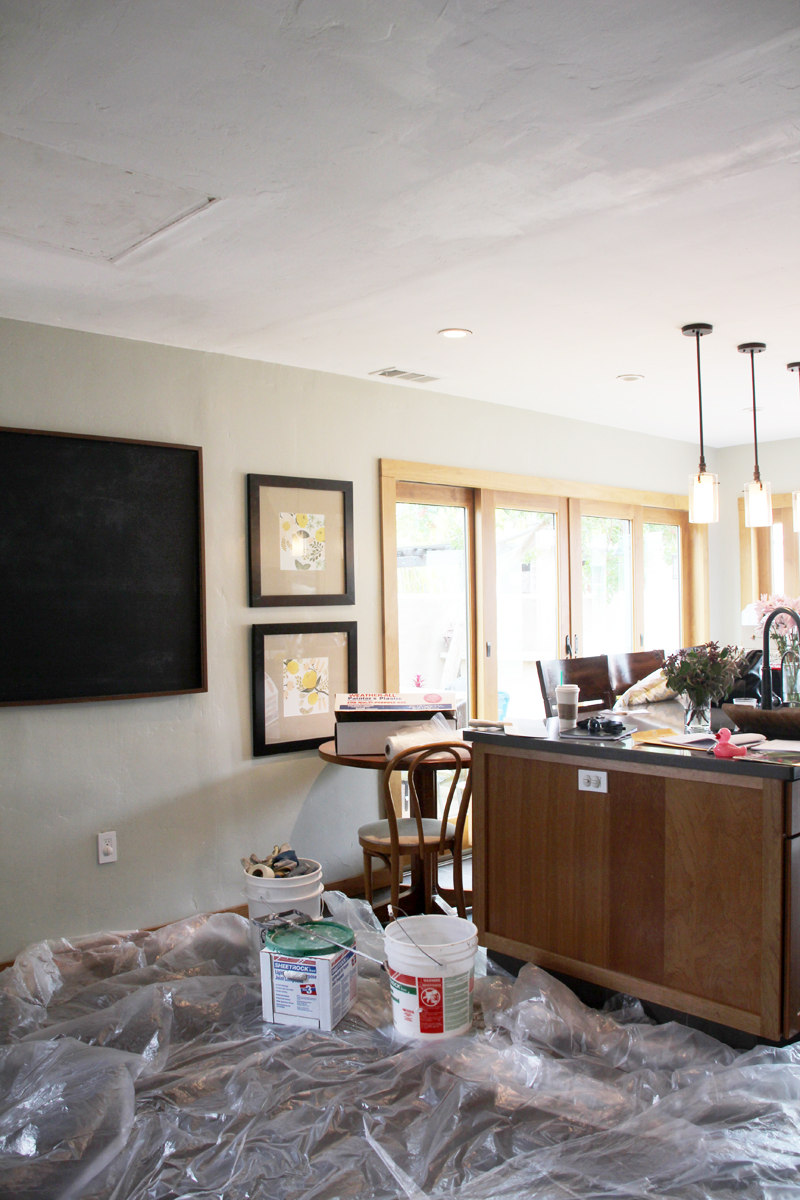 We had this!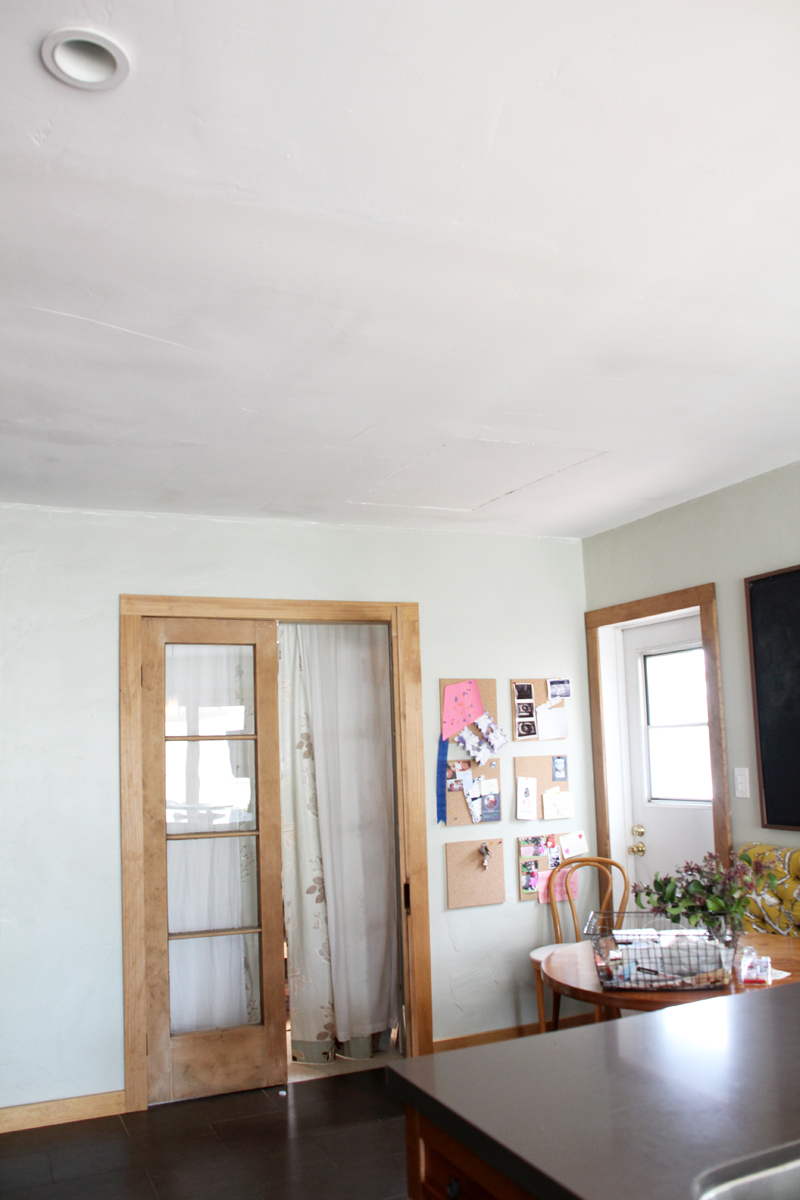 I'm not sure why I took the after photo from a different angle… but you see the idea. It's wonderful! Another one of those 10% projects that doesn't make the room any more practical, but suddenly the space feels 10x more complete – those little details subconsciously work away at you.
This was one project that we actually hired out. Lately that's been happening with some of the 'finish' type work, and I'm not really disappointed at all (as I always thought I'd be if we couldn't manage something ourselves over a Saturday morning). Kev only has time for so much… and sometimes to get that last 10% crossed off of the list you have to save up a bit and hire someone who knows exactly what they're doing, and can finish that project super quickly. In this case, we've just added an awesome new plaster guy and window reburbisher to our rolodex.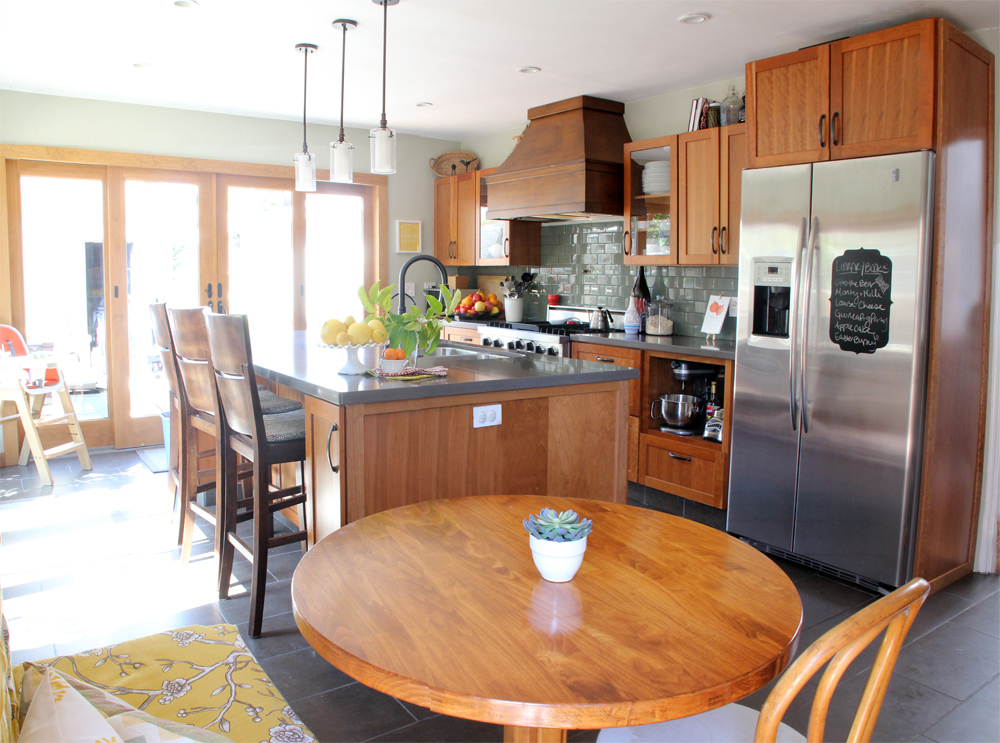 I had the camera out, the kitchen clean, and even a cake plate of lemons… so I took a few more obligatory photos of the space.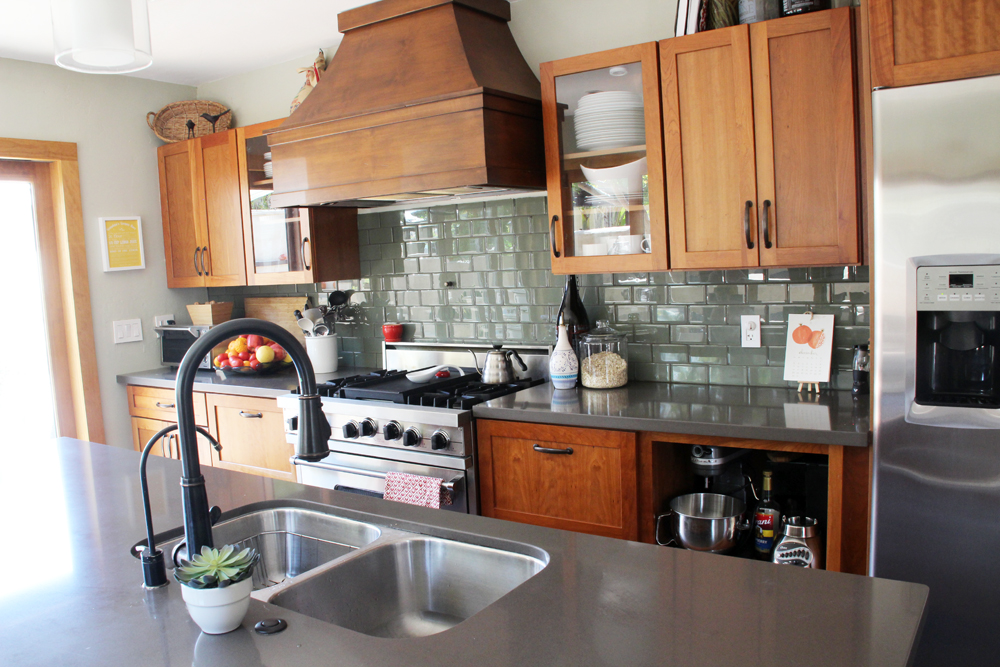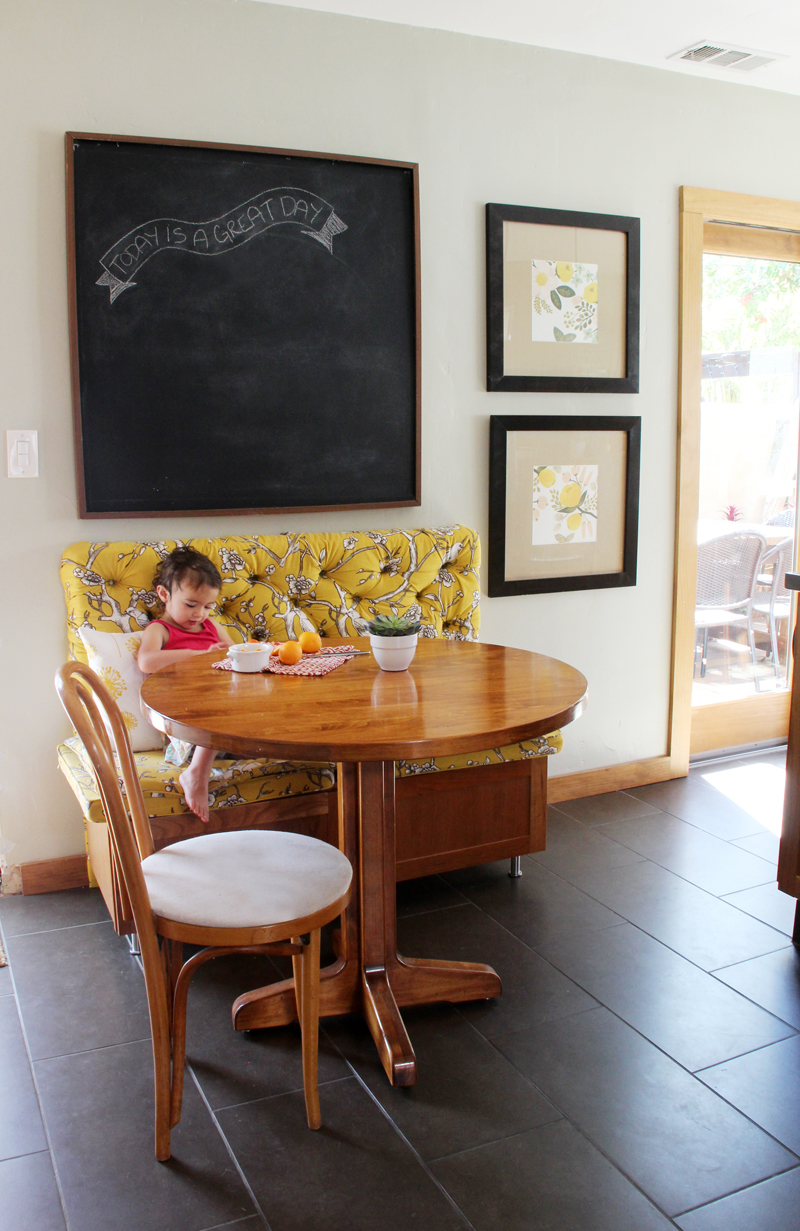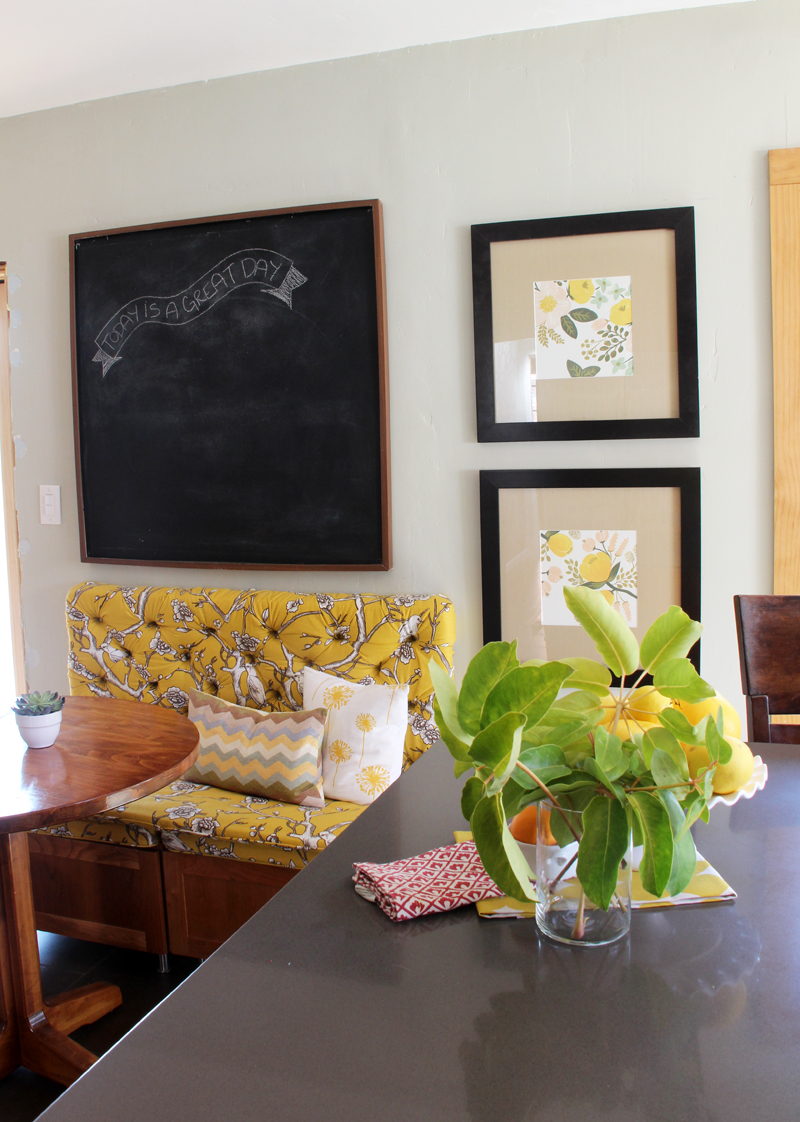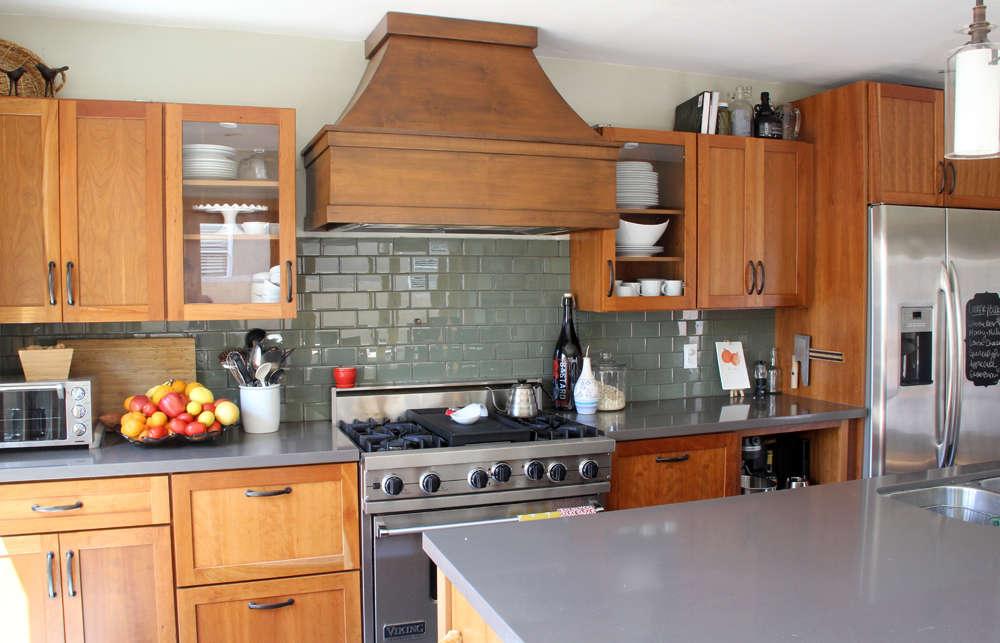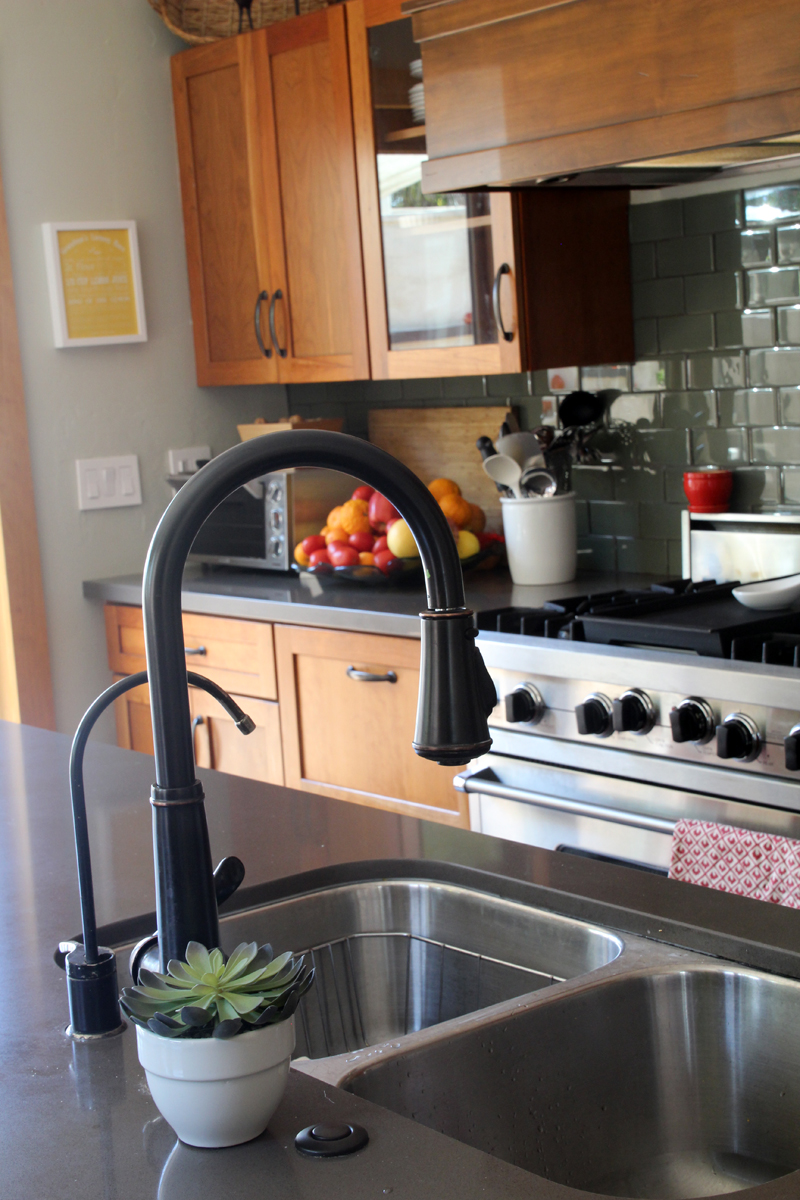 And just for fun, four before shots to get an idea of how the kitchen and den in this room used to look.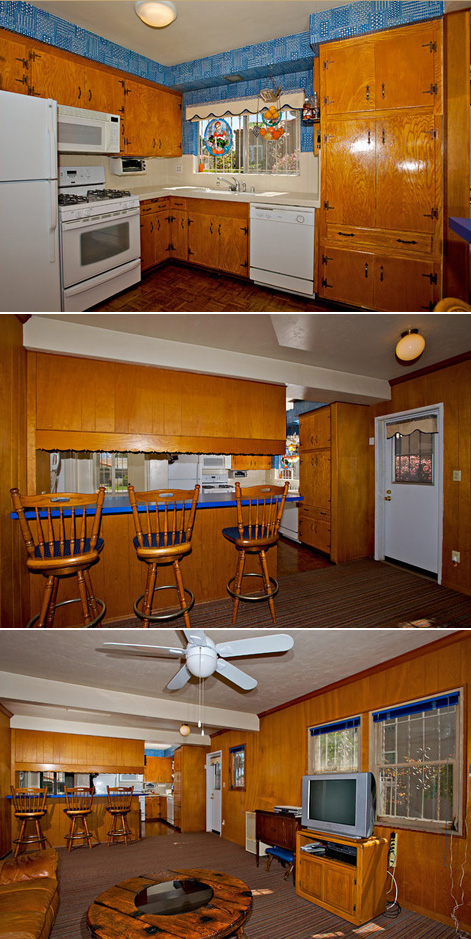 Here's two shots of the kitchen from practically the same point in the room, just 5 or so years apart (before we moved in and today):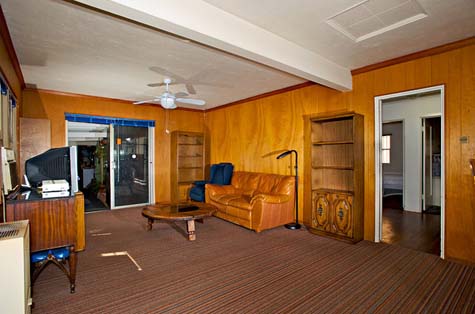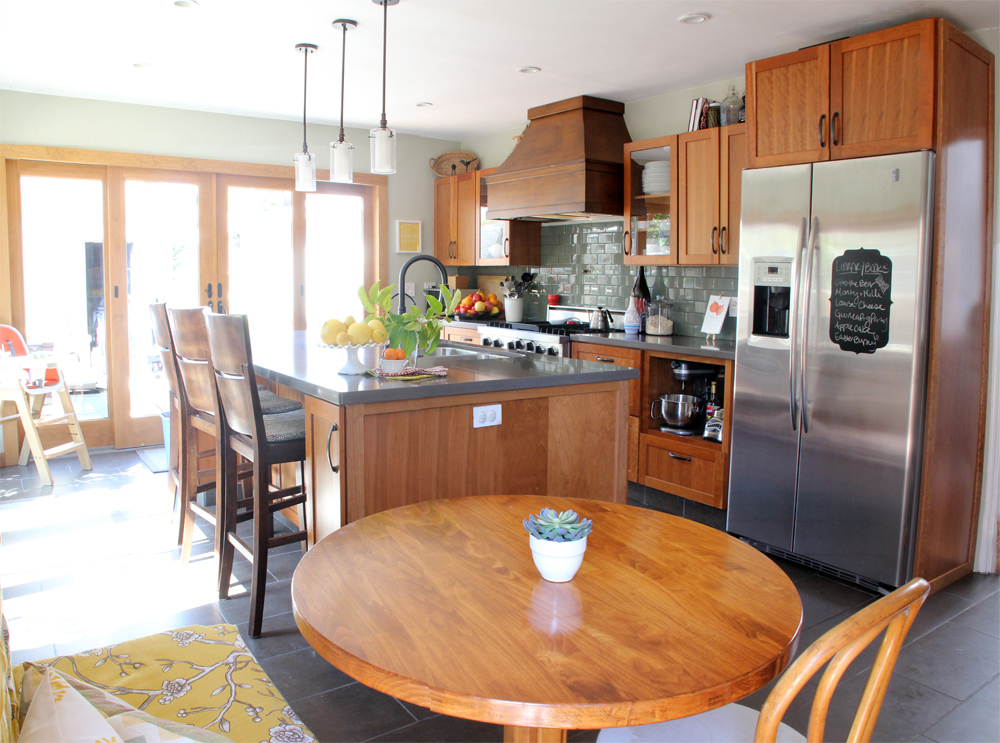 Moving the kitchen from the middle of the house (which is now an office) to the back den was something we had debated quite a bit… but it really is nice to throw open those big sliding doors and integrate the outside with the in.
You can see the dining table just passed the island…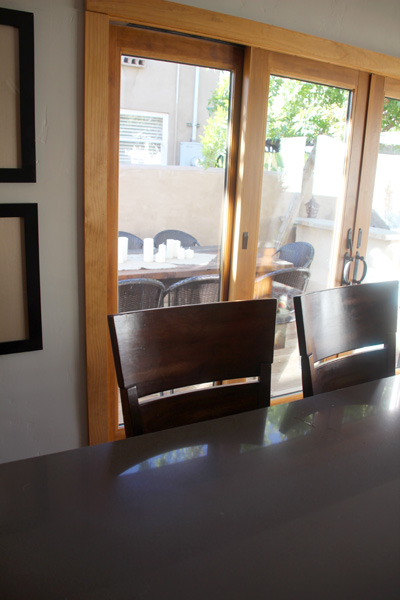 And when the doors are open, the outdoor deck, dining space and fireside area are connected directly with the kitchen.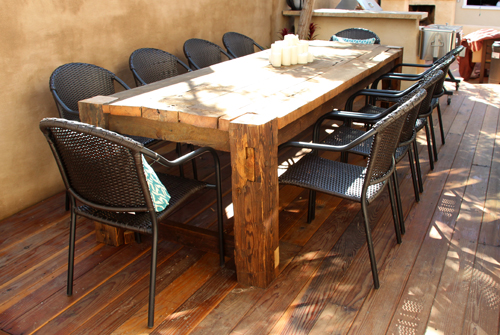 There you have it, two updates (trimming the end caps of the kitchen island and fridge plus new plaster on the ceiling) that have made a big difference!
I'm thinking that one of the new projects for the kitchen might be a DIY pendant over the new breakfast nook, and a little hint at another definitely has to do with the pantry. Little things always pop up

.
PS All den-to-kitchen remodel posts (and kitchen updates like the botanical chart and calendar art) can be found here.
Tags:
Before & After
,
Kitchen
Posted in
Construction
,
Our Kitchen Remodel
,
Renovating Adventures
|
7 Comments »