August 2, 2010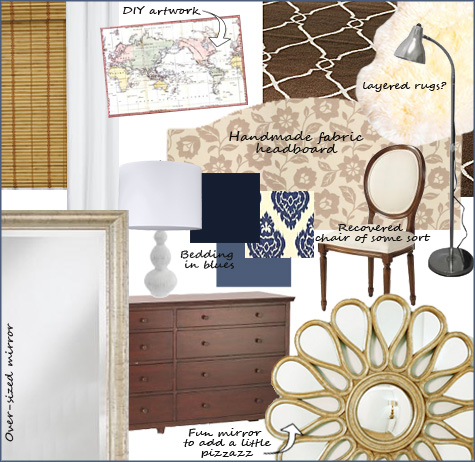 Hope you had a lovely weekend! I'm back to working on the master bedroom… and here's a look at my ideas for the new space. Patterns and fabrics have yet to be decided but I'd love to mix that bohemian/eclectic feel with softer/traditional elements (like batik fabric for an occasional chair with sheer white panels for the windows, a bright sunburst mirror with a conventional everyday dresser).
My colors are swirling around in the navy, tan and brown ranges but I know a "pop" of something would be ideal! Should it be brick red? A muted yellow? Maybe a sea glass green? Oh decisions decisions…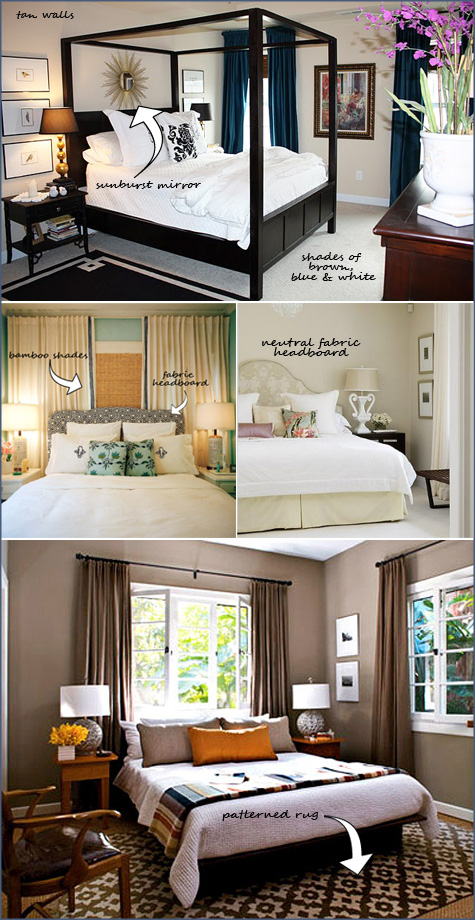 Images from DecorPad, Brooklyn Limestone and Young House Love.
PS here's a reminder of the before!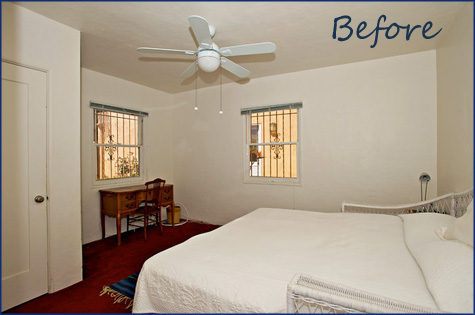 Tags:
Bedroom
,
Before & After
,
Blue
,
Decorating
,
Home
Posted in
Home
,
Renovating Adventures
|
7 Comments »
July 23, 2010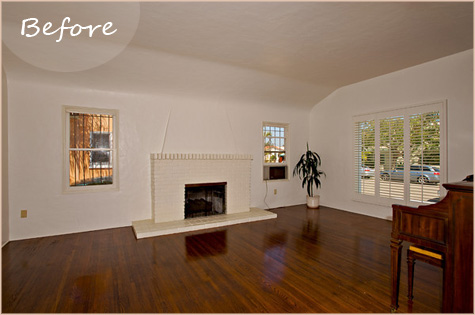 I've procrastinated long enough… it's finally time to get some pictures posted on the living room progress.
As you might remember, the Before shot was just before we moved in. After a bit of painting, several diy projects and finally a whole lotta assembly, here's where we stand: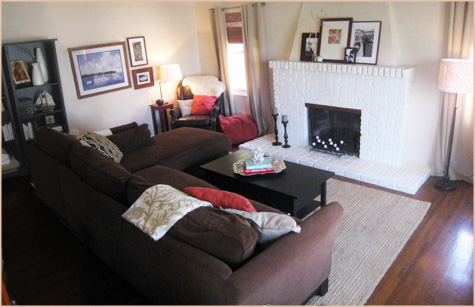 I see little holes and spaces that need attention! But I've decided this is my palette to grow on so as it gets minor tweaks and updates, I look forward to sharing all of the fun details.
Neutrals remained the theme of the room and I couldn't be happier with how the soft wool curtains and dark furniture help to set a base for the crisp whites and bold coral colors. Here's a link to the original inspiration boards back when color combos were being discussed.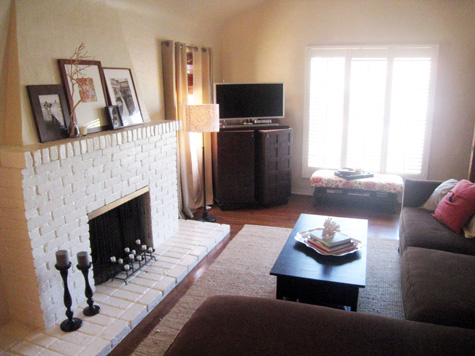 Here are a few of my favorite details:
I love picture collages so it's no surprise that I've found a way to fill this space with three (too many?). One symmetrical version behind the sofa, one wedding grouping above the mantel (I'm still playing with a mirror there – the survey from a week ago was pretty divided!) and one next to the bookshelf and above the "man" chair (aka the huge leather chair that the hubby rightfully claims as his own).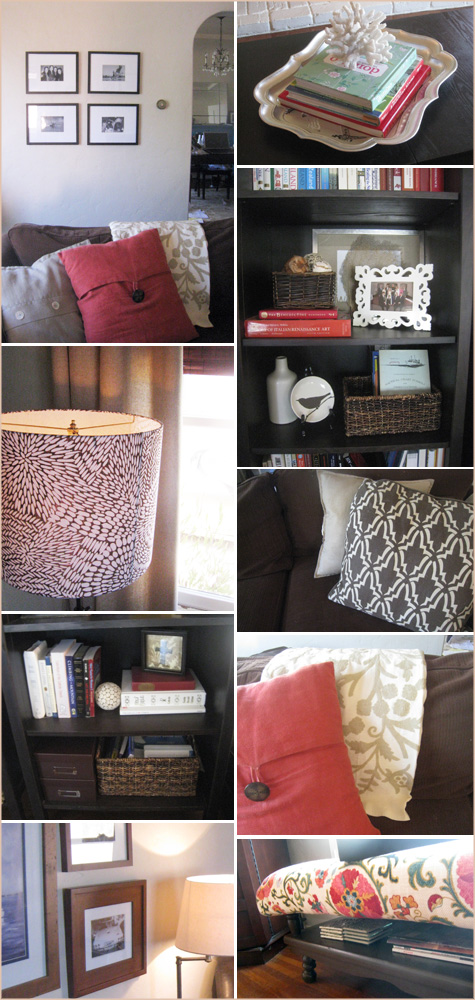 My coffee table-turned-bench has found the perfect spot below our big window and I am still oh-so in love with the suzani print. Jeanne McGee did a rockin' job on the brown zinnia custom lampshade and I'm thrilled with the splash of pattern it adds!
Storage was critical for us and we found a way to squeeze everything in through baskets, an awesome 'pouf' that hides a bajillion blankets, a bar that doubles as a tv stand, as well as sneaky spaces like a coffee table that holds board games, etc. below it's surface.
Every photo is sentimental, every painting important to us in someway (be it our love of sailing, artwork by Kevin's mom or diy projects soon to be shared…) and it's special to know that the space was hand crafted over time with much love.
Sources to come… thanks for sharing the design process with me!
Tags:
Before & After
,
Brown
,
Coral
,
Decorating
,
DIY
,
Home
,
Living Room
,
Red
,
white
Posted in
Home
,
Our Living Room
,
Renovating Adventures
|
11 Comments »
July 21, 2010
So the living room might not be completely finished (I still have one or two pictures to hang and a bit of bookshelf organizing to complete) but I can't help but get distracted by our darn bedroom.
We've made significant progress so far on a room that needed much love. As of now the walls are a serene beige, the burgundy carpet is gone to reveal 1930′s wood floors and the furniture is all but picked out and loaded with clothing. But on the decor end… there is much to be desired.
Let's start at the beginning: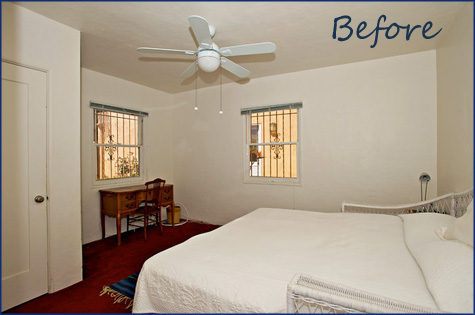 There she is right before we moved in. All of the above furniture belongs to the previous owner and we have since gotten rid of those metal grates on the windows as well as the vinyl shades.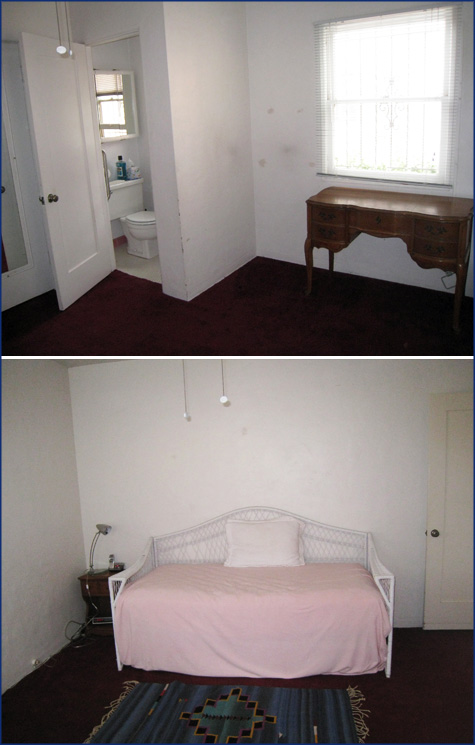 Yes, that's a bathroom in that top picture. I wouldn't call it a master bath, per se, but we're attempting to make do with what we've got (currently it's known as the 'man bath' since I hardly have the elbow room to blow dry the hair let alone spread the morning make-up all about). Here's the other full bath in the house that we recently updated. We have big plans on building another bathroom for guests and connecting the current full bath (to be remodeled…) with the master bedroom – but that's on the schedule for this fall.
Until then, let the bedroom decorating begin!
Tags:
Bedroom
,
Before & After
,
Home
Posted in
Home
,
Renovating Adventures
|
3 Comments »