April 20, 2010
My project this past week has been to update our older Spanish-style bathroom. We have all intentions of overhauling what is currently the only full size bathroom in the house this fall, but the dated look and feel needed just a few tweaks until then.
Without taking on the cost of changing fixtures or hardware I set out to 'modernize' the space with a few inexpensive ideas and lots of paint. I hope you find a few inspiring tips in here, too!
Here's the professionally shot 'before' picture from our realtor: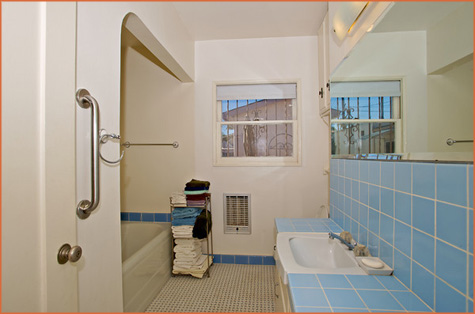 The first to go was the giant mirror. Next came a layer of patching, sanding and priming. Working with the blue theme our previous owners left us with, I color matched a slightly lighter shade to add to the walls.
We also replaced the white vinyl shade with an espresso-colored bamboo version: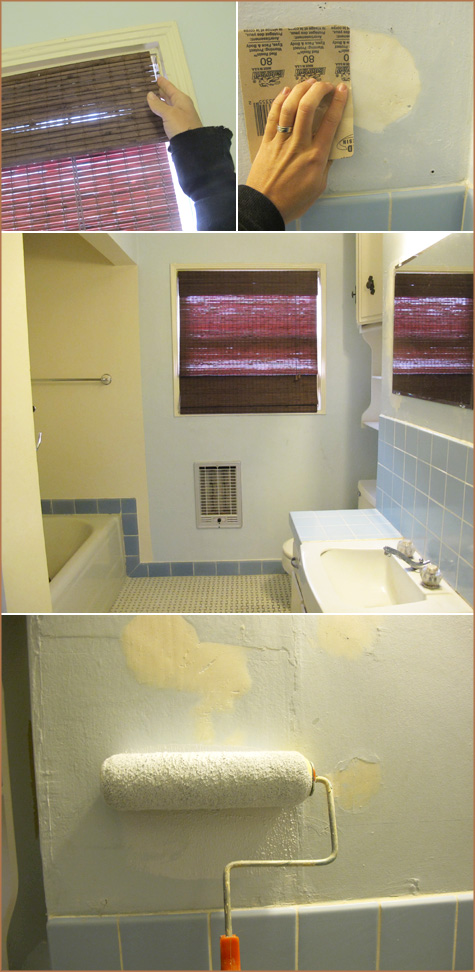 Did you notice that the counters in the bathroom are a bit smaller than average? The previous owners adjusted the height to accommodate for their 97-year-old Mom, who had lived in the house since the 50s. That's also the reason the bathroom is covered in handicap bars – but per our remodel rules I wasn't allowed to go tearing fixtures and hardware down just yet. That would have to wait.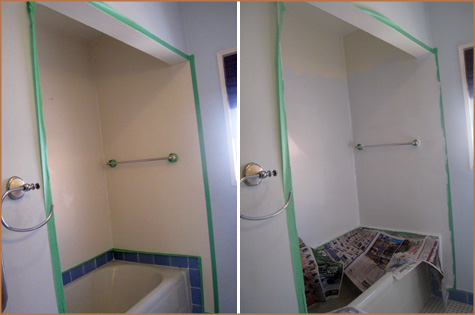 The inside tub nook (with that neat architectural arch detail) got yet a slightly lighter blue to highlight the feature. That's my newspaper-tape job above, don't laugh.
Here's my Ikea buddy cutting out the perfect striped fabric for the project (I looove stripes). After searching high and low through my favorite fabric shops I was amazed that Ikea carried my ideal pattern – and at $6.99 yard I was thrilled with my find.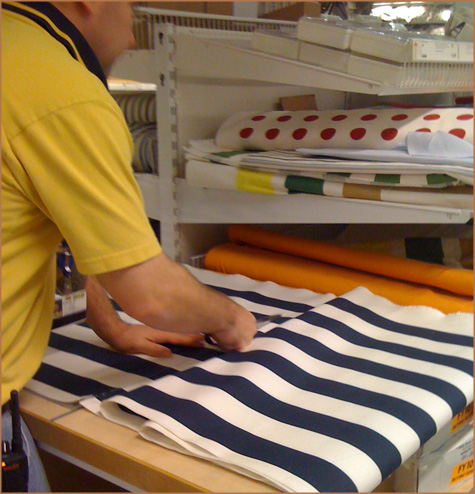 I found this basic stand at Ikea as well. A quick coat of paint to match the new mirror frames and it was ready to go: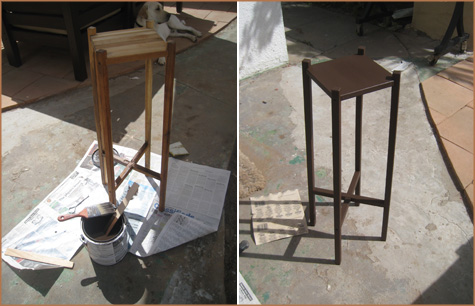 Last but not least I updated that giant old-school mirror with two small vanity versions framed in espresso Aaron Brothers wood frames. The mirrors were purchased at Lowes for $10 a piece and I used my favorite 40% off coupons for each of the frames.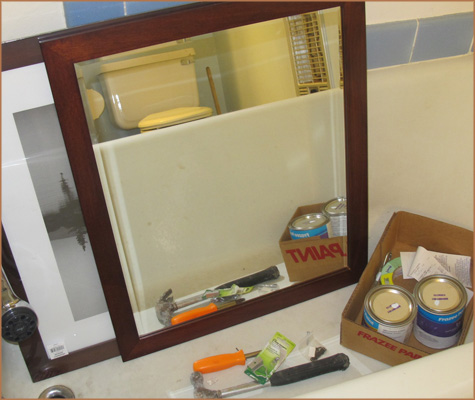 I'm putting the room and all of it's pieces in perfect order now – come back tomorrow to see the finished project!
Tags:
Before & After
,
Blue
,
Crafty Solutions
,
Decorating
,
DIY
,
Home
,
Our Bathroom
Posted in
Crafty Solutions
,
Home
,
Renovating Adventures
|
3 Comments »
April 14, 2010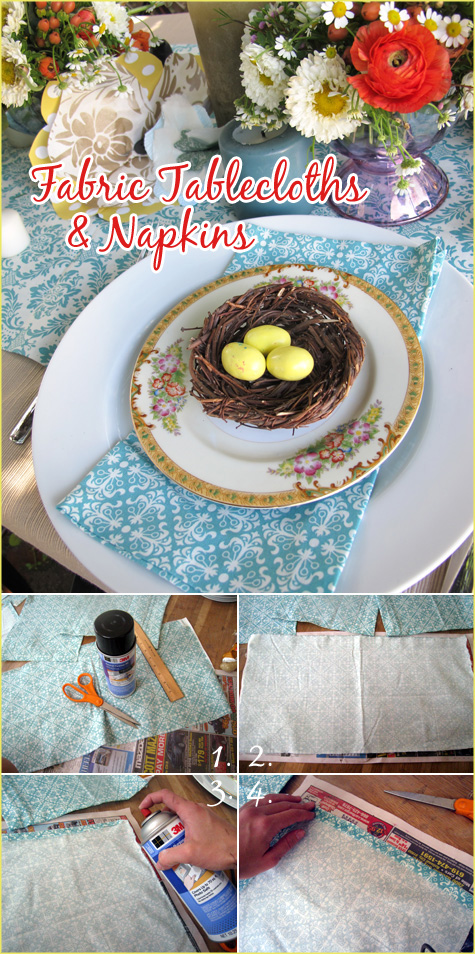 Here are two more quick projects from the Vintage Nesting shower I threw a couple of weeks ago. The first is a quick tutorial on handmade tablecloths and napkins – it's so easy to take a basic fabric remnant and turn it into themed linens for your entire party.
I found these teal damask prints at Joanns and used a spray adhesive to quickly hem them. *In retrospect I would use iron-on hem tape as my no-sew solution because my lovely linens did not hold up so well after multiple washings.*
For the entire step-by-step directions, check out the 'read more' button at the bottom of this post.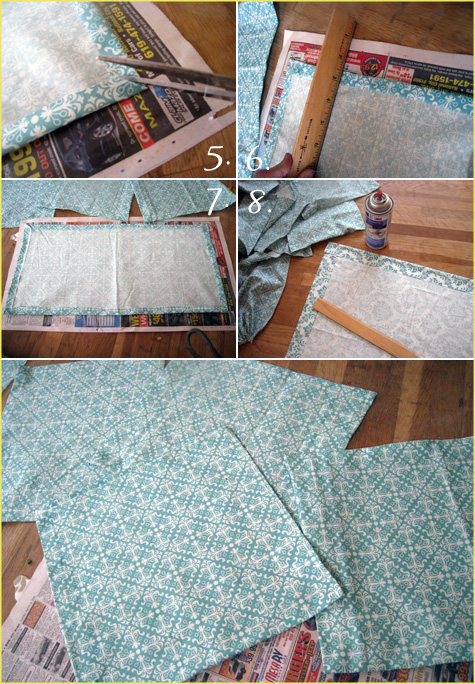 End result!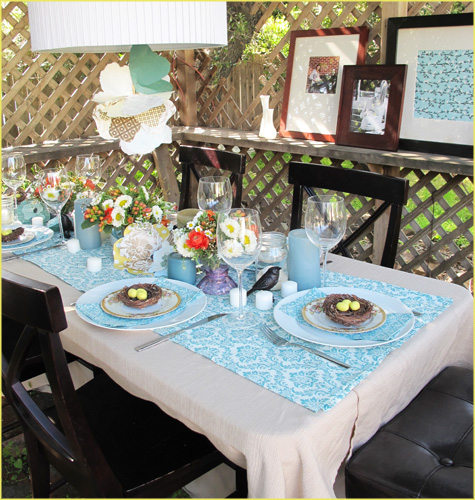 The second DIY project involved star shaped book bunting (unfortunately I didn't get the best picture of the bunting – which was connected via tiny vintage brads – but here are a couple of shots where I used the book art on the various shower tables and pin board). It's a vintage decoration that can be added anywhere.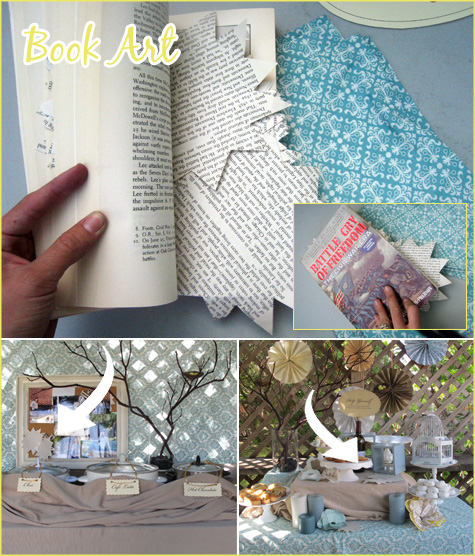 Battle Cry of Freedom sacrificed itself for this project… I used the pages to make a multi-point star template that became table top decoration added amidst pictures of the mom-to-be and even connected at the points for a bunting that could be strung between doors, windows, on tables and behind a dessert buffet.
More step-by-steps for the handmade linens after the jump! Read more »
Tags:
Accessories
,
Baby Shower
,
Before & After
,
Birthday
,
Blue
,
Bridal Shower
,
Crafty Solutions
,
Decorating
,
Dining Room
,
Dinner Parties
,
DIY
,
Fabric
,
Kids Party
,
Orange
,
Patterns & Color
,
Red
,
Teal
,
Wedding
Posted in
Crafty Solutions
,
Home
,
Parties & Entertaining
|
8 Comments »
April 12, 2010
We're celebrating our 21st month of home ownership and that re-decorating itch is creeping up once again…
In all honesty though, it seems to be a constant in our home – in with the new ideas, out with the didn't-we-just-change-that from six months ago. And while I can't make drastic upgrades on such a whim, throw pillows, art and mantles have been known to make the hit list on a regular basis. I keep it as close to DIY, thrift store and Etsy as is humanly possible for the dear wallet's sake.
Here's what we began with nearly two years ago (taken before we moved in):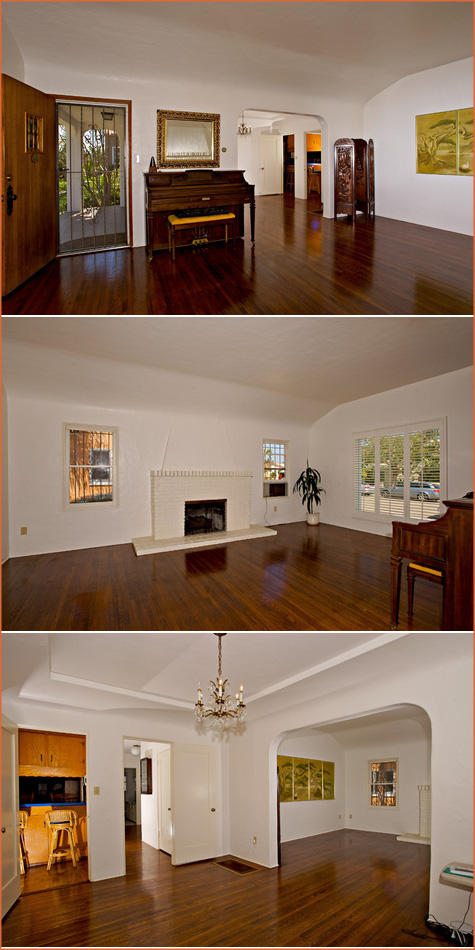 And here's a bit of inspiration that I'm currently smitten with: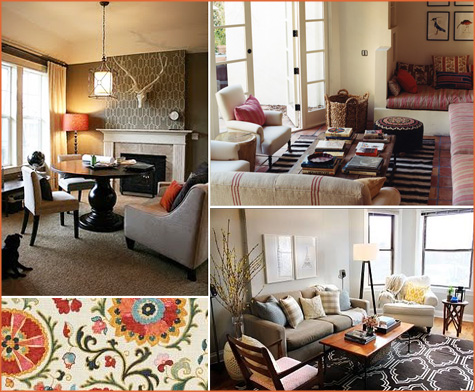 I love a soft and cozy palette of rosy reds, burnt oranges and various shades of brown. Texture is a key component as well as modern lines & patterns (keeping the 1930′s Spanish cottage new, in an older sort of way). More inspiration: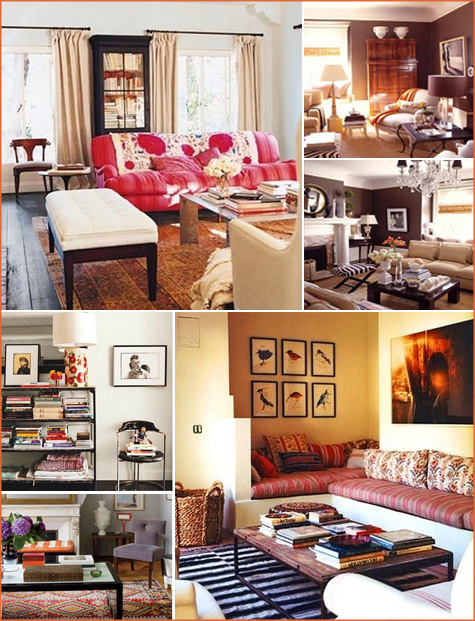 I fell in love with Amanda Peet's home from my first issue of Domino and it's been downhill ever since. Other sources for the above photos include DecorPad, the fabulous blog over at Isabella & Max, the latest issue at Elle Decor and this perfect suzani print from Calico Corners.
The troops pulled together and we began with a painting overhaul (white to tan might not seem like much of an overhaul, but keeping a modest, clean backdrop for the rooms was a key strategy in future decor change-ability).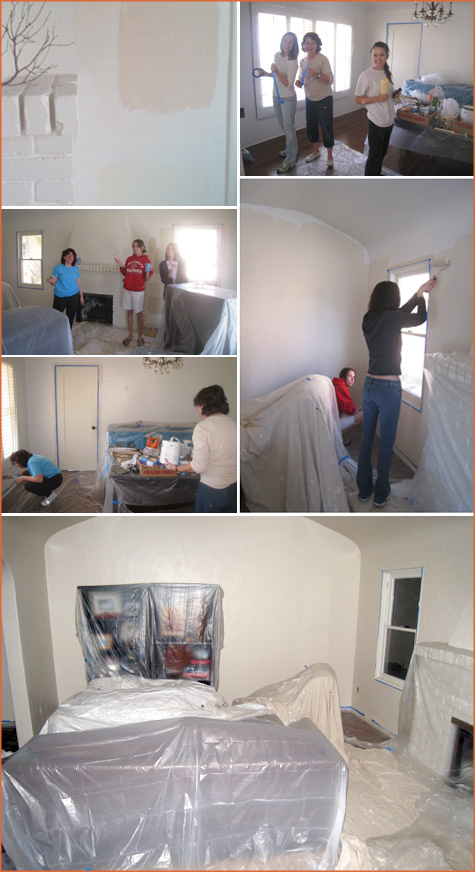 In one amazing Saturday morning we had the entire living room and dining room covered, taped and painted. I am blessed with some pretty fabulous friends – a big heartfelt thank you to our team. We have a little home makeover project going on amongst the group and every few months we join forces to conquer a major project at someone's home. On this particular day we were inside painting while the boys were out back ripping up the backyard (pretty cool, right?).
A bit of painting, quite a few DIY projects, some major Craigslist finds… and a new living room is just around the corner. Excited to show you soon!
Tags:
Before & After
,
Brown
,
Decorating
,
DIY
,
Home
,
Living Room
,
Orange
,
Paint
,
Red
,
Renovating Adventures
,
Tan
Posted in
Home
,
Renovating Adventures
|
10 Comments »