September 23, 2009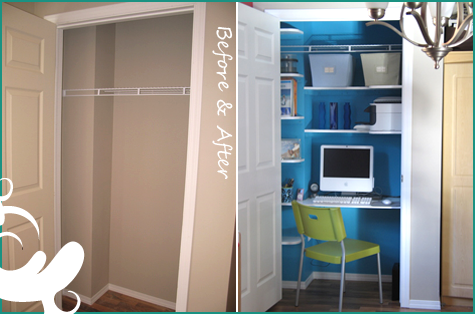 If your home is anything like mine, finding extra space in the house for an office, craft room or supply area is hardly feasible… which is why I'm SO inspired by these fantastic, closet-to-office makeovers, and I hope they might bring a bit of inspiration to your home as you consider whether that art room or extra desk can fit in seamlessly!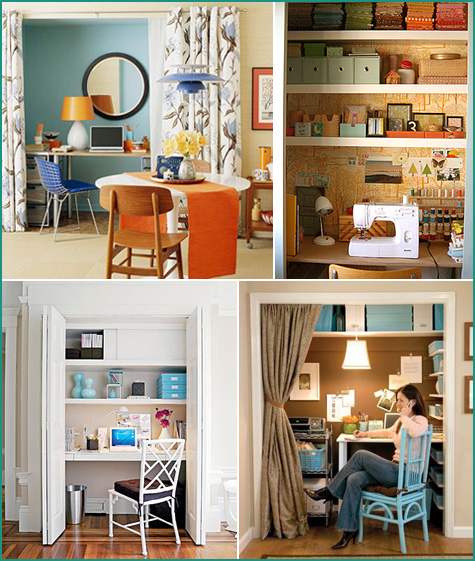 Think of all of the great nooks & crannies in your home that could be made over. Closets, for the most part, are underutilized and poorly ordered — pulling everything out and re-alloting your closet space with the correct proportion of shelves, bins and boxes is a Saturday afternoon's worth of work (but well worth it!). If you're lucky enough to have an empty closet for 'your' space — it's time to consider what mod wallpaper print you'll put up, what brilliant paint color you can find and how to finish a quick DIY desk (just one giant shelf with extra supports… but we'll talk more about that after the jump!) Read more »
Tags:
Before & After
,
Crafty Solutions
,
Decorating
,
DIY
,
Home
,
Office
,
Organizing
Posted in
Crafty Solutions
,
Home
,
Organizing
|
9 Comments »
September 20, 2009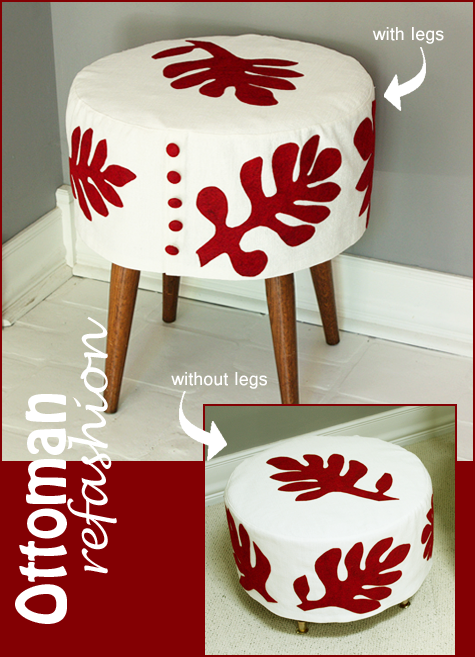 Here's a great How-To from Apartment Therapy on a great ottoman makeover. While following the directions for this fantastic ottoman is a bit of work (and time), I'm imagining ways to simplify the process for an even quicker refashion as well!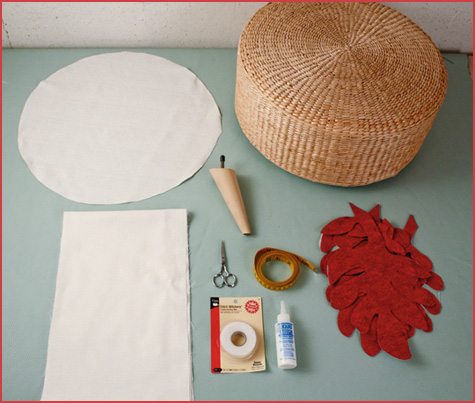 Follow the link for instructions as well as another great ottoman makeover by Matters of Style blog! Read more »
Tags:
Accessories
,
Before & After
,
Crafty Solutions
,
Decorating
,
DIY
,
Fabric
,
Furniture
,
Home
Posted in
Crafty Solutions
,
Home
|
Comment »
September 3, 2009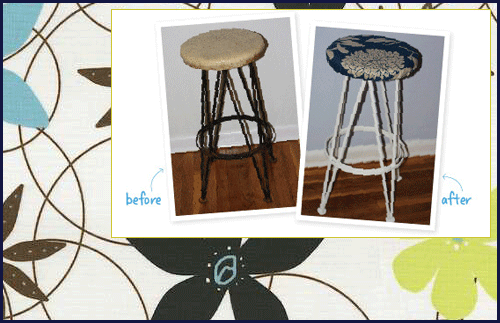 A great before-and-after example from Krissy, blogger at The Nest! Just goes to prove that anything you own, regardless of how outdated or beat up it might be, deserves a second chance to be the talked-about trendy item in the house! I have a grab-bag of fabulous DIY B&A makeovers to post each week… and look forward to sharing them all!! For instructions on redoing your bar stools, follow the jump! The great floral fabric shown can be found at Carousel Designs.
Tags:
Accessories
,
Bar
,
Before & After
,
Decorating
,
Dining Room
,
Home
,
Kitchen
,
Tutorial
Posted in
Crafty Solutions
,
Home
|
Comment »