July 10, 2012
Terribly cheesy title I know, but today's post is all about one of my favorite new paint trends + a necessary home addition for a very busy toddler.
Lately Liv has turned into quite the independent lady. If it's at all possible (and she can figure it out), she wants to do it herself. 90% of the time that's a little tough, though we do try. 10% of the time it's to accomplish basic tasks like washing of hands after a messy breakfast. This type of independence I love, most toddlers run from a wet washcloth honing in on yogurt smeared cheeks, but Liv still finds cleaning up a delight.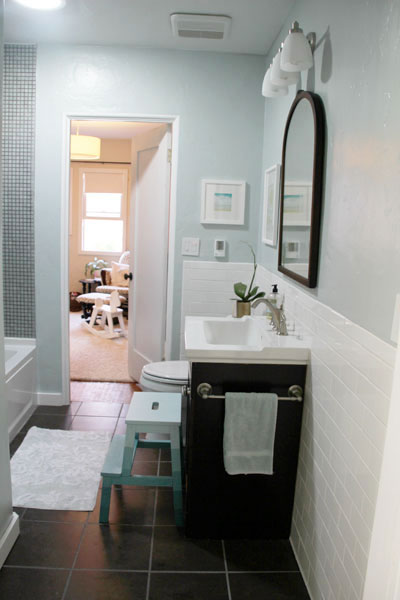 So I've been searching out a fun step stool for her bathroom. I was really hoping for something older with beautiful curved lines (more Jenny Lind – like Liv's changing table – less modern and boxy) but when I came across this little birch stool from Ikea for $15 I couldn't pass it up. It was begging for a fun coat of paint, too!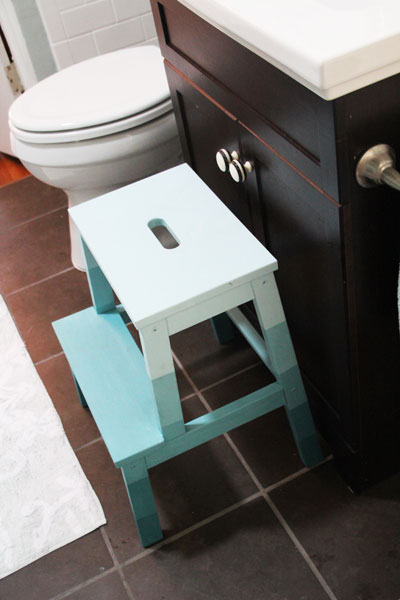 When Sherry and Katie announced their summer Pinterest challenge last week, I decided it was time to tackle this project and make it happen. (PS if you haven't heard of this fun challenge I definitely recommend checking it out. If you are a procrastinator like myself and thrive on deadlines, this is a great opportunity to give yourself a deadline to tackle one crafty project you've had your eye on).

The real Pinterest inspiration for this challenge is actually this coffee mug that has hunkered down in the back of my brain image gallery for some time.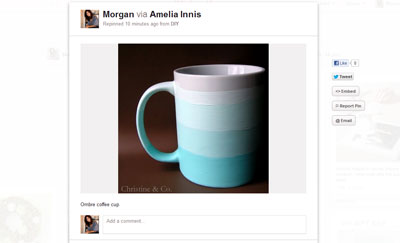 I've actually become quite enamored with the ombre trend as of late and have a few idea of else where in the house I might be able to spice things up with a bit of graduated paint colors…
And now for our much inspired ombre step stool: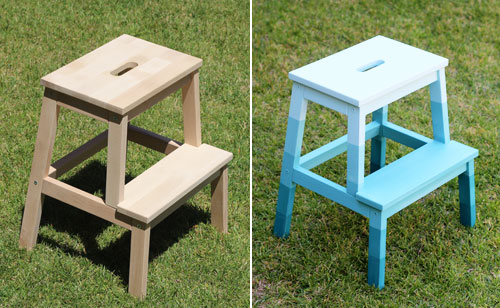 I used two paint samples and a quart of white paint to mix my ombre layers.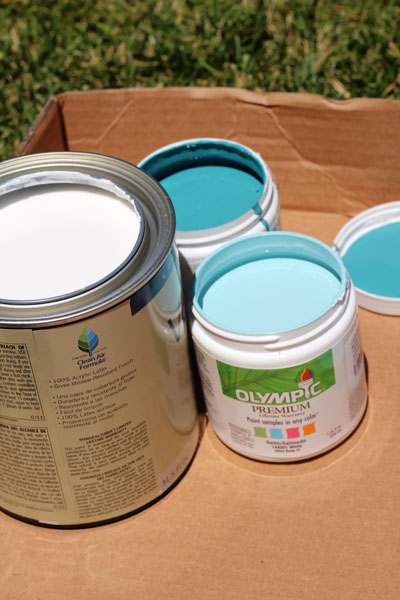 Which left me with five variations of teal blue – from a beautiful deep peacock to a clear summer's day sky blue.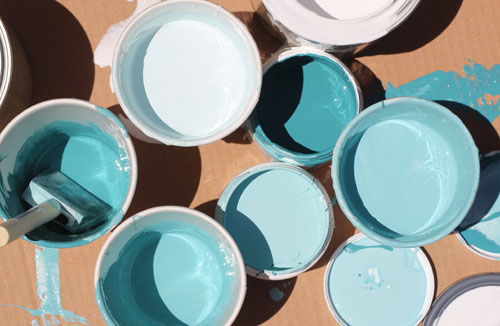 My first layers of paint were pretty rough. I began at the top and slowly worked my way down the stool painting in loose stripes and not bothering too much with exact lines.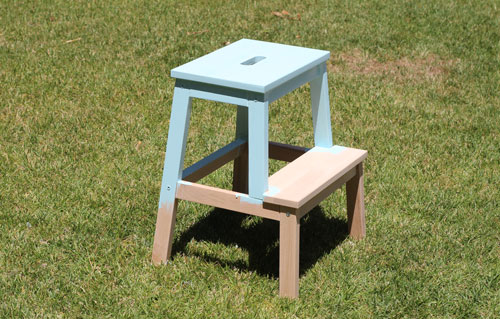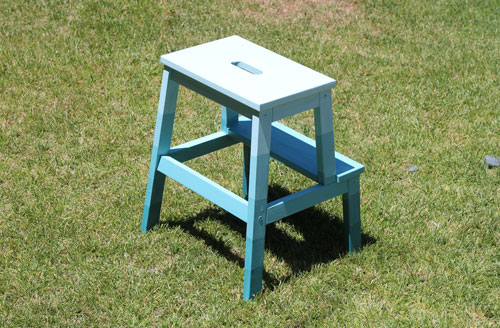 After some time in the sun, I went back with painter's tape and measured out my layer heights so that each transition could result in a sharp contrasting line.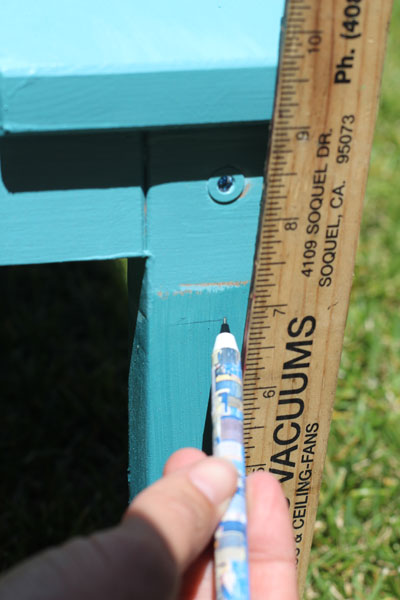 The top tier is the widest, slowly working down by 1/2″-1″ increments (roughly 5.5″ for tier 1, 4.5″ for tier 2, 3.75″ for tier 3, 3.25″ for tier 4, 3″ for tier 5) so that the stripes at the base were skinnier than the ones at the top.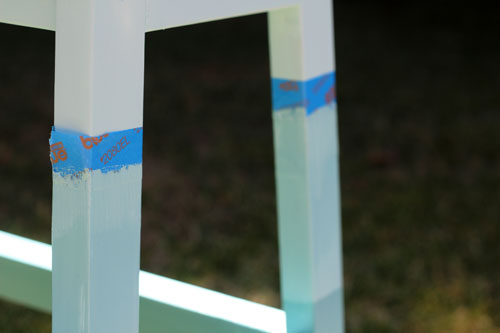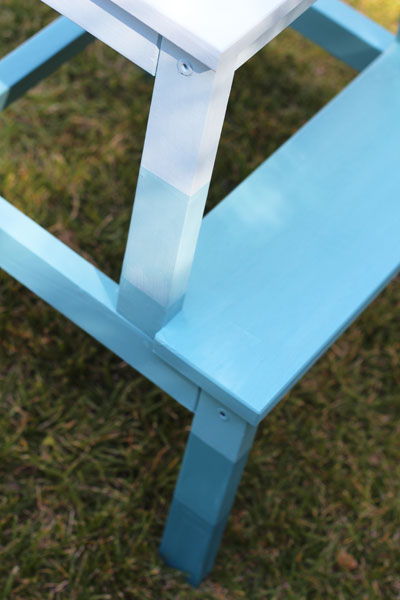 It turned out just as I had hoped for! I really dig the colors.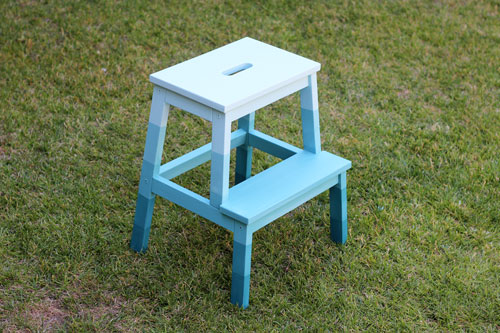 Nana helped to distract Liv on the other side of the yard, but occasionally she's wander up behind me and grab onto my neck. I ended up wearing paint for days and I'm still surprised she left the scene without a drop on her.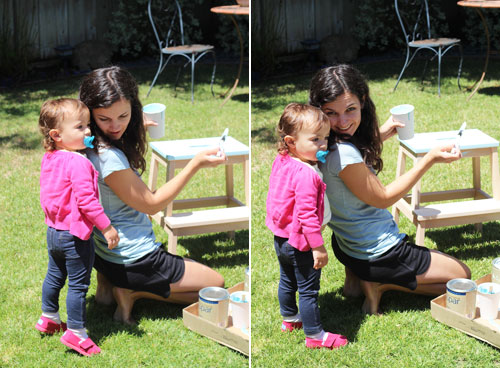 The stool is taller than I anticipated (it comes in a flat box from Ikea and I hadn't paid close attention to the overall height) but it seems to work really well with Liv's 18 month old reach.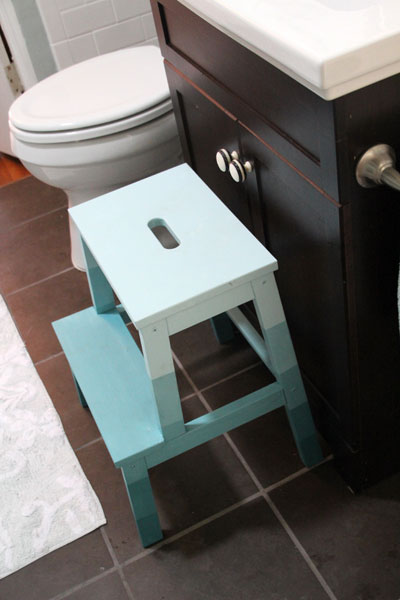 I had chosen the colors right from the existing shades in the space and I love how the turquoise pops against the tiles in the shower, the blues in the artwork, the pale hand towels.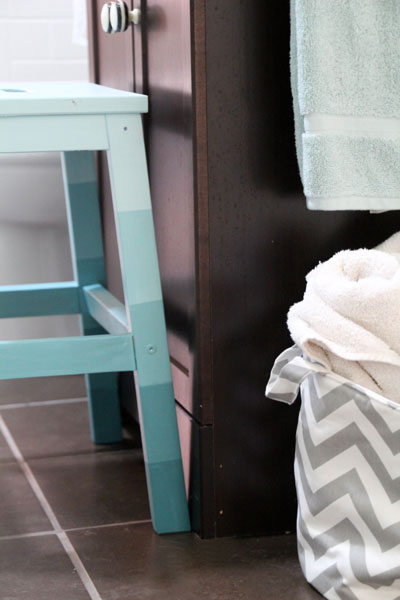 So far she dares to make it to the first step. It might get a little tricky after she figures out that she really can crawl to the top on her own.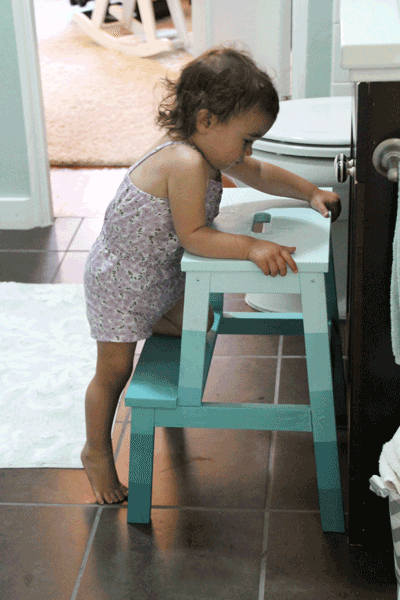 But when it comes to hand washing she gets a little help.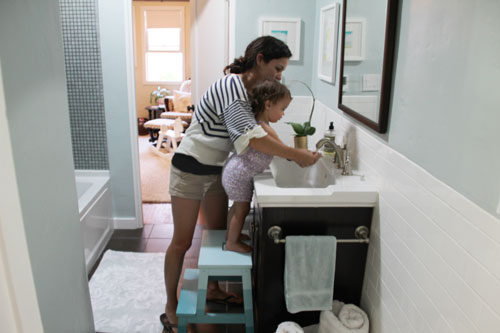 Oh wow how she loves it! After the stool moved its way inside, it was all I could do to distract her from trying to wash her hands every 10 minutes.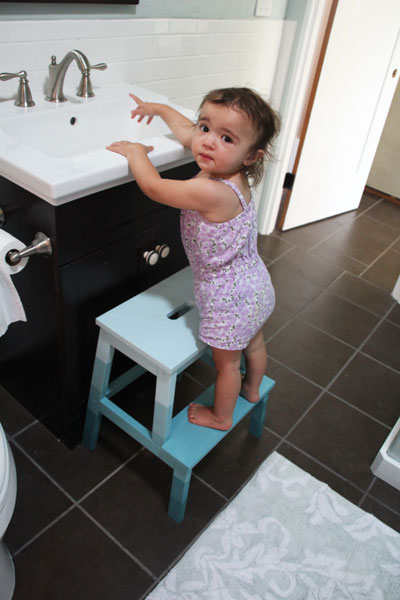 I'm glad she loves it as much as I do!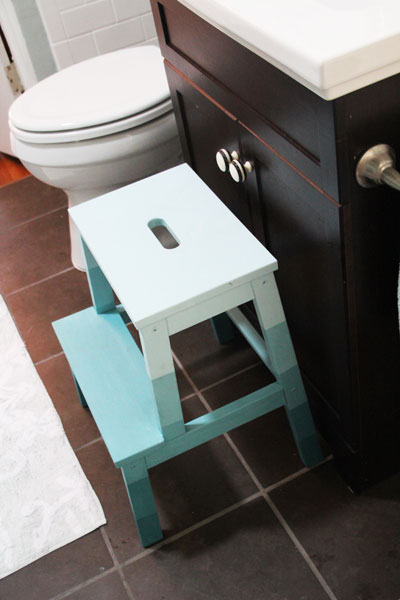 Yay for projects that make you get to-do's done.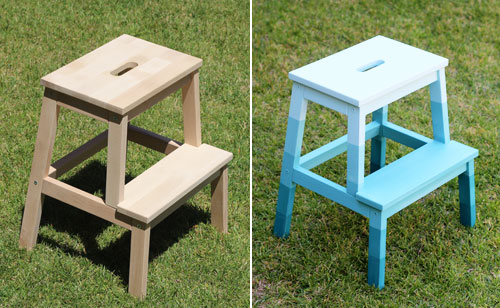 Here's a quick link to the previous Pinterest challenges that I've worked on. Still quite proud of that capiz chandelier, painter's tape wallpaper and gold mercury glass. But don't forget to head on over to Sherry's post and Katie's post (and Kate's and Michelle's! who are guest hosts) to find all kinds of crafty and fun ideas.
Tags:
Accessories
,
Before & After
,
Blue
,
Crafty Solutions
,
Decorating
,
DIY
,
Home
,
Paint
,
Pinterest Challenge
,
Teal
,
Turquoise
,
Tutorial
Posted in
Crafty Solutions
,
DIY
,
Home
,
Our Guest Bathroom
,
Renovating Adventures
|
11 Comments »
June 12, 2012
Back before Liv was born and I was unsure if we were having a little boy or girl, I had put together a pretty gender free nursery (we added the coral and pink touches just after Liv's birth) inspired by cute little playful baby animals. I hadn't wanted to carry the theme too far throughout the room and stuck to these awesome wall designs with coordinating solid and patterned fabrics. But I had always had an eye for these guys!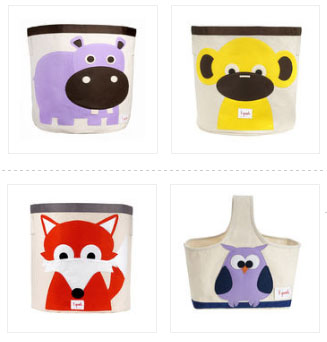 I had imagined making my own with whichever storage bins we ended up needing for the space. 18 months later and I've finally given it a go, converting a standard brown canvas hamper into a cute little owl bin for dirty clothes.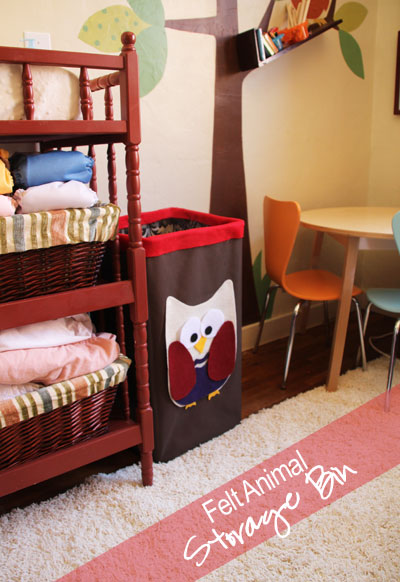 A fabric bin like this would be great for toys, too!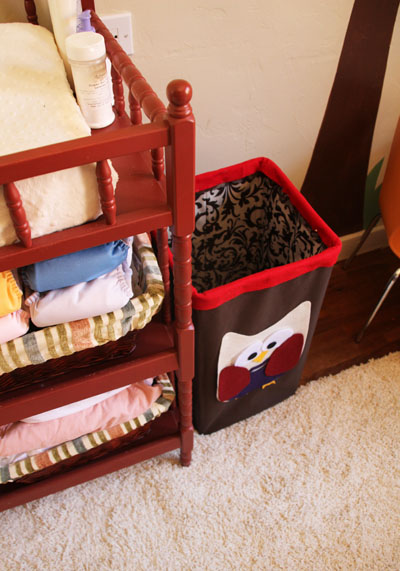 The process could have been incredibly simple but my quest for a smaller-than-average laundry basket proved to be daunting! The usual (in case you're interested) is roughly 14x14x30″ and is quite a big size for a nursery space. I finally found the above at The Container Store and spent a little more than I had planned (this guy was on sale for $22.99) for my 11.5×11.5×23.5″ mini-me laundry bin.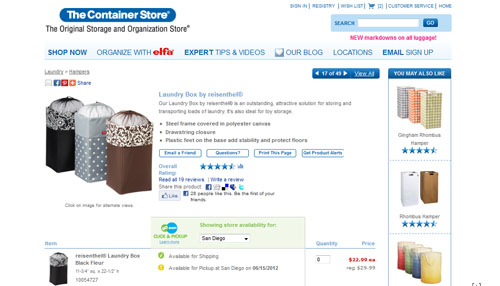 The good news! If a regular laundry bin will fit your space, there's a plethora of options in all colors and price points over at Amazon.
I created the little owl out of felt sheets from Michaels (I think they were $.99 each) and sort of winged the design (hehe) after Googling images of nursery owls. This guy ended up with an oatmeal tan body, burgundy wings and purple feathers.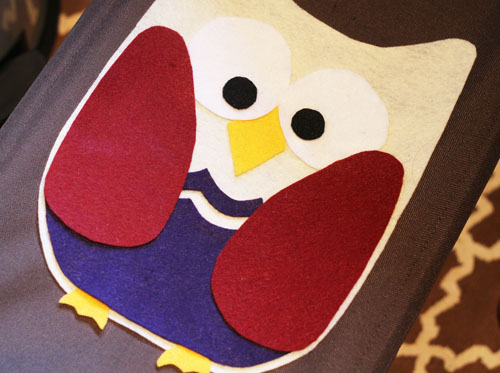 I used a standard white glue to adhere him together, though I noticed that it started to seep through the felt! and ended up creating a few funny blotches. I might try using just a little crazy glue next time instead, hot glue would be tough as I bet it might melt parts of the felt material.
Next up was the top red lining. You'll notice in the picture from The Container Store that the actual hamper has a damask fold over lining and a mesh closure, both of which I didn't need and both of which I carefully cut out.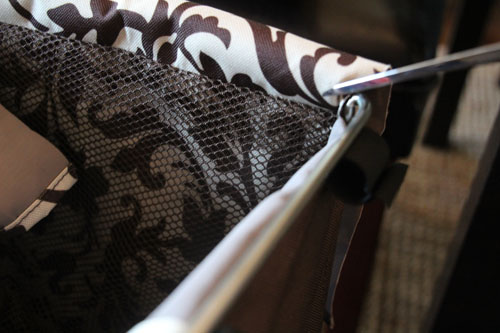 Here's a shot of the outside lip which is now sans the fold over lining and mesh: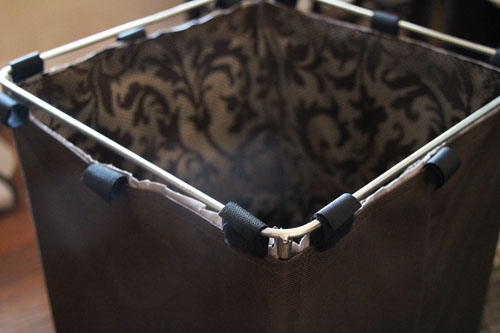 And one of the inside of the bag: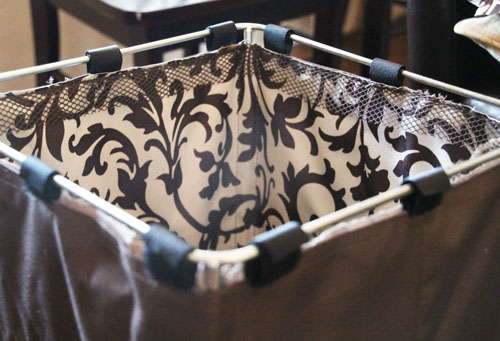 If you had a laundry basket that is ready to go as is, this is where you'd jump into the tutorial to add the top lining and animal on the front.
I made the red lining for the top of the bin out of red felt as well.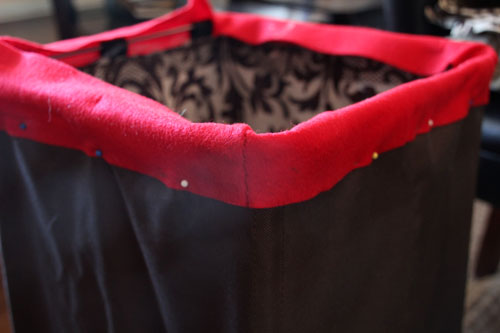 Because my edges were 11.5″ in length, I cut four 12×3″ sections of felt and then sewed the lengths together to create one long piece with three seams.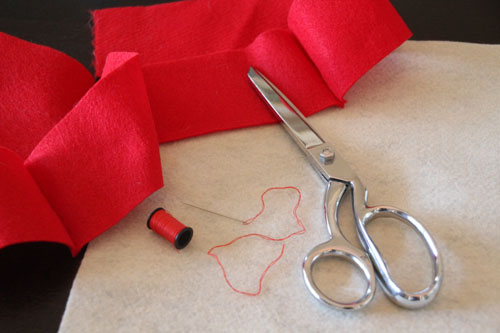 Then I added a few stitches at each corner, sewing the felt seams directly to the hamper seams. You could always use a ribbon for a similar effect but I wanted a material I could actually fold over the metal bars of the hamper rather than just line the very top edge.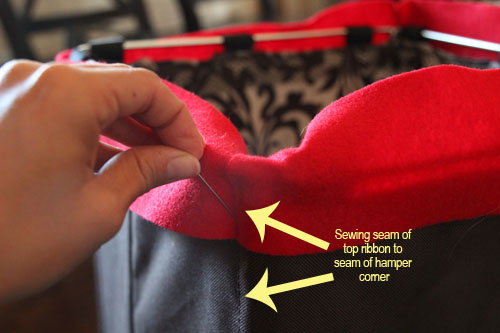 Instead of continuing my stitch (which could have taken a long time! plus I was going for a pretty seamless look) I used a line of glue down both the inside and outside of the lining and pinned the felt in place on the laundry bin to dry (ended up needing pliers to pull the glued pins out, maybe I waited too long

, clothes pins might be a nice alternative).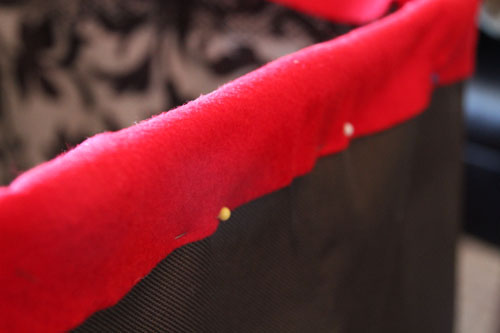 And here she is! Ready for clothes and ready for action.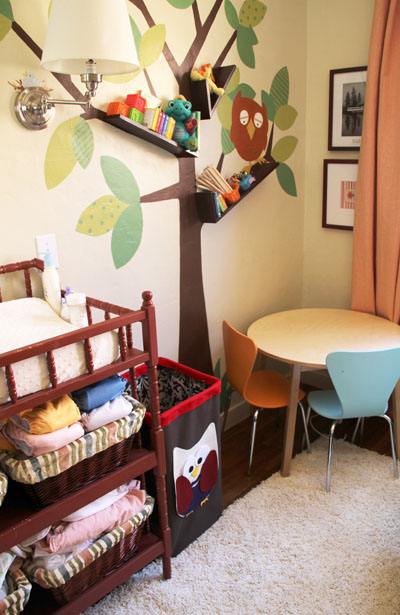 Do you like my empty Aaron's Brothers frame up there in the right corner? I have so many pictures that I really need to hang up…
I looove how small it is, it fits perfectly into the space between Liv's reading/play nook and her changing table. The damask lining actually adds a nice, unexpected touch!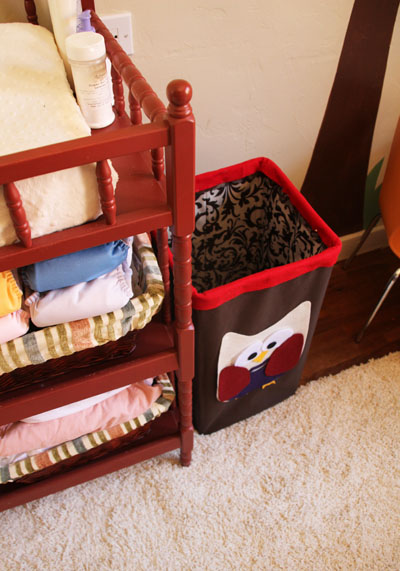 Now how fun would it be to convert these storage bins into toy catch-alls around the house? or on a bookshelf in a playroom?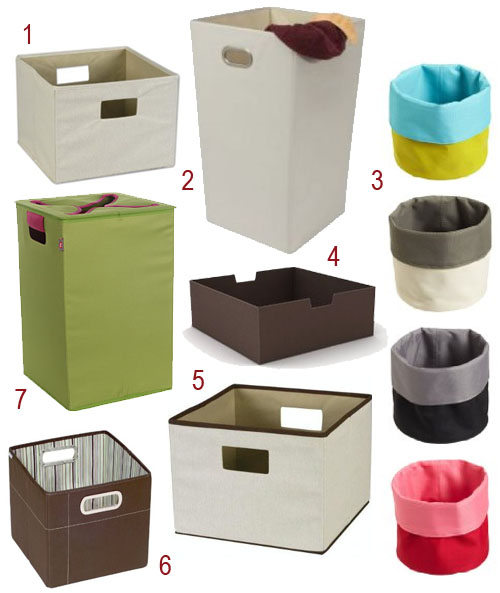 Happy crafting

.
PS If you want to go waaaay back, here are more Project Nursery posts: tree branch floating shelves, tree branch bookshelf inspiration, newly updated felt mobile, a new reading nook part 1, finished after photos, no sew fabric pennant, baby clothing art, handmade felt butterfly mobile, DIY crib skirt, basket liners part 1, part 2, the, glider makeover, recovering an ottoman, sewing lined curtains part 1, part 2, part 3, curtain fabric selection, nursery fabric board, rocking horse find, new pendant light, new sconce lighting, vintage wall art addition, changing table makeover, nursery wall striping tutorial , painted animal project, the initial inspiration board breakdown, the before pictures
Tags:
Accessories
,
Before & After
,
Crafty Solutions
,
Decorating
,
DIY
,
Fabric
,
Home
,
Nursery
,
Patterns & Color
,
Purple
,
Red
,
Tutorial
Posted in
Crafty Solutions
,
DIY
,
Favorites
,
Home
,
Liv's Nursery
,
Renovating Adventures
|
6 Comments »
May 16, 2012
Last I left you, we were starting on the dining room from almost scratch.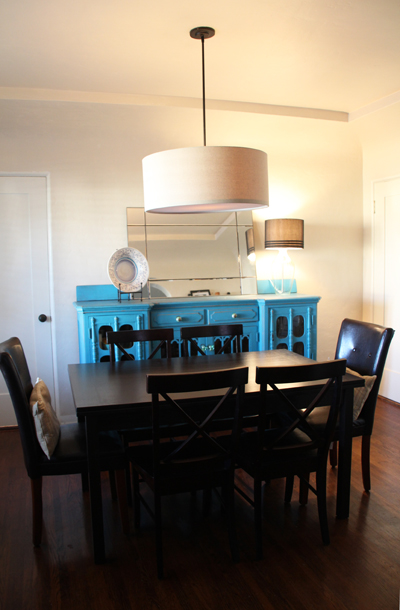 This is so fun! This room is in need of almost everything less most large furniture items.
Let's talk a moment about that new light because she was quite the adventure. The original chandelier was beautiful, ornate and most likely original to the house (meaning it was 77 years old).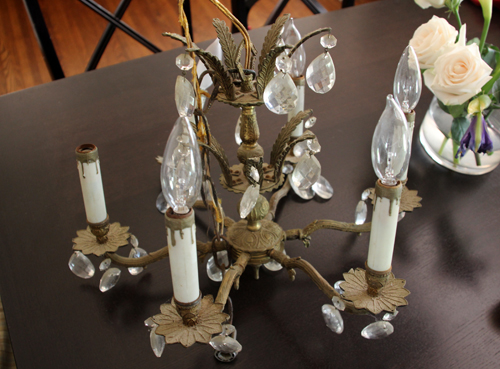 She was clearly showing her wear though. Everything from missing pieces to really, really bad wiring.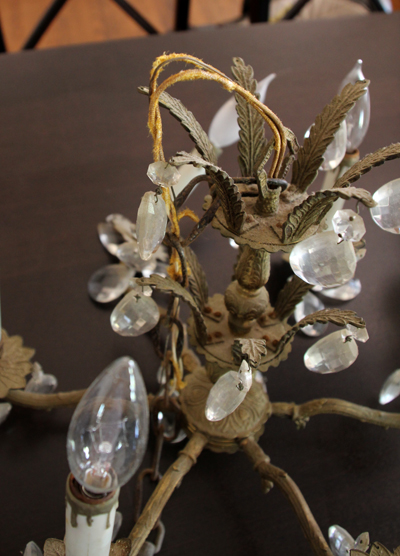 My favorite accent has got to be the faux dripping gold candle wax

.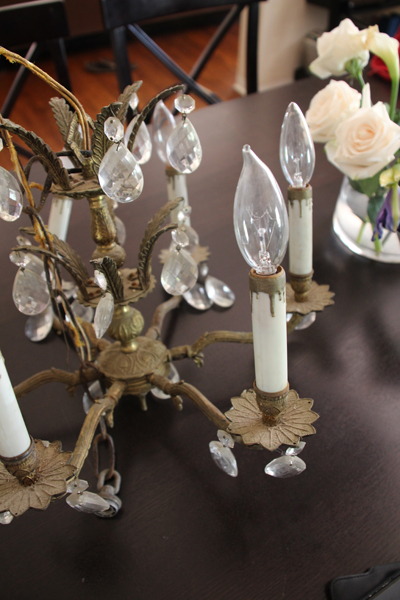 Despite it all though I still think it is such a cool piece and that it should stay with the house. Maybe I can fix it up and make it more of an accent light in Liv's big girl room (whenever we decide to take that on), or perhaps keep it neatly wrapped up in storage so that we can pass the original lighting on to future owners.
What I did know though, was that a new light would be an instant, updated impact to the entire space.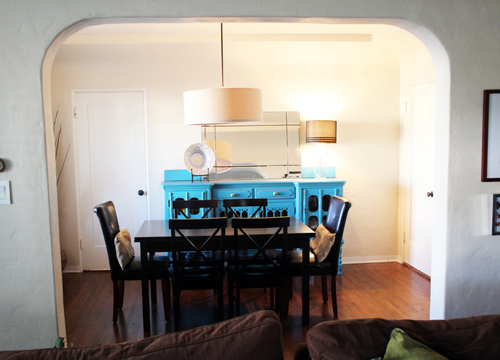 After much pendant hunting, I had narrowed my ideas down to: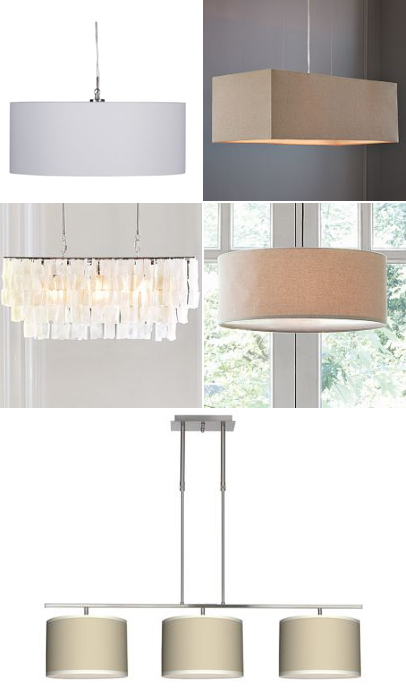 I love the big round Eden pendant that we installed in Liv's room – this has to be my favorite go-to in terms of price and look, and I thought that this version with a natural linen shade would fit the dining room even better. I was also drawn to something a bit more rectangular, like this West Elm shade pendant or this beautiful capiz pendant (so stunning! but Kev was not on board). Finally, I thought a light with multiple drum shades might just fill up the space well, like this one.
After much searching and much envisioning and much research, I finally fell for the West Elm short drum natural linen pendant shade. It didn't hurt that on one of my random visits to the store, I found it marked down a third of the price! I haven't seen that discount since but it was clearly a sign that she was the right modern pendant for the space.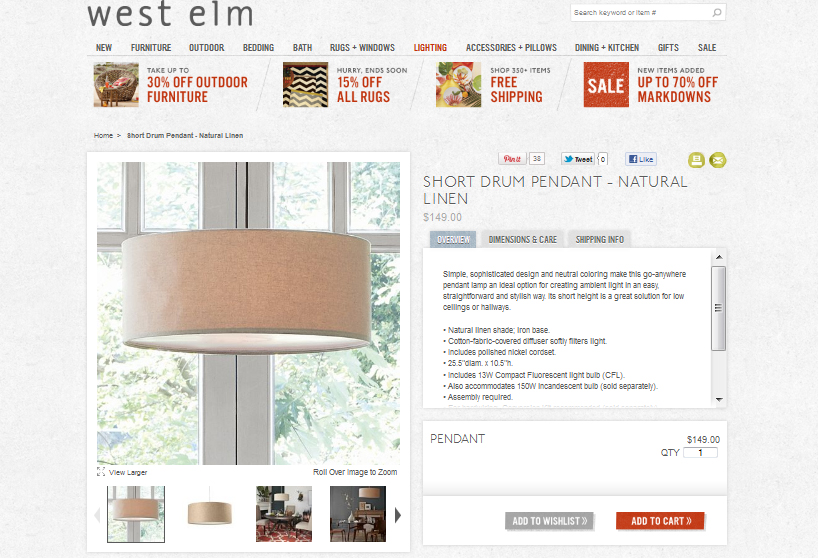 I was very keen on the light, but not so keen on the white cable and silver wire/canopy that suspended the light from the ceiling (a little too modern for the space) – not sure why the above shows black because it's definitely white! The pendant had to be converted to a wired version rather than a plugin, so in that process I opted to nix the West Elm mounting and added the shade to the oil rubbed bronze rods (just two rather than the three stacked 12″ rods it came with) and canopy of this Lowe's pendant: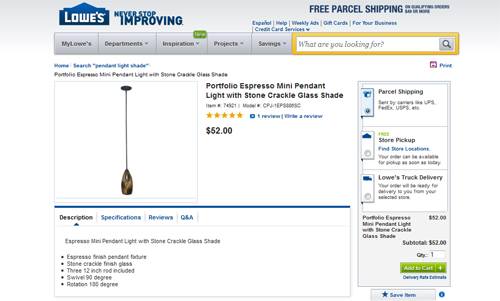 A pricey upgrade but definitely worth it. The new bronze mounting fits the Spanish-style space (with those rounded walls and inset ceilings) but the size and shape of the shade makes a huge modern difference.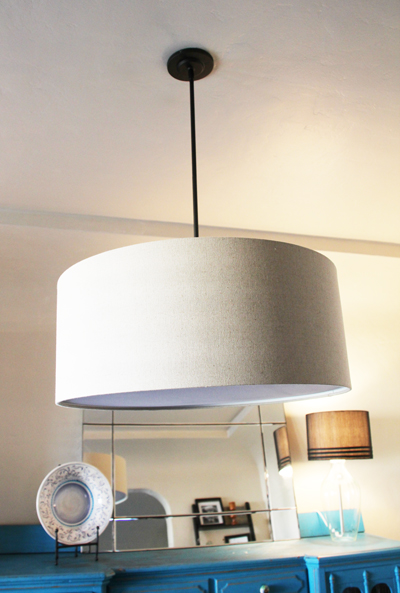 Using a kitchen pendant light to update another ceiling fixture is an easy and affordable tip, though I must warn that we got this one wrong on the first try. I originally bought a candelabra mini pendant light that emitted about 30W – aka not enough to eat your dinner by! This monster shade needed a real deal light base (like the size of a usual light bulb) and we reinstalled the pendant again with the right sized light mount (thanks Andrew!). Now something like this option or this option, while not as big as I wanted for the space, would have provided three or four light bulbs for the large shade and would have cut down on this problem all together.
Another reason it doesn't emit as much light as a usual chandelier?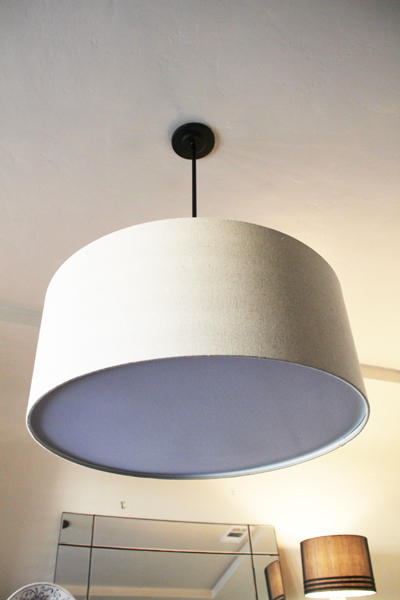 The bottom of the shade is covered with a see-through insert that diffuses any light that comes out of the chandelier. You need as much watts or lumens (the LED version) as possible!
This all wraps up with my love for drum pendant lights, whether you hang them high in the center of a room like the Eden in Liv's nursery:
Or low over a table, like the new linen short drum in the dining room!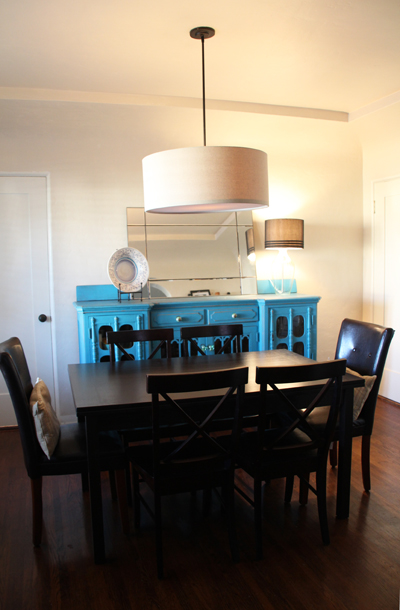 Though I do wish it could be a half a rod lower – just need to learn how to rethread rod iron rods

.
Read the full dining room story by starting here: the before!
Tags:
Accessories
,
Before & After
,
Decorating
,
Dining Room
,
DIY
,
Home
,
Lighting
Posted in
DIY
,
Home
,
Our Dining Room
,
Renovating Adventures
|
3 Comments »