March 28, 2012
I've finally finished the upholstered headboard for the new office/guestroom! I knocked out the project over a couple of hours spread across two nights just this week, and I love how it turned out.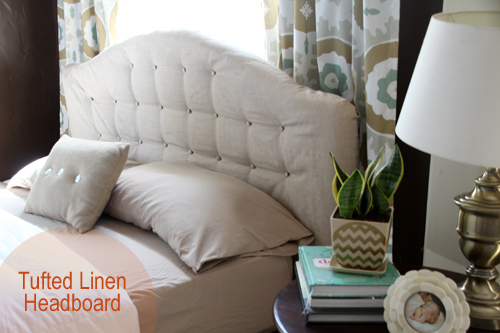 The fabric headboard that I first made a couple of years ago was originally intended for the  master bedroom and was covered in a silvery grey fabric that I loved. When we finished the guestroom space in 2011, it sufficed as a stand in while I decided the color palette and feel for that room.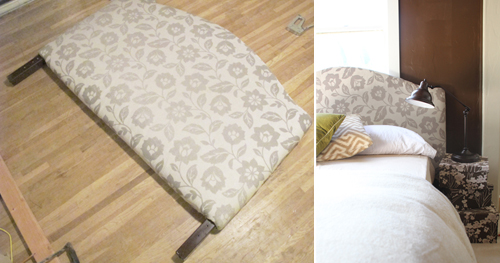 Ultimately new curtains won out and the headboard needed to be recovered to make it all work.
I considered building a new headboard from scratch but since I knew I wouldn't want to put my current fabric headboard back into the garage (oh precious storage space!), I decided to give it a go in reinventing it by covering the backside in a different fabric.
This way I could always pull my current linen off of the headboard, flip it over and you'd find the original fabric waiting its turn to shine. Minus a few staple holes (which were inevitable to keep the linen side of the board taut) I thought the plan would work out pretty swimmingly.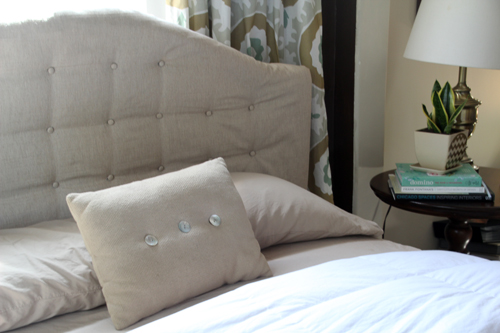 Don't pay attention to the bedding in these photos – that's on the to-do list.
If you're creating  a headboard from scratch, start here with the original post that turned this guy (with the help of foam padding, quilt batting and a staple gun) into a fabric headboard.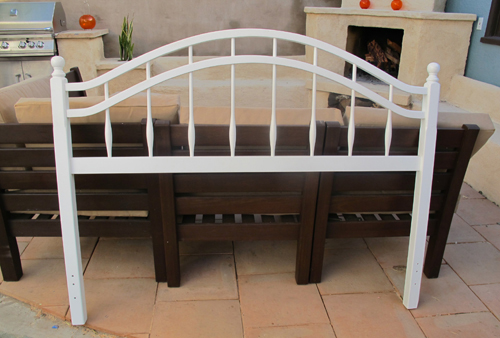 Those wooden slats worked out quite nicely as the base for my tufting and staple gun.
But back to covering the back side of my fabric headboard… The first step was to flip the headboard over and to carefully measure out my new tufting points. I used a solid color on the back of the headboard to avoid wasting $ on that beautiful Luxor fabric on the front side, hence the lighter fabric you're seeing below (that's the back of the headboard, not the new linen).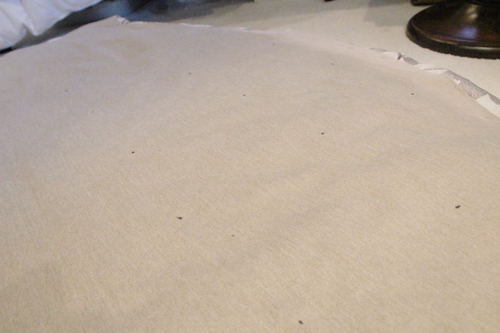 After I had made black marker dots for the new tufts, I pulled the new linen over the back side of the headboard and as I covered up the dots, I stapled on top of the linen to create the tuft.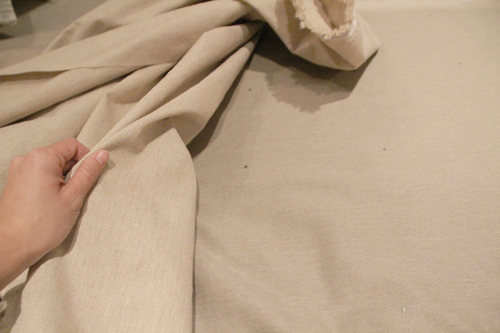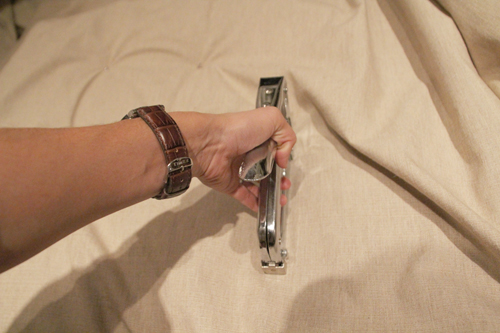 And repeated until the entire headboard was covered. As mentioned above, the staples are going right into the evenly spaced slats of the original headboard frame, but if you were covering a piece of plywood to create a fabric headboard you'd want to double triple check your measurements as you're stapling to ensure the tufts are in a straight line.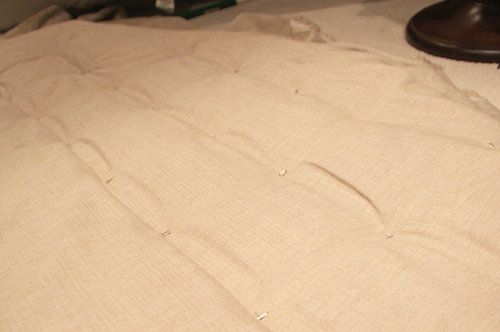 If you take a closer look at those tufts you'll notice that I'm stapling twice in a cross pattern to really hold the fabric in place.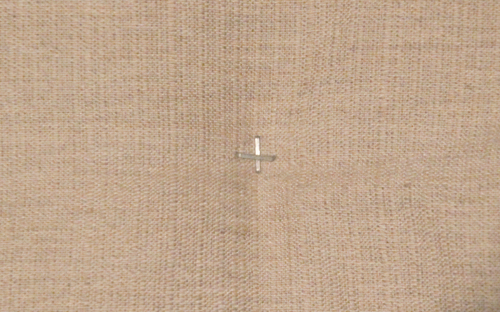 Another tip worth pointing out is to pull the fabric as taut as possible between staples to really get a creased, tufted look. The natural lines in the linen helped me to stay on track so that tufts were in a row, and following the same point on a patterned piece of fabric would serve the same purpose.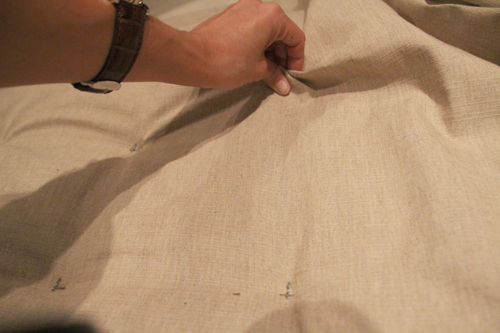 Sorry again about the night time photos! I rarely ever have time to get projects completed when it's light out these days

.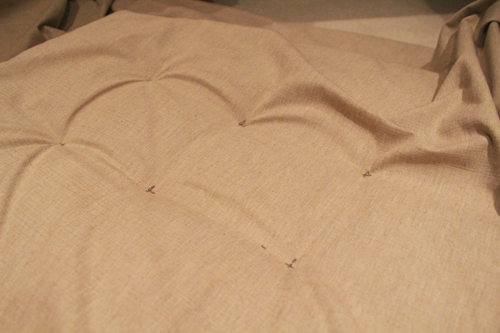 I used a simple 5/8″ button kit to make round fabric buttons out of scrap linen. 20 buttons later and I officially had no use of either thumb.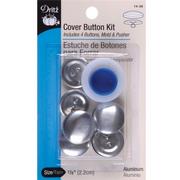 This next step was the easiest part! Inspired by the upholstered headboard created by Cre8tive Designs, I went ahead and just glued those buttons right over the staples. The next morning these guys were as secure as can be, and you really can't tell that they're not sewn on unless you pry your nail under one of them.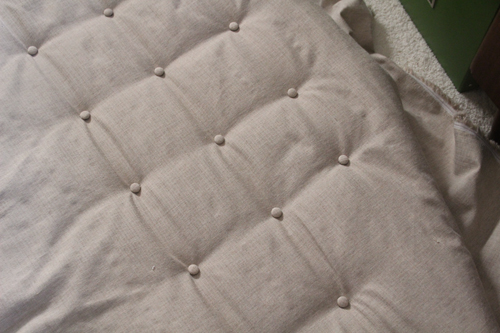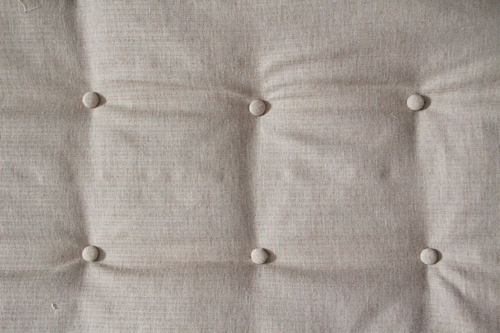 The last step was to secure the edges of the fabric to the entire headboard. To get rid of any slack I first pulled the fabric as taut as possible for smooth, rounded edges – and then stapled a few times along the opposite side (or where my pretty fabric is currently facing out). Again I found the wooden slats of the original frame to drive my staples into.
The fabric around the legs was simply trimmed, folded under and stapled. A bit of slack will allow me to pull fabric down over the existing staple so that it disappears.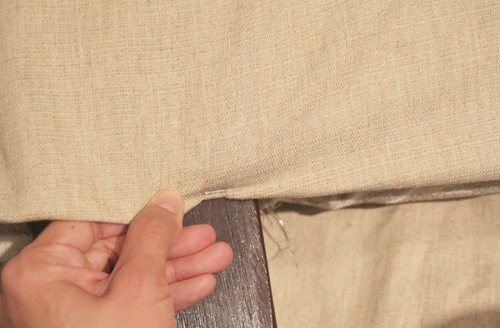 I wedged my new linen headboard between the platform bed and the wall and I was finished!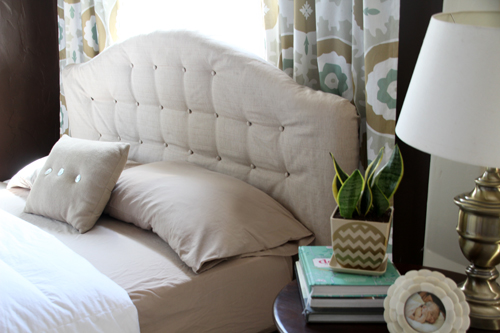 The back of the headboard is my fabric that I'm trying not to destroy, so I didn't staple the edges as tautly and numerously as I could have to really achieve that smooth, rounded look. But that's always an option if you're not trying to be staple shy

.
By the way, I did a little round up of platform beds here before purchasing our West Elm frame below: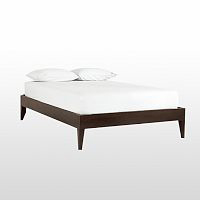 Platform beds are so versatile in that they're pretty, relatively inexpensive and you can switch out the headboard any time you'd like!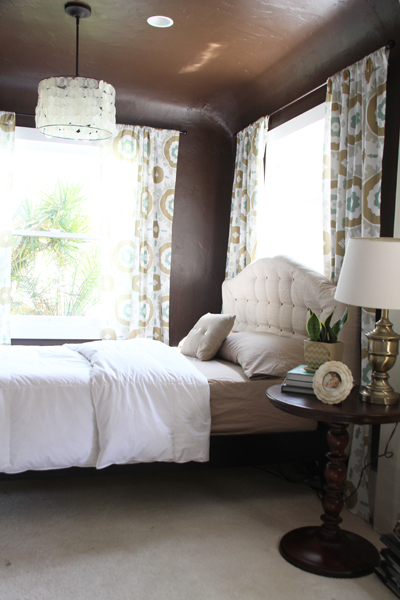 For more Office Makeover posts, check out: our floor plan, color inspiration, a new trellis print rug, stuck in a rut, designing and sewing the curtains, diy fabric bulletin board panels, handmade capiz pendant light, organizing the bookshelves, wall collage part 1, part 2, fabric bulletin board inspiration, (new) inspiration board, new lamps, wallpapering open shelves, finding the perfect credenza, new trim, dining table-to-desk, a new desk & bookshelves, installing remnant carpeting, grasscloth wallpaper, painting the office nook, finding carpet for the office, chocolate brown wall ideas, plastering progress, inspiration for a diy desk, back in action!, desking hunting for under $300, bookcases under $300,inspirational rooms, room layout options, demo part 1 & demo part 2.
Tags:
Accessories
,
Bedroom
,
Before & After
,
Crafty Solutions
,
Decorating
,
DIY
,
Home
,
Office
,
Tan
,
Tutorial
Posted in
Crafty Solutions
,
DIY
,
Favorites
,
Home
,
Our Guestroom/Office
,
Renovating Adventures
|
9 Comments »
March 16, 2012
In addition to the monster wall project I worked on for the Pinterest Challenge, I also wanted to attempt to tackle a few smaller pinned ideas that I've had my eye on. The first was a gold stenciled chevron napkin project and the second, today's gold mercury glass makeover for a few plain glass vases I have lying around.
My inspiration came from the adorable dipped gold drinking ware that I had pinned over in my Dining Room Inspiration board (that room is getting its makeover soon):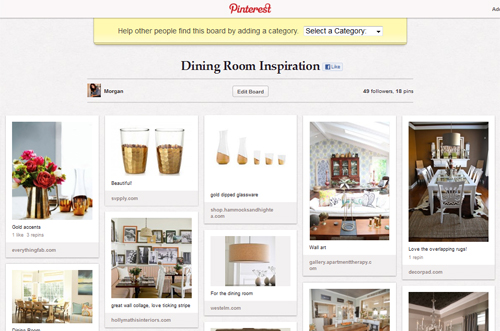 But I modified the project a bit because I was really wanting to create more of a mercury glass effect with that neat, mottled coloring and multiple layers of paint and distressing.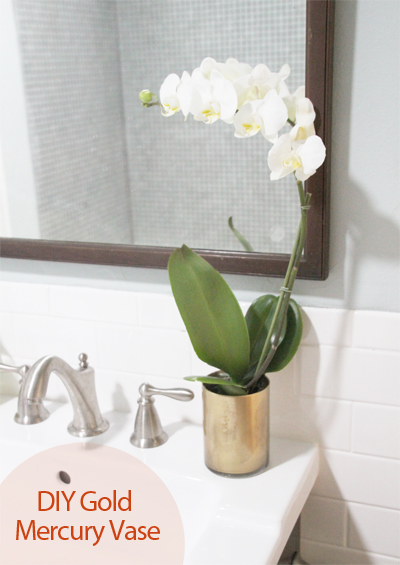 I love my finished vase and I'll probably use it for holding silverware at a dinner, straws at a party or pencils on my desk in the future. Plus flowers! Looks great in the new bathroom with my new orchid (thanks house guests for the thoughtful gift!).
I opted for a more subtle mercury finish (you could instead take big chunks out of the paint for a more distressed look that you often see in stores – and while I started with that I ended up filling in some of those holes and liking this best) because of the gold rather than the traditional mirror or silver finish.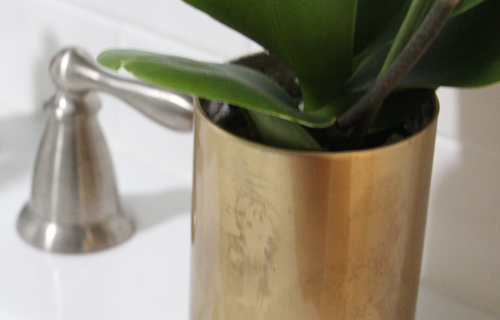 In a nutshell, here was the process: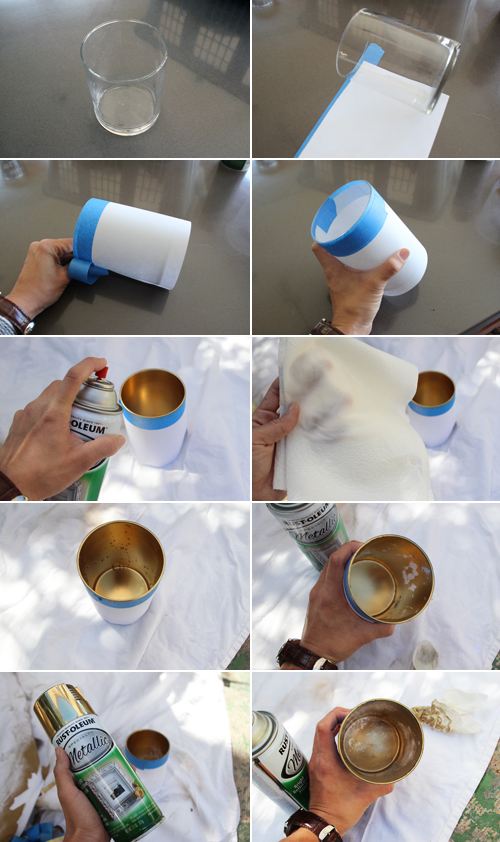 I used the super helpful tutorials here and here to get me started.
Now in slow motion… I began by lining a clear glass vase in painter's tape and paper to keep the paint on the inside of the glass.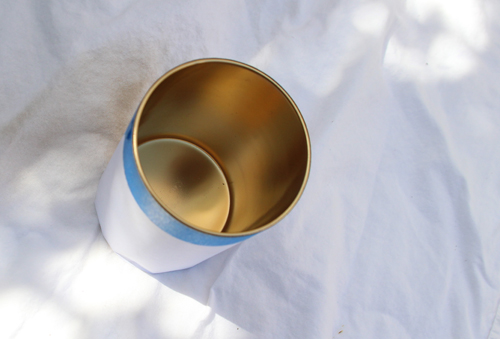 Once I had a nice, even coat of gold (I chose Rust-Oleum's Metallic Gold) I used the above tutorial's suggestions of blotting vinegar onto the inside of the vase to begin to distress the gold.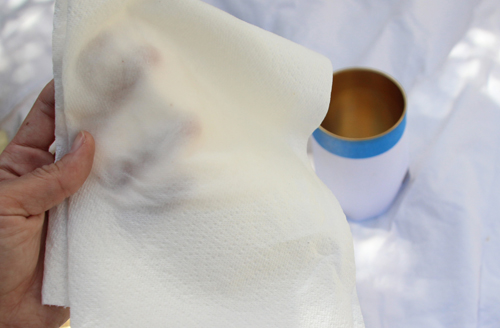 I learned the hard way that you don't want to pour the vinegar in over the edges or you'll end up with big drip marks in your gold, but you want to squeegie out the vinegar onto the surface until it beads, let sit for a minute or two, and then rub, rub rub!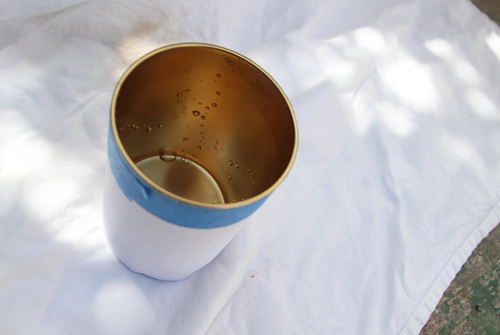 As I rubbed I slowly began noticing chunks of the gold begin to fall away, creating that distressed mercury glass effect.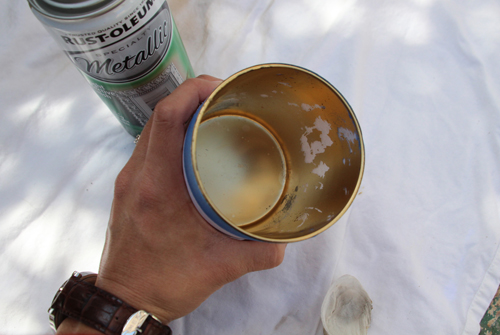 Cool, right?
Word of caution: I thought I'd expedite the process (I love to find the best shortcuts) and used a piece of a wire sponge to burnish the inside of the glass for a more distressed look, but that left really scratchy results (hardy har har). Back to the paper towel I went.

When I had finished my distressing I let the vase dry for quite some time (the vinegar will repel any future coats of gold until dry), and then gave another soft spray of gold, another level of distressing and so on until I was happy with the results.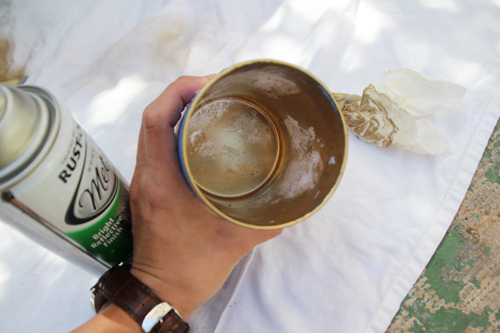 If you put a candle to it you'll really see the visible layers and holes in the gold for a more 'mercury' look, but I'm really digging the subtleness of the distressing with my orchid pot as the backdrop.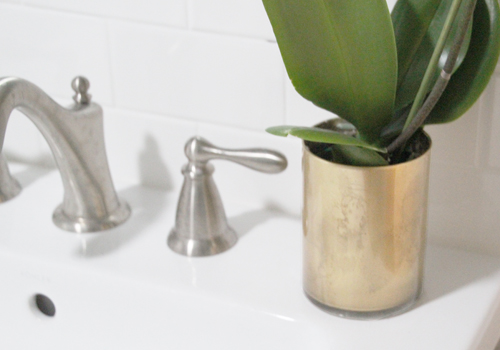 The first accessory of many for the new bathroom! More on that very soon

.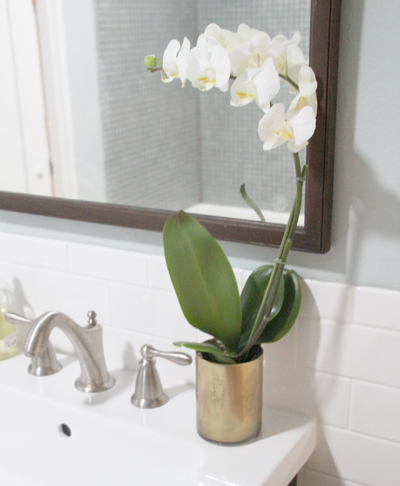 While I was at it, I used my new favorite spray paint to line the inside of a white ceramic vase, love that bold gold peeking out!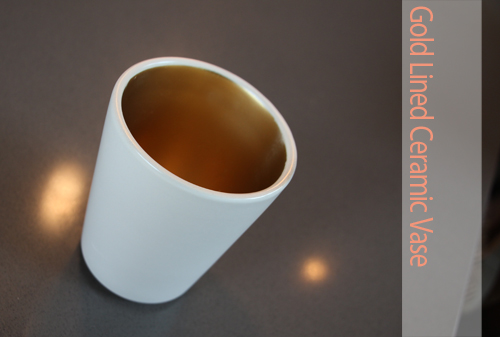 PS you can find my other Pinterest Challenge projects right here, or by choosing one of these guys: diy gold chevron cloth napkins, painter's tape accent wall or capiz shell pendant (from last year).
Tags:
Accessories
,
Before & After
,
Crafty Solutions
,
Decorating
,
DIY
,
Gold
,
Home
,
Pinterest Challenge
,
Tutorial
,
white
,
Yellow
Posted in
Crafty Solutions
,
DIY
,
Favorites
,
Home
,
Our Guest Bathroom
,
Parties & Entertaining
|
7 Comments »
February 15, 2012
Hope you had a great Valentine's Day!
I have a funny story… Kevin took me to a really lovely restaurant last night in La Jolla (just north of San Diego) called Whisk n Ladle. It's a place that I've wanted to check out for some time and it was delicious! I'm not sure you can call us 'foodies' but we're big on locavore-style restaurants full of unique flavor. If a menu mentions anything with the words 'fig compote', 'breaded goat cheese' or 'lavender infused anything' I start to salivate immediately. It's the unique pairings that you can't always accomplish in your own kitchen that I like most about eating out.
Well, this menu was everything and more and I was so excited to try it all. We narrowed our choices down to two specialty cocktails to start, braised pork shoulder with dates and roasted brussel sprouts as well as seared local halibut for our main courses — and to start us off delicious pan fried sweetbreads with onion confit in an au jus sauce. Are you salivating yet? But this is where things got a little crazy. What do you think of when you hear 'sweetbreads'? (this is officially why we're not foodies), I was picturing a most delectable french-toast style of handmade bread with an onion confit for dipping. Nope! Sweetbreads are a friendly word for the throat, glands, stomach and intestines of a lamb or calf. We were half way through the appetizer when I decided to Google it because it just didn't taste like I was expecting… ha! Kevin happily finished off the rest. So maybe he's the foodie in the family.
Okay, back to a fun little laser cut butterfly art project that brought a little more Spring to our living room.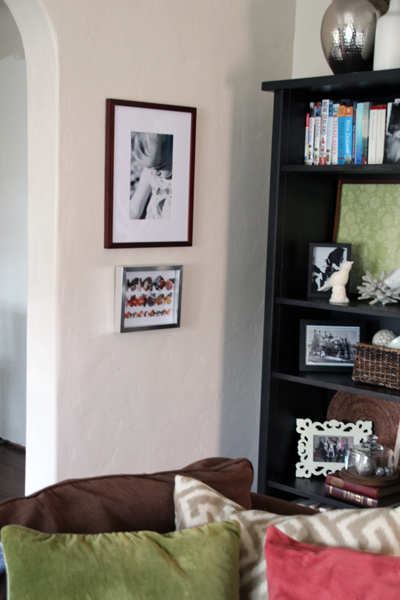 There's just something about these natural beauties that is so lovely to look at! And such an easy way to add color and bring nature into a space.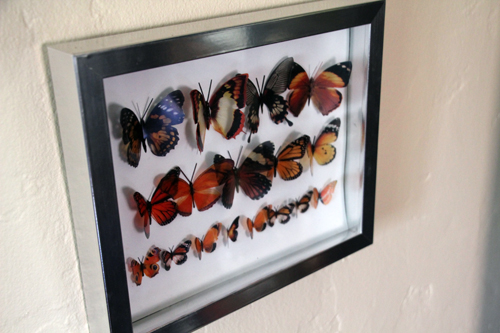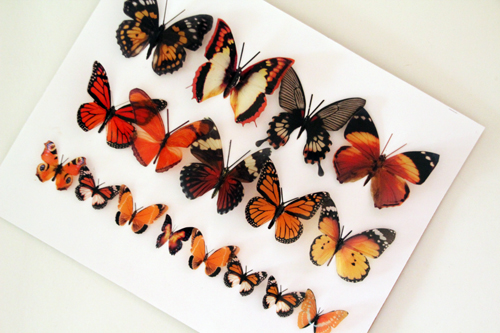 More lovely inspiration: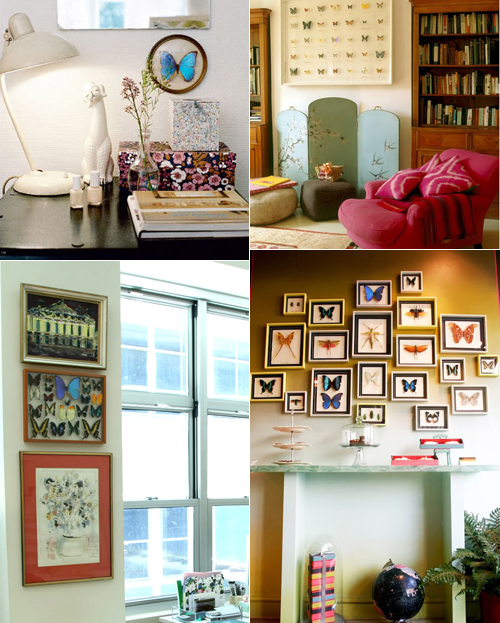 Lots of folks are not fans of taxidermy butterflies. It doesn't bother me so much if I'm purchasing from a humane seller who harvests butterflies after they have naturally passed (since many live only 3-4 weeks) but if you're looking for an alternative (or you don't want to spend $50-100 for a shadow box) plastic laser cut butterflies are the way to go.
Krista of Kiki's List (who I learned about from this favorite site) turned me on to Etsy seller Clear Cut Crafts that creates just that – beautiful, natural looking thin plastic butterflies that can be used for cake decor, weddings, you name it.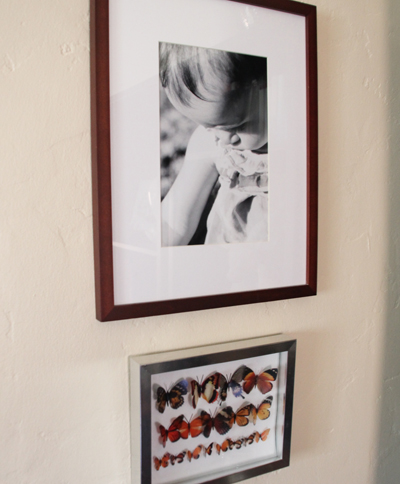 I placed an order for 2 dozen Monarch colored butterflies (love that orange! and thought they were the most realistic – plus I grew up near Monarch groves which are just beautiful when full of butterflies). To hang them, I found a cheap Ikea frame in silver that I altered just a bit to function as a shadow box.
***************************************************************
Butterfly Art
(and converting a Ribba frame to a shadow box)
m
Materials: laser cut butterflies (or the like), Ikea Ribba frame, white construction paper, scissors, pliers, 1″ tack nails, hammer, glue
Using the back of the frame as a guide, I cut out a piece of white construction paper to match. My butterflies came pre-cut (huge time saver! hence the laser cut) and so I gently folded the wings and laid them out on my paper to get an idea of how I wanted the finished display to look.
Once I had settled on a layout I used a white glue (so that I could adjust placing as I went) to hold them in place.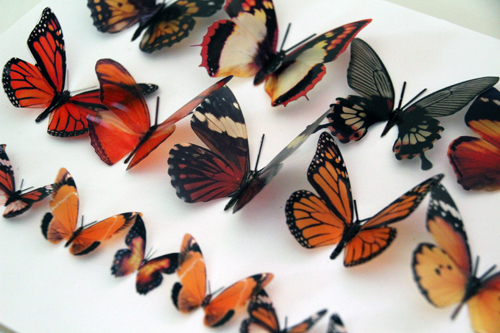 I let this dry over night and began working on the frame. Apparently there is a shadow box frame that Ikea makes – and I thought that I had picked up that version when I found my $4.99 find. But later after arriving back home I realized that while it's deep for a frame (as most Ikea frames are) the photograph mounting was smooshed right up against the glass.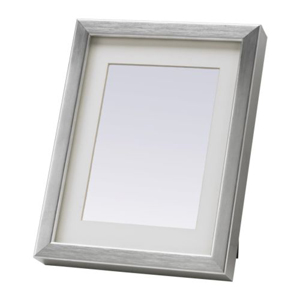 To create a shadow box out of the Ribba frame, I popped out the glass and mat and pulled out each mounting clasp (is there a more accurate term for those little metal clips?) with pliers.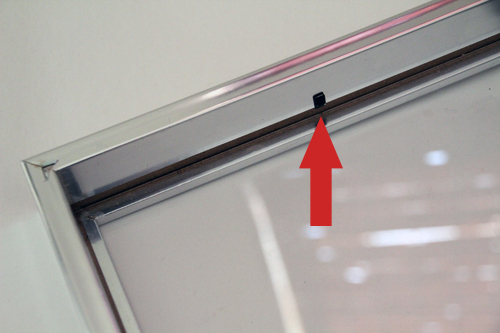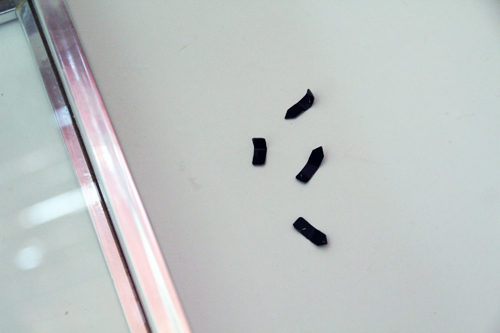 Then I added small tack nails between the edge of the glass and the frame. Just a gentle bump with the hammer and a little glue held these guys in place. I also let the glue dry overnight.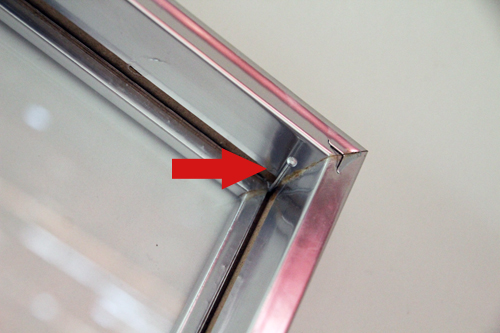 Now the back of the frame would sit atop the nails and the nails would bridge the distance between the glass and artwork — making the frame a shadow box (and perhaps the cheapest I've ever bought).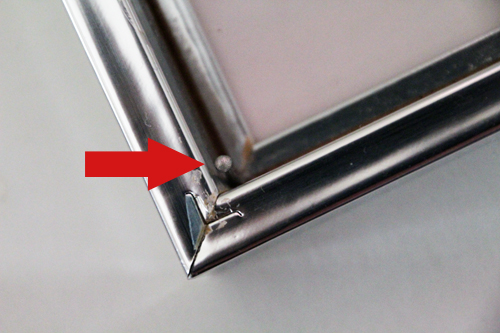 Since I pulled out the little clasps that keep the back in place (because they were in the wrong location for a shadow box) I simply glued my back to the frame edge. Since it's a tacky white glue that I used it will hold my artwork in place for as long as I'd like but will allow me to easily pull the back off (maybe with the help of a utility knife) later down the line to update the contents. A glue gun here would be equally useful but might not allow the versatility to easily replace the artwork inside. Let dry overnight if using white glue.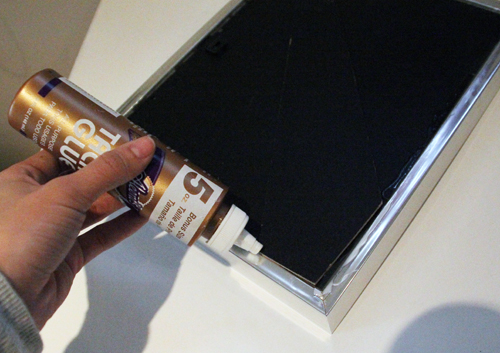 Finally, flip over and hang!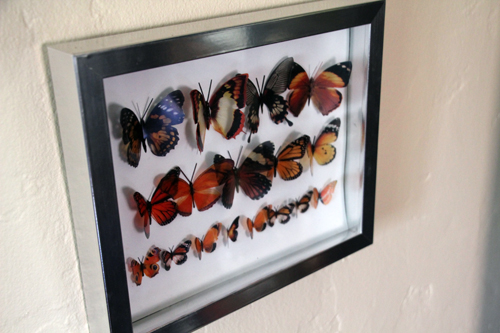 ***************************************************************
The finished frame fits in well with my Spring update for the living room with the bright colors playing off of the new throw pillows.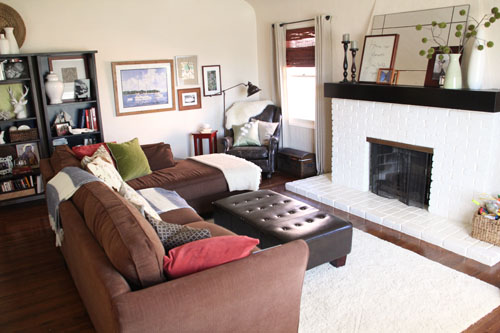 And another shot of the corner of the room with the new butterfly artwork: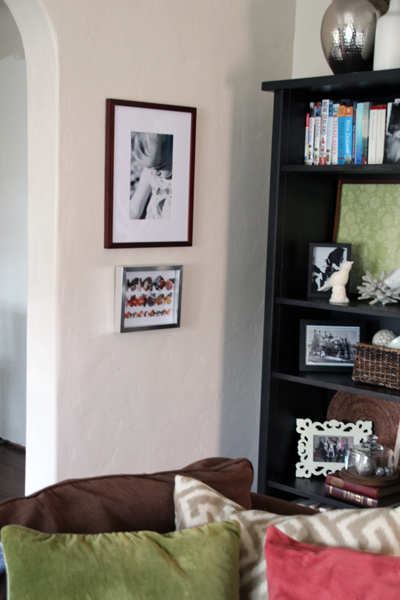 Do you have any funny stories to share from Valentine's Day? Or any new DIY artwork projects? What are your thoughts on butterflies – fake or taxidermied?
More living room posts right here.
Tags:
Accessories
,
Artwork
,
Before & After
,
Crafty Solutions
,
Decorating
,
DIY
,
Home
,
Living Room
,
Orange
,
Tutorial
Posted in
Crafty Solutions
,
DIY
,
Favorites
,
Home
,
Our Living Room
,
Renovating Adventures
|
6 Comments »