August 29, 2011
Despite the drywalling, plastering, painting, wallpapering, carpet installation, furniture moving and moulding projects that have consumed the new office/guestroom over the past month, we've managed to fit in not one but three sets of guests! It's great to put that new room to use.
I'm not going to lie… my parents (1) helped sort through boxes while they were here, my in-laws (2) had to deal with piles of books, magazines and office supplies during their visit – and our more permanent guest (my brother – 3) who just moved to San Diego and is a student looking for housing at the moment – has had to officially relocate from guestroom to couch three or four times to accommodate a handful of projects, including this one.
But it all started about a month ago… anticipating the arrival of family, I sat down to do a bit of research on beds and what was the most economical/comfy solution for our visitors.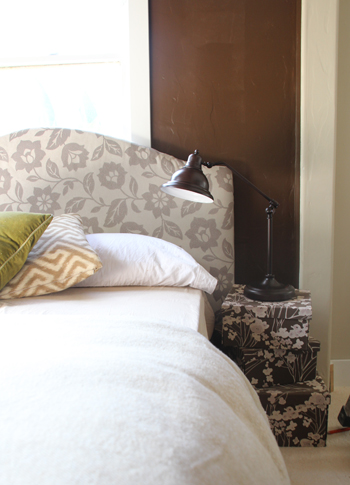 In the end, we purchased a mattress from Costco and a basic platform bed from West Elm to pair with my diy fabric headboard from last year. As you can tell from the pile of boxes as the night stand, the room is still very much in-progress!
I try and space out purchasing furniture for a new room so that it can be budgeted over the course of months or even a year. Pieces that I know that we'll need are easy to buy in advance – such as this bed. Purchasing the bed in June meant we could add the mattress in July! We considered several different room layouts a while back, including the possibility of a daybed that would have left us with more floor space, but in the end the double won out. Our guests often come in pairs and we think that even a small full is comfier than a seamed bed or a trundle.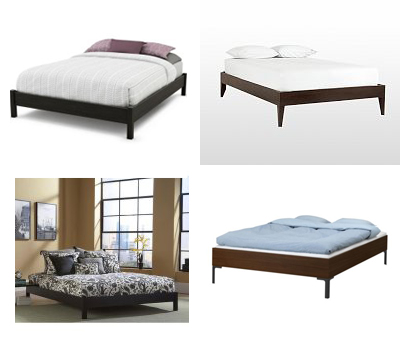 The contenders included South Shore's Gravity Bed ($179), West Elm's Narrow-Leg Frame ($224 on sale), Leggett & Platt's platform bed ($169.50 on sale) and Ikea's ENGAN bed ($149). We ultimately chose the West Elm narrow-leg bed frame because of a merchandise credit and an awesome sale – but if it had come down to just the dollars, I would have happily scooped up that ENGAN Ikea bed with those great metal legs!
I knew the platform bed was the way to go for us because I had been dying to use a fabric headboard that I had made from an old Craigslist find last year: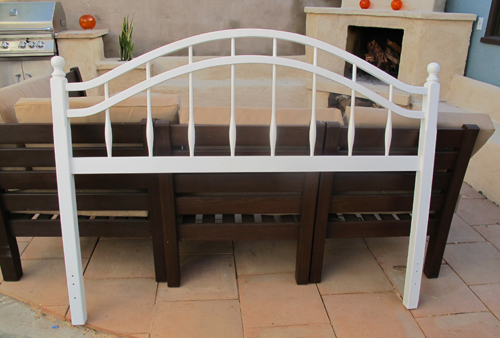 You can read all about the makeover here, but the quick and dirty: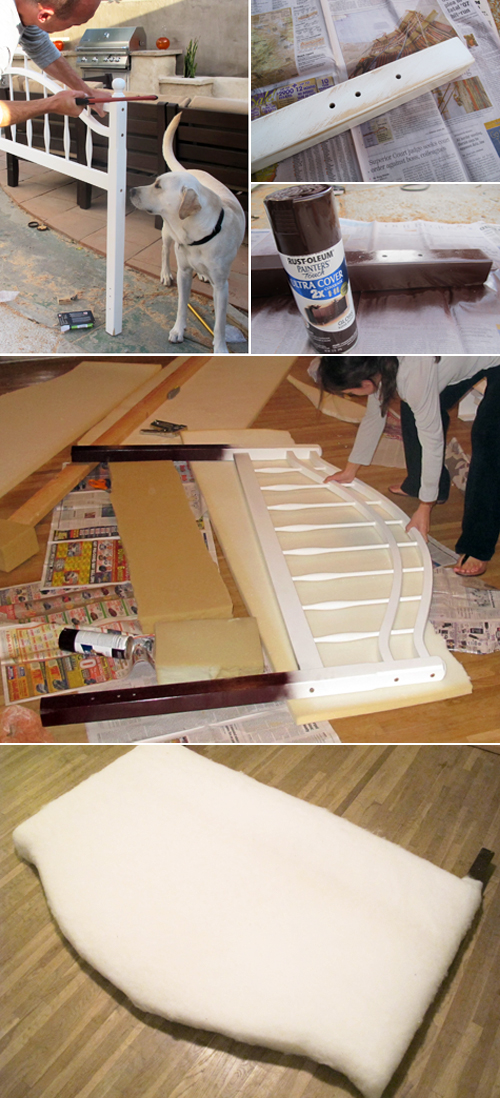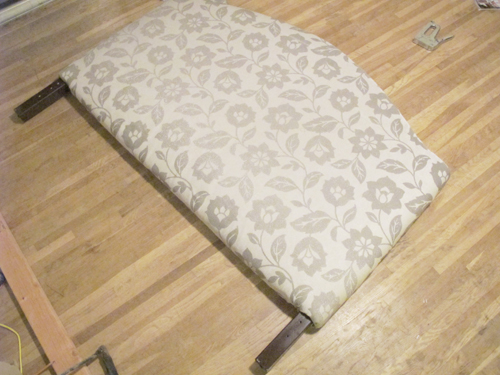 The only unfortunate part? The fabric headboard is for a queen sized bed and it is quite large on the new full sized frame.
Ignore that random cable poking itself out of the wall on the left side. We still have plenty of cat5 Ethernet cables to rewire 'round here. See what I mean about the wide headboard? I'm hoping large shams and poufy comforter covers will hide the issue, though it feels pretty pronounced right now. Hmmm…. white or tan for the bedding? Or maybe something colorful?
As for purchasing a full instead of a queen? You can probably already tell from the photos but the guestroom portion of this space is a tight squeeze and a full fills the space without overcrowding it. Couples will have to cuddle, but we think the bed is still big enough to offer sweet dreams.
I adore the headboard in the new room. There's a reason it's been patiently waiting over 15 month for its home… by the way the fabric is Luxor Silver and it's currently on sale over at Calico Corners. I love the simple pattern and colors, and I love how cozy it looks against the chocolate brown walls.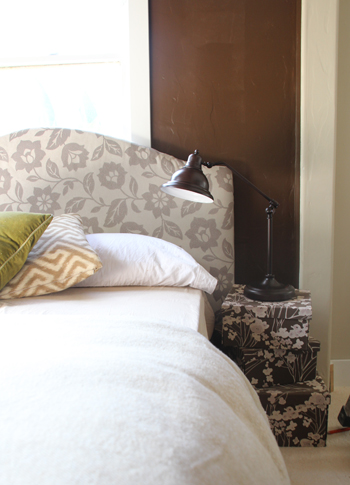 A great and affordable fabric headboard resources – for the non-crafters – is: MoreHeadboards.com ($199-349). Any big projects or great finds on your end?
For more Office Makeover posts, check out: 'finishing' with moulding, dining table-to-desk,  a new desk & bookshelves, installing remnant carpeting, grasscloth wallpaper, painting the office nook, finding carpet for the office, chocolate brown wall ideas, plastering progress,  inspiration for a diy desk, back in action!, desking hunting for under $300, bookcases under $300, inspirational rooms, room layout options, demo part 1 & demo part 2.
Tags:
Before & After
,
Crafty Solutions
,
Decorating
,
DIY
,
Fabric
,
Home
,
Parties & Entertaining
,
Patterns & Color
,
Tutorial
Posted in
Home
,
Our Guestroom/Office
,
Renovating Adventures
|
7 Comments »
August 22, 2011
Hope you had a great weekend! We've been busy over here c-l-e-a-n-i-n-g. If there's one thing I hate about a project it's that after you tear everything out of a room and transplant it to the garage, you have put it back into the space when you're finished (on the plus side – our office is finished enough to begin putting everything back!).
You might remember that I found a dining table for the office that would work perfectly as a new desk. Well, a couple of weeks of functioning as a desk and we're realizing the table is too big. I was originally hunting down a desk that was bigger than average, but my Craigslist dining table sticks out pretty far into the room when it has a chair pulled up to it (it's a pretty narrow room). Bummer.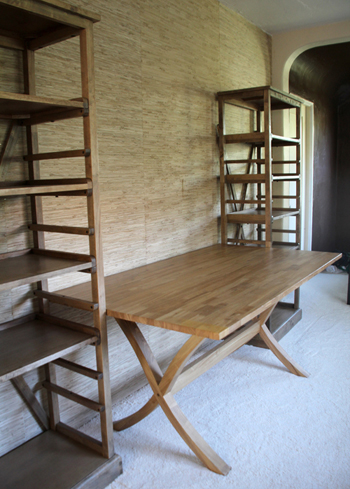 So the solution? Chop it down. We took the dining table out to meet the table saw and after flipping it over so that the table was legs side up, smoothly cut off several inches along the back side. Table liposuction.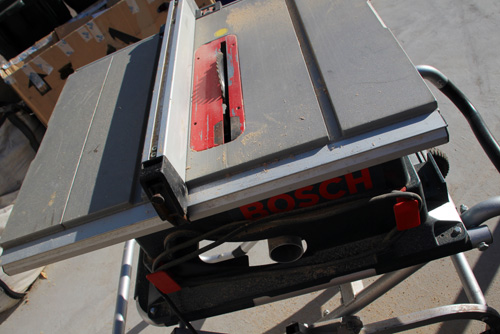 Here's a nice angle showing off our alley and trash cans. The newly cut side received a quick sanding to get rid of any rough edges or large splinters.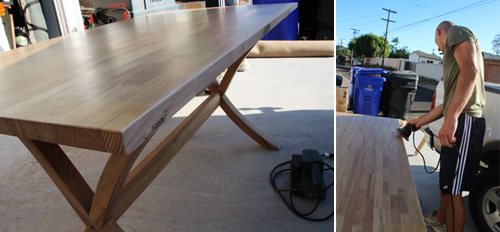 The front was left untouched so that we didn't have to stain any raw wood. Then we brought the table back in and pushed the newly cut edge tight up against the wall.
While a few inches doesn't sound like much, it made a big difference once the table was back in place as a desk.
Can't tell the difference? I know… it's not too exciting but it goes to show how easy it is to modify a Craigslist/antique/thrift store find with a little help from the power tools.
Check out these great souvenirs from our recent trip to Iowa: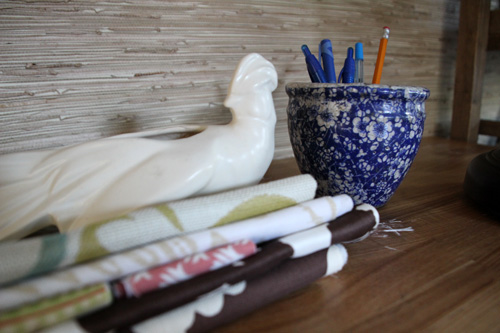 Don't they just scream Iowa? Just kidding. They're the most unlikely to be picked up on vacation but I saw them in an antique/garden shop in little Woodward, Iowa (where Kevin's Dad's family is from) and found a way to stuff them in my suitcase. That's a white ceramic lounging bird there on the left and an old flower pot on the right. The first accessories for the new space

. And those fabrics are just the start of what I'm gathering for the room.
So cutting down the desk was no big deal – a quick one hour project including moving the piece of furniture, cutting, sanding and putting 'er right back where we had found it!
For more Office Makeover posts, check out: a new desk & bookshelves, installing remnant carpeting, grasscloth wallpaper, painting the office nook, finding carpet for the office, chocolate brown wall ideas, plastering progress,  inspiration for a diy desk, back in action!, desking hunting for under $300, bookcases under $300, inspirational rooms, room layout options, demo part 1 & demo part 2.
Tags:
Accessories
,
Before & After
,
Construction
,
Crafty Solutions
,
Decorating
,
DIY
,
Home
,
Office
Posted in
Home
,
Our Guestroom/Office
,
Renovating Adventures
|
4 Comments »
August 17, 2011
The living room is secretly getting an overhaul without us even realizing it. As we've been concentrating on the new office/guestroom, I've casually found items to diy, that are on sale or while Craigslist shopping that happen to be on my 'living room list,' and have slowly added them to the mix. But without meaning to, really!
It started with this new mantel, then I jazzed up the new mantel with the mirror from the dining room and decor from the garden (more on that soon…), then added these new cloth napkin throw pillows, after that was a new lamp for the office – but it came in pairs so one ended up in the living room, and just this week – a new rug! For a mere $75, including the super sweet rug pad.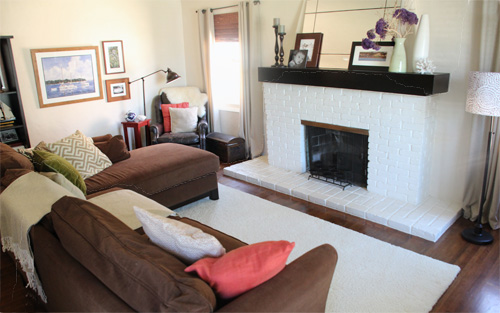 The rug came about quite accidentally. We've had the same chenille jute rug since moving in about three years ago and it definitely has seen better days. In fact, I can tell you with certainty which stain on the rug was associated with which unsupervised Bodie incident. Now Bodie is a great dog – never was a chewer and is usually quite obedient around the house. But if we leave him for an extended period of time and there's, say, See's candy on the dining room table, or an irresistible bowl of faux orange pumpkins for Halloween, he'll help himself, settle down into the rug and create a ridiculous mess. Stomach issues aside, he's inevitably ashamed when we get home and discover the new carpet spot. Bad dog.
This photo is pre-spots – but the circles show where the pumpkin and See's suckers became engrained in our rug for all of eternity. We tried steam cleaning but it's not recommended nor really possible on a natural fiber rug. We tried flipping the rug to hide the stains, but low and behold we had already used that trick for a spilled something a couple of years ago.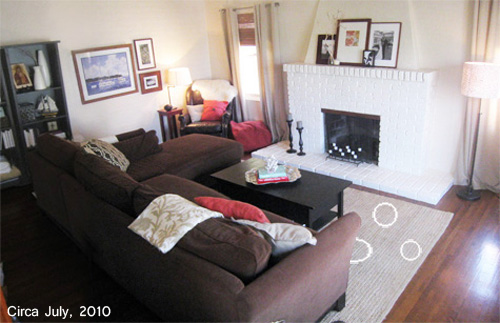 SO with Liv now crawling I've been on the look out for a new rug that would meet some criteria:
Cheap! (we're not ready to shell out $500-1000 for the traditional 8×10 rug)
Soft and plush (no more jute – even though chenille jute is soft, we want something softer for little knees)
Must be a cut pile rug (Bodie's shedding gets caught in flat weave or dhurrie rugs which is such a shame, plus the cut pile rug means we can use a carpet cleaner on it, something you just can't do with jute. And for us that's huge.)
I really wanted something with a little interest and I have kept my eyes open for a great patterned rug.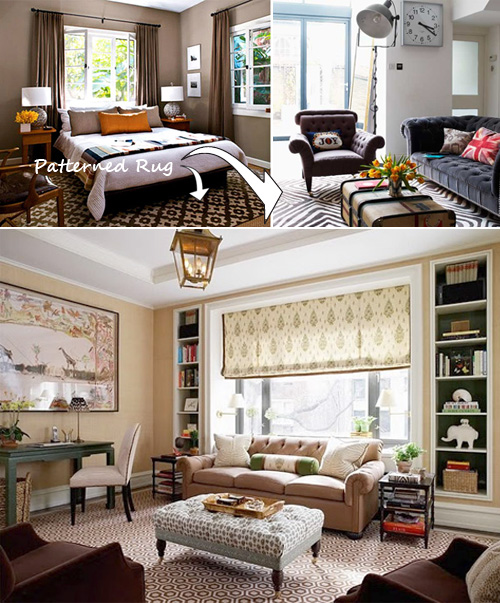 But finding one on a small budget was tough. That plus a pattern that I thought would work well in the room.
And then I fell in love with stripes. How great would a striped rug be?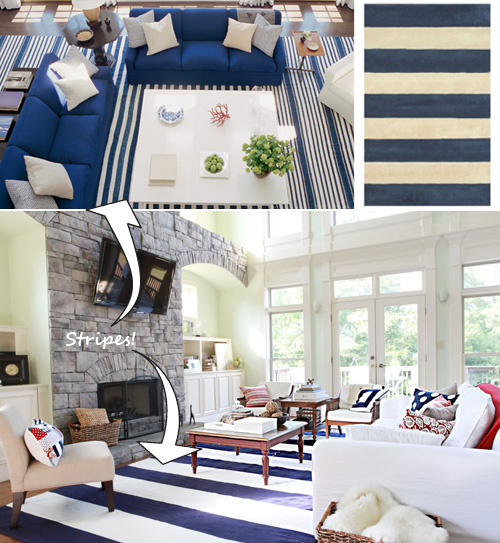 The above striped rug (in the Bower Power living room) is on sale for $159! Alas it's a flat weave rug meaning Bodie's shedding hair will be forever embedded in the fibers and your random stains won't come up with a steam carpet cleaner (our favorite friend). The above right rug is from RugsUSA.org and while it's cut pile, it was still to pricey for us right now.
I decided the CSN Nate Berkus chevron rug was perfect before I discovered it was both sold out and flat weave.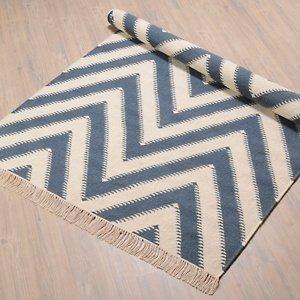 Time was a ticken' (who knew Liv would crawl so soon) and I needed to find something that would work well in the space while meeting all of our criteria. Then I discovered this living room on Houzz: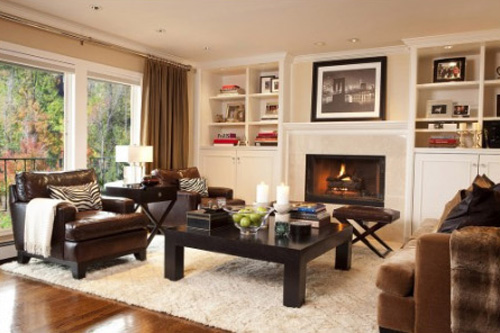 Maybe a white rug wasn't so boring after all? Maybe it was a great neutral that would both brighten up our living room and meet all of our needs in terms of cost, ease of cleaning (if it was cut pile we could use a shop vac and water to get those stains right up – it works wonders on white!) and could be found in a soft material for crawling?
I reached out to the designer of the above room on Houzz (a very cool feature, by the way) and this was a pricey pricey rug. But! I decided to track a cheaper version down anyway. It wouldn't have that beautiful diamond pattern but heck, I needed a kid-friendly rug.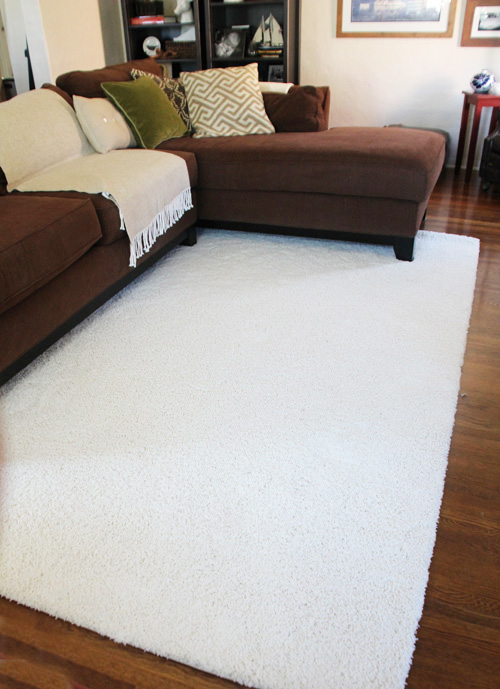 My first instinct was to see if Craigslist offered any options that were still in great shape. Low and behold! An Ethan Allen white cut pile rug for $100. The seller offered $75 if I picked it up right away, and to my surprise, it came with a really thick rug pag (Note: rug pads are awesome. Rug pads should never be skimped on, they make the biggest difference in softness and help to plump up even the cheapest, thinnest of rugs to help pass as the more expensive version!).
When the rug was home and rolled out it looked surprisingly like the carpet we had just installed in the new office. As in identical. Then I began thinking… we actually have remnants left over from that installation that would probably be the right size. A little research revealed a measly $2/foot will get you a brand new, bound carpet rug from a remnant shop.
So when this lovely gets too many baby & dog stains to keep up with, it's replacement is waiting in the garage. And the price? Probably around $60 to have the edges bound.
Bodie digs the new rug and couldn't wait to try it out.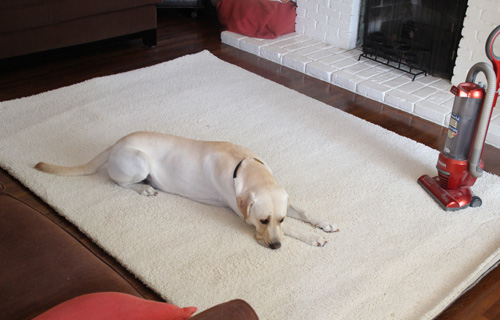 You can't beat perfect-condition, $75 rug that comes with a rug pad (probably more than $75 itself) that is both pet and baby friendly. One day we may get that striped or patterned rug, but for today this is a great solution.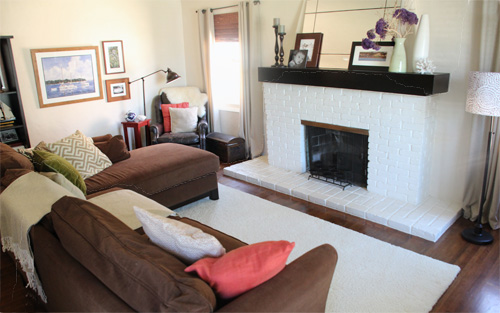 The coffee table is missing in the above shot, for the moment we have it pushed up against the front window so that there's premium crawling/entertaining space for Liv.
My main focus is still the office/guestroom – man I can't wait to have that finished, though I do love the process. But as new little treasures are found for the living room, we'll see what design ideas grow!
Tags:
Before & After
,
Decorating
,
Home
,
Living Room
,
white
Posted in
Home
,
Our Living Room
,
Renovating Adventures
|
10 Comments »