April 30, 2010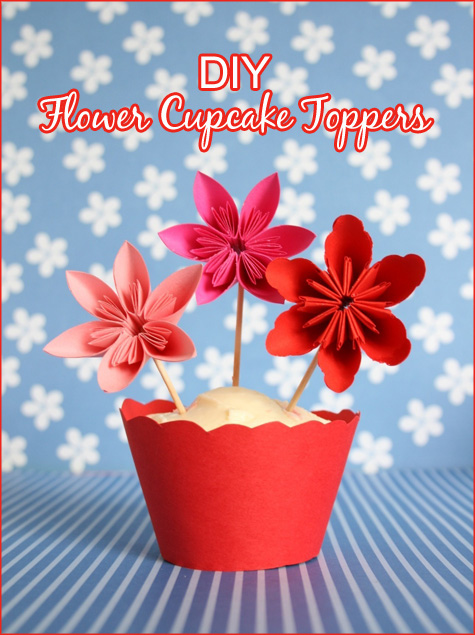 My Friday Guest Blog Interviews have slowly conformed to an every-other-week schedule that seems to suit the blog (and the sharing of some of my favorite sites) well. So stay tuned! Next week I have a very neat blog to share – it's just waiting patiently in the rafters.
If you'd like to check out some great interviews by bloggers like Jenn of Hostess with the Mostess, Sheri of Young House Love, Kim of At Home with Kim Vallee and oh-so-many more, check out the right sidebar button reserved just for these delightful sneak-peeks.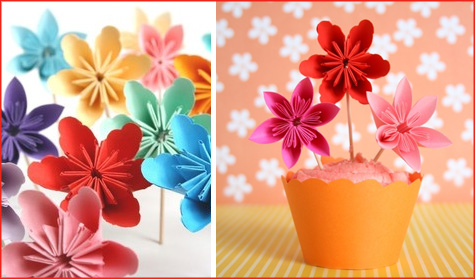 Today's post is dedicated to one of my favorite entertaining/decorating details: cupcake toppers. As our April showers turn into May flowers, now is the perfect time to incorporate delicate handmade flower cupcake toppers for desserts, cheese trays, as drink stirrers or as substitute place cards peeking out from a rolled napkin.
Here's a bit of inspiration from Etsy artist Millalove and Glorious Treats. I'm imagining the perfect way to recreate each of these with scrapbooking paper and toothpicks…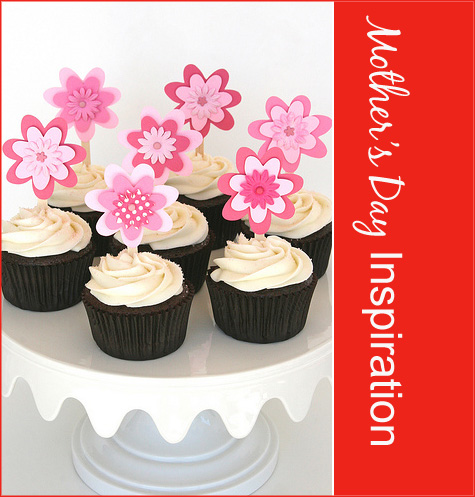 Beyond the jump is a deliciously edible candied sugar version of flower cupcake toppers as well as a DIY coloring project with excellent results. Happy Friday! Read more »
Tags:
Baby Shower
,
Birthday
,
Bridal Shower
,
Crafty Solutions
,
Decorating
,
Desserts
,
DIY
,
Kids Party
,
Parties & Entertaining
,
Wedding
Posted in
Crafty Solutions
,
Parties & Entertaining
|
9 Comments »
April 26, 2010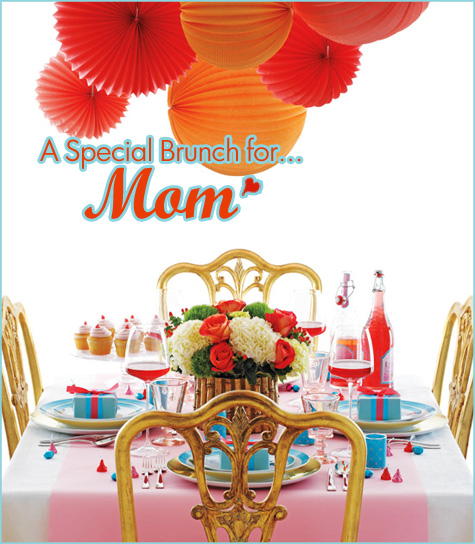 Mom's Day is just around the corner and I can't think of a better reason to gather the whole family for a special honoring meal. I am tremendously proud and gracious to have my mom and mom-in-law as role models – and we get to celebrate our mothers for just that reason each year!
Here's a bit of inspiration in one of my favorite color combinations: red & turquoise.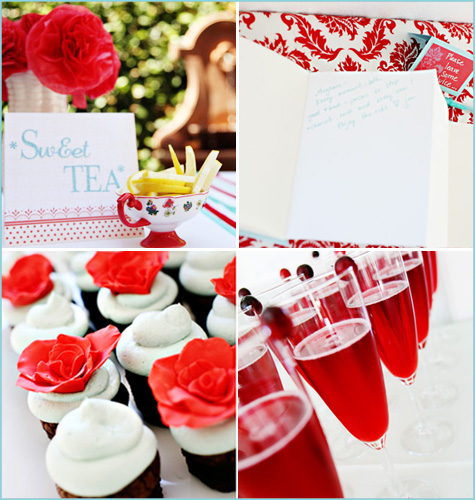 Now's the perfect time to drop a little note in the mail inviting everyone for a surprise brunch in honor of moms, grandmas, aunts and all of the special women in your life.
Set up a photobook to serve as a 'guest book' where everyone can leave a note next to family images. Serve cranberry mimosas and let each guest offer a special toast or memory.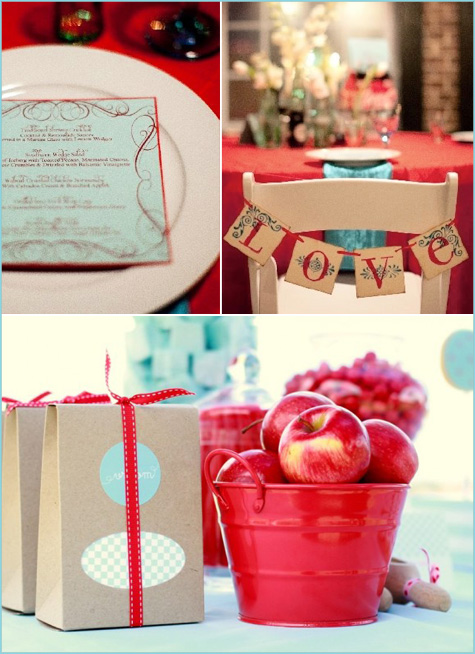 Wrap up mom's favorite cookies (don't forget to include a copy of the recipe) as favors for each family member to take home.
This theme would work great for a shower, birthday, kids party or wedding, too! Images from this inspiration board are from: Party Spot, The Sweetest Occasion, Ashley's Bride Guide.
Tags:
Baby Shower
,
Birthday
,
Blue
,
Bridal Shower
,
By Color
,
Decorating
,
Dinner Parties
,
DIY
,
Kids Party
,
Mother's Day
,
Orange
,
Parties & Entertaining
,
Patterns & Color
,
Red
,
Teal
,
Turquoise
,
Wedding
Posted in
Parties & Entertaining
|
10 Comments »
April 22, 2010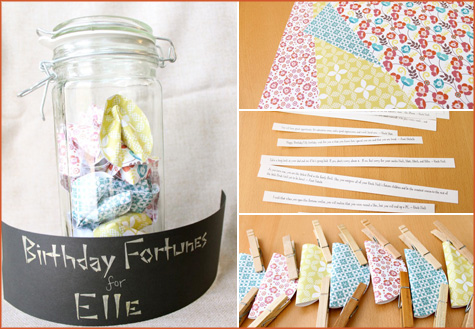 This is a wonderfully sweet idea. Simply Modern Mom made these by hand for her daughter's first birthday, but they would be just as lovely as a substitute wedding guestbook to be opened and read at an anniversary date. Or maybe as wishes for a baby on the way? Something to cherish and open when he or she is old enough to read?
Stop by and check out the step-by-step directions, you'll love Tiffany's blog. Speaking of blogs to recommend, I have a new Friday Guest Interview set for tomorrow – another one of my favorites.
Tags:
Baby Shower
,
Birthday
,
Bridal Shower
,
Crafty Solutions
,
DIY
,
Kids Party
,
Parties & Entertaining
,
Tutorial
,
Wedding
Posted in
Crafty Solutions
,
Parties & Entertaining
|
4 Comments »