February 7, 2012
I have a massive stationary collection (I heart beautifully made cards) and was rifling through my stash the other day to write thank you notes for Liv's first birthday when I came across a handful of cards that I had purchased for envelope purposes only. I am often short on envelopes and sometimes buy the super cheap cards just for extras!
These cards have a sweet pattern that remind me a little of a playful Valentine's day note – and an idea was born.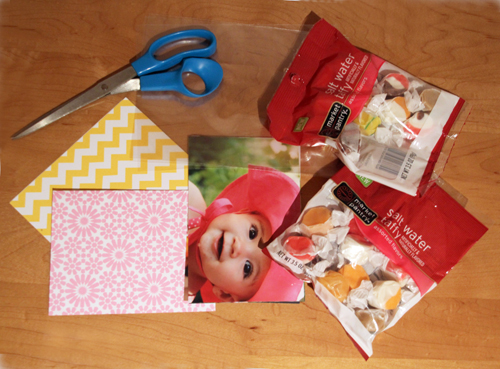 After hunting around the house I was happy to find that I had nearly everything I needed on hand for my Valentine's Day treat bags. Though I did pick up those two small bags of salt water taffy for $1 at Target.
**************************************************************
Custom Valentine's Day Treat Bags


m



Materials: cellophane treat bags (available at Michaels or on Amazon), note cards, candy, photos, scissors and stapler
To make the treat bags, I filled each plastic sack with salt water taffy and a photo of Liv trimmed to size (I keep a stack of pictures on hand from Costco to send to grandparents and great grandparents when they're needing a Liv fix). My cellophane bags were just the right size to match up with my 4×6 note cards, but if you're buying all of your materials from scratch that's something to keep in mind (you can always trip down your note cards but you don't want the bag to be wider than the cards).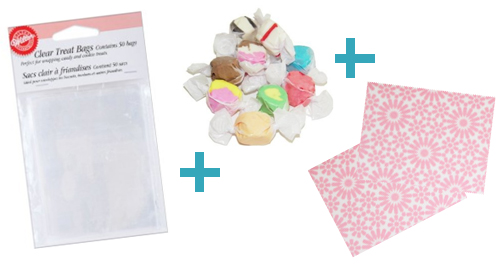 The notecards have the perfect fold for the top of your treat bags, I simply chopped mine in half length-wise (so that the card was shorter near the fold) and sandwiched the treat bag between each side of the card. Two staples held my finished bag in place.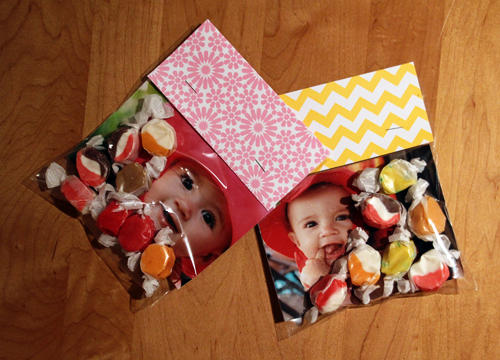 An alternative to note cards would be scrapbooking paper with a bone folder for a professional looking fold (this tool scores and creases your paper). Or for a cheaper option just fold that sucker in half and press between heavy books so that the fold stays put.
These would be great for family, but for a kid-friendly option I would fill the baggie with animal crackers and include a fun illustration instead of a photo, or perhaps a few crayons and a coloring sheet. Cookies and wrapped candies are probably the way to go since any candy prone to melting would smudge up the photo and transfer ink to the candy. Fun stamps or stickers might make for a neat note at the top of the treat bag, too.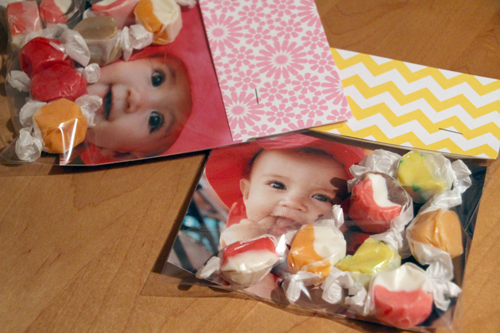 I can see reusing this ideas for party favor bags somewhere down the line… PS I can't believe it's already the middle of February!
More Valentine's Day ideas right here.
Tags:
Birthday
,
Crafty Solutions
,
Decorating
,
Desserts
,
DIY
,
Kids Party
,
Paper Crafts
,
Parties & Entertaining
,
Party Favors
,
Patterns & Color
,
Pink
,
Red
,
Tutorial
,
Valentine's Day
,
Yellow
Posted in
Crafty Solutions
,
DIY
,
Family & Friends
,
Holidays
,
Parties & Entertaining
,
Valentine's Day
|
8 Comments »
February 6, 2012
I have two more posts to share with you from the Bedtime Stories baby shower (part 1 & part 2) that I threw for our friend Diana back in November (ps, Baby Noah is here! And as adorable as can be).
When putting together the dessert buffet that was sort of the focal point of the dining room, I wanted to create a few tiered cake stands that would add a little height and variety. In the past I've covered boxes or stacks of books with fabric so that certain platters would be higher than others, but this time around I came up with a temporary adhesive solution so that I could turn a few of my favorite plates, vases and candle holders into cake stands without any permanent damage (I've also gone the super glue route with thrift store finds).
This is a trick I will use time and again! It's so easy.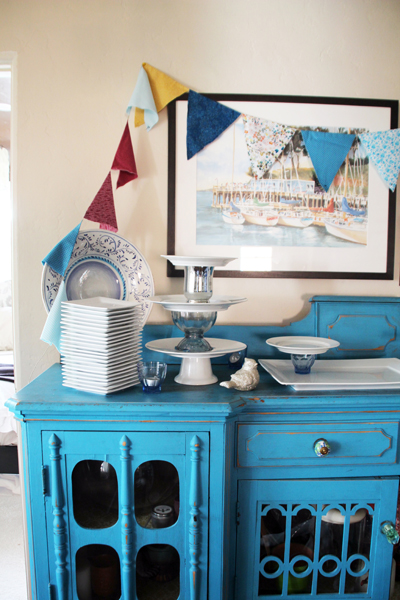 **************************************************************************************
Temporary Cake Stands
a
Materials: any sort of glassware, platter, plate, dish or vase, adhesive putty
My trick to getting a fairly good stick with stacking dishware is by using an adhesive putty like this one. It's available at nearly all craft and home improvement stores and the brand isn't important, but you want to look for a product that claims a strong but removable stick.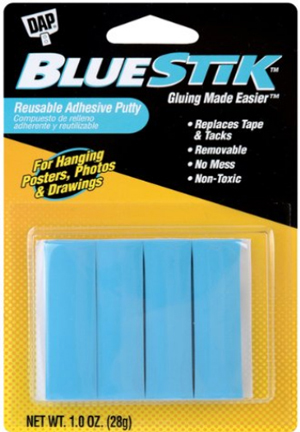 The process of assembling is pretty simple. I applied a layer of the adhesive to the edge of the glassware and plates making sure to cover as much surface space as possible.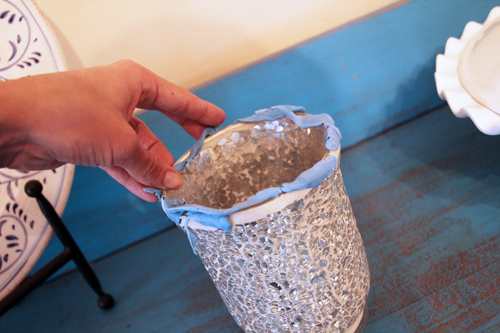 Since I was covering an area of the vases/plates that wouldn't be seen, I applied a thick layer: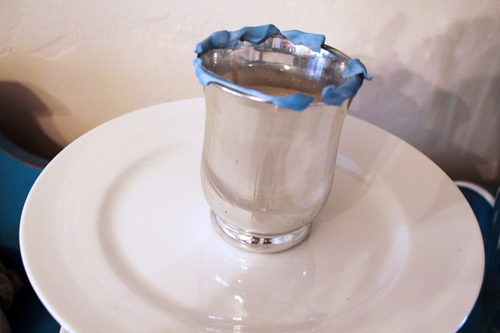 Then I turned the vase/candlestick/dish over and pressed it into the center of my plate or platter for at least 30 seconds. You could use a utility knife to clean up any edges if you wanted a cleaner look.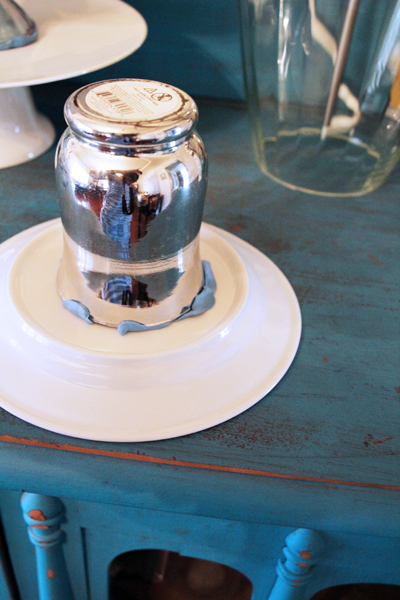 Using this technique a made a few different tiered stands for our selection of desserts.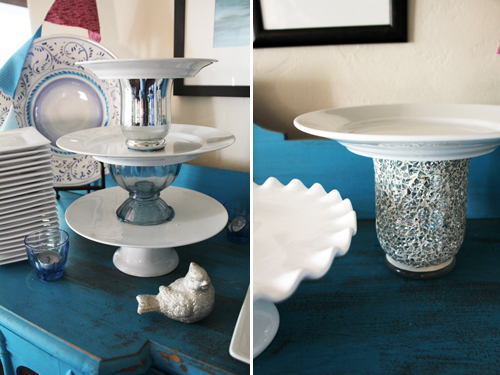 At the end of the shower I simply pulled off all of the putty and washed each dish. No harm done!
**************************************************************************************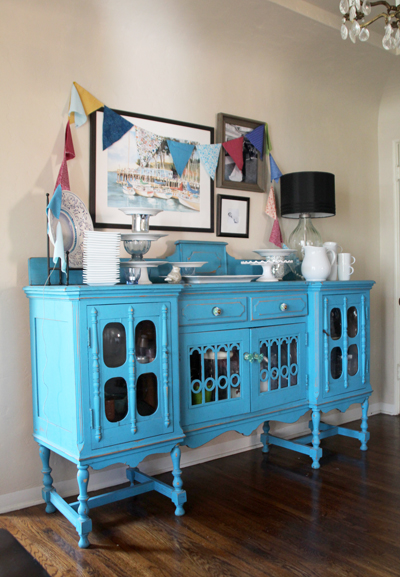 Tags:
Baby Shower
,
Birthday
,
Blue
,
Crafty Solutions
,
Decorating
,
DIY
,
Kids Party
,
Parties & Entertaining
,
Tutorial
,
Wedding
Posted in
Crafty Solutions
,
DIY
,
Parties & Entertaining
|
7 Comments »
January 24, 2012
Back with a few more details from Liv's 1st birthday. When it came to creating little invitations for her party I was a big time procrastinator. Actually, it was during my few days off between Christmas and New Years that it suddenly dawned on me that her birthday was just a few weeks away! and we needed to get something in the mail asap.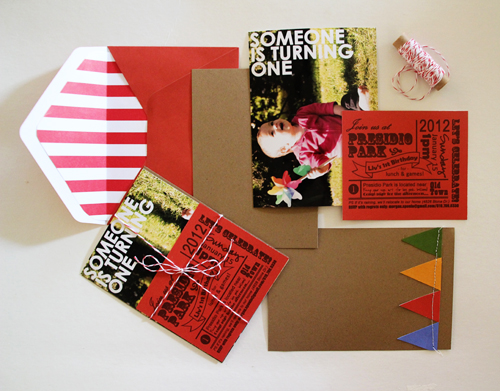 It was fairly simple to throw these guys together quickly. I used Photoshop to add some cute, bold text to two of my favorite photos of Liv (I couldn't pick between the two! So half of the invitees received one and half the other), but you could use one of the free programs reviewed here to do the same.
I sandwiched that photo between a smaller red card (bought a set of red envelopes and matching cards at Michaels and printed the party info in fun fonts directly on to the red inserts, then cut them to size) and a piece of brown construction paper.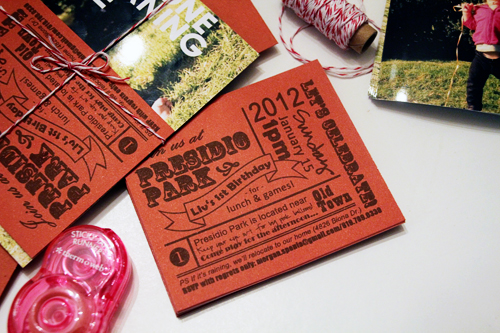 Inspired by this creative girl's Christmas card and this beautiful invite from Pinterest, I tied up the bundle with Martha Stewart's striped baking twine (found in the scrapbooking department in a pack of 6).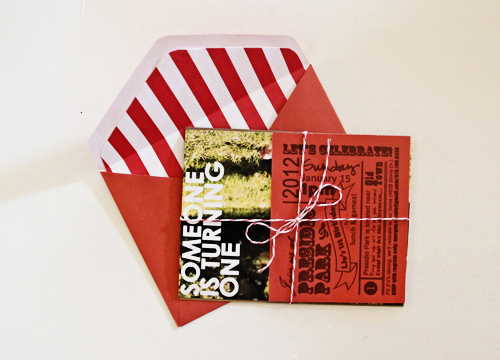 The other half of the fun was creating envelope liners that for me really made the entire invite. I love the peak of red and white striped paper and it tied in perfectly with the rest of the party. It was a little teaser of what was to come!
To make the envelope liners (by the way, they've been on the back of my mind since seeing this adorable version), I created a simple template of the inside of the envelope (trace the shape of the envelope on to thicker paper, cut out and then snip off about 1/3″ of an inch from each side) and then cut out about 25 from 12×12 striped scrapbooking sheets of paper from Michaels. I used double sided scrapbooking tape to adhere into place.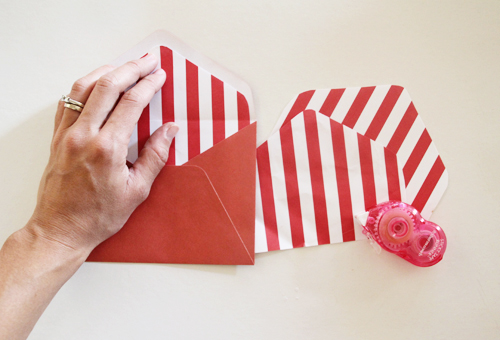 My last addition was a failed attempt. I had originally hoped to sandwich the information card and photo of Liv between a piece of paper bag brown construction paper (that was the specific color I was on the hunt for

) and a top piece of the same size but with cute, colorful bunting (a la a few images from my Pinterest board on Liv's party).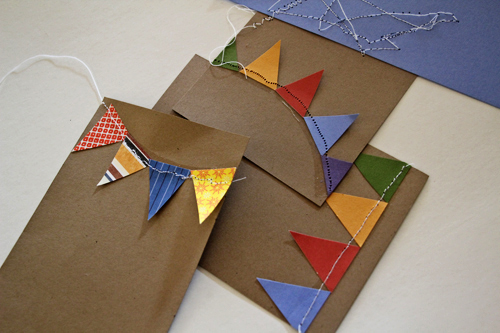 Sewing paper is seeeeeeew difficult (see that crazy stitching above?), and after a half hour of testing, tearing, tangling and tormenting I decided to omit the addition.
But I was thrilled with the results of the invites and we got those puppies in the mail just in time to notify friends and family that there was a par-tay coming up!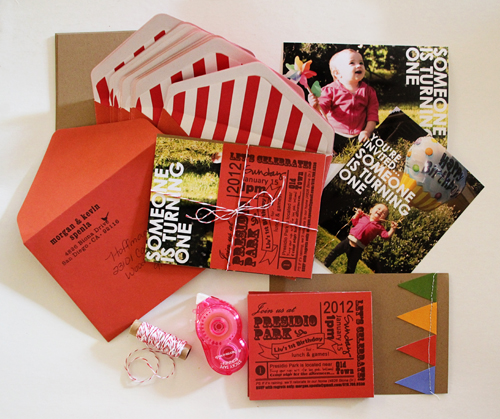 Total cost was about $.25 per invite and from the time I hit 'send' on my online Costco photo order to the time I picked up my pics at our local Costco, all of the supplies at Michaels and assembled the invites, it took just a day or two to get them finished and in the mail.
And just for fun, here was my assembly workstation: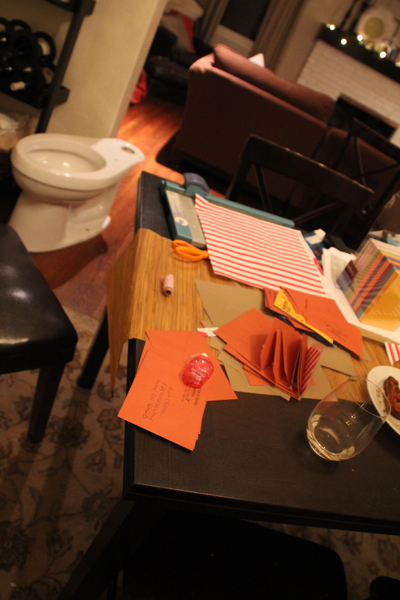 Wait, you don't have a toilet in your living room? Just us?
Tags:
Birthday
,
Carnival
,
Circus
,
Crafty Solutions
,
DIY
,
Kids Party
,
Liv's 1st Birthday
,
Paper Crafts
,
Paper Goods
,
Red
,
Sewing
,
Tutorial
,
white
Posted in
Crafty Solutions
,
DIY
,
Family & Friends
,
Parties & Entertaining
|
7 Comments »