October 13, 2010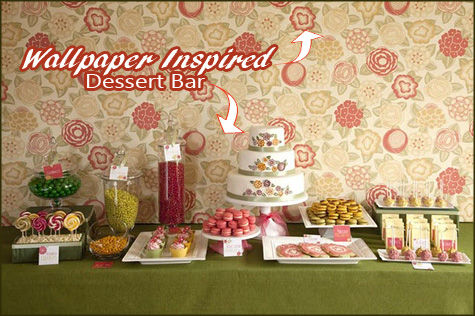 Every once in a while you come across one of those ooh & ahhh images that causes you to pause, stare and ogle for a good while. When Chris over at Celebrations at Home shared this beautiful Petites Bouchees Dessert Bar a while back I immediately filed it away into the ogling brain folder.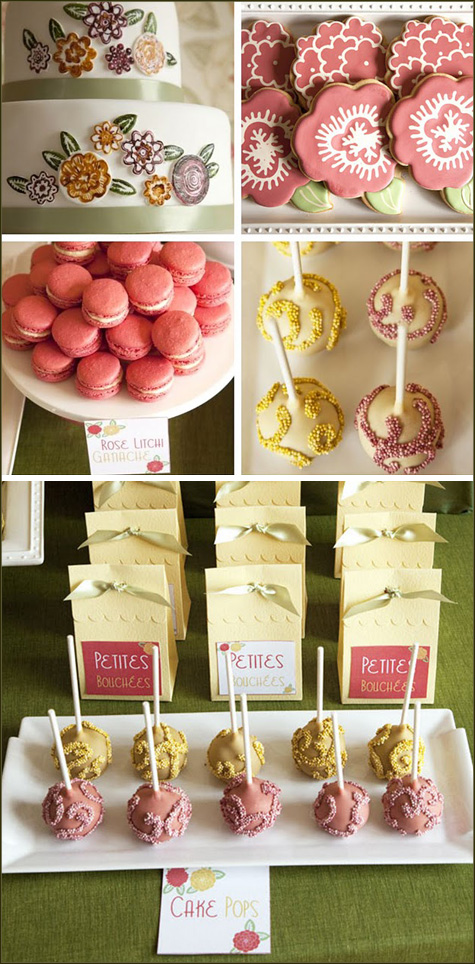 How wonderful are the colors? That's what I think draws me in most to this display. Rosey reds and sage greens (with a bit of yellow mixed in) is one of my very favorite combinations. The floral details are pretty wonderful, too!
I love the idea of using wallpaper as a backdrop for the table. I've hung fabric (even my duvet cover) behind tables in the past for that extra 'pop' – but wallpapering a piece of plywood sounds like it might be genius.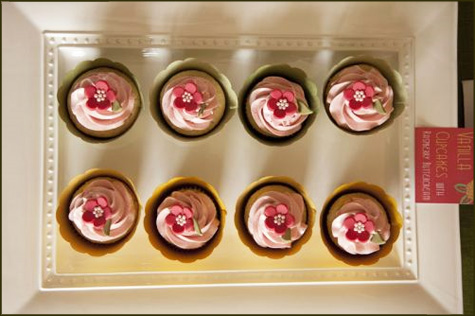 And a photo of a few more florals…. yum. One of the neatest day classes I've attended was a fondant flower making class – the little guys above are super easy and they make the cupcakes so professional looking.
This is the perfect theme for a bridal shower, baby shower or even a wedding!
Tags:
Baby Shower
,
Birthday
,
Bridal Shower
,
By Color
,
Cake
,
Decorating
,
Desserts
,
DIY
,
Easter
,
Green
,
Paper Crafts
,
Parties & Entertaining
,
Patterns & Color
,
Pink
,
Wedding
,
Yellow
Posted in
Parties & Entertaining
|
9 Comments »
September 23, 2010
Vesni from My Little Jedi sent over this adorable party from her son's 1st birthday. Aniken (he's named after one of the characters) had the perfect Star Wars party to celebrate with friends!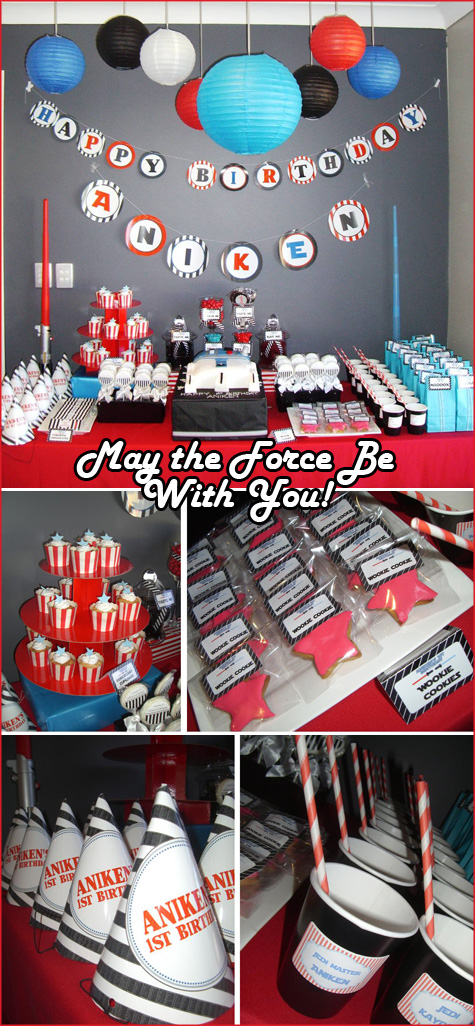 In Vesni's words: "We had the most wonderful day and celebrated his birthday with our family and friends. The theme of the party had to be "Star Wars" as my son is named after one of the characters.

As for the sweet treats, I organized a mini candy buffet with a colour palette of red/black/blue lollies. The R2D2 birthday cake was made by Catherine from 2 Bites, the personalized chocolate bars and chocolate pops were made by the very talented Niki from Candy Soirees. The star wookie cookies and delicious star feature cupcakes were made by my lovely sister inlaw Suzanna. I also has organized personalized lolly pops from Pink Frosting.
We had inflatable light sabers for all the kids which they all loved & entirely enjoyed. The kids played 'pin the light saber on a jedi' game and the winner was presented with a 'jedi certificate'."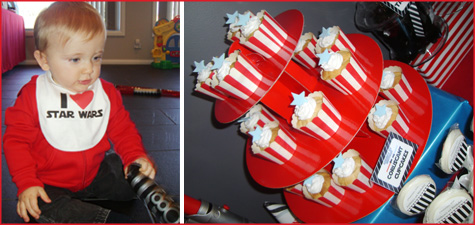 How cute are these wonderful labels? And that dessert table? By the way, a trip out to Vesni's blog to check out all of her creative party ideas is well worth it – it's adorable!
Tags:
Birthday
,
Blue
,
Decorating
,
DIY
,
Kids Party
,
Parties & Entertaining
,
Red
Posted in
Parties & Entertaining
|
4 Comments »
September 8, 2010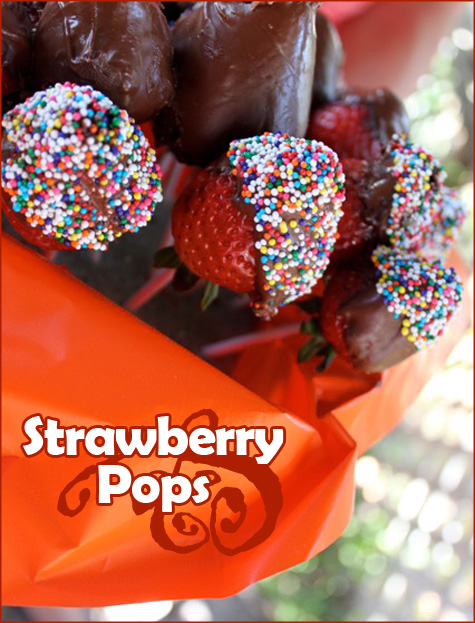 A girlfriend of mine recently threw an adorable 1st birthday party for her little girl. I debated for a while over what dessert I could help contribute… the end of summer called for something fresh & delicious, and my schedule for the day called for something easy & quick (I made the birthday girl's first chocolate cake that morning – so my time crunch was tight!).
Chocolate dipped strawberries would be amazing – but where to find those beautiful big strawberries with the full stems (often the brand used for dipping) last minute? After digging through my cake decorating  box and coming across a bag of white lollipop sticks, I found the perfect solution.
********************************************************************************************
Chocolate Dipped Strawberry Pops
z
Ingredients: strawberries, lollipop sticks (from your local craft store), foam for cooling, chocolate chips, 1 tb. butter per 12 oz bag of chocolate chips & rainbow nonpareils (round sprinkles)
1. Poke each lollipop stick through the stem end of your strawberries. When your entire batch is ready, pop them into the freezer to keep the sticks from loosening (an hour or so should do it).
2. Warm your chocolate chips and butter over a double broiler until melted (stirring constantly). Prepare your sprinkles by pouring into a small bowl (shallow enough for dipping).
3. Dip chilled strawberry lollipops into chocolate and immediately into sprinkles. Poke right side up into foam to harden. Refrigerate until ready to serve!
I'm working on DIY artwork for the bedroom now… it includes an old dresser mirror, cork and a vintage map. It's a neat project! Stay tuned.
Tags:
Birthday
,
Desserts
,
DIY
,
Kids Party
Posted in
Parties & Entertaining
,
Recipes
|
3 Comments »