March 7, 2013
Just finished a new project for our kitchen and I love how it turned out!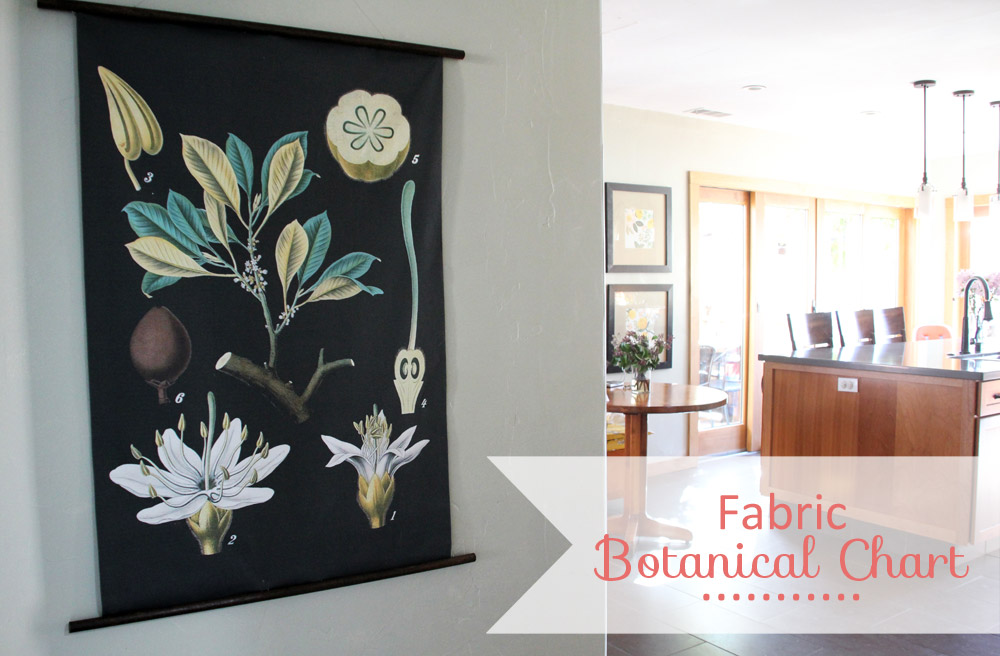 Let's start this post off with some yummy inspiration.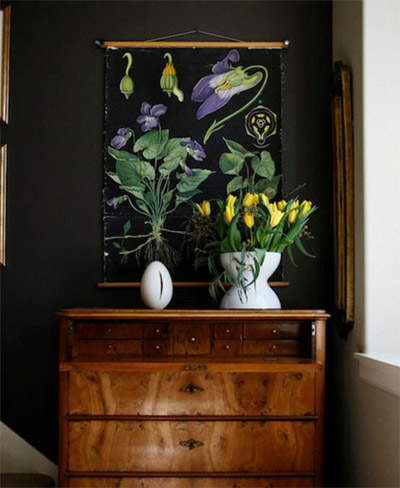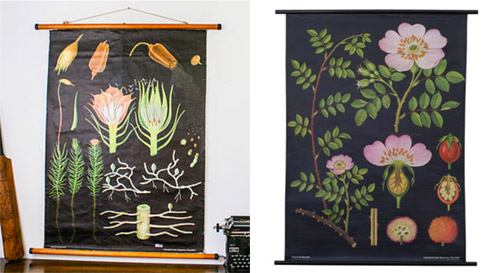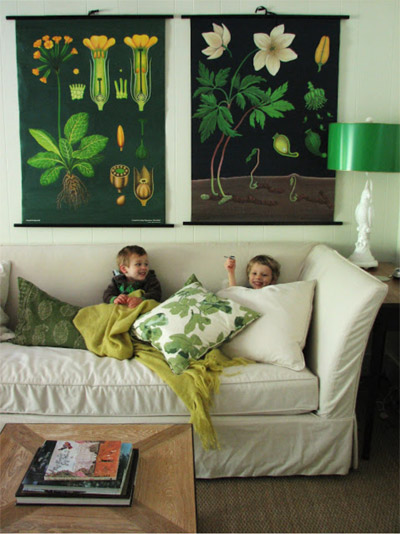 I have loved the look of vintage botanical charts for some time! They are oversized, full of contrasting color (love the black backgrounds) and the illustrations are so detailed and just stunning.
But I ran into two dilemmas before finding one for the house. The first was tracking down the right print for the right price. I was hoping to find a fabric version rather than a print that I would frame behind glass (see those beautiful dowels above? my favorite way to hang a piece of art like this) and many fabric versions are originals from quite some time ago and because of that they all seem to be pretty pricey (like in the hundreds of dollars a pop range).
The second was finding the right spot! I wanted to find a creative way to hang a new print but these guys are usually pretty big and they need a special home that's just perfect for the look of the print.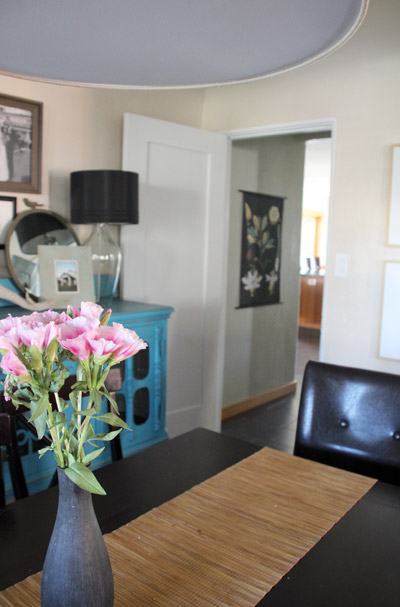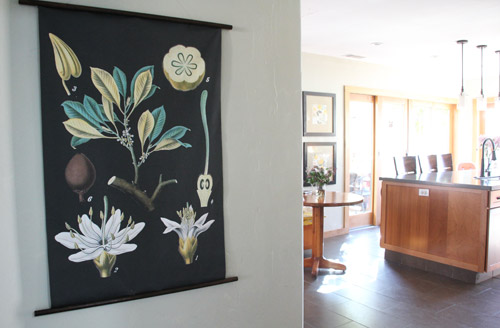 Then very recently, I found the perfect source (and added a little DIY love) and the perfect spot in our home! Our new fabric botanical chart now hangs in the hallway between our dining room and kitchen, and it fits in perfectly.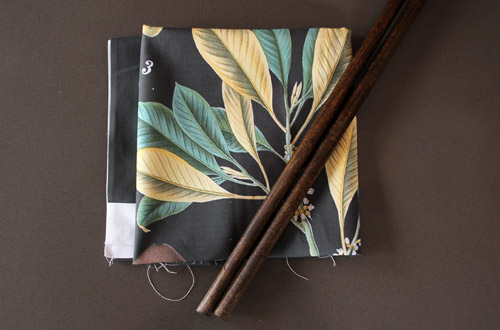 After a few months of occasionally googling and searching, I stumbled upon KSarahDesigns and her beautiful botanical print reproductions on Etsy. The store offered a gorgeous selection of paper prints, but I reached out to Kristen anyhow to ask about possibly using her artwork to print the illustrations on fabric. I was so happy and surprised when she offered to take on the project herself! Spoonflower is an awesome source for printing your own fabric and a few short weeks later I received my folded, heavy duty cotton twill fabric in the mail.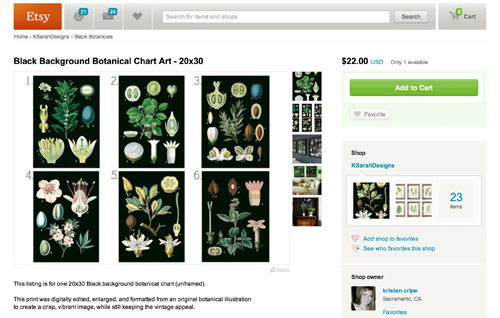 Printing black onto fabric is near impossible (we learned the hard way) but even the dark charcoal grey looks great as a chart.
Next step was to transform the fabric into a hanging piece of art. I snipped the white edges (no need for a perfect cut since my edges would either be hemmed or hiding behind a dowel) and then carefully added a very small hem to the long, horizontal sides of the chart. My first thought was to use an iron on hem tape to secure the hem, but after pre ironing my hem flat on each side I noticed that the tape wasn't necessary – the edges stayed perfectly.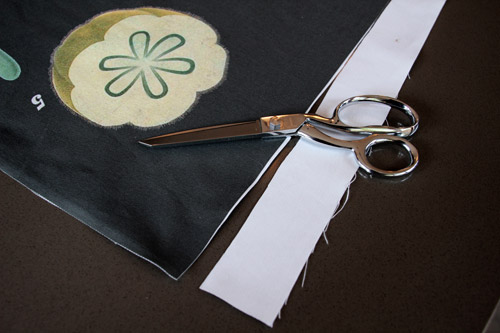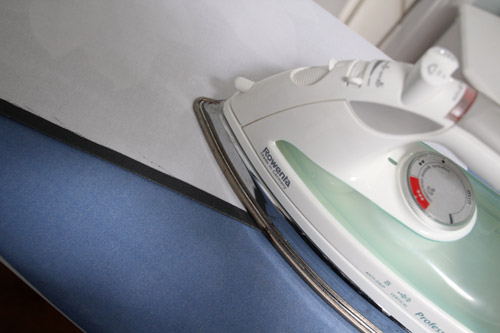 I picked up two 1/2″ dowels from Lowe's and we cut them to size. Then I stained them a warm, chestnut brown (they were originally pine) and I stapled my chart directly to the dowels to give the top and bottom of the print a clean look.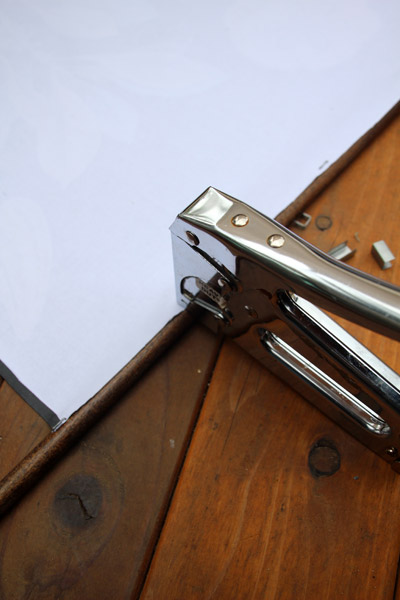 It's hard to see the string in the photos (and I may switch that out in the future) but for now the chart simply hangs from a nail. Finished!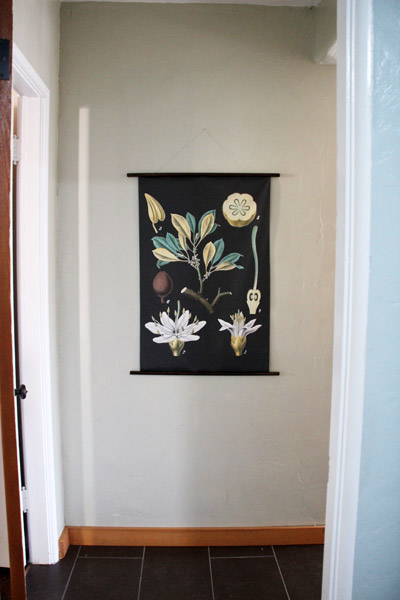 And a glance from our dining room! Love the black accents and how the lampshade, b&w photos and print compliment each other. The chart leads you into the next space.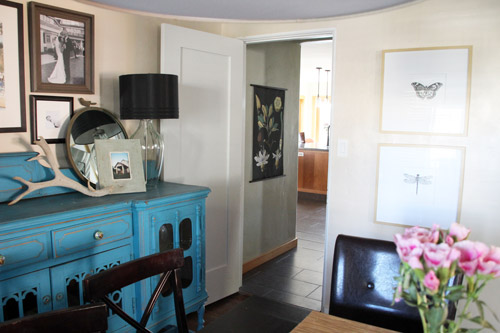 From the kitchen, the black of the fabric looks great with the new chalkboard and the black framed calendar floral art (those big prints that are sitting just to the left of the sliding doors).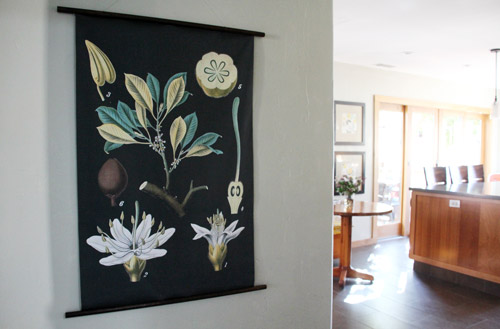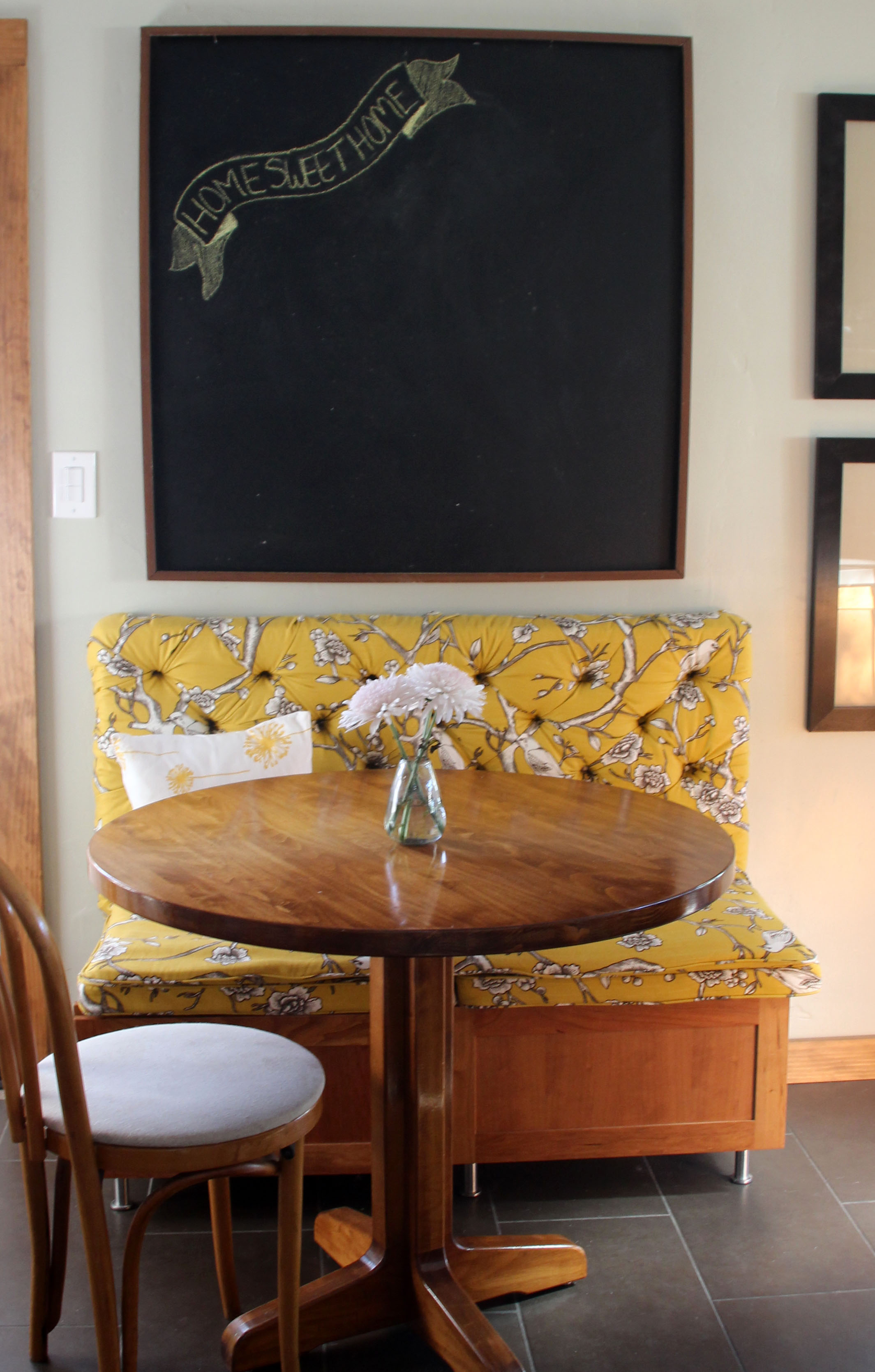 Love my new art and that the price for the finished, semi-DIY piece (which came in at under $50) is a totally affordable alternative to the originals out there.
Tags:
Accessories
,
Art
,
Black
,
Crafty Solutions
,
Decorating
,
DIY
,
Fabric
,
Home
,
Kitchen
,
Tutorial
Posted in
Crafty Solutions
,
DIY
,
Favorites
,
Home
,
Our Kitchen Remodel
,
Renovating Adventures
|
6 Comments »
October 29, 2012
I made a little treat bucket for Liv's trick-or-treating this Wednesday after seeing this cute project from Tarjay's Todd Oldham. The entire tote is made out of felt! Adorable. (Step-by-step directions found here.)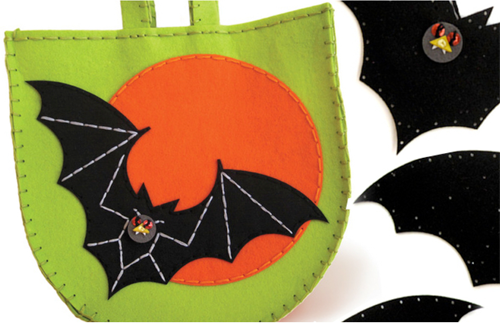 His is much more detailed, mine is the 15 minute version.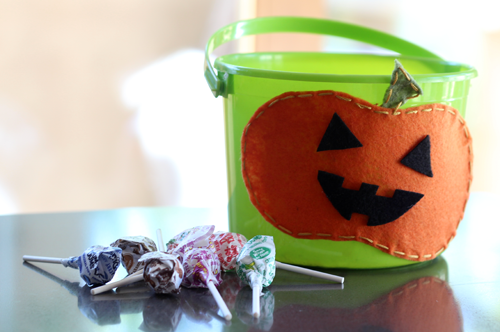 I love Todd's project because it's a clever way to bring the family in on creating their own felt totes/buckets for trick-or-treating, and this is an easy one to put your own creative spin on (how about a felt black cat? Or a witch's hat? sequins? puff paint? whatever's around the house).
Liv's bucket was super simple. A bit of felt (from my stash in the office), embroidery thread and a pint-sized green bucket that we usually store her chalk in. I simply traced my idea onto the felt, cut it out and did a rough embroidery stitch around the opposite side (so that my pen marks weren't visible). Then a bit of Elmer's glue to hold it all together.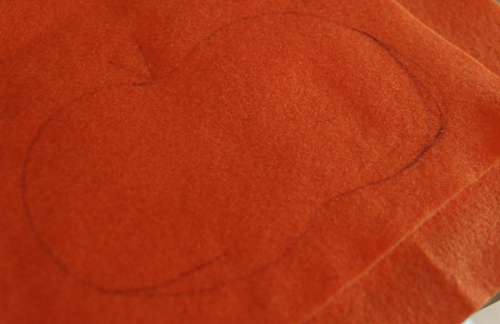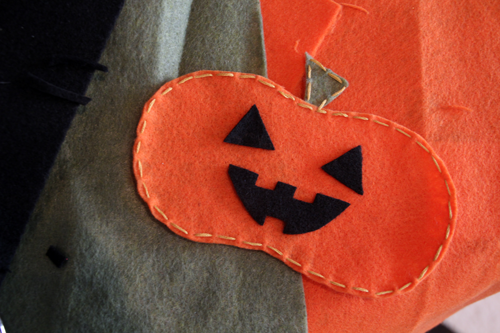 Liv has been verrrry into purses and bags lately, she carries two or three around the house (in the crook of her elbow which is just adorable) all of the time, so I know she'll really love this whole 'treating' part of the holiday. I'm suddenly much more aware of why some parents hand out boxes of raisins and bags of carrot sticks. Oh please let Liv collect more raisins than she does candy on Wednesday! Not going to happen, I know. Happy Monday!
Tags:
Black
,
Crafty Solutions
,
DIY
,
Felt
,
Green
,
Halloween
,
Orange
,
Tutorial
Posted in
Crafty Solutions
,
DIY
,
Holidays
|
1 Comment »
November 1, 2010
Halloween has come and gone… it always amazes me how much prep can go into one day and then how quickly that day passes! But I suppose the fun of the anticipation, the decorating and the celebration is what makes this time of the year so special (Thanksgiving, Christmas and New Years are just around the corner!)
Here's a round up of Halloween in our home: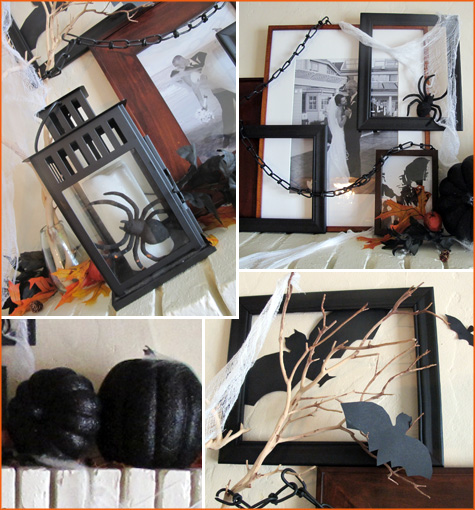 The mantel was plenty of fun to create, here's the full post (including our day at the pumpkin patch). Most of the decor came from garage sale finds and a bit of diying.
We hosted our annual Halloween dinner party last night as well, the formal planned sit-down meal had transformed itself into a buffet-style potluck at the last minute but here was my set up for the seated version: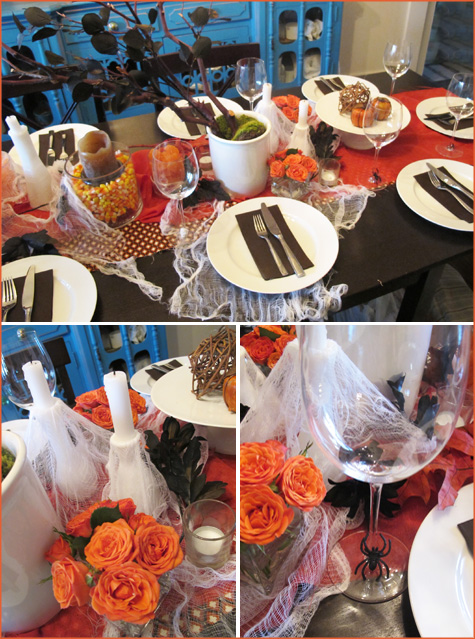 I kept the color scheme traditional with oranges and browns, mixing in the occasional white and green to add vibrant pops. Cheesecloth created spooky cobwebs draped over thrift store milk glass candle sticks and round vases full of colorful candy & candles. I borrowed HWTM's clever idea of creating wine glass labels out of Halloween rings to help guests differentiate their glass from their neighbors.
My go-to manzanita branches made for a bit of height and I added 'dead' floral stems to the ceramic vase (love the organic moss in the bottom). White cake plates were set up to hold family-style serving dishes but made for temporary mini pumpkin displays a top fabric remnant strips (didn't bother to hem) to bring in pattern and color as a table runner. I love the casual, messy look of several different styles of fabrics draped together – and at just a few bucks for each remnant at the fabric store you can't beat it!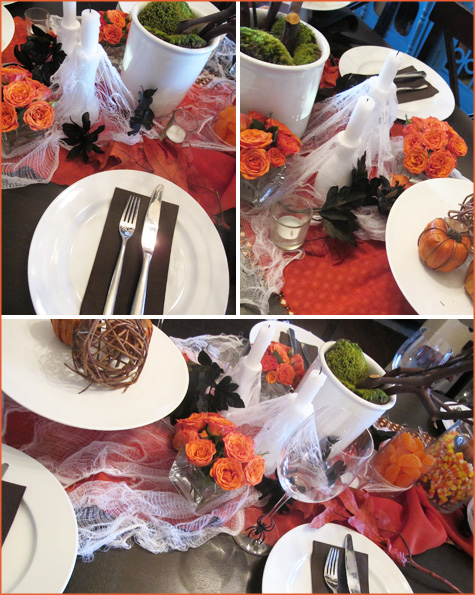 Else where in the house picture frames received a bit of spooking, giant spiders were hung from window curtain rods and plastic skulls covered in black spray paint adorned countertops and shelves: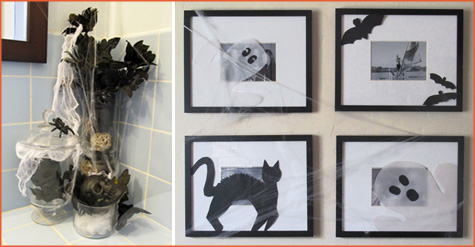 Costumes were great fun… everyone showed up in unique and spirited handmade getups. I attempted to incorporate Baby S into the theme and made him/her my little spider… quite the handmade costume but it was fun to create.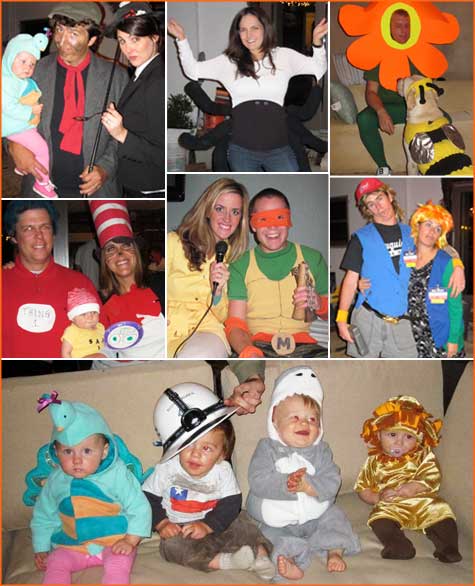 From flowers and bumble bees to Mary Poppins and April (Teenage Mutant Ninja Turtles!), everyone always comes up with a fun and creative idea.
And there's our 2010 Halloween round up. Down will come the black and spooky decor today and up will go the rustic colors of Thanksgiving!
Tags:
Black
,
Crafty Solutions
,
Dinner Parties
,
DIY
,
Halloween
,
Orange
Posted in
Holidays
,
Home
,
Parties & Entertaining
|
6 Comments »