December 30, 2011
Happy Friday! I've been meaning to post these pictures for a while but I've finally had time to sort and edit them during this mini vacation. Here's a baby shower that friends and I threw for our good friend Diana and her little Noah – who's due any day now.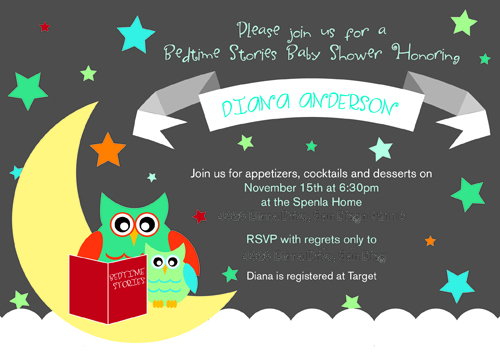 The adorable invites were designed by Jennafer of Oh Creative One on Etsy. She contacted me to partner on the project and I love how they turned out! Jennafer was wonderful to work with and turned my broad ideas of a colorful starry sky, cute little owls and a bedtime story book into the perfect invite.
I'm not sure where the idea of a Bedtime Stories shower originated from but I loved that I could decorate with everything books. There was no intended color palette but much of the room ended up in shades of blue by the time decorating was finished.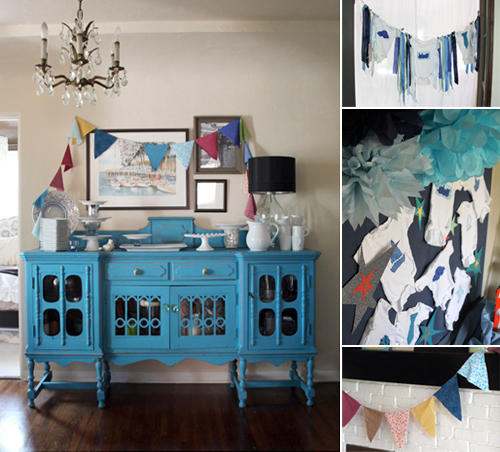 The 'sprinkle' shower was held at night and on a weekday but it was an ideal time to gather the group together during the busy holiday season. Sometimes the best celebrations are the ones that include a glass of wine and yummy appetizers after a hard day's work – that plus nannies for the evening!
I snapped most of these pics during the day, which means no food or people in these photos but hopefully a few clearer shots of the details.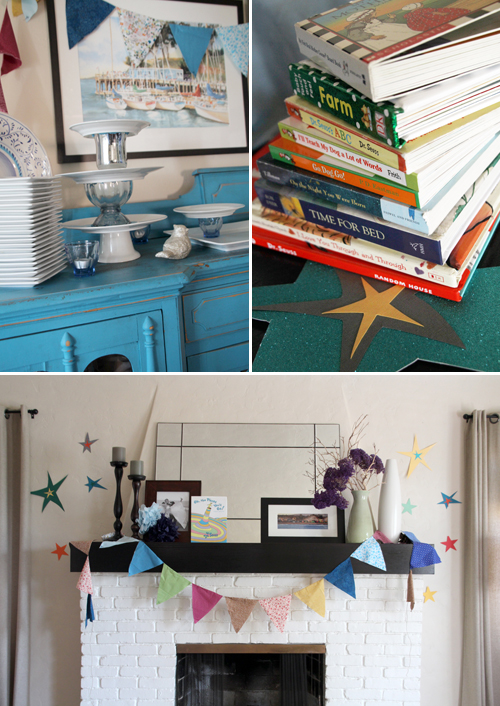 Decor was simple with a few handmade details. I made two sets of fabric bunting (which I kept in soft, gender-neutral colors because I knew I would use them time and again for all sorts of parties), ribbon 'flags' on twine, plus a large pin board for little fabric onesies we all designed. Two friends helped me with cut-out stars which really helped to set the 'bedtime' tone.
It was a small shower with maybe a dozen or so of us celebrating the newest member to Diana's family. We played silly games including one competition where we had to recreate belly bumps with small balloons. Hilarious! We ate delicious food provided by some of the guests (potluck style!), and we created customized little onesies and burp cloths out of fabric and embroidery thread.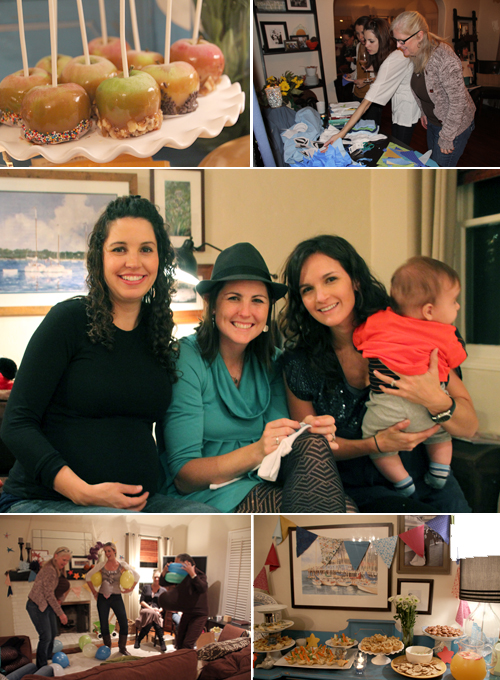 Here are a few shots from the night of. A big thanks to the ladies that helped me pull this shower together, and a big welcome to baby Noah who will literally be here this week! (Diana's due date was the 27th)
More details to come as I break down (and finish editing photos…) of a few of the easy decorations.
Tags:
Baby Shower
,
Blue
,
Decorating
,
DIY
,
Parties & Entertaining
,
Teal
,
Turquoise
Posted in
Family & Friends
,
Parties & Entertaining
|
4 Comments »
December 28, 2011
Hope you had a wonderful and relaxing Christmas! We're trying to still keep it low key around here as we soak in as much holiday as possible before the New Year. This is always one of the best weeks.
I wanted to share with you one of the handmade gifts that I put together this Christmas. Oh I had high hopes of sharing this project with everyone before Christmas! but… you know how that goes. There I was on the 23rd of December after everyone had gone to bed and I'm finishing up spray painting stencils by backyard patio lights at my in-laws. Haha! Motivated to create a truly handmade present for family this Christmas, I had started this project several weeks earlier but as luck would have it I finished just in the nick of time.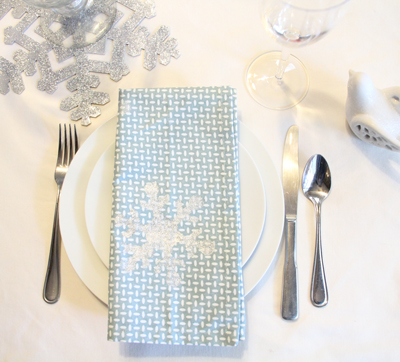 Simply Spray contacted me back in November about a product review regarding their fabric spray paint. Immediately the wheels started turning with creative present ideas for family and friends this holiday season. My initial idea was to track down basic white flour sack towels and several wintery stencils to design some fun kitchen gear for our Grandmas, moms and aunts.
After much searching, I stumbled upon inexpensive white flour sack towels at Rite-Aid (I think they were about $1 a piece), and several sets of patterned cloth napkins and solid-colored oven mits at Target. For the record, I also scooped up a couple of white and tan table runners from Ikea but I haven't finished those yet (sigh).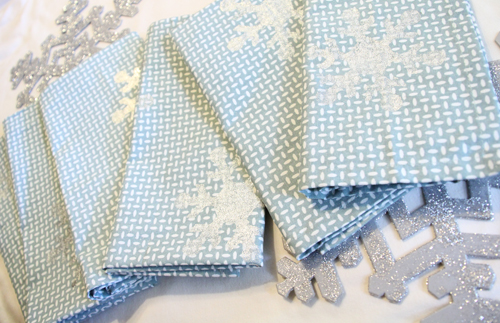 Simply Spray sent me several different types of fabric paint to try out. They carry an upholstery spray (think spraying an entire chair or even couch), a fabric spray (for use with a stencil, soft to the touch, soaks into the fabric) and stencil paint (more of a silkscreen effect staying on top of the fabric). For these projects I used the stencil spray in gold glimmer, silver glimmer and textured white.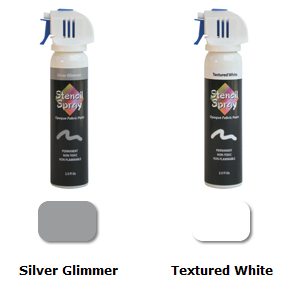 Creating a stencil was a bit more challenging. I first took advantage of Kevin's seriously honed x-acto knife skills (from years of architectural modeling) and printed snowflake designs on thick white paper.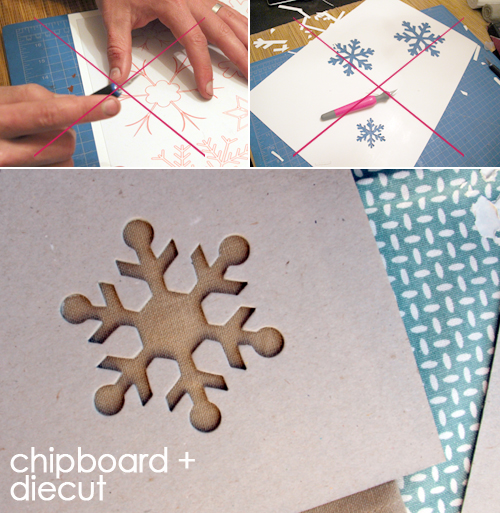 But the process was time consuming (poor Kev) and the stencils lasted for just one use. Where oh where could I find the outline of a snowflake to use as a stencil? That's when I thought of a cricut machine and ended up at a scrapbooking shop where I learned that you can use chipboard (super sturdy) in a diecut machine! Perfect. For about $.30 a pop I made 10 ish snowflake stencils out of chipboard.
*****************************************************************************************
Stenciling with Fabric Paint
s
Materials: cloth napkins/tea towels, chipboard stencil, spray adhesive, Simply Spray Stencil Paint, cardboard (or hard surface to lay out fabric on), newspaper to keep your space clean! plastic gloves to keep your fingers clean

– optional
To stencil the snowflakes onto my cloth napkins and tea towels, I first gave the back of the stencil a quick douse of spray adhesive to keep my stencil in place on my fabric and to help prevent bleeding. (Note – it's best to do this holding the stencil up rather than spraying at a surface such as this countertop – but for picture purposes here's the example)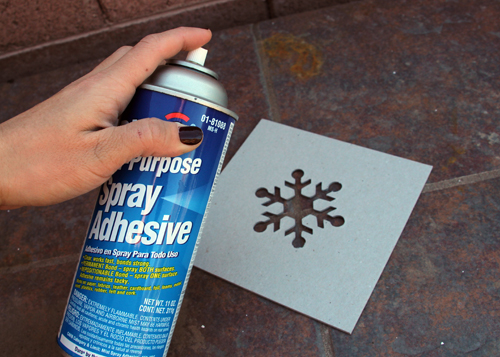 Apply your sticky stencil to your fabric and follow the instructions on the stencil spray can for application (basically, shake shake shake). Before you spray your actual napkins, towels, etc be sure to test the spray out on scrap cloth. A few lessons learned from scrap cloth: the cans drip and they can cause giant droplets on your fabric and the spray is not always even. It's easy to compensate for once you play around a bit.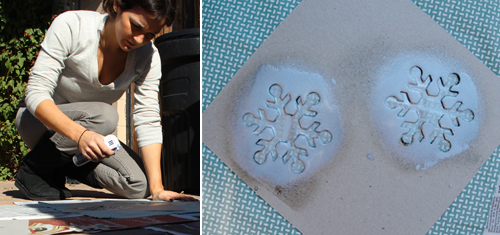 A quick email to Simply Spray resulted in the suggestion of starting and ending the spray 'off' of the fabric (such as in a paper towel), this helped a ton. A couple of other tips from me would include: 1. the white textured spray has quite the 'spray' that will end up all over your fabric regardless of your aim – use chipboard to cover the entire piece except for the stencil area to prevent any sort of splatter (not an issue with the gold or silver glimmer spray), 2. the gold and silver glimmer spray tended to bleed quite a bit – I found it best to get about 6-8″ above fabric and quickly swoosh over stencil area with a light flow (the bleed doesn't go away, the watermark look will dry and stay), 3. I needed roughly two cans to finish six cloth napkins and three tea towels which I didn't anticipate, so I did end up making a Michaels run half way through the project.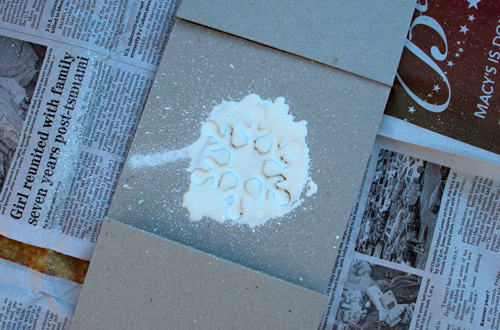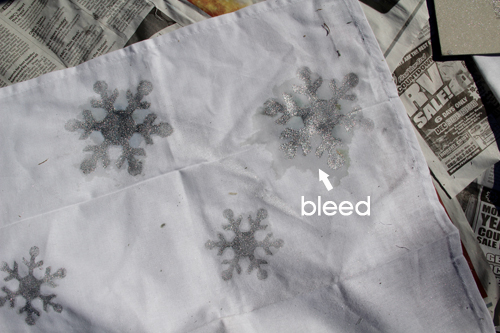 Let dry in the sun for several hours to cure, then wrap up and gift!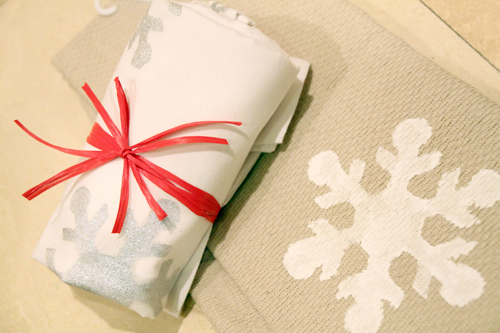 *****************************************************************************************
I played around with different materials, including a terry dish towel, dark brown napkins and even several oven mitts.  I attempted a bit of lettering but the white bled through around the edges.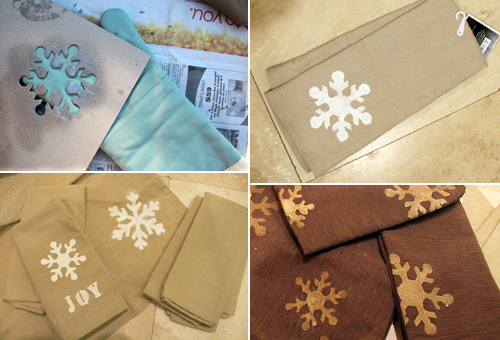 In the end, the projects that I ended up gifting and loving the most were the white flour sack tea towels and the light blue patterned napkins I found at Target that I covered in a few subtle silvery snowflakes.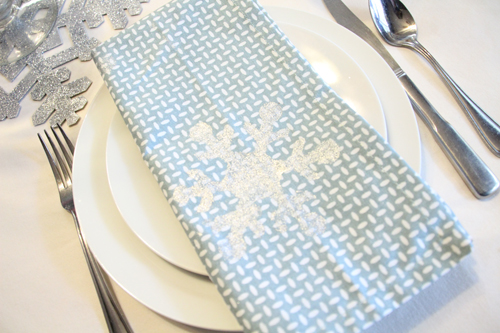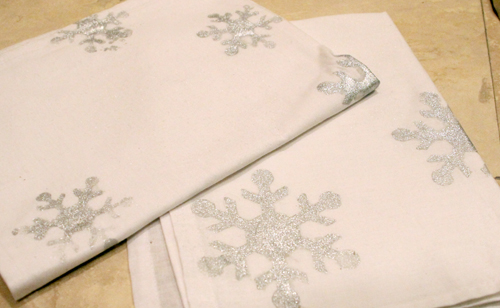 The tea towels each received three or so small snowflakes and two large in one corner so that about 1/3 of the towel was covered with a random pattern.
The napkins were painted with three ish snowflakes in one corner in a random pattern. Having some snowflakes just half on the napkin helped to create a random and pretty look.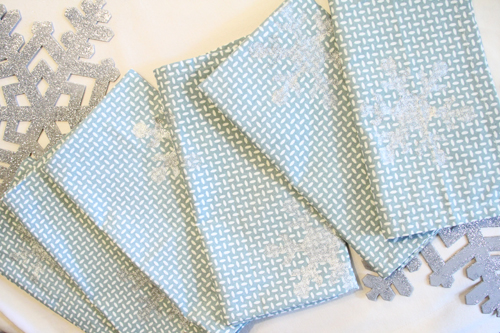 It was a fun project! Simply Spray is revolutionary in that it's the one and only aerosol fabric spray paint brand (I've heard the spray bottle versions are super messy) and it's really fun to work with. Be prepared to mess up on a few of your fabrics (I bought eight cloth napkins to create six) and make sure to set up a station covered in newspaper for painting and drying. I think my mom, mom-in-law, aunt and cousin dug their new towels, napkins and mitts.

Tags:
Blue
,
Crafty Solutions
,
Dinner Parties
,
DIY
,
Fabric
,
Paint
,
Parties & Entertaining
,
Silver
,
Tutorial
,
white
Posted in
Crafty Solutions
,
DIY
,
Holidays
,
Parties & Entertaining
,
Product Review
|
Comment »
December 20, 2011
Tis' the season for giving and I have a really great giveaway for everyone today.  Petite Lemon recently asked if they could partner with me to share their line of kid's personalized growth charts, alphabet posters and photo posters.
Today they're offering a $50 gift certificate towards any of these, and they were kind enough to send one personalized product my way to check out: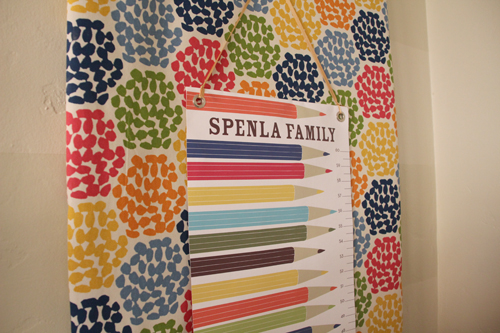 I love their contemporary style and I was immediately smitten with several of their personalized alphabet prints: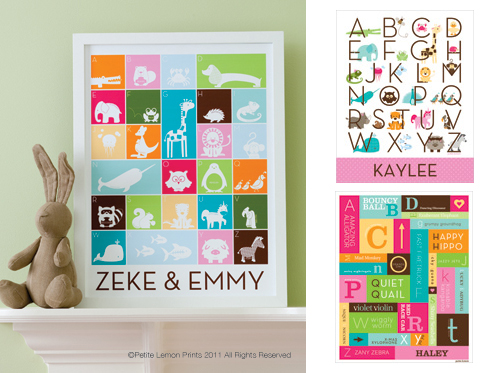 But because we have an adorable vintage-esq alphabet poster (which actually served as the inspiration for our nursery), I checked out their growth charts as well.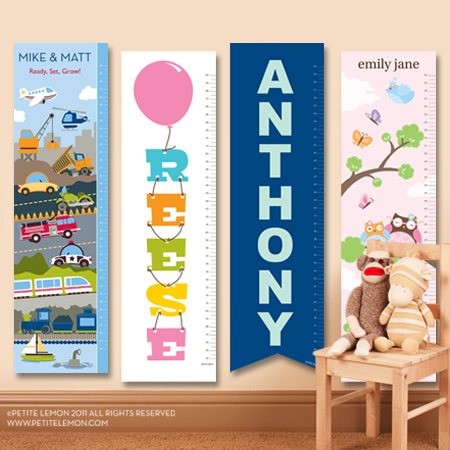 So cute! This Color Me chart below was my favorite and I thought it would fit right into the colors of the nursery: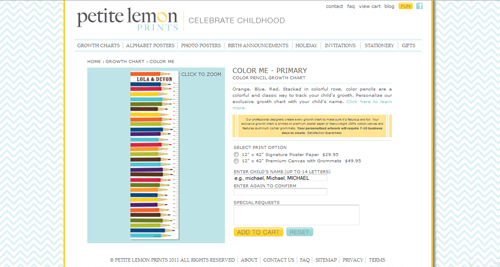 It's as adorable in person as it is online!
While I had 'Spenla Family' printed at the top, what I really mean is 'Spenla Kids' (since Kevin and I long ago passed up that 60″ mark – wait, does it say 60″? Actually I might still be able to put myself just above that mark on this chart at 5′ 3″…) anyhow, we wanted one chart that would serve the purpose of all Spenla Kids rather than just Liv (so we don't one day have 2, 3 or even 4 charts up) but I chose Spenla Family because, well, if we are blessed with just Liv then that's okay too :0).
The canvas growth chart is great on its own, but I wanted to really fill in this corner (between the door to the new bathroom and her dresser) and so I mounted the chart on a handmade fabric lined frame: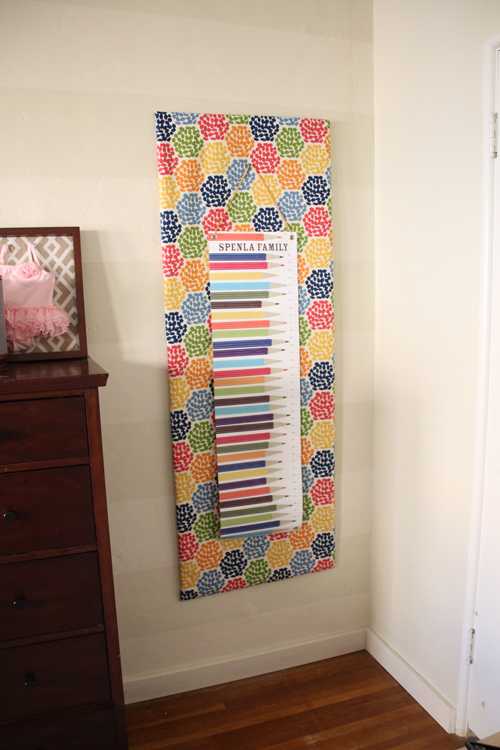 And hung the chart with a mustard yellow ribbon from the two top grommets.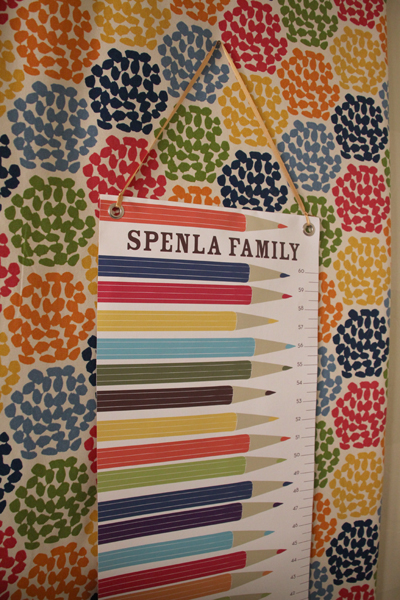 I made the fabric frame from molding I had lying around the garage (leftover pieces that I didn't use in this project), pretty primary colored fabric I found marked down to $4.99/yard, a couple of nails and a staple gun.
The process was fairly easy – similar to stretching a canvas for art. First, cut molding to the desired rectangle sizes (I wanted about a foot on top and bottom of the chart plus 8 or so inches on each side) and secure the pieces of wood together with a nail and hammer (you could do a fancy version of this with a pilot hole but I was going basic here and just tapped the nail right through one end of the molding and into the other).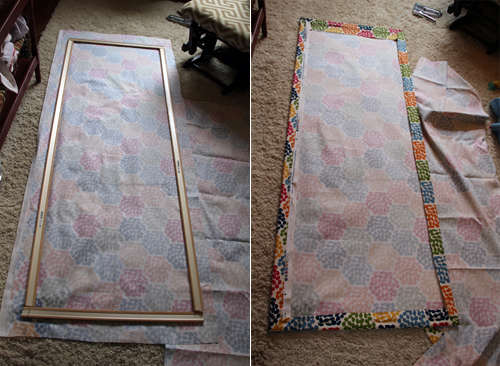 Next, cut fabric to the same size + 5″ or so on each edge for folding over the back. Lay the frame upside down on your fabric and 'stretch the fabric up and over each edge, securing the fabric to the frame on the back side with a staple gun (I went a little crazy with the staples for this example but you get the idea

).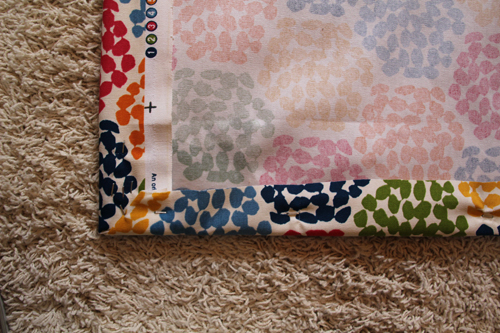 The chart and fabric tie in really well with the rest of the primary colors in the nursery: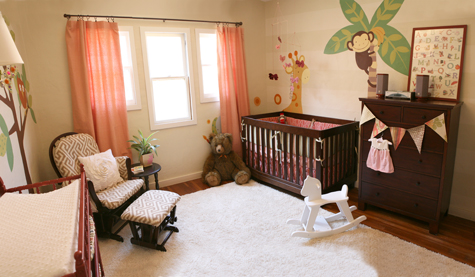 In fact, it almost pulls all of the colors together!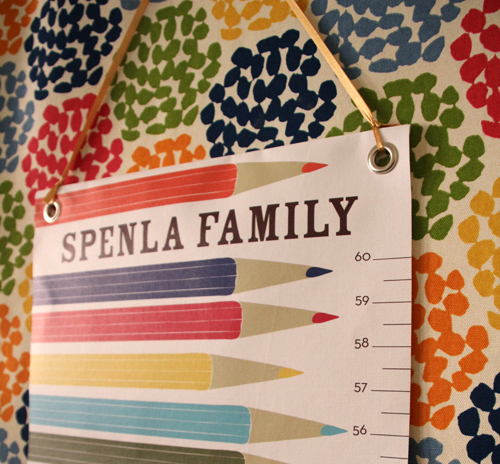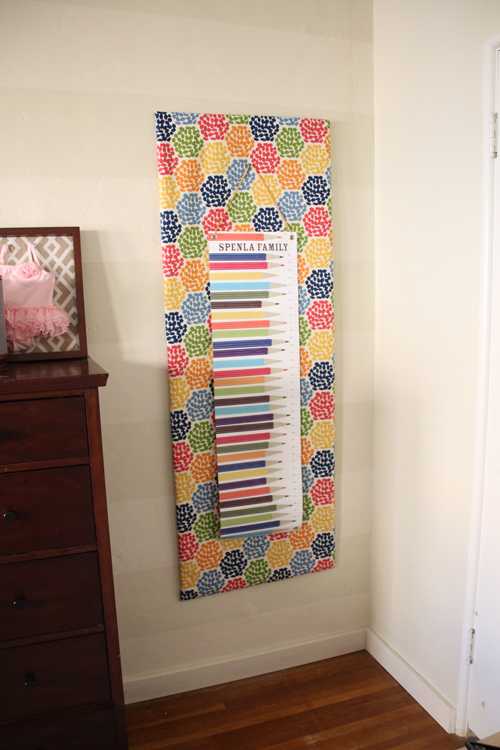 Back to that giveaway… Petite Lemon is giving away a $50 credit to their entire store! Find fun and contemporary ideas for a kids or teen room. Makes a great gift.
******************************************************************************************

Giveaway: A $50 credit to Petite Lemon towards a personalized growth chart, alphabet poster or photo poster
To Enter: Leave a comment here with your plans for giving this season! (Could be a gift, time, resources, charity…)

For Additional Entries: Become a Facebook fan of Petite Lemon and/or Pepper Design Blog. Be sure to leave a separate comment for each additional entry.
Giveaway ends Friday, December 23 at midnight PST, winner will be chosen randomly and announced the following Monday. Good luck!

*****************************************************************************************
In other news, I'm honored that Goo Gone has made me the Gooru of the week! Come check it out over here. Goo Gone is one of those must-haves for messy projects and I'm a huge fan.
Tags:
Accessories
,
Blue
,
By Color
,
Crafty Solutions
,
Decorating
,
DIY
,
Fabric
,
Green
,
Home
,
Nursery
,
Patterns & Color
,
Red
,
Tutorial
,
Yellow
Posted in
Crafty Solutions
,
DIY
,
Home
,
Liv's Nursery
,
Renovating Adventures
|
27 Comments »