June 28, 2010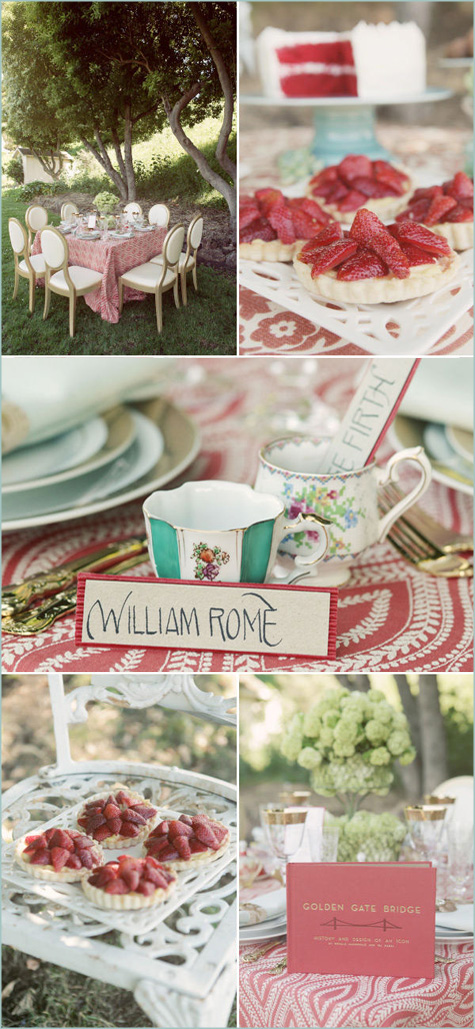 Kevin and I love to host impromptu dinner parties every couple of weeks at the house. We might find ribs perfect for smoking on sale at the grocery store that morning or perhaps Kev just carbonated another round of his favorite home brew (we always have a batch going…) but by 7 that night we love nothing more than good friends and good food crowded around the outdoor fireplace.
So while we keep it mellow… I couldn't help but recently be inspired by a fancier version of an outdoor dinner party. SMP recently featured this red & teal San Francisco-themed spread (and all of the gorgeous details) by photographer Edyta Szyszylo.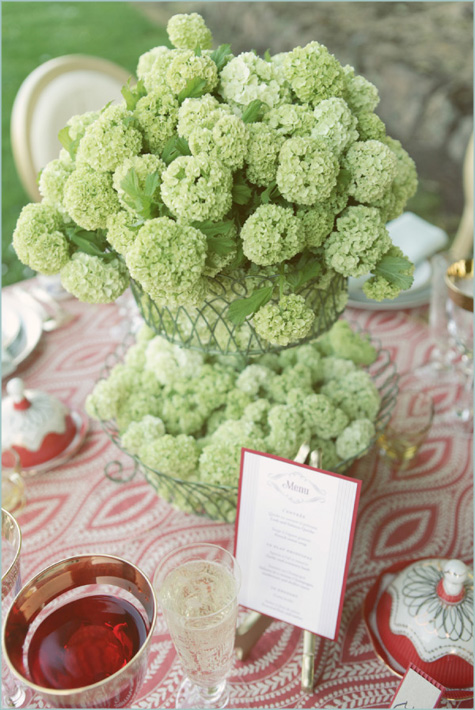 I love love the printed tablecloth (so easy to make yourself with a fabric remnant and a bit of hem tape or spray glue) and the brilliant green viburnum (hydrangea's little sister) centerpiece made out of a thrift store two-tiered planter.
Details: "Brocade and broach napkin rings, vintage demitasse cups as favors and place card holders, as well as the wrought iron lounge furniture were all added for Victorian appeal. The gold-rimmed dinnerware, gold flatware, gold dining chairs and gold-rimmed wine glasses added some glamour and elegance to our outdoor setting."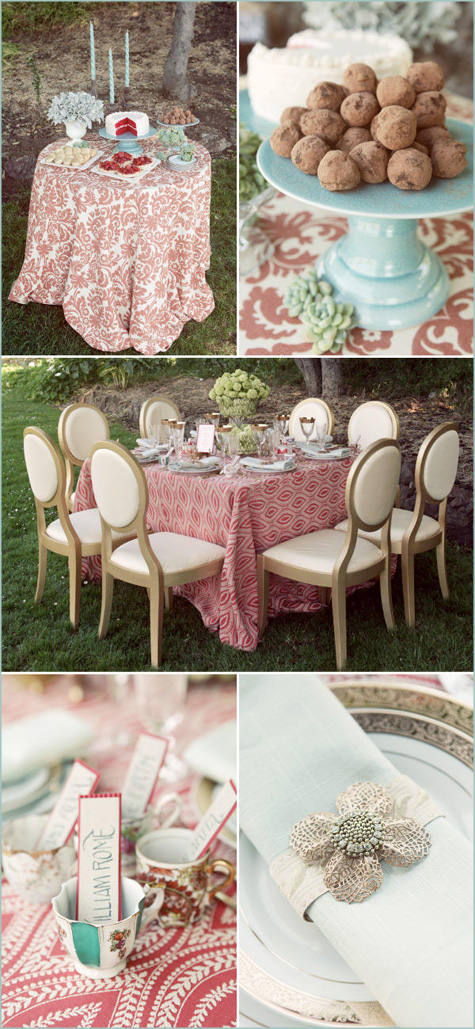 To keep the photo gallery going… follow the jump for a many more delicious pictures! Read more »
Tags:
Birthday
,
Blue
,
Bridal Shower
,
By Color
,
Decorating
,
Dinner Parties
,
DIY
,
Parties & Entertaining
,
Patterns & Color
,
Red
,
Teal
,
Turquoise
Posted in
Parties & Entertaining
|
4 Comments »
June 17, 2010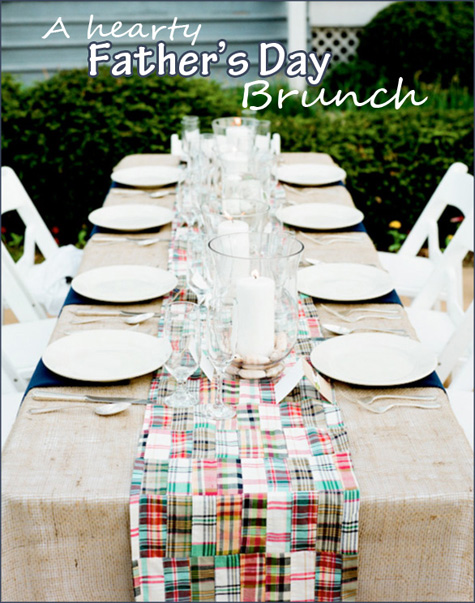 Celebrate Dad's Day in style with a big family brunch this coming Sunday. I love the idea of gathering all of the grandpas, uncles and dads together for one big, delicious celebration!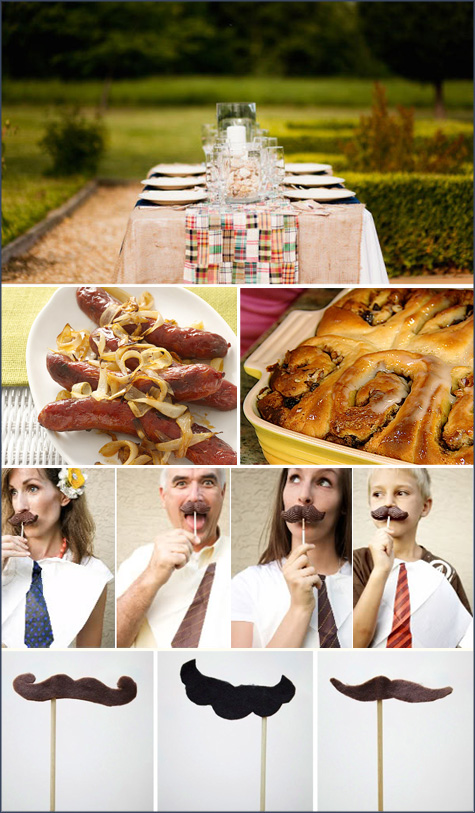 Incorporate a few lawn games like bocce ball, cricket or even a relay race to amp up the afternoon fun. I love these mustaches that have become so popular at parties (like this one over at Full House!) – how cute would they be as casual little place cards?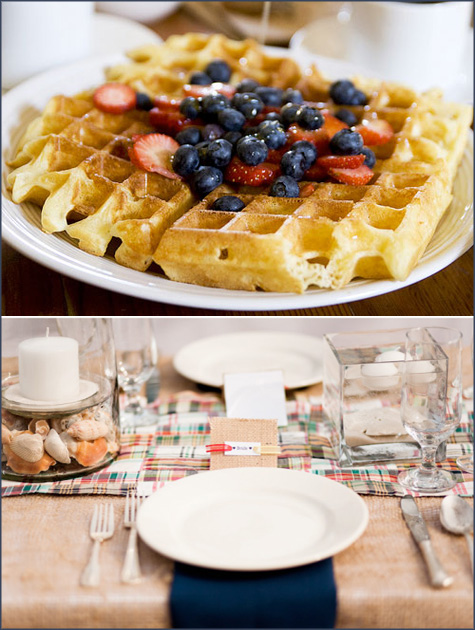 You can't go wrong with a hearty brunch like this line-up: The Food Network's Nana's cinnamon rolls, roasted spicy sausage with sauteed onions, a hearty vegetable frittata and BHG's greatest-waffle-recipe-ever. Table design found on Style Me Pretty.
While I won't get to spend Father's Day with our dad's this year, I'm looking forward to a mellow weekend with the hubby working on the house! Cards, gifts and honoring of our dear papas are in the mail.
Tags:
Birthday
,
Blue
,
Decorating
,
DIY
,
Father's Day
,
Recipes
Posted in
Parties & Entertaining
|
3 Comments »
June 1, 2010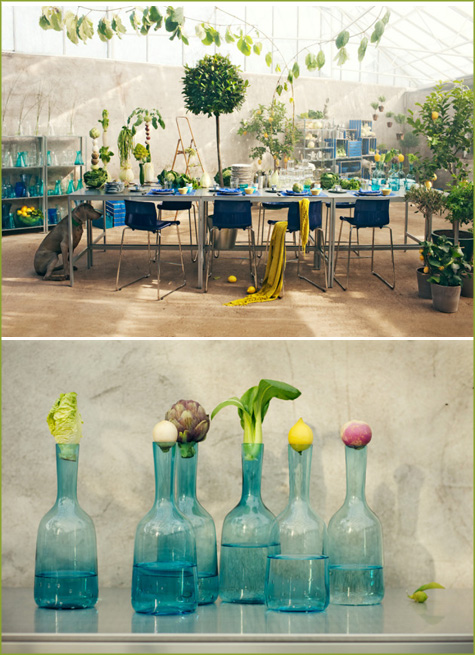 When it comes to beautiful presentation few do it better than the bona fide Stylists, so I thought it might be fun to take a quick look at one of my favorites for a few ideas and inspirations for a future party. Lo Bjurulf is a prop and food stylist for Agent Bauer: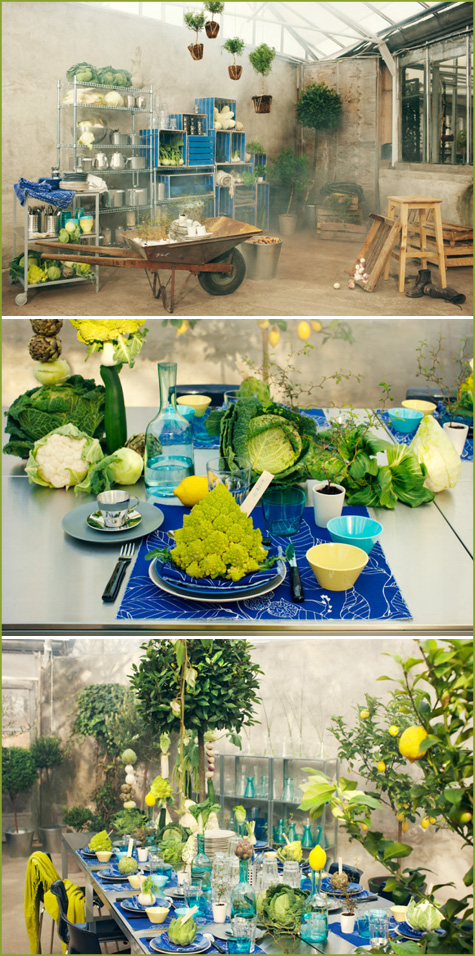 An earthy garden party complete with veggie centerpieces, beautiful blue glass bottle displays and enough casual draping and carefully placed silverware to create a realistic and stunning table. This would be so fun this summer and easy to pull together for an impromptu gathering – everything on the table could probably be found in your kitchen right now, from simple plates and glasses to veggies from the fridge!
This next one is one of my favorites – I think of it as a Moroccan Barnyard Dinner Party!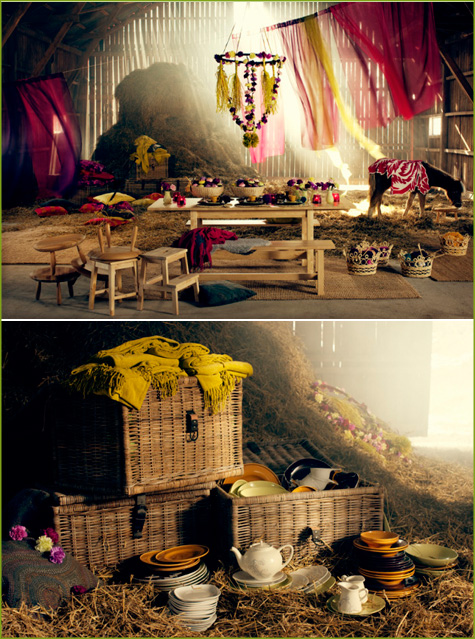 The images are whimsical and imaginative but offer great inspiration for thinking out of the box. What I love about the storyboard is how it highlights the understated importance of staging a party so that it's as eye-catching for all of your guests as you'd hoped it would be.
Staging basics offer a few rules we often forget, like:
*decorating at all eye-levels (bright pillows on the floor, a show stopping centerpiece mid-height and a beautiful chandelier just above the head – or how about those billowy curtains in the backdrop?)
*choosing the proper setting (no need to find a barn…)
*incorporating colors that work well together (be it complimentary or contrasting)
*and don't forget the finite details that makes everything come together (such as the flower blossoms scattered like confetti in the image below or the softly stacked afghans that leave guests appreciative of a considerate hostess on a chilly night – I actually attended a party where they were readily available and I couldn't wait to start my own collection for guests).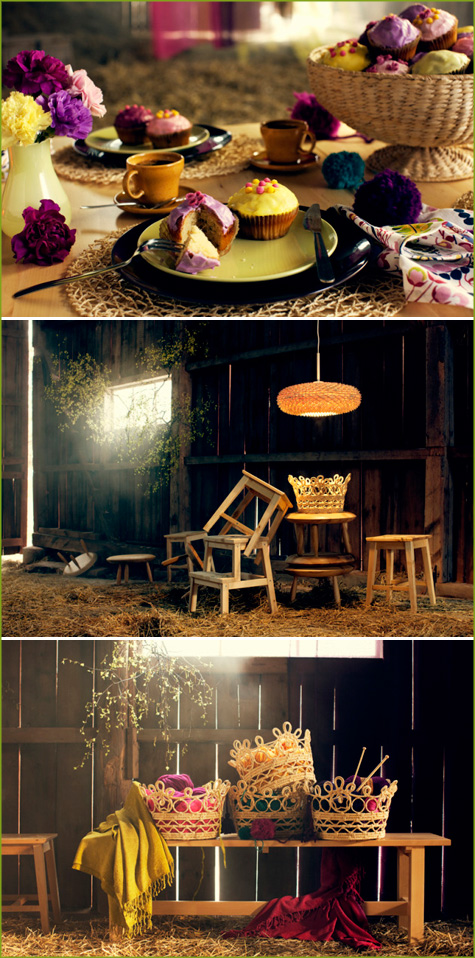 So beautiful! I'm so inspired by these images and the creative possibilities…
Tags:
Baby Shower
,
Birthday
,
Blue
,
Bridal Shower
,
Decorating
,
Dinner Parties
,
DIY
,
Green
,
Parties & Entertaining
,
Patterns & Color
,
Pink
,
Purple
,
Teal
,
Wedding
,
Yellow
Posted in
Parties & Entertaining
|
3 Comments »