June 20, 2012
The curtains are up! Remember back here when I was debating six favorite fabrics for the new curtains?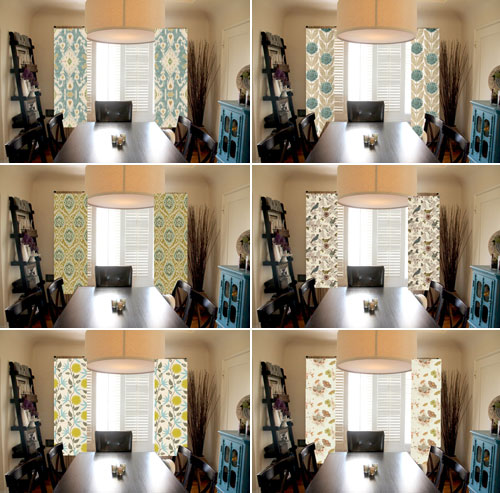 I had the hardest time deciding… but thank you all for the comments and emails that you sent my direction! You helped to confirm my final choice which was the Orla Kiely print!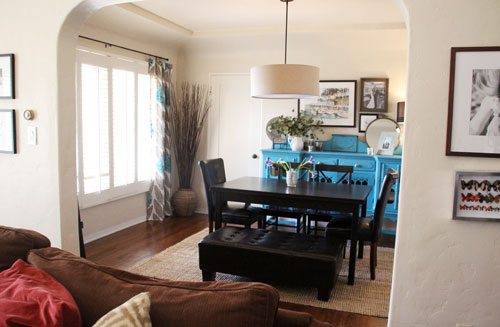 You might also remember that if I chose the Orla Kiely print I'd have to make the curtains out of a duvet cover. Well it was a close close project, but my king duvet cover (90×108″) made for a near perfect fit. I was hoping to use grommets to hang these guys but when I received the fabric in the mail I realized that the pattern ran in the 90″ direction rather than the 108″ – eek! So instead I clipped up my curtains which gave me a few extra inches of fabric to play with to create a wide hem.
These photos are a bit washed out… it was hard to capture the print against the bright windows and I may end up lining them to help show off the design that I love so much!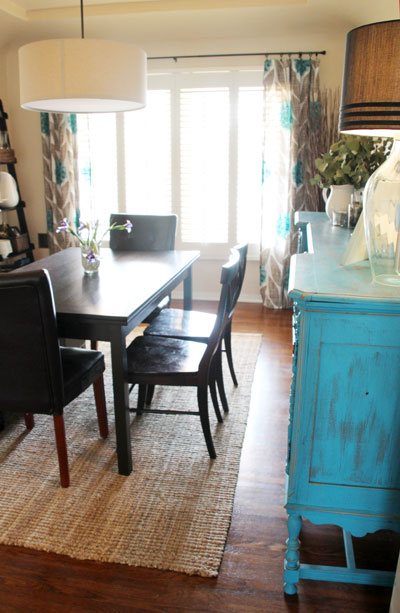 I'm sticking with just the jute rug for now, though I might swap out for the brown cowhide rug if I can find other ways to bring in bright colors (you might remember that it was my favorite but made the space feel a tad too dark).
I've also swapped out two dining room chairs for a bench/ottoman from the living room.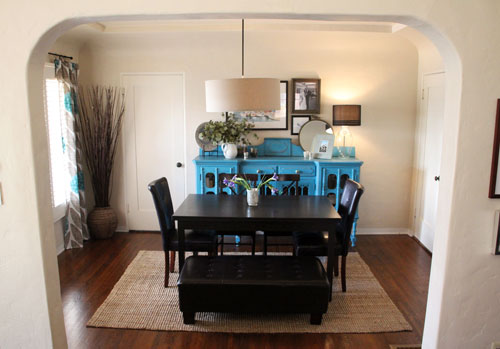 It makes the space feel much more open – though I'm also keeping an eye out for a bench that might be a little higher and a little narrower. This guy isn't too realistic to sit on for a full meal.
I love most how the turquoisy blue in the buffet is accented so well in the curtains. They really compliment each other and look great in person.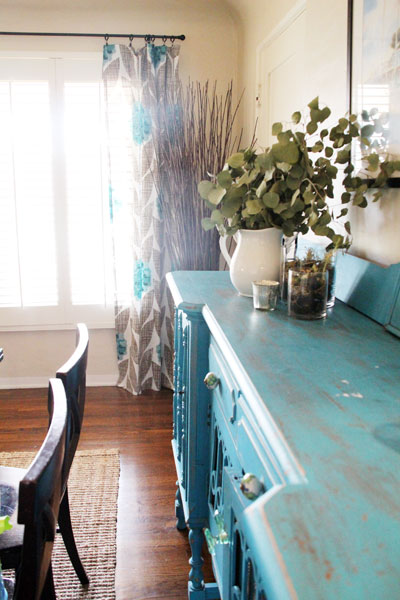 The pattern is just the modern, geometric update that the space needs!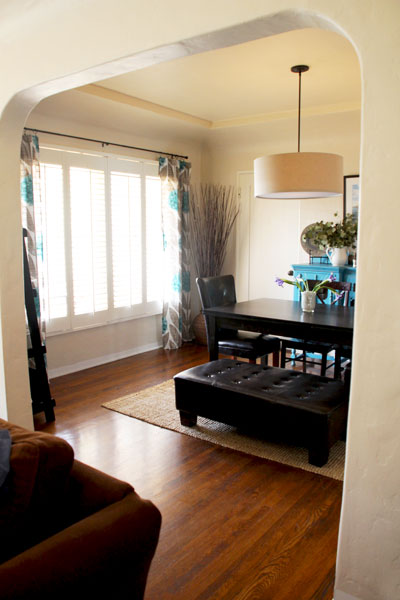 And overall the room is really moving in the right direction… here's a reminder of the space before we moved in!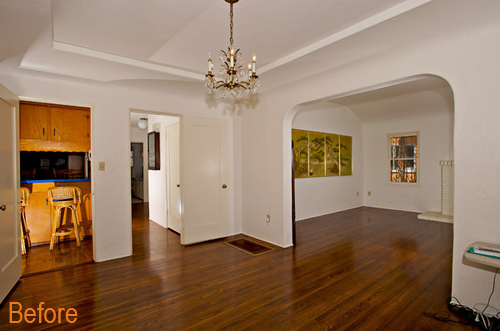 So happy I took the leap of faith with these new curtains and ordered an unusual fabric choice (a duvet cover!) off of eBay, they turned out to be much cheaper than buying the fabric by the yard and I'm so happy with the look! What do you think?
Read the full dining room story by starting here: choosing a rug, curtain call part 2, curtain call part 1, newly styled bookshelves, a buffet-over, upgrading the lighting, the before.
Tags:
Accessories
,
Blue
,
Decorating
,
Dining Room
,
DIY
,
Fabric
,
Home
,
Patterns & Color
Posted in
DIY
,
Favorite Fabric
,
Home
,
Our Dining Room
,
Renovating Adventures
|
18 Comments »
June 11, 2012
Very excited to share with you all today that we have a new style board contributor coming on board! You all know that that little Wardrobe Style Boards button there in the left sidebar (smooshed between 'Entertaining' and 'Organizing') is a favorite of mine… but that it does not receive as much love as it should.
I've had the privilege of slowly introducing a few style board contributors with the hopes that they will help me keep that little wardrobe gallery (check it all out here, or click on that pink button at any time) up to date and well stocked.
Without further ado, I'd like to introduce you to Anna Kate, whose style I've always adored and who – despite being weeks away from welcoming her first son! – is joining me here today to introduce herself and her first round of style boards (two are maternity, which I think is doubly awesome). PS AK is originally from the south (yay for wonderful y'alls and accents!), now lives in Tempe, Arizona with her husband Ray, and blogs about everything life over here. (And yes, people tell us we look a lot alike

).
***************************************************************************************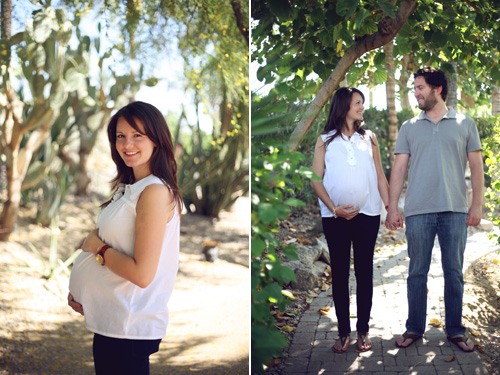 Hi y'all! I was so pleased when Morgan asked me to contribute to the style board section of her blog! I've been a big fan of this blog for some time now, so I feel really honored to be a part of it! My husband Ray and I were married in September, and found out we were pregnant just about 4 weeks later. We are (im)patiently awaiting our little one's arrival in just a few short weeks, and working overtime trying to get everything ready for him! In the midst of a last minute kitchen remodel, a full-time job (can't WAIT for maternity leave!), and struggling to get around with my enormous belly, creating these style boards for you has been a welcome respite. I hope y'all enjoy them!

Anna Kate & Ray on their wedding day, surprising everyone with their special announcement, Christmas, 8 months later, AK + sisters + mom at her shower
And on to the style boards!
I spent the first few months of my pregnancy searching for clothes that didn't feel like your typical high-function, low-style maternity clothes. But after trying on countless black dresses and frumpy ruched t-shirts, I started to feel really discouraged. And then, while browsing Pinterest, I came across asos.com. This online British shop has so much to choose from for maternity- lots of trendy pieces, but also really great classics (like skinny jeans!). And their shipping options are amazing- 2 day shipping for just $12, or free shipping both ways, so if something doesn't fit, just send it back, no charge! This was key for me when shopping online for maternity.
When you're pregnant, especially REALLY pregnant, you don't always feel all that cute. In fact, sometimes you feel downright UNcute! But even on my darkest days, a colorful outfit can somehow manage to change my mood and make me feel like my old self again. So, my first two boards feature brightly colored maternity pieces from ASOS that I find myself running to whenever I need to feel a little less frumpy and a little more.. normal!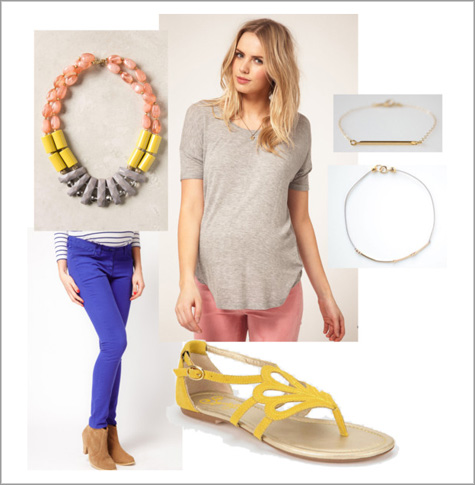 (Above) This grey top may look like any other simple t-shirt, but it is my favorite piece in my closet at the moment. It goes with everything, and is so soft and thin- PERFECT for summer time. I paired it with bright, trendy skinny jeans and a colorful, chunky necklace, because sometimes a girl just needs a little color to make her feel pretty! I've been eyeing this little morse coded bracelet from COATT- I want one with my little one's name on it! I think this would make such a sweet gift for a new mom.
(Below) For this outfit, I wanted to go with something simple. This yellow dress over a big pregnant belly will really stand out, so I wanted to pair it with more neutral accessories. I'm a firm believer in flats, especially during pregnancy, and I love this pair because they look like the leather will stretch and breathe a little on swollen feet. Y'all know every woman needs a good sun hat, and I love this one from Anthropologie. It's simple and sweet, and goes with everything! I wanted to do a great clutch, like this little wicker beauty from JCrew, because let's face it- once your baby is born it might be a while before you can carry just a small handbag again!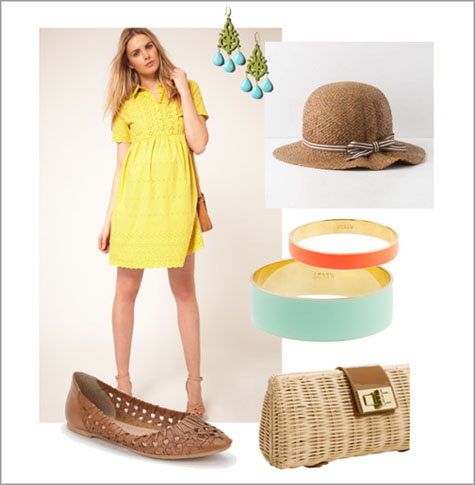 For my next two outfits, I wanted to build around pieces that I would really love to wear if I wasn't pregnant. I wouldn't dream of squeezing my body into these beautiful white shorts at the moment, but I've been secretly day-dreaming about them! Again I wanted to go with some pops of color, since it is summer after all. You may notice I've featured a lot of jewelry from Anthropologie throughout my style boards. I couldn't help it- they have so many beautiful pieces right now, and some really great stuff for under $50! This necklace is a bit of a splurge at $142, but I can picture it with almost everything in my wardrobe, so I think it would be well worth it. And can we talk about this bag?! I love it so much, I just ordered one for myself (don't tell my husband!). It feels like a steal at only $56, and I can imagine wearing it with so many things.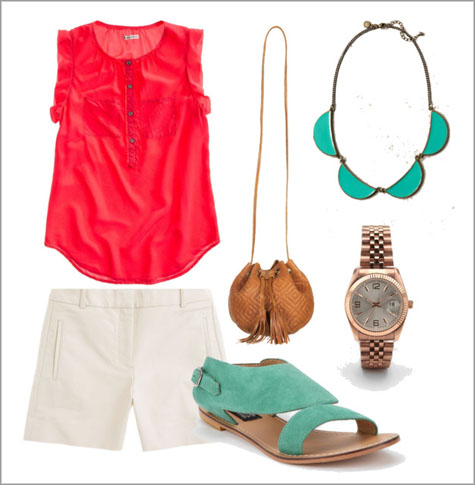 Here's another outfit I can't wait to try out after the baby is born! I love this simple little dress. It features flattering stripes, and the prettiest cutout and pleating in the back. I picture it looking so beautiful and sweet with delicate jewelry and beachy, soft waves in your hair- the perfect look for a laid back, easy date night. And these pretty yellow heels spice it up without making it too dressy.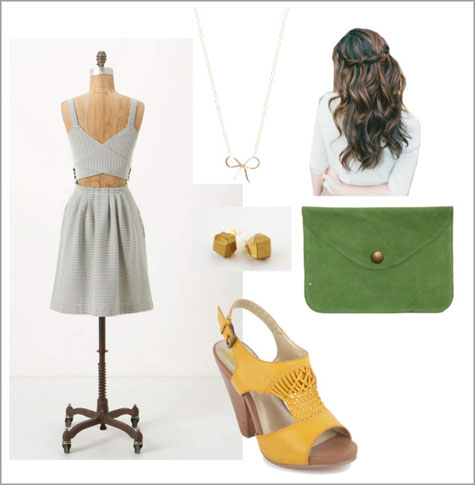 That's all for now! I can't wait to come back next month with more summer inspiration, and hopefully some tips for dressing a post-baby body!
*******************************************************************************************
Thanks so much, Anna Kate! Very excited to have you here and love, love these boards!
As always, you can find ALL sourcing (including brands, pricing, etc in the gallery itself.)
Tags:
Blue
,
Green
,
Pink
,
Red
,
Yellow
Posted in
Anna Kate's Style Boards
,
Wardrobe
|
4 Comments »
June 5, 2012
I would love to invite you all over for a rug party. But logistically that could be tough, so let's have a virtual one! I have been slowly *testing* out rugs over the past couple of weeks to see if one sticks and I've been photographing the journey so that I can play a game of comparisons.
Our dining room tends to be a fairly high traffic space – you need to pass through it to get to any other room in the house. It's also a space that welcomes you from near the moment you walk through our door, so it's equally important that it be warm and inviting. A couple of needs for this space that we had to keep in mind: must be pet-friendly (no dhurrie or woven rugs – bummer that they collect and hold onto pet hair because they're so well priced), kid-friendly (wool is usually better than jute for cleaning purposes and darker colors or patterns reign) and finally budget-friendly (we are traditionally Craigslist people even when it comes to this sort of thing *I love me a good rug cleaning though* because area rugs can be so expensive, but I've found a few options in the few hundred dollar range that I'm really loving). Ready? Let's start.
PS the dining room makeover all started here if you'd like to read these posts in order!
A classic jute…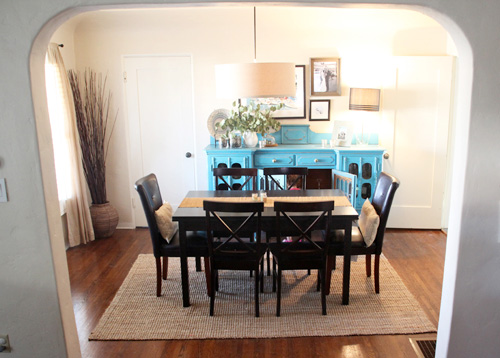 Fits the bill size-wise and price-wise (I believe with the family discount at Ikea this guy rang in at $70) and has a nice, neutral feel. Would easily work with any of the curtain options. I'm a huge fan of natural fiber rugs and while I usually opt for a softer version (with a wool or chenille mixed in), this Ikea jute rug might work well in an area where kids won't necessarily be playing on the floor.
The only con is that jute is tough to clean, even by the professionals (I buy Groupons for area rug cleanings twice a year these days – it's just one of those items I budget in with pets and a baby, but totally worth the trade off

). In fact I've found that natural fibers are doubly tough to have cleaned and often require special care and a trip to a shop if it gets a liquid stain (ask the poor hallway carpet after Halloween 2009 when Bodie chewed a mini pumpkin right into the slobbery fibers).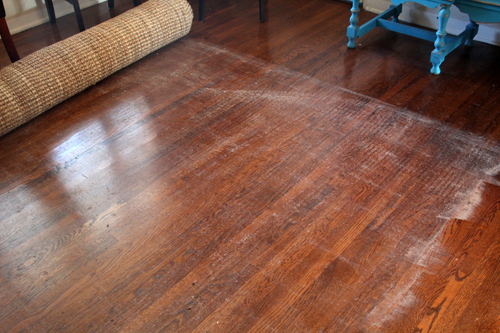 Plus they shed. At least cheaper jute rugs tend to. If this guy stays he'll be getting a rug pad (the above was only this bad once when switching out carpets. A quick mop and I haven't seen the likes of the loose fibers since).
Next up is an indoor/outdoor ikat option. Outdoor rugs can be just the best! Depending on the rug, cleaning can require as little as a hose, a scrub brush and dish soap in the backyard. This is a great rug by Ballard Design for a great price – but I do worry that I would be incredibly limited by curtain choice with this guy.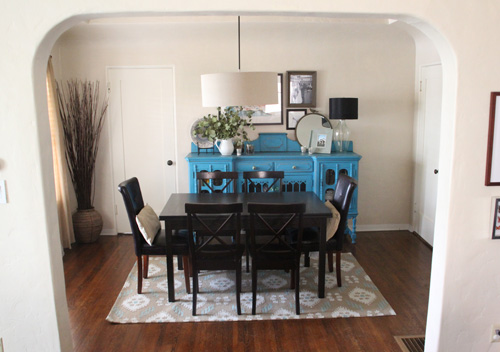 What about bringing that jute back in to add a little warmth?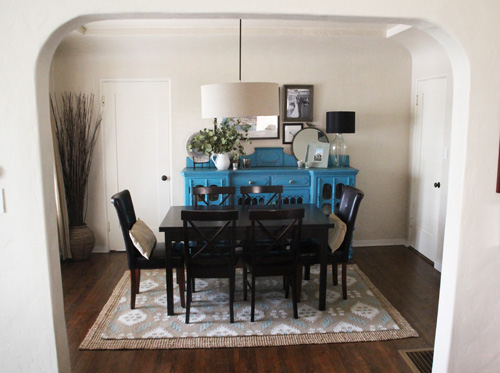 Hmmm… I love the general size of the Ikea rug (bigger than 5×8 but not quite 6×9, you know how those crazy Ikea metrics work) and the border is a nice addition. This is a nice solution for the space?
What are your thoughts on cowhide? I've been a fan of the look for some time and I especially love when hides are used in living rooms and dining rooms. Here's a little inspiration: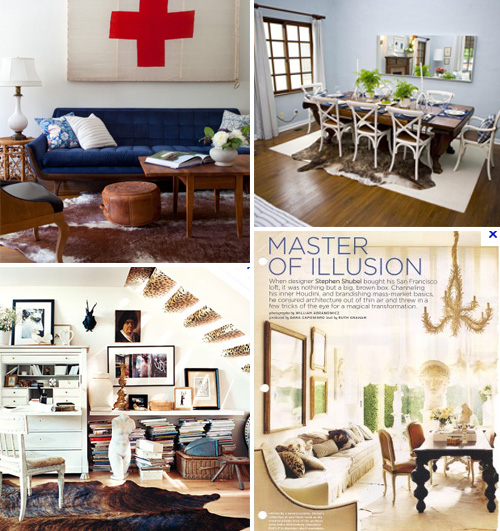 Sources: Emily Henderson x2, Domino, Tandy Leather – Girl in the World
White would not work so well in this space for so many reasons, but a darker cowhide would be easy to maintain (I'm thinking warm water and soap, or perhaps cutting a more permanent spill right out of the hair). So when a really wonderful deal popped up on Fab I pounced and ordered the rug to try it out.
The fact that it's an animal hide doesn't bother me so much. I like the idea of producing as little waste as possible and because we eat steak and meat on various (not too often but every once in a while) occasions means that using the by-products is a good thing. But now I'm starting to sound like I skinned the darned thing myself.

I really dig this look. Ignore that tripod there to the right…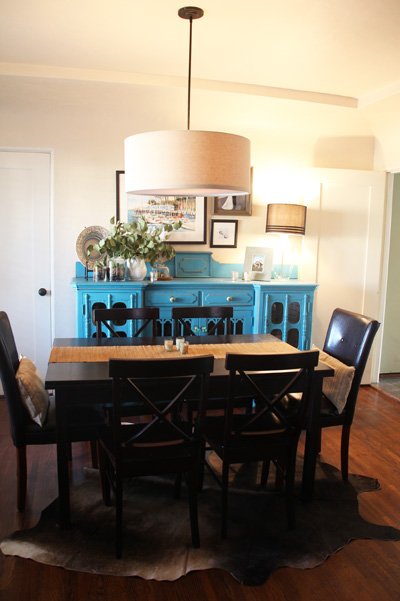 With that jute still rolled up on the left you can see where I'm going with the next idea: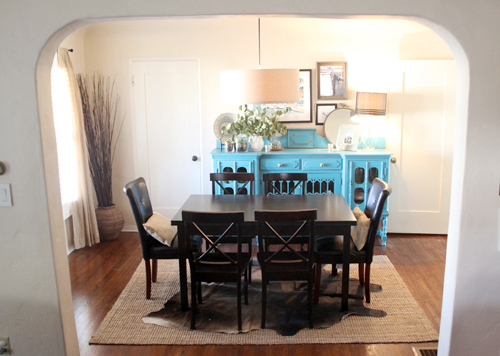 But maybe with the hide at a bit more of an angle.
Nothing is set in stone, *sigh* (I can be a horrible decision maker!) I can always use this rug in a different room or even resell on eBay for the crazy price that I was able to nab it for.
Here are some other rug ideas that I'm thinking about: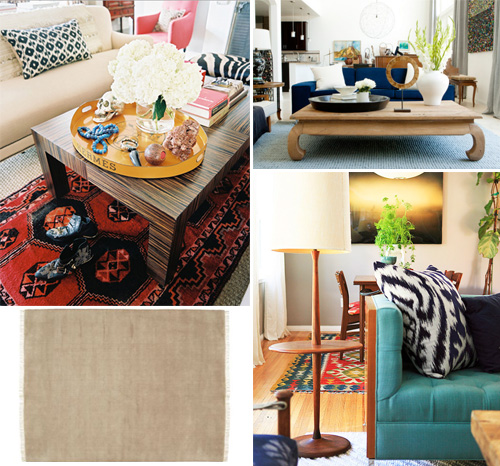 Sources: Little Green Notebook, Emily Henderson, Pottery Barn
What are your thoughts on dining room rugs? Practicality over design? Or can you accomplish both?
Read the full dining room story by back tracking from here: curtain call part 2, curtain call part 1, newly styled bookshelves, a buffet-over, upgrading the lighting, the before.
Tags:
Accessories
,
Blue
,
Decorating
,
Dining Room
,
Fabric
,
Green
,
Home
,
Patterns & Color
,
Teal
,
Turquoise
Posted in
Home
,
Our Dining Room
,
Renovating Adventures
|
12 Comments »