June 4, 2012
Happy Monday! I thought I'd share a fun cupcake idea that I put together for a friend's baby shower recently. Who doesn't love lollipops and cupcakes? And when the two candy and cake worlds collide?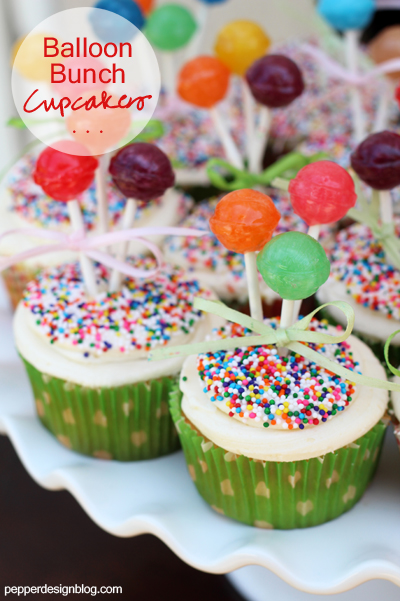 Inspired by a little blurb I saw in a Parenting Magazine article on creative cupcake toppers, I made balloon bunch cupcakes out of little dum dum lollipops using my favorite buttercream icing and rainbow nonpareils.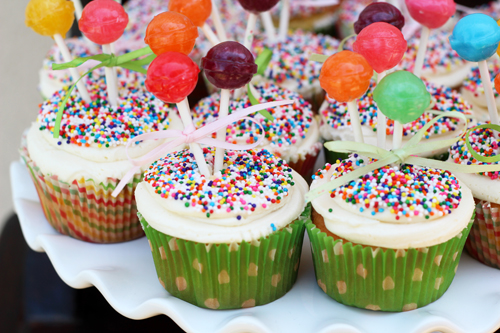 Yum!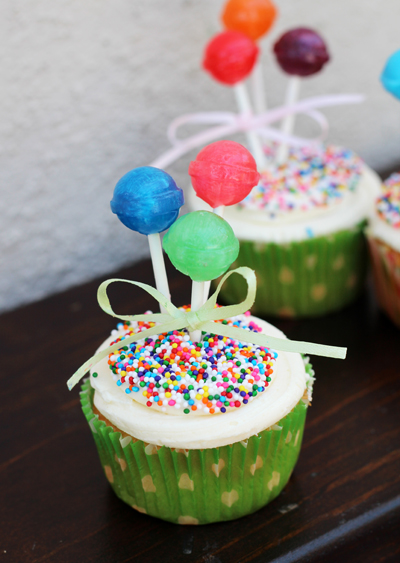 *******************************************************************************
Balloon Bunch Cupcakes




m



Materials: Cooled cupcakes, icing (store bought or homemade – see recipe below), rainbow nonpareils (round sprinkles) – any color would be fun!, dum dum lollipops, ribbon
I usually love a great homemade cupcake but on this particular day I saved myself a bit of time by using a boxed mix (a delicious lemon raspberry or homemade red velvet would have been very fun for this particular design!). To make things a little interesting, I split my cupcake batter into two different portions, half with a few drops of red food coloring and half as the original vanilla mix.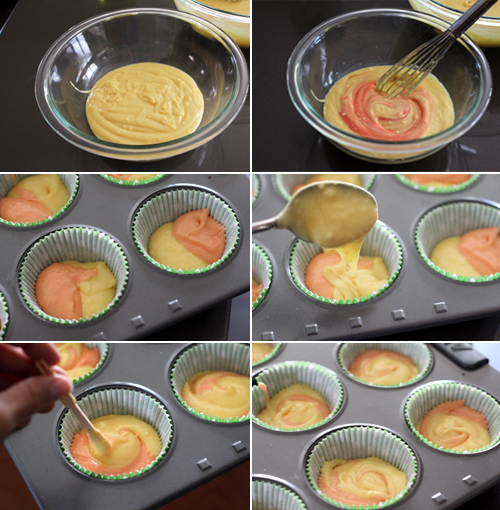 Plop of vanilla, plop of pink, plop of vanilla plus a toothpick to swirl it up! I recommend filling cupcake liners to just over half way so that you have a nice flat icing surface to work with.
While these guys are in the oven, it's on to the frosting. I didn't skimp here, this is my favorite homemade buttercream and it's buttery delicious! Sweet enough to bring out a great flavor but a version that won't immediately melt in the sun on you, which is important for buttercream icing + outdoor parties. Though I'm not sure I'd be daring enough to use it on a cake in direct sunlight…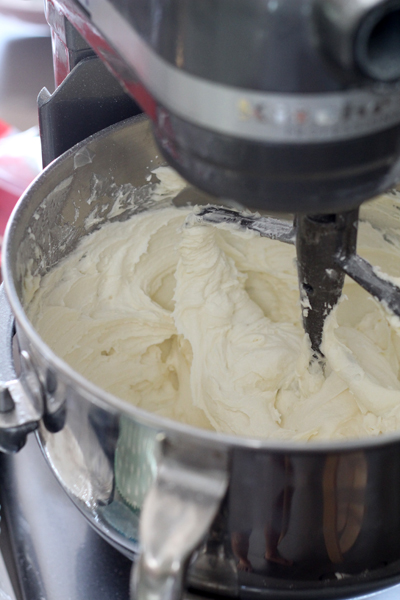 Vanilla Bean Buttercream
2 cups unsalted butter (room temperature, cut into small pieces), 3 1/2 cups sifted confectioners' sugar, pinch of salt, 1 vanilla bean, scraped, 1 t pure vanilla extract, 1/4 cup milk
In the bowl of an electric mixer fitted with the paddle attachment, beat butter until creamy. Slowly add confectioners' sugar; beat to combine, scraping down sides of bowl as necessary. Add vanilla bean seeds and vanilla extract, and beat to combine. Slowly add milk and continue beating on medium-low speed until smooth and creamy, about 5 minutes. Favorite recipe from right
here
.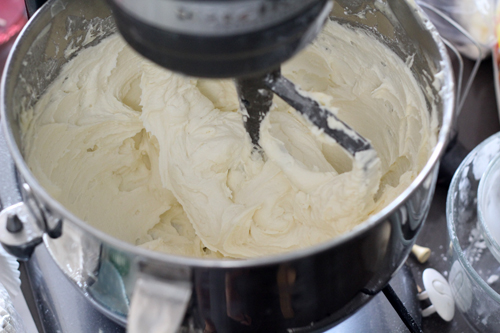 Pastry bags are wonderful, but I tend to use a gallon zip lock bag 99% of the time because of easy clean up (just toss that bag out when you're through!). I simply cut a 1/3 of an inch off the end of the bag and fill it up with buttercream using a spatula.

These cupcakes involve two layers of icing, the bottom layer is a disk of buttercream and the top layer will be smooshed into sprinkles so that it is completely covered. To achieve that effect, pipe a single layer onto each cupcake by gently squeezing the ziplock bag to create an even spiral of icing, working from the outside in. You might try practicing on a paper plate if you're limited on cupcakes.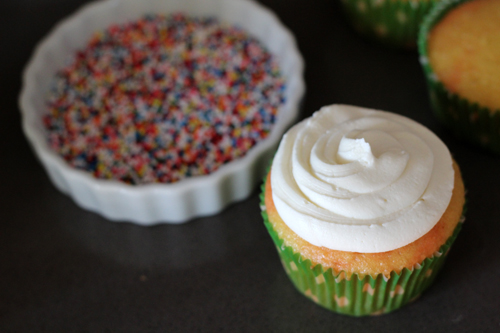 Moving one circular ring from the outside in, I added a second smaller icing disk for that second layer.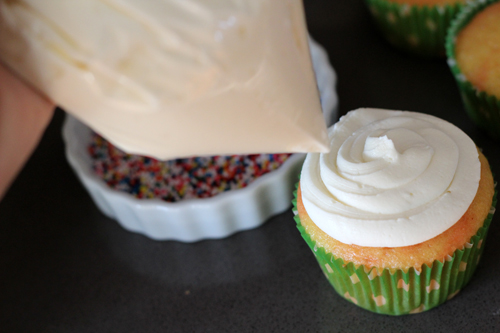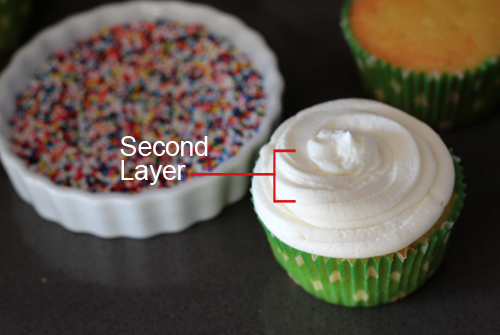 Then upside down it goes into the sprinkle bath. You really want to smooth that top layer flat so don't be afraid to apply a bit of pressure. Of course you could also skip the idea of two layers and just smoosh it all the way around the icing for a fun look!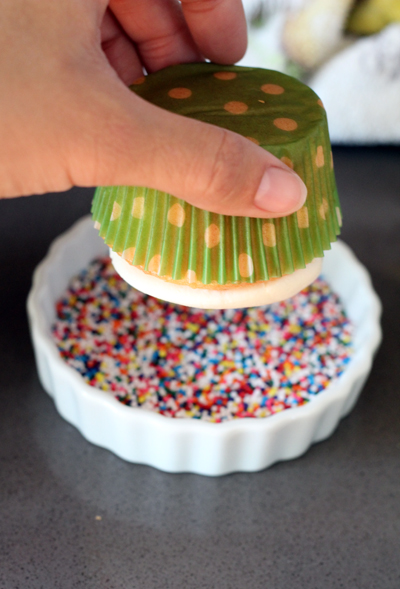 Here's the second layer covered in sprinkles while that bottom disk is still visible.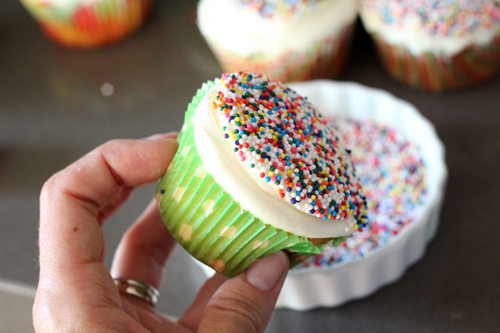 The last step is to add three unwrapped dum dums lollipops in a bunch, tying a ribbon around one before hand.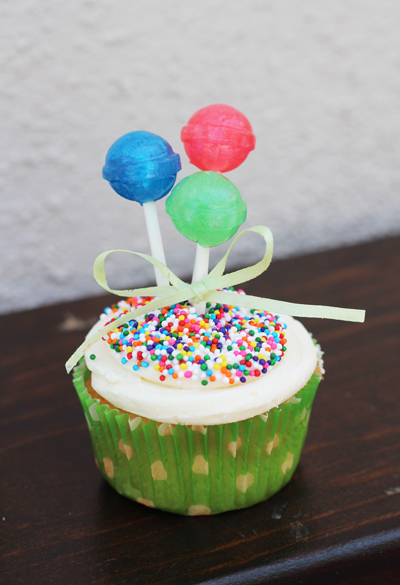 So colorful!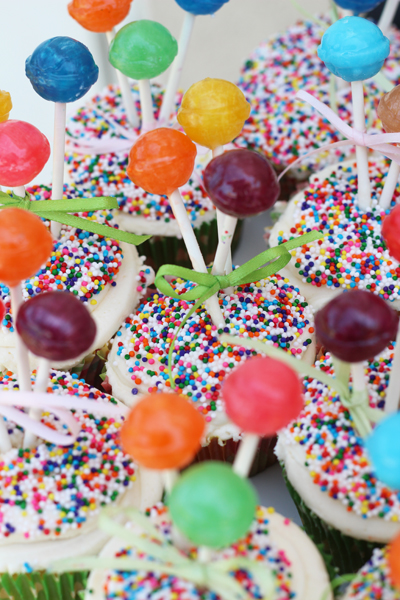 These would be really fun for a kids birthday party, or you could color coordinate your sprinkles and lollipops so that it matches a themed baby or bridal shower.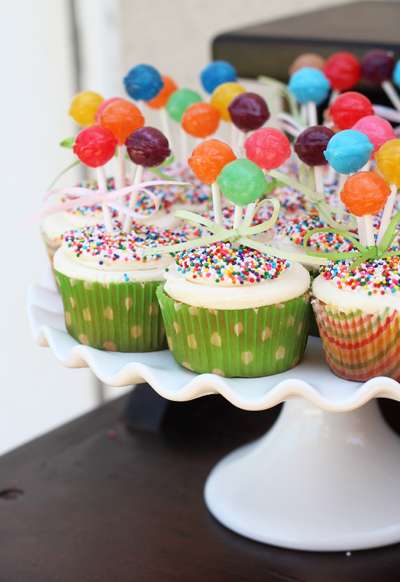 *******************************************************************************
The baby shower was so much fun. Our good friend Trish did a beautiful job creating a lovely brunch for the mom-to-be! Favorite details of mine were the varying shades of tinted glass vases and an adorable game that required everyone to bring a baby picture. Can you tell which is me? Just like Liv's photo, and yes, a little oversized.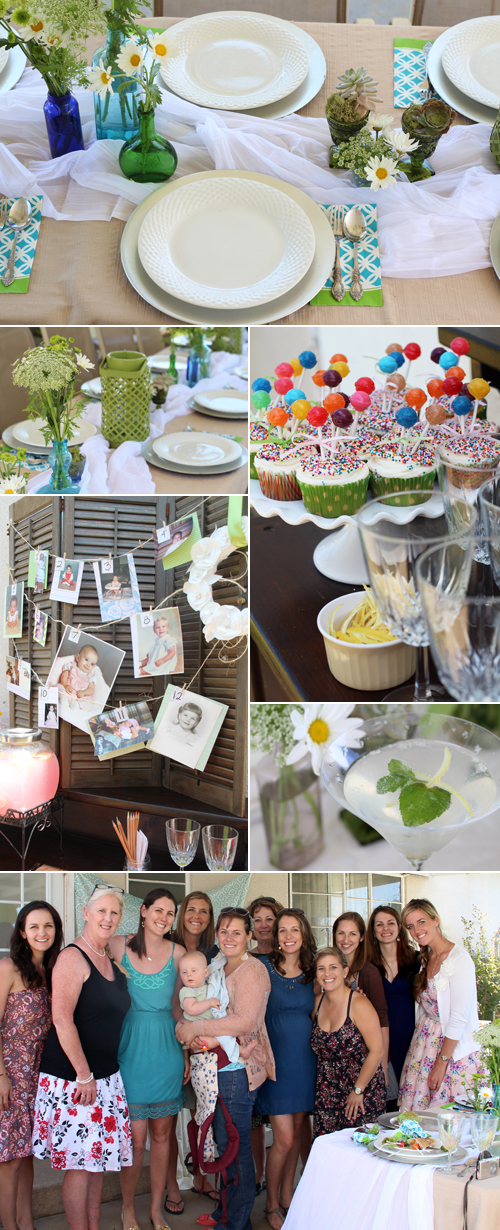 Another favorite were these adorable wooden cars that we each painted. I believe Trish found them online at the Oriental Trading party store, and then made the little shadowbox to house them!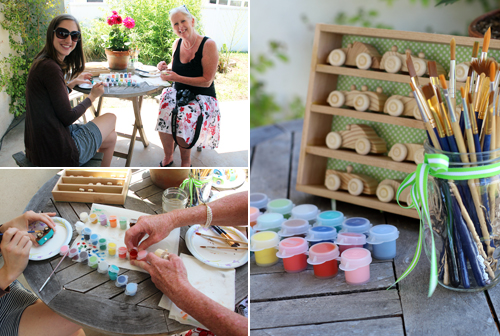 It's hard to see in this next photo collage on the upper right, but that is a little handmade dinosaur sweatshirt by this blogger. Michelle has  promised to post a tutorial on how to add the dinosaur spikes to a cute little zip up! (she also made these adorable onesies)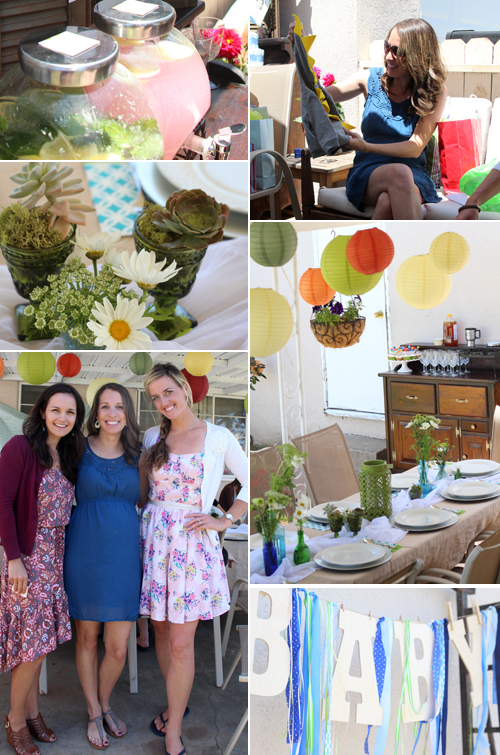 Great job, Trish! We all had so much fun.
Tags:
Baby Shower
,
Blue
,
Crafty Solutions
,
Decorating
,
Desserts
,
Kids Party
,
Orange
,
Parties & Entertaining
,
Patterns & Color
,
Red
,
Tutorial
,
Yellow
Posted in
Family & Friends
,
Parties & Entertaining
|
41 Comments »
May 21, 2012
Hope you had a lovely weekend! We celebrated my birthday on Saturday night (so fun) which made it an extra special weekend for me. My actual bday is tomorrow and I'm looking forward to celebrating again with Kevin and Liv. There's nothing like a little family time to make for a great day.
During a bit of my spring cleaning around here, I came across a camera card full of photos from this time last year, including this adorable Dr. Seuss baby shower thrown for our good friend Grace and her baby boy Cyrus! I had made Dr. Seuss-themed cupcakes for the special day and I forgot how much I had loved using the creative children's books as inspiration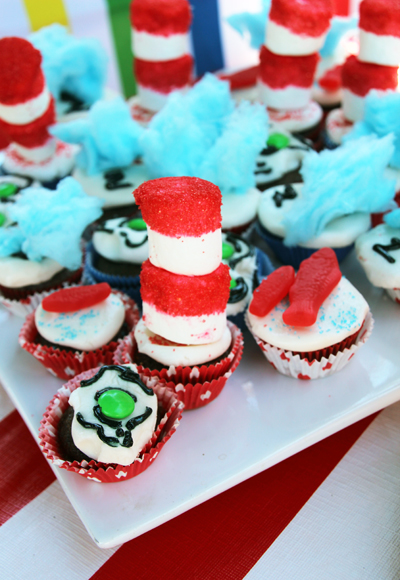 The shower was absolutely adorable with lots of Dr. Seuss inspired decorations and food. Great job Cassie and Denise! As for my part, I put together four different cupcake designs based off the One Fish Two Fish, Green Eggs and Ham, The Cat in the Hat and Thing 1 & Thing 2 books.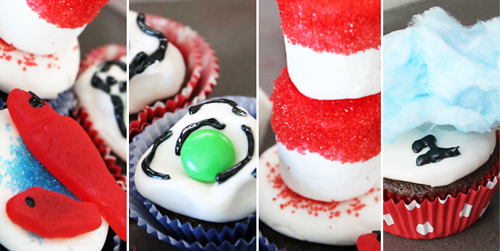 I'm pretty sure I used a standard boxed cake mix for the actual cake part of these guys, but when it came to the neck up I had the chance to get a little creative. I had fun creating four unusual looks and used inspiration from plenty of images found 'round the web, two designs that I especially loved were this one and this one.
The base for each of the four different cupcakes was a flat round icing disk that I made out of a pliable homemade fondant. I must have spent an hour yesterday looking for the recipe I used 11 months ago to share here – but I can't find it anywhere… argh. You can actually purchase pre-made fondant and marzipan from craft stores or there are a ton of great DIY recipes out there (the marshmallow ones look especially intriguing). Now I need a new go to!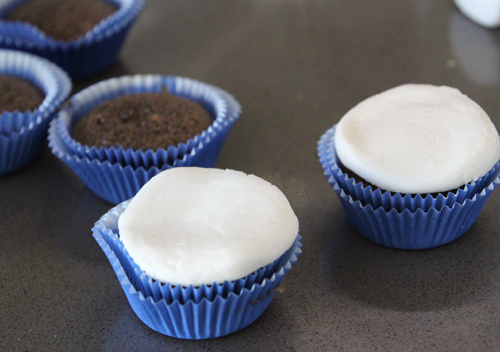 My one suggestion for creating your own is to watch how much you mix your icing. You want the fondant to be stiff enough to mold but you also want to avoid any cracking when it begins to dry. Aim for playdough consistency. (This is for small projects – if you were covering a cake with this stuff I would say that playdough consistency is far too soft and will lead to several lumps and bumps).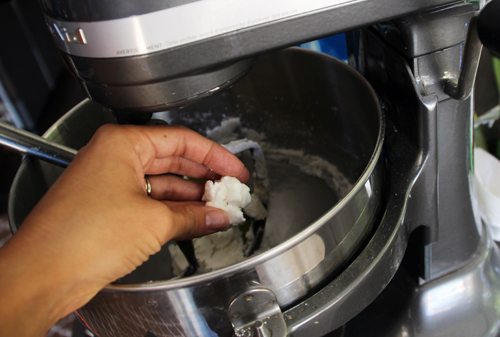 First up in assembly were the Cat in the Hat cupcakes. I dipped marshmallows halfway up in a small bowl of water and then in a dish of red sugar (or red sprinkles) to create the illusion of a striped hat. I stacked two marshmallows onto a skewer (that has been cut in half to size) and used the pointed end of the skewer to hold the flipped over hats into place on top of the cupcakes.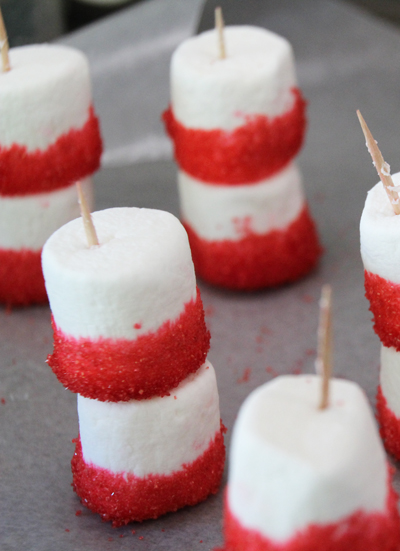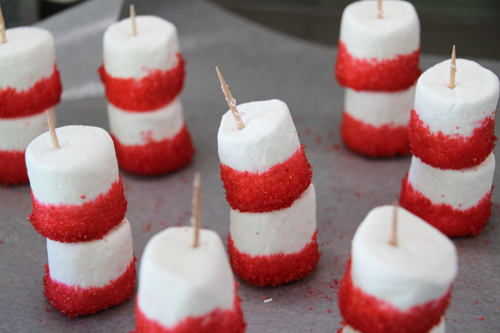 The One Fish, Two Fish cupcakes were as simple as a bit of blue sugar, a couple of Swedish fish and a small black icing dot to accentuate the eye facing up. A small dot of icing will also hold the fish in place.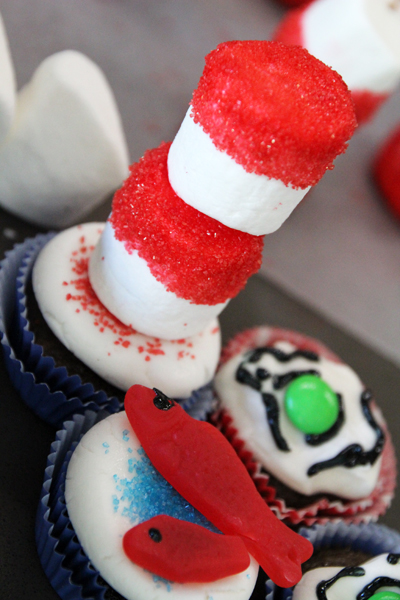 My Green Eggs and Ham cupcakes were actually just green eggs without the ham… but I used a green M&M to serve as the egg yolk and reshaped the flat round icing disk into more of an over easy egg shape. Black icing (bought pre-made in a squeezable tube) helped to outline the cracked egg.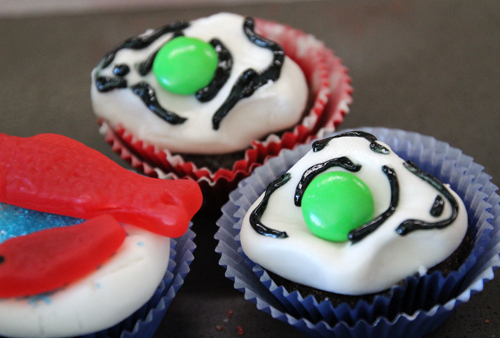 Tracking down blue cotton candy for the Thing 1, Thing 2 cupcakes was a bit more challenging… luckily we had visited Sea World the day before the shower and I snagged a cotton candy on my way out for 1/2 price! A glob of semi-shaped stringy cotton candy helps form the hair for Thing 1 and Thing 2, and a simple '1′ or '2′ in black icing finished the look off.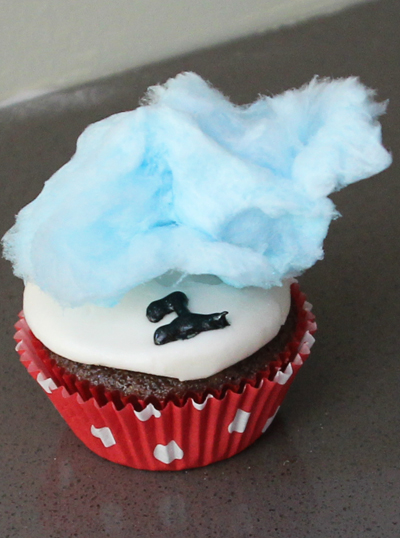 Cotton candy has a tendency to melt when in direct sunlight! Lesson learned. Best to bring out the dessert just before everyone gets ready to eat it lest you have a melted, sugary, globby mess on your hands: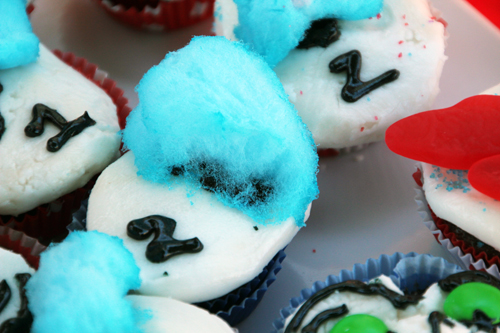 All in all a success though! And so much fun to put together. I think my favorites were probably the Cat in the Hat cupcakes and next time I might try and cover that fondant base in a red sugar too for a little extra pop.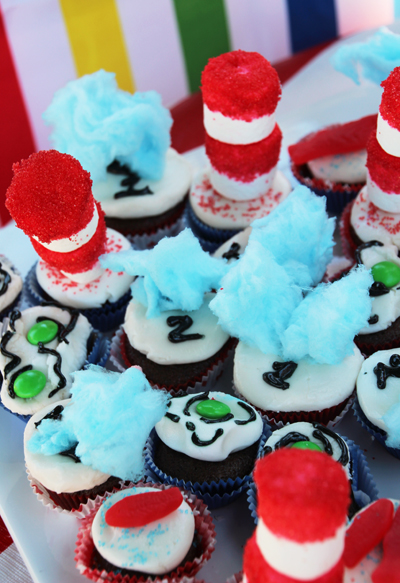 More from the shower!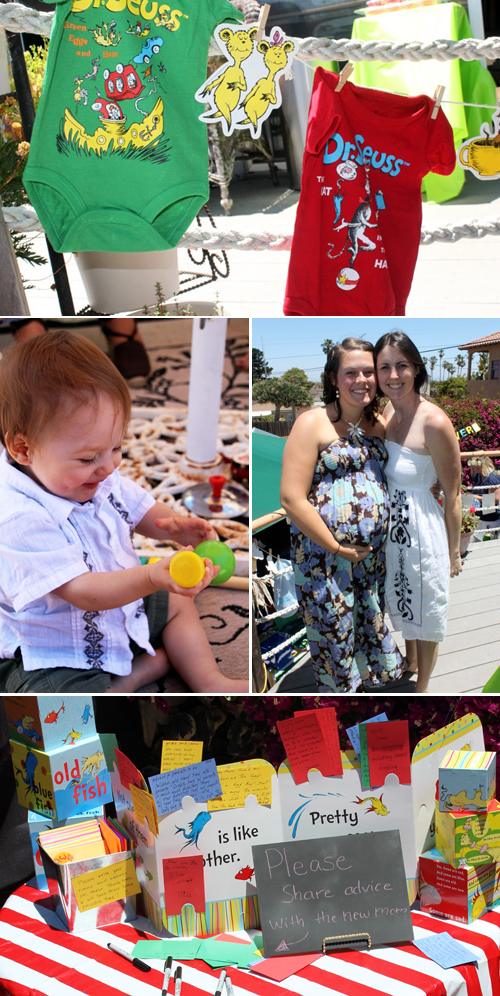 That's the guest of honor and the host there in the center above, and several of the cute ideas, labels, food and decor from the rest of the day.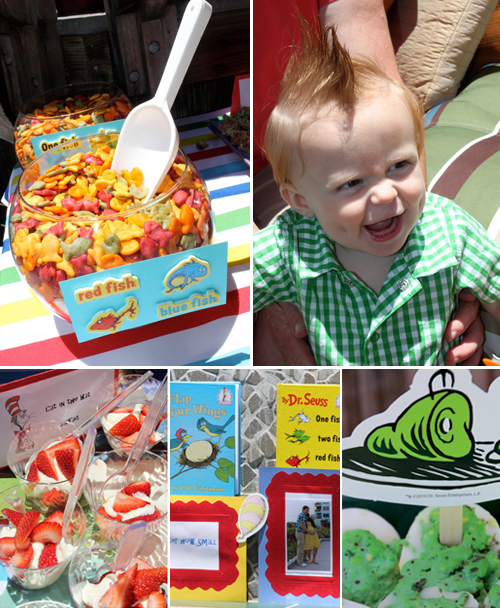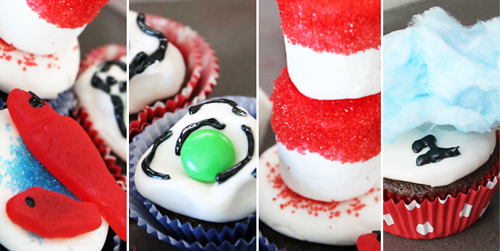 Dr. Suess is a classic that I cannot wait to share with Liv when she's a little older. And the books – amazing. I think my favorite is probably 'Are You My Mother?', do you remember that one?
Tags:
Baby Shower
,
Birthday
,
Blue
,
Desserts
,
DIY
,
Kids Party
,
Parties & Entertaining
,
Recipes
,
Red
,
Tutorial
Posted in
Crafty Solutions
,
DIY
,
Family & Friends
,
Parties & Entertaining
|
5 Comments »
May 18, 2012
That is, a makeover for the buffet. Not the color! Not my dear blue, but the top, sides, inside…
The dining room is well on its way, but it's in need of all of those pretty little accessories that make a home feel like a home. She's had her light fixture updated (ahhh, such a difference!) and the easy next on the dining room list is tackling my big blue box because it involves a fair amount of house shopping for items that we already own (but that might be in need of a new or better location).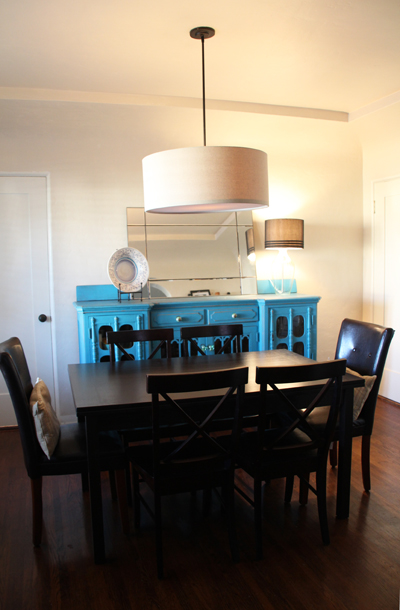 A little rummaging around and a few Michael's frames later…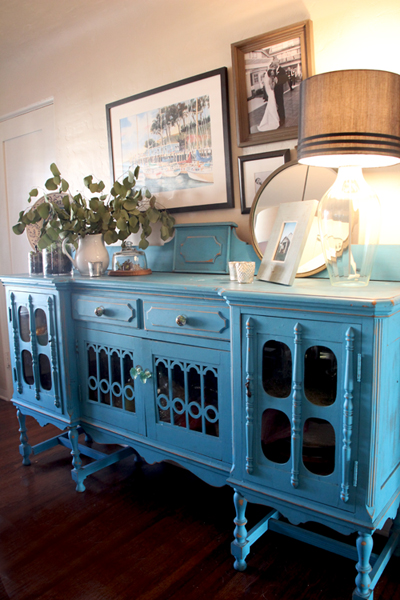 Now it more represents our family and our mishmash style.
The noticeable big difference is moving the giant mirror out – which was initially a tough choice because it helped to bring in plenty of extra light. The decision was twofold: A. I was hunting for an over-sized mirror for the mantel in the living room and this means that I didn't have to splurge on a second: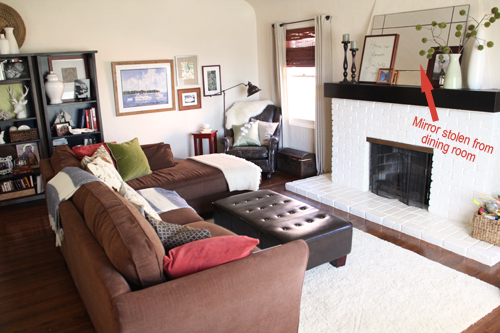 and B. we had been gifted a beautiful piece of personalized art from my hometown of Santa Cruz, California and I was ready to display it somewhere easily seen.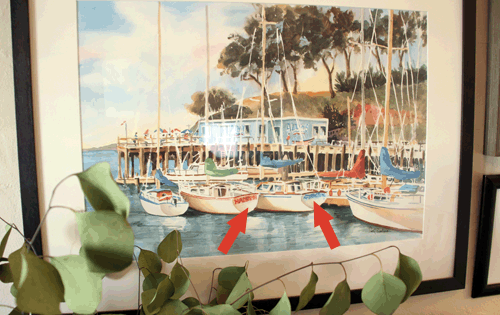 So pretty! That's the harbor in Santa Cruz and those boats have had their names rewritten by the painter – one for 'Madness', our sailboat (more on the story of that name later

) and one for my family's boat 'Crew-zen' (my mom owns a martial arts school – have I ever mentioned that? She cleverly included 'zen' in the name).
Here's my intial little mock up in Photoshop of how I thought I would plan out the wall collage: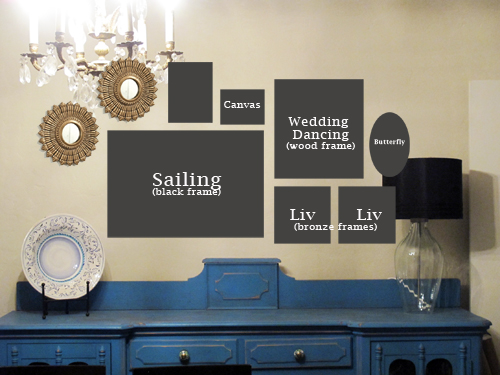 But then widdled it down to about half of the items. I can always add more later.
In the end I settled on: a wedding photo of Kevin and me dancing (one of my favorites from the day), a photo of a beautiful village Church in Fiji (where I've volunteered several times), a sweet in-the-buff black and white of Liv when she was brand new, an Italian pasta plate + stand that was a wedding gift, and a large round mirror I found on super super sale at Clayton Gray (it's back to its original price now). Plus my little terrariums and a white pitcher full of eucalyptus branches (Farmer's Market find, they last forever so I'm replacing the $3 bunch maybe once a month and I love love how they look).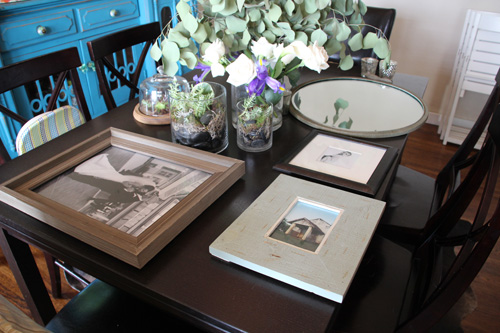 When my dad was visiting from Santa Cruz he was kind enough to help me with hanging the frames (a task I've never loved).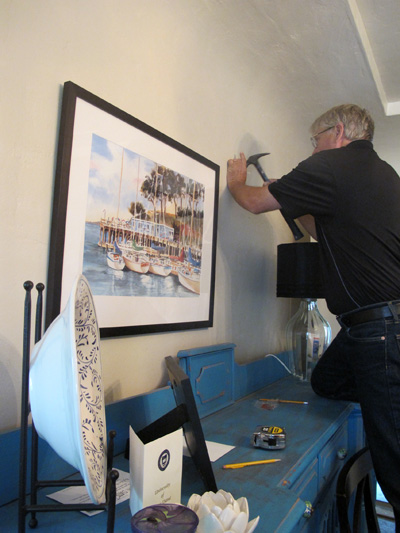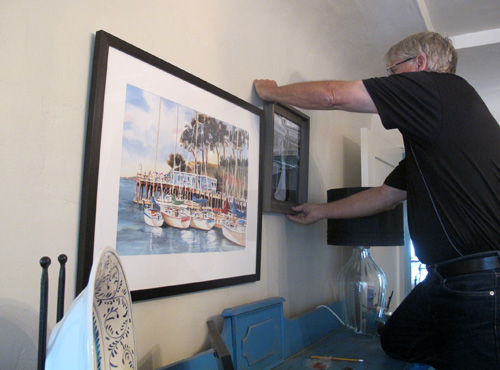 And then I added the rest: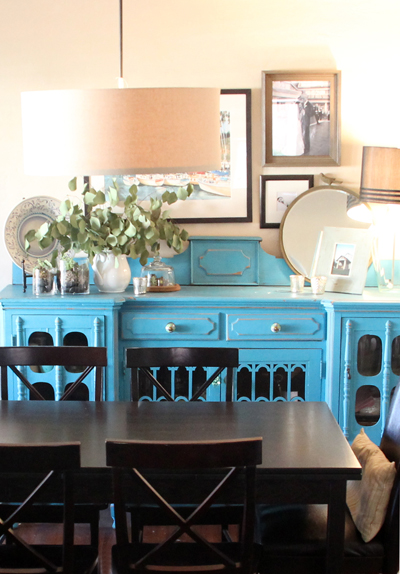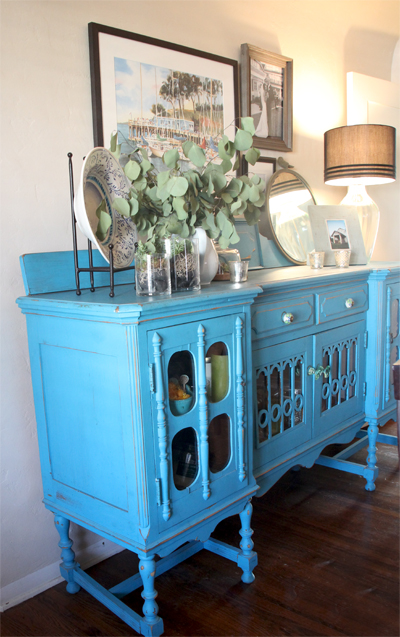 You can kind of see how stuffed this cabinet is slowly getting in the above photo, so in full-buffetover style I also emptied her out and went through my dining decor piece by piece. Only must-use items could stay.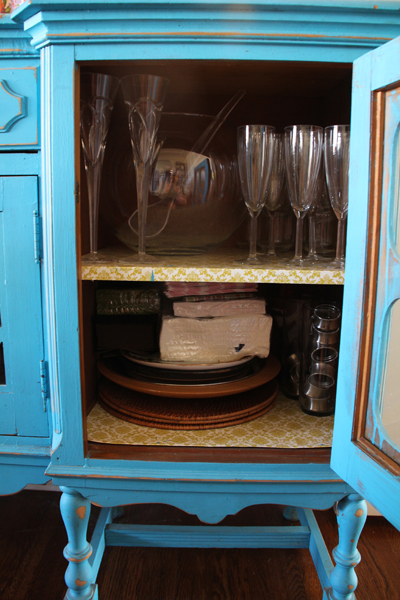 Back into the buffet went a handful of platters for entertaining, my favorite BBB punch bowl (I purchase replacement glass cups en mass from Ikea – they're not visible but behind the champagne flutes), flutes (because life is full of occasional champagne moments) candles with life left in them, tiered platters (in the middle section) a few vases (some holding my fancy napkin holders) and a whole bunch of paper napkins that I had no idea I had. Ah! Feels much better. Room to breathe!
Other minor upgrades from actually quite a while ago include replacing the old, rusty knobs with new versions from Anthroplogie (still need to hunt down a matching turquoise paint to touch up behind the knobs).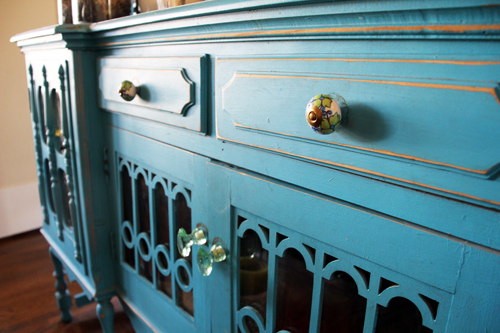 I think that about does it for the buffet! That's one madeover part of the room down, several more to go.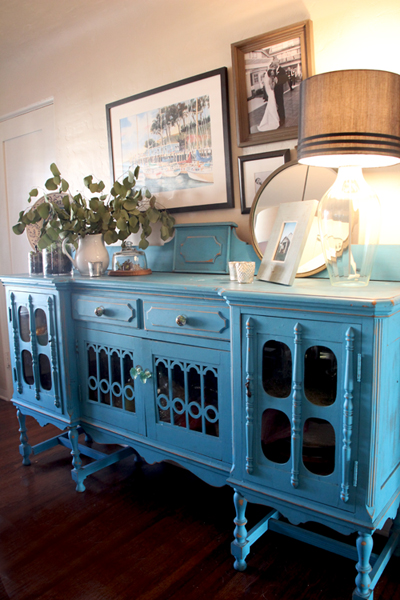 Happy Weekend! We're celebrating my birthday on Saturday so I'm a little excited for it to arrive!
Read the full dining room story by starting here: upgrading the lighting, the before!
Tags:
Blue
,
Decorating
,
Dining Room
,
Home
,
Turquoise
Posted in
Home
,
Our Dining Room
,
Renovating Adventures
|
6 Comments »