May 15, 2012
As a guest, there's something about the first couple of rooms that you walk into in a home that sort of sets the stage for the rest of the house. Kind of like that first impression that you're so conscious of when meeting someone for the first time. If you've been reading this blog for a while, you know that we always have one or two rooms/spaces that are under construction. I'm talking open walls, ceilings, floors… the works. So when it comes to rooms that we don't plan on touching with a sledge hammer and nail gun, I really enjoy making these the 'first impression' areas (then as a guest you can walk right into the mess, but at least at first glance all seemed well!)
Our dining room is one such room. It greets new visitors with its rounded walls and inset Spanish ceiling, and it's hard to miss when you pass our living room (the two are connected with a large arched walkway). It is the gateway to the rest of the house, and the first impression that I'm going for is a warm 'welcome to my cozy dining area, friend! Let's share a yummy meal and a glass of wine'. Wouldn't you love for a room to ask you that?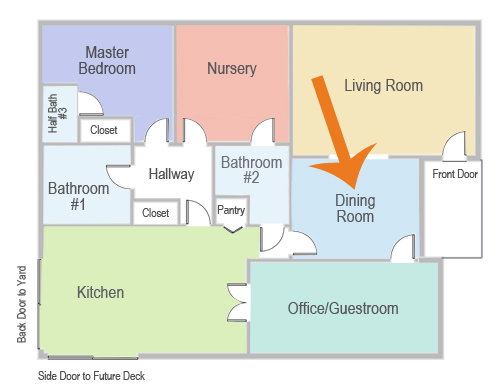 The dining room is on its way… but it's not there yet. Not by a long shot. Let's start by taking a few steps backwards with a quick look at the last couple of years.
This is the before, before shot – before we even moved in. It offers a clear view of the original chandelier and how the arch between the dining room and living room helps to integrate the two rooms. In this photo you'd be standing in the door that connects the office/guestroom to the dining room.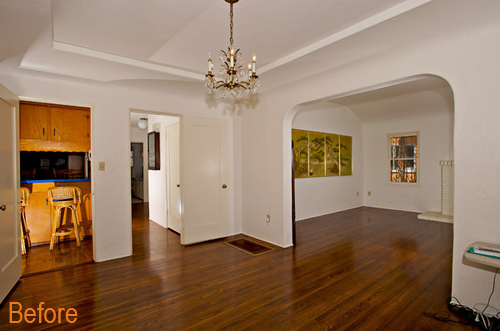 This 'in-progress' is from an interview with 6th Street Design School on favorite spaces – at the time the dining room was my home office while we demoed the old kitchen and slowly restored the Spanish plaster and ceilings for the new office.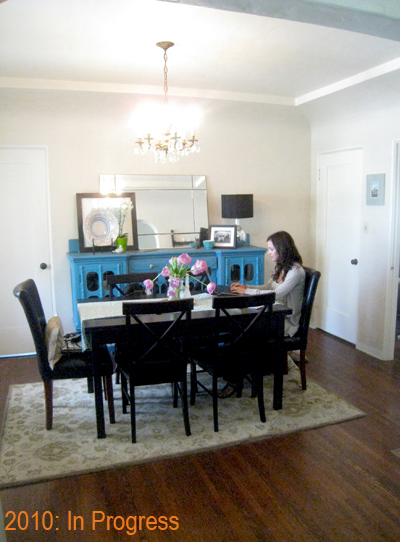 Believe it or not this photo is probably one of the only few I have with the space looking as it did above, and this is the way the room stayed for several years.
A few more details from that interview: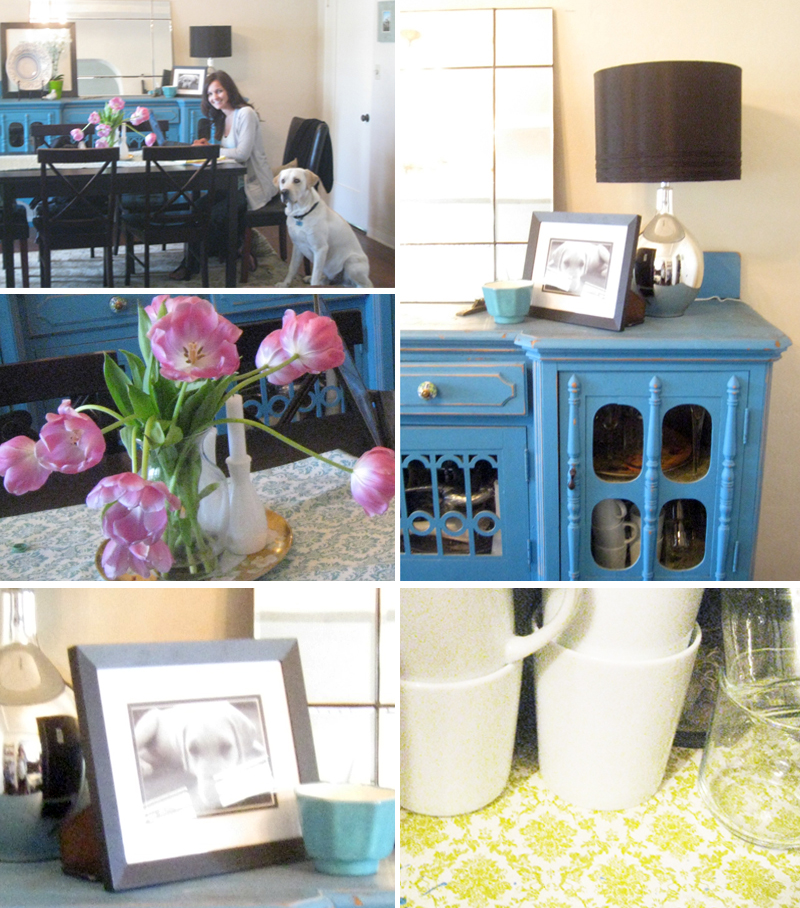 Sorry about the terrible exposure in these photos – it was also early in my photography days.

Can you see the old kitchen peeking out back there? And that second extra door that led to the old hallway? All gone now!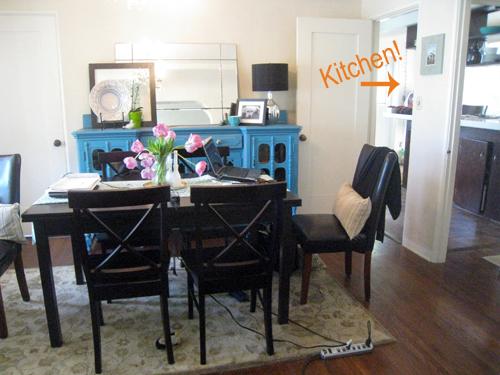 Shift to this year and the rug is now gone (the Pottery Barn rug was a Craigslist find and had lived a good life – but too many permanent stains with us and we let her go just recently in favor of something a little more modern), as well as that original home light fixture (I hope to reuse it in another space someday). The new pendant can be found right here. That beautiful mirrored lamp broke last summer and a clear glass Ikea version has taken its place. Still love that black shade.
Here's a look into the new blank slate from the living room.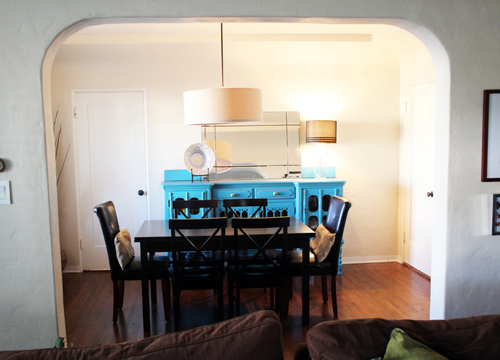 We're starting from close to scratch in here and it's clearly in need of a little oomph, you know?
I have a few rug ideas that have just shown up on the doorstep! And a new wall collage solution to share soon. This room also needs new curtains as well as a new feature piece over on the right where that door is now closed up and a large wall sits empty.
The favorite piece in this room that won't be going anywhere is this vintage blue credenza that we spotted at an antique store the week we moved into our home – and my parents-in-law surprised us with as a housewarming gift! It's more of a teal/turquoise-y blue and it's so awesome. Definitely commands attention and a piece that the rest of the room will revolve around color-wise.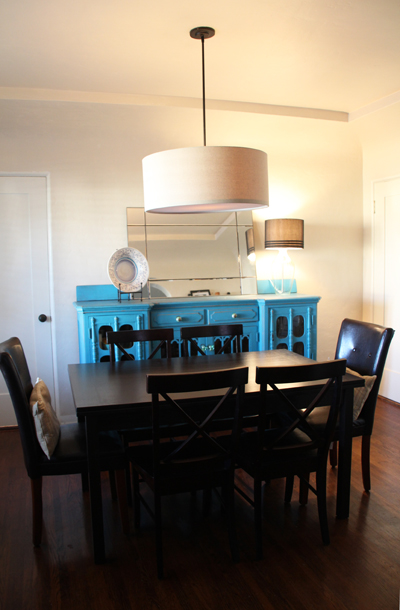 On the other side of the room is my set of Crate & Barrel leaning bookcases (found on Craigslist) that fill in either side of the archway back to the living room. I shared these guys in this post on my favorite bookshelf styling ideas, but I'm ready for these to be re-oomphed too (same with the other set of bookshelves featured in that post!).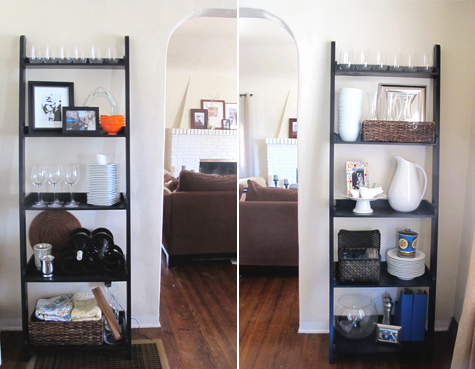 There are two really tricky, permanent details about the room that are difficult to decorate around.
The first is both a favorite feature and a frustrating architectural detail – these high, rounded walls and inset ceilings are common with Spanish architecture but they make painting a room difficult because A. the ceiling has to be the same color as the walls or B. you have to have some sort of chair rail/picture rail to cut off one from the other.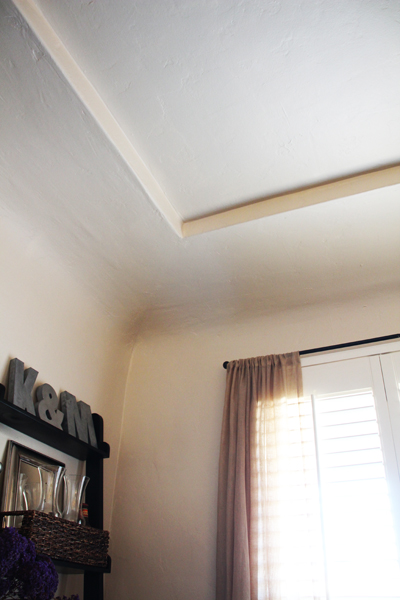 The second is the door to the office/guestroom on the left there that throws the room a bit off center. It's definitely a convenient in & out (otherwise you're walking around to the kitchen) but it means that the buffet is now two feet off from the center of the room, so the table, rug, pendant light all line up with that inset ceiling, but nothing else. The only solution I can think of to fix this (without plastering over the door) is to find a shorter buffet that can line up on center with a larger object (standing mirror?) on the right side to balance out the door. But I love my blue one too much. Argh.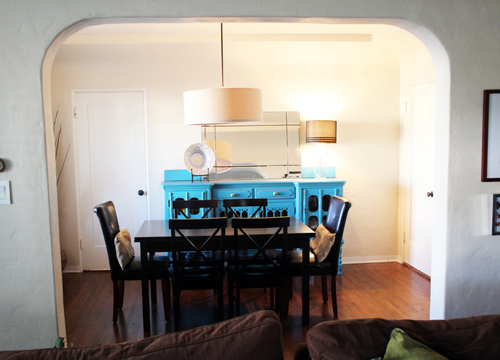 Well there's our blank slate! It's getting a heavy dose of makeover (most of the projects are underway) and I'll keep you all updated on the progress.
Meanwhile… Kevin has been busy drawing up plans for a new back and side yard and right now we're thinking decks, pergolas, fountains, flagstone pathways, a giant farm-style table with lots of fun chairs… it should be a great summer project!
Tags:
Blue
,
Decorating
,
Dining Room
,
Home
,
Turquoise
Posted in
Home
,
Our Dining Room
,
Renovating Adventures
|
6 Comments »
May 1, 2012
This past weekend I finished up the new curtains for the bedroom. Last week I had shared a sneak peek of the fabric I had found, but a little pinning, pressing and hemming later and my curtains are up and hanging.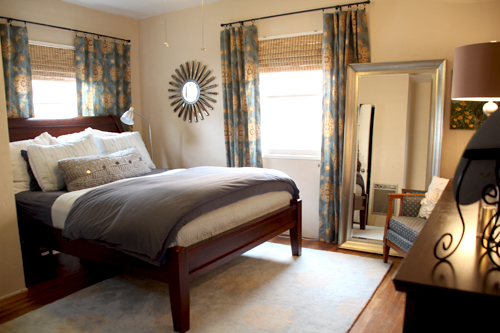 This room has been asking for a little character update since we moved in almost four years ago, and being the hidden bedroom that it is (no one ever really wanders into the master), I've left it as-is for some time. But now it's well on its way to a little sprucing up! Even if that just means a few new fabrics, art and rearranging.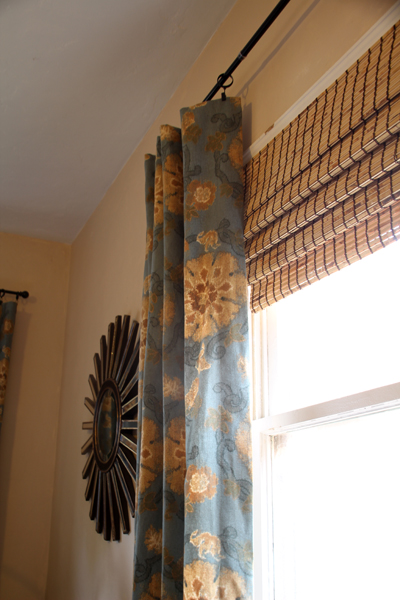 I'm loving the start! This fabric has had me smitten for some time and just as I had imagined, it goes so well in the space. The blue compliments the bedding and the tans work perfectly with our bamboo roman shades.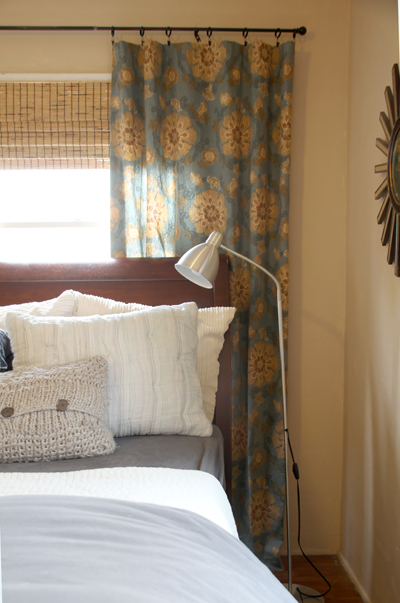 The bed still needs a few punchy throw pillows, and I think I'll recover those bright white shams in the back, but the new front standard shams are from West Elm and my aqua/soft blue coverlet was found at Pottery Barn. So much better than the all-blue as it was before. This side of the bed is still in dire need of a night stand…
Alright, on to those curtains. Here's the quick and dirty on how I sew a simple unlined curtain panel (this style can be a pocket rod or used with clips like I did above. Just for reference, here's where I tackled lined curtains).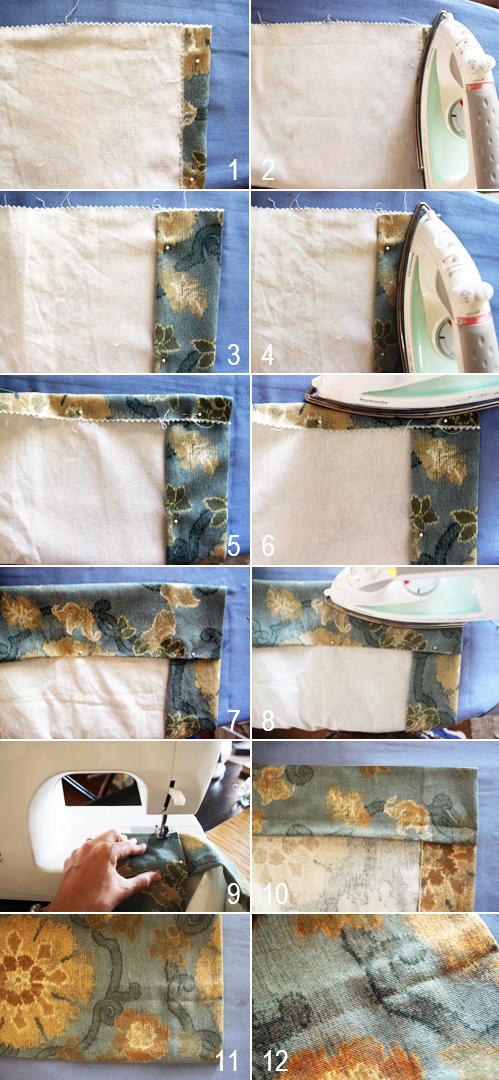 For me, it's all about the folding and pressing.
I begin by flipping my fabric over, folding down one edge about 1″ and then I pin and press into place. Next I fold down that same edge to create a wide hem, usually 4-5″ for the bottom of a curtain, 3-4″ at the top and 2-3″ on either side (to me, the thicker the hem the more professional it looks).
Here's an example of prepping the top of the curtain. First I fold the fabric over 1″ and pin, then press that fold into place. Next is folding again for an addition 4″, pin then press. This is what is my new top pocket rod if that's the style of curtain I'm making.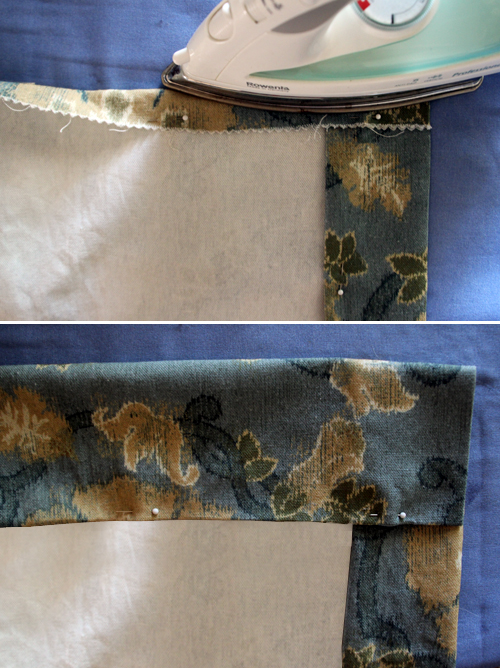 That pressed crease is key! It will not only guide your sewing line but will keep the curtains looking polished.
I repeat that process for three of the four sides (all except the bottom) and then sew along the top fold about 1/2″ in from each new hem (not the edge of the curtain but the folded over part, see arrow).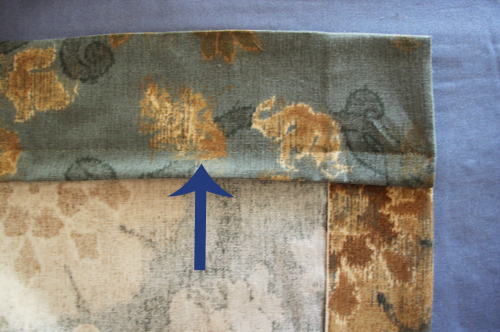 I sew the top hem first and then hang my curtain to let the weight of it pull the fabric down. Now I measure exactly where the fabric hits the ground and pin about 1″ below that to allow a slight break at the floor. This establishes the base point of my curtain. (I highly recommend remeasuring here by hanging your curtain unfinished from the rod, there's nothing like sewing a panel in one go to only find out your 1/2″ too short or too long!)
Next I pinned, pressed and sewed the bottom hem just as I did the top. I haven't sewn my sides up, but they are pressed into place just like in the image above.
Now it's time to sew up the sides. Beginning at the top panel hem (not the top of the curtain) I sew straight down each side, again about 1/2″ in from the folded over hem edge. I'm keeping my top and bottom hems unsewn along the sides because I think it looks cleaner, and it creates a nifty little pocket if you want to hang your curtains directly from the rod without clips.
If I flip the corner over, here's a visual that shows that the side hem stops right at the bottom hem.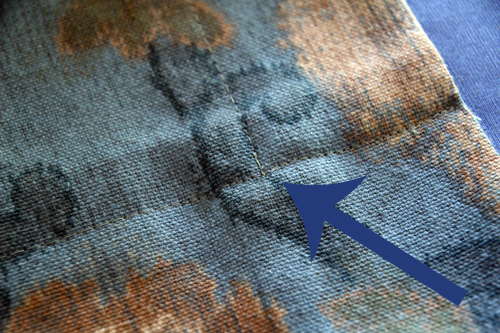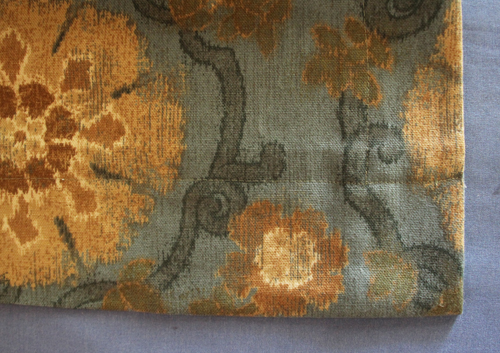 And if you have any boo boos? Because mistakes are always inevitable… I turn to my trusty Sew No More (discovered this guy in the $1 bin at Vons – you know, the bin where they're just trying to get rid of product? But this stuff is awesome.)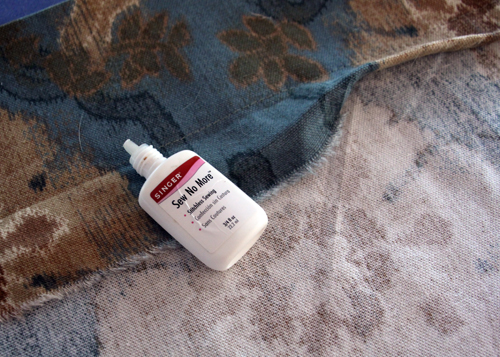 My sewing machine stitch hadn't caught about 10″ of a pressed hem, so I applied a little fabric adhesive and now it's all better.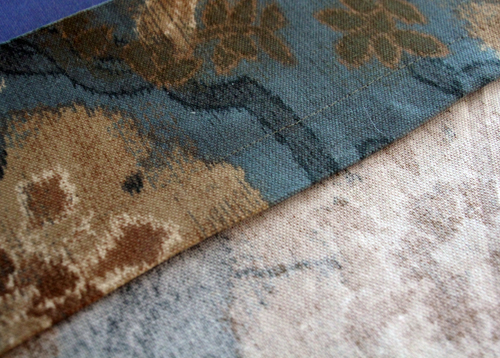 The last step was ironing the curtains one last time and then hanging them up! As mentioned before, I opted to hang my panels from curtain rod clips (you can find a pack of 7 – one pack for each panel – at any home improvement store).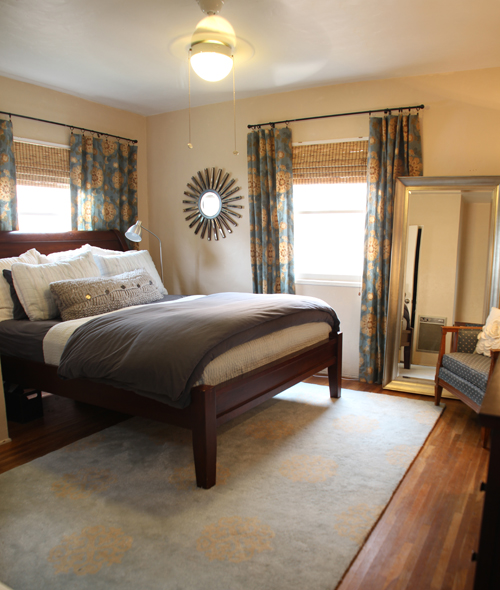 To help shape the pleats, I improvised a bit and used a hair duck clip

and left the panels bunched for several hours.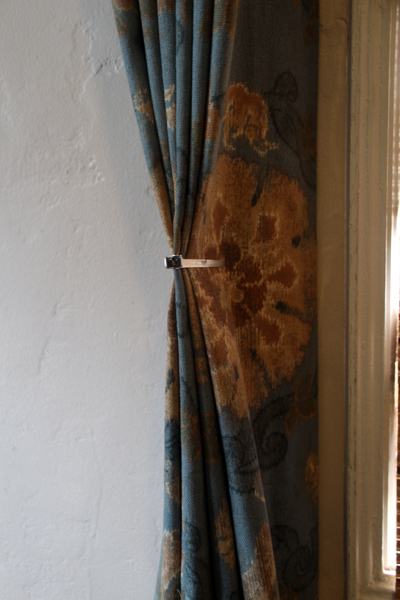 I'm sure there's a better way to do that…
The curtains tie in well with other areas of the room, too. A garage sale painting I found a while back (above chair) looks as if it were made with the curtain color palette in mind: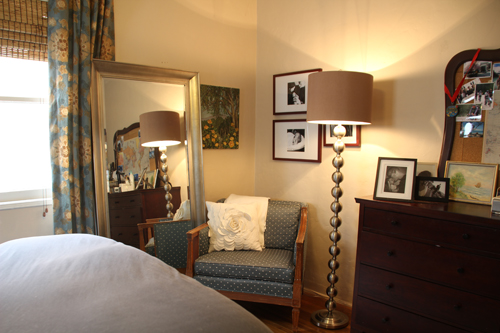 I'm thinking now that mustard might be a great color to use as an accent on the bed? Actually, the fabric from my thrift store chair looks pretty matchy too.
The curtains also help to balance out a window behind the bed that's a little off center, though this bed is asking for new throw pillows.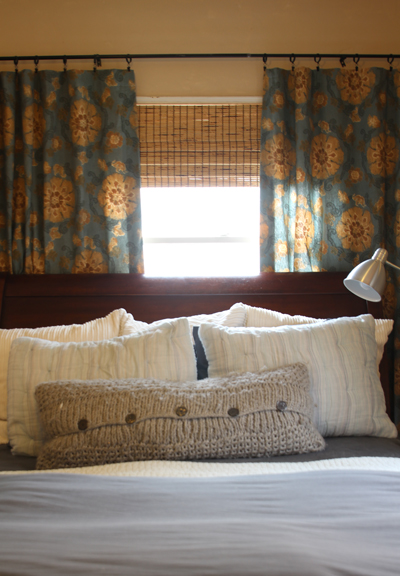 The fabric reminds me of a more floral suzani print, the actual name is Orbetello by Thibaut in blue.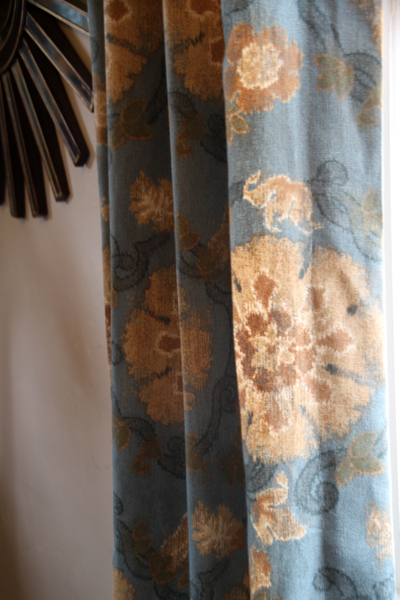 One more project crossed off of the list!
A reminder of the room before we moved in: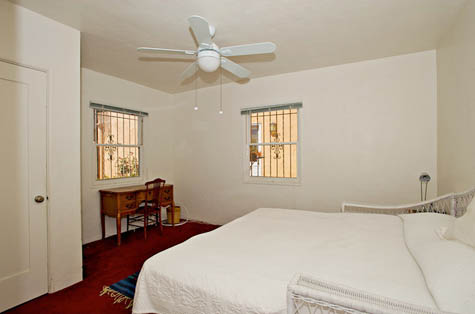 What we put together shortly after we unpacked boxes (in pretty bad lighting):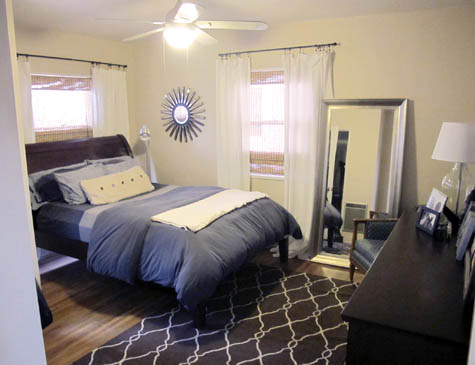 And now where the room is today: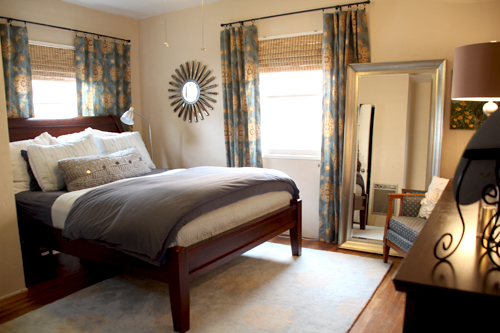 That means as of now the rug, most of the bedding and the curtains are done! With art, pillows and possibly a new bed frame to go.
We actually have plans to demo this room and the adjoining bath to create one master suite sometime next year… that will really be a fun project. But baby steps, all in due time!
More master bedroom posts here: curtain fabric sneak peek, a new rug, the floor plan.
Tags:
Accessories
,
Blue
,
Crafty Solutions
,
Decorating
,
DIY
,
Fabric
,
Home
,
Patterns & Color
,
Sewing
,
Tutorial
Posted in
DIY
,
Home
,
Our Master Bedroom
,
Renovating Adventures
|
14 Comments »
April 25, 2012
Quick note: load time has been a little slow over here at PDB. Bluehost is upgrading our server and software so you might experience a short outage – they haven't shared when but sometime this week for two hours

. Have you experience lag time for the blog?
I bit the bullet and ordered 11 yards of one of my very favorite fabrics for the bedroom: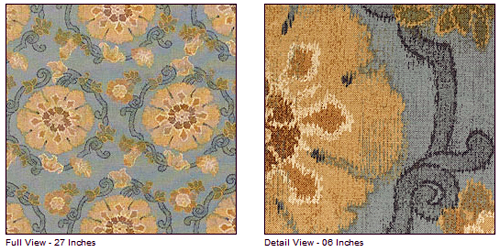 It's the Orbetello in blue from the Palladio collection over at Thibaut, and it's so pretty in person!
I had lived with a large swatch hanging over our current white curtains in the master bedroom for over a month before I finally gave in and ordered enough fabric to cover two windows. I've had a hard time with this purchase because a. I was nervous that the fabric would feel too heavy and dark in a room that doesn't get enough natural light and b. it was a bit of a splurge even with a designer discount. Well, it's arrived in the mail and the biting of nails was all worth it. It is so pretty and will look so great in the space – now I just need to finish (or start, I should say) getting these puppies sewn up!
To balance out a bigger ticket item, I picked up an 84″ curtain panel called Ogee Dot in the color Spring Melt by Martha Stewart Living from Home Depot (it was kind of like my great Waverly fabric find from Lowe's after I fell in love with the same fabric over at Ballard Designs for 3x the price. Unfortunately it's near sold out now

now):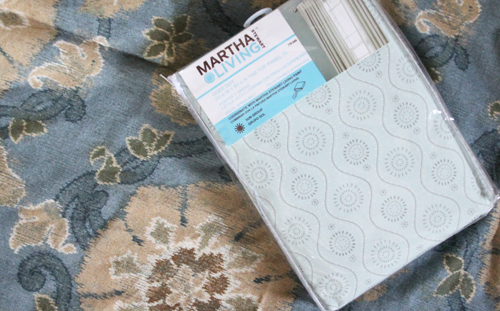 It's more of a soft aqua color and is much prettier in person as well – need to get some nice clean photos in here. I think I"ll turn this one panel into three big square shams for the back of the bed to fit over current white Ikea versions that I have.
And it all matches so nicely with the new rug!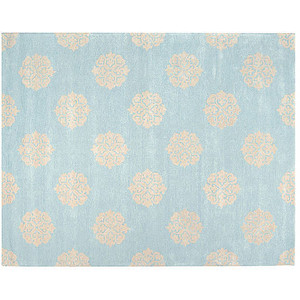 Which was that really great One Kings Lane find from a little while back.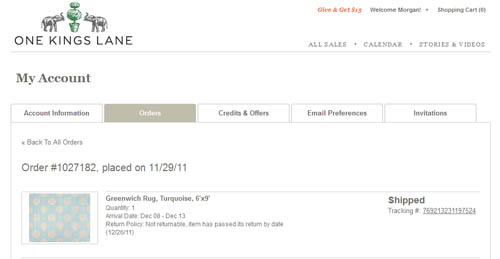 The room pieces are really coming together. Now I just need to decide on a style of nightstand, find one on Craigslist (fingers crossed), give it whatever makeover it might need and pull everything together. That plus art, can't forget a few good pieces of personal art for this space.
I'll see if I can't get on these sewing projects this weekend so I have some actual room progress to share next week.
Tags:
Bedroom
,
Blue
,
Decorating
,
Fabric
,
Home
,
Turquoise
Posted in
Our Master Bedroom
,
Renovating Adventures
|
7 Comments »