April 26, 2010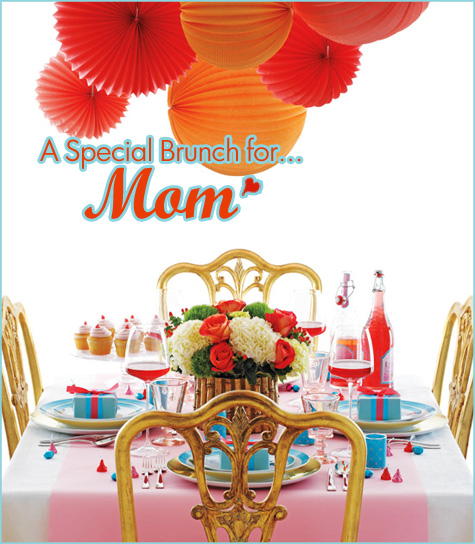 Mom's Day is just around the corner and I can't think of a better reason to gather the whole family for a special honoring meal. I am tremendously proud and gracious to have my mom and mom-in-law as role models – and we get to celebrate our mothers for just that reason each year!
Here's a bit of inspiration in one of my favorite color combinations: red & turquoise.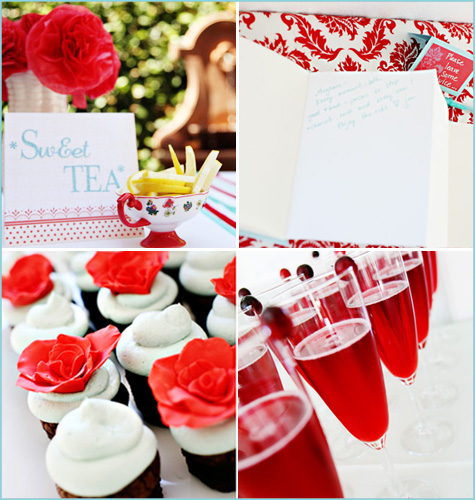 Now's the perfect time to drop a little note in the mail inviting everyone for a surprise brunch in honor of moms, grandmas, aunts and all of the special women in your life.
Set up a photobook to serve as a 'guest book' where everyone can leave a note next to family images. Serve cranberry mimosas and let each guest offer a special toast or memory.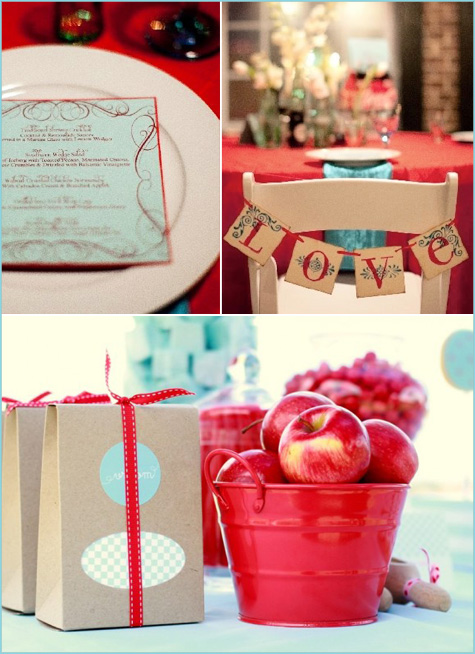 Wrap up mom's favorite cookies (don't forget to include a copy of the recipe) as favors for each family member to take home.
This theme would work great for a shower, birthday, kids party or wedding, too! Images from this inspiration board are from: Party Spot, The Sweetest Occasion, Ashley's Bride Guide.
Tags:
Baby Shower
,
Birthday
,
Blue
,
Bridal Shower
,
By Color
,
Decorating
,
Dinner Parties
,
DIY
,
Kids Party
,
Mother's Day
,
Orange
,
Parties & Entertaining
,
Patterns & Color
,
Red
,
Teal
,
Turquoise
,
Wedding
Posted in
Parties & Entertaining
|
10 Comments »
April 22, 2010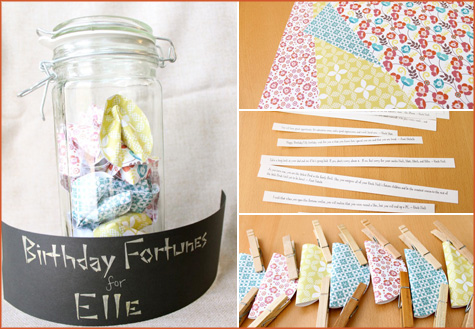 This is a wonderfully sweet idea. Simply Modern Mom made these by hand for her daughter's first birthday, but they would be just as lovely as a substitute wedding guestbook to be opened and read at an anniversary date. Or maybe as wishes for a baby on the way? Something to cherish and open when he or she is old enough to read?
Stop by and check out the step-by-step directions, you'll love Tiffany's blog. Speaking of blogs to recommend, I have a new Friday Guest Interview set for tomorrow – another one of my favorites.
Tags:
Baby Shower
,
Birthday
,
Bridal Shower
,
Crafty Solutions
,
DIY
,
Kids Party
,
Parties & Entertaining
,
Tutorial
,
Wedding
Posted in
Crafty Solutions
,
Parties & Entertaining
|
4 Comments »
April 19, 2010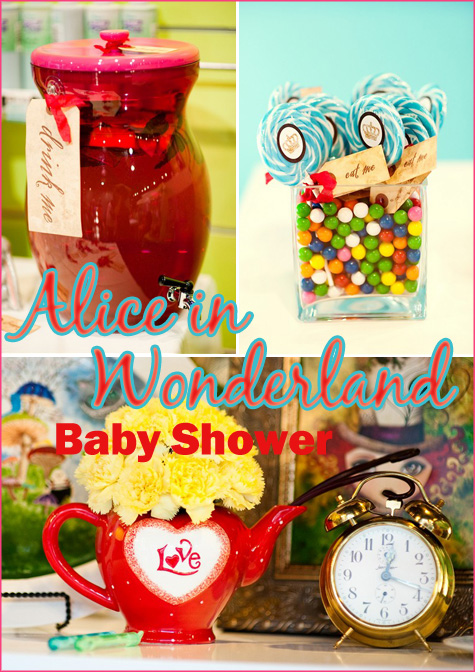 I was so thrilled when Juliet Douglas, a wedding planner and party coordinator from Las Vegas, sent me over this beautiful Alice in Wonderland themed co-ed baby shower that was recently thrown in honor of her & her husband.
The shower was hosted by Sara Cholhagian and party planner Angelica McDonnell (colleague of Juliet's who runs sister company Little Posh Parties) with all inspiration stemming from the idea of "fun and colorful" – I'd say they exceeded every expectation in that department, here's a closer look at the creative & unique details. Eye-candy photography by Chelsea Nicole.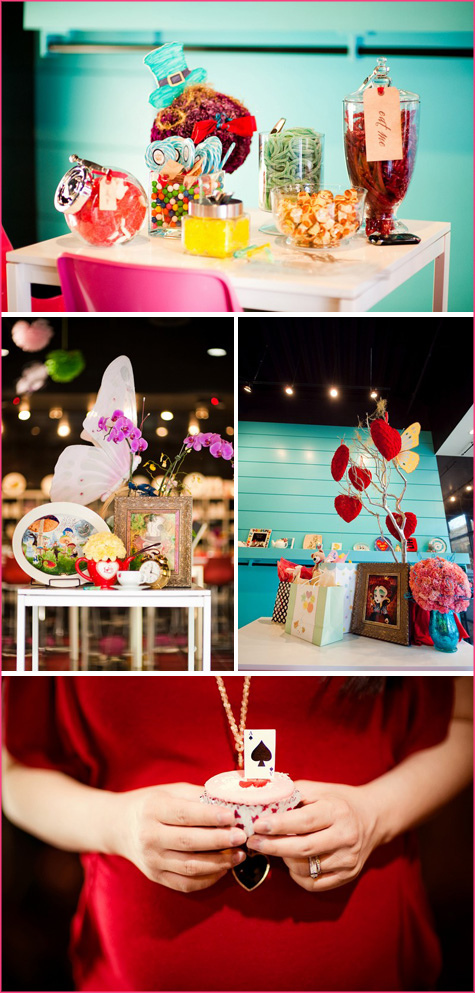 From a dessert bar chock full of delicious Wonderland-inspired treats (notice that adorable ace of spades cupcake above) to Mad Hatter details that crowned colorful carnation and kermit mum centerpieces by Enchanted Florist (I love these!) this shower is full of beautiful inspiration.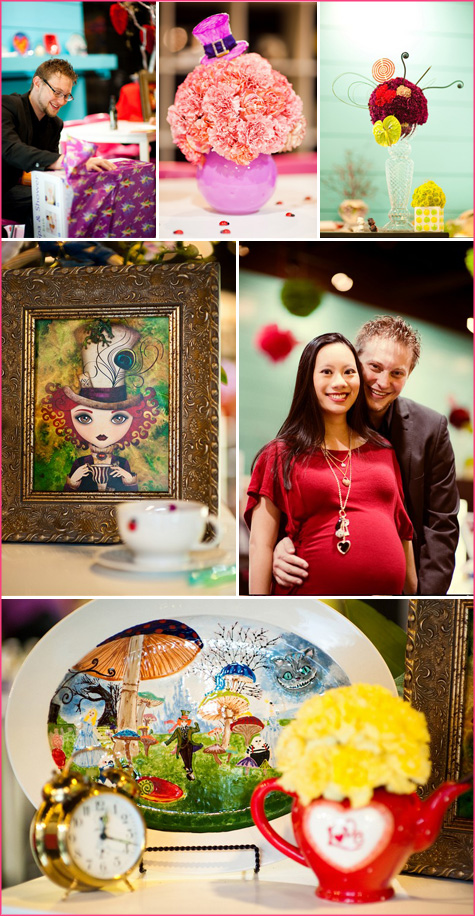 The theme works fantastically for a co-ed shower,  but it would be equally as perfect for a kids party or fun adult shin-dig (costumes required?). Here's a closer look at the creative treats and centerpieces:
Jump on out to the full post for the rest of the pictures! Read more »
Tags:
Baby Shower
,
Birthday
,
Bridal Shower
,
Decorating
,
Dinner Parties
,
Parties & Entertaining
,
Turquoise
Posted in
Parties & Entertaining
|
12 Comments »